To know France is to love France. But how do you get to know a country as intricate as France? From the German-influence infiltrating the eastern border, to the Mediterranean flavour of the French Riviera, and the idyllic islands at a tickling distance from the country's western shores, France is as complex as it is compelling.
And while most people who visit France land in Paris, you'd be doing yourself a disservice if you ventured no further than the world's favourite capital.
Sure, spend a few days eyeing up the Iron Lady, sipping café noir in a quintessential curbside bistro, and learning the art of flaneur… But then drive, train or bus to another corner of l'hexagone to discover another world. One that is sure to seduce you with its intoxicating charm and universally appealing lifestyle.
I have absolutely been won over by the diverse nature of France's landscapes, so today I'm sharing some of my recommendations for the best places to go in France, besides Paris…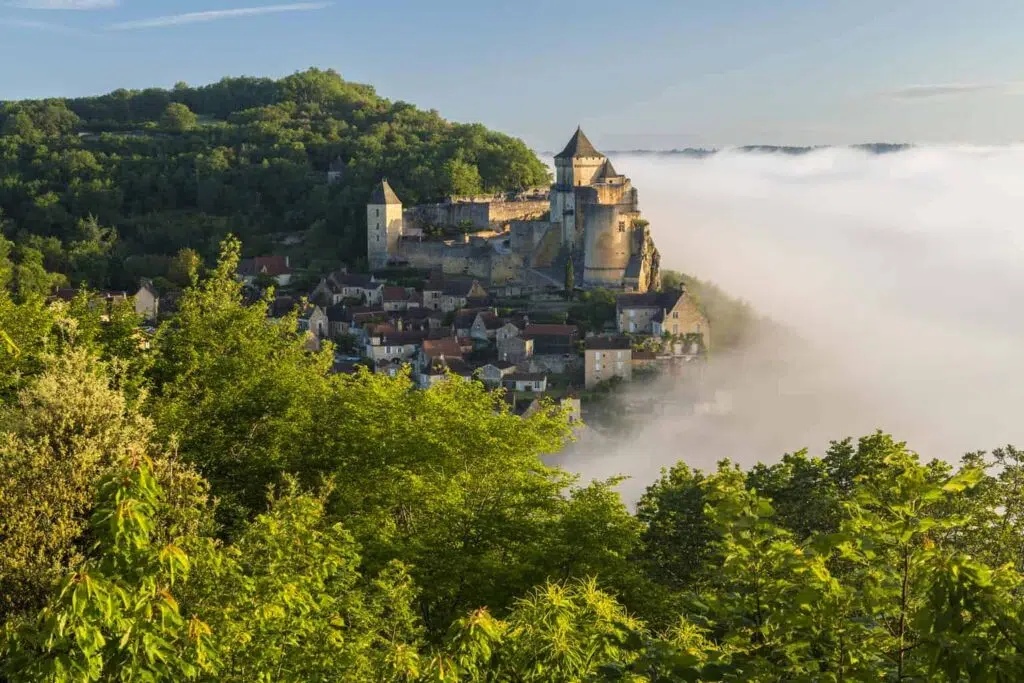 ---
Map of the top places to visit in France
France is a fairly large country (by European standards) and for the uninitiated, it can be a little tricky trying to visualise where everything is. The below map plots out our suggestions of places to see in France, so that you can get your bearings easily. Simply click on the markers to reveal each location.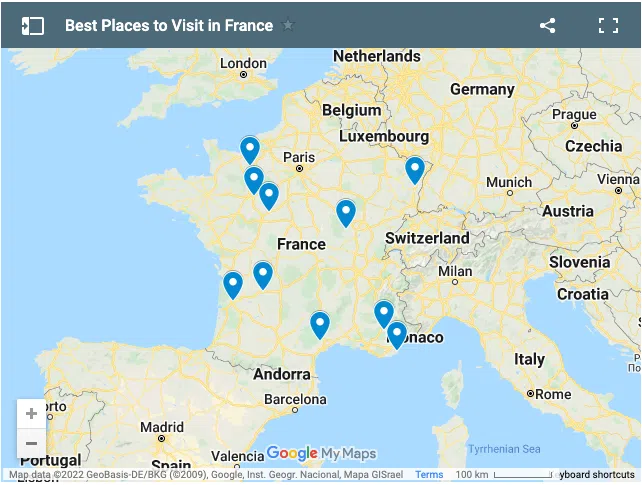 ---
ALSACE
Alsace is a quintessential frontier zone, part of that northern French hinterland that has changed hands between France and Germany so often over the centuries. As may be expected for a place-between-worlds, Alsace has forged its own unique culture and identity, neither totally French, nor completely German, but always, absolutely Alsatian.
This is a region with its own dialect, a rich and distinctive gastronomic culture, and an extremely long history of winemaking: people have been producing wine here since the 2nd century. The Alsace wine route boasts more than 800 vineyards over a distance of 105 miles and offers a host of treats for lovers of viticulture.
Indeed, the oldest barrel of wine anywhere in the world may be found in a dark cellar beneath the Hospice of Strasbourg. The vintage is 1472, and it has survived the ravages of two world wars and countless fires.
Although they remain rooted in traditional winemaking, the producers of Alsace wines are also industry pioneers, and it was here that some of the first biodynamic vineyards were established.
Throughout the summer, a swathe of festivals and food markets crop up along the wine route, making Alsace an extremely attractive prospect for a summer road trip.
Yet, Alsace has so much more to offer beyond its vineyards and its hearty food culture. The Renaissance streets of Strasbourg and Colmar, with their painted timbered buildings and cobbled paving stones, offer charm in abundance, particularly at Christmas, when they are dressed in lights and filled with festive markets.
Outside the cities and towns, the luscious green landscape is the ideal place to retreat from the world. Stretching from the Rhine to the dramatic hills of the Vosges, the Alsace is a natural treasure, and there's plenty to keep nature-lovers occupied.
What's more, this corner of France is castle country, and there are many imposing, impressive reminders of the region's medieval past in the ruins of Hohlandsbourg and Fleckenstein.
History looms large here, and the region is redolent with memories of the brutal wars and occupations of the 19th and 20th centuries. Nevertheless, despite the importance of the past in defining Alsatian culture and identity, this is a forward-looking, optimistic, and utterly unique part of France that will leave you wanting much, much more.
Explore the Alsace region – Book your tour here
NORMANDY
Fiercely independent, with a weighty history and a rugged charm, Normandy is often considered within France as a place apart.
This verdant region takes its name from the Viking conquerors that settled here in the 9th century (the name itself comes from 'north men' in Old Norse), and although the Normans have kept their fearsome reputation, visitors will always find a warm welcome.
With gorgeous beaches, stunning architecture, and some of France's finest seafood, this is a region with something for everyone. Norman history has always been tied to the sea, from the earliest Viking raids and the conquest of England in 1066, right through to the darkest moments of the Second World War.
Today, some of the vast, expansive beaches of the Norman coast are places of pilgrimage, preserved as a memorial to the many men who lost their lives during the D-Day landings of 1944.
Long stretches of golden sand, bordered by undulating dunes, also offer plenty of opportunities for summer fun, and families flock here in the summer months to relax, play games and dip a toe in the Channel. The same coastline is home to an abundance of picturesque ports and fishing towns, such as the beautiful Honfleur, arguably the prettiest harbour in the whole of France. This is the place to come for fabulous, fresh seafood, all washed down with a pint of local cider.
The Norman dukes were medieval rockstars, and they left their mark in the shape of castles and cathedrals. The sublime Gothic churches of Rouen, Coutances and Caen are fitting monuments to this glorious past, as is the unique Bayeux tapestry, the first battle narrative to be told entirely in thread.
But the jewel in this region's crown has to be Mont-Saint-Michel, the iconic abbey perched on a craggy rock high over the shimmering sands of the Couesnon estuary. It's small wonder that artists and poets alike have found inspiration in this enchanting region; a visit to Giverny, where Monet painted his famous water lilies, is surely enough to see why.
Enjoy this stunning region by booking a day tour from Bayeux
BORDEAUX
Rivalled only by the Champagne region, Bordeaux is one of France's most important wine-producing provinces. Home to over 6,000 vineyards, this profuse and fertile region offers some of the world's finest wines, building on an ancient culture that goes back nearly 2000 years.
The area around Bordeaux is best explored on foot or by bike, and this lush, sun-soaked region certainly won't disappoint.
The city of Bordeaux is a pleasant destination for a city break, with its wide boulevards, 18th-century architecture, and riverside street culture. The city is a cultural hub, and visitors come here for the exceptional art galleries and museums, and renowned dining scene.
The River Garonne, which snakes through the town centre, has been the focal hub of the city for centuries, transporting goods in and out of the city. It offers an ideal place for an afternoon stroll, lined with attractive cafes and restaurants offering refreshments for weary travellers.
Outside the city, vineyards dominate the landscape, but Saint-Emilion, in the heart of the Bordeaux region, is an attractive spot for a day trip.
This historic medieval village was founded in the 8th century when a pious hermit named Emilion, made his home in the nearby caves. Over time, the settlement developed into an important religious centre, and it's possible to get a little closer to this rich history today by exploring the caves underneath the village.
Wine production has been important here ever since King John of England established the Jurade, a wine-makers brotherhood committed to developing the industry in Saint-Emilion.
Over 800 years later, Saint-Emilion still stands as one of the most important wine-producing areas in France. Whether you're an aficionado of Bordeaux wines or not, this marvellous region has plenty to offer to visitors.
Book a day trip to Saint-Emilion from Bordeaux here.
FRENCH RIVIERA
The French Riviera – summer retreat of the jet-set – immediately conjures images of glamour, sophistication and style. During the summer months, French holidaymakers, along with an international crowd of celebrities and millionaires, flock to the Côte d'Azur, to dangle a toe in the Mediterranean and let their hair down in Monaco, Saint-Tropez, Nice or Cannes.
This is one of France's most popular holiday destinations, and with good reason: the Côte d'Azur is truly stunning, comprising sandy beaches, vibrant markets, picturesque towns, coastal walking trails, and blazing red cliffs.
Don't despair if your wallet doesn't stretch to long nights on the town in the fashionable resorts of St Tropez and Antibes or the casinos of Monte Carlo. There's more to explore here than many people realise, and this part of the French coastline is a natural paradise, filled with stunning hidden villages, nestled in the mountains that rise up from the sea.
Saint-Paul de Vence, for example, is known for its maze of labyrinthine streets, and vibrant artistic culture. This stunning village offers exceptional views of the coast and is a haven for photographers. Port Grimaud, the Venice of the Riviera, is characterised by its canals, waterways, and vibrantly painted houses.
Finally, Èze, a charming medieval village perched on a high, rocky outcrop, offers the very best of the Côte d'Azur: exotic gardens, a medieval castle, and fabulous views of the Mediterranean. All the way along the coastline, beech forests and gardens of olives cloak the hillsides, making this an excellent spot for hiking or mountain biking.
Come in the quieter months and you'll enjoy the warm sunshine, empty beaches, and turquoise seas: it's easy to see why visitors return to the Côte d'Azur again and again.
Explore the villages of the French Riviera with a tour.
BURGUNDY
Burgundy, known internationally for its rich, full-bodied wines, is one of France's lesser-visited regions. A trip here is an escape into some of the country's most idyllic countryside, featuring rolling green hills covered in orderly vineyards, bright, yellow mustard fields, and tranquil canals.
Burgundy's vineyards are so important they have even been awarded UNESCO World Heritage status, in a nod to the richness and diversity of this significant wine-producing region. However, while a vineyard tour should definitely be on the agenda, this beguiling region has plenty of other treats to entice visitors.
Dijon, the regional capital, was once the home of the Burgundian dukes, and their influence may still be felt in the stunning medieval and Renaissance architecture that makes up the city.
The region's fine produce is always on show here, and the fabulous Friday market at Les Halles is not to be missed, featuring local specialities such as Epoisses cheese, escargots (snails), and of course, the famous beef bourguignon.
Outside the city, the countryside is littered with fabulous medieval monasteries, castles, and some of France's most beautiful villages. The small, walled town of Beaune, with its cobbled streets, Gothic architecture and labyrinthine wine cellars has charm in abundance. This profuse, laid-back region offers plenty of activities for nature lovers.
This is the place to hire a bike and spend the day weaving through the vineyards or drift lazily through the countryside in a canal boat, admiring the view. For walkers, the magnificent Morvan National Park provides over 1000 square kilometres of unspoilt countryside, filled with lakes, waterfalls, and atmospheric woodland. This is undoubtedly the French countryside at its finest.
Explore Burgundy with a day trip from Beaune or Dijon
LOIRE VALLEY
The Loire is France's last untamed river, a 1000-mile-long, meandering natural habitat that humans have never quite managed to subdue. This aquatic highway has been left almost undisturbed over the centuries to shape the contours of the land that it flows through, and the Loire Valley, otherwise known as the 'garden of France', is the product of its meandering course.
The Loire and its tributaries irrigate this fertile landscape, allowing it to bear some of the finest natural produce that France has to offer. The pace of life here follows the river, slow and relaxed, with seasonal bursts of activity.
A visit to the Loire means two things: wine and castles. The fertile rolling hills of this green region offer perfect conditions for growing grapes, and vineyard tours and wine tastings are on offer wherever you go. The region is also dotted with impressive castles, many of which are set in marvellous gardens, overlooking small rivers.
In particular, the Château de Chenonceau conjures images of fairy tales, with its elegant arches and towers, and a well-kept garden maze. Another highlight is the Château de Chambord, an immense structure that was built as a hunting lodge for the French king Francois I, set in grounds filled with deer and wild boar. This wild, sprawling castle continues to delight visitors and is thought to have been inspired by sketches by Leonardo da Vinci.
The stunning fortified towns of Amboise and Chinon both include their own castles, and provide an excellent base for exploring the wider region. Chinon is a particularly good stop for wine lovers, as it is one of the Loire's main wine-producing areas, but this pleasant medieval settlement has many other things to offer, including a beautiful old town with distinctive slate-topped houses.
Here, it's also possible to hire bikes, and set off to enjoy the slow beauty of the Loire Valley on two wheels, at your own pace.
Book a day trip to discover the gems of the Loire Valley here.
CHAMPAGNE
Just a stone's throw from the capital, yet half a world away: the green, lush region of Champagne is one of France's most iconic spots. This is the region that gives its name to those delicious, sparkling wines that have become an international marker of class and sophistication, and it's impossible to come here without sampling a glass or two.
Winemaking in Champagne has a fascinating history, and there are plenty of opportunities to explore the processes, techniques and produce that go into making this quintessential French export. Épernay, the regional capital, is the perfect base from which to set out into the vineyards; just be prepared to return with heavy bags and an empty wallet!
Away from the wine trail, the Champagne region exudes old-world charm, and wandering through its beautiful villages and towns often feels like a step back in time. In fact, Champagne is a place with a visceral connection to its medieval past.
In stark contrast to the glitzy image that surrounds Champagne wines, this is a region of peace, calm and simple pleasures, where artisans and winemakers use traditional processes dating back centuries.
Troyes, an important settlement since the Roman period, features stunning medieval architecture, historic churches, and traditional timbered buildings lining its narrow streets. The regional capital, Reims, is a triumph of Gothic architecture, and its breath-taking cathedral was once the site where the kings of France were crowned and anointed.
Although it suffered extensive damage during the two world wars, Reims has been painstakingly restored in harmony with its medieval past, making it a lively, pleasant starting point from which to explore the wider Champagne region.
Book a Champagne day trip here
DORDOGNE & LOT
The Dordogne River snakes and weaves its way from the high mountains of the Auvergne, down to some of the finest countryside that France has to offer. Passing by dramatic fortified castles, perched precariously on high cliffs, the river continues through Bergerac until it meets the Garonne River at Bordeaux.
In between, the green and fertile lands that make up the Dordogne Valley offer a treasure trove of delights for visitors, both above and below the ground. Traversing the Dordogne and Lot involves, by necessity, an encounter with a very ancient past. More prehistoric remains have been found here than in any other part of France, providing a unique glimpse of the earliest origins of human society.
In the Vézère Valley, over 200 separate Palaeolithic sites have been identified, and it seems that the prehistoric inhabitants of this beautiful region were attracted by the natural protection afforded by its limestone caves.
The jewel in the crown is the fabulous site at Lascaux, where, 17,000 years ago, early humans covered the walls of the cave complex with a series of incredible paintings. More ancient still, however, are the glittering caves and grottos that may be found deeper beneath the ground.
This region is littered with incredible rock formations, formed over millions of years, with stalactites and stalagmites that have merged into epic pillars, creating natural, subterranean cathedrals of sparkling rock. Above ground, the Dordogne and Lot regions have even more treats on offer.
The beautiful medieval settlements of Rocamadour, La Roque-Gageac and Sarlat-la-Canéda are well worth a visit, as are the castles at Beynac and Castelnaud. These picturesque villages and fortified chateaux, constructed in golden stone, are set within glorious natural scenery, with abundant wildlife and birdlife.
There's plenty here to keep active families occupied, with hiking, climbing, cycling and canoeing on offer throughout the valley. The ideal France holiday destination, this region is a little slice of heaven on earth.
Book your Dordogne tour from Sarlat here.
LANGUEDOC
The Languedoc covers the southwest corner of France, a vast, sprawling region crammed full of fabulous treasures. The 'langue d'oc', literally means the 'language of yes', and refers to a medieval French dialect that fostered a rich literary and poetic culture during the Middle Ages.
This was the home of courtly love, the chivalric ideal, and the epic Romance legends of King Arthur, and it's clear that these medieval glory days have left a deep and profound mark on the culture and landscape.
The Languedoc coast, unlike its Provençal neighbour, feels wild and unkempt and offers countless opportunities for exploration. This is the ideal place to toss out the maps and get lost – you never know what you might discover.
The cities of the Languedoc, including Toulouse and Montpelier, are known for their pleasant boulevards and squares and laid back atmosphere. The 'pink city' of Toulouse, so named for the terracotta bricks used in its construction, offers bustling markets and a vibrant music scene and is an ideal jumping-off point for the rest of the region.
Towards the foothills of the Pyrenees, the sanctuary of Lourdes, where the Virgin Mary is said to have appeared in 1858, attracts millions of pilgrims every year. Pilgrims of a different kind arrive at the small town of Rennes-le-Chateau, seeking answers to a conspiracy theory that has raged for decades.
The southwest French coast, stretching from the Camargue to the Côte Vermeille, next to the Spanish frontier, is exceptionally varied, including vast, sandy beaches, marshy wetlands, and pink, rocky outcrops. This wild coast is home to fabulous sea life and many species of birds, making it an ideal spot for nature observation.
Oysters and mussels are the local specialities, and in season, you can eat them directly on the beach: seafood doesn't come fresher than this.
The pleasant waterfront town of Sète, with its seaside corniche and atmospheric canals, is one of the best places in France to sample the catch of the day. Further inland, the landscape is dramatic, featuring imposing cliffs, gorges and valleys, chestnut forests, and vineyards, punctuated by some fabulous medieval architecture.
The fortified city of Carcassonne, once the stronghold of the Cathar heretics who rebelled against the king, is truly breathtaking and not to be missed. However, Carcassonne was not the only stronghold left behind by the Cathars, and it's still possible to visit the dramatic ruined vestiges of Montségur, Quéribus and Peyrepertuse for an atmospheric evocation of the medieval past.
The Languedoc has long been a historical crossing point, the meeting place of different cultures, languages and even religions. These diverse influences have produced a rich and distinctive culture, making this one of France's most rewarding regions for curious travellers.
Discover the delights of the Languedoc on a guided tour.
PROVENCE
Provence, the delightful region that envelops the Côte d'Azur, is a heady assault on the senses. Rolling fields of bright, purple lavender, rows of vines stretching into the horizon, and gorgeous groves of twisted olive trees mark out Provence as a true garden of delights.
Aix-en-Provence, the elegant regional city, brings a touch of this rural sensuality to an urban setting, combining leafy courtyards, sculpted stone buildings, and wide boulevards strewn with terraces where visitors can while away the hours and watch the world go by. The city's colourful markets bring together the very best of Provençal produce, in a vivid display that is sure to whet your appetite.
Avignon, one of Provence's main cities, also offers visitors plenty of things to see and do. For the better part of the 14th century, the papal court was based at Avignon, and in this period, popes were not known for their restraint. The Avignon popes set about building a lavish palace, which stands to this day, complete with magnificent frescos.
The city also features several excellent museums, the famous Pont d'Avignon, and an annual arts and theatre festival that attracts an international crowd.
However, Provence's most enticing charms are found outside the main urban hubs, in the countryside. Picture-perfect medieval villages such as Venasque, Uzès and Gordes offer ample opportunity for exploration, featuring cobbled streets, golden stone architecture, and green, mountainous backdrops.
Les Baux de Provence is perhaps the finest example of restored Provençal village architecture, with its own citadel and a fearsome reputation for gastronomy.
Provence is also home to an abundance of wildlife, supported by its diverse range of natural habitats. In the southwest corner of the region, the green hills drop away to a vast wetland in the Rhône delta.
The Camargue National Park includes herds of wild, white horses, roaming bulls and flocks of startling pink flamingos. This unique, beautiful area is best explored on foot or on horseback and is certain to leave a big impression.
Book your day trip from Aix-en-Provence here.
Read More: Provence Travel Guide
---
The best way to discover the top destinations in France
Trying to experience the best of France on your own can be a fun and rewarding experience. But to truly get to know a destination, I usually recommend taking at least one tour with a guide who is genuinely passionate and knowledgeable about the area.
Imagine being led through a landscape laced with vineyards, to learn the intricacies of winemaking direct from the source. Or wandering through ancient city lanes, pausing to examine archaic art etched into walls that you would have otherwise overlooked.
It is personal and authentic experiences like these that French tour company Ophorus pride themselves on. They excel at helping you discover the very best of France, their home, in a relaxed and friendly way. Ophorus guides lead the pack when it comes to delivering meaningful encounters; their expert and in-depth knowledge, delivered in a professional yet approachable manner, has earned them the highest praise from past tour attendees.
The company's commitment to excellence has also awarded them a coveted spot in the TripAdvisor Hall of Fame for 5 years running!
---
---
France is a magically diverse country, full of surprises and closely held secrets. I encourage you to explore further than the top France attractions, to discover the country that has inspired so many. Get to know it's intricacies and you'll no doubt be yearning to return…
Pin this for later!
*This post has been bought to you in partnership with Ophorus. As always, Le Long Weekend maintains full editorial control of the content published on this site.