For a relatively modest island, Menorca really punches above its weight when it comes to its incredible coastline. Unlike its larger and more developed Balearic neighbour, Mallorca; Menorca remains much less interfered with, and in turn, remarkably organic for an island that is becoming increasingly popular with holidaymakers.
This dedication for preserving the island's historical and natural attractions was recognised in 1993 when Menorca was granted UNESCO Biosphere reserve status, further protecting the island's unique appeal and creating a haven for animals and humans alike.
If you're planning holidays in Menorca, chances are you've already heard of some of the beautiful beach resorts around the island. But did you know over half of Menorca's beaches are located away from a road, resort, or town?
Many of these virgin beaches are hidden from the public eye, concealed behind expansive pine forests and craggy coves. These are, in my opinion, the best beaches in Menorca. And I'm going to give you the low down on how to discover them for yourself!
---
Visiting the Best Beaches in Menorca
The following Menorca beaches are pure, untarnished, and, in general, secluded. These covert coastlines often require a decent hike to reach, and a little prior prep to be able to enjoy them to their fullest. But they'll repay your effort tenfold with their unparalleled beauty.
There are just a few things to note before you embark on your journey…
Because they are largely untouched, don't expect to find lifeguards, beach bars, or even rubbish bins on many of these Menorcan beaches.
As a general rule, I find the Northern Menorca beaches to be quieter, both in terms of visitor numbers and aquatic activities. Perhaps it was just the way the wind was blowing, but I also found them to be more sheltered than the favoured beaches of the south.
There aren't any official nudist beaches in Menorca. However, because of the nature of these secluded shorelines, it's not unusual to see bare bods on the quieter coves. I've noted below which beaches, in particular, are the more popular naturist beaches in Menorca.
---
Map of Menorca Beaches
As you can see from the below map, the hidden beaches of Menorca are quite spread out around the island. But given its small stature, and convenient road network, it rarely takes more than an hour to get anywhere, so you'll be able to fit in visits to plenty of these beaches in Menorca, wherever you decide to stay on the island.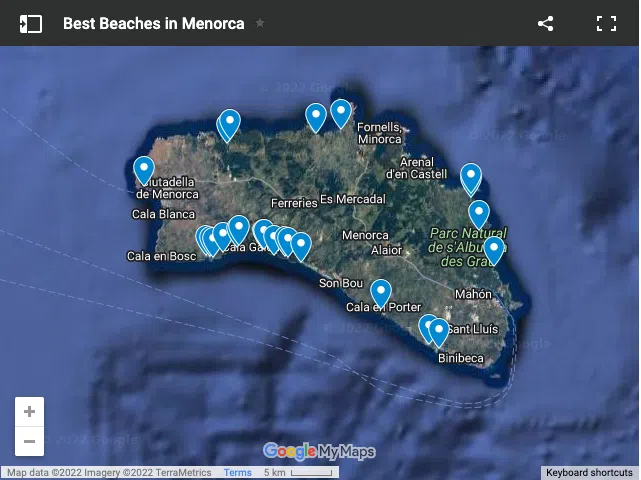 CALA D'ALGARIENS & PLATJA DES BOT
Situated in the north of Menorca, Cala d'Algariens & Platja des Bot are two of the best coves for swimming in crystal-clear turquoise water, and appreciating the serenity of the rural setting. Unlike some other northern beaches, these two Menorca beaches benefit from beautifully soft, white fine sand. And there's plenty of it too!
There's more than enough room to spread out here, making it ideal for beach lovers who don't want to be rubbing shoulders on the sand.
The water at both beaches is clear and shallow, with very few rocks or obstructions. This means you'll have to walk a fair way out to be properly submerged, but it's ideal for anyone travelling with kids.
Cala d'Algariens is the longest beach and the first one you'll reach from the dedicated car park. To get there, aim for the "Aparcament de Cala Algaiarens" car park on your GPS. The road is mostly paved on the way down, except for the last 500m or so.
If you reach the car park and it's full, there is overflow parking a little further back (that you'll pass on the way down). Both car parks are free to use.
From the car park, the track is well laid out and clear to follow. It's only around 250m to the shore.
If you feel like pushing on to Platja Des Bot from here, it's well worth the effort. There are two ways to get there, either around the headland, or through the inland route following the small creek.
Don't do what I did and scale the hill! It's not necessary, but did provide me with a stunning vantage point of the beach.
Either way, you'll first need to walk to the end of Cala d'Algariens. From here, either follow the dusty track around the headland, or head inland just a little, until you see a well-trodden sandy path to your left.
If you choose the headland route, be aware that the path gets very narrow at one point where it passes through a rocky ridge.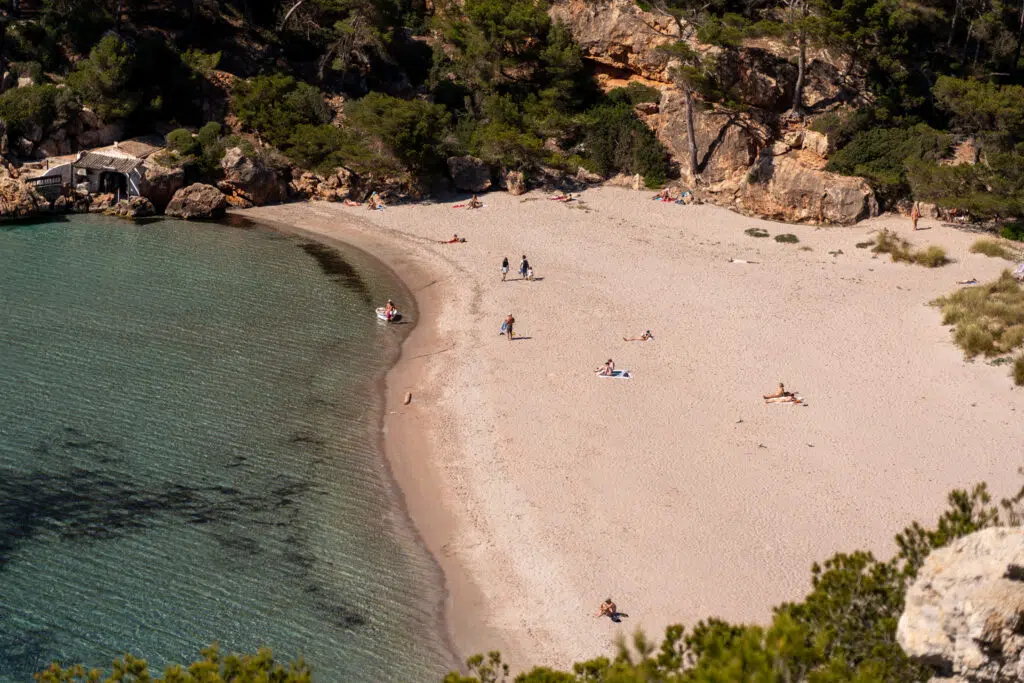 Things to know before visiting Cala d'Algariens & Platja des Bot
There are toilets and rubbish/recycling bins in the car park.
There aren't any other facilities nearby, so you'll need to bring food, drink, shelter etc with you if you plan on spending the whole day.
---
CALA EN BRUT
There's no sandy beach at Cala en Brut, but it's still one of the best places to go swimming in Menorca. This narrow inlet is impossibly perfect in every way. There are manmade bathing platforms on either side of the clear blue waters, with conveniently placed ladders leading into the sea for ease of entry and exit.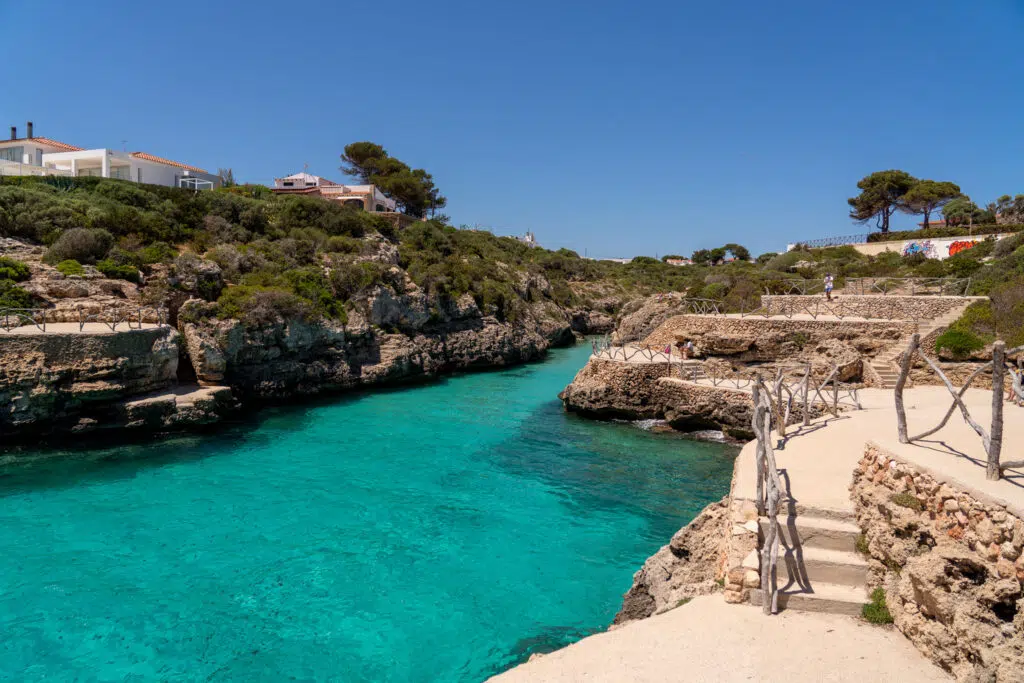 It's a popular place for jumping off the rocky cliffs, snorkelling, and people watching! And due to the swimming pool-like size, the water here is warm for splashing about in.
In the peak season, I'd imagine this easily accessible spot gets busy, as it's only a short drive from Ciutadella. So plan to visit in the shoulder seasons, or early in the day, in order to get a prime spot.
To get there, simply follow the Carrer Tres Alqueries away from Ciutadella and head west towards Cala en Blanes. There is both roadside parking, and a parking lot on Avenue Cala en Brut. Leave your car there, and follow the paths that reach down into the bush-clad cliffs.
Things to know before visiting Cala en Brut
There are no facilities near this swimming spot itself, not even toilets, so plan ahead. Although there are restaurants and shops just a short stroll away.

There's limited space on this manmade 'beach' so be prepared for busyness if you arrive at a peak time.
---
SON SAURA & BELLAVISTA
The south coast of Menorca is renowned for its beaches, and Son Saura & Bellavista are two of the most tranquil examples. Located around midway between the popular seaside resorts of Cala en Bosc and Cala Galdana, they offer a more natural and unspoiled experience.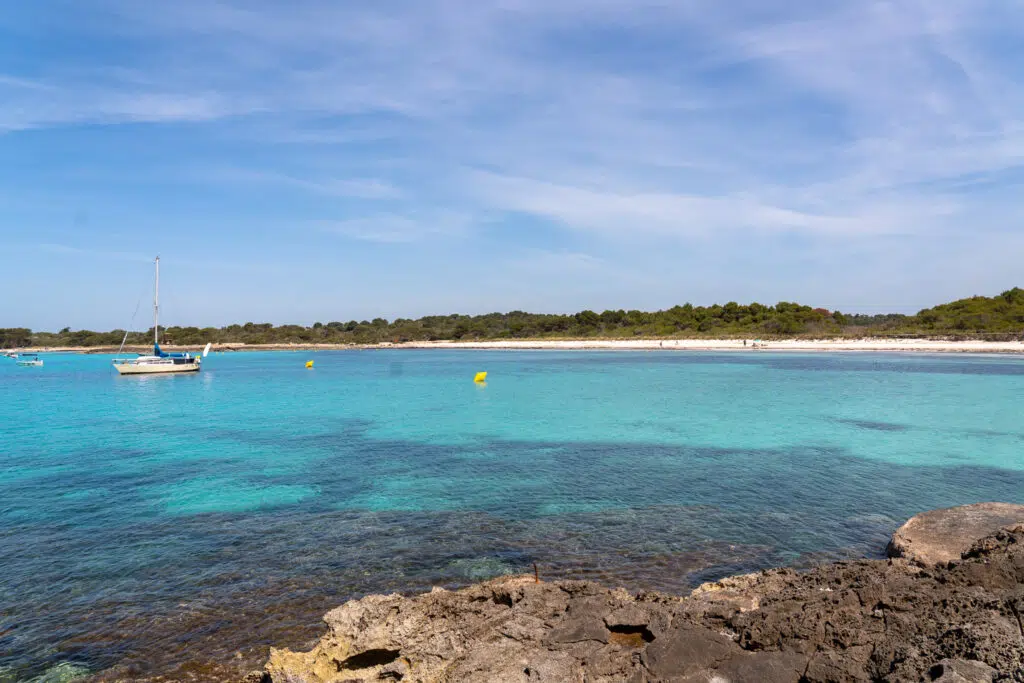 Son Saura is the shorter and deeper beach of the two. Whereas Bellavista is a long, narrow, slice of golden sand. I found the second to be the most appealing of the two as it was naturally free of seagrass, had clearer, shallow waters, and was quite frankly, perfect! It reminded me of the long empty stretches of sand you more often find in Sardinia.
However, if it's peace and privacy you're seeking, Son Saura seemed to be the place to find it. Clothing was largely absent on this beach.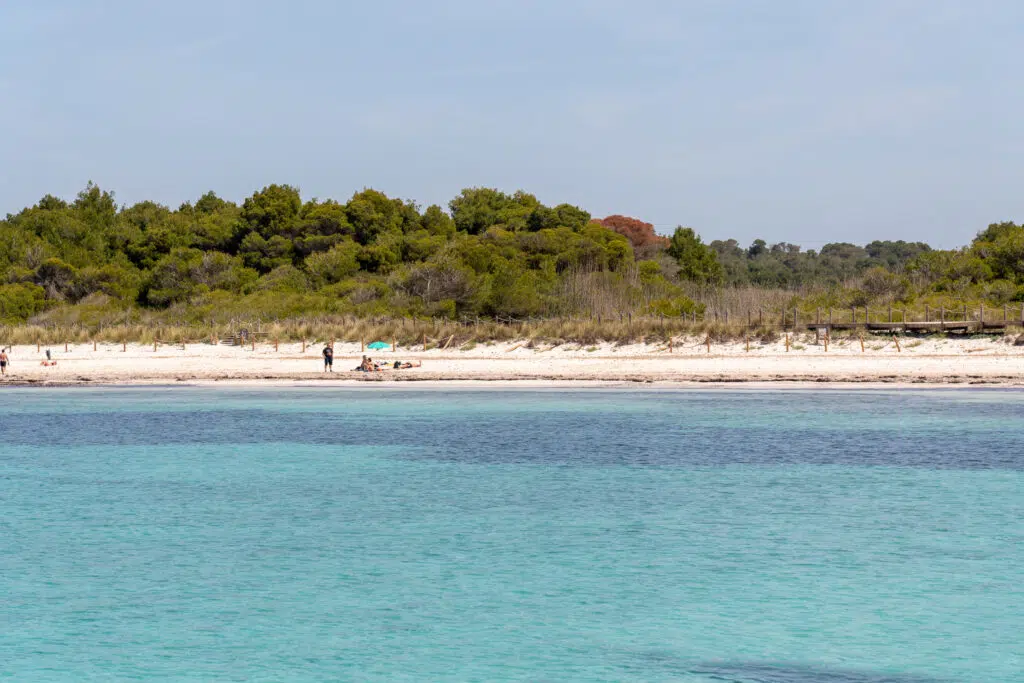 Getting to this pair of beaches is fairly straightforward. You can walk the Cami de Cavalls from either direction or drive and park in the large dedicated free car park behind Son Saura beach. The closeness of the parking area to the sand, makes this beach the best spot if travelling with very young children.
Things to know before visiting Son Saura & Bellavista
Apparently there is a toilet near Son Saura beach, but I didn't see it during my visit. It's possible it's only brought in for the summer months.

There are lifeguards present in summer.

There are picnic tables under the trees, so you can seek shade when you need to.
---
CALA DES TALAIER
This next small beach is so idyllic, that I almost didn't want to include it! Cala des Talaier is beloved by locals and visitors alike, who take advantage of its remote location to swim and bathe au naturel.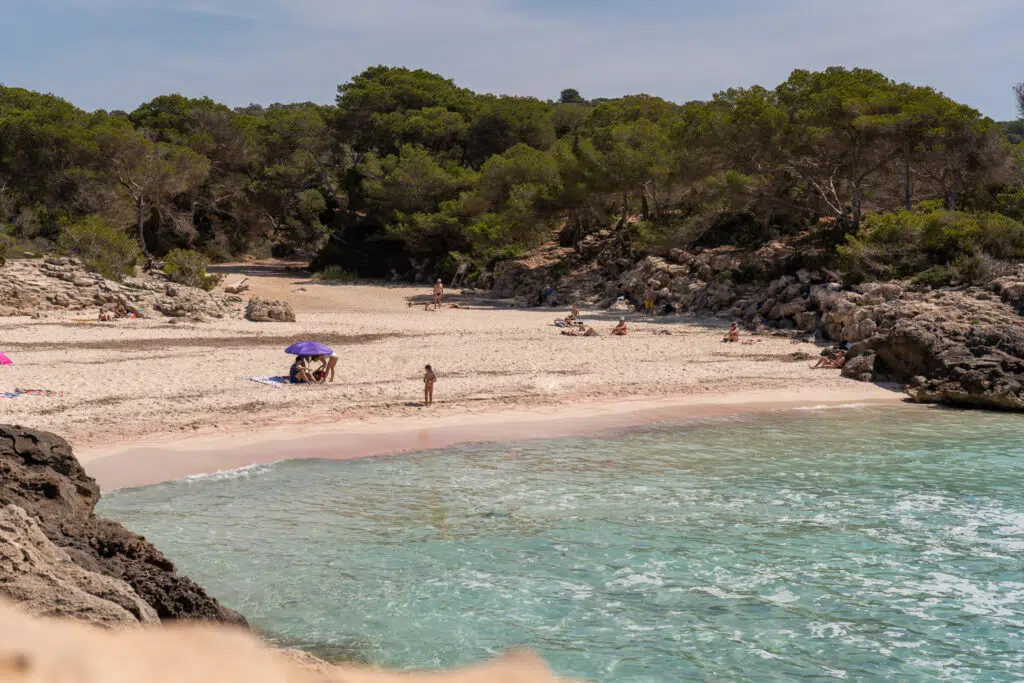 Tucked away at the end of a quiet cove, it's surrounded by pine forest and totally unspoiled by human influence. With pink sand and crystal clear water, it's a true paradise in Menorca.
However, its proximity to the more popular Son Saura, means it's not the quietest of Menorca's beaches, despite its rural setting.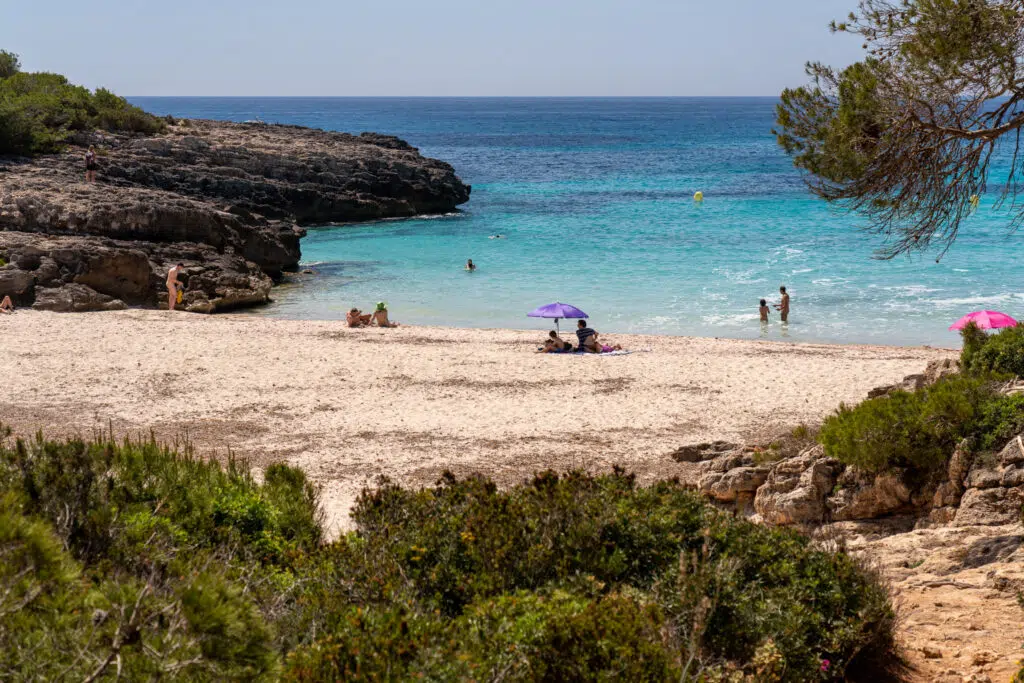 To get there, either park at Son Saura and walk a short section of the Cami de Cavalls around the coast. Or you could also park at Cala en Turqueta (or bus there), and follow the walkway west from there. Those with energy to spare can even visit the Talaia d'Artrutx (a historic stone tower) on the way!
Things to know before visiting Cala des Talaier
There's a small shaded area at the back of this beach with picnic tables. But you'll need to take your rubbish home with you.
There are no other facilities anywhere nearby, other than those detailed at neighbouring beaches, Son Saura or Cala en Turqueta.
---
CALA TURQUETA
The twin coves that make up Cala Turqueta are tucked between tree-fringed headlands, creating a calm and sheltered bay. A popular spot for families, Cala Turqueta reminded me a lot of Cala Mitjana a little further down the southern coast.
It can get busier than some of the other secluded Menorca beaches, presumably as it's easier to get to. But visit in the early evening and you'll find the calmness you crave and spectacular sunset scenes.
It's a popular spot for cliff diving, snorkelling, or relaxing in the calm bay.
Access to Cala Turqueta is fairly straightforward. Follow your GPS towards Sant Joan de Missa. Eventually, you'll come to a crossroads where you can turn towards Cala Macarella or Cala Turqueta. There is a sign here indicating whether there are spaces available in each of the beach car parks. Note that in summer, the car park at Cala Macarella is for buses only.
Proceed towards Cala Turqueta down a narrow, stone-walled road until you see the car park sign. Simply leave your car parked in the free car park (arrive early or late in the day to increase the odds of finding a spot) and head on down the marked path to the beach which is approx a 10-minute walk away.
Once you've arrived at Cala Turqueta, you can walk a portion of the Camí de Cavalls to Cala Macarella & Cala Macarelleta, and return to Cala Turqueta later in the day.
Another option, which I became aware of on my most recent trip to Menorca, is taking a boat trip that calls in at Cala Turqueta. One such boat tour, run by Menorca Blava, departs Ciutadella de Menorca in the morning and takes you to a few of the best beaches of Menorca for a full day of swimming and snorkelling. This could be an excellent option if you're visiting Menorca without a car. Book your boat tour here.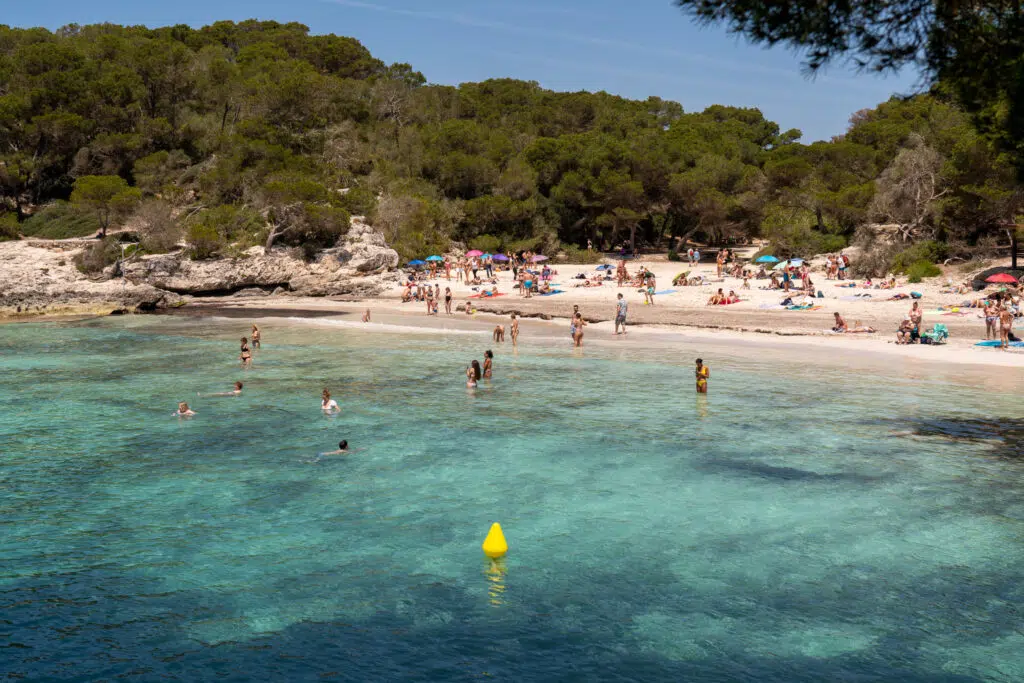 Things to know before visiting Cala Turqueta
The path to Cala Turqueta is paved, but only until you reach the top of the cove, some distance from the actual beach. It's therefore not wheelchair accessible.
There are no facilities on the beach itself, but there is a beach bar and toilets in the car park.
Picnic tables are available, and there are areas to seek shade if the sun gets too much.
---
CALA MACARELLETA
It's hard to pull a 'favourite' card with somewhere blessed with such beautiful beaches as Menorca. But at a stretch, I'd have to say Cala Macarelleta is mine.
A tranquil cove surrounded by sun-bleached banks, this quadratic beach gently slides into the transparent water. The first time I visited, I had the beach almost entirely to myself (in June!), but the last few years have seen this spot become one of the most famous beaches in Menorca, and it's really not hard to imagine why!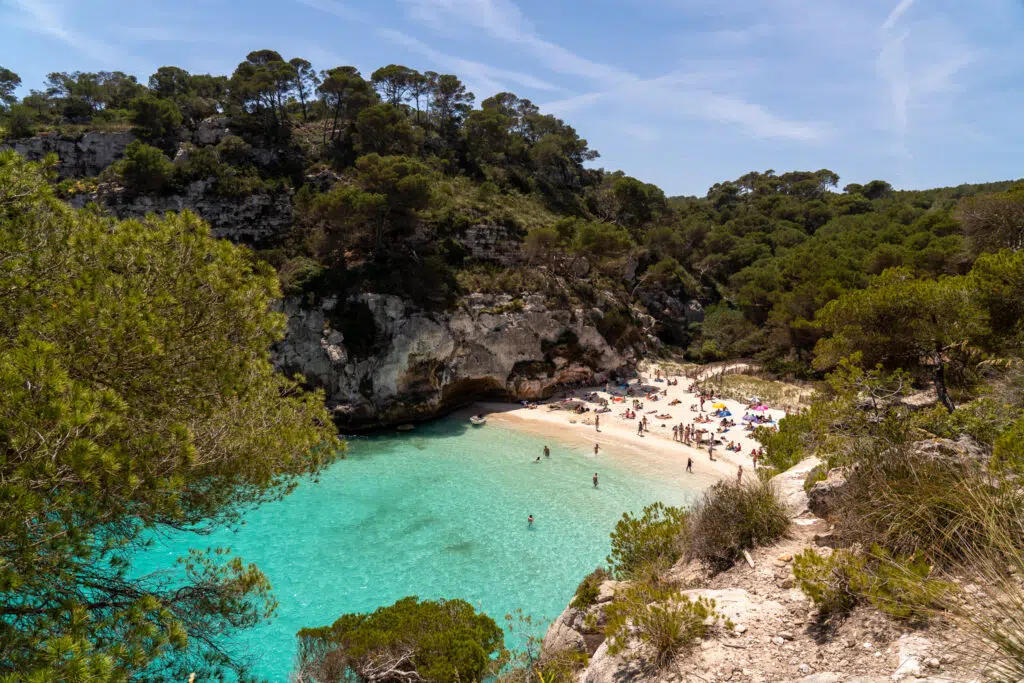 To get to Cala Macarelleta you'll need to walk from Cala Macarella or Cala Turqueta. During the summer months, private vehicles aren't permitted to park at Cala Macarella (only buses and taxis), so your best option will be to park near Cala Turqueta and walk. It's not a long walk though, and there are two routes. You can either take the coastal path, or follow the Camí de Cavalls. The former is the more scenic option, but the latter is the easier route.
If you go the coastal way, you'll see a first marker pointing the way.. And then you're on your own. The track is fairly clear though and follows the (very high) cliff's edge the majority of the way, so it'd be hard to get lost. Just before you approach Cala Macarelleta there is a very steep downward section into the bush.
It was at this point I wondered if I'd ever find my way out again, but luckily after reaching the bottom and walking for a few minutes, I was reunited with the Camí de Cavalls and the sign to Macarelleta.
Following the Camí de Cavalls takes a little longer, but is an easier route. The track is 1.9km from Cala Turqueta and takes around 30 minutes.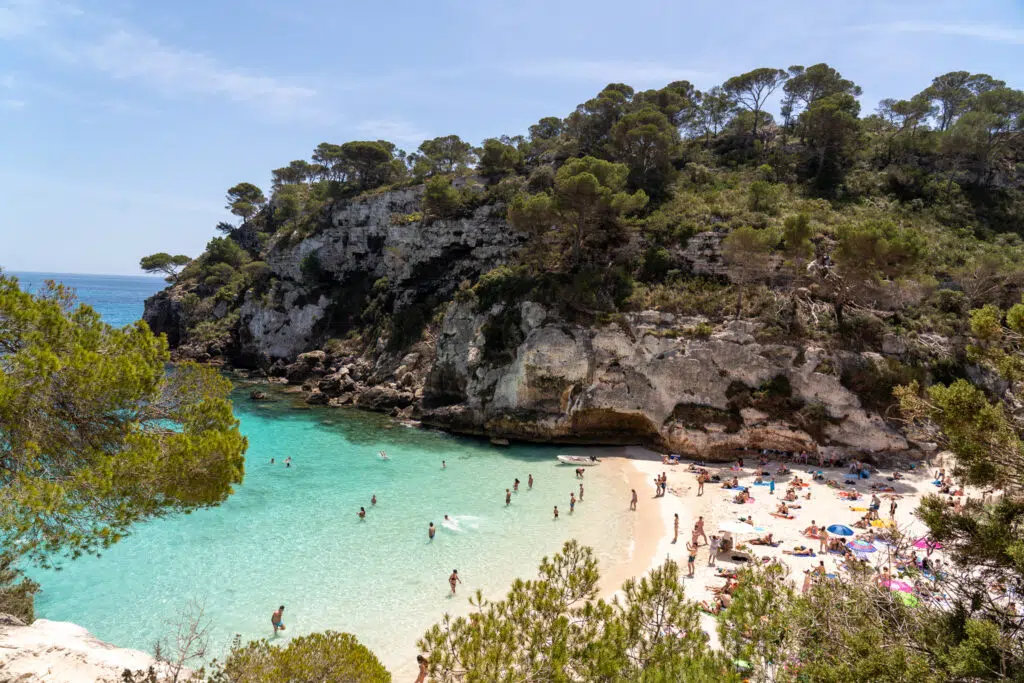 Things to know before visiting Cala Macarelleta
There are no facilities at this beach, but Cala Macarella is just around the corner and has toilets, rubbish bins and a beach bar to utilise

(although last time I visited there was a lone barman who arrived on a boat to whip up fresh mojitos!)
Due to its small size, I'd hesitate to bring kids here. Families are better catered for on the expansive Cala Macarella next door.
To get the best views, walk up the stone staircase etched into the cliff to the side of the beach, on the way to Cala Macarella.
---
CALA MACARELLA
It's Cala Macarella's surroundings that award it the status of being one of the most beautiful beaches in Menorca. Encased within a sublime bay on the southern coast of the island, it's a beach beloved by locals and visitors lucky enough to discover its shores.
Slightly bigger and a little busier than its smaller neighbour, Cala Macarelleta, Cala Macarella appeals to families and those who want convenience and more space to spread out.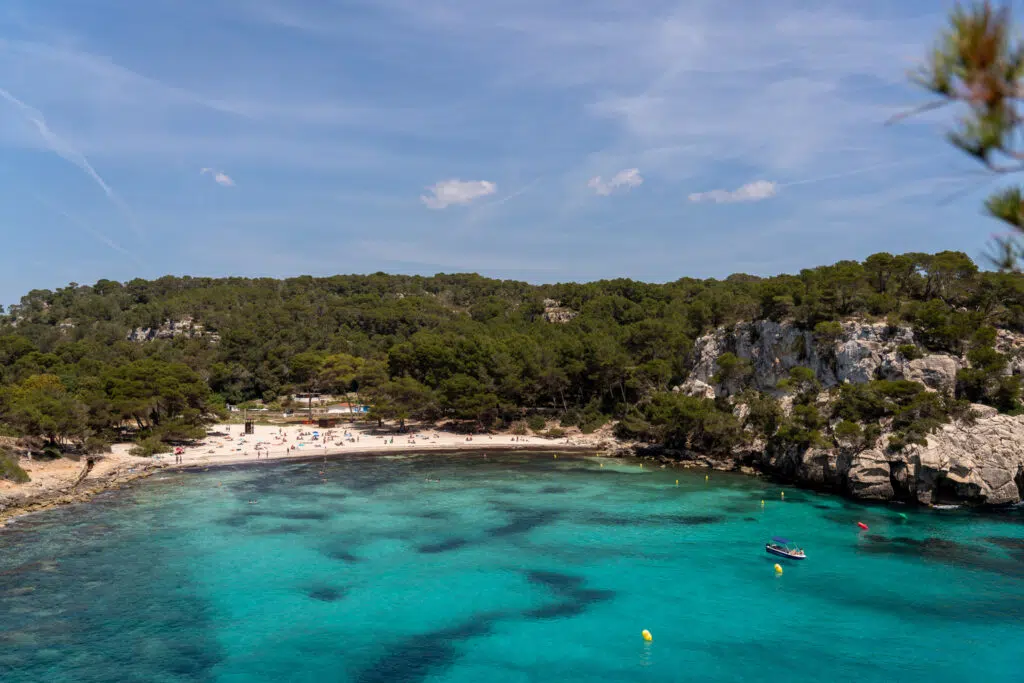 Parking near Cala Macarella is restricted to buses during the busier months, so if you come during summer you'll need to expect some walking. You can either park at nearby Cala Turqueta and walk the Camí de Cavalls for approx 3km (from the beach). Or park at Cala Galdana and walk the Camí de Cavalls for approx 3.5km.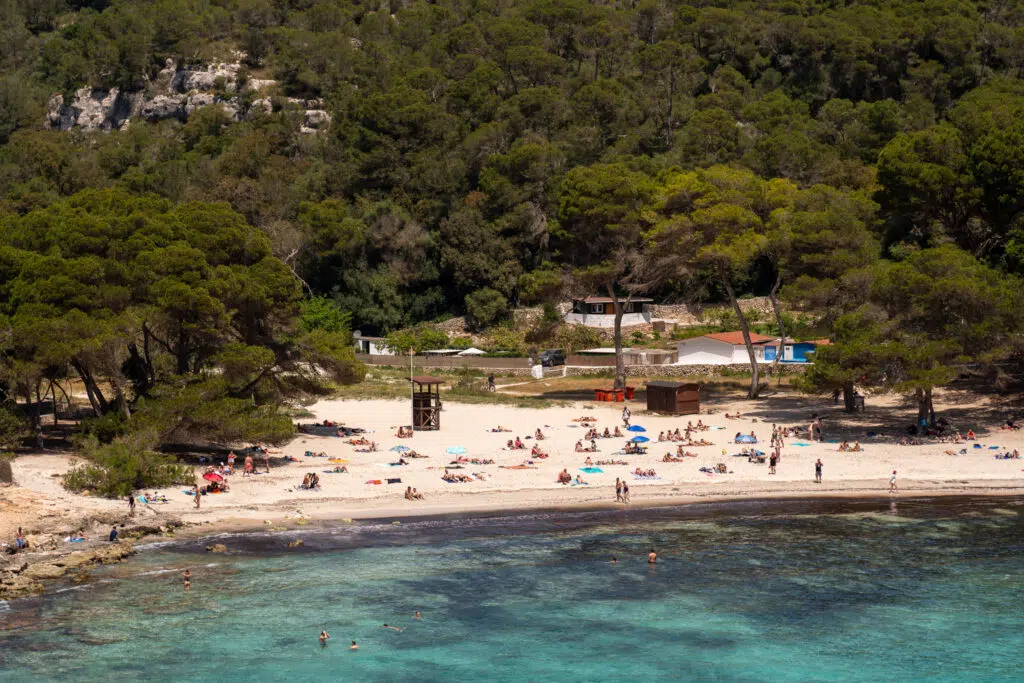 Things to know when visiting Cala Macarella
Don't visit Cala Macarella without walking the short coastal track to Cala Macarelleta – the views are incredible!
There is a lifeguard on duty during the busier periods.
There are toilets, rubbish bins and a beach bar available.
There are plenty of trees in the surrounding area to seek out periods of shade, should you need it.
---
CALA MITJANA & CALA MITJANETA
Often cited as among the best beaches in Menorca, Cala Mitjana and its little sister Cala Mitjaneta are also understandably two of the busier beaches I've visited during my visits to the island.
Reasonably easy access allows families to enjoy the narrow cove of Cala Mitjana, but its deep lopsided shape means there's enough sand for the masses to spread out.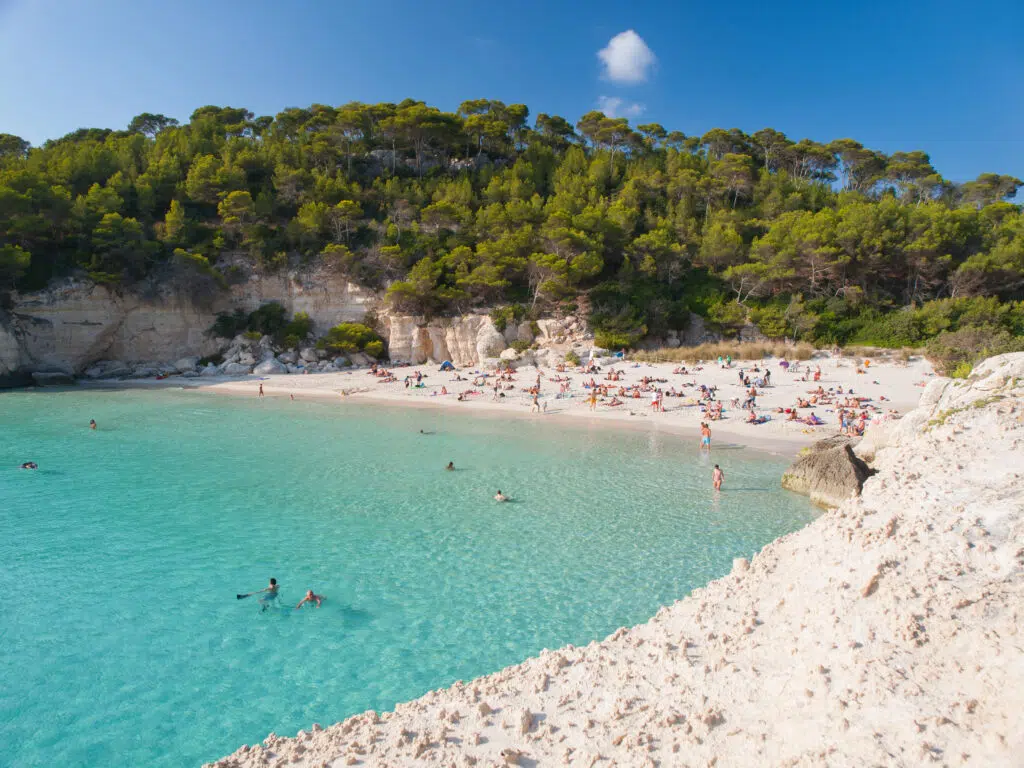 To get there, park at the main car park which is signposted just before the roundabout at the entrance to Cala Galdana (township). It's a large car park, but even then it gets busy, so don't count on finding a spot if you arrive at midday.
Proceed on foot to the western side of the car park where you'll find a gap in the stone wall. Follow the dirt path (which becomes a paved path) all the way to the beach.
It's around a 20 min walk, and all downhill, meaning you'll need to save some energy for the trek back up – especially if you're travelling with young children.
From Cala Mitjana, you can walk a short leg of the Cami de Cavalls to reach Cala Mitjaneta. It's a petite cove with only enough space to accommodate a handful of people. But its size also earns you the notion of tranquillity – without having to hike to one of the more secluded beaches in Menorca.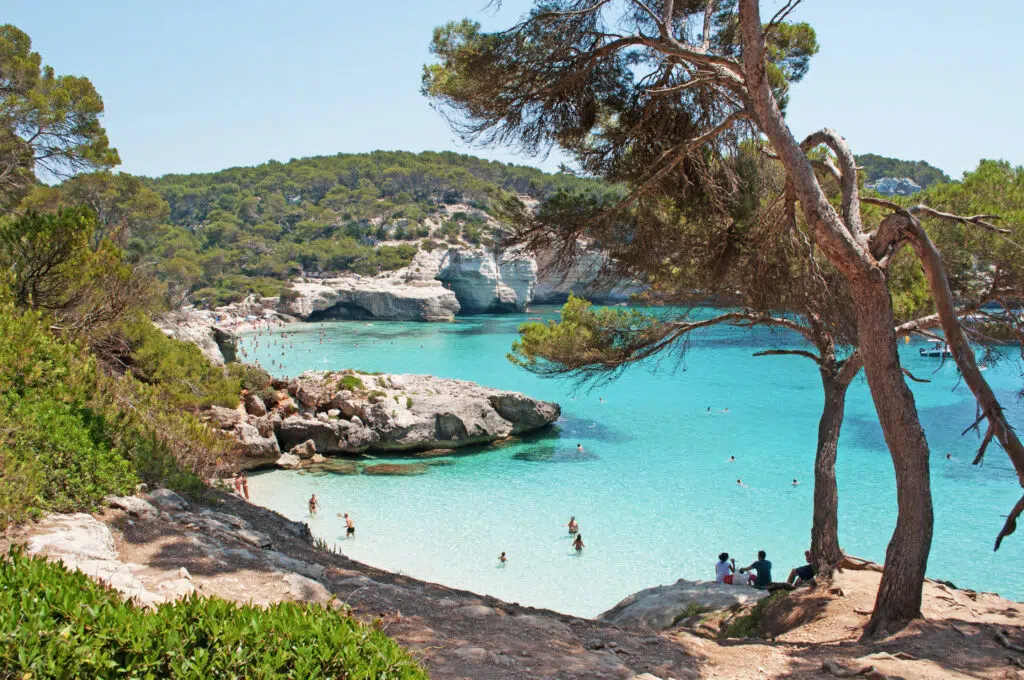 Things to know before visiting Cala Mitjana and Cala Mitjaneta
There hasn't been any notable effort to make this beach wheelchair or stroller accessible. However, I did see a wheelchair on the beach which makes me believe it's possible! The wide paved path to access the beach is certainly wheelchair friendly, but the obstacles will be the first dirt track, and once you reach the sand.
There are no facilities on the beach. Remember to bring everything you need with you – including a rubbish bag to take any used items home.
You could also access the Mitjana beaches by walking from Cala Galdana. Off Av. de sa Punta you'll find the short dead-end lane called Carrer Camí de Cavalls. Follow the Camí to the beach.
---
CALA TREBALÚGER
Peek through the thick pine canopy as you approach Cala Trebalúger and a magnificent scene will welcome you. Sailboats sit silently on the calm turquoise water, the long stretch of fine white sand is interrupted only by the occasional bather, and a gently flowing freshwater creek emerges from the abundant bush. It's a vision to behold after clambering around the coastal walk to reach this seemingly secret beach in Menorca.
Of course, its presence isn't a secret at all. But its remote location and the 40-minute walk to get there from the next closest beach, Cala Mitjana, means only the determined are deigned worthy of its welcome.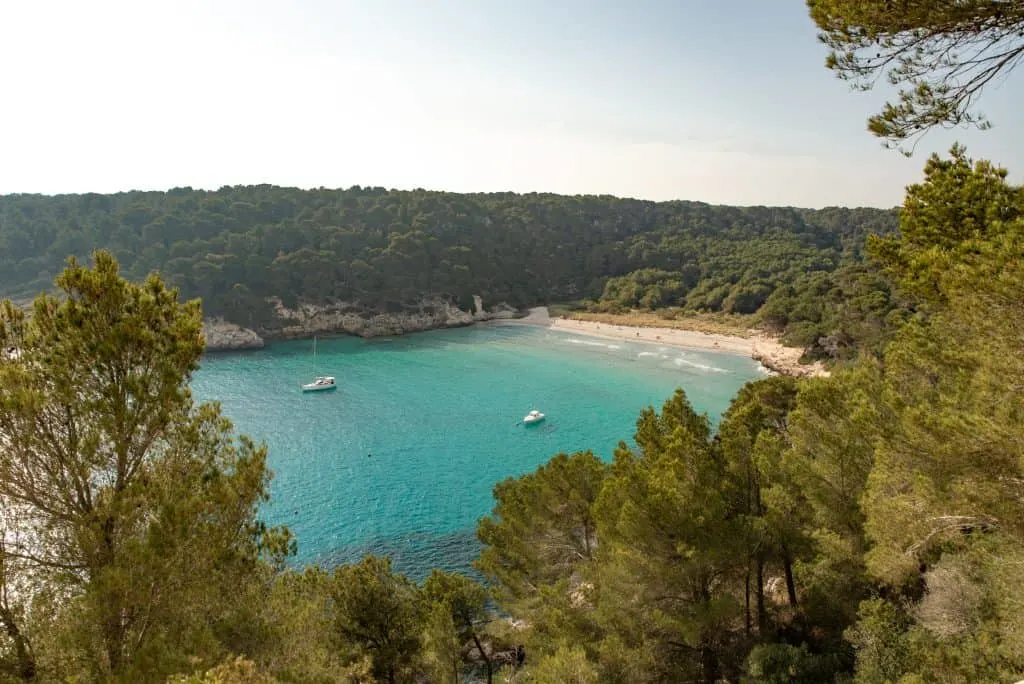 To get to Cala Trebalúger, you must first walk to Cala Mitjana. From the beach, you'll spot a staircase etched into the rock on the left-hand side (opposite the direction to walk to Cala Mitjaneta). This will lead you up into, and through the bush, until you meet Cala Trebalúger.
The walk isn't too strenuous, in fact, the first section will lure you into a false sense of security, but there are a few 'hairy moments' including the last descent.
I'm not sure if it was the timing of my visit, but the last staircase to reach Cala Trebalúger led straight down into the sea! So, to save my sandals (not to mention my camera!), I had to instead very tentatively edge my way around the side of the bank until an alternative way down to the beach presented itself. I still got my feet wet wading through the stream, but that was a welcome alternative to having to jump in the sea in my sundress!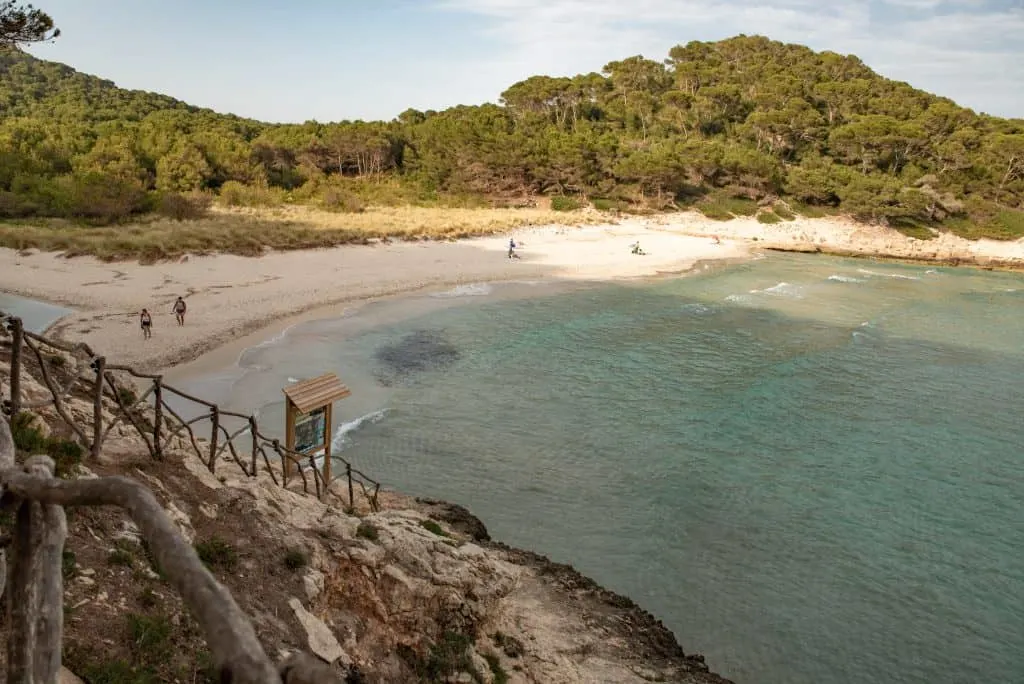 Things to know about visiting Cala Trebalúger
This is not an easily accessible beach. Kids who are good walkers/climbers should manage ok though.
Wear reef shoes, waterproof sandals, or trekking shoes with a good grip to avoid slips on the track.
There are no facilities within an hour of this beach. So take everything with you, and take everything back home with you.
---
CALA FUSTAM
Cala Fustam often gets overlooked in favour of the larger Cala Trebalúger, or the illustrious Cala Escorxada. But despite its petite size, it still has a lot to offer the astute visitor.
The quiet cove is screened in on both sides by pine-fringed promontories and the bay only has enough space for a few fortunate boats. It's one of the more well-known naturist beaches in Menorca, so bringing your swimsuit is optional.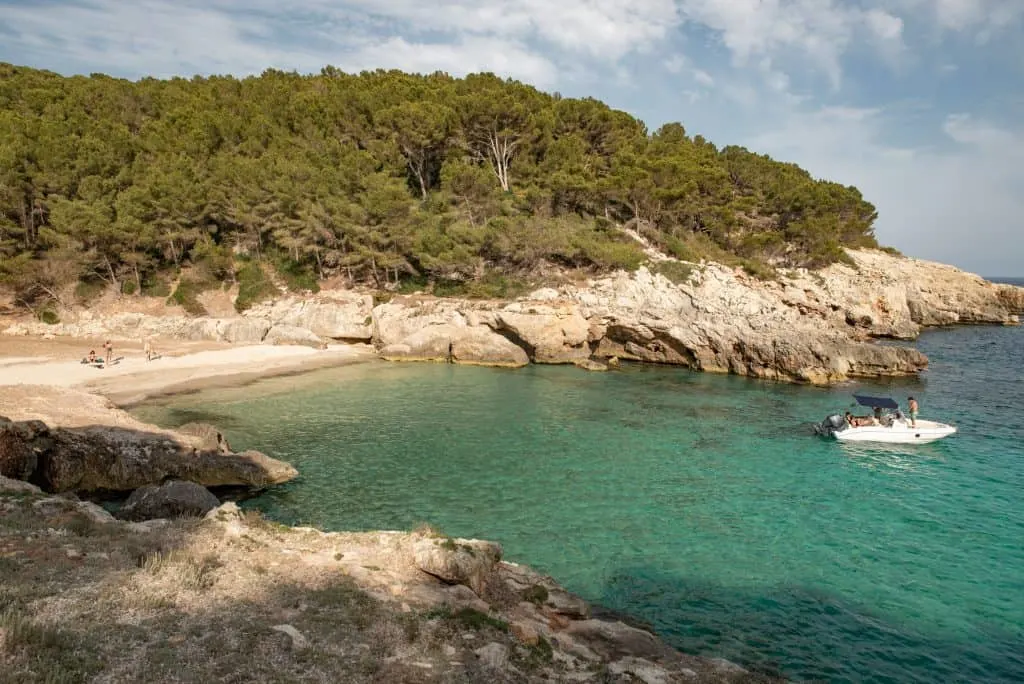 Situated between Cala Escorxada (5-10 mins) and Cala de Trebalúger (30 mins), you can either walk to Cala Fustam from Cala Mitjana in the west, or Cala Binigaus in the east.
There's no correct way, as both paths present their challenges, and either way will take you over an hour of challenging walking. See the instructions for Cala Escorxada for more details.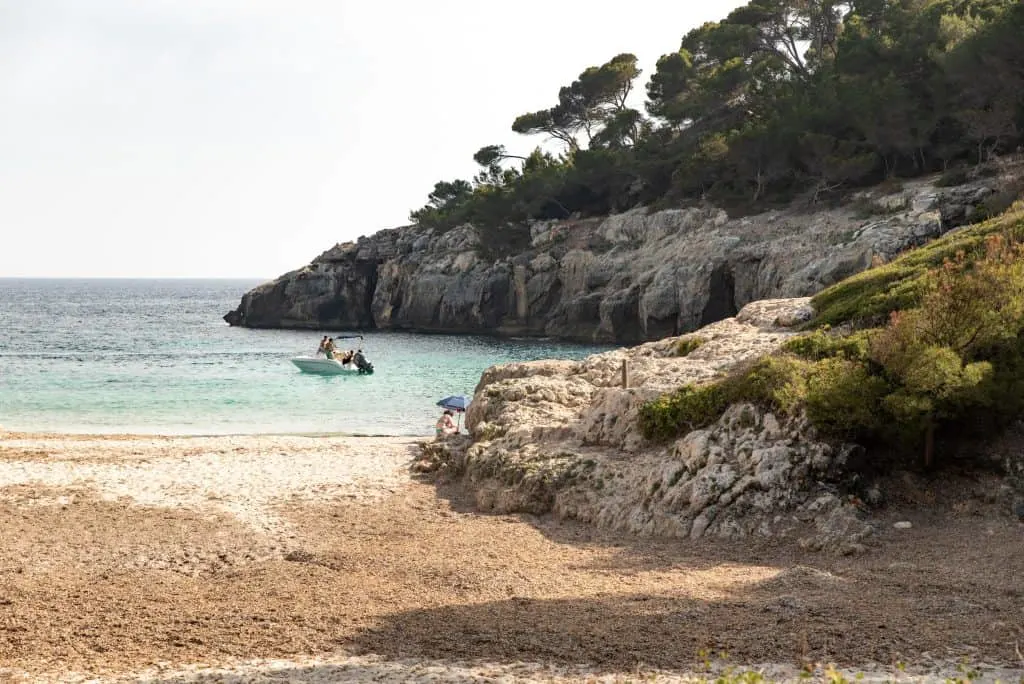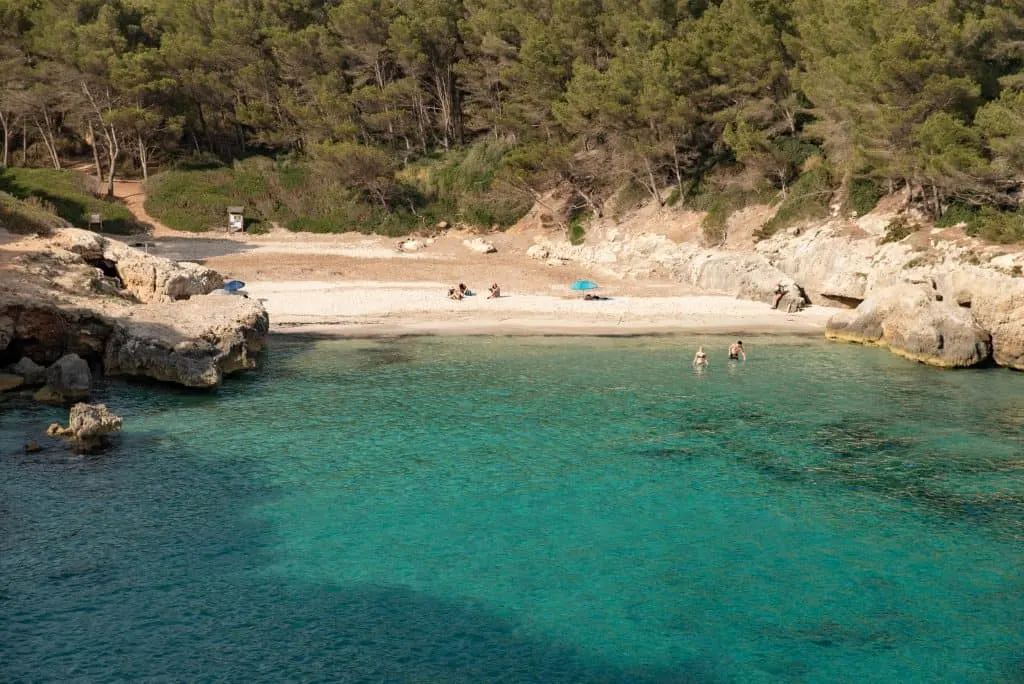 Things to know before visiting Cala Fustam
There are no facilities on or near the beach. Be sure to bring plenty of water, especially in the summer months.
Access is difficult, so not the best option for families.
---
CALA ESCORXADA
The type of beach you dream of discovering, Cala Escorxada is a rarity on an island in Spain that is becoming as popular as Menorca. It's not as beautiful as Cala Macarelleta, or as calm as Cala Pregonda, but it has a rugged, wild brand of beauty that sets it apart from the rest.
The beach's secluded location in the south of the island only adds to its appeal. As you approach after an arduous walk, you'll be relieved by the sight of the heavenly bay that awaits you. Roll out your beach towel and settle in for the day.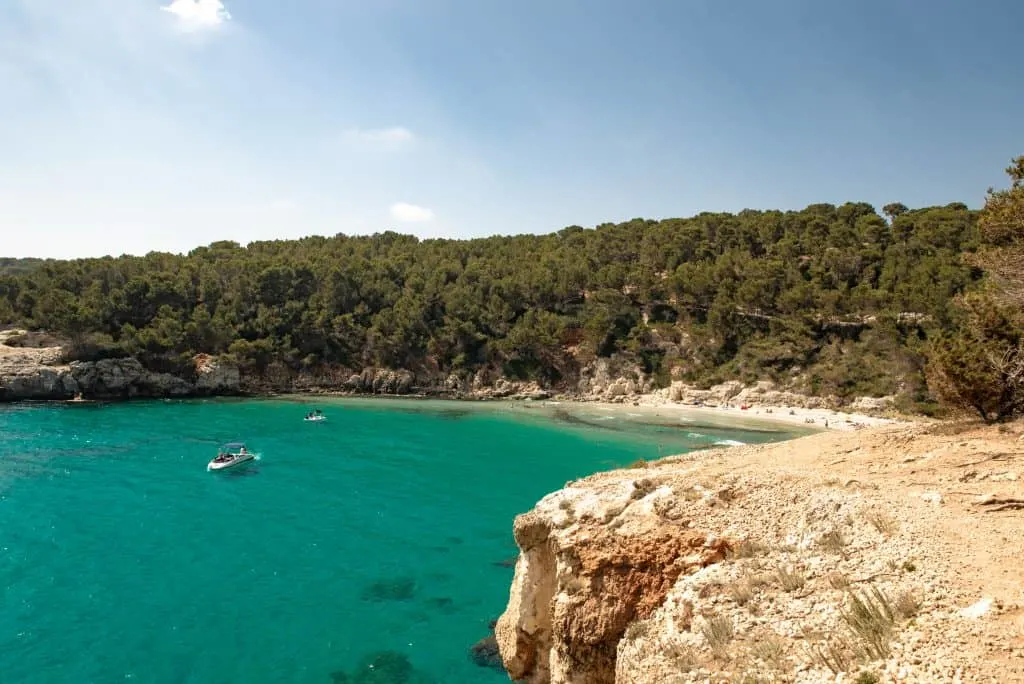 You can walk to Cala Escorxada from either Santo Tomás in the east or Cala Mitjana/Cala Galdana in the west. Both options come with a disclaimer! If approaching from Santo Tomas, you'll start the walk overlooking the coves of Playa de Binigaus. It is a stunning walk, that climbs high above the beach.
The path is fairly well indicated but there may be a few moments when you'll be wondering if you've gone astray. Thankfully, the sighting of a simple wooden marker will reassure you of your direction. The track alternates between teetering on the cliff's edge, to snaking through the bushy undergrowth and you'll welcome the shade the pine trees offer overhead.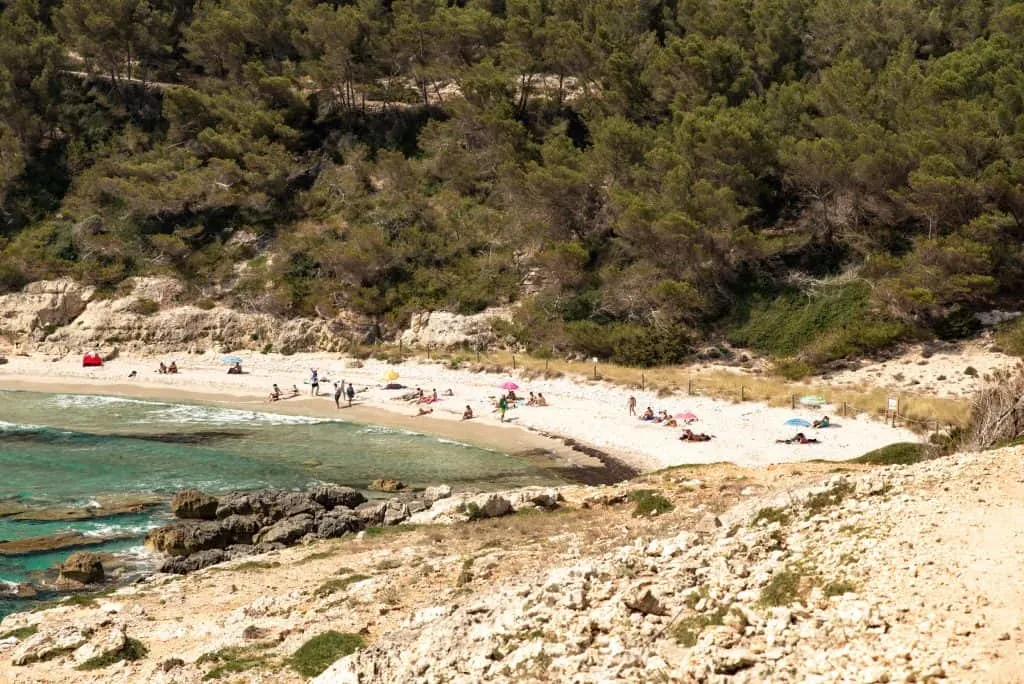 The walk takes around an hour, even though it's only a smidge over 2km. And although officially labelled as 'difficult', I'd say it's more realistically 'moderate' with a few tricky bits to navigate.
The other approach, from Cala Mitjana, is arguably more interesting, as you'll pass by Cala Trebalúger and Cala Fustam on the way. However, I found this leg much more difficult. Maybe because I was tired by that point, maybe not. But there were steep sections to navigate, and a little climbing/scrambling involved too.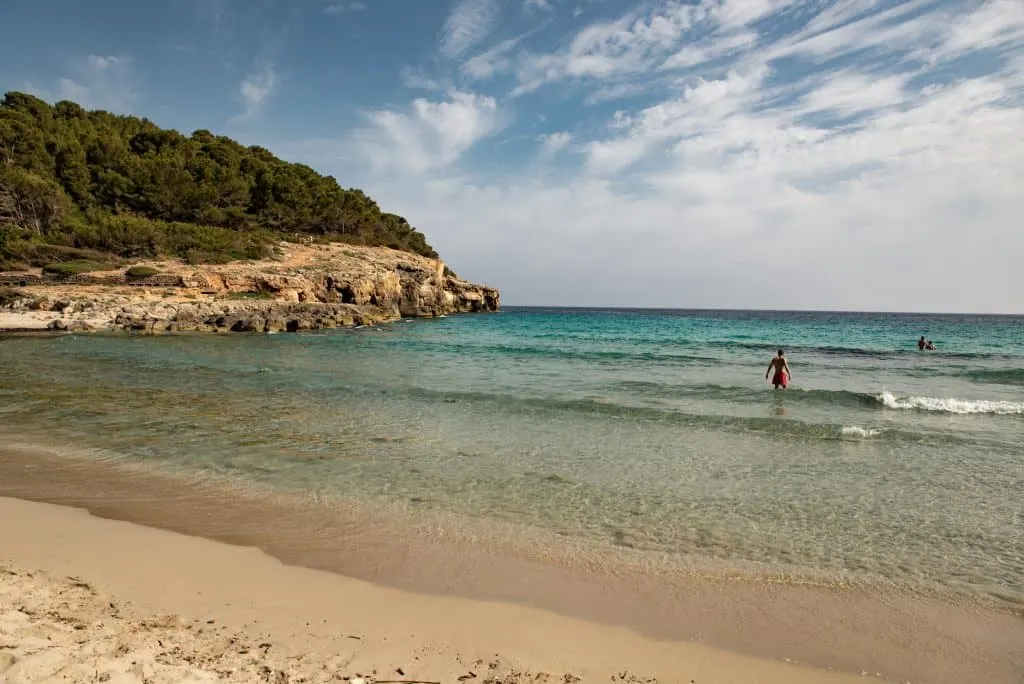 Things to know before visiting Cala Escorxada
Personally, I wouldn't recommend this walk with kids younger than 8. For safety as well as difficulty concerns.
There are no facilities on or anywhere near the beach.
Remember to pack plenty of water with you for the day.
Wear appropriate footwear with a good grip.
---
PLAYA DE BINIGAUS
The Binigaus beach is only a short walk along the coast from the town of Santo Tomas, but it still offers a feeling of peace and remoteness. Backed by bush and low shrub-covered dunes, it's not the prettiest beach in Menorca.
However, if you walk around the corner, to where the sand meets the towering rust-coloured cliffs, you'll find pockets of sandy coves tucked at arm's length from the crowds.
This is a popular beach for naturists, especially in the secluded coves, as it offers privacy while still being a fairly accessible Menorca beach.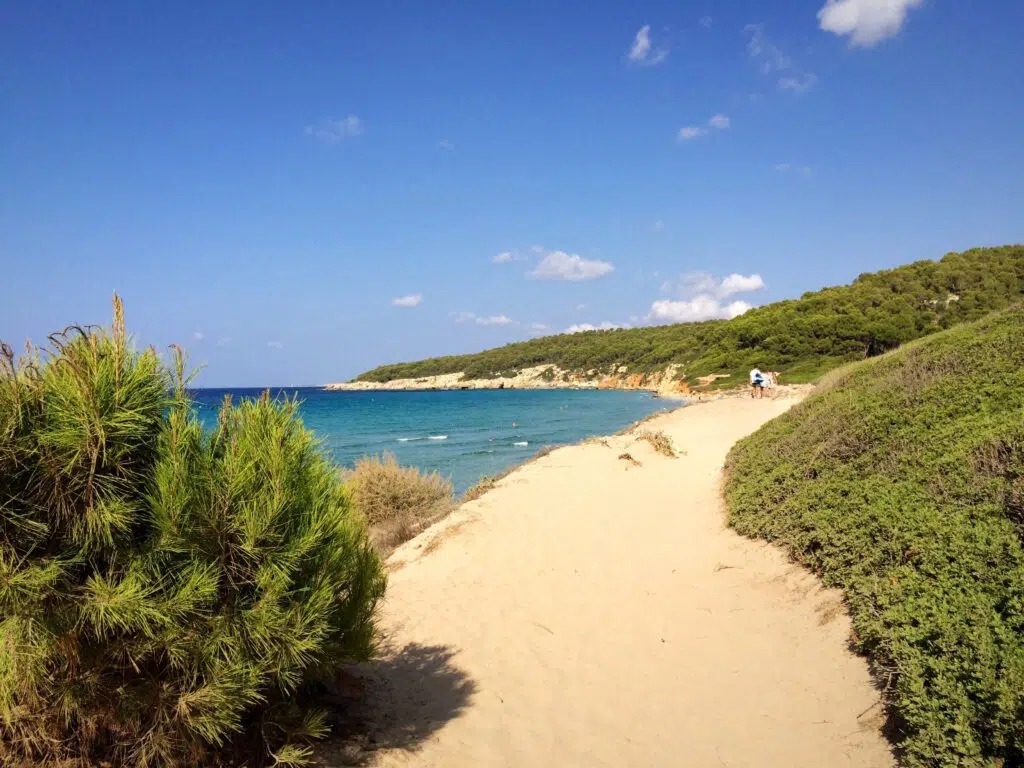 To get to Playa de Binigaus simply park your car in the car park at Santo Tomas and walk the short section of the Camí de Cavalls to the beach. It will take you around 10-15 minutes of walking, making this an easy beach to get to with kids. Keep going to the far end of the beach to find the hidden coves.
Alternatively, if you're up for a bit of a hike, you can walk to Playa de Binigaus all the way from Cala Mitjana or Cala Galdana. Either along the Camí de Cavalls, which mostly takes an inland route; or along the more scenic, but much more challenging coastal path.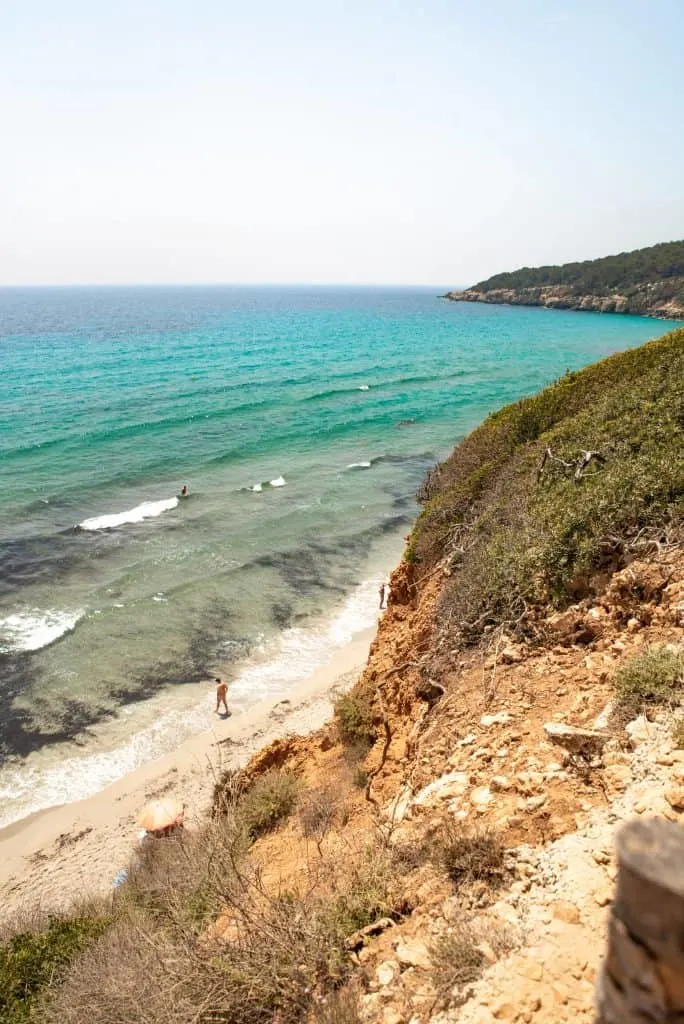 Things to know before visiting Playa de Binigaus
There are no facilities on the beach, but Santo Tomas is just a short walk away.
This is one of the beaches in Menorca where the sea can get a little rougher, as it's fairly exposed to the prevailing winds.
You can swim out to Binicodrell Island for snorkelling or sunbathing on the rocky isle.
---
CALA EN PORTER
The deep sandy cove at Cala en Porter is an absolute show stopper! Surrounded by limestone cliffs, the deep turquoise waters almost look too good to be true! Best appreciated from above, before you descend the long sloping staircase to the sand, it's located in the sleepy seaside resort of the same name.
Having only two hotels, this is coincidentally one of the best places to stay in Menorca for quiet beach holidays.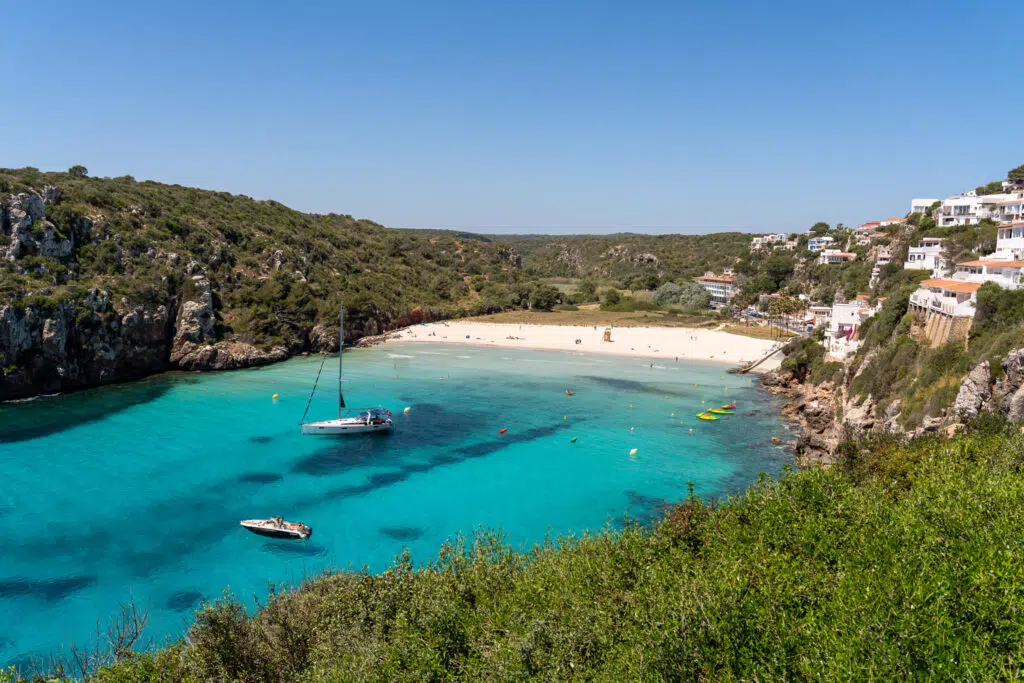 In the high season, you'll find half the beach kitted out with sun loungers and umbrellas for hire, but there's still plenty of room if that's not your scene. There are also water sports available, and kayaks, pedal boats, and paddleboards are available to hire.
Access to this family-friendly beach is uncomplicated, and there's a car park directly behind the beach – although do note you'll be lucky to find a free spot much after 10am.
Splash around in the sea, and finish your day with a sundowner at nearby Cova d'en Xoroi. Although do be sure to book in advance, as it's one of the most famous Menorca attractions.
Things to know before visiting Cala en Porter
This is a great beach to visit in Menorca with kids, as there are watersports and facilities on hand.

There are cafes, restaurants and shops close by should you get hungry.

There are lifeguards on duty in summer.
---
CALA BINIDALÍ
I stumbled across the tiny cove of Cala Binidali by accident on my most recent trip to Menorca, and it was a very welcome surprise!
Located in one of the most exclusive areas of the island, there's little to do here except relax in nature and appreciate the perfect natural cove before you.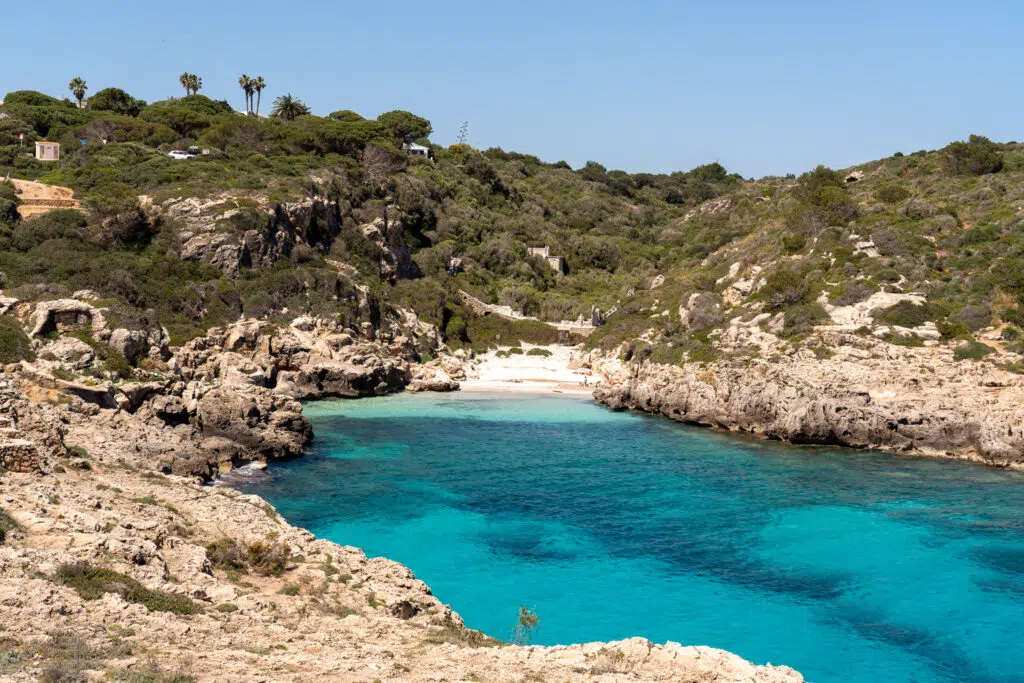 Protected from the wind, and tucked away from plain sight, it's the ideal spot to settle in for the day with a good book.
If you do happen to get hungry or thirsty, there's a relaxed beach bar overlooking the bay where you can sip the local tipple.
To get to Cala Binidali, simply follow your GPS to Binidalí, and park in the small car park on the corner of Carrer de sa Nastre. On your way, be sure to pull into the lookout point on the headland!
Things to know before visiting Cala Binidali
There's not a lot of space in this beautiful cove. So if the car park is full, perhaps choose another place.
There are rubbish bins in the car park, but no toilets unless you visit the beach bar.
---
CALÓ BLANC
Caló Blanc is a beach hidden in plain sight. Located just off the road, not far from the much busier Binibeca beach, you wouldn't know this tiny beach existed beyond the nondescript car park.
Not much more than a few meters of sand, this is one of the smallest beaches in Menorca, yet also one of the most popular due to its accessible location and amazing swimming, snorkelling and diving opportunities off the craggy rocks that surround it.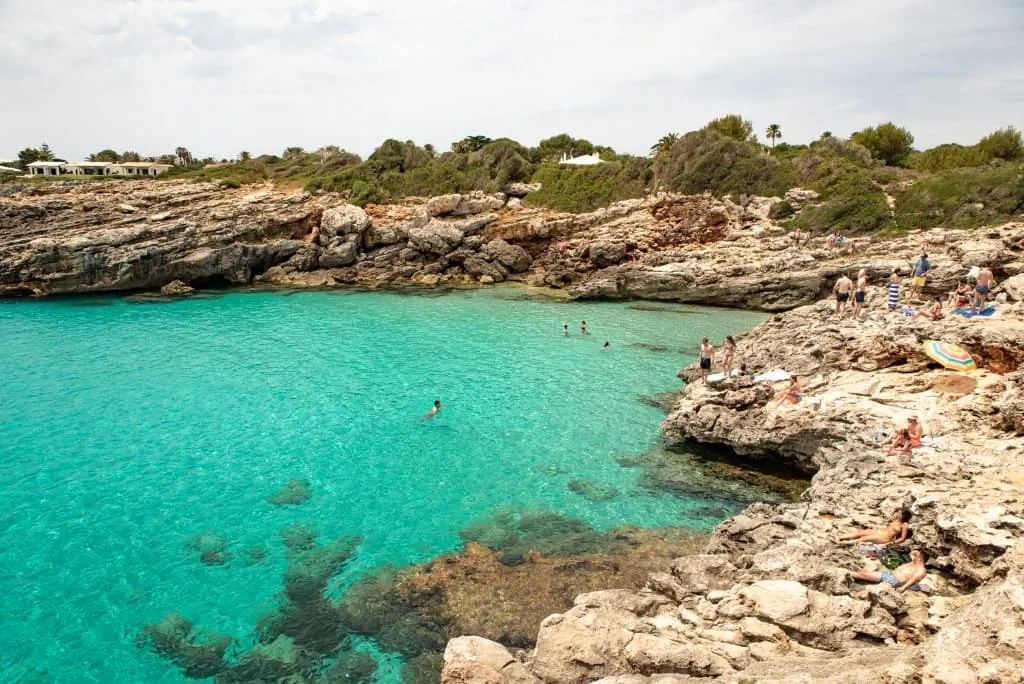 To get to Caló Blanc simply drive towards es caló Blanc where you'll find a roadside dirt car park. Leave your car there and proceed on foot to the right-hand side of the park where you'll find a steep stair accessway to the beach.
Things to know before visiting Caló Blanc
Because the beach itself is so tiny, most people set themselves up on the cliffs surrounding it.
There are no lifeguards on duty.
This beach seemed to attract more of a teenage crowd than the other beaches on Menorca.
There are no facilities on the beach, but there are shops and restaurants within a short walk.
---
CALA MESQUIDA
The bay of Sa Mesquida is utterly charming in itself, and its main beach, Cala Mesquida, is wholly worthy of its surroundings. Situated away from the handful of houses scattered around the bay, it offers a peaceful sanctuary.
A crescent-shaped bay awaits you, sheltered between rocky headlands, and backed by low-lying dunes. There's space here for everyone to do their own thing, but if it's total privacy you're after, there's another rocky bay around the corner where you'll find it.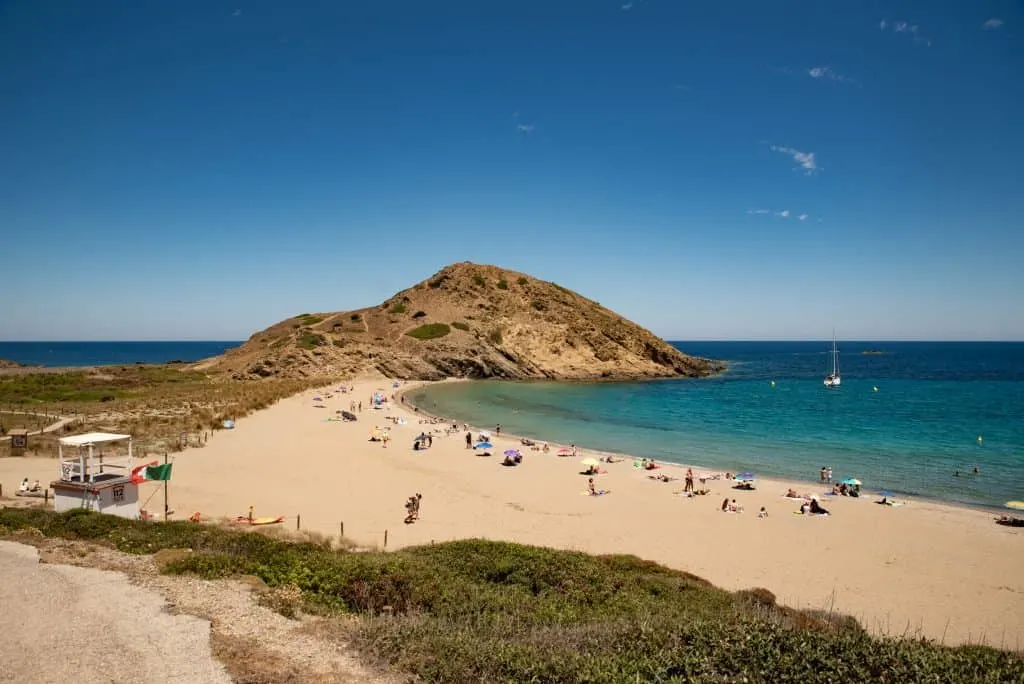 Getting to Cala Mesquida is simple, but requires a little forward thought, as parking is limited. Drive to Sa Mesquida before carrying on through and around the bay. You'll find car parks on one side of the road as you approach the beach. If these are all taken, look for a break in the bush where a decent-sized dusty car park is located just off the main road (on your left as you approach the beach).
Walk down to the end of the road and continue through the roadblock to the paved path beyond. A short stroll will deliver you to the sandy cove. To continue on to Rinconada de Sa Mesquida – a hidden rocky bay around the corner – you can walk a small section of the Camí de Cavalls between the dune shrubs and through a wooden gate.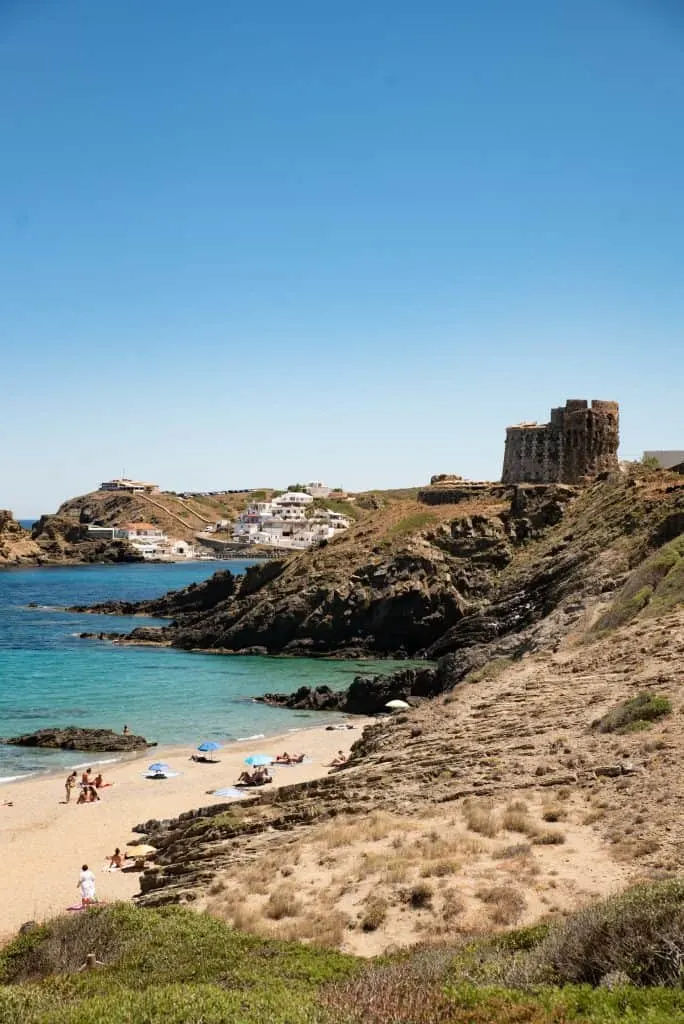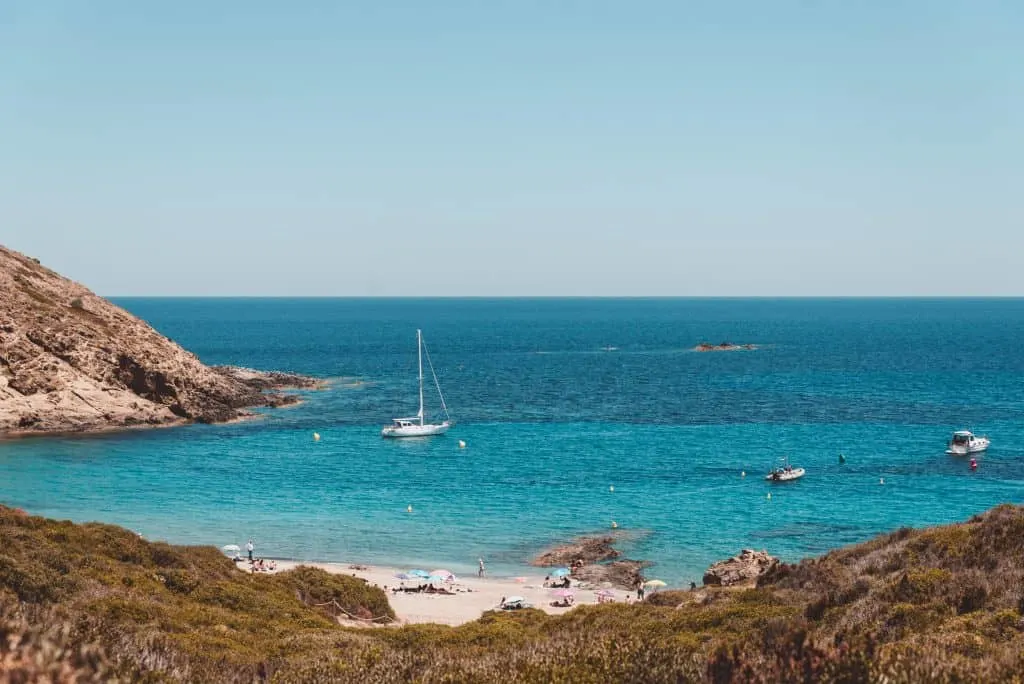 Things to know before visiting Cala Mesquida
This is a great beach for kids in Menorca as it is sheltered, it's not far to walk, and there's a lifeguard on duty (in the busier months).
There are toilets available on the beach and a small trailer selling refreshments.
---
CALA EN VIDRIER
Just around the corner from the busy Es Grau beach, Cala en Vidrier is a hidden gem away from the crowds. This petite patch of sand benefits from a protected cove, affords stunning views of the Aegean-looking village on the other side of the bay, and is a safe haven for those looking to practice naturism.
But even if you're not comfortable baring it all on the beach, you'll still be happy you made the effort to unearth this untarnished beach in Menorca.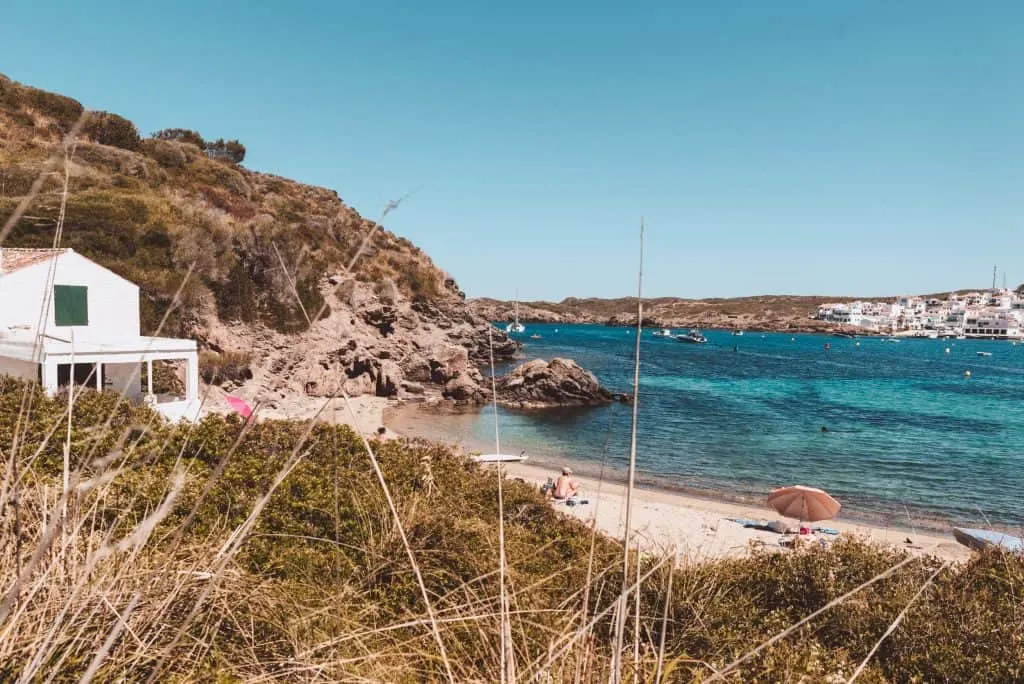 To get to Cala en Vidrier, park at the large dirt car park before the entrance to Es Grau village. Proceed in the direction of the village on foot, but make a turn towards the left when you see the wooden platform that leads to Es Grau beach.
Stop here if you want to avail of the facilities, or perhaps to hire a kayak to reach Cala en Vidrier. Otherwise, continue to the far end of the beach where you'll find a thin trail snaking up into the hillside. Once you reach the top of the hill, take the path that leads closest to the coast, it'll lead you down a steep decline and round the corner to the beach.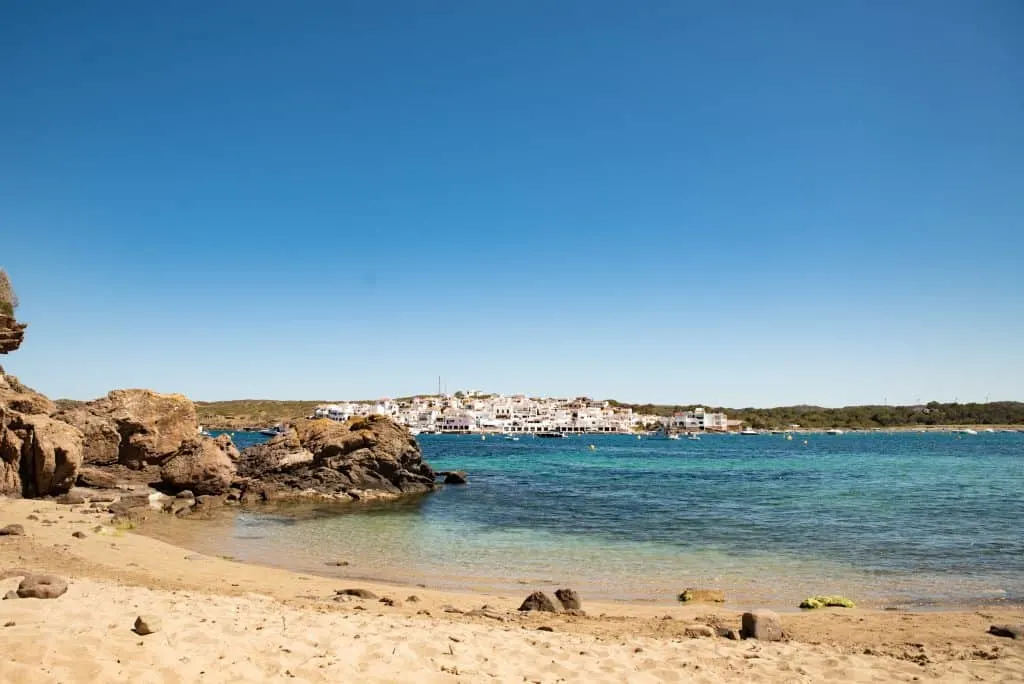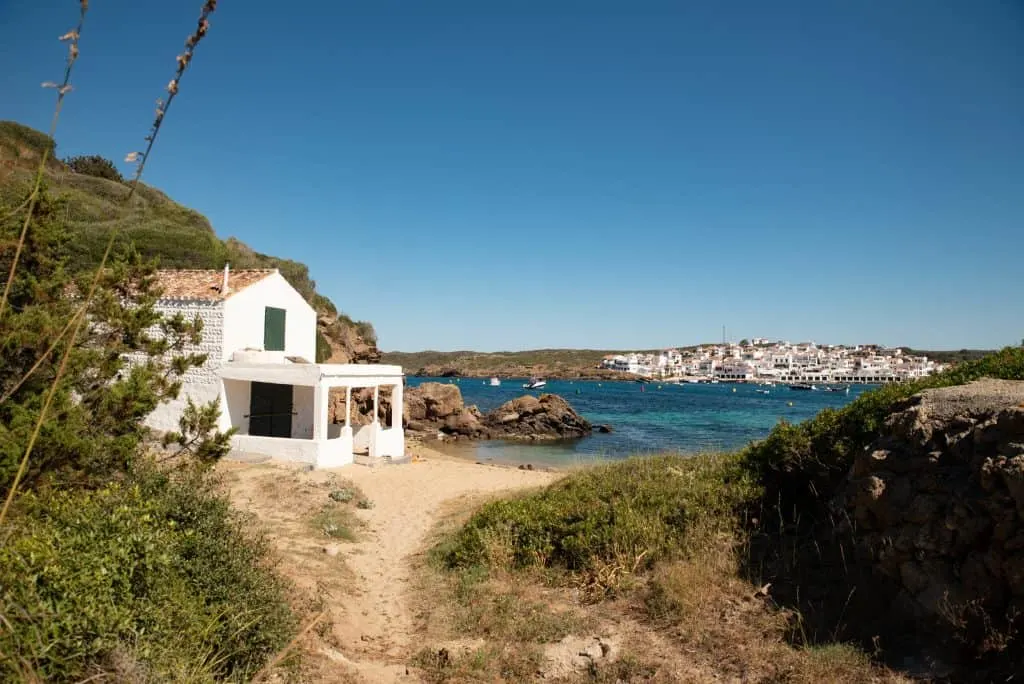 Things to know before visiting Cala en Vidrier
The closest facilities are on the beach at Es Grau, which is approximately a 15-minute walk away.
You'll need decent shoes to navigate the last bit of the path and to protect your feet as there may be (mostly harmless) snakes lurking in the tall grass.
I'd mark this one as primarily an adults-only beach due to its size and atmosphere.
---
CALA TORTUGA
The next beach over from Cala Presili (below), Cala Tortuga is akin to the big sister of the two. A grand entrance reveals a larger, more popular cove where kayaks are pulled up on the sand, children play in the shallow water and couples sunbathe under a shared umbrella.
Situated within the protected S'Albufera Natural Park, it is an area of abundant birds and wildlife, emphasised by the presence of the natural lake behind the beach, the Bassa de Morella.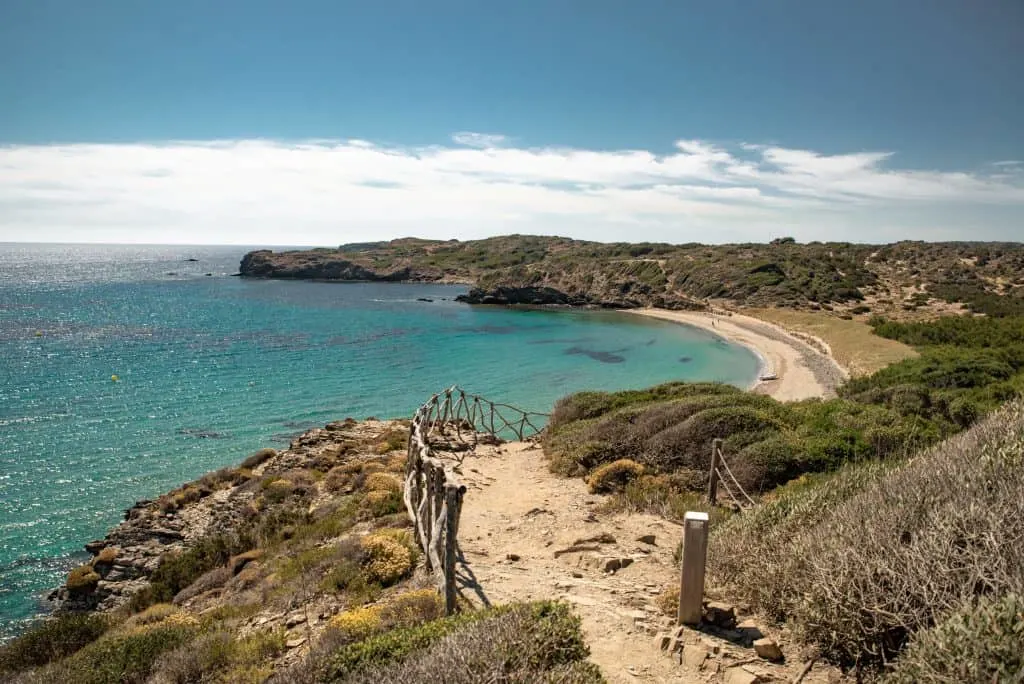 To get to Cala Tortuga, follow the signage from the Favàritx car park, and follow the Camí de Cavalls right the way to the beach. It is approx 1.6 km from the turn off on the main road to Favàritx.
If you feel like exploring further, or you're seeking a quieter spot to sun yourself, the rocky but private Cala Morella Nou is right around the corner also.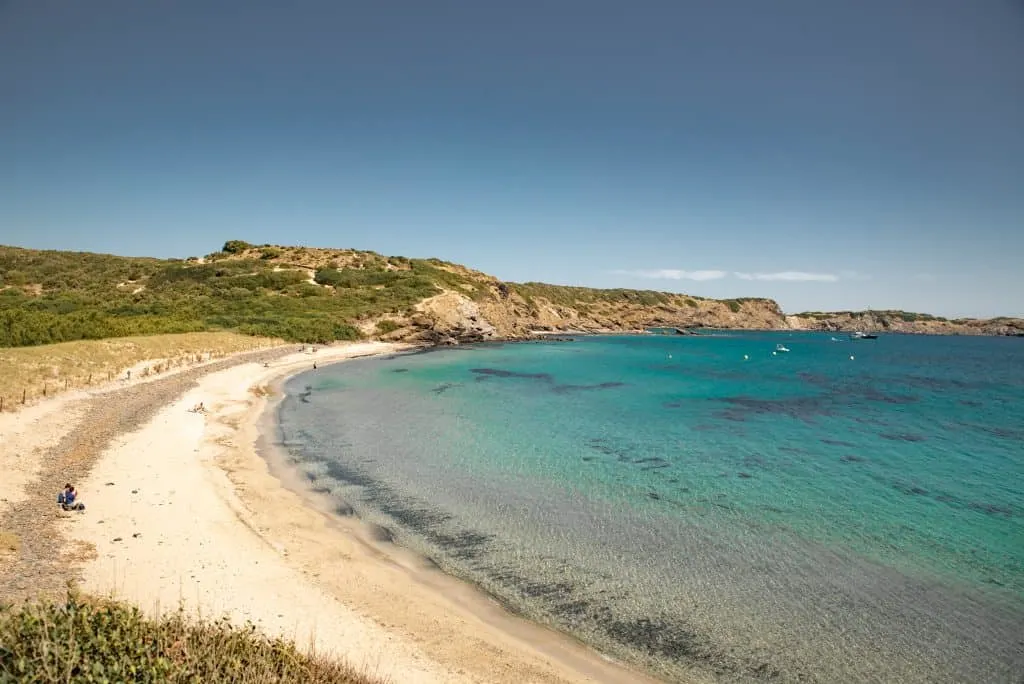 Things to know before visiting Cala Tortuga
Be prepared for a long walk if visiting in the summer when the road to Favàritx is closed to private vehicles.
There are no facilities on or near the beach.
Take shelter in the form of a parasol or pop up tent.
---
CALA PRESILI
Emerging from the desert-like surroundings, Cala Presili is a sight to behold after a long walk in the blazing sun. Situated not far from, and with a fantastic view of, the Favàritx Lighthouse, this hidden beach in Menorca offers a quiet escape from the busier beaches in the south.
The crisp white sand is uncharacteristic of this side of the island, and it contrasts beautifully with the azure sea. The beach's au naturel attitude applies to both the surroundings and the swimmers.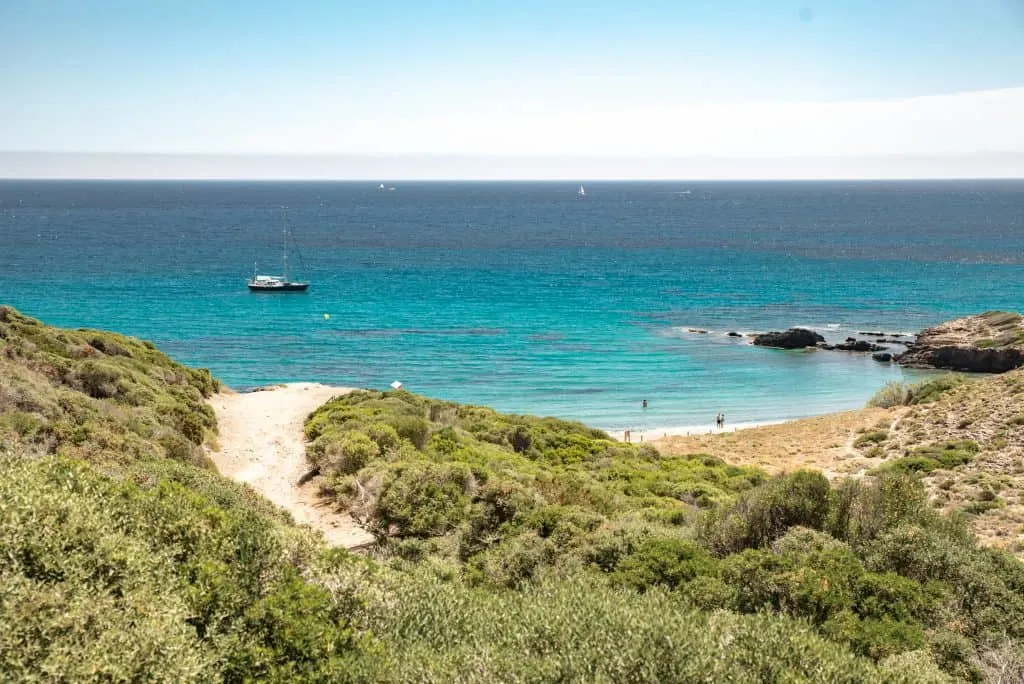 Getting the Cala Presili was a little more challenging than I had anticipated. First of all my GPS tried to direct me down a private road, a plan blighted by the presence of a stern-looking steel gate to stop me in my tracks. After that misstep, I decided to continue in the direction I was going and my GPS soon realigned itself.
Obstacle 2 came in the form of a friendly security guard who ushered me away when I tried to drive toward the Favàritx Lighthouse. Apparently, this road is also private, and only buses and taxis are permitted to enter during the summer months. There is no nearby parking, and the side of the road is cordoned off to deter cars from parking on the bank.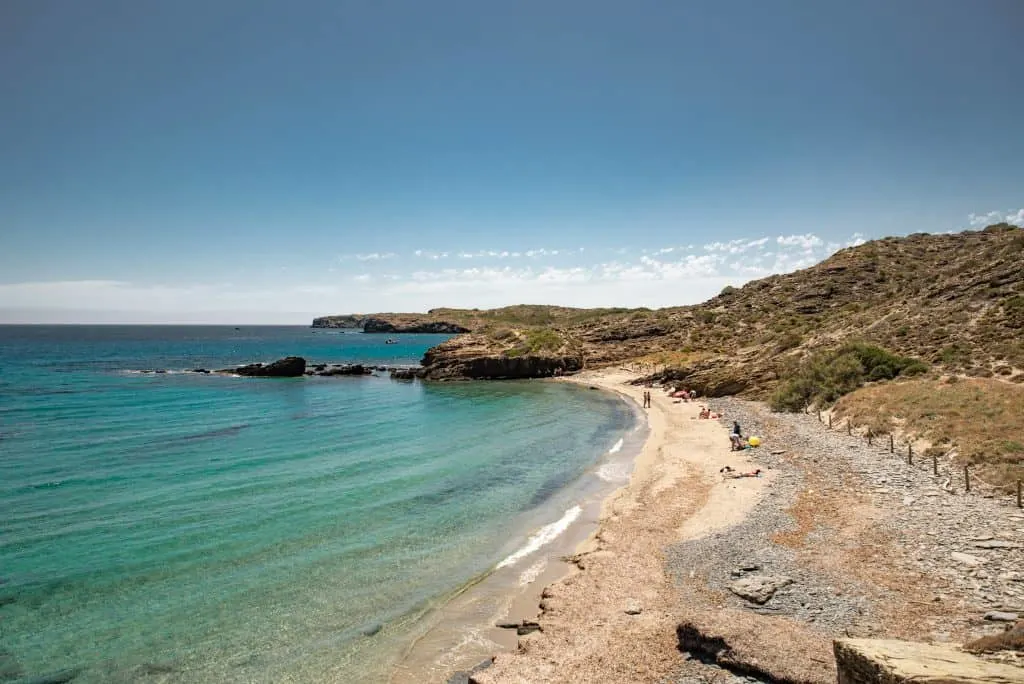 However, there is the occasional break in the fencing, and I was lucky enough to find a empty verge that I tentatively left my car in. When I left, mine was the only car there, but when I returned in the early afternoon, 3 or 4 others had squeezed in, and every spare centimetre of parking space on either side of the narrow road was crammed with cars.
Once parked, you'll need to walk back to the security barrier and proceed down the long winding road on foot. It is a lengthy walk on a hot day, but not uninteresting. Wild goats graze in the bush and as you get closer to the sea, the landscape turns abstract – rocky and barren, and not at all like the lush surroundings you just emerged from.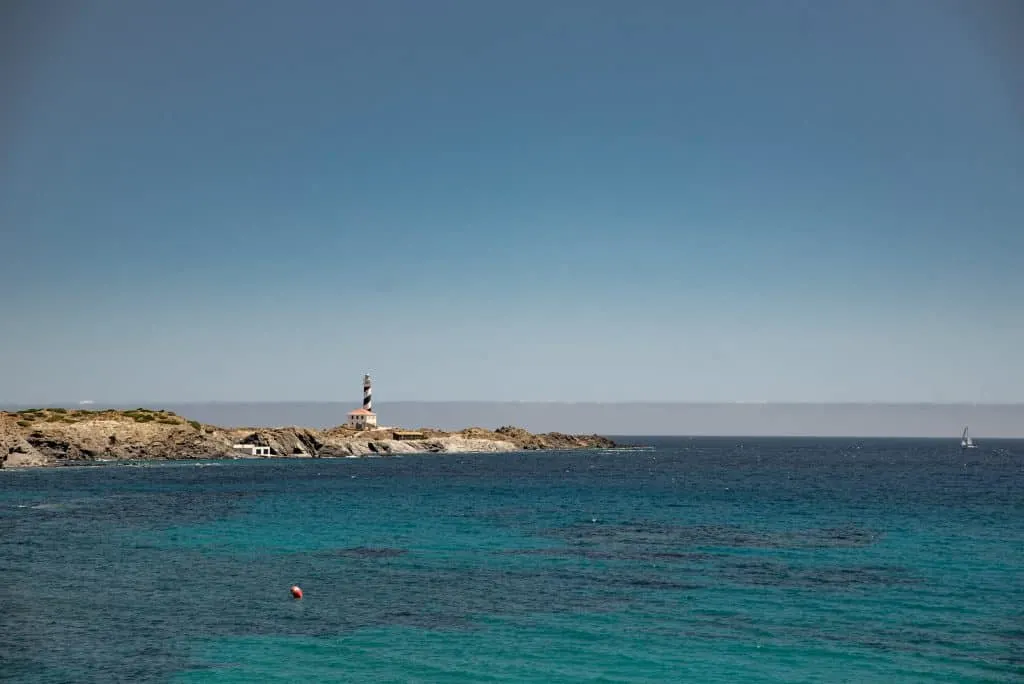 Before you reach the lighthouse, you'll see a sign directing you to Cala Presili and Cala Tortuga. Cala Presili is the closest beach, just a 900m walk from that point. After 600m you'll turn off the Camí de Cavalls and follow a smaller path to the left.
Things to know before visiting Cala Presili
There are no facilities on or near the beach.
It's a fairly narrow beach, so perhaps not the best place for your ball games!
Expect a fair amount of nudity on display.
---
PLAYA DE CAVALLERIA & CALA ROJA
Golden sands and a volcanic-looking backdrop define these bucolic beaches in Northern Menorca. Playa de Cavalleria is clearly the star here, and where most visitors flock. But Cala Roja just around the corner offers a more wild and rocky retreat.
Both beaches provide a picturesque place to swim, sunbathe and snorkel. But if you're heading to Menorca with kids, Playa de Cavalleria is the beach to choose due to its shallow, unobstructed water (no sharp rocks to cut little feet) and ample space to set up a ball game.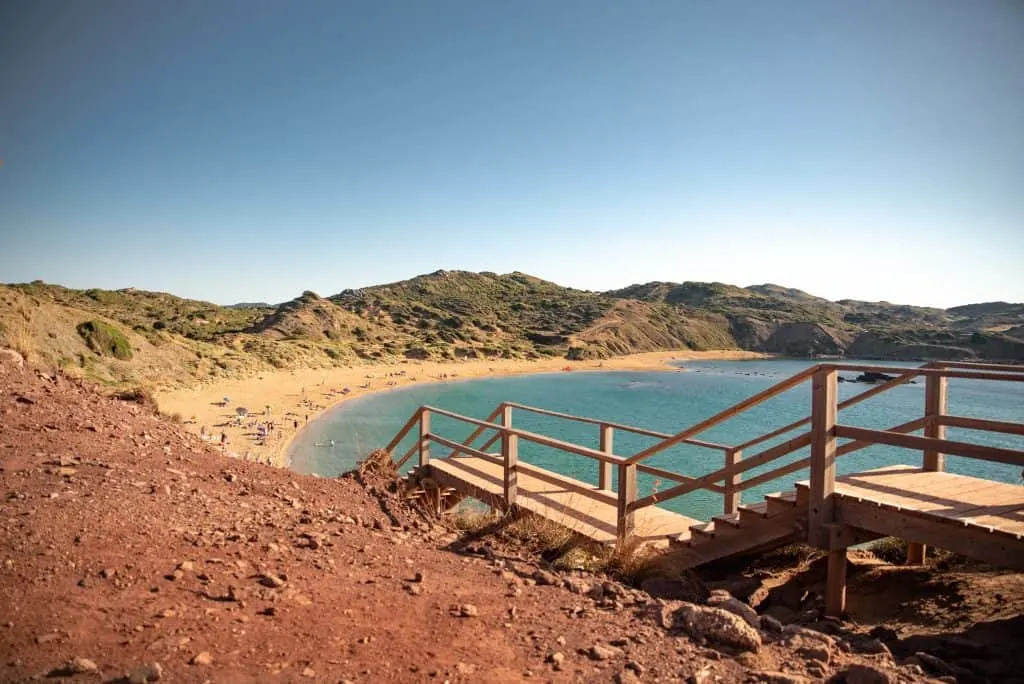 To visit Playa de Cavalleria and Cala Roja, drive towards the Cape Cavalleria Lighthouse and you'll find the car park on your left before the gated entrance to the Cap de Cavalleria. Parking is free and there is plenty available. Proceed down the dusty red path and you'll come to a beautiful lookout over the beach.
If you're lucky, the picnic table will be yours to enjoy. A little further (the entire walk only takes 10 mins), a wooden staircase will deliver you to Playa de Cavalleria on the left, or a small trail will lead you to Cala Roja on your right. The latter seemingly being the beach of choice for naturists.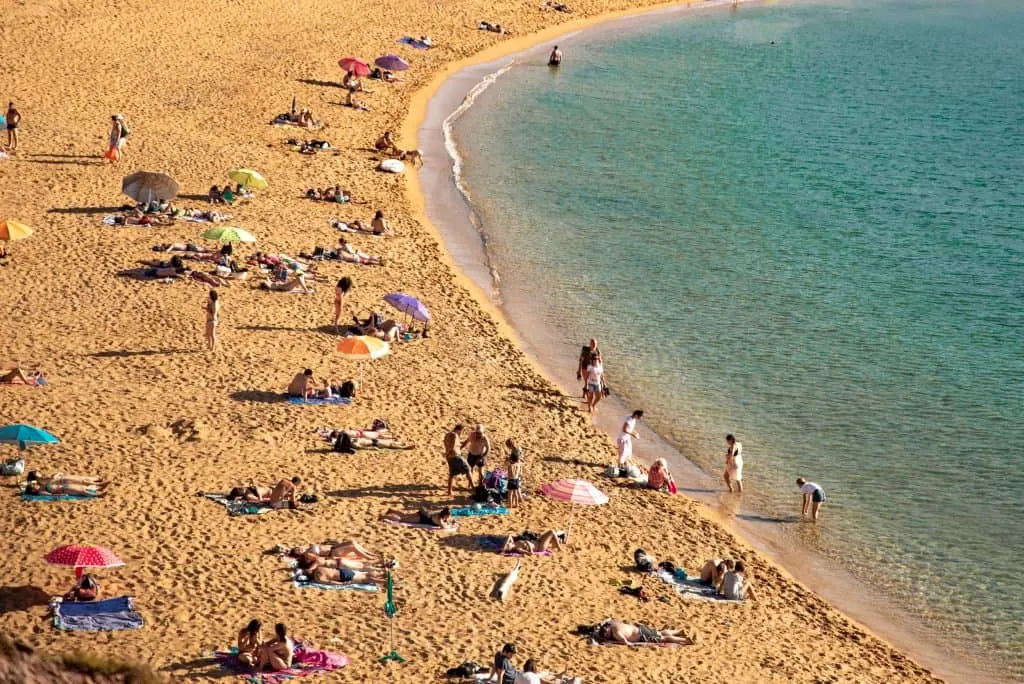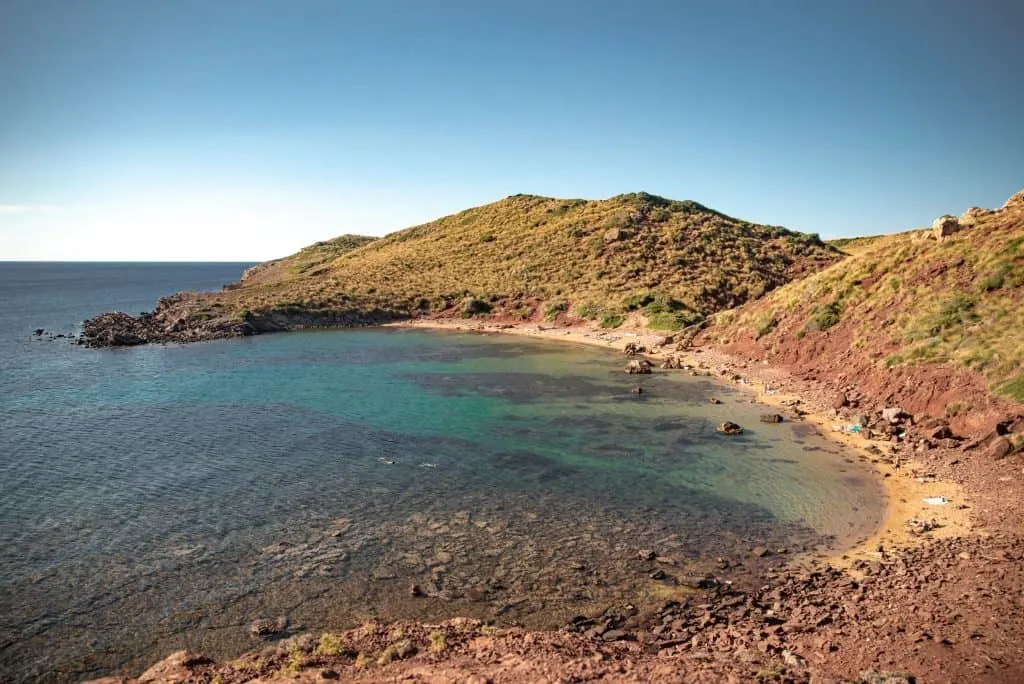 Things to know before visiting Cala de Cavalleria & Cala Roja
There is a beach bar and toilets in the parking lot (10 minute walk from the beach).
It's advisable to bring an umbrella or pop-up tent for shelter as trees are scarce.
---
CALA PREGONDA
With an otherworldly landscape, Cala Pregonda offers a unique experience on the north coast of Menorca. Set away from the roads and resorts, it's a calm space where you feel cocooned within the cove.
Jagged orange rocks rise from the turquoise water, their edges overlapping to enhance the feeling of being enclosed in this endearing space.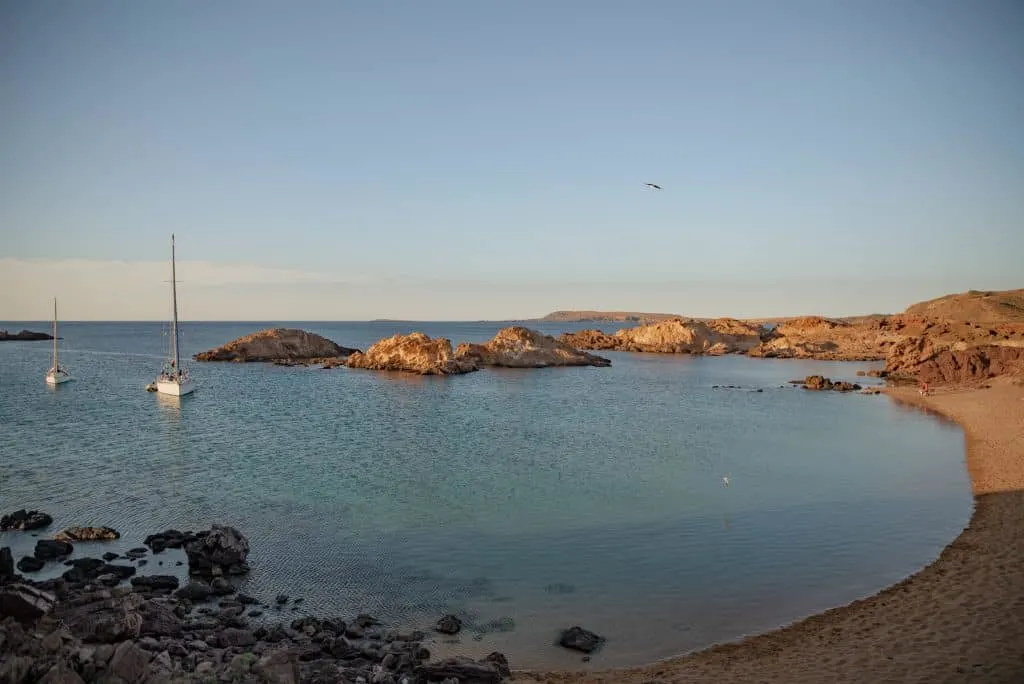 Getting to Cala Pregonda can be a bit of a challenge if you're new to Menorca. When I first visited, I blindly followed my GPS which unhelpfully led me to a private road, miles from any public beach access.
To avoid my misfortune, head towards Platja de Binimel-là instead. The last 1.7km is on a gravel road, but it is wide and in fairly good condition (until you get to the last corner). Park before the restaurant car park and proceed on foot to Binimel-là beach.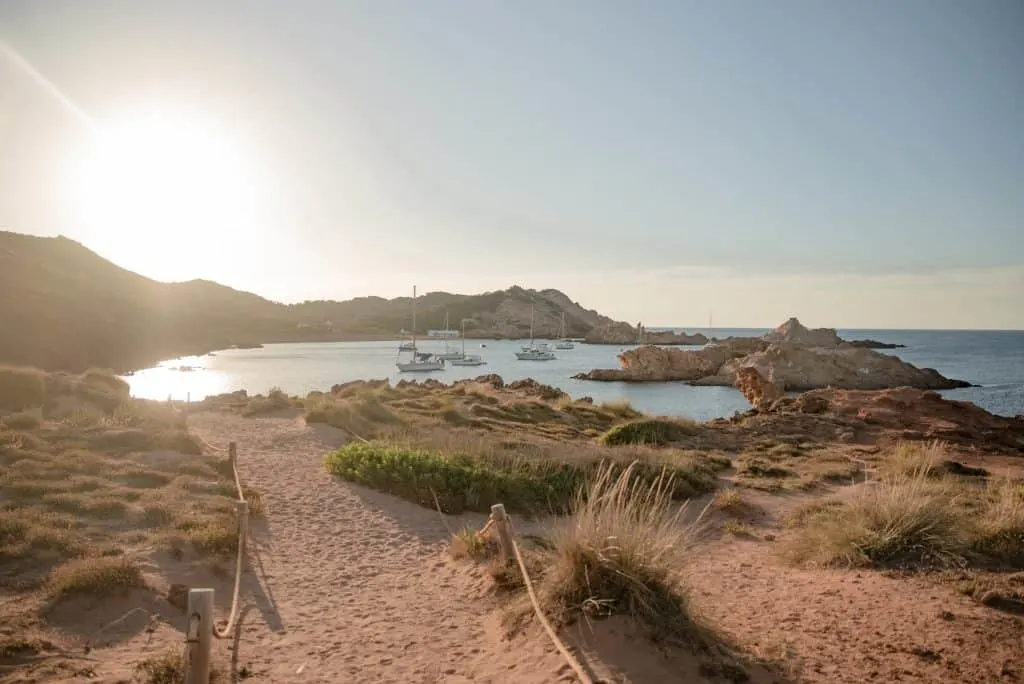 Binimel-là is a fine beach in itself, but Pregonda is worth stretching your legs for and walking the extra 20 min track over the headland. The red sand and desert-like surroundings will keep you entertained as you trek.
The 'official' Cala Pregonda beach is further away, but I preferred the first little cove you'll encounter. It's completely untouched, unlike the larger beach which has a few private houses overlooking it, and totally tranquil.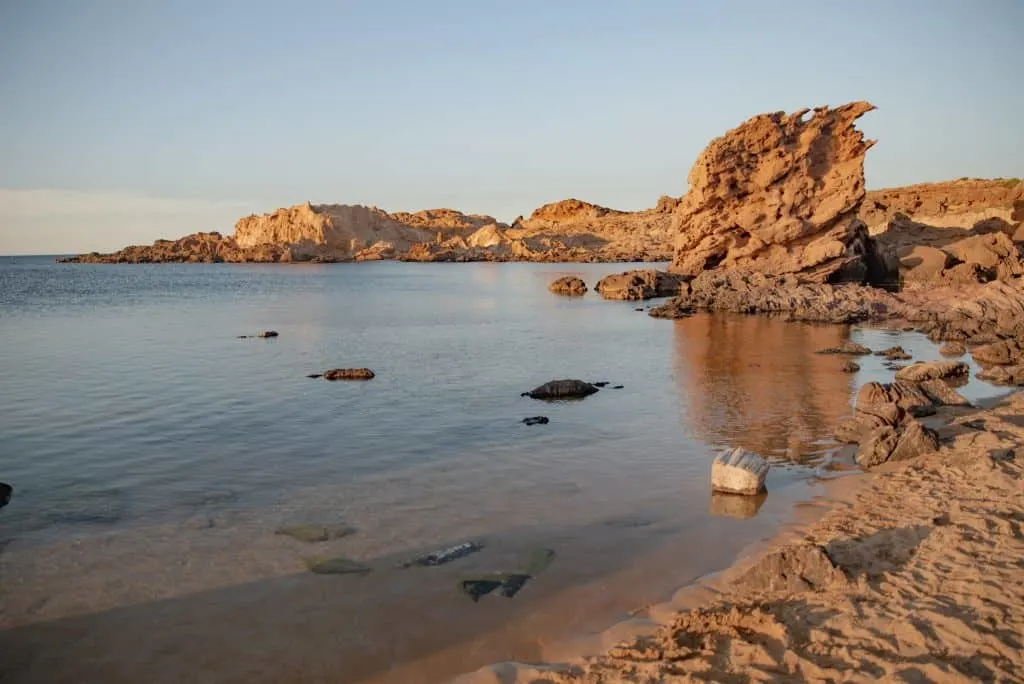 Things to know before visiting Cala Pregonda
There are no facilities on or near the beach (apart from the restaurant near Platja de Binimel-là).
It makes a great place to snorkel – so bring your gear!
Also, pack a popup tent or umbrella to seek respite from the sun as there are no trees to offer shelter.
---
---
Menorca's secluded beaches deliver the perfect escape if you dare to seek them out. Whether you're visiting Menorca for a quick sojourn, or an entire summer, be sure to add visiting one or more of these incredible beaches in Menorca to your to-do list. You won't regret it…
Loved this? Pin it!