From sun-drenched beaches to thrilling adventures and family-friendly resorts, the best Spanish islands offer a smorgasbord of holiday fun.
Traverse volcanic landscapes, soak up the sun and discover unique coastlines, on a trip to the Canary Islands. Here, you'll take your pick of seven main islands blessed by nature's paintbrush and bursting with activities to suit every desire.
Among the most beautiful islands in Europe, the Balearics boast the sun-kissed beaches of your paradise island fantasies. Whether you indulge in Ibiza's famous party scene, Mallorca's abundance of child-friendly attractions or Menorca's quiet charm, you're always just steps away from natural wonders.
That's all without mentioning Spain's best-kept secrets, for island holidays steeped in romance and serenity.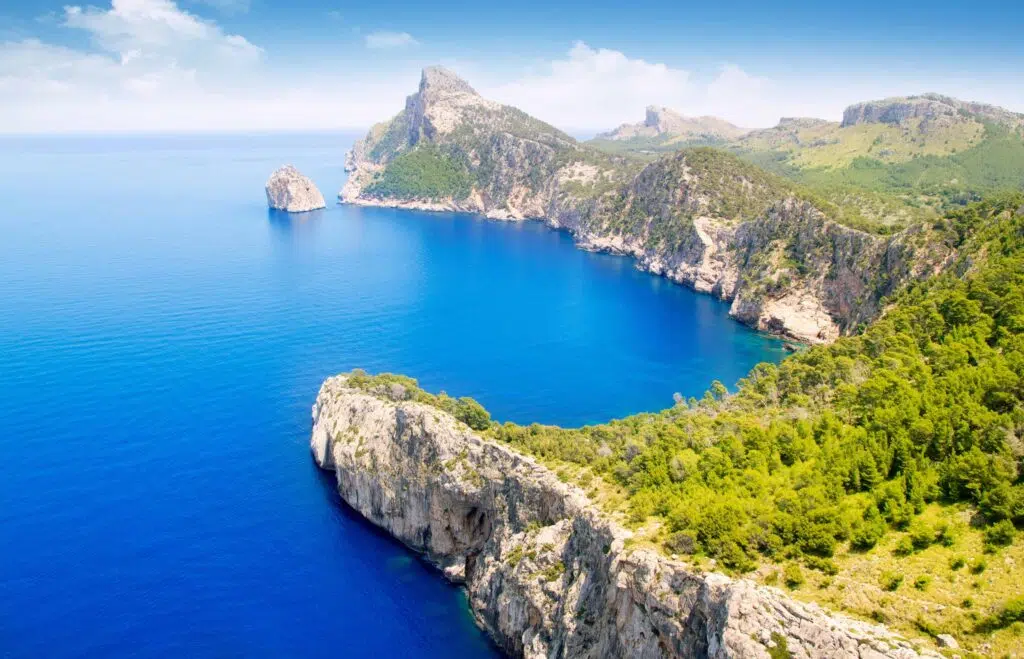 ---
---
Balearic Islands Spain
An idyllic group of islands off the coast of Spain, Mallorca, Menorca, Ibiza and Formentera have long been celebrated among the best islands in Europe. Each has its own distinct character, but all of them bathe in a mild Mediterranean climate to match postcard-perfect scenery at every turn.
Choose an island to suit your holiday style, your personality or your family's favourite activities. Or, hop across the entire region to fulfil all your dreams of island-based adventures and tranquil, seaside bliss.
MALLORCA ISLAND
The largest Spanish island, Mallorca is a perfectly blended holiday cocktail of sapphire seas, cultural traditions, cosmopolitan treats and rural landscapes. It also happens to be the hottest Balearic Island, so hit its glittering shores in August if you love nothing more than basking in the heat.
Popular Spanish resorts abound, with everything from sprawling beachfront hotels featuring kids' clubs, water sports and glistening swimming pools, to mountain-top hideaways for two.
If all you want to do is laze on the beach, choose a different, golden arc of sand each day. Cala Formentor offers sunbeds, watersports and lifeguards on a backdrop of pine trees, while Caló des Moro is an unspoilt, cliff-flanked bay for serene snorkelling.
Off the sand, tantalise your taste buds with fresh seafood in Palma, cycle through the Serra de Tramuntana mountain range and step back in time at the Roman city of Pollentia.
Read more: Best Beaches in Mallorca / Photos to inspire you to visit Mallorca / Best Places to Stay in Mallorca
How to get to Mallorca, Spain
Fly into Palma de Mallorca Airport direct with airlines including British Airways, Lufthansa, Jet2, easyJet and Ryanair from the UK and Europe.
MENORCA ISLAND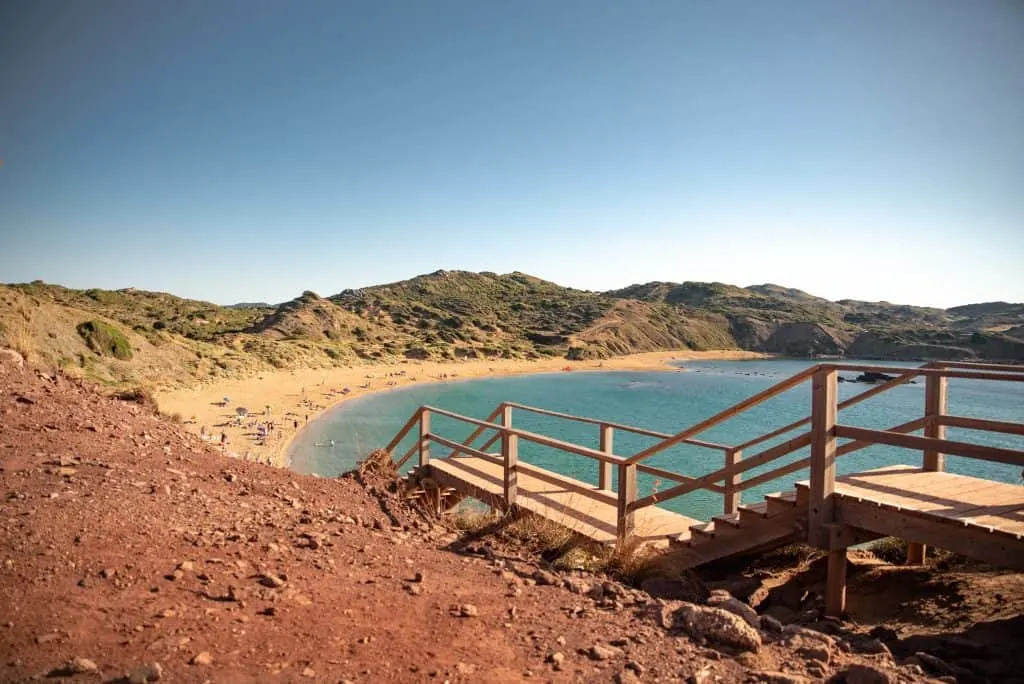 In terms of Spain beach holiday destinations, Menorca's coastline dazzles even the most well-travelled sun worshippers. Perfectly-formed, peaceful coves blend with popular stretches of sand like Cala Galdana, where you'll watch yachts bobbing on the turquoise water and enjoy kayaking, paddle boats and beachfront restaurants.
Along with the allure of over 200 kilometres of coastline, rolling hills and whitewashed villages await inland, with plenty of opportunities to walk or cycle through stunning landscapes.
For history lovers, stone monuments that date back thousands of years dot the countryside. These include remnants of Talayotic settlements and you can take different routes through villages to explore burial chambers, watchtowers, altars and traditional houses.
When it's time for boutique shopping, dining, drinking and panoramic vistas, head to the capital, Mahón. With a vibrant port, cobbled streets and a penchant for gin, simply strolling around town brings a delightful surprise on every corner. If you're taking the kids with you, make a beeline for water parks in Cala'n Bosch and Los Delfines.
Read more: Best Beaches in Menorca / Best Places to Stay in Menorca / Best Things to do in Menorca
How to get to Menorca, Spain
To get there, fly direct into Menorca Airport with airlines including British Airways, Vueling, Jet2 and Lufthansa from the UK and Europe.
IBIZA ISLAND
One of the most famous places in Spain, Ibiza's summer season of celebrity DJs, glamorous nightclubs and bars right on the sand makes it one of the world's top party destinations. Breathtaking beaches encircle the 'White Isle', from the iconic Playa D'en Bossa with Balearic beats ringing through the air, to the crystal clear waters of family favourite, Cala Llonga.
You could spend an entire holiday here enchanted by the infectious festive spirit, but there's so much more than sun and sangria to enjoy.
Delve into Ibiza Town's World Heritage-listed old quarter, complete with a castle, cathedral and mysterious laneways. For bohemian-inspired clothes, gifts and homewares, stroll around the town's harbourfront promenade and stop for cocktails at chic restaurants and bars.
To escape the crowds, head towards the island's laidback, yoga-loving north. You'll find wellness resorts, hippy markets, horse riding trails and the amazing stalagmites and stalactites of Can Marca Caves at San Miguel.
Read More: Best Places to Stay in Ibiza, Spain / Best Beaches in Ibiza
How to get to Ibiza
Fly into Ibiza Airport from the UK and Europe with a range of airlines including British Airways, Air France, easyJet and Ryanair, or take a ferry from Valencia, Barcelona or Denia.
FORMENTERA ISLAND
If your idea of a Spain beach vacation is eating, sleeping and enjoying long, languorous hours lazing on some of the world's most beautiful beaches, hop over to Formentera. It's a popular hotspot for day-trippers from Ibiza. But this celebrity-haven is also home to impossibly pretty, remote coves, peaceful villages and a vibe that lulls you into complete relaxation.
Walking and cycling are the preferred, eco-friendly means of transport, as the small island is mainly flat with only a few short inclines to challenge yourself with.
For sweeping views and Instagram-worthy photos, three lighthouses provide fantastic sunrise and sunset vantage points. When you need a break from so much relaxing, cheerful bars and restaurants help you find the motivation to get to the next beach, with traditional cuisine made from local produce.
Take a day trip to Espalmador Island for a change of scenery and to discover this private oasis for yourself. Then, upon your return, sink into a peaceful slumber at a range of boutique hotels, beachside villas and lavish resorts.
Read more: Most Beautiful Beaches in Formentera / Best Things to do in Formentera
How to get to Formentera
Formentera is accessed via Ibiza and a short ferry ride, with scheduled sailings at least every hour.
---
Canary Islands Spain
These Spanish islands off the coast of Africa share what many claim to be the best climate in the world. It's no surprise then, that the Canaries are among the most popular Spanish holiday islands.
To make the most of all that sun, outdoor activities are at the top of the agenda here, with diverse landscapes for walking, diving, boating, kayaking and horse riding. In just one day, it's possible to go from exploring surreal lava fields to rich woodlands and pristine beaches.
Scattered throughout all this natural beauty are fabulous resorts and romantic hideaways, along with recreational fun at water parks, golf courses, museums and adventure parks.
Read More: Best Beaches in the Canary Islands
LANZAROTE ISLAND
With volcanic landscapes straight from science-fiction and the legacy of a famous artist, Lanzarote is unique among the top islands in Spain. César Manrique, an architect, sculptor and activist, transformed his home soil by designing innovative tourist attractions and ensuring overdevelopment was kept to a minimum.
The hottest Canary island also packs a holiday punch when it comes to golden, sandy beaches and calm seas filled with marine life.
When you want action and adventure, you'll certainly find it here. Explore the lava fields and salt marshes of Timanfaya National Park, take a ride in a submarine and scuba dive to spot giant groupers. Wine lovers are in for a treat, with vineyards showcasing local labels produced from holes in volcanic rocks.
This Spanish resort island also hosts the ever-popular Puerto del Carmen, with its seafront promenade, water sports action, beach hotels, shops and pub-centred nightlife.
Read More: Most Beautiful Beaches in Lanzarote / Best Places to Stay in Lanzarote / Best Things to do in Lanzarote
How to get to Lanzarote, Spain
Fly direct to Lanzarote Airport with airlines including British Airways, Ryanair, easyJet, Thomas Cook Airlines and AirEuropa from Europe and the UK.
GRAN CANARIA ISLAND
Dubbed 'The Miniature Continent', Gran Canaria delivers a large dash of culture, a cosmopolitan capital city and beautiful, landscaped parks with its sparkling coastlines. Captivating landscapes range from dense forests to volcanic craters, soaring mountains and rugged cliffs.
It's also one of the best Spanish islands for families, with plenty of safe swimming beaches, water parks, dolphin-spotting excursions and resorts catering for children.
To stay in the midst of museums and galleries, cosy cafes, photo-worthy architecture and shops, base yourself in Las Palmas. Las Canteras adds to the city's appeal as one of the best places to go on holiday in Spain, as a beach that rests right in the heart of the action.
Don't miss out on a trip to Maspalomas to see the giant, undulating sand dunes of the nature reserve. Close by, you'll find Playa del Ingles, with a gloriously long stretch of beach and colourful nightlife.
How to get to Gran Canaria
From major cities in Europe and the UK, airlines including British Airways, Iberia, Vueling and easyJet fly direct to Gran Canaria Airport.
TENERIFE ISLAND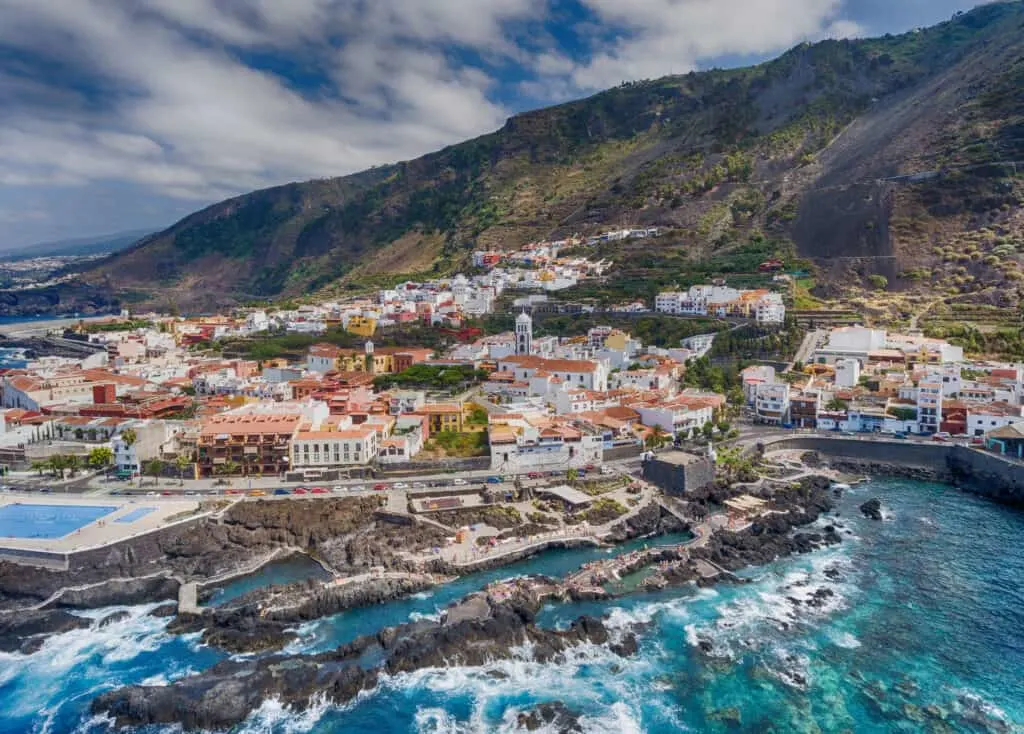 Tenerife is the largest of the Canary archipelago and one of the most popular destinations in Spain. The main tourist area, Playa de las Américas, is custom-made for easy holidays with all-inclusive resorts, water parks, fabulous beaches and the island's best nightlife on your doorstep.
Family-friendly Los Cristianos and upmarket Costa Adeje also offer plenty to do when you're not on the beach or sipping cocktails around the resort pool.
Spectacular places to visit in Tenerife include Mount Teide, the highest peak in Spain. Pack your walking boots, as the UNESCO-listed Teide National Park is a hiker's paradise. If you'd rather walk and shop at the same time, Santa Cruz de Tenerife is for you.
The capital is home to one of the busiest harbours in Spain and several shopping districts including the pedestrian street, Calle de Castillo. Stop by the Plaza de Espana, the biggest square in the Canary Islands, featuring a lovely artificial lake and hours of people-watching fun.
How to get to Tenerife, Spain
Fly direct into Tenerife North or Tenerife South Airport with airlines including AirEuropa, British Airways, Thomas Cook Airlines and Vueling, from cities in the UK and Europe.
FUERTEVENTURA ISLAND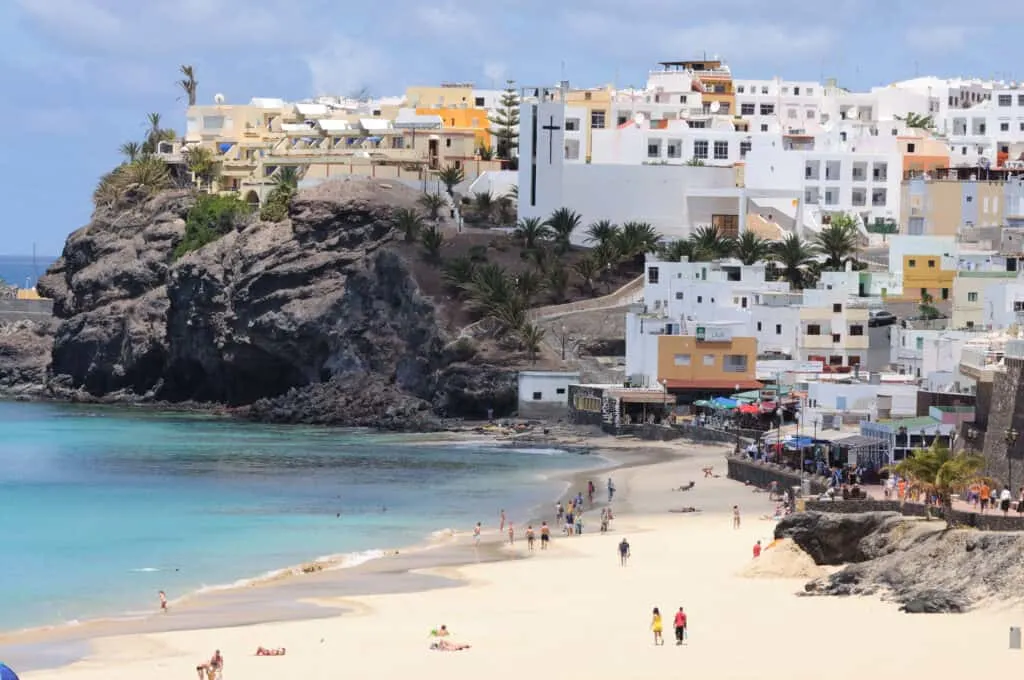 A Biosphere Reserve with awe-inspiring volcanic scenery, Fuerteventura also offers more than 150 km of stunning white sand to walk, play and laze on. If you're a cheese fan, visit one of the island's famous cheeseries to nibble on local produce in between swimming in azure seas.
One of the prettiest places to do just that, is La Concha beach in the village of El Cotillo. Rocky reefs just offshore create homes for colourful fish which are a joy to discover while snorkelling, along with a safe splashing environment for kids.
This Spanish vacation island attracts wind and kite surfers from across the globe, with excellent conditions from the popular resort of Corralejo. You'll find everything you want here, including atmospheric dining in Music Square, shopping in the main street, the island's only water park and access to adventurous day trips.
Don't miss out on exploring the sand dunes and unspoilt beaches of Corralejo National Park. Other resort areas for accommodation include family-friendly Caleta de Fuste and Puerto del Rosario, the capital and a hub for shopaholics.
How to get to Fuerteventura Island
Fly direct into Fuerteventura Airport from cities in the UK and Europe, with airlines including AirEuropa, easyJet, Jet2, Ryanair and Vueling.
LA PALMA ISLAND
Get set for outdoor adventures in La Palma, especially if you love hiking. Exciting trails crisscross the island and lead you through pine forests, waterfalls, salt pans and unique rock formations. It's also famous for stargazing, with some of the world's most advanced telescopes at El Roque de Los Muchachos Observatory.
Ever wanted to try paragliding? La Palma's weather conditions make it possible almost 300 days of the year.
Step back in time in Santa Cruz de la Palma, with a stroll through the capital's historic old town. You'll see traces of its colonial past via colourful mansions, churches and museums resting on charming cobbled streets.
The town itself is a great base for exploring the island, with accommodation for all budgets, a scrumptious dining scene and a city beach just steps from the action. Spend some time beach-hopping across the island, including the tranquil bay of Los Cancajos beach and the lively Puerto Naos beach.
How to get to La Palma Island, Spain
Fly into La Palma Airport from the UK and Europe with airlines including AirEuropa, easyJet and Vueling.
LA GOMERA ISLAND
Pop La Gomera on your Spanish island's list when you want to feel like you're well and truly off-the-beaten-path. Ancient forests, ocean vistas and palm-filled valleys are much more common here than tourist-heavy resorts.
The Garajonay National Park is a natural highlight, with primitive laurel forests to explore in total serenity. Then, there's the Los Organos Natural Monument featuring magnificent columns that take the shape of a giant organ carved into rugged, ocean-facing cliffs.
San Sebastián de la Gomera is famous as the last port of call for Christopher Columbus, before his journey to discover the New World. This is a peaceful capital, full of shady spots to sit and watch the world go by, historical monuments, restaurants and holiday rentals for every type of traveller.
Listen out for the only whistled language in the world, Silbo Gomero, a traditional form of communication that's still taught as a school subject.
How to get to La Gomera Island in Spain
Fly to La Gomera on a domestic flight with Canaryfly or Binter Airline, or take a ferry ride, from Tenerife.
EL HIERRO ISLAND
Do you want to visit the least touristy Canary Island of the main seven? El Hierro, the first self-sufficient island with 100% renewable energy, is the choice for you. With approximately just 10,000 residents, let alone tourists, you're almost guaranteed to find the remote wilderness experience you're looking for.
Start your journey by diving in the warm waters of the Mar de Las Calmas Marine Reserve, to swim with marine life including parrotfish, dolphins and manta rays.
Above ground, hiking is the way to lose yourself in astounding natural surrounds. Trails across the island offer everything from leisurely walks to elevated challenges like Camino de Jinama. You'll also discover traditions, crafts and welcoming locals at charming villages sprinkled around the tiny island. Staying at eco-hotels in secluded locations is half the fun here.
However, head to the capital, Valverde, for souvenir shopping and restaurants.
How to get to El Hierro Island
Fly from Tenerife or Gran Canaria with Canaryfly or Binter Airline to El Hierro Airport, or catch a ferry from Tenerife.
---
Secret Islands in Spain
It might be hard to believe, but it's still possible to find quiet holiday destinations in Spain on exquisite, secret islands. Have you ever heard of Islas Cíes, Isla de Ons or La Graciosa? Now you have, and they might just be the best Spanish islands for couples or nature lovers seeking a true escape into peace, nature and remote bliss.
All of them are easy to get to, though once there, you'll feel like you're world's away from anywhere.
ISLAS CÍES
The Atlantic Islands of Galicia National Park is where you'll find the dream-like Cíes Islands of Monte Agudo, O Faro and San Martiño. Rodas Beach connects Monte Agudo and O Faro, a picture-perfect arc of white sand on the edge of a crystalline lagoon.
Diving on the seabeds surrounding the islands brings endless underwater surprises, like anemone forests, lobsters and crabs peeking out from the rocks.
Hiking trails traverse untamed cliffs across the islands, with panoramic views galore. Along the way, you'll discover pristine beaches such as Bolos on O Faro and Muxieiro on Monte Agudo.
One campground on O Faro island is the only place to stay, with just 800 spots, a restaurant, cafe and shop. Don't worry about having to take camping gear though, as you can rent a tent there.
How to get to the Cíes Islands
San Martiño is only accessible by private boat, however, ferries depart from Vigo, Cangas and Baiona to get you to O Faro and Monte Agudo.
ISLA DE ONS
Also decorating the Atlantic Islands of Galicia National Park, the Ons Islands consist of a main island and several islets surrounded by seas teeming with marine life – and beaches with barely a footprint.
Along with swimming and diving, Ons Island offers four hiking trails to easily discover the nature reserve. Take the Southern Trail to see the geological formation of Buraco do Inferno and the Lighthouse Trail for sweeping ocean views.
The small port is in the village of O Curro, with a few services such as a shop, restaurants and a church. It's also home to As Dornas beach, but you'll find Area dos Cans, Canexol and Pereiro beaches to while away the sunny hours on as well. Explore on a day trip or go camping and glamping at Camping Isla de Ons.
How to get to Ons Island off Spain
To get to Ons Island, take a ferry from Bueu or Portonovo.
LA GRACIOSA ISLAND
Little-known La Graciosa is located in the Canary Archipelago and surrounded by the largest marine reserve in Europe. There are hardly any cars here, or paved roads for that matter, however biking and walking paths get you easily across the tiny island.
It's recently been officially recognised as the eighth Canary Island – with the huge difference of idyllic beaches that are often completely free of people. In fact, intrepid travellers are already dubbing them as some of the nicest beaches in Spain.
One of just two towns, Caleta de Sebo is a small fishing village where you'll find some seafood restaurants, guest houses and a campsite for longer stays. Then, all you need to do is rent a bike and set out to find your own perfect patch of sand on any number of beaches, including Playa de las Conchas and Playa de la Cocina.
How to get to La Graciosa Island
La Graciosa is a 30-minute ferry ride from Orzola Port in Lanzarote.
---
Key things to know about visiting the Spanish Islands
If you're finding it hard to narrow down the staggering options for where to holiday in Spain, perhaps you can let the seasons do the choosing for you.
For the most part, the hot summer months of July, August and September are peak season. When you love being surrounded by festivals, events and the exciting atmosphere of lots of holiday-makers, this is the time to enjoy the sun-drenched islands.
For a quieter holiday in cooler, though perfectly swimmable temps, visit in the shoulder seasons from April to June or October. Winter in the Canary Islands is another peak season, where temperatures remain pleasantly mild.
---
---
The good news is, that no matter when you choose to travel there's a Spanish island paradise waiting for you!
Whether you want to hop around the shimmering Balearics, take your time delving into the unique landscapes of the Canary Islands or find your own remote paradise, the islands in Spain deliver that 'holiday of a lifetime' you dream of, time and again.
Pin this for later!