Choosing where to stay in Provence in order to best take it all in can be a difficult task. As a Provence local, I've been scouring the region for the best hotels, B&B's, and guesthouses – in every budget – in order to make that decision a little easier! Read on to find your ideal Provence accommodation, or simply click on the below shortcuts.
OR BROWSE BY CITY
SEARCH FOR THE BEST HOTELS IN PROVENCE, FRANCE
We want to make choosing your accommodation in Provence a seamless experience. Below, you'll find various ways to search for your ideal place to stay.
If you're set on a certain location, read our curated articles on best places to stay in Aix, Avignon, Arles or Marseille. If you're more open to location – browse our gallery of Provence hotels.
Our recommendations are based on personal experience, favoured by friends, endorsed by our trusted network of tourism operators in Provence, or loved by you – our readers! If you've stayed at an exceptional hotel in Provence and you think it should be included in this list, please let us know…
And lastly, we personally use and recommend Booking.com for booking the best hotels in Provence. They make booking accommodation easy & safe, they have a huge selection of hotels, and they consistently provide the best rates. If you do choose to book with Booking.com through our site we may receive a small commission, at no extra charge to you.
WHERE TO STAY IN PROVENCE
Whether you're looking for a rural retreat or a city break, Provence offers the best of French holiday accommodation. However, for some, choosing to stay in one of the main centres makes outside exploration easier. Provence cities are jam-packed with incredible attractions, and each has its own unique character and atmosphere. Here are a few of my favourite places to stay in Provence.
AIX-EN-PROVENCE
With wide, leafy boulevards, golden-hued mansions, grand squares and attractive fountains, Aix-en-Provence is surely one of France's prettiest towns. Aix is often referred to as the Paris of the south, and the city certainly echoes the intellectual culture and upmarket vibe of the capital's Left Bank. Don't miss the tree-lined Cours Mirabeau and its weekly market, the gorgeous cathedral, and the excellent Musée Granet, which holds several original pieces by Cezanne and Picasso.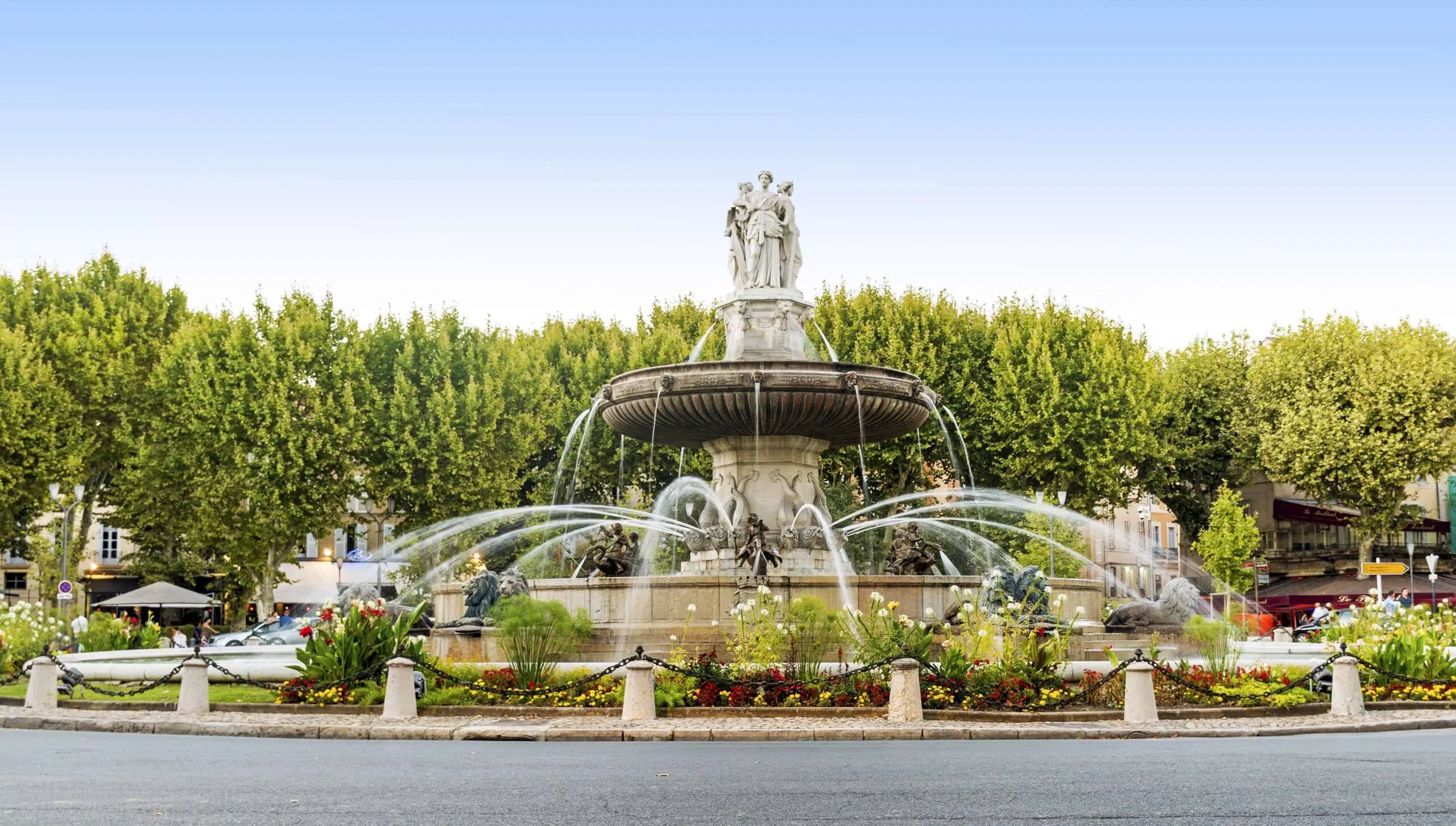 Aix-en-Provence is Paris' more relaxed, southern cousin; a sophisticated and affluent town, bursting with Provençal charm. Sometimes known as 'the…
AVIGNON
Avignon is usually remembered for two things: popes and bridges. Here, France's medieval past springs to the surface, in the form of its lavish papal palace and the arched stone bridge that once spanned the Rhône. However, Avignon is much more than its historical monuments. The Avignon Festival, a celebration of performing arts that takes place each July, is a highlight on France's cultural calendar, when the city itself is transformed into an open-air theatre. This pleasant, cultured and dynamic city is surely one of the most popular places to stay in Provence.
MARSEILLE
Marseille is a Mediterranean icon, and a city that has been welcoming foreigners to its shores since 600BC. The city's history as a trading port has made it one of the most multicultural, diverse places in France, and its somewhat chaotic past is reflected in its contemporary grit, charm and character. Although Marseille has a reputation as somewhat less refined than neighbouring Aix and Avignon, it offers a beautiful atmospheric old port, fabulous markets, and museums and galleries that could rival those of any other Provençal city.
PROVENCE ACCOMMODATION OPTIONS
From self-catering cottages to luxury hotels, Provence is well equipped with options to suit all types of visitor, and every type of holiday! Across the region, there's no shortage of glamorous South of France hotels, upmarket spas, quirky guesthouses and good-value B&Bs. If you're not sure what to choose – read on for a quick overview of the different types of accommodation on offer.
PROVENCE HOTELS
For those seeking a little decadence, luxury and comfort, Provence hotels offer everything you'll need for a relaxing stay. There are many excellent hotels in Provence, often equipped with swimming pools, spas, and stellar views across the region. This option is ideal for those who like to travel in style, appreciate the convenience of having everything at your fingertips, or those looking for a special holiday treat.
B&Bs IN PROVENCE
Provence also offers plenty of options for bed and breakfast accommodation. Often run by local families who can offer insider tips on the best regional attractions, B&Bs offer an excellent way to get a bit closer to authentic Provençal culture. This type of accommodation is great for active travellers who are searching for a comfortable, friendly place to sleep, and a hearty breakfast to help them explore the delights of the region!
BOUTIQUE HOTELS IN PROVENCE/PROVENCE GUESTHOUSES
Boutique hotels and guesthouses offer a good intermediary between luxury Provence hotels and simple B&Bs. Provence guesthouses are typically packed with local colour and character, offering a personalised service run by local residents. This option is best for travellers looking for unique or quirky places to stay, with thoughtful personal touches and a little luxury that won't break the bank.
VACATION RENTALS IN PROVENCE
For full self-catering autonomy, a vacation rental may be your best bet. This budget option is a good choice for families, large groups or those seeking simple accommodation and a base from which to explore the region.