On the edge of the Désert des Agriates lies a secret known only to locals and savvy visitors. This rocky and wild, yet surprisingly lush landscape gives way to two of the most beautiful Corsica beaches.
These impossibly perfect shorelines are those of Saleccia beach and Loto beach (also spelt Lotu). Their remoteness and relative inaccessibility mean they remain mercifully unspoiled – giving them a rare charm that is hard to come by elsewhere in the Mediterranean.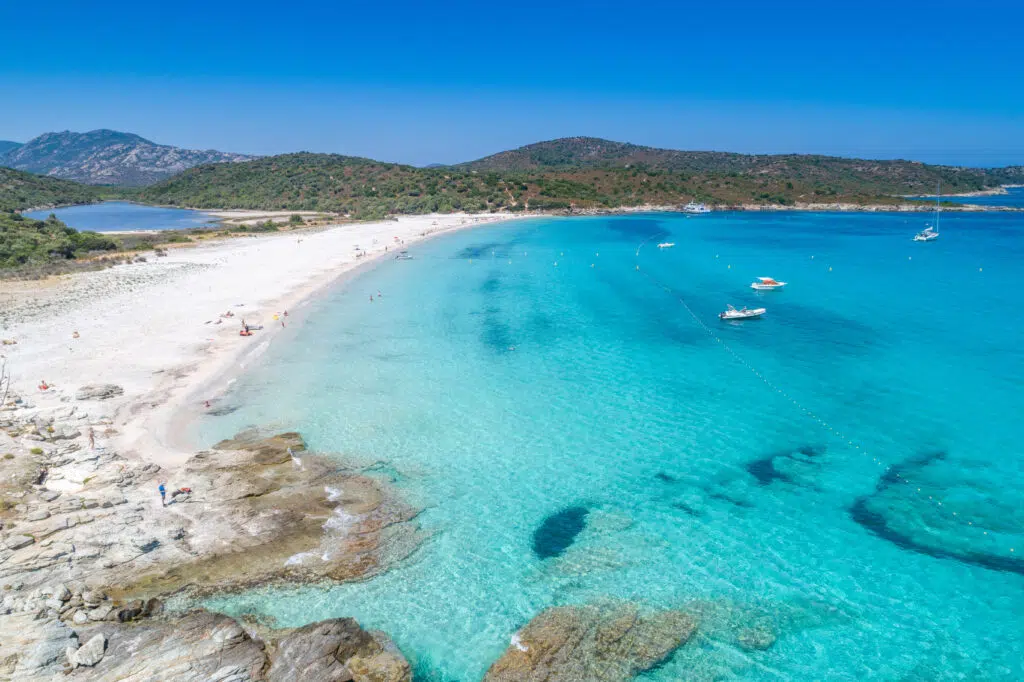 Related Reading: Best Places to Stay in Corsica
---
The Best Beaches in Corsica, France
I know what you're thinking. Yes, on an island known as l'Île de beauté (the island of beauty), it's incredibly hard to make the call about Corsica's best beaches! But trust me, you won't want to miss these unspoilt gems.
They may take a little more work to get to (more on that later), but the reward is oh so worth it. Let me introduce you to Loto and Saleccia beaches in Corsica.
Saleccia Beach
Plage de Saleccia was once the landing spot for submarines feeding the Resistance with supplies during the war – its concealed location perfect for clandestine operations.
These days the 1km long stretch of fine white sand is only home to intrepid visitors and the occasional chocolate coloured cow napping contentedly.
Walk the beaten path through the pines near the northern end of the beach (look for the pole rising out above the trees) and you'll find a small rustic looking snack bar.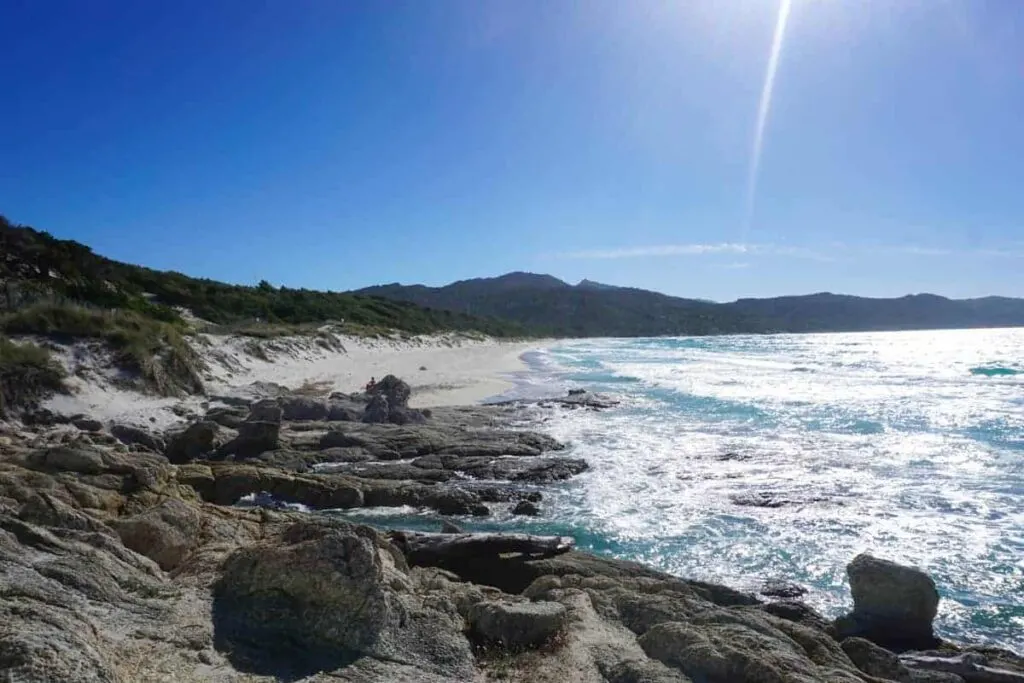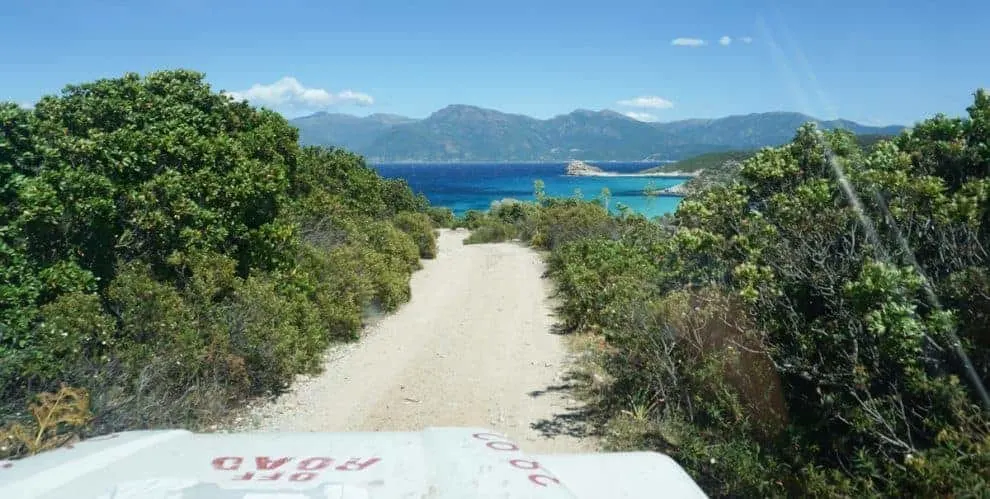 Lotu/Loto Beach
Plage de Loto lies around the headland to the east of Saleccia beach. The water that gently laps the sunkissed sand is some of the purest in Corsica.
Low hills swathed in heavily scented maquis surround the beach offering shelter from the sometimes strong winds. More wild than Saleccia beach, there are no snack bars or camping areas to be found near Loto beach. The bay is completely devoid of human touch, save for a track extending from the bush to the beach.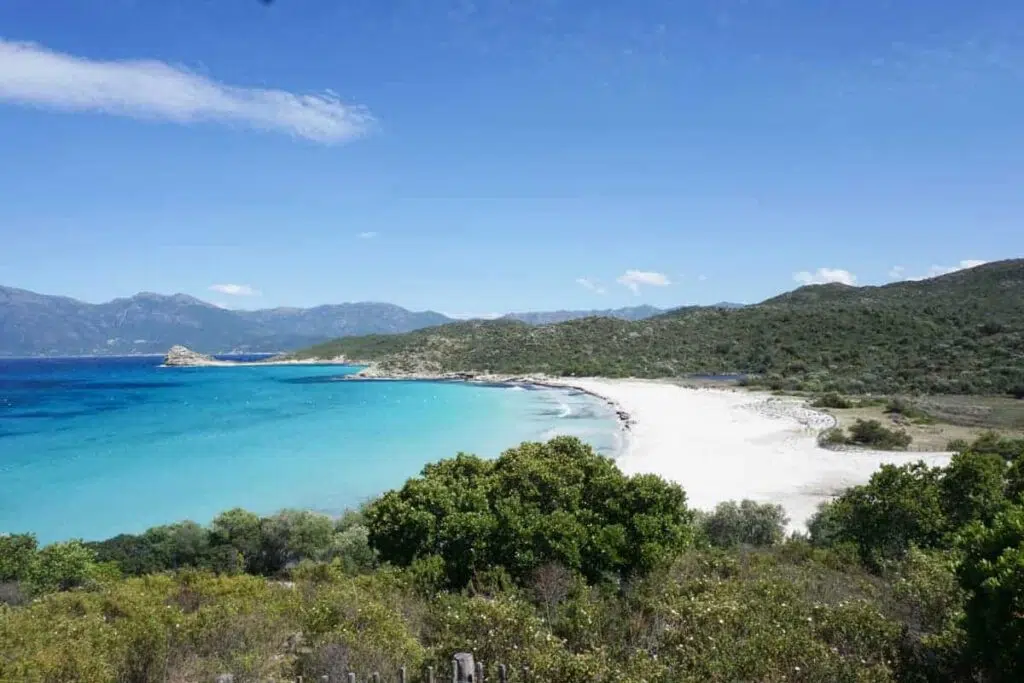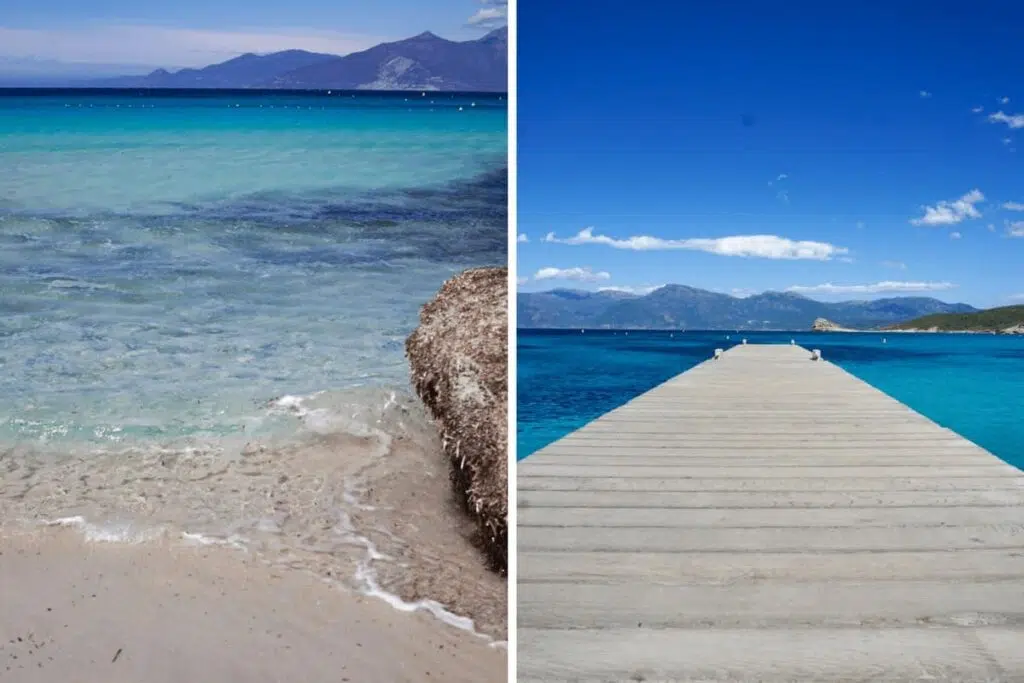 Exploring Corsica's Best Beaches
"There aren't any ferries running today – the seas are too rough"
Needless to say, after lusting over images of Corsica's beaches for the best part of a week, these were not the words I wanted to hear. The abject disappointment was written all over my face, prompting my husband to pick up his phone again in search of a solution.
It was our last full day on Corsica and I was determined to make it to Saleccia beach. Even if it meant tramping there on foot! As luck would have it, the boat ban was actually a blessing! We found our way to the beaches via the fantastic team at Saleccia Off Road and enjoyed an afternoon exploring in near solitude.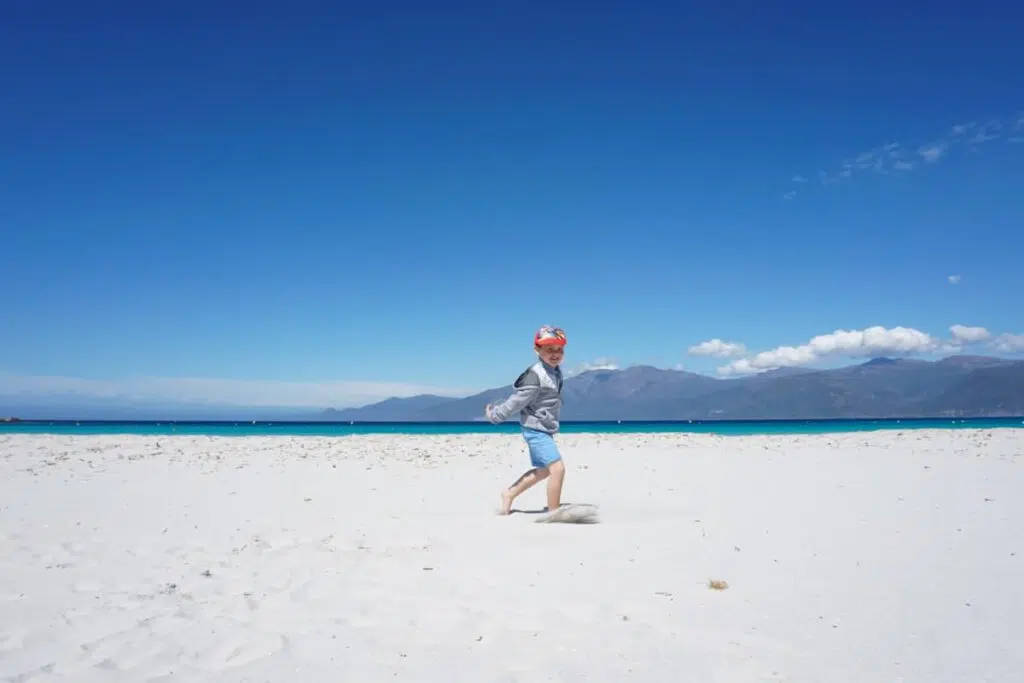 How to get to Loto and Saleccia Beach
The quickest and easiest way to get to Saleccia and Loto Beach is via ferry. These 'Taxi-Boats' depart the port at Saint-Florent and deposit you at Saleccia about 20 minutes later. The ferries run hourly during the quieter months of May, June, September and October. This increases to half-hourly during the peak months of July & August. You can jump off the ferry at one beach, walk to the other and catch the ferry back to Saint-Florent at the end of the day.
Another option is to take a 4×4 tour to the beaches. Granted this wasn't our first choice, but in hindsight, I'd highly recommend travelling this way!
Instead of being ferried into and out of Saleccia with no knowledge of what lies beyond the scenic shores, the tour allowed us to get to know the vast area known (somewhat deceivingly) as the desert. Our tour driver was brilliant at educating us about the history and heritage of the area. From the individual scents of the maquis, to learning about the crumbling former shepherds' settlements.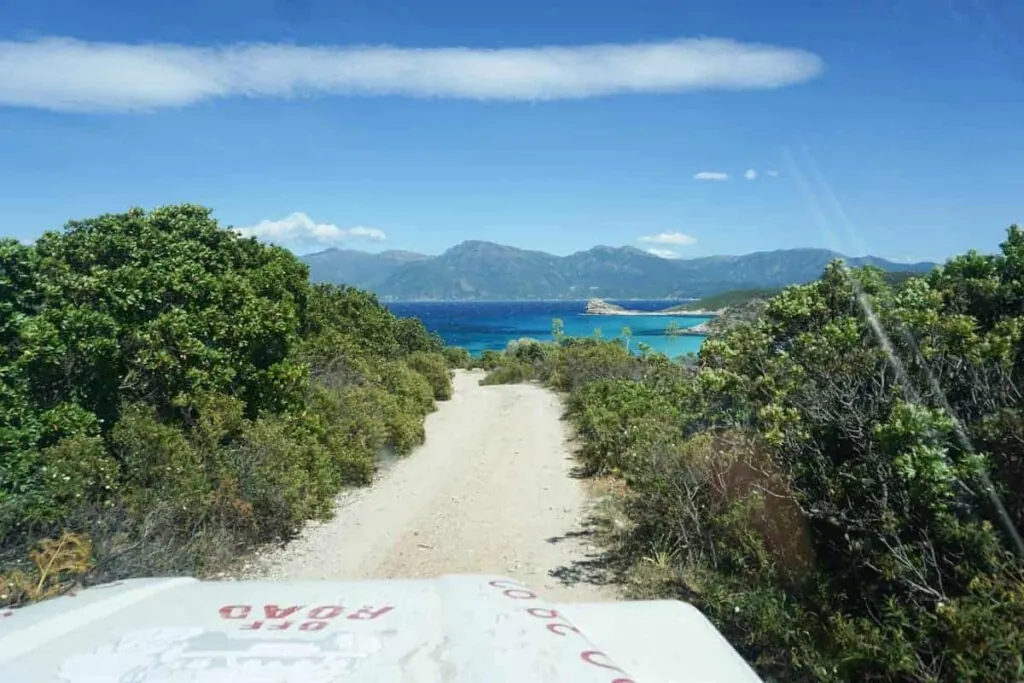 If you want to DIY it – you can hire a 4X4 vehicle or quad bike and drive to the beach yourself. I wouldn't recommend this unless you're an experienced off-roader! The track down is hazardous and unforgiving. Whatever you do, don't attempt to take your own car down to the beach.
We naively tried this on our first day on the island and swiftly realised that if we continued the only way we'd be getting out was with the help of a tow truck! FYI – if you do get stuck on the track, it'll set you back a cool €1,000 to get towed out – and it's unlikely to be refunded by your insurance company.
The last option is to walk to the beach. While this would no doubt be a rewarding experience, it takes approx 3-4 hours each way so doesn't allow much time to enjoy the reward at the other end.
Walking Between Saleccia and Loto Beaches
There are two tracks connecting Saleccia and Loto beach in Corsica. A small coastal path, and the broader 4×4 track. The latter cuts across the headland and will take you around 45 mins to walk. The coastal path is the scenic option – it takes slightly longer at around 1 hour 15, but with time to enjoy the view on the way.
We chose the coastal path which was an easy walk (even with a 20kg preschooler catching a ride!) through a diverse landscape of tree-topped canopies and grassy plains. It winds its way past petite beaches wedged between promontories that resemble mini Calanques. Don't bother packing your hiking shoes for this walk – your flip-flops will suffice!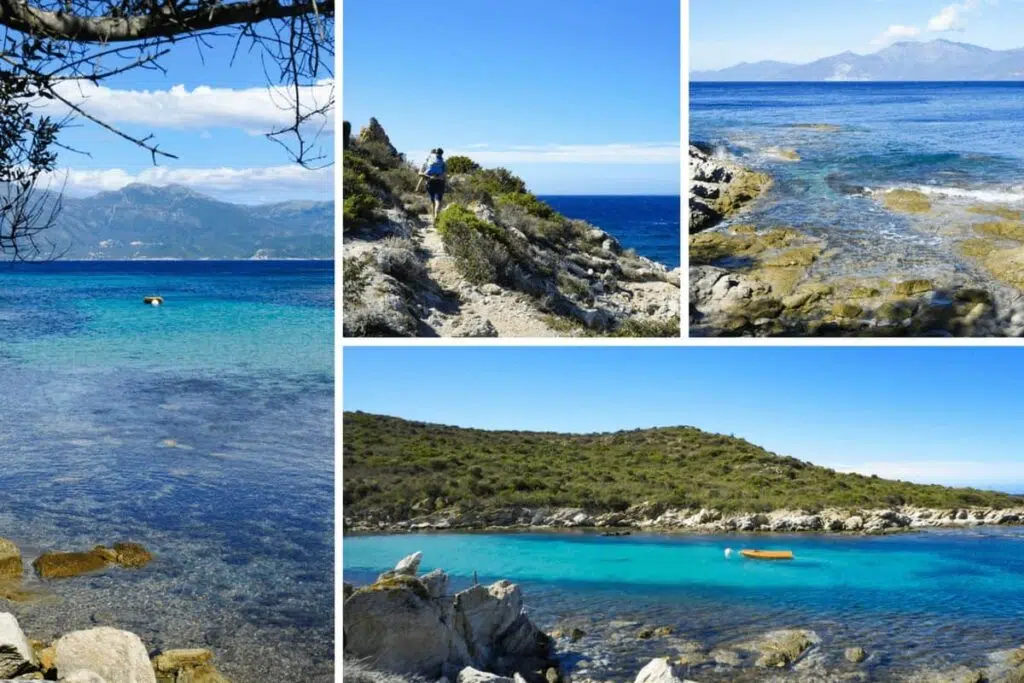 Final Tips for Visiting Loto and Saleccia Beach
You're going to want to spend the better part of a day exploring Corsica's best beaches, so pack accordingly. Bring sunscreen, a hat, food, water, a good book, towel – and of course, your swimmers!
There isn't anywhere to seek shade under a harsh midday sun. So if you can, consider also bringing a small sun umbrella (or pop-up tent for smaller explorers).
---
There's no doubt the trip to Saleccia and Loto Beaches was one of the highlights of our time in Corsica. My only regret is not going earlier so we could have had more time to relax in the exquisite surroundings! Maybe next time…
Psst… If you're looking for other amazing and unique things to do in Corsica, read my post on Cruising to Corsica's Calanques de Piana with Corse Emotion!
Pin this for later!