With over 450 of them, you're guaranteed to find your perfect version of paradise among the best islands in Italy for a holiday. Start your journey on the largest islands of Sardinia and Sicily, with dreamy beaches, underwater caves and architectural gems to discover. Or, delve into the volcanic landscapes and gourmet cuisine of the Aeolian Islands, with seven idyllic havens to choose from.
For a glamorous trip, famous Capri rests like a jewel among the Campanian Archipelago in the Bay of Naples. Some of the most beautiful islands in Europe are less well-known on the international travel scene, including the Pontine Islands, the Tuscan Archipelago and the Borromean Islands.
As if that's not enough to keep you island-hopping for a lifetime, the Venice Lagoon is sprinkled with enchanting retreats too, just a short boat ride from St. Mark's Square.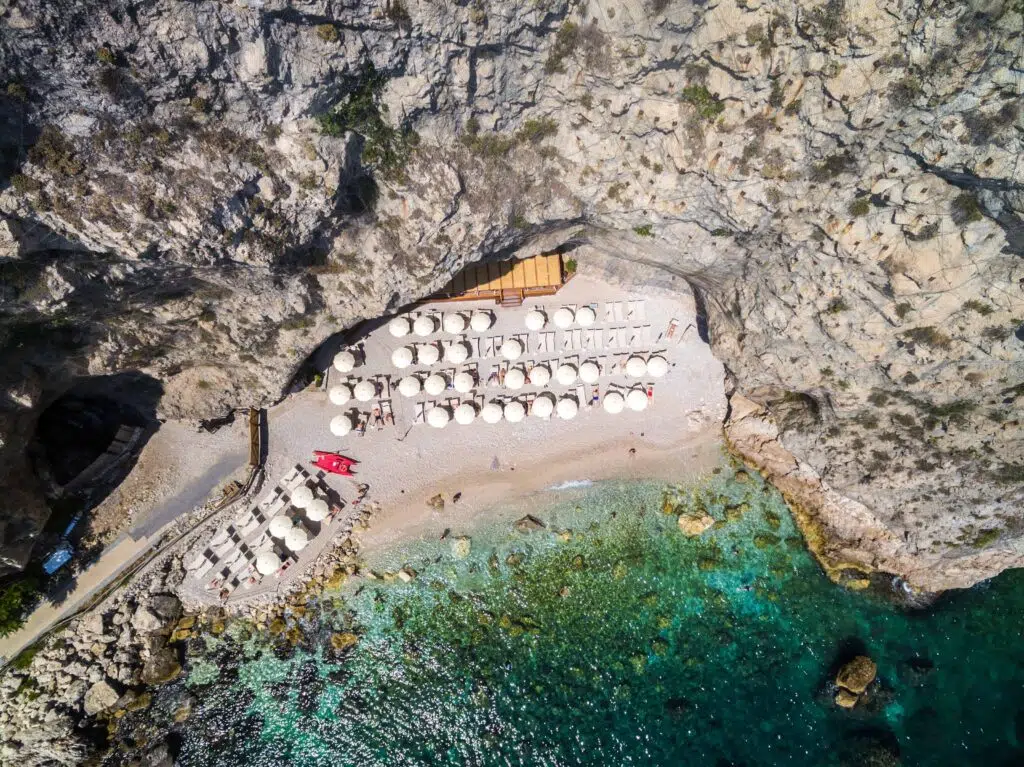 ---
Italian Islands Map
How will you choose the best Italian islands for your next escape? Here's a handy map to get your bearings so you can start working on that paradise Italian island wish list.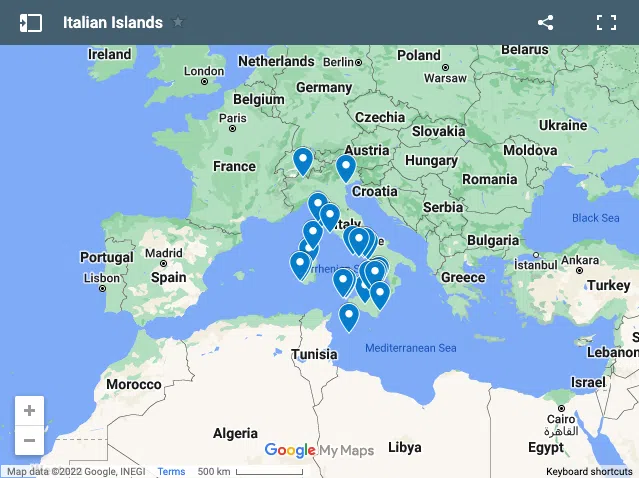 ---
The Largest Islands in Italy
Sicily and Sardinia are the two largest islands in Italy and offer all the delicious food, wine, sunny stretches of sand and history you could possibly hope for. Of the two, Sicily is the destination for culture-vultures, as a virtual open-air museum of ancient Greek temples.
However, that's not to say that Sardinia doesn't have its own fair share of archaeological wonders, and it's undoubtedly one of the most beautiful Italian islands for beach lovers.
SICILY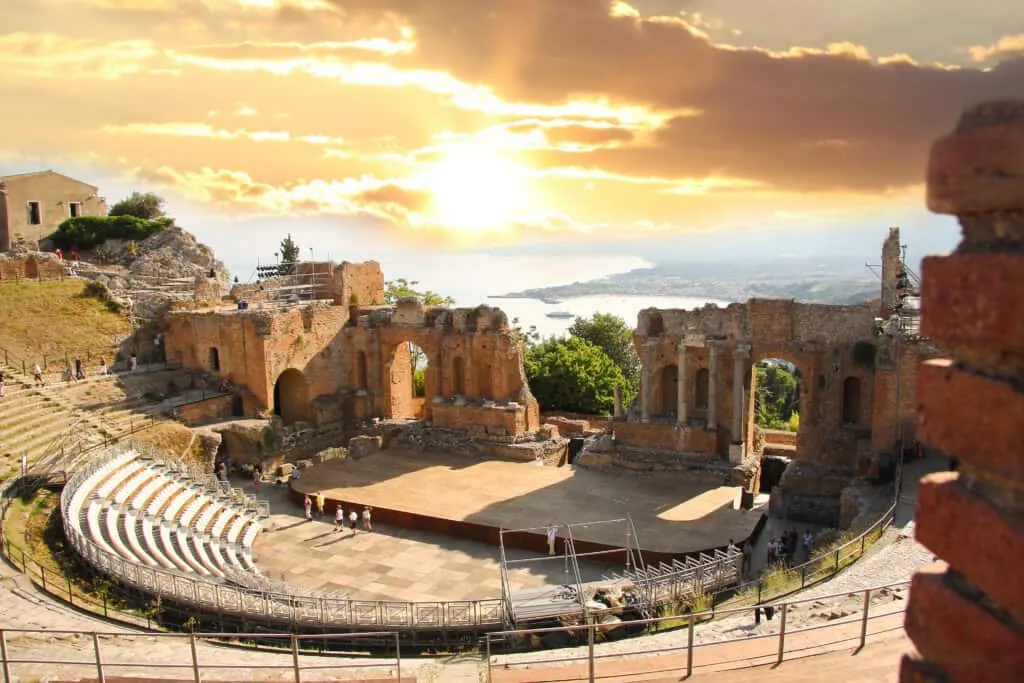 When you're looking at the map, the largest island in Italy is located just on the tip of the country's famous 'boot'. This culturally-rich destination showcases art, architecture and traditions from Greeks, Romans, Spaniards and Arabs from across the Middle Ages and Renaissance.
Bursting with Byzantine mosaics, baroque churches and Gothic palaces, the capital of Palermo is a fantastic place to start your historical exploration here.
The island of Sicily is also blessed with incredible natural wonders, the most famous of which is its mighty active volcano, Mount Etna.
As for the beaches, most of them come wrapped in dramatic coastal landscapes, with the stark white cliffs at Scala dei Turchi and Monte Monaco views from San Vito Lo Capo.
Above sea level, you'll find charming towns like Taormina and Castelmola. Stroll through winding alleys and charming piazzas, while keeping an eye out for traditional gelaterias along the way.
SARDINIA
With the bluest of blue water and the whitest of white sand beaches, Sardinia is a poster-child for Mediterranean holidays. The Emerald Coast is a hotspot for the rich and famous, with celebrity hangouts including the crystalline waters of Spiaggia del Principe and Spiaggia Romazzino.
Away from the billionaire yachts though, amazing outdoor adventures await. Dive in the underwater Nereo Cave, climb the limestone cliffs of Cala Luna and hike through the Gorropu Gorge.
History is on fine display, with Bronze Age relics scattered across the island. Visit the UNESCO-listed Su Nuraxi di Barumini to see an extraordinary example of a Nuragic village. For a taste of cultural life, head inland to the city of Nuoro to see the Museum of Sardinian Life and Popular Traditions, and learn about its famous, artistic locals.
When it's time to tantalise your taste buds, sip on a glass of bold, red Grenache and try a range of local spaghetti dishes featuring seafood like sea urchins, clams and prawns.
Read more: Sardinia with Kids / Most Beautiful Beaches in Sardinia
---
The Aeolian Islands (Sicily)
Seven spectacular islands off Sicily dot the startling blue seas and offer totally unique experiences. For adventurous souls, diving, kayaking, hiking and sailing number among the most popular activities.
Best of all, you'll do them on a backdrop of diverse landscapes, from black-sand beaches to active volcanos and sprawling vineyards.
LIPARI ISLAND
The largest of the Italian islands in the Tyrrhenian Sea, Lipari is the lively gateway to the archipelago. Its pastel-hued town is centred on Corso Vittorio Emanuele, a pedestrian area that connects two ports and buzzes with shops, restaurants and hotels. Majestically overlooking the action is the Castle of Lipari, which was once used as a prison and a place of exile.
It's easy to fill all your holiday hours on Lipari's beaches, created from pumice stones that enhance the intense turquoise of the water. Laze on Spiaggia Bianca, for shallow, azure water lapping on the edges of a perfect arc of white sand. Valle Muria beach lies on a dramatic stretch of rocky coastline and Canneto beach is a pebbly stretch filled with sunbeds and umbrellas.
STROMBOLI ISLAND
Of the volcanic islands in Italy, Stromboli is an exciting choice, where it's possible at times to view the ancient volcano's eruptions from a safe distance. This captivating landscape was the inspiration for the Rossellini film named after the island, starring Ingrid Bergman in 1949. You won't find any roads here and only two towns house a few hundred residents.
The main village rests along the volcano's lower slope on the northeastern corner, with a pretty beach, narrow lanes filled with souvenir shops, the San Vincenzo piazza and lovely boutique hotels to choose from.
It's possible to climb the volcano with a guide and take a boat ride to visit the other village of Ginostra. Just offshore is the tiny island of Strombolicchio, with fascinating diving opportunities to see the volcano underwater.
VULCANO ISLAND
Another volcanic island off Sicily is the aptly named Vulcano, with a smouldering crater and strong sulphurous fumes permeating the air. Given that, Vulcano is more popular as a day trip location from Lipari, though it's possible to stay in lovely villages and the bustling Porto de Levante.
It's a fairly easy hike to the Gran Cratere to see the volcano in action, either independently or with a guide. Incredible views accompany you and, to ease any aching muscles, the island's mud baths and hot springs are known for their therapeutic benefits.
Swimming from the shores of dramatic, black sand beaches is another huge drawcard, with translucent waters warmed by steaming fumaroles.
PANAREA ISLAND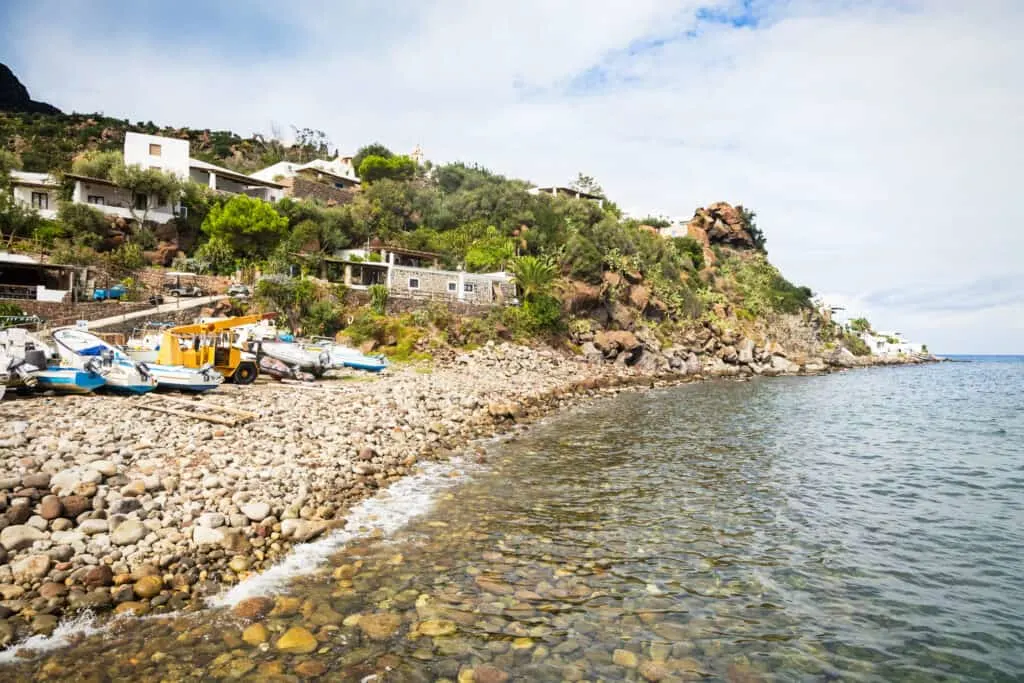 A vibrant summer destination, Panarea is one of the most exclusive of the islands around Italy. During the season, luxury yachts dot the picture-perfect harbour and jet-setters embrace the quiet, balmy days and energetic restaurants and bars by night. Charming San Pietro is the heart of the action, with whitewashed streets decorated by purple bougainvillaea.
Away from the tourist hub, explore the island's stunning scenery with hiking trails around Spiaggia Della Calanca and to the beautiful, rocky bay of Cala Junco. Close by is a prehistoric village with 23 oval stone huts from the Bronze Age.
To find your own deserted cove and swim in tranquil, cerulean seas, take a boat trip around the island.
FILICUDI ISLAND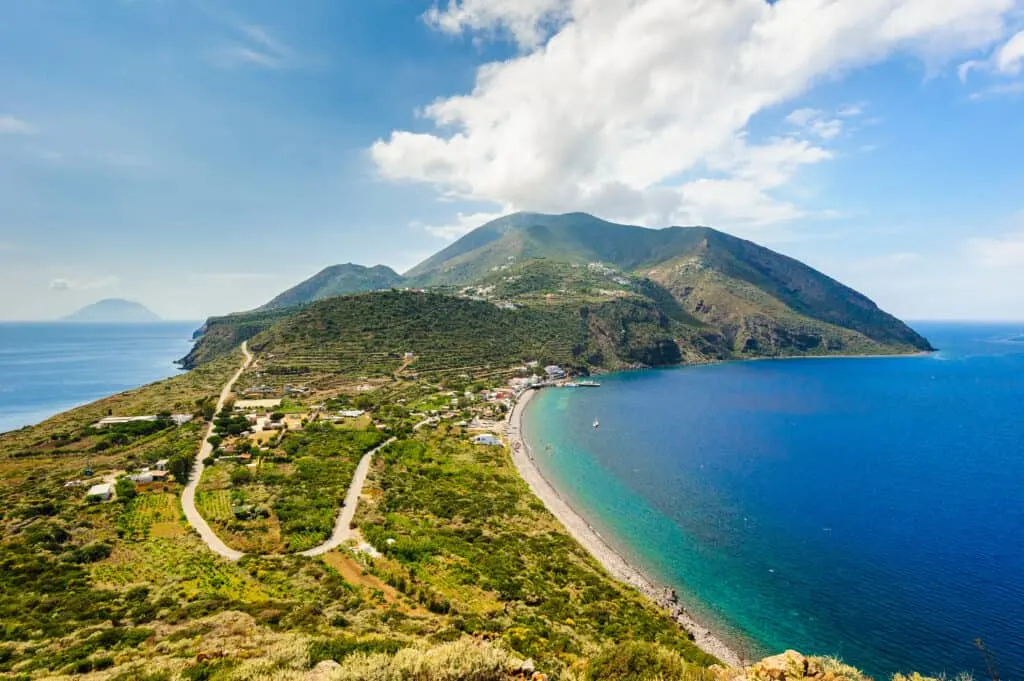 Filicudi Island is a hidden gem for Italian island holidays steeped in peaceful serenity. Protected as a Nature Reserve, you can rest assured that much of the island will retain its tranquillity.
There's only one settlement, Filicudi Port, along with the villages of Valdichiesa and Pecorini a Mare, with a charming street between them and a smattering of restaurants and picturesque places to stay.
The wild landscape is rocky, with steep cliffs overlooking the sparkling sea, giant boulders and the towering peak of Fossa delle Felci. Other than relaxing, things to do here include walking around the island across an abundance of trails, visiting the Grotto of Blue Marino and diving in underwater caves.
ALICUDI ISLAND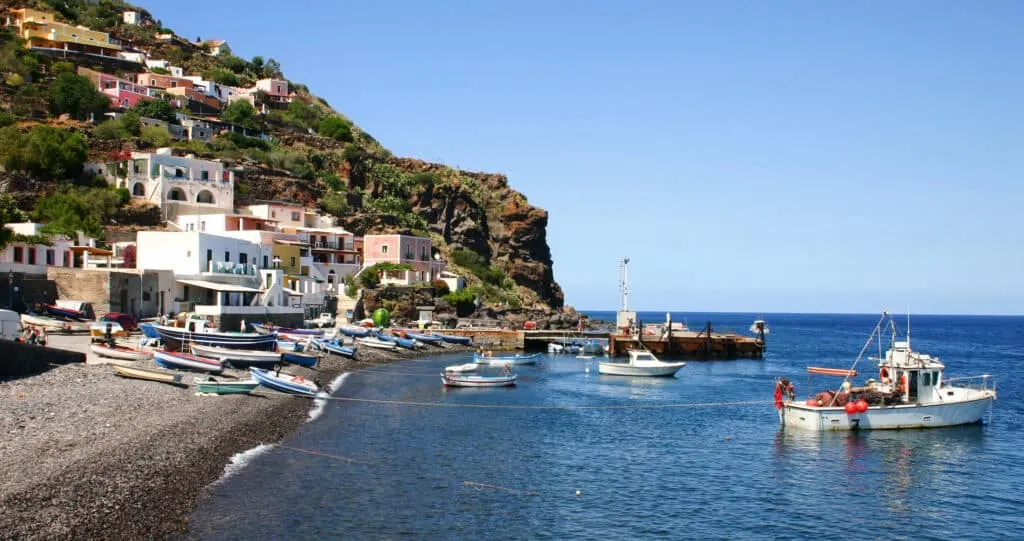 Among the small Italian islands in the archipelago, Alicudi is the most remote. With only 100 or so residents, peace and quiet are assured. It often attracts artists and writers for this very reason, along with the enchanting landscapes.
You'll arrive by ferry to Alicudi Porto, the island's main spot for a touch of civilisation with a couple of stores, a restaurant and a smattering of guesthouses.
With no roads to contend with, this is a walker's paradise and it's possible to hike up the highest peak of Monte Filo dell'Apra. To cool off, jump in the crystal clear, fish-filled ocean and hire a boat to cruise around the coastline.
SALINA ISLAND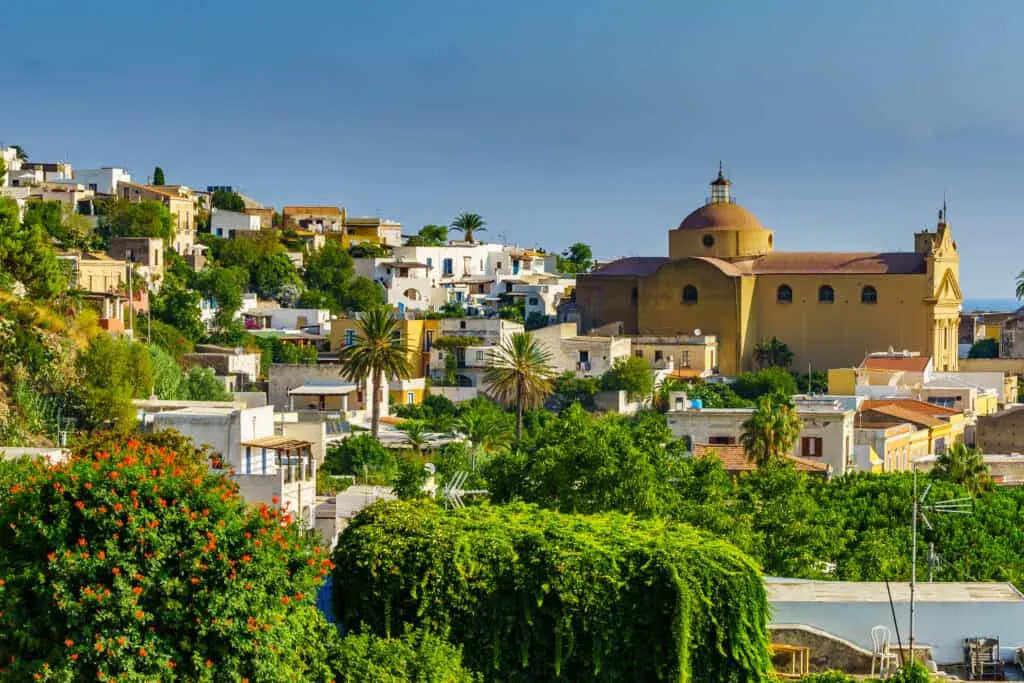 Many travellers will tell you that Salina is the best Aeolian Island, if only for the exquisite local produce like figs, capers and citrus fruit. With three towns, Santa Marina, Leni and Malfa, and some sleepy villages, this is the second largest of the group. It features two dormant, ancient volcanoes, Monte dei Porri and Monte Fossa Delle Felci.
Natural freshwater springs across the island create a lush landscape of wildflowers and woodlands, with soaring cliffs rising up from the ocean. Base yourself in at the port of Santa Marina or one of the major hotels in Malfa.
Rinella offers a sandy beach and a charming promenade for evening strolls.
---
Other Islands near Sicily
Believe it or not, there are even more choices for holiday islands off the coast of Sicily! The Egadi Archipelago rests in the largest protected marine area in Europe, near Trapani. Then, there's the 'White Pearl of Syracuse', connected to the mainland by a bridge, and the Pelagian Archipelago to the south, with a blend of African and Italian scenery to enjoy.
FAVIGNANA ISLAND
Tuna and ricotta are the main ingredients on menus across Favignana Island, the largest of the Egadi Archipelago, and the delectable cuisine is just one of its many delights. Known as 'La Farfalla', or Butterfly Island, this beautifully formed haven is swathed in history which is on display at Palazzo Florio, the abandoned tuna centre and within a host of local myths and legends.
It's best to explore the tiny paradise by cycling, and the bustling main town keeps you fuelled up with an array of restaurants and markets. Isolated coves invite you to take a dip by diving into azure seas from the rocky landscape and there's a sandy stretch for soaking up the sun near the centre of town.
LEVANZO ISLAND
The smallest island (you can holiday on) of the Egadi archipelago, Isola di Levanzo is the place to go when you want to get back to basics. A modicum of mismatched houses will greet you in the portside town where you'll arrive by boat. Stay as long as the petite Cala Dogana Beach keeps your attention, before setting off to discover the island's attractions by foot.
Two beautifully untouched beaches can be reached within twenty minutes either side of the town, or you can stretch your legs to reach the spectacularly secluded Cala Tramontana at the other end of the island. The coastline surrounding this hidden paradise is pockmarked with caves, making it an appealing spot to scuba.
Speaking of caves, the island's most famous attraction, the Grotta del Genovese, dates back 6,000 to 10,000 years BC and still bears witness to fascinating Neolithic and Palaeolithic cave paintings and drawings. Visits are by guided tour only, and shouldn't be missed.
MARETTIMO ISLAND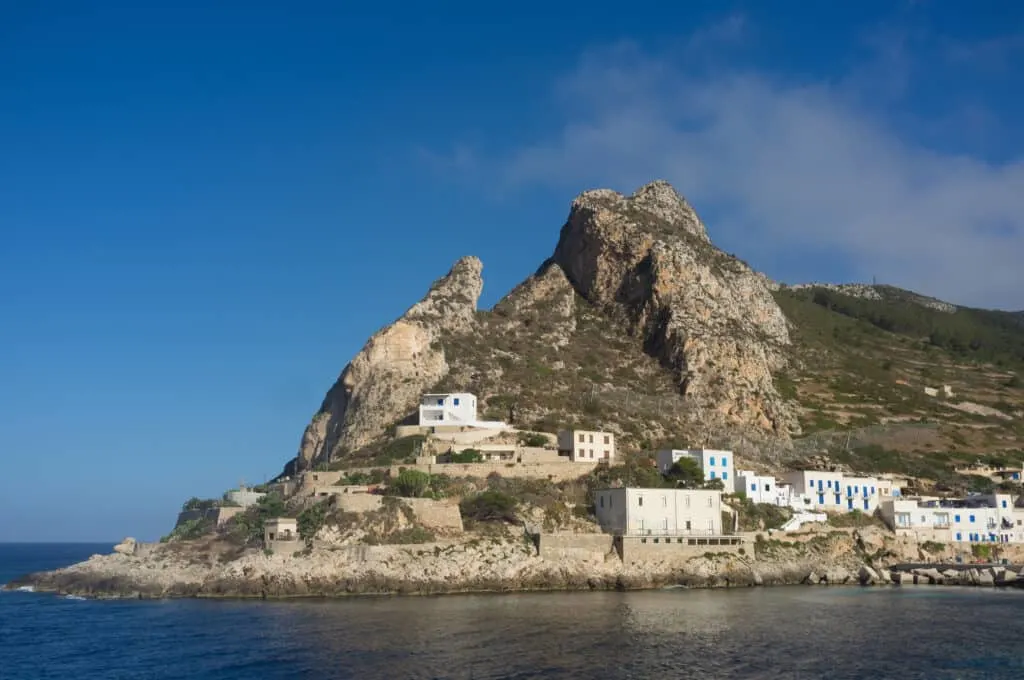 Whitewashed houses decorate the coastline of Marettimo's town, however, the rest of the westernmost Egadi Island is largely untouched. This is an island of caves, with hundreds of them to explore. Enticing names like the Cave of Thunder and the Cave of Nativity serve to draw you in, while stalagmites and stalactites will keep you enthralled.
Discover enchanting coves, many of which are only accessible by boat, or swim from the pebbly shores of the main town's beach. For a journey into nature, Monte Falcone is home to hundreds of plant species, along with reptiles, migratory birds and rabbits.
Another fantastic hike is to the Castle of Punta Troia, once used as a place of exile by the French for political protesters.
ORTIGIA ISLAND
The oldest part of the city of Syracuse, Ortigia Island is known as the 'White Pearl of Syracuse' and connected to the mainland by bridges. Expect to fall in love at first sight with visual feasts of Roman ruins, tinkling fountains, castles and vibrant piazzas at every turn. Lose yourself in the charming lanes of a range of districts, including Bottari, Giudecca, Graziella and Castello Duomo.
One of the most spectacular sights is the Arethusa Fountain, a freshwater spring resting beautifully on the seafront and named after the Greek myth of Arethusa and Alpheus.
Bars, restaurants and hotels line the seafront along Lungomare Alfeo, where you can tuck into traditional dishes like arancini and cannoli.
LAMPEDUSA ISLAND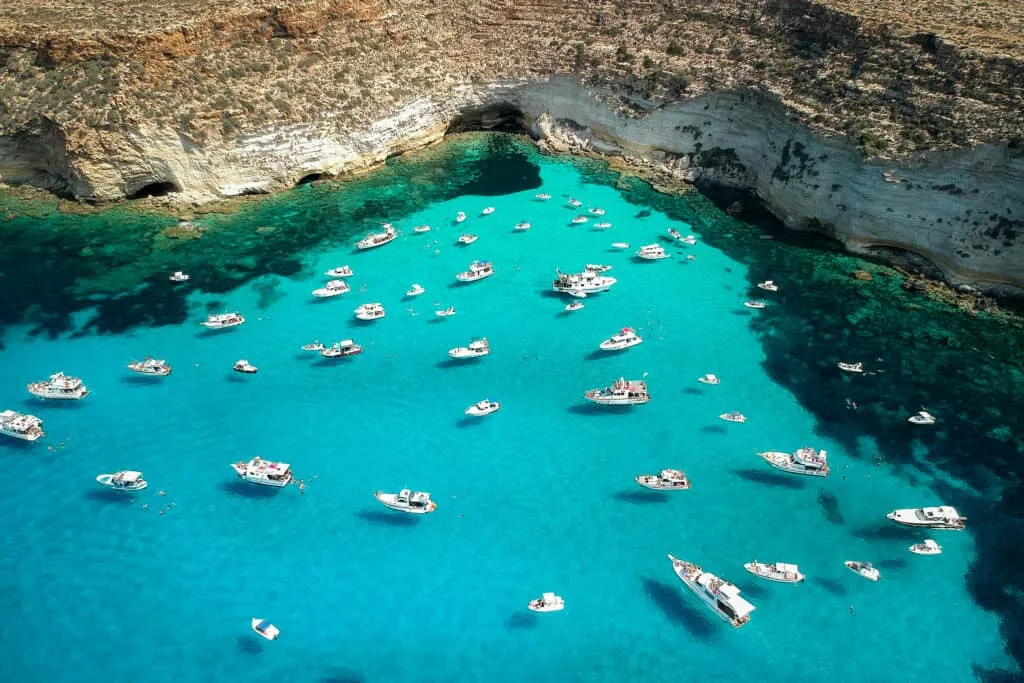 An island south of Sicily in the Pelagian Archipelago, Lampedusa boasts postcard-perfect beaches for a sun-drenched holiday. Diving and snorkelling are at the top of the agenda, with numerous sites to swim with parrotfish, turtles, groupers and dolphins, and search for the submerged underwater statue of Madonna del Mare.
Countless grottos, coves and beaches beckon, with the most popular being Cala Francese and Cala Guitgia where most of the hotels are located. Don't miss a trip to Rabbit Island, which you can wade out to through shallow water. It's home to a loggerhead turtle population, a submerged natural arch for snorkelling and a stunning white sand beach.
---
Islands near Sardinia
The islands near Sardinia encompass the Maddalena Archipelago, located off the ever-popular Costa Smeralda. A holiday in this region brings a large dose of island-hopping magic, with white sand beaches and clear blue seas to die for. That's not all though, with the off-the-beaten-path destinations of Isola de San Pietro and Sant'Antioco in the Sulcis Archipelago.
LA MADDALENA
Only now coming to the attention of tourists, La Maddalena was once the home of a NATO naval base and a popular spot for anchoring yachts. With the only town among over 60 islands and islets in the archipelago of the same name, its translucent waters and quaint streets are slowly coming alive with beach-loving visitors.
Ancient ruins and fortifications showcase remnants of a long and turbulent history, among rocky terrain and a series of spectacular beaches. Cala Francese is the most popular and nearby hotels rent umbrellas and beach chairs for lazy days of doing nothing at all. If you do feel the desire to move, explore the historic buildings in Piazza Umberto and shop, dine and drink along Via Garibaldi.
SANT'ANTIOCO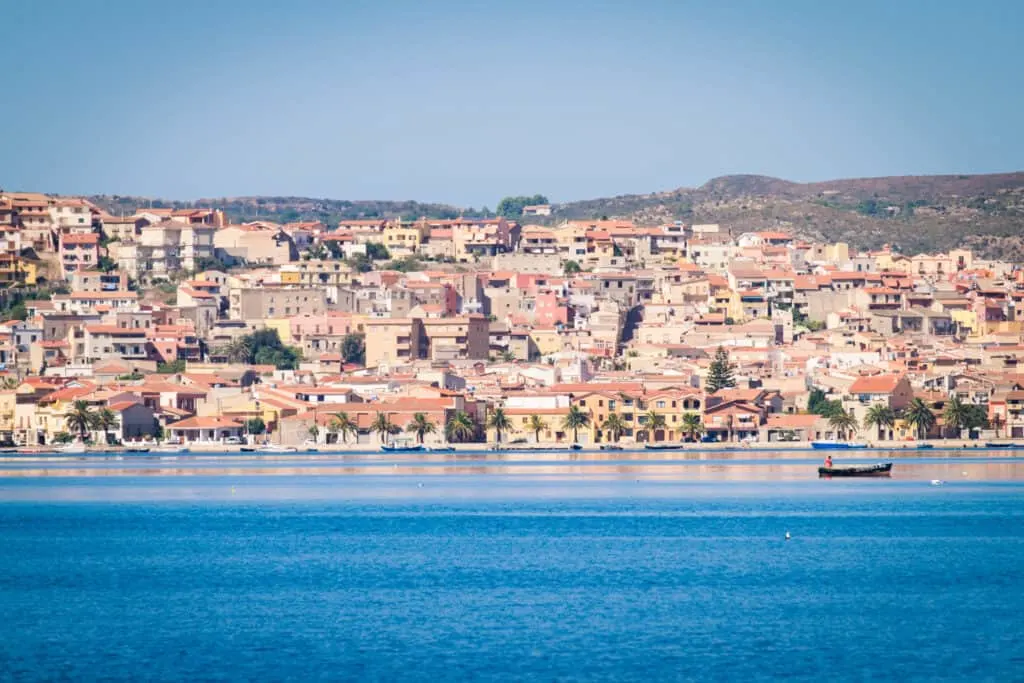 A narrow strip of artificial land connects the working fishing port of Sant'Antioco with the mainland. This industry is part of the island's charm, with the red roofs of fisherman's cottages dotting the main town. Thousands of years of history is on display no matter where you look, including Basilica di Sant'Antioco with catacombs used by the early Christians.
After exploring religious sites, the number one thing to do is hit an array of lovely beaches. Maladroxia is a hub for visitors, with pedal boats, umbrellas and chairs for hire. For serenity, check out Coaquaddus and snorkel from the resort town of Calasetta, along Sottotore and Le Saline beaches.
ISOLA DE SAN PIETRO

Jagged cliffs and fascinating bird species, like the peregrine falcon, characterise Isola de San Pietro, with an intriguing history that dates back to prehistoric times. The water is so clear here that it's possible to gaze at the rocky seabed from towering cliffs a couple of hundred metres above the ocean. Inland pine forests and orchids add to the natural colours that decorate the land.
Italy's westernmost lighthouse tops the highest peak of Capo Sandalo and white sand beaches hide within rocky coves. For town pleasures, Carloforte is the pretty centre with narrow alleyways, ancient fortifications and historical monuments. If you visit between May and June, you're in for a culinary treat with the Girotonno event highlighting local specialities.
---
Islands near Naples Italy (Campanian Archipelago)
Of the islands off the coast of Italy, Capri is among the most famous. It's the jewel in the crown of the Campanian Archipelago, joining Procida and Ischia as a trio of holiday heavens. Many travellers make the most of the Bay of Naples on day trips from the city, however, each offers plenty of attractions to keep you happy for weeks on end.
CAPRI ISLAND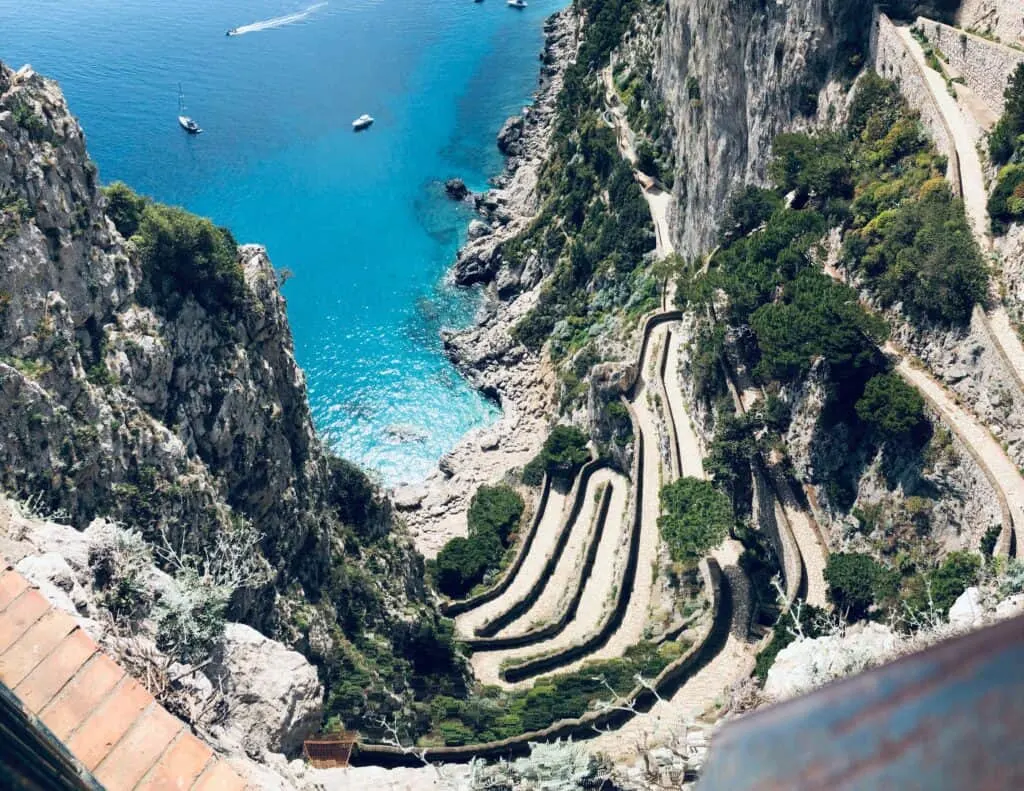 If you're going to visit one island in the bay of Naples, make it Capri. This spectacularly beautiful island was immortalised in Homer's works, as the place where Ulysses escaped the deadly voices of the Sirens. Among the natural wonders, glamorous villas and luxury shops have long enticed the rich and famous to its glittering shores.
Enormous sea stacks and odd-shaped boulders encircle the coast, hiding mysterious caves like the renowned Blue Grotto. Many of the island's natural sights are located near Anacapri, on the slopes of Mount Solaro. Close by, Capri holidays centre on the main town of the same name, with whitewashed buildings, car-free streets and luxurious bars, restaurants and hotels.
ISCHIA ISLAND
The islands near Capri are much less famous, but certainly no less beautiful. Ischia's landscape is an enticing blend of lush mountains, thermal springs and rolling, volcanic vineyards. That's all without mentioning about 40 kilometres of coastline just waiting for you to indulge in.
The town of Sant'Angelo has a traffic-free area and an elegant vibe, with shops, restaurants and cafes offering views over the Tyrrhenian Sea. This is the perfect base to explore nearby thermal parks and Le Fumarole beach with its jets of steam betraying the volcanic activity below.
Read More: Best Things to do in Ischia
PROCIDA ISLAND
A place that's refreshingly free of garish signs of tourism, Procida Island in Italy is often used as a stunning backdrop for movies. With a jumble of colourful buildings tumbling down to the emerald sea and plenty of vantage points for incredible panoramas, it's not hard to see why.
Porto greets visitors from the ferries and hosts a bustling marina filled with picturesque spots for shopping and dining. High above here is the Terra Murata, a historic settlement featuring a fortress and a monastery. When it's time for a lazy lunch, dine by the waterfront in Corricella in the company of bobbing fishing boats, before lazing on Procida Island beaches.
Read More: Guide to Visiting Procida
---
Tuscan Islands
Some of the best Italian islands to visit lie off the poetically beautiful Tuscan coast. According to legend, when Venus emerged from the sea her pearl necklace broke and scattered seven jewels across the sea, forming the archipelago of Giglio, Giannutri, Pianosa, Capraia, Montecristo, Gorgona and the magical island of Elba.
ELBA ISLAND
After Sardinia and Sicily, Elba is the third-largest island in Italy and once provided a safe haven for Napoleon during his exile in 1814. History is a major drawcard here, with museums, fortresses and majestic Napoleonic residences to explore. However, it's a wealth of gorgeous beaches and outdoor activities that attract visitors from across the globe.
Cavoli is the place to be for people-watching and fun-loving parties, while the stretch of dazzling sand at Fetovaia boasts a backdrop of towering mountains. Away from the beach, hiking and mountain biking are popular ways to spend the day, before sinking into the thermal baths of San Giovanni.
CAPRAIA ISLAND
With protected national park status, Capraia Island is a nature lover's dream. You'll share the island with only a few hundred residents, along with birds, butterflies and wild sheep roaming the wildflower-covered hills. Interestingly, Capraia was a prison colony for hundreds of years, which only closed in 1986.
Walks around the island include ruins of the abandoned penal colony, a vineyard and a picturesque lake. Just two villages provide some shops, seafood restaurants and venues to sample the delicious island wine by the sea, and it's an easy walk between them. Rather than sandy stretches, you'll jump into the translucent sea from rocky coves and pebbly beaches.
GIGLIO ISLAND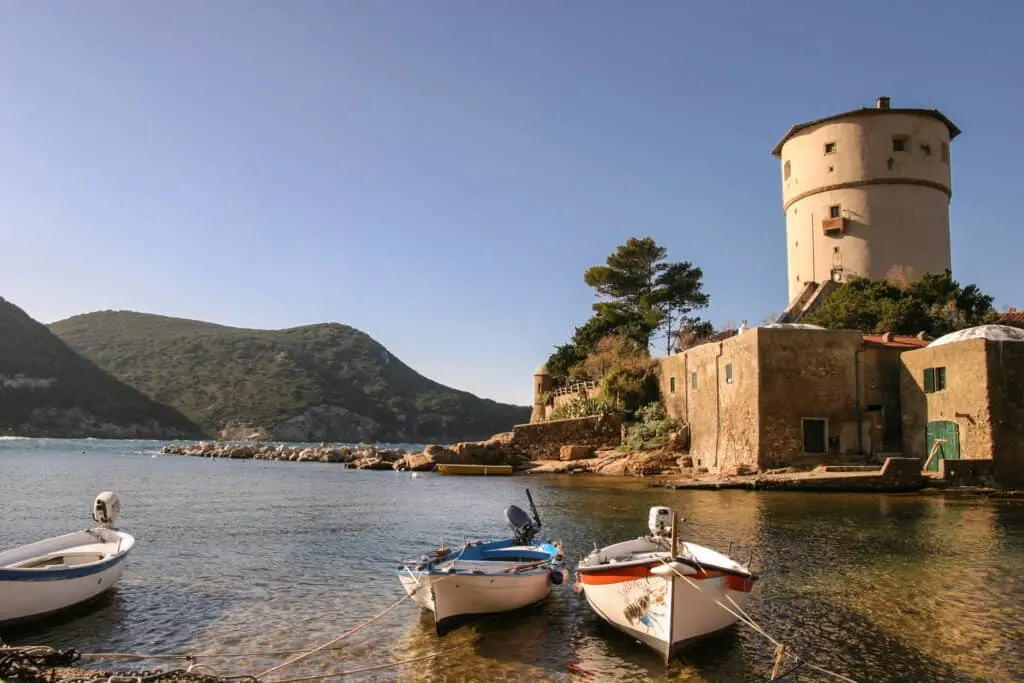 The relaxed island lifestyle you dream of awaits on Giglio Island, as much of it consists of remote terrain, with a colourful port town for peaceful dining at outdoor bars. Giglio Port is the main hub for shopping and wine-sipping, with Scalettino beach nearby for a dip in the sea.
On the other side of the island, you'll find Giglio Campese, a sheltered bay lined with restaurants and both public and private spots for a sandy patch to yourself. After stuffing yourself full of local produce, take a walk uphill to Giglio Castello for panoramic ocean views from a medieval fortress.
---
Pontine Islands Italy
If you're travelling to the Eternal City, islands near Rome offer a break from the hustle and bustle, and get you well off the beaten tourist trail. The Pontine Archipelago consists of two islands off the west coast of Italy, Ponza and Ventotene. Peace, solitude and archaeological sites greet you here, on a backdrop of ocean and volcanic landscapes.
PONZA ISLAND
It's not likely you've heard of Ponza Island, however, this is certainly one island off Italy to truly experience 'la dolce vita'. Encircled by the bluest of seas, soaring cliffs and hills feature whitewashed buildings and villas of every colour. Roman ruins and cave tombs dot the scenery, highlighting a long and intriguing history.
Visitors come to lap up the luxury of doing precious little other than sipping wine with water views and dining on seafood fresh off the boat. Speaking of boats, this is the best way to explore the watery delights surrounding the coast, where you can dive off for a swim before heading back to town for another slice of pizza.
VENTOTENE ISLAND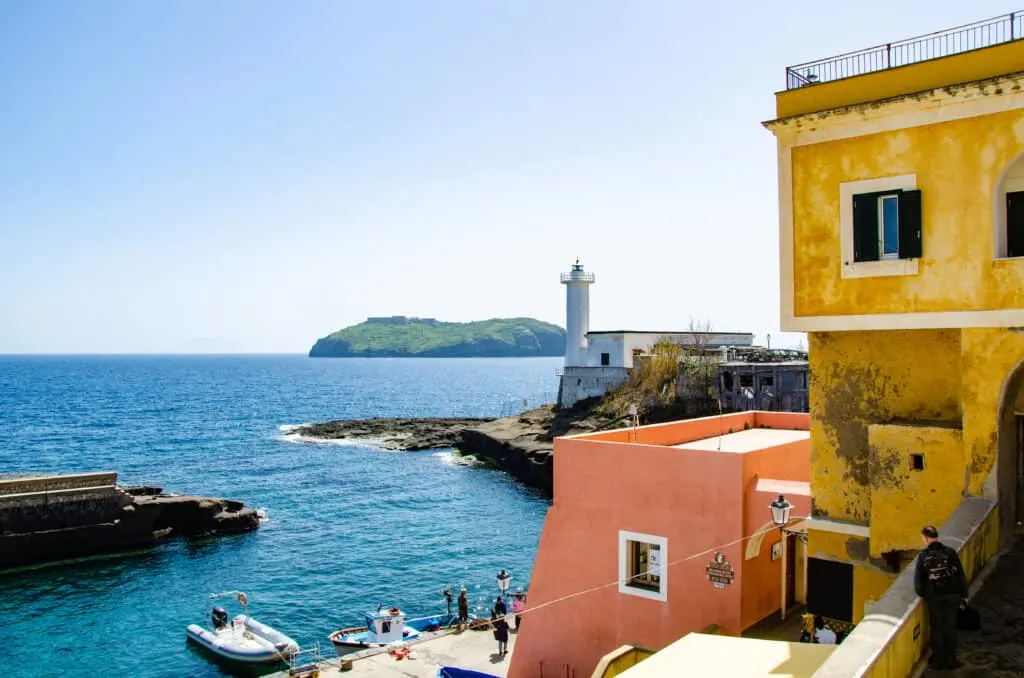 A sleepy paradise with pastel-coloured buildings and a tragic history, Ventotene Island offers rich discoveries within its scenic natural landscapes. During Roman times, it was a place of exile for imperial women banished for crimes of infidelity or immorality. The daughter of Emperor Augustus, Giulia, was one of them and Villa Giulia still remains as the main archaeological highlight.
Lush vegetation around the island attracts migratory birds, so have your binoculars at the ready. Resting beneath the town is Cala Nave Bay, with a beach and a tunnel that links the sand to the port. Sun-worshipping takes place on smooth rock platforms and Parate Grande is the spot for sunset.
---
Inland Italian Islands
It's not just the incredible coast that's sprinkled with holiday islands. Inland destinations include the Borromean Islands Italy so loves, in the breathtaking surrounds of Lake Maggiore. They're famous as beloved places of Ernest Hemingway and the English Royal family. Just a short boat ride from St. Mark's Square, islands in Venice, Italy, offer insight into tradition and history.
BORROMEAN ISLANDS
Thanks to the magnificent villas and elaborate gardens constructed by the Borromeos family in the 14th century, the Borromean Islands are world-famous as hideaways surrounded by luxury. Of the four islands, visitors can access Bella, Madre and Superiore.
Bella, or 'beautiful island', is occupied by its Baroque palace and astounding Italian gardens of ponds, fountains and white peacocks. Much of the palace is open to visitors, with opulent salons to explore. Madre is the largest island, with an English-style garden acting as the backdrop to Palazzo Borromeo. Tiny Superiore is a charming fishing village and a hub for seafood lunch.
ISLANDS OF VENICE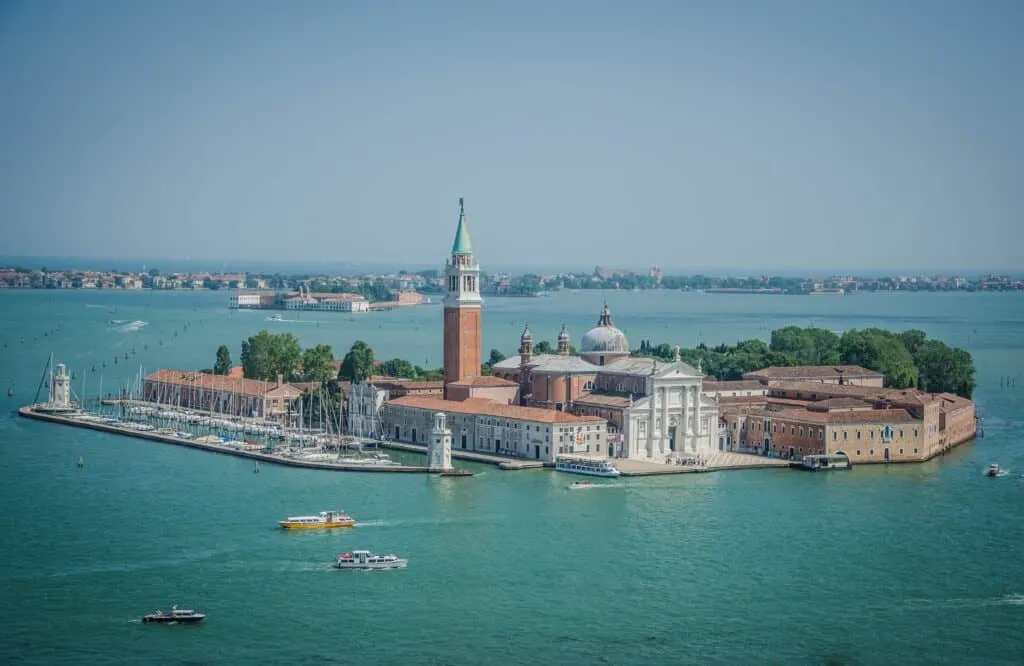 The Venetian Islands of Italy are world's away from the touristic side of Venice. Sprinkled throughout the Venice Lagoon, each offers unique history within pretty-as-a-picture scenery, like pastel-coloured houses, enticing beaches and romantically crumbling architecture.
Visit San Francesco del Deserto for its 13th-century Franciscan monastery, and Isola Santa Cristina to sample a private island stay, complete with peacocks and flamingos. Sant'Erasmo is a great place for a bike ride through local produce gardens, while San Michele is home to intriguing cemeteries and a Renaissance church.
Famous for hosting the Venice International Film Festival, Lido is the spot for glamorous days by the sea. For a taste of tradition, Murano is the centre for glassmaking and you can watch the masters in action here. The lace-making centre of Burano is linked by a wooden footbridge to the lovely vineyard on Mazzorbo.
The Venetian islands are easily accessible by boat from Venice.
Read more: Where to eat in Venice
---
Key things to know about visiting the Italian Islands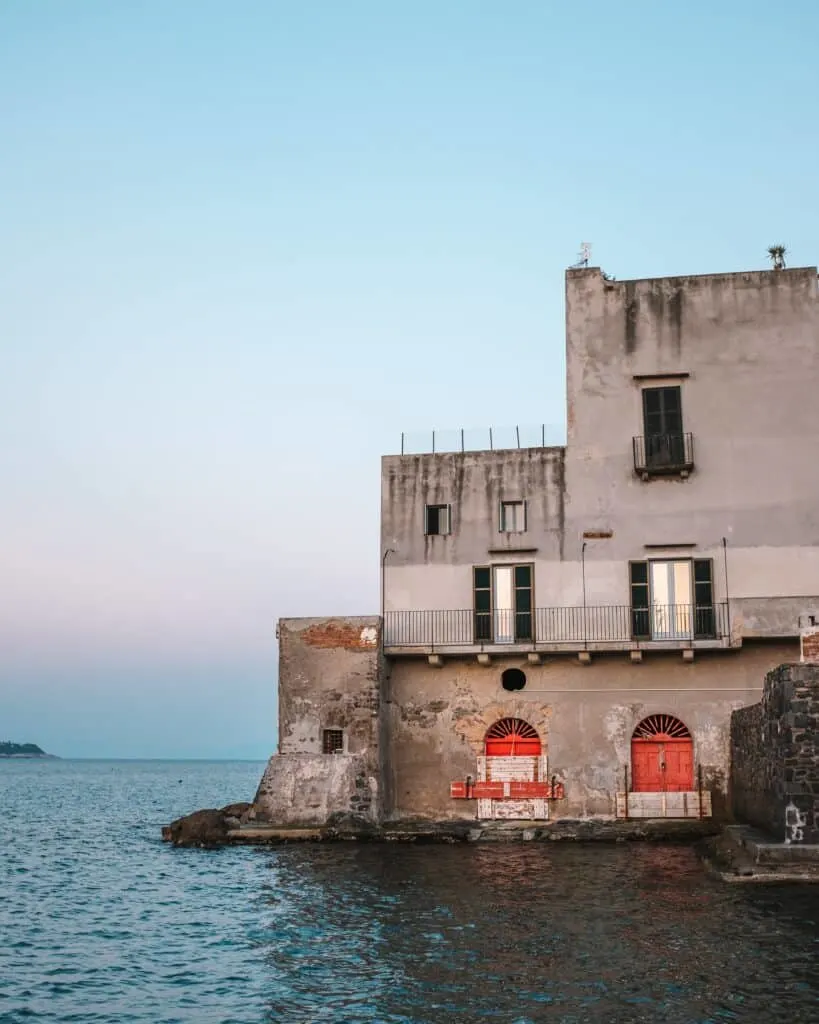 The peak season for visiting the Italian Islands is typically May through to September when the weather is sunny with clear blue skies and balmy temperatures. Late spring and summer are great times to go, however, if you'd rather avoid the crowds and get a patch of sand to yourself, visit in April and October. But be aware that many of the smaller islands are only open for the summer season.
It terms of the winter months, it's certainly possible to visit the more populated islands like Sicily, Sardinia and Capri in December and beyond. While the temperatures won't be freezing, it still pays to pack for cold weather and many tourist facilities might be closed for the season. However, this makes the colder months perfect for experiencing local life!
---
---
From otherworldly volcanic landscapes to beaches straight from travel brochures and a culture that includes some of the most delicious cuisine on the globe, pick the Italian Island that suits you best and indulge in your own version of 'la dolce vita'.
Pin this for later!