This post about the French village of Mornac-sur-Seudre is part of a series highlighting Les Plus Beaux Villages de France – the most beautiful villages of France! In a country blessed with postcard-perfect villages, the coveted title of 'most beautiful' has been awarded to a select 155 villages (correct as at the time of writing). There are strict criteria these villages must adhere to in order to receive, and keep, the title of most beautiful.
Other villages in the series: Talmont-sur-Gironde, Roussillon en Provence, Gordes
---
Exploring Mornac-sur-Seudre
The first time we visited Mornac, we did so somewhat by accident. It was a late summer's day and we were intending to bypass the village for a family bike ride through the salt marshes. Our plans went a bit haywire when we saw a sign advertising a vide grenier.
Vide greniers are like car boot sales – but with quirky French treasures and genuine antiques hidden among the used baby goods and piles of well-thumbed Tintin books. I can never resist a good rummage, so we stopped for "a quick look" and ended up wandering the village for hours – such is its charm!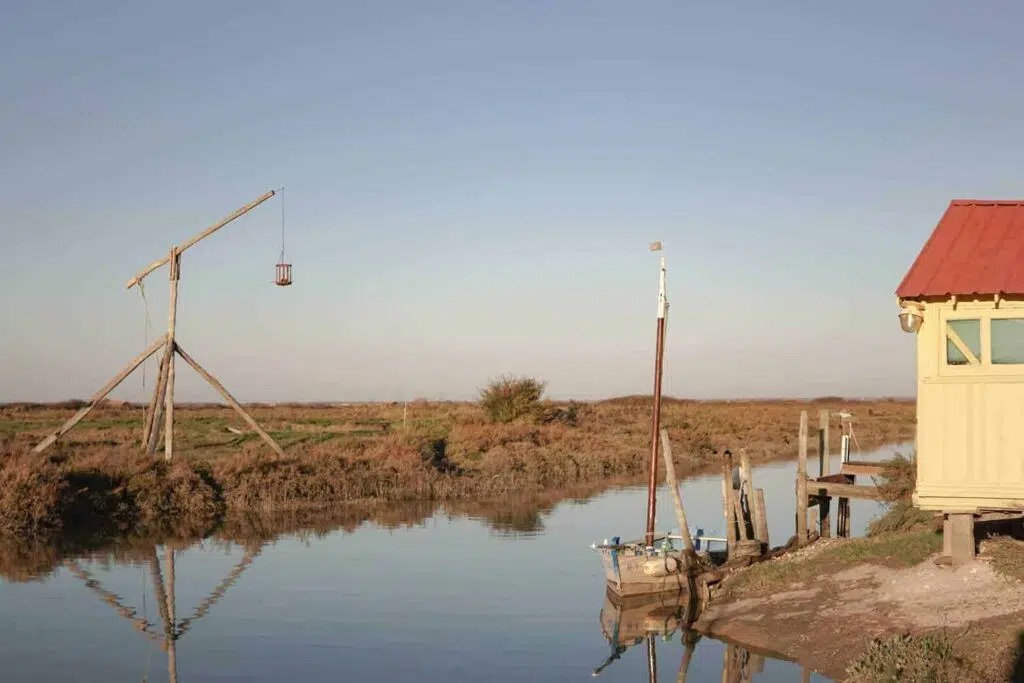 Due to the haphazard nature of that first visit, I didn't have my camera with me (lesson #1 in blogging – always have your camera!). So I recently visited Mornac-sur-Seudre a second time to capture the beauty of the village. In doing so, I got to experience it in a new light – this time under a low winter sun.
We started our tour by walking along the canal – an area that we'd neglected the first time around. The canal is calm body of water snaking through the village before joining the Seudre River. Its banks are decorated with colourful oyster huts reminiscent of those we discovered at Fort Royer on the nearby Île d'Oléron.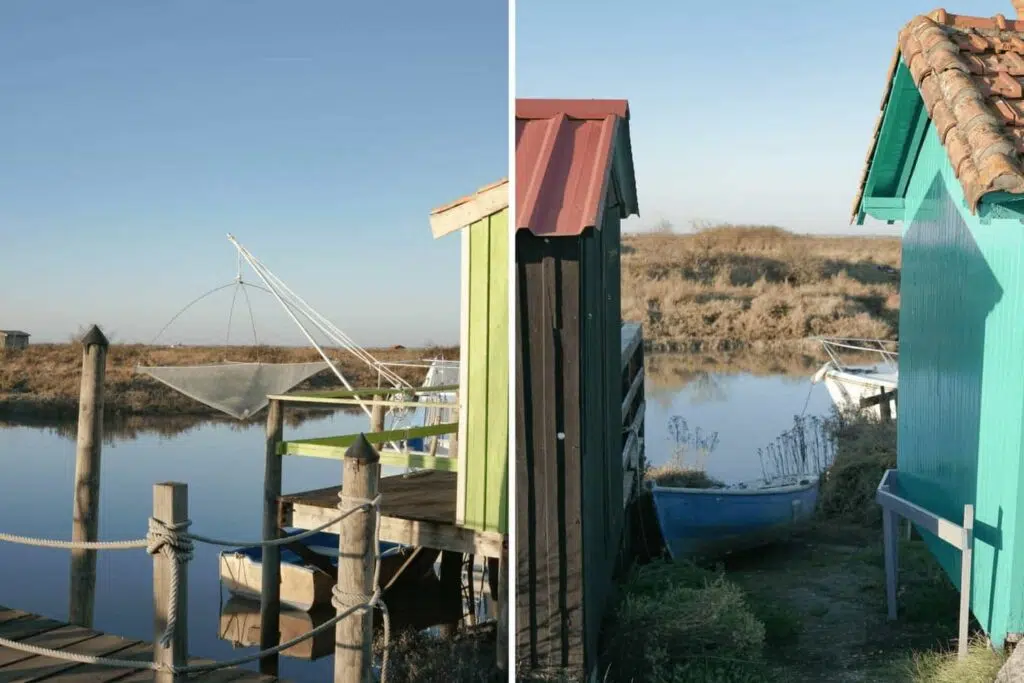 Making a u-turn halfway up the estuary, we headed back into the village along lonely lanes. The stores that had their doors flung wide open in August were now firmly shut, sheltering shoppers' from the cold breeze outside.
A welcoming warmth radiated from the windows of the village library, inviting us inside. My husband and son decided to camp out there while I traipsed the maze of narrow streets nearby – a curious tabby cat keeping me company.
Where is Mornac-sur-Seudre?
Mornac is in the Charente-Maritime department (now part of the newly formed Nouvelle-Aquitaine region) of France. A 20 min drive north of Royan, 30 mins west of Saintes, and an hour south of La Rochelle.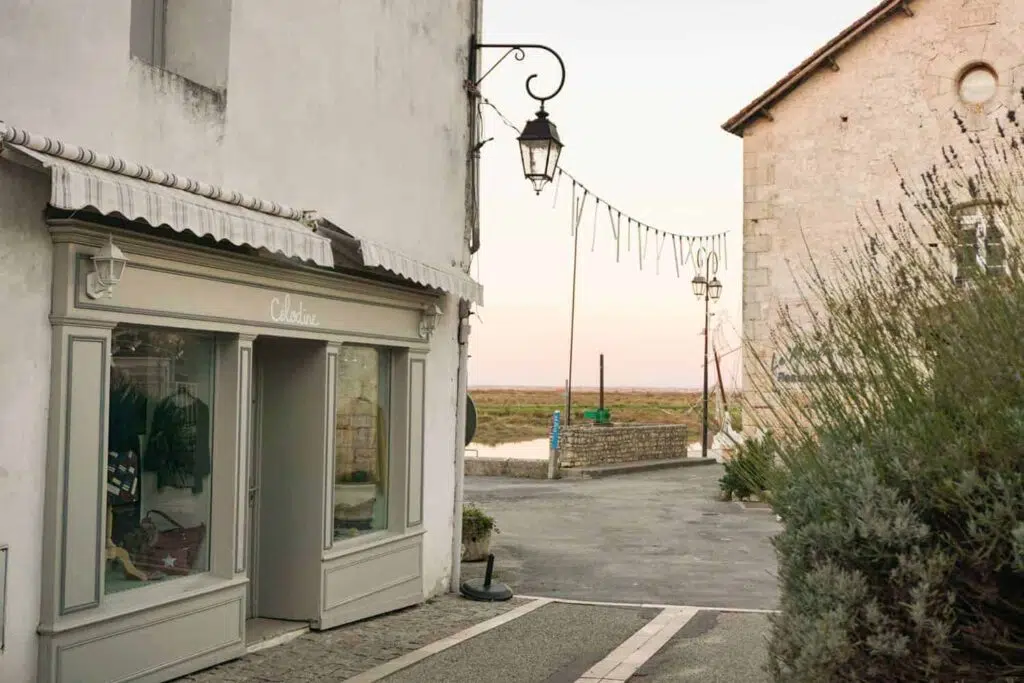 What makes Mornac-sur-Seudre Worth a Visit?
Exploring France's beautiful villages is always a treat. But the nautical flair of Mornac combined with its medieval history tells a story unique to this area of the Saintonge.
I imagine that it's this nautical industry of oyster farming and salt harvesting, that keeps the village alive all year long, when tourists are sparse.
Although the village has an authentic Charentais feel, the whitewashed stone is given a colourful lift with turquoise shutters and bright blooms. And if (like me) you have a 'thing for doors', Mornac provides plenty of photogenic inspiration!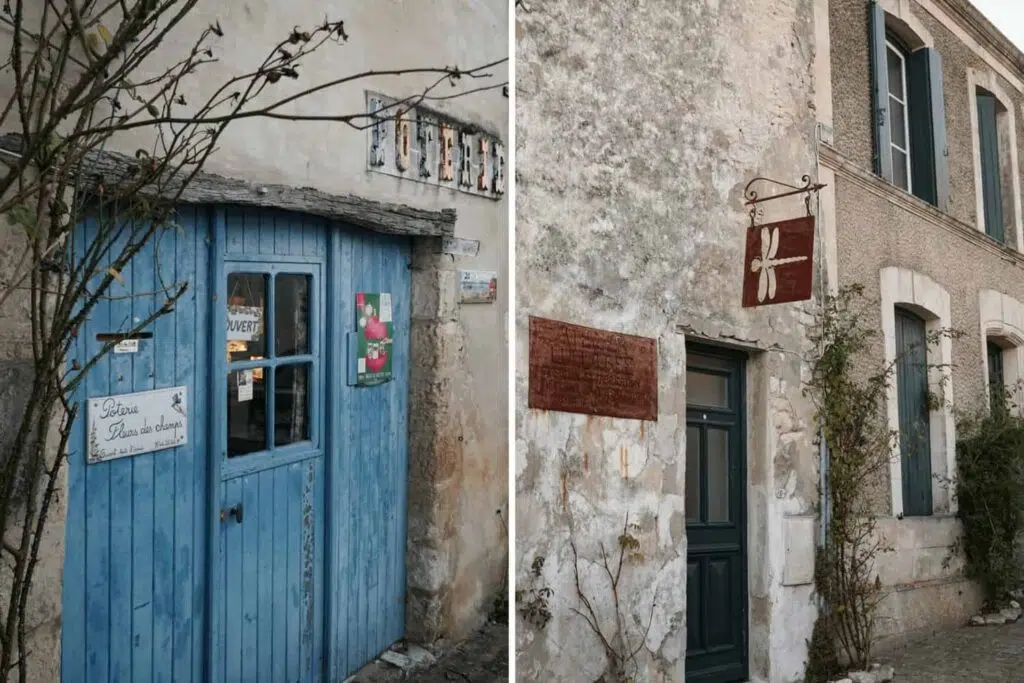 Mornac is also a creative hub for artisans, drawing inspiration from the bucolic landscape and abundant natural resources surrounding the village.
This artistic aptitude is evident in the streets, with paintings and sculptures adorning outer walls, while art studios and galleries display wares in their windows. It comes as no surprise then, that shopping is a pleasure here and there is no shortage of boutiques selling everything from handmade hats to carefully crafted children's toys.
No trip would be complete without also sampling the local specialities. Take some honey and hand-harvested salt home with you to prolong your memories of this special place.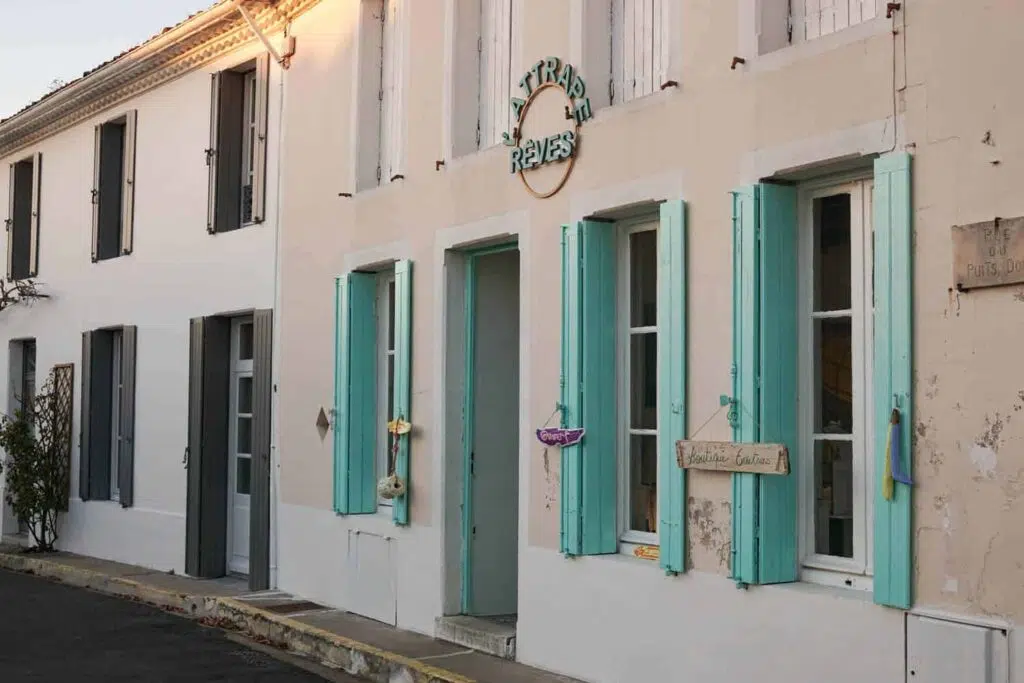 Mornac's Main Attractions
A large medieval hall greets you at the entrance to the village. Once a place for local villagers to sell their crops, it's still used for a similar purpose today – housing a bi-weekly farmers' market (Wednesdays and Sundays) among other seasonal events such as a potter's market and Christmas market.
The 'halles' is also where the vide grenier was taking place when we first stumbled upon Mornac.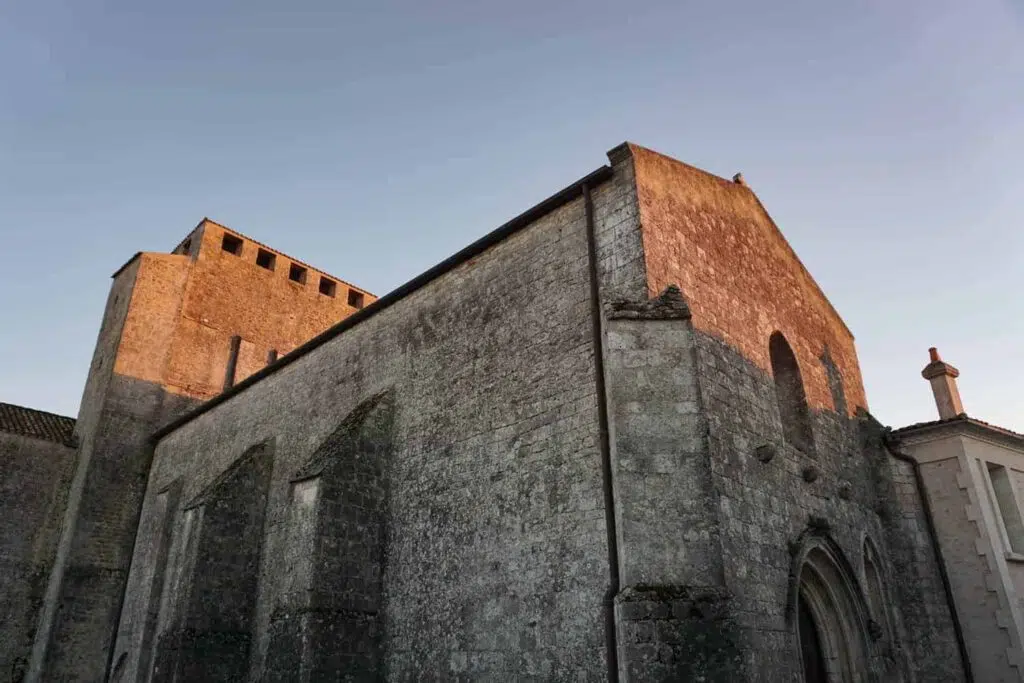 Like Talmont, Mornac is home to an 11th-century church, L'église Saint-Pierre. This Roman church dominates the village, you won't miss the distinctive bell tower looming above the rooftops. We didn't venture inside, but I've since learned that you can climb the clocher for a view over the sloping village below.
The port is the heart of the village and is an attraction in itself. During the summer months, you can take a boat tour or even kayak through the canals to enjoy the area from a different perspective.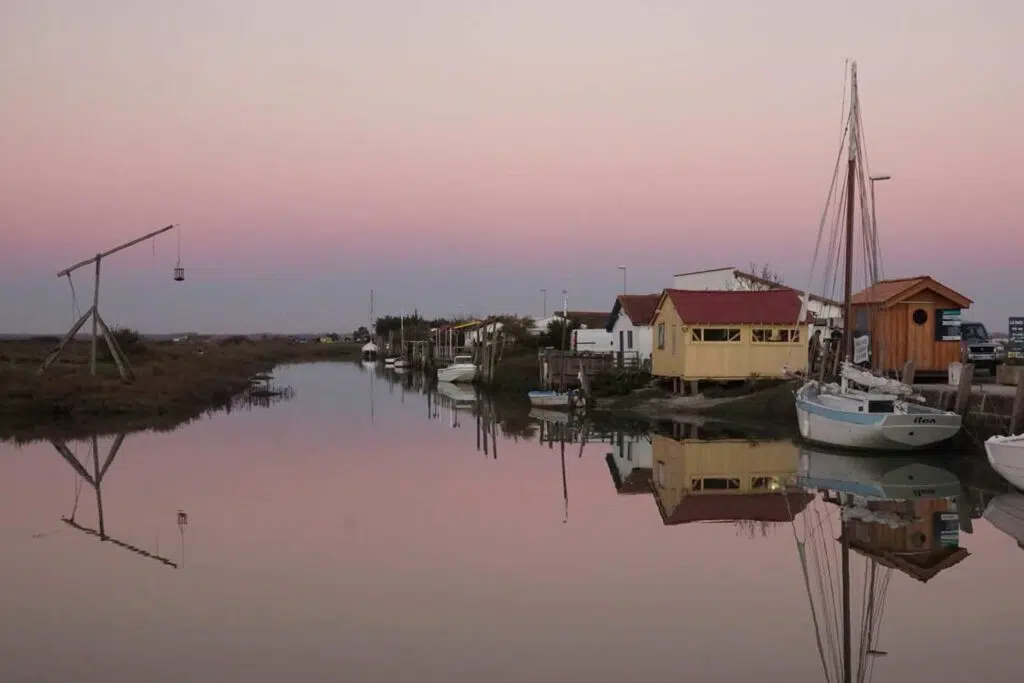 Walking or biking through the salt marshes is a tranquil way to spend a few hours, spotting the local birdlife as you go. The landscape is flat, making it an easy ride for the entire family.
Younger visitors will also love Le Train des Mouettes, affectionately nicknamed the seagull train. This 19th-century train steams along the estuary, through the marshes, vineyards and fields that line the tracks. At our son's request, my husband 'raced' this old steam train on his bike, while the passengers on board waved to a delighted 3-year-old in his bike seat!
Where to Stay and Eat in Mornac
There are plenty of authentic accommodation options within the village – from sleek apartments to homely villas. For those travelling in smaller groups, or simply wanting a more catered getaway, there are also several chambres d'hôtes sprinkled throughout the village.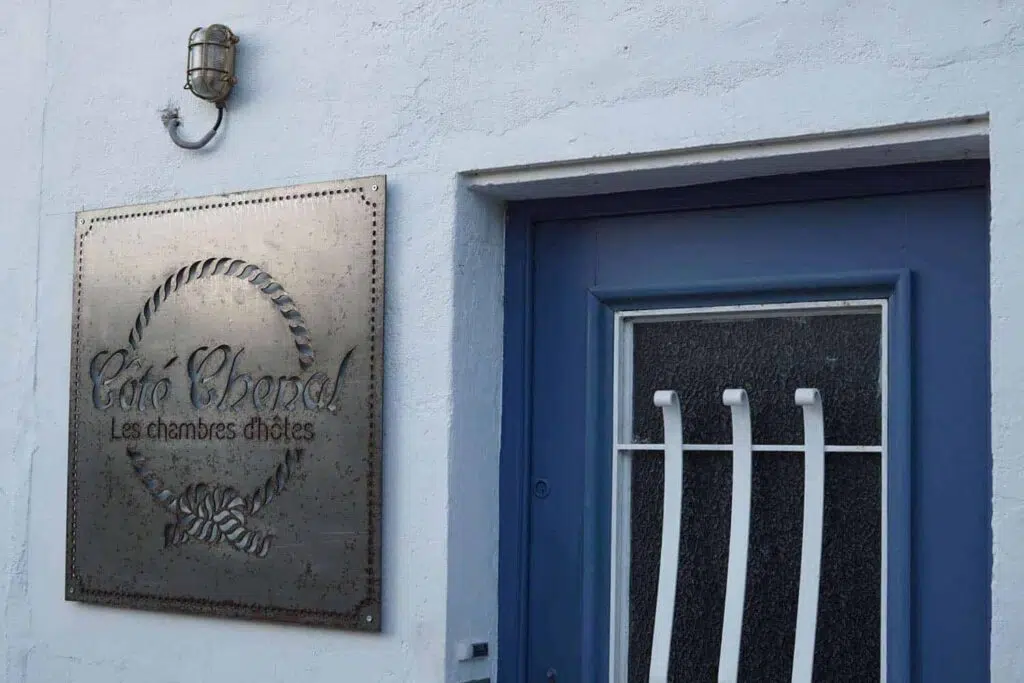 For such a compact village, there are a plethora of restaurants serving up traditional French fare. The crêperie at the port appeared a popular spot. We popped in for a serving of salad and refreshing apple cider while watching the goings-on in and around the water.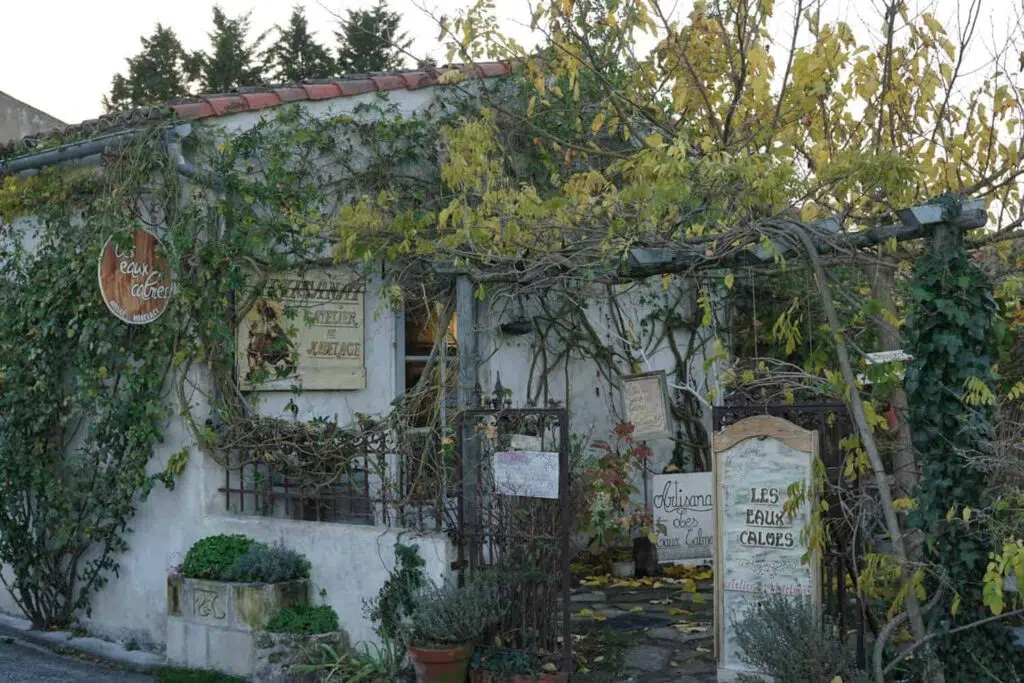 Events in Mornac-sur-Seudre
From markets and live music to cycling tours and village fêtes, Mornac hosts a range of events throughout the year. To check what's happening during your visit, check out Mornac-sur-Seudre Tourism's event schedule for up-to-date information.
Pin this for later!