One of our favourite ways to enjoy France is to get away from the cities and discover the smaller villages and towns off the tourist trail. And our favourite places to stay are unique, boutique, and offer something a little special.
That's why we're quickly becoming converts to glamping, as it offers the best of both worlds. Allowing us to explore new corners of France while staying somewhere truly exceptional.
Glamping, or luxury camping, is perfect for those who prefer their accommodation to have home comforts while maintaining that close connection with nature. After all, there's nothing much better than watching the sunset over the sea or rolling French landscape, glass of wine in hand, from your yurt, tipi or treehouse balcony.
From safari-style tents on the Atlantic coast to luxury campsites in Normandy, to tipis in the south of France, here are some of our bucket-list properties for glamping in France.
---
What is Glamping?
Glamping (a portmanteau of "Glamorous Camping") is the perfect option for travellers who want to be close to nature, in a quieter location, and enjoy something of the simple life, but with access to a few more home comforts than basic camping offers.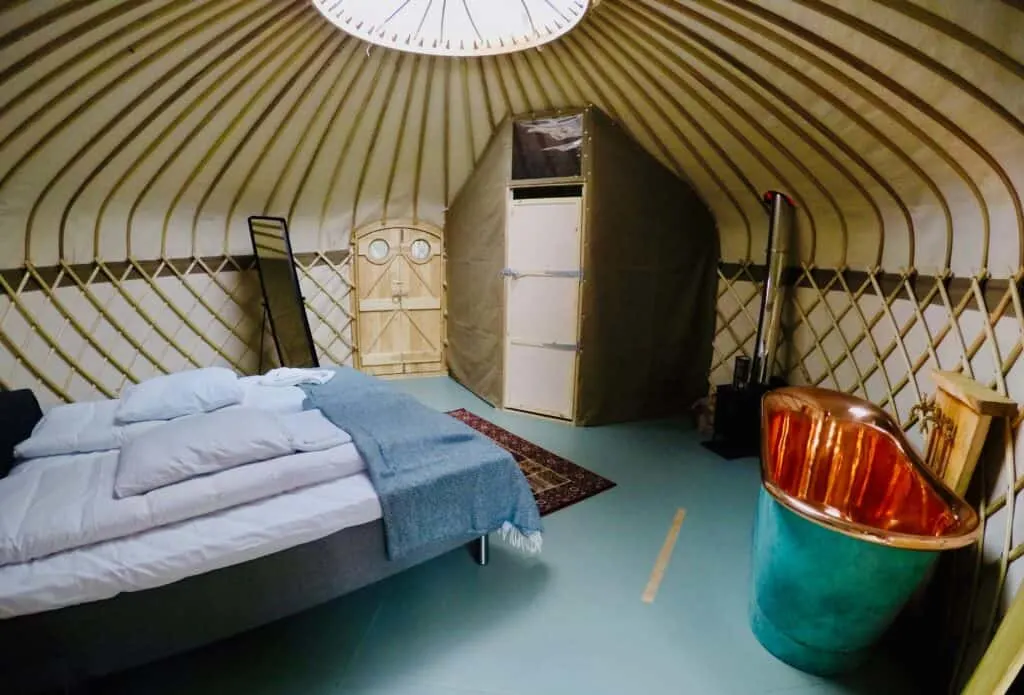 Glamping comes in different forms: From huts, cabins, tents with beds inside (tipis and yurts are some more common options), to renovated contemporary caravans.
You can usually be assured of good proper bed, bathrooms may be separate to your sleeping place, and some eco-conscious properties have composting toilets. Some glamping sites come with pools, saunas and other facilities too, to help you get the most out of your new-found back-to-nature zen.
Why try Glamping in France?
5-star camping in France can be a great way to experience a different side of France and avoid the crowds that normally come with the more traditional-style camping grounds.
There are some luxury campsites in the main resorts of France, but more frequently you'll find glamping options a bit removed from the busy beaches and holiday towns – giving you the opportunity to enjoy a quieter and more authentic version of France.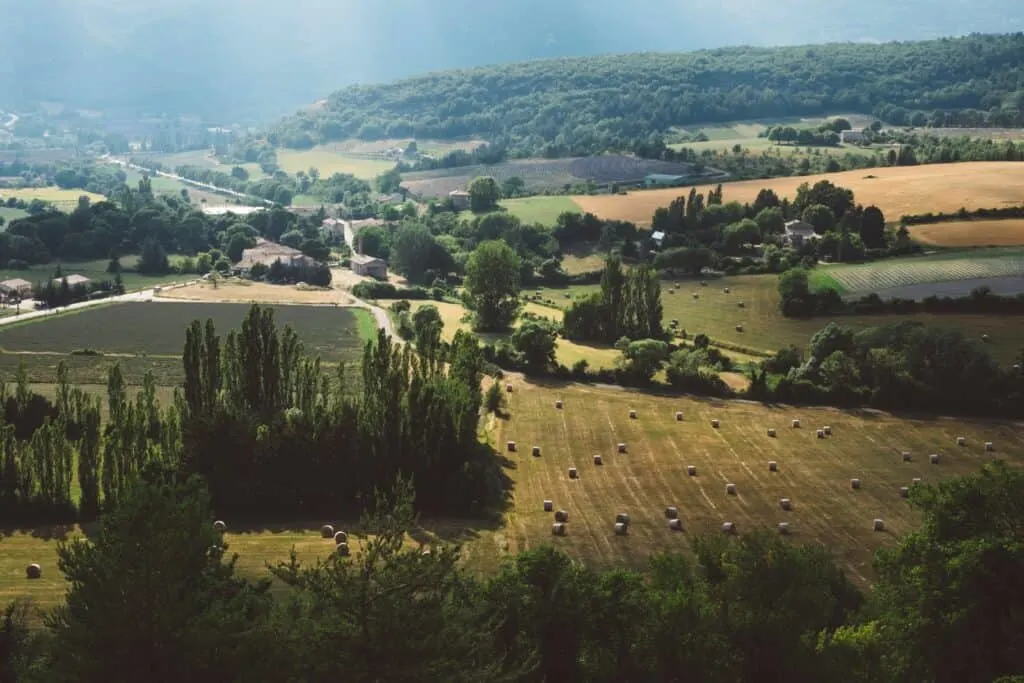 Glamping is a great opportunity to connect with small town and village life, avoid the traffic jams, sample regional cuisine made by locals, get out hiking and enjoying (or just relaxing in) the French countryside.
Many glamping accommodations in France are truly unique and eco-friendly too, so you're guaranteed a special experience!
Where to go Glamping in France
When you're looking for glamping holidays in France, some of the more popular areas tend to be the easily accessible Normandy and Brittany in northern France, as well as Provence and Dordogne regions in southern France.
Eco camping in France also has plenty of options in more remote areas too, such as the beautiful Pyrenees, the bucolic Savoie region, and close to the eastern border. So whatever type of getaway you're after, you're bound to find a glamping accommodation to suit!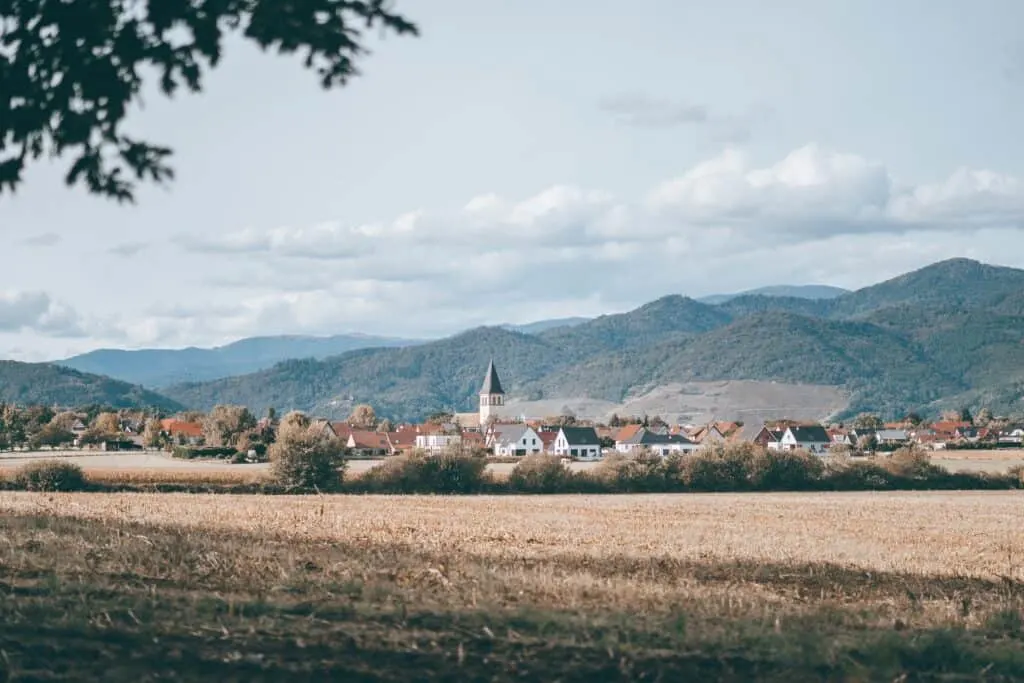 Family-friendly glamping options include larger tents, chalets and huts, and there are smaller hideaways that are more suitable for couples. Most glamping accommodation is open-plan inside.
Glamping South of France
Glamping in the South of France offers a great way to enjoy this beautiful, albeit popular, region of France with fewer crowds. Many of the best campsites in the south of France are inland, away from the Coast and in the heart of rural Provence.
My home region of Provence is home to some surprising locations for glamping – including one of Europe's best low altitude places for stargazing. Does it get any dreamier than falling asleep under the stars?!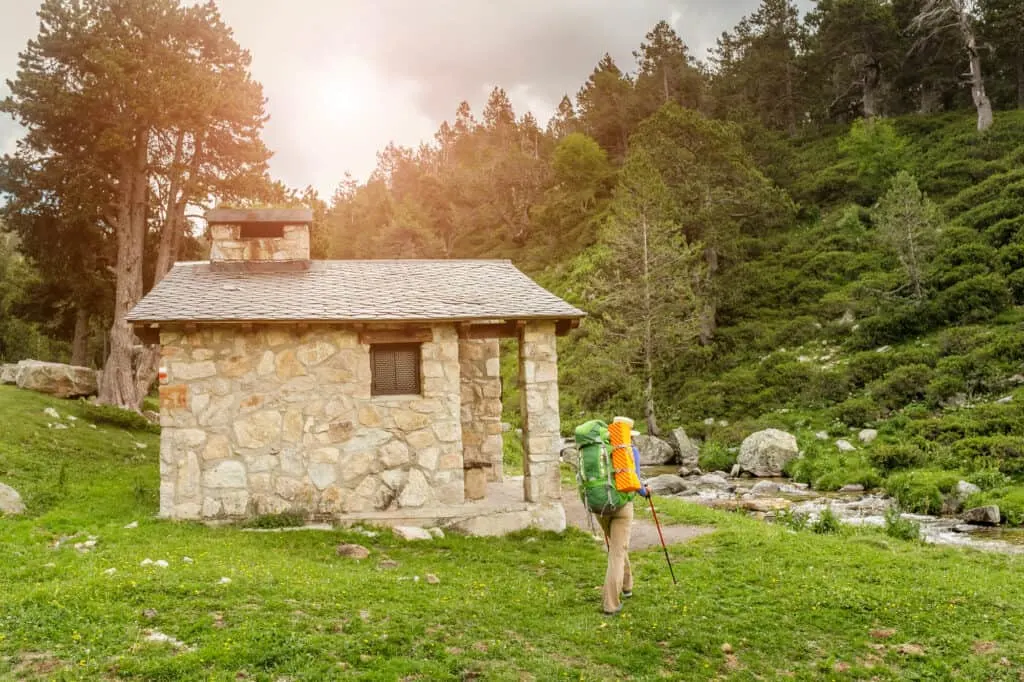 Away from the ever-popular Côte d'Azur, you can immerse yourself in mountain life and stay in a Shepherd's hut in the Pyrenees. The Pyrenees and Basque country are great for hiking in the summer, or just to get away from it all and experience a unique region of France.
Perhaps best of all, glamping in South France is not confined to the peak summer months, either. Many log cabins, mini huts and yurts are heated for cooler months, and you'll often benefit from better availability and lower prices, too.
Top Glampsites in the South of France
Glamping is still a relatively niche concept in France, but it's getting more popular and more and more great French glampsites are popping up! Happily, we've done the hard work for you, by finding the best luxury campsites to enjoy in the South of France.
Glamping doesn't get much more iconic than staying in an adult-sized treehouse in the woods! This fun and unique camping accommodation is all about getting back to nature, enjoying the tranquil environment and sleeping under the stars.
Located in the Ardèche department of Southern France, you'll have plenty of adventure right on your doorstep. Explore ancient caves, discover ruined castles and go mountain biking or hiking in the Ardeche mountains.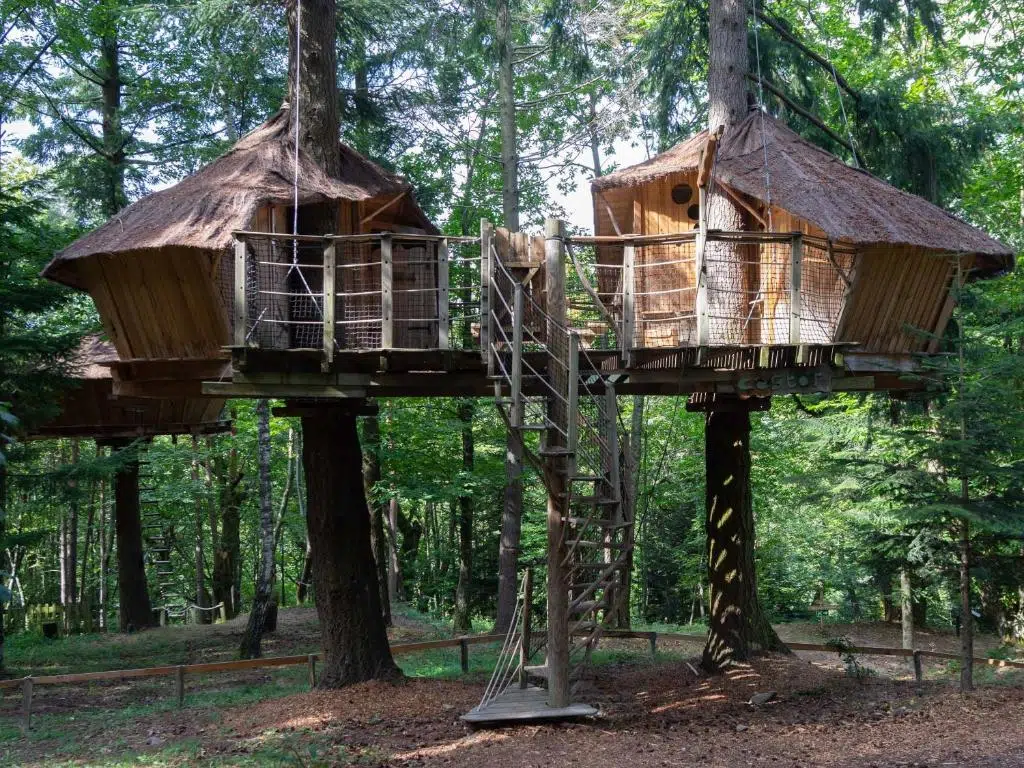 The wooden cabins on offer are free of electricity and running water, but that just brings you closer to the things you'll want to be focused on – whether that's a good book, or spending quality time with loved ones.
---
Located about half an hour from Bordeaux, the Domaine Ecotelia is a sanctuary for those looking to enjoy unique accommodations, enjoy glamping in France with a pool, and get some spa time in too.
There's an impressive range of glamping accommodation on offer, and "Rooms" span a range of pods, cabins, yurts (suitable for families), tree-houses, safari tents, vintage caravans and a huge family size "tent caidale" too. Some even come with attached/outdoor hot tubs for an extra touch of luxury.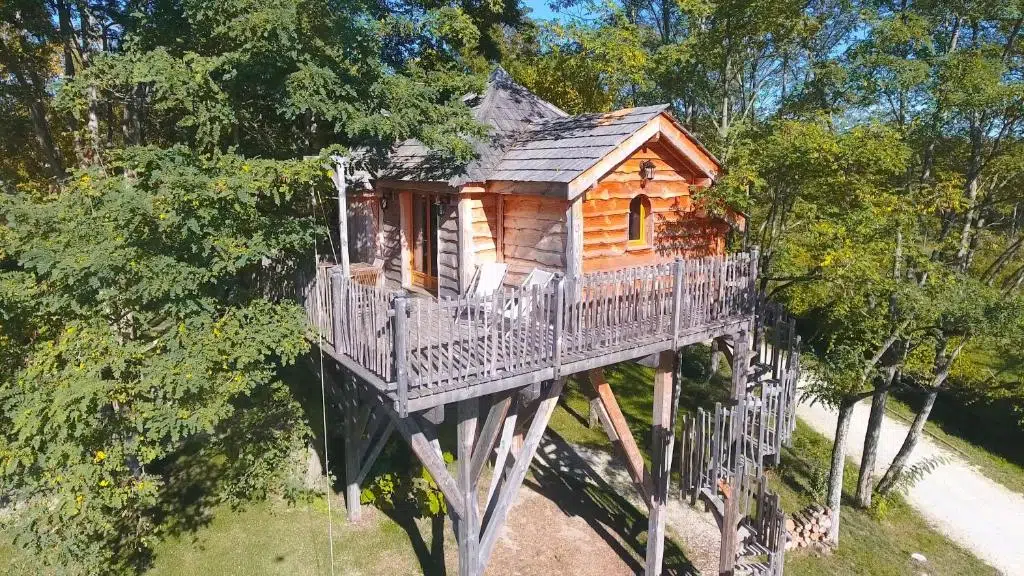 This glampsite is certified by the EU Ecolabel for its sustainability efforts, making it a top choice for eco-conscious travellers. They are actively working to protect the surrounding environment and always source local, artisanal products.
---
Saint-Michel-L'Observatoire is the home of the Haute-Provence Observatory which is considered by astronomers to be the best European low-altitude (400 meters) observatory in operation.
It shouldn't come as any surprise then, that this is also one of the best places in France to sleep under the stars. You can do exactly that at Camping sous Les Etoiles, where they offer tents with transparent roofs so you don't need to leave your comfy bed to observe the show in the sky.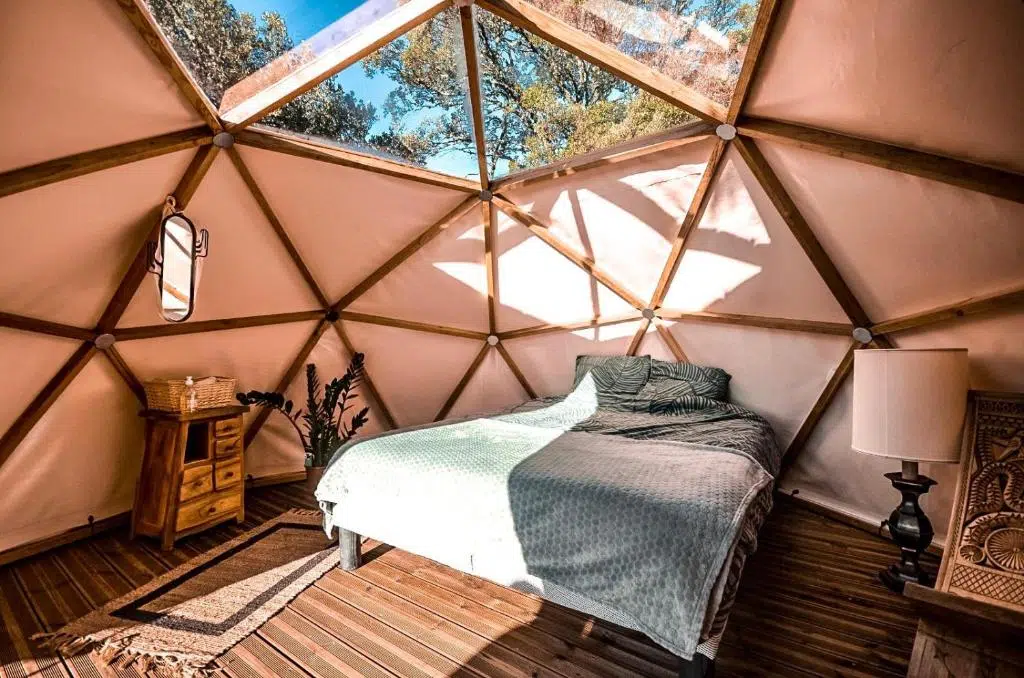 Camping Sous Les Etoiles comprises of several luxurious tents with double beds, each with their own deck and seating area. Nearby, you'll find the communal bathrooms and dining area. With its rural location, yet just a stone's throw from the lavender fields and hilltop villages of Provence, this glampsite is the perfect way to enjoy a couples retreat in the South of France.
---
Located in the rural Pyrenees, this rustic cabin or "mini home" comes complete with large windows to enjoy the stunning countryside views and its own outdoor Norwegian-style wood-heated hot tub.
Perfect for chalet camping in France, this is a place to get away from it all and enjoy a dramatic and remote part of France, with the soaring Pyrenees mountain range as your playground. There's no internet or TV here, so relaxation and detoxing from your daily life is the name of the game!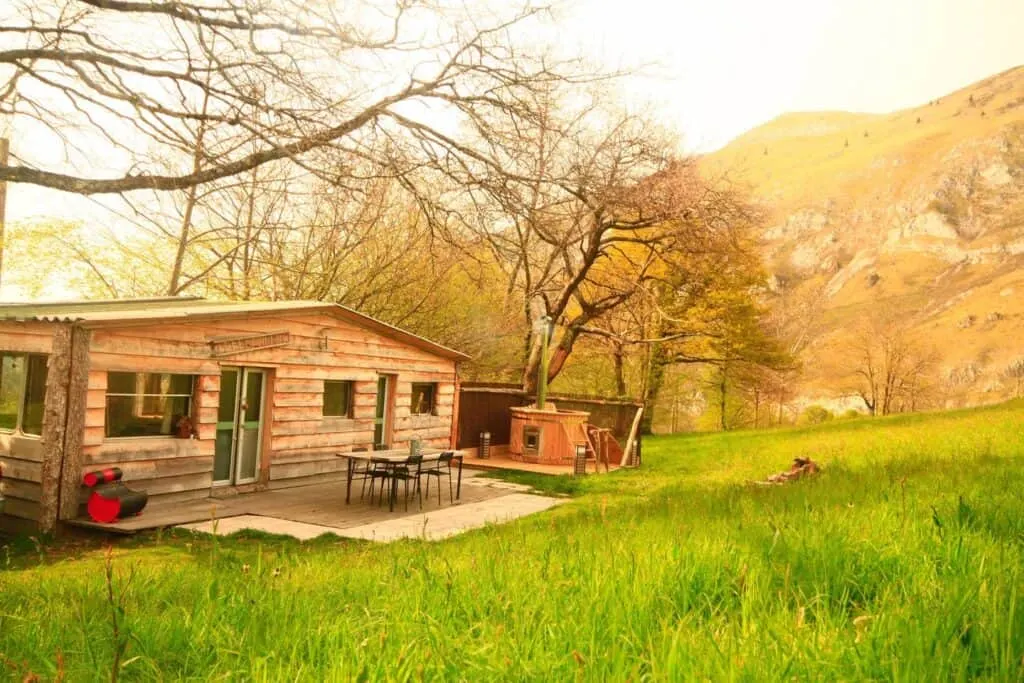 The cabin is heated and suitable year-round; the summer months are perfect for hiking and lingering meals on the terrace, whereas winter often sees beautiful snowfall surround the cabin, creating a fairytale scene.
Sainte-Marie de Campan is the nearest village and is the best place to stock up on essentials, to grab a drink or head to the local pizzeria, if you've had enough of the solitude.
---
A boutique campsite comprising of just 5 Bell Tents and a vintage caravan, La Toile Sous Les Étoiles offers a tranquil escape among a flower meadow. Each hut has been carefully positioned to maximise privacy and peacefulness, and inside you'll appreciate the homely touches and lavish furnishings that have been thoughtfully selected.
A separate appointed shower room – that's yours alone to enjoy – makes a unique and luxurious addition to your accommodation, while communal rooms house a shared guest hut/dining room, fridge hut and games area. You'll also enjoy the outdoor swimming pool in the summer months!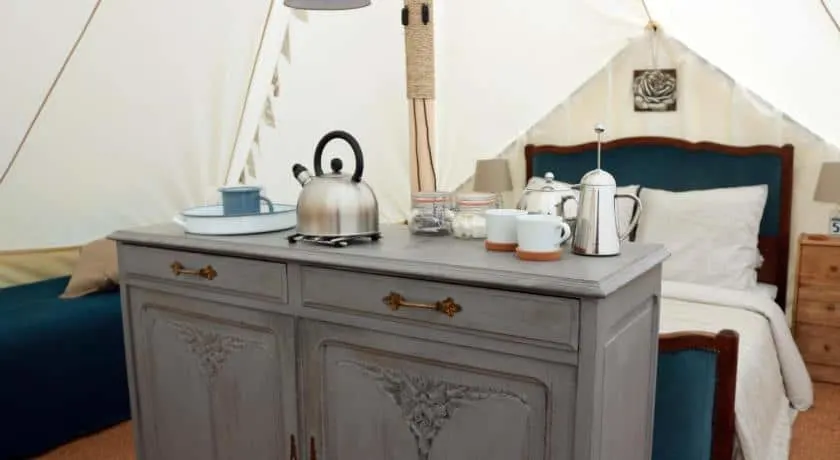 Nearby, you'll have plenty of outdoor adventure waiting. Hike the chaîne des Puys in Auvergne, partake in any number of water sports offered on the Vassivière lake, meet the wolves of Guéret, or visit the area's markets for the freshest regional finds.
---
Glamping Northern France
Glamping in Northern France is easily accessible if you're travelling from the UK with a car, and campsites in Northern France offer a great opportunity to dive into the beautiful rolling hills and woodlands of some of France's most popular holiday regions: Normandy and Brittany.
Different Ferry routes run between Northern France and the UK, meaning you can even bring your car with you if you choose, which saves money over renting a car in France.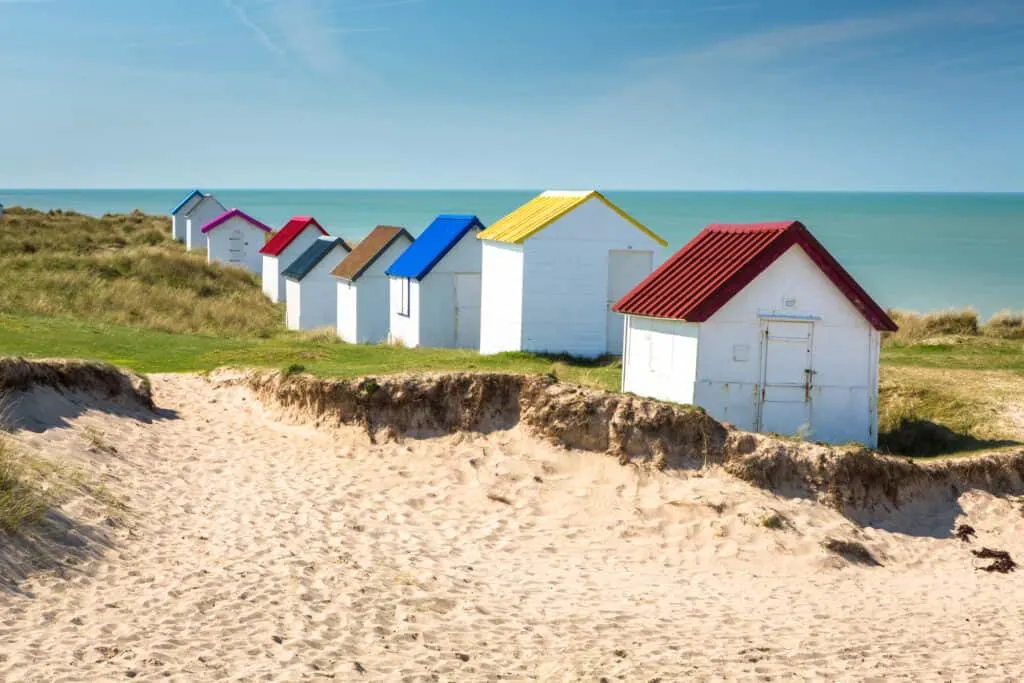 Glamping in Normandy is a great place to begin your french glamping adventures, although we recommend the summer months due to the somewhat wet climate here in the winter months. There are plenty of historical towns to visit, as well as great local food and culture to soak up.
Neighbouring Normandy to the west is Brittany, surrounded by ocean on three sides and home to a unique, Celtic-influenced culture. You're never too far from the sea here, and there are some truly bespoke glamping sites in Brittany to enjoy. Find some of them below.
Top Glampsites in Northern France
Whether you dream of the wild and unkempt bays of Brittany or the chateau-studded Loire Valley, we've rounded up our favourite options for glamping in Northern France.
If you've ever wanted to stay in something inspired by a bumblebee, this is your chance! The innovative design pod-style tents here offer fantastic luxury glamping in France, and have been created with the ethos of observing and living in communion in nature in mind.
Perhaps unsurprisingly, this bee-inspired glampsite is actively involved in bee-keeping and bee-conservation too!
Just 1.5 hours drive from Paris, Domaine des Butineuses is located in the heart of Normandy. Each 'bubble bee' pod is set overlooking its own pond and comes with a transparent ceiling for optimum stargazing, and a comfortable double bed and seating area.
The pods sleep two comfortably, making this a romantic choice for glamping for couples in France. And free WiFi means you can still stay connected with the outside world… Should you want to!
---
If you're looking for something completely unique, this converted space in a troglodyte cave will surely fit the bill! Certainly different from being outdoors in a traditional glamping setting, staying in a cave submerged in the cliffside offers another way to connect with nature.
Here in Amboise, at the heart of the Loire Valley in central France, you can stay in a beautifully renovated space while still enjoying the historic elements of your surroundings. Complete with roll-top bath, chandelier and a comfortable bed, this is the perfect hideaway for two.
Amboise is a charming Loire Valley town. It's the perfect base to explore the local history and culture, as well as sampling the traditional cuisine or going on a bike ride along the river bank cycle paths.
---
Located in the heart of France's northwesternmost region, Insolites en Mené offers a range of glamping accommodation in Brittany ranging from luxury tipis, to old wooden style caravans and bungalows.
Set in quiet grounds that include a swimming pool, this is a great choice for those not quite ready to 'rough it' in the wilderness! The caravans include lovely sleeping areas next to a raised window which looks out onto the green Brittany countryside, while the tipis offer a more minimalistic approach to glamping.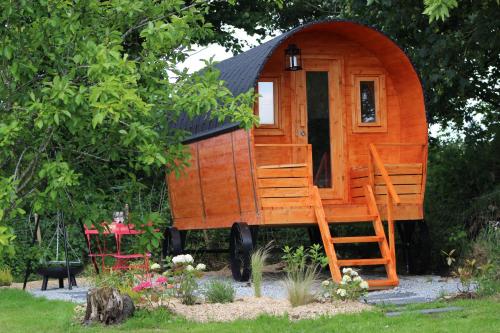 "Insolite" means unusual, and while many holidaymakers in Brittany head to the coast, there is a lovely charm to the slow country and village way of life in central Brittany, making this the perfect Brittany glamping site for enjoying the local countryside and rural pace.
If you find yourself craving more activities, simply hop in your car and explore the historic towns and villages this area of France is renowned for.
---
Glamping Eastern France
Between the glitz and glamour of Southern France and the coastal gems around Brittany, Eastern France often misses out on the attention it so rightly deserves. An area of rich cultural heritage (not to mention some of the most famous wine regions in France), UNESCO World Heritage Sites and snow-capped mountains, it's the ideal place to be if you want to uncover lesser-known gems and revel in age-old traditions.
Glamping in Eastern France means letting nature lead the way, seducing you with its untarnished vistas and ancient pathways. Expect paired-down luxury, where your bucolic surroundings are invited to take centre-stage.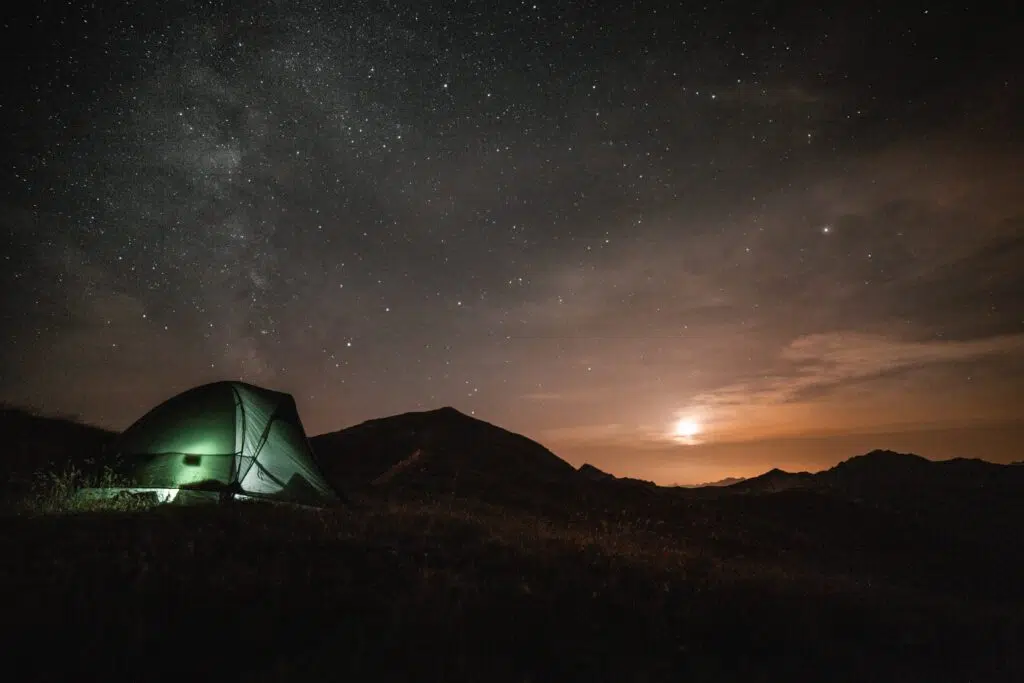 Glamping in Eastern France may require a little more travel time if you're driving from England, or landing in Paris, but it's well worth the extra effort to indulge in some of the most untouched places in France.
Top Glampsites in Eastern France
Sleep in a revamped shepherds hut in Alsace, a floating cabin in Burgundy, or a back-to-basics yurt in the Savoie region – Eastern France offers an exceptional glamping adventure!
Situated on a private lake on the doorstep of Burgundy wine country, glamping sites in France would struggle to get much more unique than this! Even if the thought of waking up surrounded by water in your own little Scandinavian inspired hut wasn't enough of a selling point, then the charming features and facilities on offer sure seal the deal!
A pontoon will deliver you to your accommodation where you can truly be at one with your surroundings. Cabins sleep up to four – making them perfect for families, and each sport their own deck areas just perfect for feasting on the day's catch!
A small number of eco huts are arranged around the lake, ensuring your serenity. Pedal and rowing boats are also on hand to make the most of the experience.
If you can pull yourself away, the surrounding countryside offers endless opportunities for exploration. From discovering the nearby historical attractions of Dijon to chateau hopping along the Burgundy wine trail, there's enough to keep you occupied for days.
---
Enjoy the remote beauty of the Savoie region in South-Eastern France with a stay at this rustic self-contained yurt! The perfect place to disconnect from the world, and reconnect with nature.
Overlooking the Massif de Bauges mountain range, this glamping yurt in France is one for outdoor and adventure lovers, as there are great hiking and mountain biking trails in the area – just ask Jean-Luc, the outdoor-loving owner for the best ones! Or you can simply kick back and enjoy savouring the view from your private wooden deck.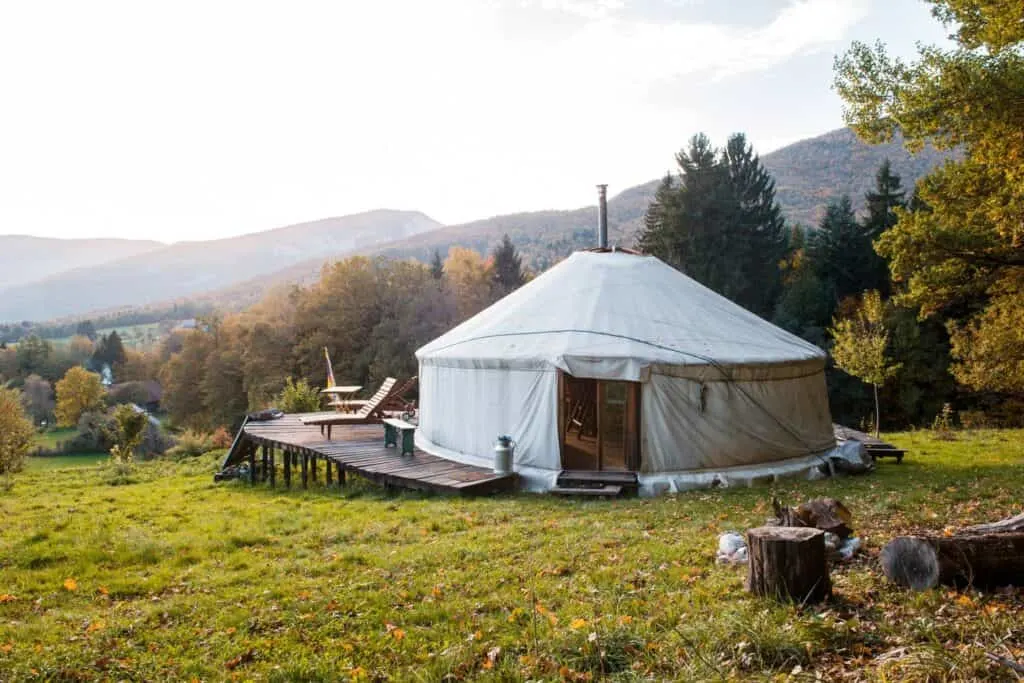 The yurt embraces communal living and is a great place to enjoy with friends as the large open space can fit up to 6 mattresses around the warming fire.
This French glamping spot is the epitome of cosy, simple living. It's also suitable year-round, even in snowy winters thanks to the fire, for those who prefer a snow dappled experience.
---
Just 25km west of Strasbourg, you can experience the eastern reaches of France in this back to basics Shepherd's Hut, known as "le gite insolite" or "the unusual cottage".
Lovingly restored, this collection of huts come complete with their own bathrooms and lovely views of the surrounding forests. If you're lucky, you might find freshly laid eggs from the campsite's hens on your porch in the morning.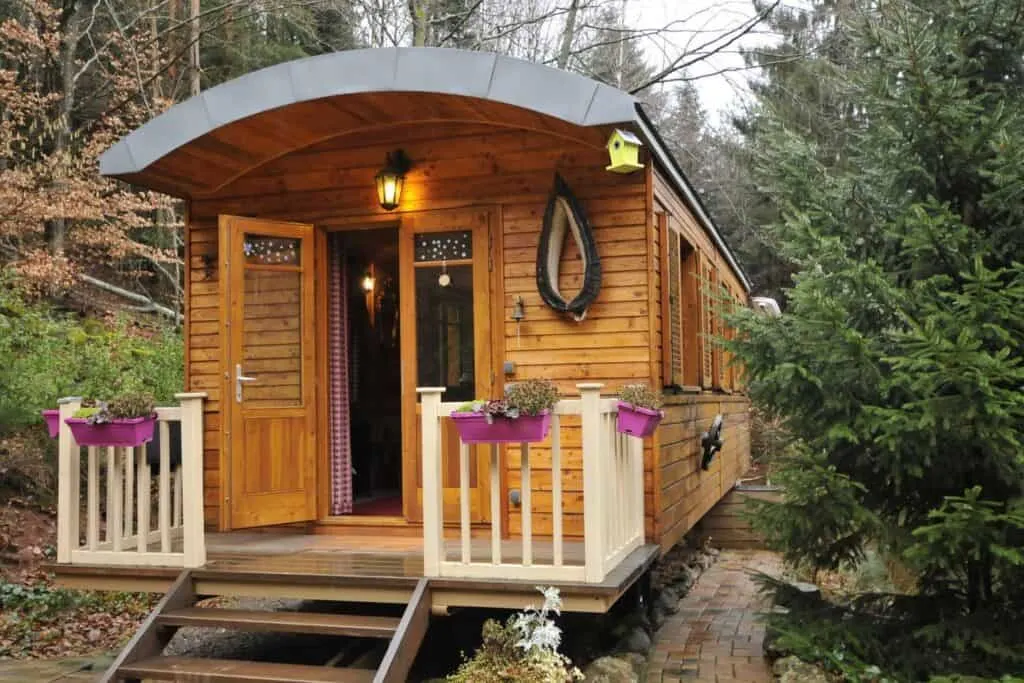 The huts are ideal for family glamping in France as they come with a fold out sofa-bed in addition to the main double bed, therefore able to fit up to two adults and two children.
Deer wander through the back forest in the evening, and it's a great option to escape in nature, while being within easy reach of the vibrant city of Strasbourg.
---
---
There are so many great options for glamping in France, from the northern beaches to the Pyrenees mountains and everywhere in between! Our last remaining piece of advice would be to book early or look to the off-season. The busiest time of year for most glampsites is summer, so booking several months in advance is highly advised if you don't want to miss out…
Pin this for later!