Winter holidays in France are an enchanting spectacle of snow, sun, and festive delights. Whether you're spending a few days in Paris, with its Eiffel Tower illuminated with thousands of glistening lights, escaping to a cosy chalet in the French Alps, or perhaps seeking a sophisticated winter sun break coupled with festive events along the Côte d'Azur, winter in France is set to impress.
Winter sports enthusiasts can indulge in snowboarding or skiing in chic alpine resorts, while wine connoisseurs can take day trips to vineyards and enjoy festivals that pay homage to the grape in Bordeaux and Lyon.
Wherever you decide to visit, be it for sunshine, snow, gastronomy, or anything in between, you will always be satisfied when you spend part of your winter in France.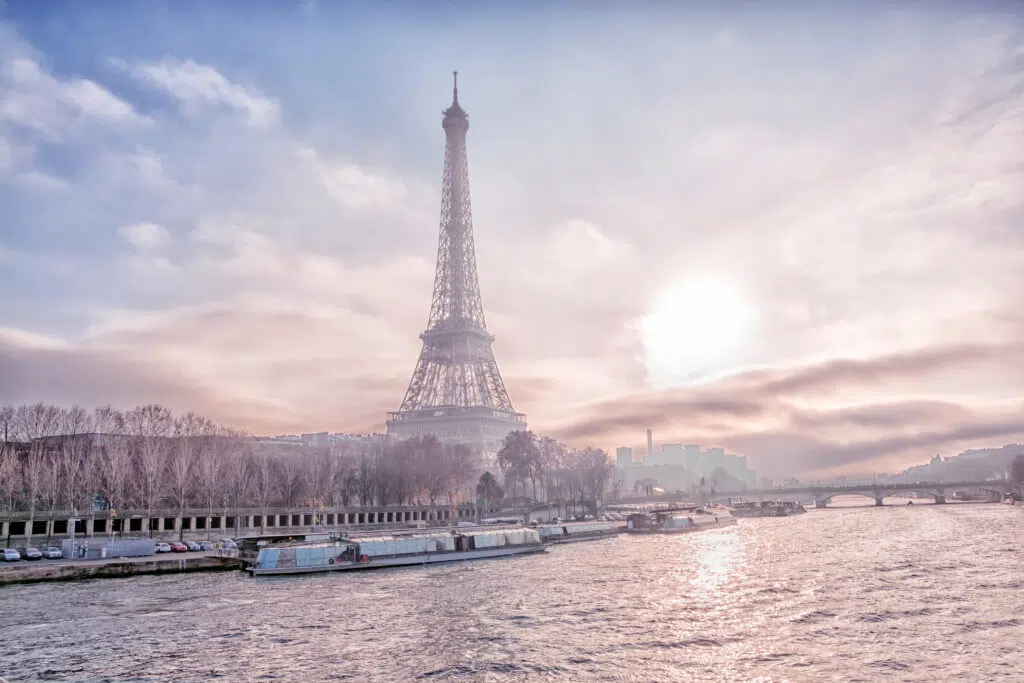 Related Reading: Visiting France in Summer
France Winter Weather
With Atlantic, Mediterranean, alpine and interior regions, holidays in France, and the weather, can vary dramatically from place to place.
City stays in northern France can be colder during the winter months. Therefore, it's wise to wrap up warm when visiting Paris and beyond as the climate can be damp and rainy at this time of year.
In the scenic French Alps, average daytime temperatures between December and February range from 5°C to -4°C with around 3 hours of sunshine per day. However, with numerous winter activities to keep you warm, the weather will be a secondary concern!
In complete contrast, the Côte d'Azur along the Mediterranean coastline benefits from almost 3,000 hours of sunshine a year, and temperatures rarely drop below a pleasant 12°C in winter, making it the perfect spot for a seasonal sunny break.
In the west of France around Bordeaux, temperatures are just marginally cooler with December temperatures of around 10°C and high humidity.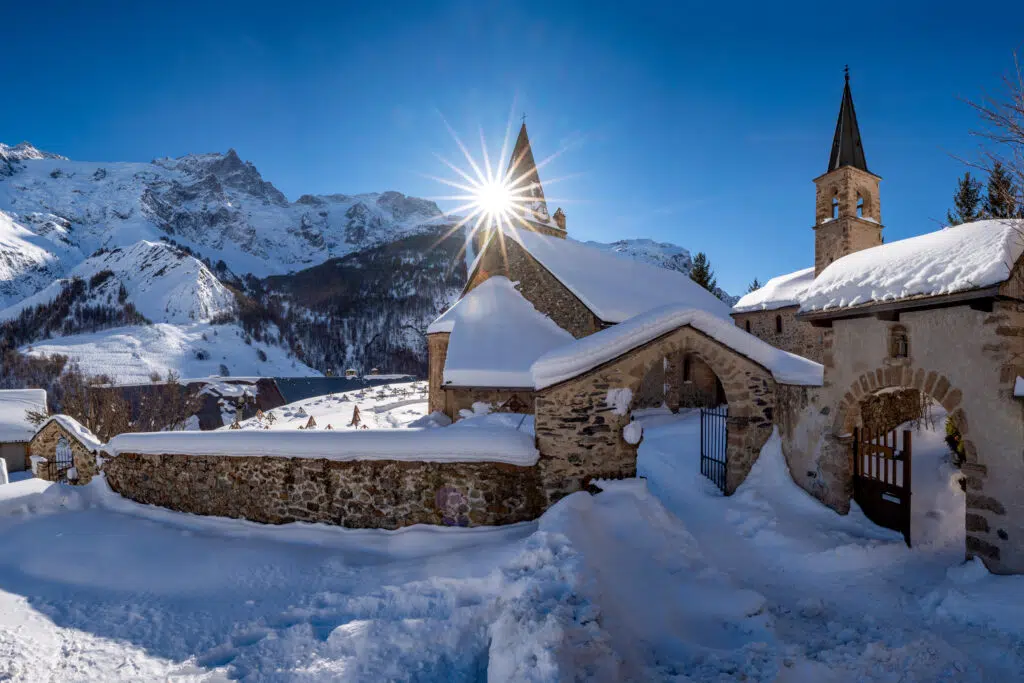 ---
Best Places to Visit in France in Winter
If you're looking for things to do in France in the winter, each region offers something unique to travellers. Families may decide to head for the sun and festivals of Nice, Cannes or Menton, or meet the cartoon characters of Disneyland Paris, a short trip outside the French capital.
For couples and groups, the second city Lyon with its light festival and foodie options may appeal and the festive markets of Alsace are always a popular choice for all ages.
Then there is Paris, a jewel in the crown with a rich history encompassing art, architecture, music and cuisine. A city where you can spend hours marvelling over Impressionist paintings, sipping coffee in a salon or walking by the Seine at twilight.
If you still need a little inspiration on where to spend winter in France, here is our top 10 list (not in any particular order) of places perfect for winter holidays in France.
LYON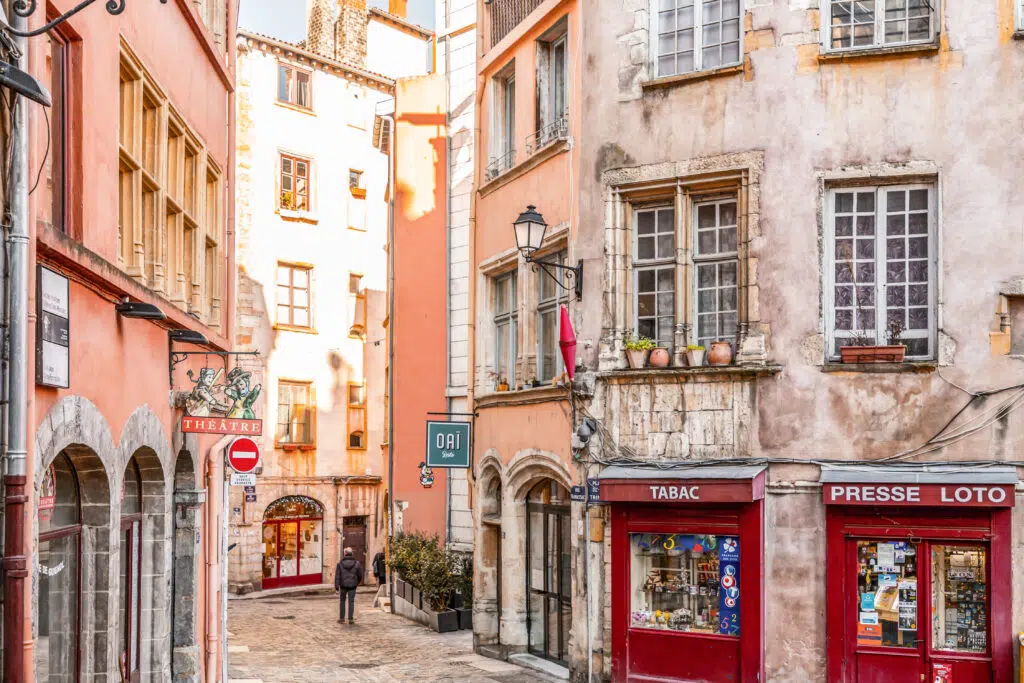 Lyon, France's second city, is a true gem and a delight to visit during the winter months. Perched between the Rhône and Saône rivers, the city is a blend of historic and modern, with Roman amphitheatres, street art and skyscrapers. It's the gastronomic capital of France – no easy feat to achieve, and the best news is that temperatures rarely drop below 0°C in winter.
Visiting Lyon in November? The new Beaujolais Nouveau wine is released on the third Thursday each year, and the city celebrates by offering wine tastings, with performing street theatres and a huge firework display in the evening.
Christmas in Lyon is even more exciting, with the annual Fête des Lumières, a spectacular light show taking place the second week of December. Lyon's winter market also runs concurrent with this, a wonderland of craft stalls selling mulled wine, artisan gifts and foods such as tartelette – a Savoyard classic crafted from ham, cheese, potatoes and onions.
If you plan to visit after the festivities cease, there's still plenty to see and do in Lyon. You can hike or take the funicular to Notre-Dame de Fourvière, a hilltop basilica with stunning vistas, stroll cobbled streets of Vieux Lyon and pop into a 'bouchon' – a typical Lyonnais restaurant for platters of traditional fare.
MENTON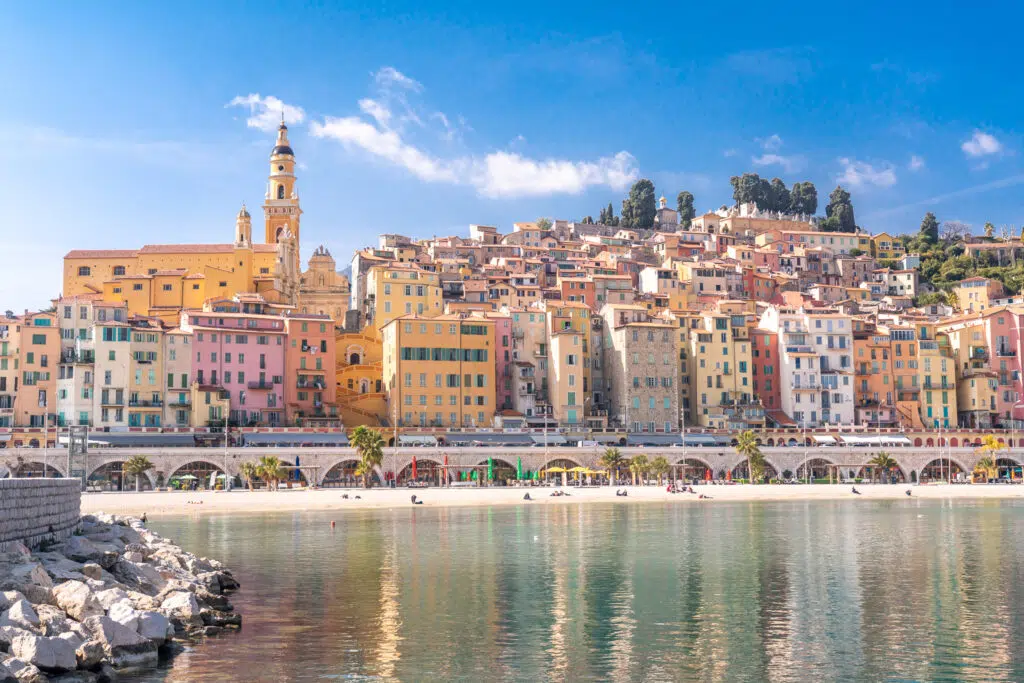 Menton is a charming French resort close to the Italian border with tall slender buildings in shades of peach, ochre and terracotta. It's the perfect escape for those seeking respite from the hustle and bustle of Nice and Cannes, and as average winter temperatures hover around 12°C, it's pleasant to spend time at a beachside restaurant feasting on fresh seafood as the sun shines or taking a walk around the many botanical gardens.
One highlight of the Menton calendar takes place in February. The Fête du Citron sees the entire city adorned in citrus fruits – giant animal statues, mosaic floorings and famous structures, all curated from oranges and lemons. This bright and cheerful fruity French festival begins in Mid-February and often continues through to early March each year. Even if you're staying in the surrounding area, it's worth a day trip solely for the photo opportunities.
If you're searching for other places to visit in France during winter, Menton is also within 20 minutes' drive of Monaco, where you can take a spin around the Formula One racetrack or stop at the historic casino for a flutter on the roulette tables à la Monsieur Bond.
ANNECY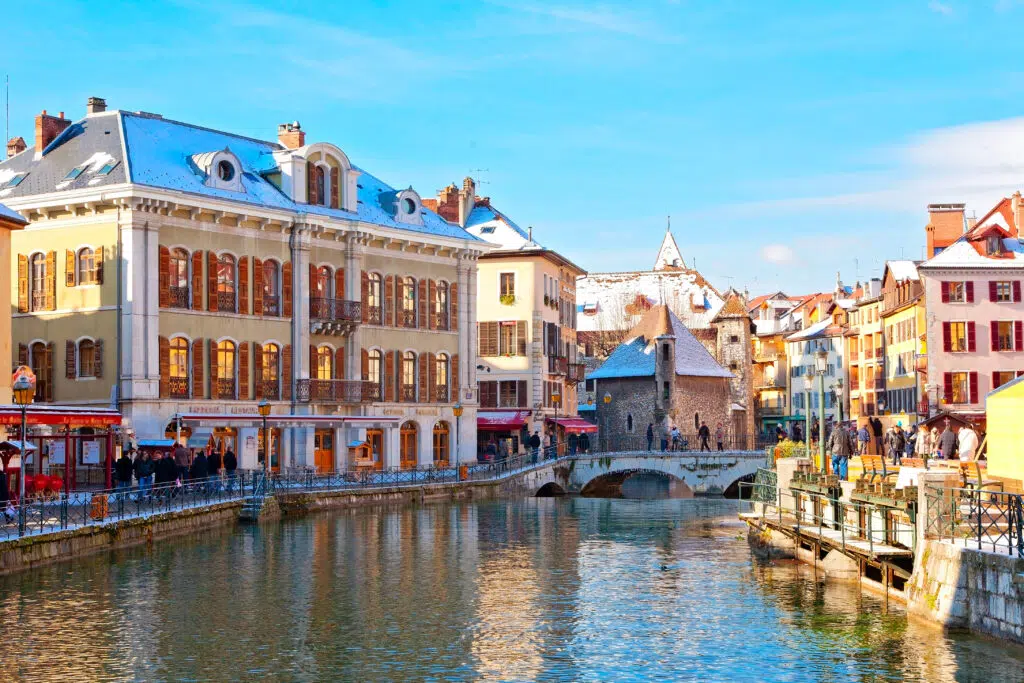 More than just a town near a ski resort, Annecy could be the ultimate destination for a winter holiday in France for solo travellers, couples, groups and families.
The snow-capped mountains provide a spectacular backdrop, framing Lake Annecy and the canal side 10th-century town perfectly.
If you're visiting Annecy over the festive season, local chocolatiers allow you to sample their creations and you can visit Santa's Hamlet for some festive fun, before taking a stroll through the Christmas market.
During the rest of the winter seasons in France, action-packed days can be spent snowboarding, bike skiing, enjoying dog sled rides or snowshoeing in nearby La Clusaz, and evenings by a roaring fire back in Annecy tucking into delicious Savoyard cuisine.
Alternatively, enjoy a relaxing cruise on the lake with family and friends, hike in the mountains or spend time in a luxury spa being pampered and rejuvenated after a day of exploring.
BORDEAUX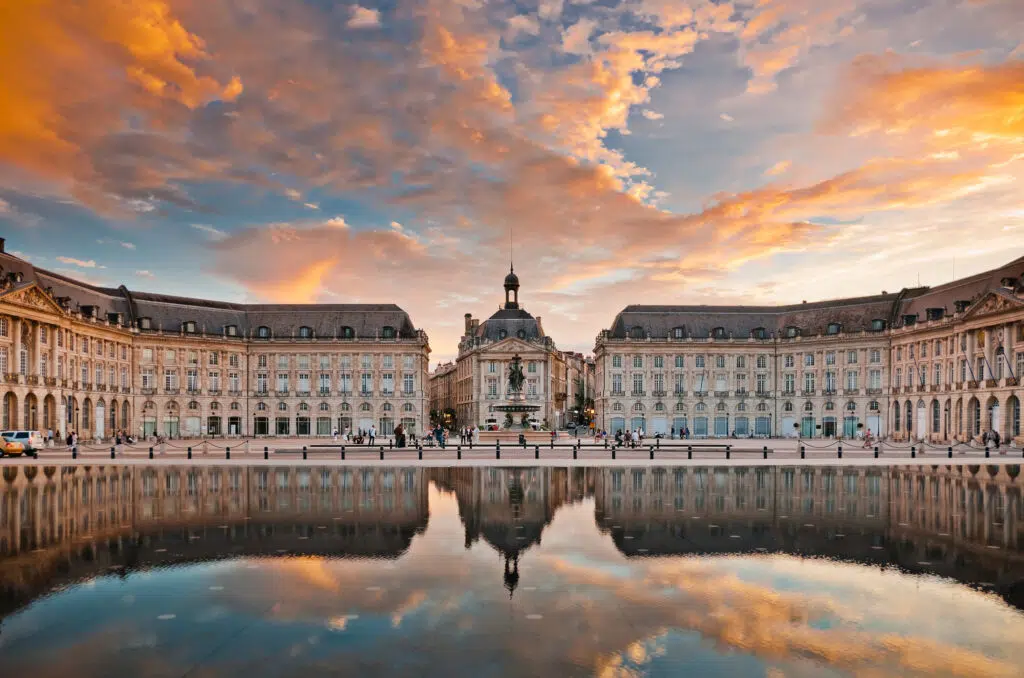 When thinking about France winter travel, cities such as Nice, Paris and Lyon usually overshadow Bordeaux in terms of suitability. However, this elegant French city, located in the southwest corner of France, known for its food, wine, and arts shouldn't be overlooked.
Winter is the time of year in France for festive markets and Bordeaux has not one, but three of them, and one is on a boat! A Christmas circus takes place in the city with clowns and trapeze artists, and visitors can join locals carol singing by candlelight at Palais de la Bourse.
Travelling to Bordeaux outside the festive season? Take a trip on La Sicambre, a tall, elegant sailboat/restaurant which glides along the Garonne, allowing visitors the opportunity to see the city from a different perspective.
Alternatively, The Secrets of Bordeaux tour – a game educating tourists about the city's history and monuments while solving puzzles, can keep friends and younger visitors occupied for hours.
Wine tasting trips also operate in the countryside around Bordeaux from November to late March. An expert guide can transport you to grand chateaux and some of the region's famous wineries for an afternoon of wine sampling.
ALSACE-COLMAR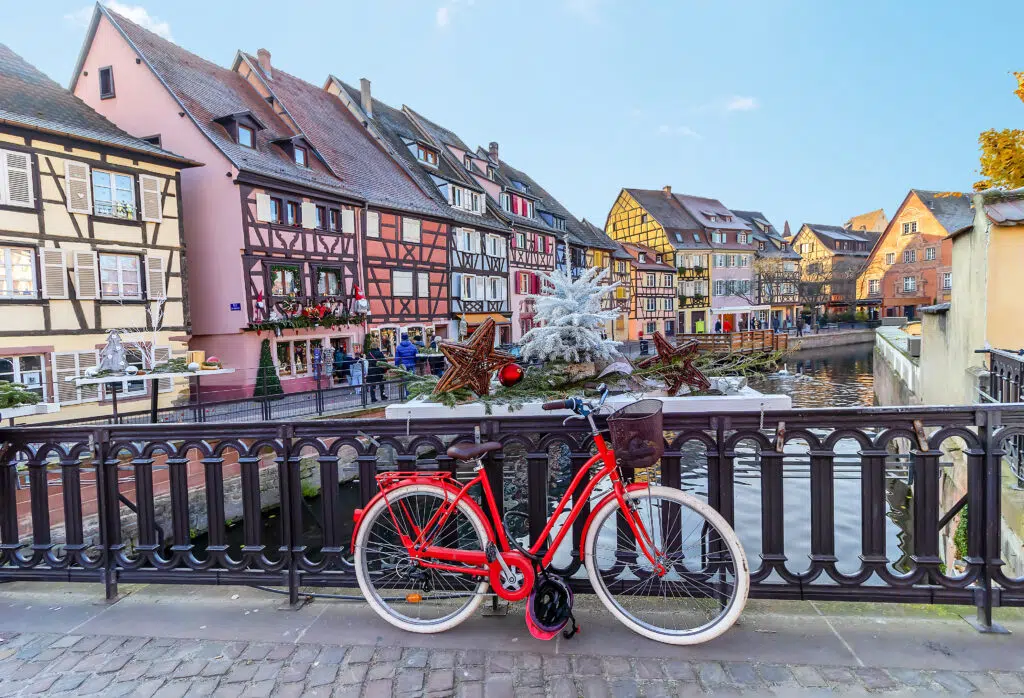 Colmar located 40 miles southwest of Strasbourg in the Alsace region, is a picture-perfect city to visit in France in winter. With a well-preserved cobbled Old Town, half-timber gingerbread-style houses and a canal-side area known as Little Venice, it offers much to tourists and day-trippers.
During winter months, Colmar's festive market is a huge draw, running from mid-November until late December. Small decorative wooden chalets line the streets, and trees and houses illuminate with lights creating a magical fairy-tale ambience.
Foodies will adore the plethora of Michelin star restaurants in Colmar. One such eatery, Girardin – Gastronomique brings a modern twist to Alsatian cuisine and has a menu for plant-based diners. Dining can be accompanied by a glass of Riesling or Pinot produced locally, as this city is also known as the capital of Alsatian wine!
If you're planning to visit Colmar outside the festive period, there are several museums to explore including the local Chocolate Museum, Unterlinden Museum and Museum Bartholdi, plus nearby countryside spas can tempt you to book a relaxing massage or day floating in the heated swimming pools.
As if Alsace couldn't get any more interesting, there are also winter sports to enjoy including skiing, sledding and snowboarding in the nearby Vosges Mountains.
PARIS
Paris is a perfect winter holiday destination in France. The festive lights along Champs-Elysees are turned on in November, bathing the city streets and gardens in an atmospheric glow.
In December, Christmas markets are evident throughout the city, in Tuileries Gardens, around Notre-Dame Cathedral, but a favourite of those in the know, is the Alsace Market at Gare de l'Est where you can sample Alsatian specialities and purchase handicrafts from the region without even having to leave Paris.
From mid-December to the second week of January, an ice rink is erected at Grand Palais des Glaces, where you can skate to live DJ sounds and if you're travelling to Paris around this time, the annual shopping sales begin throughout the city!
You may also enjoy visiting Paris on Valentine's Day in February, after all, it is probably the most romantic city on the planet! If so, head for the Sacré-Cœur or Montparnasse Tower for exceptional panoramic vistas of the Eiffel Tower and the Left Bank, explore paintings by the French Impressionists at Musée de l'Orangerie and enjoy afternoon tea at Laduree, before taking a sunset cruise on the river Seine.
NICE
If you're wondering where to go in France in winter, the colourful seaside city of Nice on the Côte d'Azur could be the perfect holiday solution.
You can spend days strolling, skating or cruising on a Segway along Promenade d'Anglais, browsing flower stalls and feasting on scrumptious socca in the Old Town market, or getting lost in labyrinthine streets lined with perfumeries and Moroccan style cafes.
The city unveils its winter wonderland in late November, complete with snow sprayed trees and stalls selling glühwein and gingerbread accompanied by an ice rink and Ferris wheel.
However, the winter highlight is Nice Carnival which takes place in February, a 700-year-old vibrant extravaganza of themed parades with giant figurines and street theatres hosting shows throughout the city. The festival has a different theme each year with live music, a flower parade, delicious street food and fireworks.
Outside these times, you can visit Monastère de Cimiez with beautiful gardens, the music museum in Palais Lascaris and walk along the coastal path to Villefranche-sur-Mer updating your Instagram en route.
Alternatively, take day trips from Nice such as the ski bus to the Alps for winter sports fun or drive to Grasse, France's perfume capital and curate your own bespoke fragrance.
FRENCH ALPS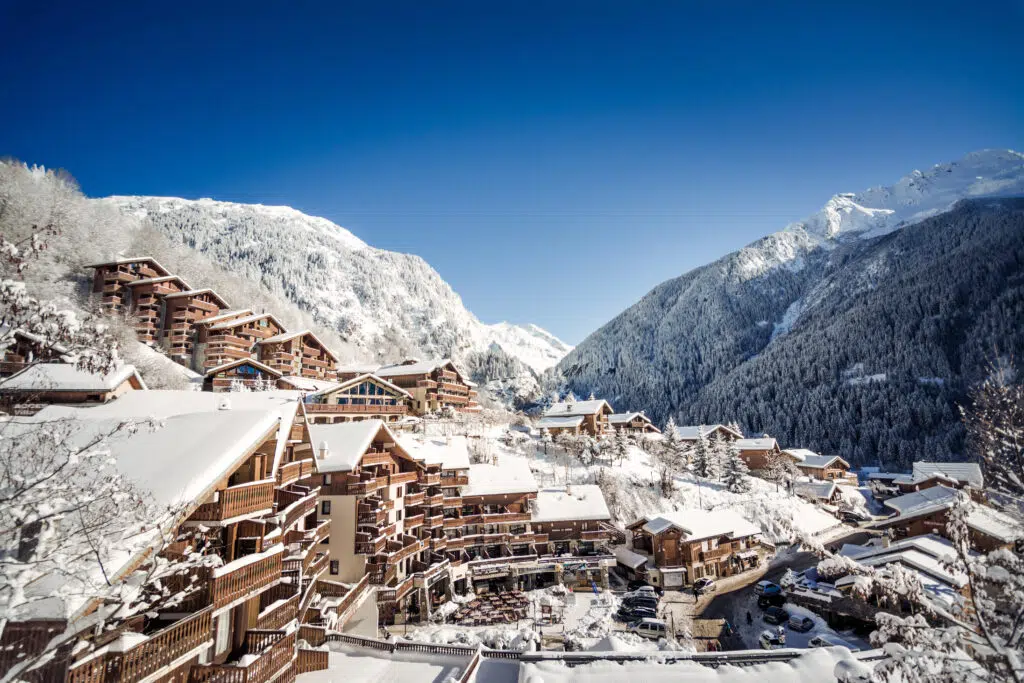 Winter holidays in the French Alps can be as relaxed or action-packed as you choose. Bustling valley villages beneath snowy mountain peaks are awash with historic houses and wooden chalets, where fine restaurants serve raclette, fondue and wood-fired pizza.
Days can be spent skiing, snowboarding, climbing, ice skating and dog sledding or you can simply browse shops, enjoy spa facilities and meet new friends in buzzing après ski bars.
If it is winter events you seek, in mid-December, Les Deux Alpes hosts Rise Ski Festival, a fun-filled week of snow activities, skiing and live music, and in February around Courchevel, you can enjoy the thrilling International Fireworks Festival with street performances and participate in traditional torchlit ski descents from the mountain top.
If this all sounds like too much action, hop on a cable car from Chamonix to the highest summit to achieve breath-taking views across the French, Swiss and Italian Alps.
CANNES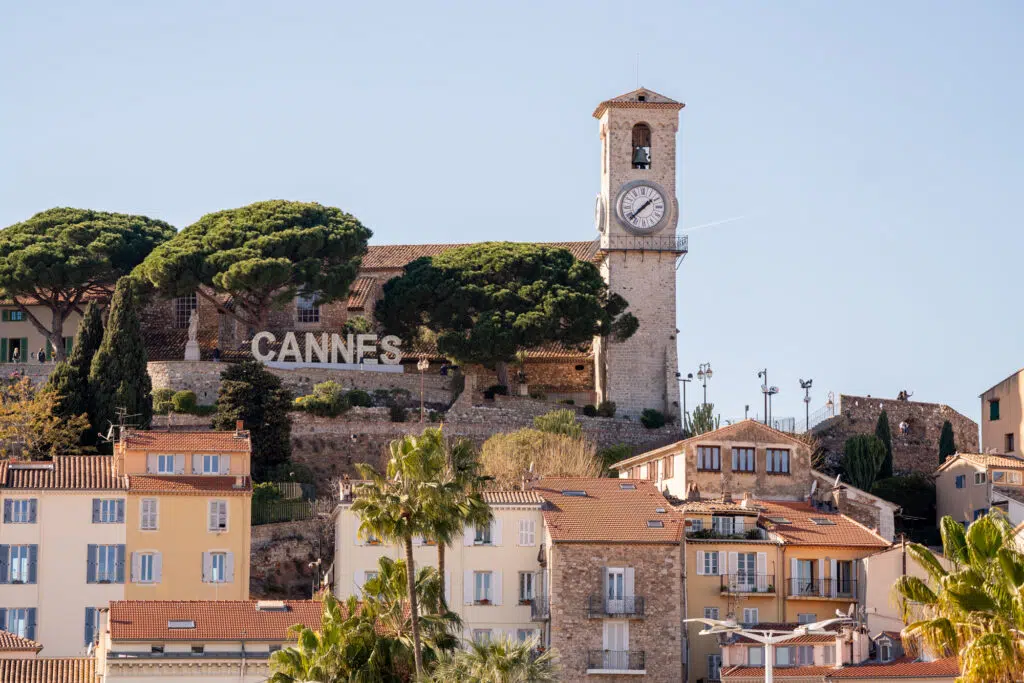 Cannes is a favourite of Hollywood celebrities, as every year during the film festival, thousands descend on the Mediterranean seaside resort to claim trophies for artistic works and watch the latest movie releases.
During the rest of the year, the city is quite laid back and relaxed, although it never quite loses its exclusive vibe. Christmas time involves a festive village with seafood and champagne bars, a 400 sqm ice rink and parades, but it's fair to say most of the activity takes place in chic bars and restaurants near the beach.
In January on La Croisette, global fashion emporiums such as Chanel, Dior, YSL and Dolce and Gabbana reduce their clothing and accessory prices, thus offering significant discounts as they make way for the new season's stock.
Five-star hotels that usually charge high rates during the summer months can be booked at competitive prices during winter, giving you the opportunity to live like an A-lister without the eye-watering price tag.
There are also several festivals to enjoy nearby including the Mimosa Festival in February in Mandelieu-la-Napoule, a week-long celebration of the fragrant flower accompanied by dancing.
DISNEYLAND PARIS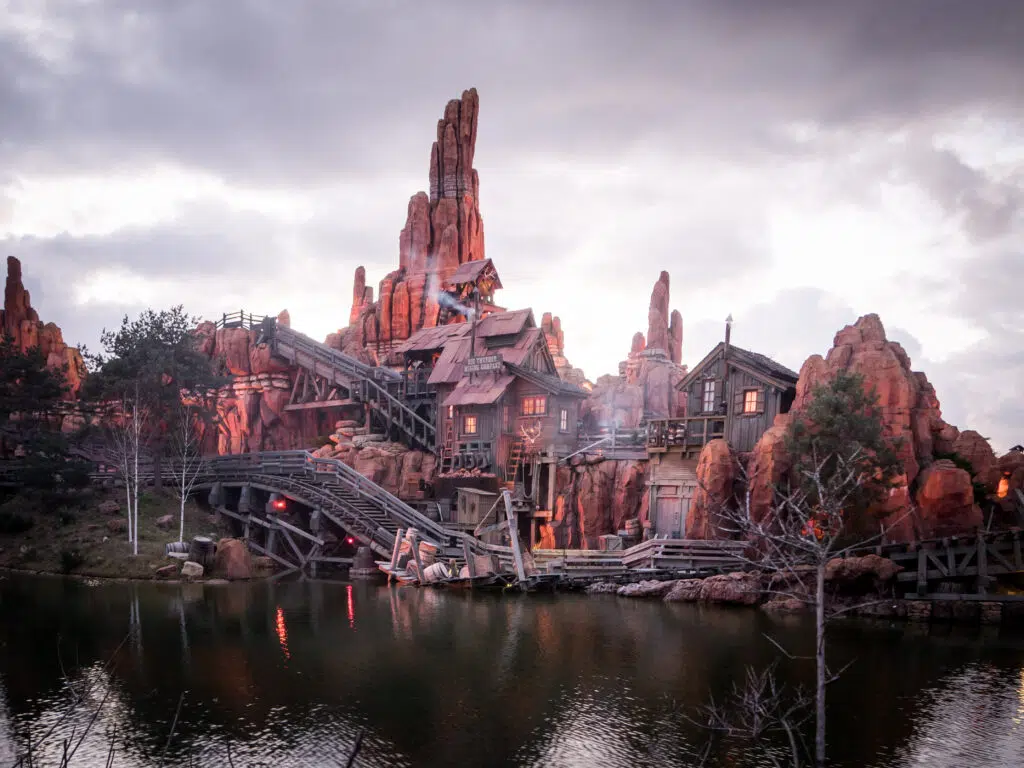 If you're thinking about where to go in France in winter with children, Disneyland Paris ticks all the boxes. Not only do you all get to meet your favourite Disney characters from the movies, but you also have the chance to see live entertainment and parades, browse festive markets and stay in a themed hotel!
It can be quite chilly in this region of France in winter, therefore lots of clothing layers are required, and if you are staying in one of the Disney resorts use the Early Magic Hours to have the park to yourselves without queueing for rides in the cold.
The themed rides, attractions and restaurants in Disneyland Paris are open throughout the winter season providing much for families to do, and outside the park, there's shopping at La Vallee Village, you can play golf, or pop into Paris for a day on the train.
---
Hopefully, we've inspired your next France winter holidays! Whether you seek a sleek city stay with great food and wine, a coastal resort with museums and beaches or an alpine retreat with lakes, sports and spas, you can travel France in winter to a place that suits your taste and budget.