France is a country of vast contrasts, with a rich heritage, delicious regional cuisine and cities and scenic landscapes which are simply breathtaking wherever you go.
If you are planning France summer holidays this year, you may consider staying in the quaint harbour towns of Normandy or Brittany in the north, or perhaps you prefer the exclusive resorts of Cannes, Antibes and Saint-Tropez along the Côte d'Azur in the south, where cocktails are sipped in cabanas on private beaches and designer shopping and partying is 'de rigueur'.
To the east, close to the Swiss and German borders, canal-side towns with colourful, half-timbered houses and floral displays delight, and restaurants serve scrumptious regional cuisine and locally produced wines.
Alternatively, outdoor enthusiasts may enjoy gliding along Canal du Midi on a narrowboat, cycling in the Dordogne or learning all about the health benefits of lavender at a distillery in Provence.
If you're still curious about where to go and what to do in France in summer, look no further, our guide will fill you with inspiration and have you planning your France summer travel in no time at all!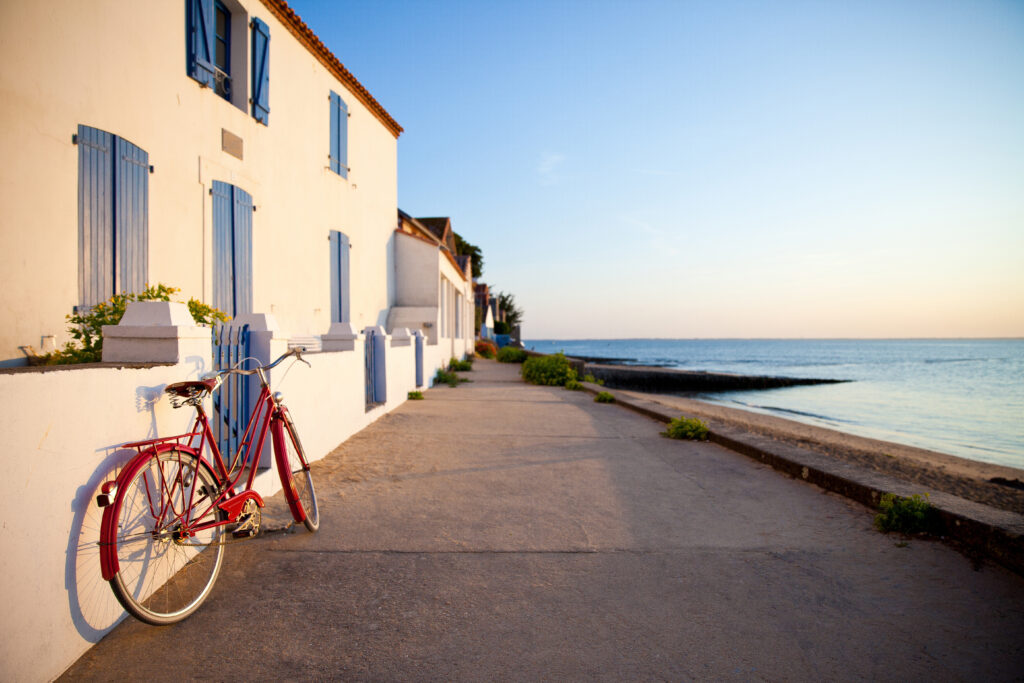 Related Reading: Best Places to Visit in France in Winter
---
Summer Weather in France
Generally, the summer months in France are warm and sunny, however, this depends on where you decide to spend your holiday. The country is large (by Europe standards), encompassing approximately 247,000 square miles and temperatures vary from one region to another.
They range from around 22°C in June and climb as high as 27-28°C in July and August in most areas – inland, alpine and coastal.
In Brittany or Normandy in the northwest of France, temperatures typically level out at a pleasant 22°C throughout the season, whereas in Provence, temperatures in peak summer months can occasionally rise to 35°C or above!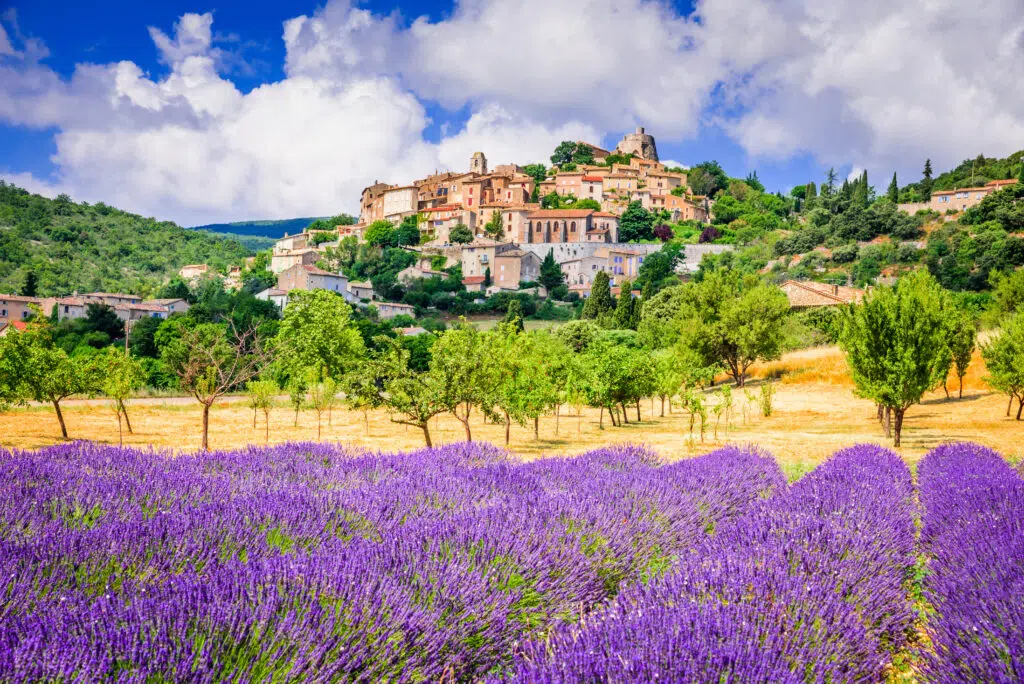 ---
Best Places in France for Summer Holidays
Whether you're thinking of drifting along a picturesque canal in a narrowboat, surfing on the Atlantic coast, wine tasting, sun-worshipping or attending one of the country's many music festivals, there's a holiday in France this summer to suit the needs of your travelling party.
Our list of best places in France for summer holidays aims to inspire, giving you helpful information about what you can see and do in each area and the key events you'd be loathe to miss during the summer months.
BIARRITZ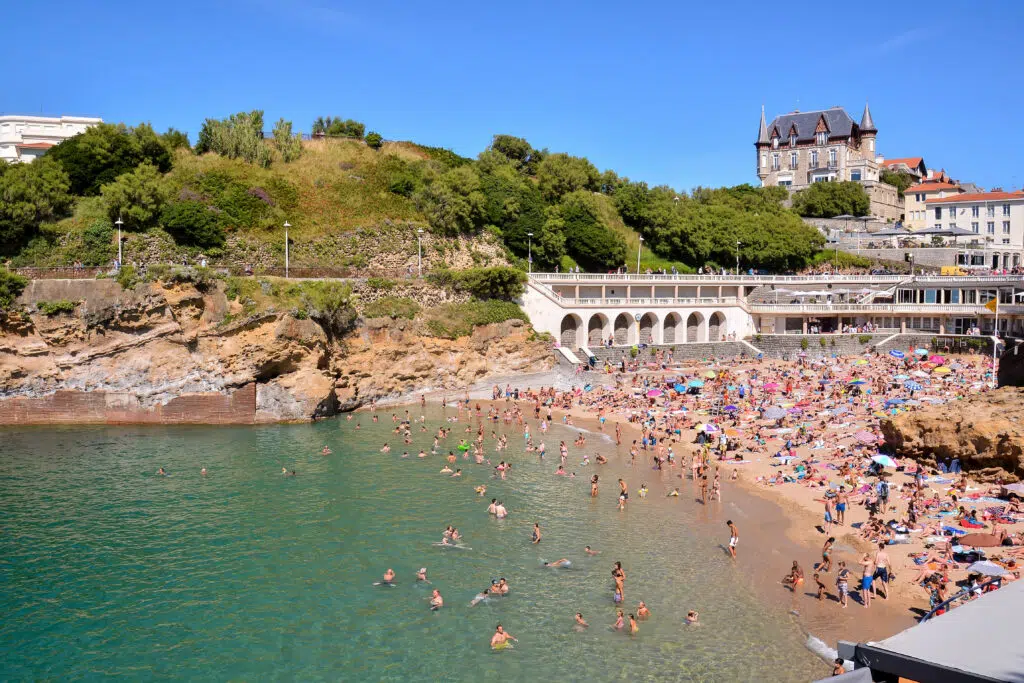 Located on the Atlantic coast in the Basque region of France is the elegant seaside resort of Biarritz. The former whaling station is a surfer's paradise and with 19th-century architecture and the French Pyrenees nearby, it offers access to both seaside and countryside attractions.
Spend leisurely days on your French holidays this summer strolling to the lighthouse at Pointe Saint-Martin, visit the Sea Museum or pop into the glamorous Hotel du Palais for dinner or drinks. The imperial residence of Napoleon III and Empress Eugenie was built in 1854 and in more recent years was also a regular haunt of celebrities such as Coco Chanel and Frank Sinatra.
You can shop for picnic essentials for a day at the beach at Les Halles de Biarritz market or venture to the seafood stalls next door to sample fresh oysters. Alternatively, those with a sweet tooth can take a tour of Biarritz Chocolate Museum to learn all about the process and taste some of the finest chocolates in the land.
Don't leave without walking to the former whale-watching platform Rocher de la Vierge. It's the perfect place for coastal photography or hire a car and take a day trip across to San Sebastian in Spain for delicious pintxo (Basque tapas).
AIX-EN-PROVENCE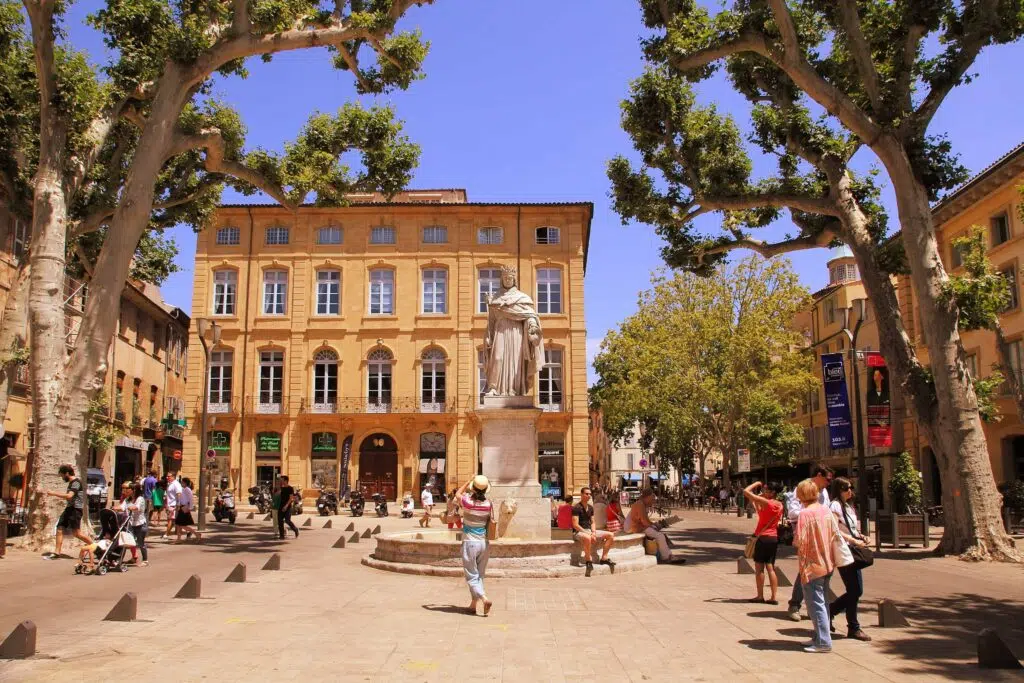 Just 50 minutes north of the bustling port of Marseille, is the charming city of Aix-en-Provence. The city was founded in 123 BC by the Romans, and its rich history is still evident in the architecture, museums and surrounding landscapes.
Begin your adventure in the leafy main city square, enjoying coffee and pastries with locals, admiring the 15th-century town hall, a central fountain and the clock tower.
If you are a fan of post-Impressionism and Cubism, you may enjoy visiting the Atelier Cézanne which displays works by Paul Cézanne, or browsing art curated by himself and Picasso at Musée Granet.
Several fabulous local markets are also held in the city, selling everything from fresh flowers to scrumptious local delicacies, and they're the perfect spot to gather picnic goodies and head for a local park. Visit Le Terrain des Peintres, a park that has inspired many creatives over the years, or the Pavillon de Vendome, a favourite among young locals.
Arriving in Provence in late June or July? Venture to Provence's picturesque lavender fields for superb photographs and a masterclass in the benefits of this fragrant purple flower.
One of the best places to view them is an hour north of Aix-en-Provence where dozens of lavender fields blanket the countryside in the Valensole Plateau. There are many working lavender farms here with tours and farm shops selling essential oils, soaps and more. It could be the perfect conclusion to a Provence summer holiday.
BELLE-ÎLE-EN-MER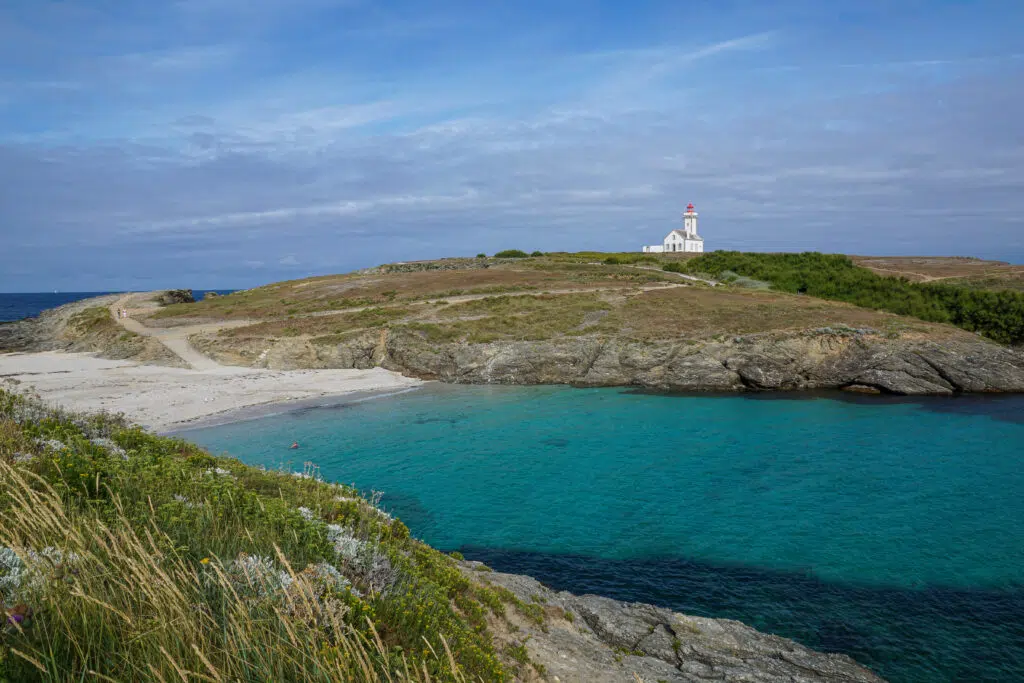 One of the most beautiful islands in France, and Brittany's largest, Belle-île-en-Mer is a true oasis in the summer months. Relax on one of 60 stunning beaches, hit the coastal path that runs the circumference of the island, or jump on your bike for family fun along the dedicated bike routes.
When you've had your fill of swimming and sunbathing, there are plenty of beguiling villages to explore too, such as the former fishing hub of Sauzon. This colourful town has strong ties to the arts, and you can visit the former holiday home of French actress Sarah Bernhardt, or the resting place of film director, Philippe de Broca.
Home to the main port on the island, Le Palais is also where you'll find a wealth of historical attractions. The imposing Citadel shouldn't be missed (although do note that it's undergoing restoration works until early 2023), and the stoic city walls need to be seen in real life to be fully appreciated.
Ferries depart year-round from Quiberon, and in the summer months, you can also catch a boat from Vannes, Port Navalo, Le Croisic and La Turballe.
ANTIBES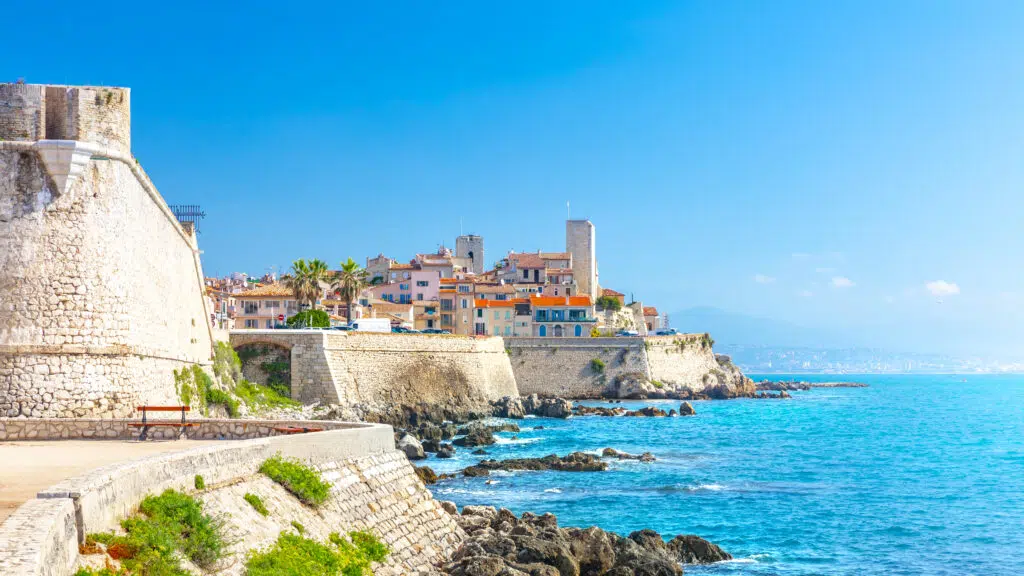 If you are planning a more relaxed south of France summer break, the walled city of Antibes is less than 15 minutes by train from Cannes or around 30 minutes from Nice.
The Mediterranean city dates to the Iron Age and is surrounded by the ramparts of Fort Carré, built in the late 1600s to defend the city from invaders from the sea.
You can delve into the city's rich history at Musée d'Archeologie which showcases coins, pottery, mosaics and historic artefacts, wander the Old Town streets or enjoy a sunset hike along Sentier de Tire-Poil aside Mediterranean vegetation and azure blue waters, stopping at a cliffside restaurant for dinner on the return route.
Antibes and neighbouring Juan-les-Pins also boast beautiful beaches and a buzzing nightlife scene, where clubs – both outdoor and indoor, stay open until the early hours in summer.
Juan-les-Pins hosts an annual jazz festival where Louis Armstrong, Nina Simone and Ella Fitzgerald have all performed. This, the oldest jazz festival in Europe, takes place in July. If you are in the vicinity, it's one event not to be missed.
ALBI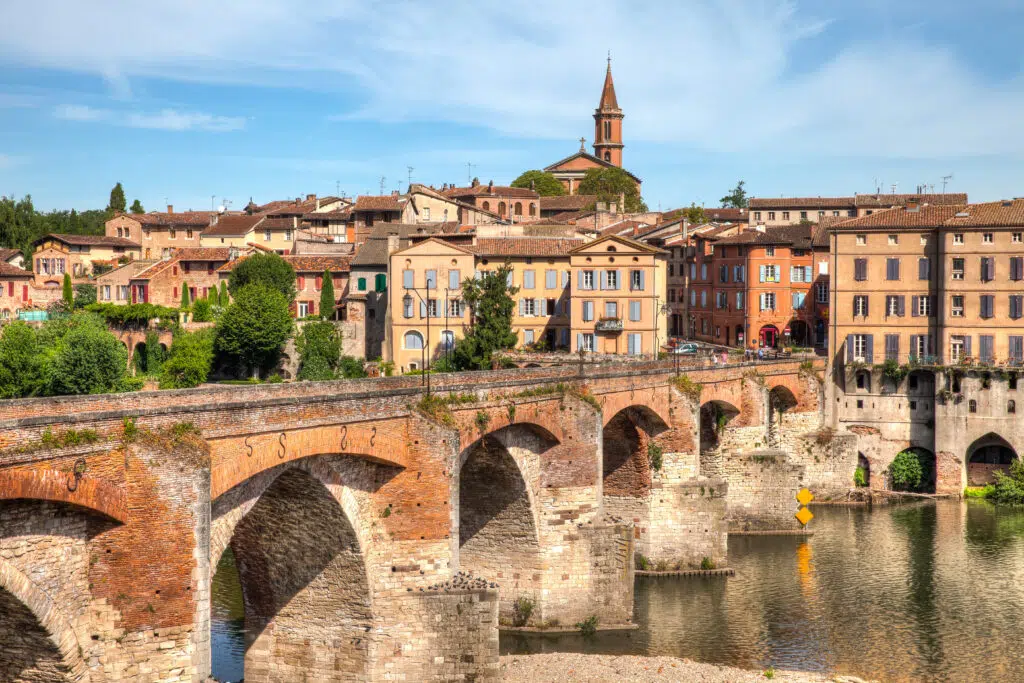 Tucked away in the beautiful Occitanie region of France, on the banks of the Tarn River, is one of the lesser-known, yet best places in France in summer to visit – the red-brick city of Albi, located 80km northeast of Toulouse.
The city's UNESCO World Heritage Site captivates visitors with historic buildings, palaces, gardens, and museums dedicated to fashion and local artist Toulouse-Lautrec.
You can take a boat ride along the scenic River Tarn to view the city from a different perspective or find a meditative space in shaded Park Rochegude with a picnic basket filled with Bouyguette des Collines cheese and wine.
Don't leave without visiting the magnificent southern Gothic design Saint-Cecile Cathedral and taking a sunset walk along Pont Vieux. As the city illuminates in glowing ochre tones you can begin to imagine life here in the times of the Cathars.
If you're planning a summer holiday in France in July, on the 14th, Bastille Day, Albi has a huge firework display which can be seen across the city.
DORDOGNE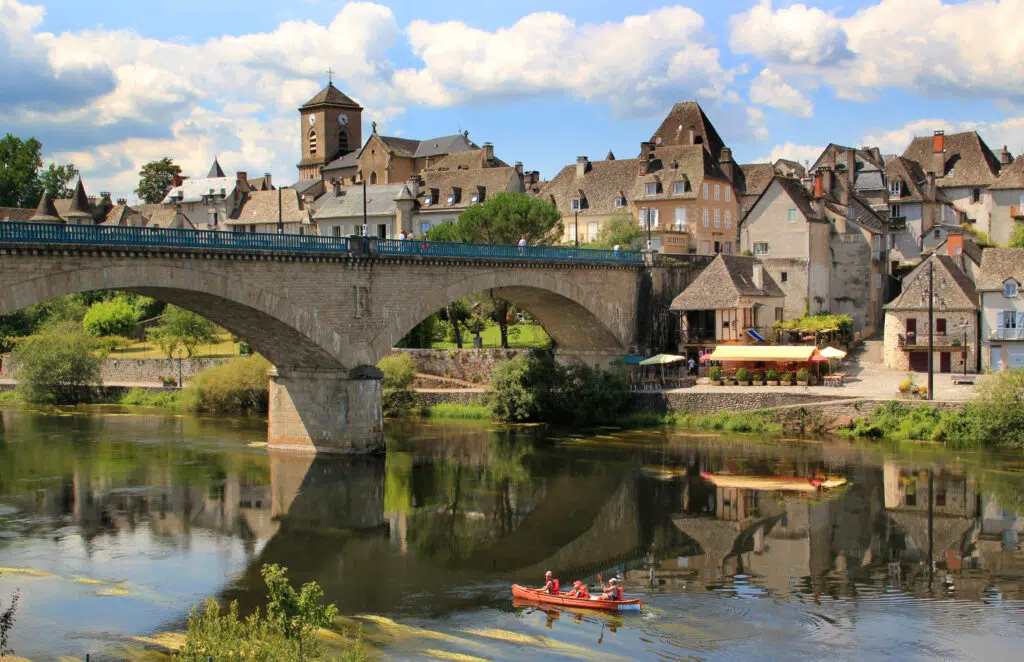 If you're planning a France summer holiday solo, or with family or friends, the Dordogne Valley could be a tangible option. In the summertime, the countryside is verdant and green, and charming villages line the river's edge from where you can canoe, kayak or swim.

The Dordogne's winding, scenic roads are perfect for hiking, cycling and driving, leading you to historic towns such as Sarlat-la-Canéda (foodie capital of the region), Périgueux and Brantôme.
You can tour historic grand chateaux that sit imposingly atop hills or visit the Lascaux multimedia exhibition dedicated to the ancient caves. Although the original caves are no longer open to the public, the exhibition has recreated over 600 prehistoric wall paintings discovered there.
Warm summer days can be spent walking around pretty villages such as La Roque Gageac or you can venture to Bergerac or Bordeaux for wine tasting. In the evenings, enjoy Baroque music, food festivals and laid-back riverside picnics with friends.
CANAL DU MIDI, LANGUEDOC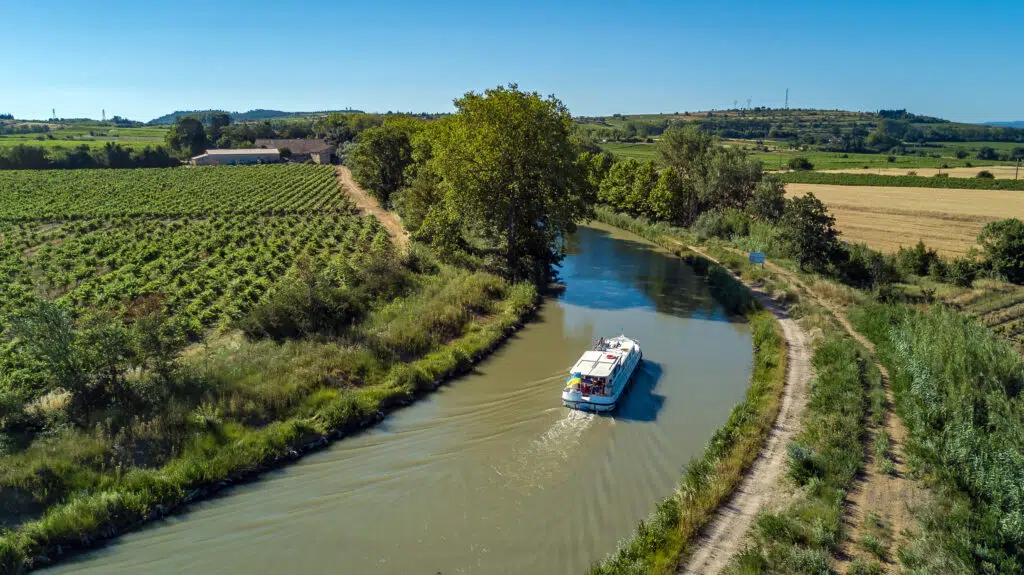 Canal du Midi dates to the 17th century and was originally built to transport wine, silks and grains from the Atlantic Ocean to the Mediterranean Sea.
The canal is one of France's most scenic waterways. Flanked by green trees and cycle paths, it navigates past lush vineyards and several places of historic interest. You can join one of several riverboat tours, or even hire your own to navigate the canal at your own pace.
Begin your journey at Castelnaudary, once a busy trading port, and sample the local dish, cassoulet. Then, further along the canal, take time to explore the famous UNESCO World Heritage citadel of Carcassonne.
During July and August, over a hundred concerts take place here, during the Festival of Carcassonne. Take a tour of the walled city and learn about its fascinating history from medieval times to the present day.
Other highlights along Canal du Midi include Le Somail, Capestang, the beautiful cities of Narbonne and Béziers, and the coastal resorts of Agde and Sète as you reach Mediterranean shores.
NICE & INLAND VILLAGES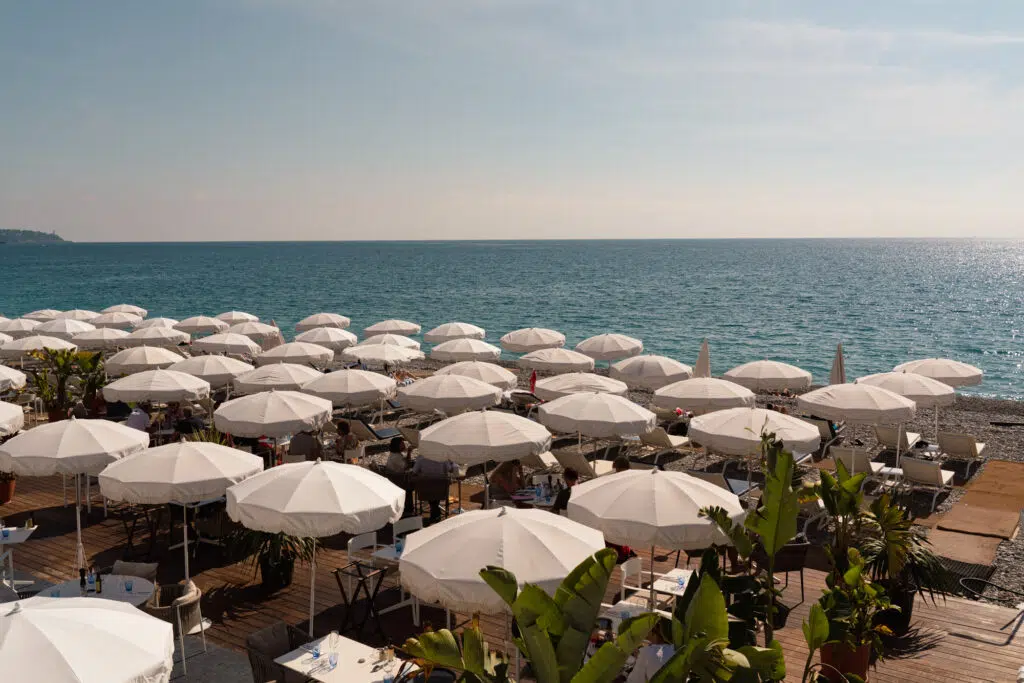 It's almost impossible to write an article about spending summer in France and not want to include every spot along the Southern Coast! But no such list could be complete without mentioning Nice – a popular Mediterranean seaside city for France summer travel.
Spend days strolling along Promenade des Anglais, browsing the flower and produce market in the Old Town, and getting your art fix at Musée Marc Chagall, before indulging in the local speciality, Niçoise salad, by the water's edge.
For some of the best views, venture up to Mont Boron, between the port of Nice and Cap-Ferrat. This peak is 200 metres high, lined with olive trees and pine groves, and offers spectacular scenic views of Nice.
One benefit to visiting Nice in summer is that it makes a great base to explore surrounding areas too. Drive inland to the stunning perched village of St. Paul de Vence. Walk the ramparts, play a game of petanque in the village square or sip wine overlooking verdant landscapes at sunset.
Alternatively, in nearby Grasse, bespoke fragrances can be curated for you at one of the finest (and oldest) perfumeries in the world, Galimard, dating to 1747.
HONFLEUR, NORMANDY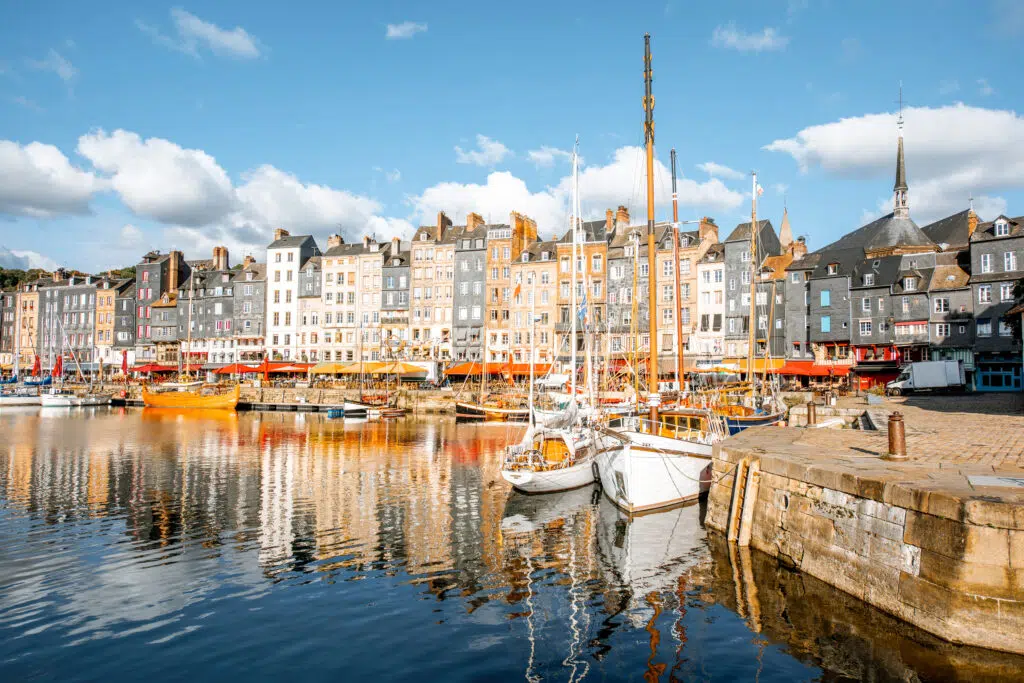 If you're visiting France this summer, but don't enjoy exploring in excessive heat, perhaps consider a vacation in Honfleur, Normandy. Set on the north-western coastline of France, Honfleur is a delightful harbour town, with waterfront buildings that wouldn't look out of place in Amsterdam, or Copenhagen.
The Vieux Bassin is famed for its narrow, timber-framed buildings in pastel colours and the entire area is a photographer's dream.
The city has a rich maritime history which can be uncovered at the Maritime Museum, or you can hike to the pretty pilgrimage site, the Chapel of Notre-Dame-de-Grâce above Honfleur and gain incredible views from Mont-Joli.
There are plenty of sandy beaches to dig your toes into, old salt granaries to discover, and the natural changing light is said to have inspired both Renoir and Monet in their paintings.
Spend leisurely evenings in a waterside bar with locals sipping a glass of Calvados brandy produced locally, or take a day trip to nearby national parks, or the historic city of Rouen.
ANNECY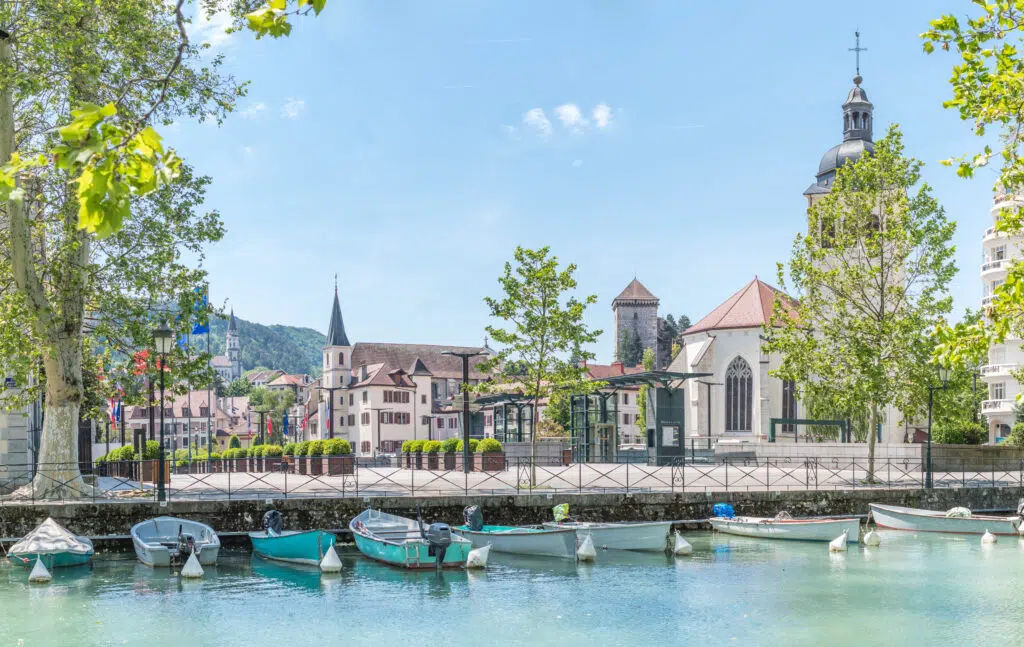 Annecy, known as the Venice of the Alps, is a delightful city to visit in France in the summer.
In the summer months, the city acts as a base for outdoor adventurers from all over Europe, eager to hike mountains, cycle, go caving and rock climb. Then there's Lake Annecy, set beneath a lush scenic Alpine backdrop, offering sailing, swimming, paddle boarding and a whole host of other water sports.
Canals wind their way through the Old Town of Annecy, and as the boats glide by, you can see window boxes of half-timber houses bursting with colourful, seasonal flowers.
Chic waterfront restaurants serve Savoyard dishes to make the mouth water, such as raclette, fondue and grilled meats accompanied by wines from nearby vineyards.
For the best lake views head for Jardin de l'Europe by the water's edge or venture further afield to Sixt-Fer-a-Cheval, a picturesque nature reserve with waterfalls and wildlife. Alternatively, enjoy a day trip to Geneva in Switzerland, easily accessible by bus or train from Annecy.
---
We hope you have found inspiration and have decided where to spend your France summer vacation this year. If you need further advice or would like to delve deeper into information for specific cities, trips or areas, please feel free to take a look at our other guides!