Springtime in France is a time of rebirth, when the chill of winter is swept away, flowers begin to bloom in the gardens of the Loire Valley, and cherry blossoms unfurl by the River Seine in Paris.
The weather becomes steadily warmer and there are still a few high-altitude alpine ski resorts offering early spring skiing for winter sports enthusiasts. Music festivals are popping up in abundance and the beautiful beaches of southern France and the southwest begin to repopulate again as the sun beams its warming rays.
There are many places to go, and there's much to see during spring holidays in France. Admire the country's natural beauty and go hiking in Auvergne, wander beneath cherry blossoms in Parisian parks, ski the pistes of Val d'Isere or even see where Claude Monet found inspiration for his artworks at Giverny!
In our list of best places to spend spring season in France, we are giving you a few ideas to encourage you to plan ahead for next year!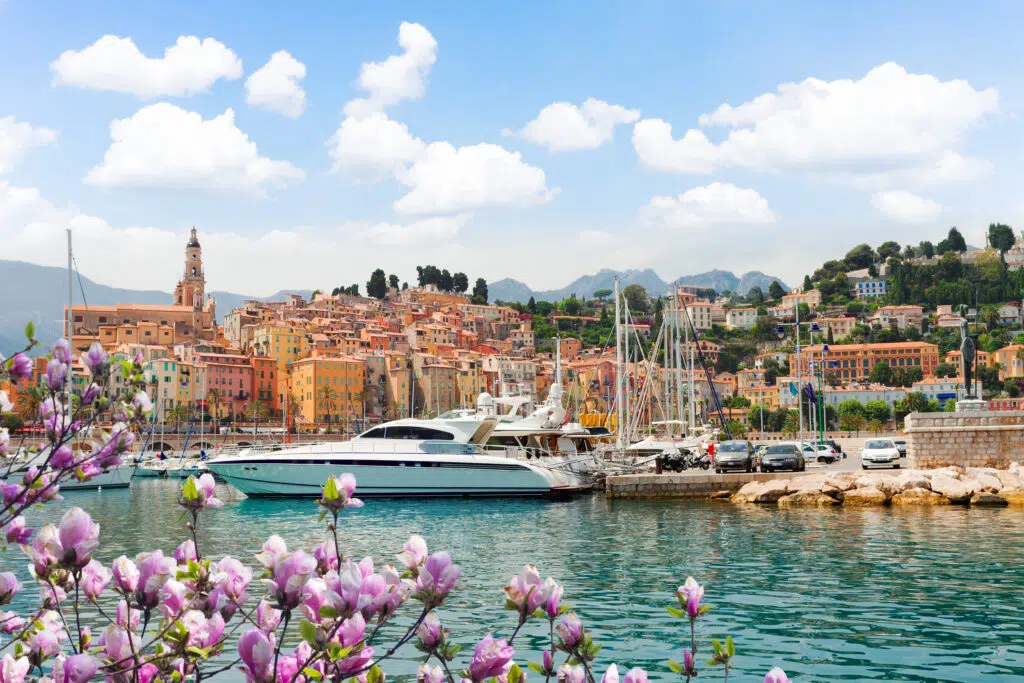 ---
Spring Weather in France
France weather in spring is different wherever you go. In March for example, if you plan to travel to northern France, eastern France, or Paris, temperatures will be around 9-10°C with a high chance of rainfall (you will warm layers and waterproofs).
In contrast, during March in the south and west, temperatures are already a few degrees warmer, around 14°C in the French cities of Marseille or Bordeaux – a perfect time to hike, cycle and visit natural parks.
In April, the average temperature increases by around 3°C in each region. This is a wonderful time of the year to explore the lush countryside and gardens of north and central France and indulge in some late spring skiing in the Alps.
However, it's in May we see a dramatic difference in temperatures. In the Mediterranean and southwest coastal regions, they reach a daily high of 20 °C, perfect for a beach holiday (with cheaper hotel rates too).
This is also a great time to explore the northeast, west and central areas, with mild temperatures of around 15-18 °C and less rain on the horizon!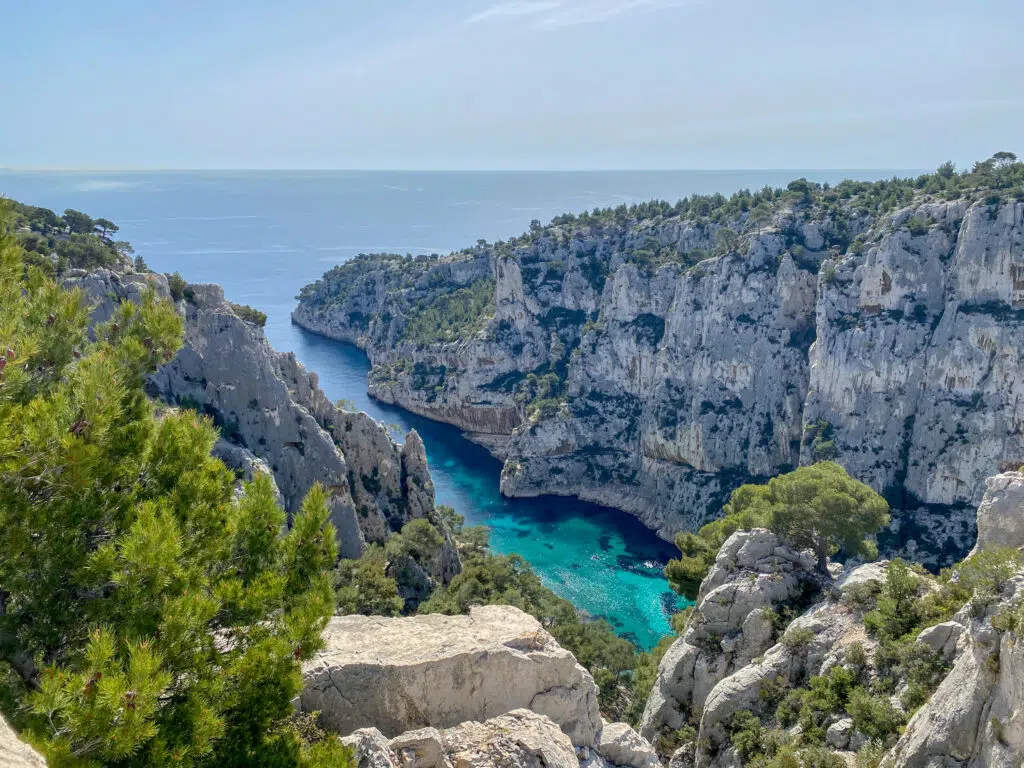 ---
Best Places to Visit in France in Spring
Spring is the ideal time to sample all France has to offer.
Whether you are searching for a beach holiday before the summer crowds arrive, fancy a city break in France, want to explore the natural parks or enjoy a last-minute skiing holiday before the season ends, there's a destination for everyone in France in spring.
STRASBOURG & ALSACE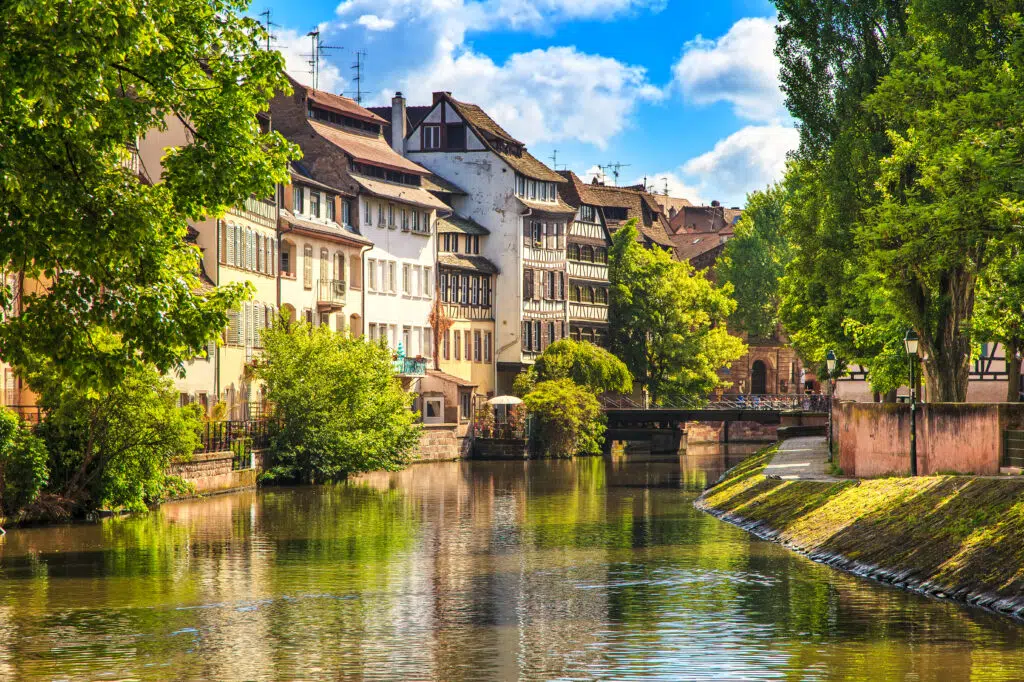 It may not have perfect weather, but the city of Strasbourg in Alsace is the perfect location for a spring break in France. Located on the French-German border, this city is home to Petit France with its meandering canals, the European Parliament buildings and some very fine museums and restaurants.
Take a stroll through beautiful Parc d' l'Orangerie or Strasbourg University's Botanical Gardens as they blossom after the winter months, glide along the canal past half-timber houses and historical landmarks in a boat, or step inside the 15th-century Notre Dame Cathedral.
This region has a fascinating history, as part of both France and Germany, and a great place to learn about this is at the Musée Alsacien.
One annual highlight in Strasbourg takes place in March with a huge carnival featuring costumes, parades, stalls, dancing and plenty of local food and drink. Everyone can join in with the revelry, just be sure to dress the part!
If you plan to venture outside the city, the region of Alsace has over 2,500 kilometres of cycle routes. Head into the mountains for the best views or along picturesque vineyard pathways bathed in spring sunshine.
CANNES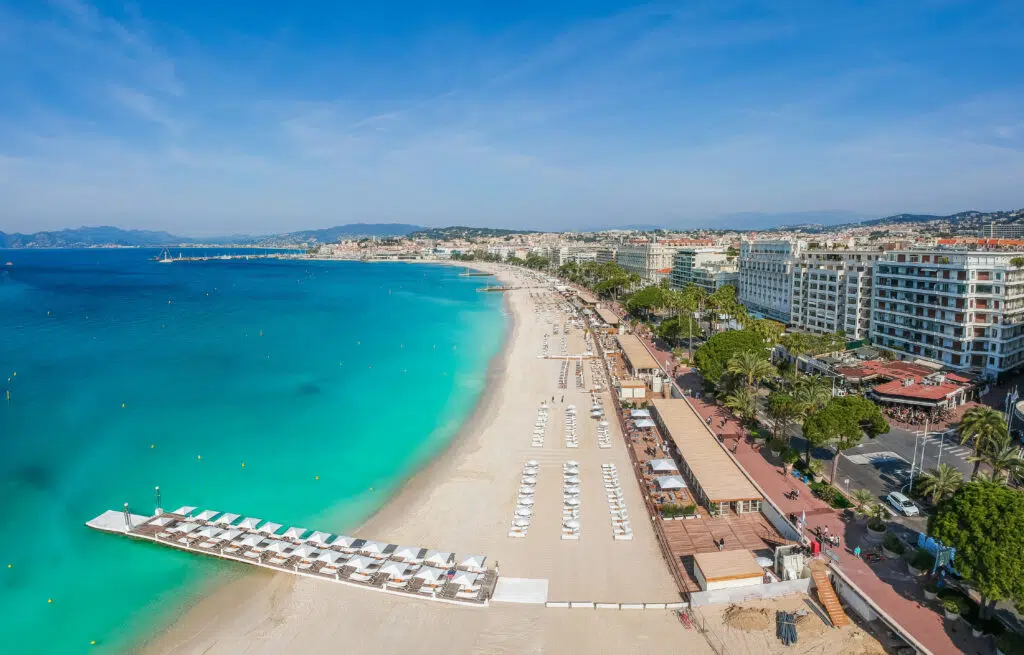 Along the Cote d' Azur, and blessed with a haevy dose of sun, glitz and glamour, is the elegant city of Cannes. A place where you can bask on your own private section of beach, cocktail in hand, dine in Michelin star restaurants and shop till you drop in Cartier, Dior and Hermes.
It's one of the hottest (as in trendiest) places to go in France in spring, as the Cannes film festival is usually held here in May each year. Hollywood A-list actors, directors and screenwriters pitch up to showcase their new movie premieres, staying in palatial 5-star hotels along La Croisette, Cannes' waterfront boulevard.
However, if you're not travelling for the festival, there's still plenty to do in the spring months.
Take a walk around the old town of Le Suquet, a labyrinth of narrow lanes and old buildings with typical French charm. Visit the medieval castle atop a hill, home to a museum with tremendous vistas of Cannes, or charter a boat for the day and sail to the beautiful, lush islands of Sainte Marguerite or Saint Honorat for peace and tranquillity.
TROYES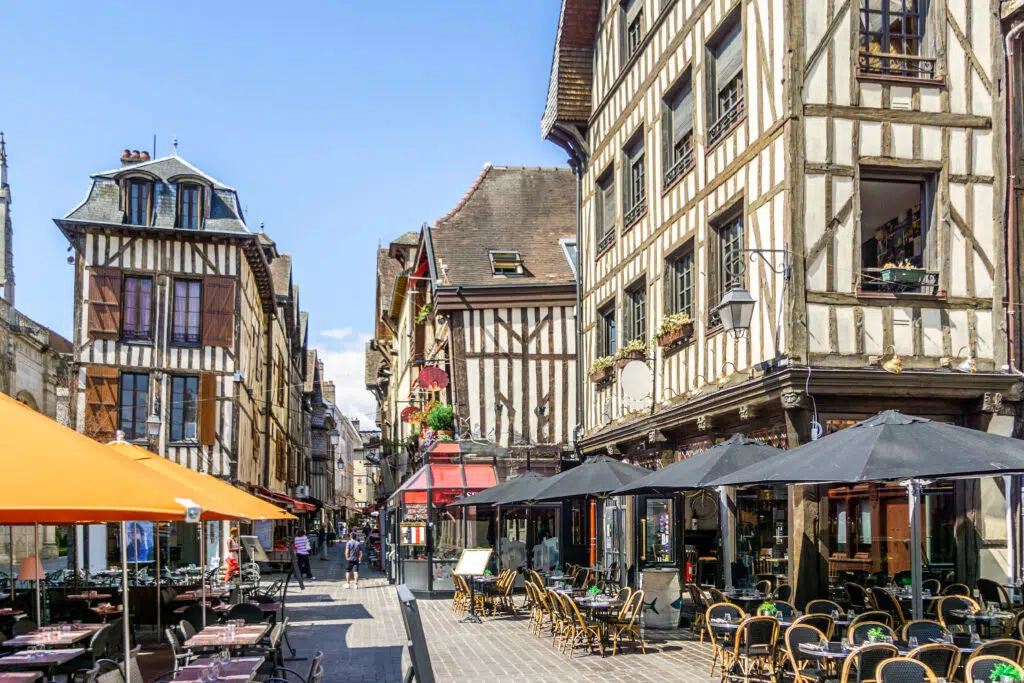 Tucked away in northcentral France, less than 2 hours by train from Paris Gare de l'Est station, Troyes is one of the country's most romantic towns. This old town in the Champagne region is blessed with well-preserved medieval architecture, lined with half-timber houses which were once owned by affluent textile merchants.
Admire the Champenois architecture of Saint-Pierre et Saint-Paul Cathedral with its incredible stained-glass windows, or see exquisite works at Musée d'Art Moderne, once a Bishop's Palace dating to the 16th century.
Before you depart, pay a visit to Ruelle Des Chats (Alley of the Cats). This dark narrow lane is straight out of a movie set and it's easy to imagine horses and carriages trundling by the entrance.
Also, if you are interested in holistic healing you may enjoy a springtime trip to Hôtel-Dieu-le-Comte, an old-fashioned apothecary museum with a huge collection of potions and lotions from the 18th century.
Depart Troyes to enjoy spring harvest in France, partake in a champagne tasting at a local vineyard (this wine region is home to the finest champagne brands in the world), leisurely cycle, walk along country trails or soar above the magnificent scene in a hot air balloon and photograph breathtaking landscapes.
VAL D'ISERE, FRENCH ALPS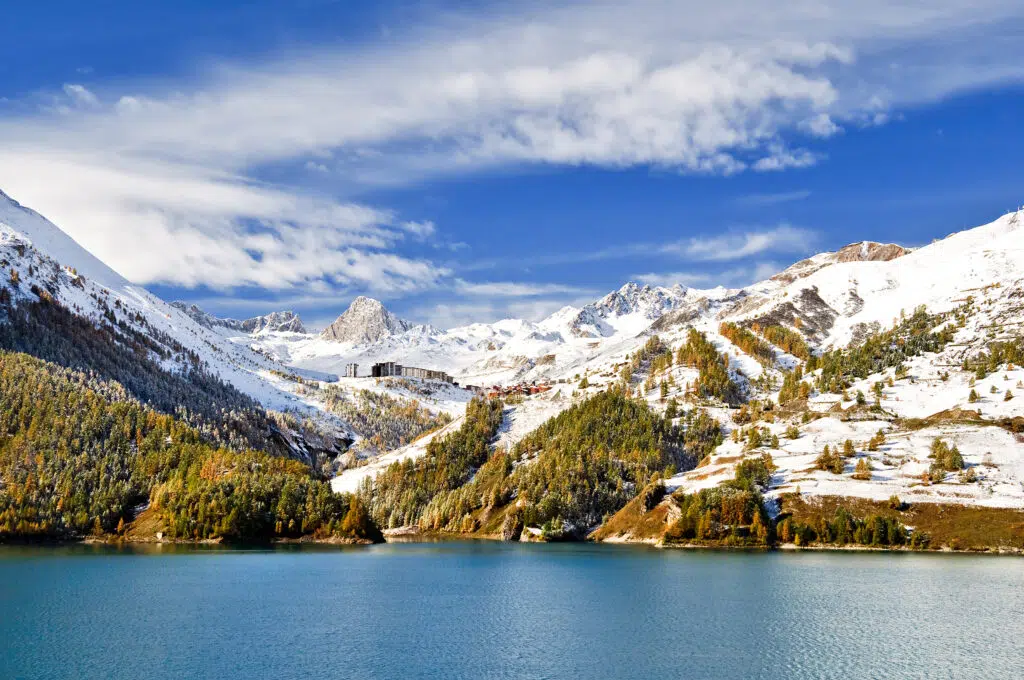 In many countries, the winter sports season has concluded by March, however, if you fancy participating in a spot of spring skiing France, March and early April are great times to visit, especially to ski resorts set in higher altitudes such as Val d'Isere.
During March, a relaxed party vibe settles over the town and visitors can enjoy queue-free skiing and long, lazy lunches on the mountainside. There's still an average of 8 days of snowfall this month, and temperatures are cold at night, so it's still worth wrapping up warm.
Skiing isn't the only winter sport available either. Outdoor enthusiasts can partake in snowboarding, moon biking, paragliding, sledging and more. When the ski day is complete, wander into the quaint village and enjoy great dining, lively après ski with music and terrace DJ sets.
Planning to travel to Val d'Isere in April? The world's biggest speed riding event takes place where professionals test new gear out and meet other like-minded adrenaline sports enthusiasts. There are workshops, private coaching sessions and you can even try the latest equipment out if you're an intermediate or expert-level skier.
Another event not to miss is the Cabaret at La Folie Douce, a colourful open-air show with spectacular performances, it is one of the hottest apres-ski parties in the region!
AUVERGNE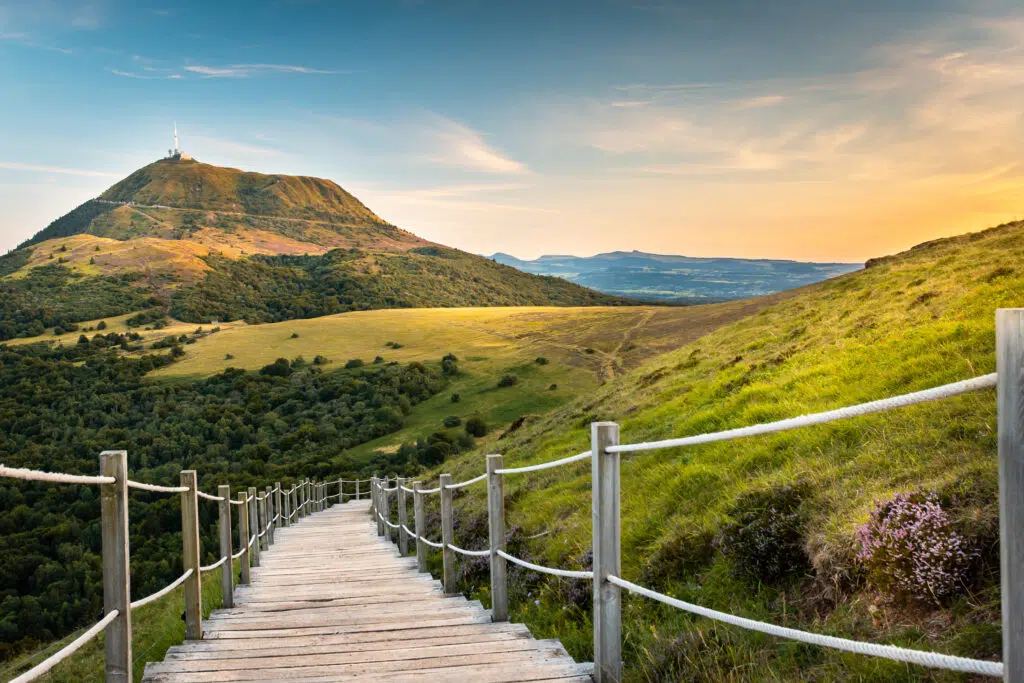 Centrally located, Auvergne is one of the country's least populated, and most bountiful areas of France.
A destination for nature enthusiasts, the region is home to forests, glacial valleys, massifs and a collective of volcanoes, but don't worry, the last eruption was around 4040 BC!
There is over 20,000 km of waterways including fifty lakes – Lac de Guery being the highest, and around one hundred springs too!
Spend a day at a dedicated thermal spa with healing waters to help balance mind, body and spirit (check out Les Thermes du Mont-Dore) or enjoy winter sports in the Massif Central, at Mont-Dore in March.
Alternatively, if you're travelling to Auvergne in April or May, choose from activities such as rafting, paragliding, hiking or climbing instead!
Finally, don't leave Auvergne without sampling the delicious local cheeses, including Blue d'Auvergne, Saint-Nectaire and Salers and spend some time in local restaurants feasting on truffade potato cakes or petit salé a hearty stew made with Le Puy green lentils.
GIVERNY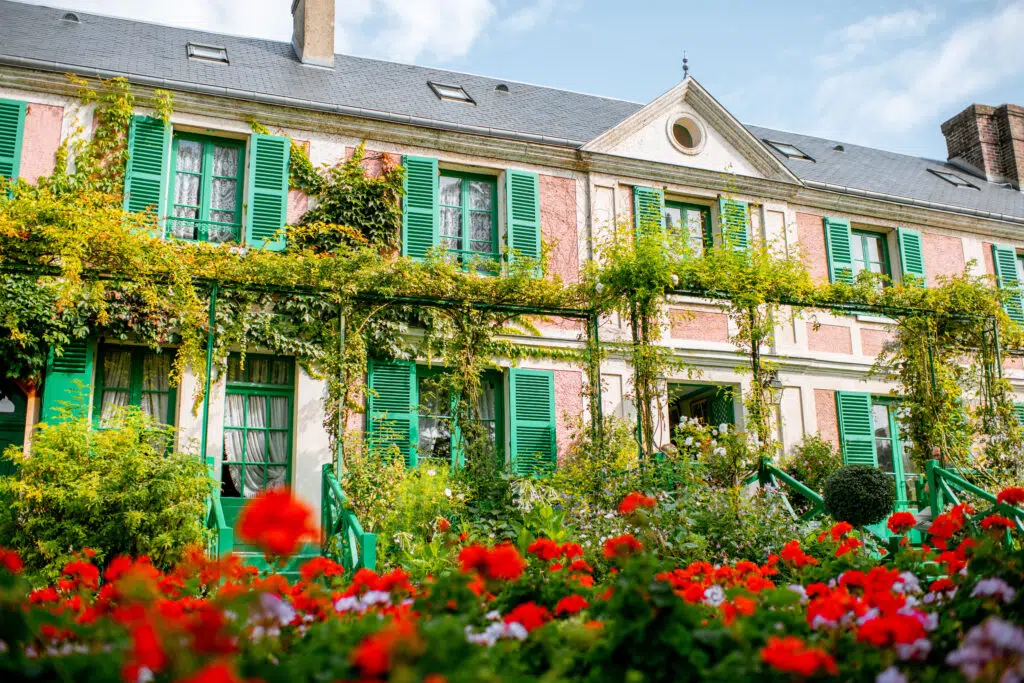 Parisian-born artist Claude Monet is known to many as the pioneer of the Impressionism movement – his delicate brushstrokes and pastel depictions of iconic French scenes inspiring artists more than a century later. Although he spent much time painting in Paris during the 1860s and 1870s, most of his most popular paintings were created in the village of Giverny around 70 km northwest of Paris after this time.
If you wish to see the gardens that inspired some of Monet's most famous paintings, head for the Gardens of Giverny. Visit the pretty salmon pink house with green shutters where the artist lived, take a guided tour, wander gardens in full bloom and visit the art galleries dedicated to his works on-site.
Monet's garden is one of the finest places to see spring flowers in France. During late March and April, they are in full bloom with daffodils, tulips, roses and waterlilies creating a cohesive mesh of colour.
The pond which inspired Monet's 'Waterlilies' painting takes centre stage with a familiar wisteria-draped wooden bridge. Arrive early in the morning to see the gardens in meditative peace and quiet, then stay in the local village making time to browse the Natural Mechanical Museum before popping into artists' favourite Hotel Baudy for a late lunch.
PARIS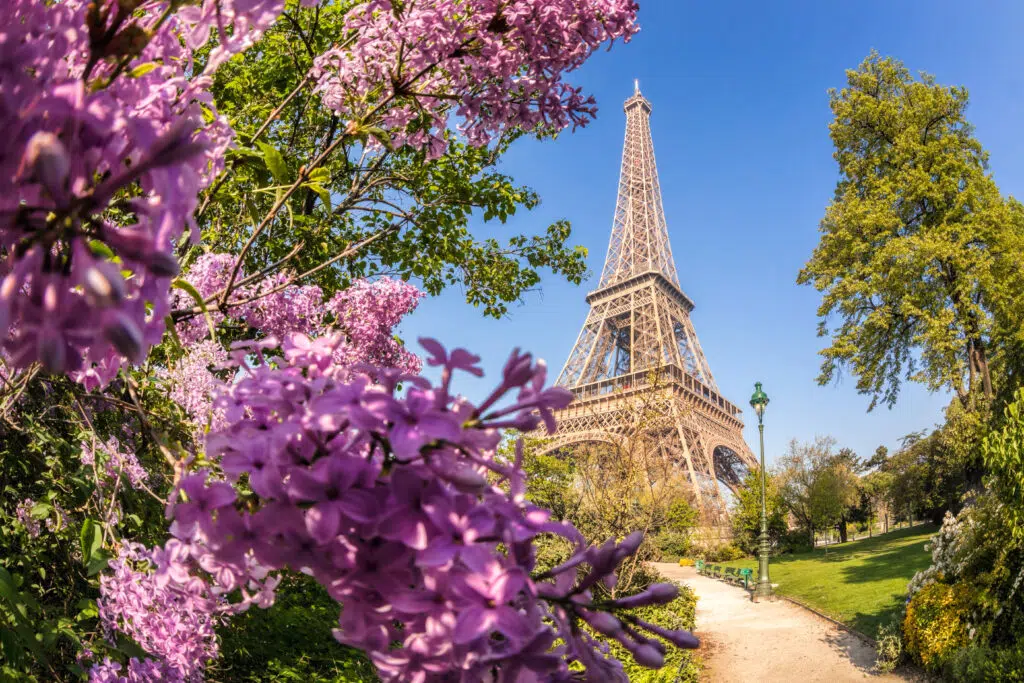 If you're ready to book your spring holidays in France, Paris is always a popular choice for all age groups. Springtime sees the city parks turn a pastel pink hue with cherry blossoms and the streets are brimming with markets, festivals and Easter Sunday celebrations.
Keen photographers will enjoy meandering along Champ de Mars aside the Eiffel Tower or taking a picnic to Trocadero Gardens across the Seine River. During this season, Easter celebrations are memorable with concert music in cathedrals, and intricate chocolate creations adorn the windows of chocolatiers and macaron shops of Saint-Germain-des-Pres.
Also in May, Festival Jazz a Saint-Germain-des-Pres takes place in the French capital with outdoor events, and live jazz music played in venues such as Sorbonne University.
A short distance outside Paris, the Palace of Versailles holds a musical fountains show on weekends in April (and on Tuesdays too in May) accompanied by Baroque music. Take a tour then sit back, sip champagne and relax in the magnificent, sculpted gardens of this former royal residence.
ARLES & THE CAMARGUE
Arles sits along the banks of the Rhône River, a UNESCO World Heritage Site which was once on a Roman trading route. The charming town with cobbled streets is famed for 1st century Arles Amphitheatre, museums dedicated to art and history and St-Trophime Church etched with medieval carvings in the cloisters.
There is also another good reason why Arles is famous. Dutch artist Vincent Van Gogh painted many of his works here in the town. Art and architecture can be enjoyed on a walking tour or at LUMA Arles, a contemporary art centre designed by Frank Gehry of Guggenheim Bilbao fame.
Combine your spring in Provence trip with a day or two in the Camargue. The regional park on Mediterranean shores is a haven for wildlife enthusiasts with 400 different bird species and flamingos to observe in the wetlands.
There's also a wonderful opportunity to see the famous white Camargue horses which are said to be descended from one of the oldest horse breeds in the world. They resemble the horses drawn on ancient caves in France dating back some 15,000 years.
CÔTE D'AZUR VILLAGES
Take a break from the busy coastal cities of the Côte d'Azur and head inland for your French spring break. The beautiful village of Gourdon offers some of the best views of the French Riviera – with visibility ranging up to 80 km on a clear day. Stone houses line narrow streets bedecked with plant pots and colourful ceramics on the walls. There's an ancient castle to explore, medieval buildings and gardens which are in full bloom at this time of year, thanks to the temperate climate.
Seemingly precariously balanced on the edge of a cliff, Saorge is a spectacular village in the Roya valley. It's an impressive place with troglodyte streets transporting you to days of old, a Franciscan monastery and a natural pool – Bain du Semite for bathing in warm weather.
The exclusive hilltop village of Saint-Paul-de-Vence overlooks the glistening Mediterranean Sea, flanked by a backdrop of the Southern Alps. This village is a popular spot to relax and unwind on a terrace with fine food and wine, explore open-air museums and galleries and play petanque with villagers avec a glass of pastis in hand.
BURGUNDY & DIJON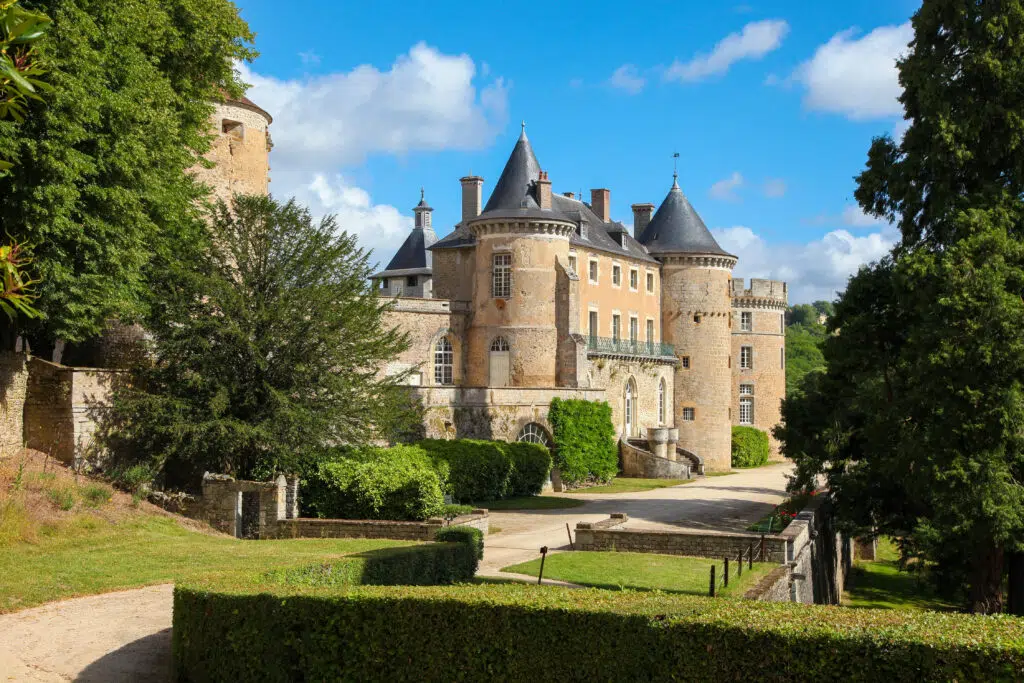 One of the best places to visit in spring in France is Burgundy. Dijon is the capital city of the region, with a stylish main centre, palaces, museums, a gothic cathedral and many further cultural attractions signified by the city's owl emblem.
Food and wine connoisseurs will adore a trip to Dijon – not only is the city famed for its mustard – it also claims beef bourguignon, coq au vin and onion soup as hailing from the region!
Then, there are Burgundy wines which can be sampled on vineyard tours and in chic bars in Dijon. While in this French wine region, try the Red Burgundy produced using 100% Pinot Noir grapes or the White Burgundy made from 100% Chardonnay grapes.
Planning to visit France in May? Head for the red-roofed town of Semur-en-Auxois. The town hosts a huge Medieval Festival with theatrical performances, concerts and themed crafts markets.
Also, in Les Montgolfiades in the same month, the European Hot Air Balloon championships take place. Over 50 teams participate in this exciting, colourful spectacle and the festival also encompasses music, shows and demonstrations, and the opportunity to gain incredible photos!
MARAIS POITEVIN & GREEN VENICE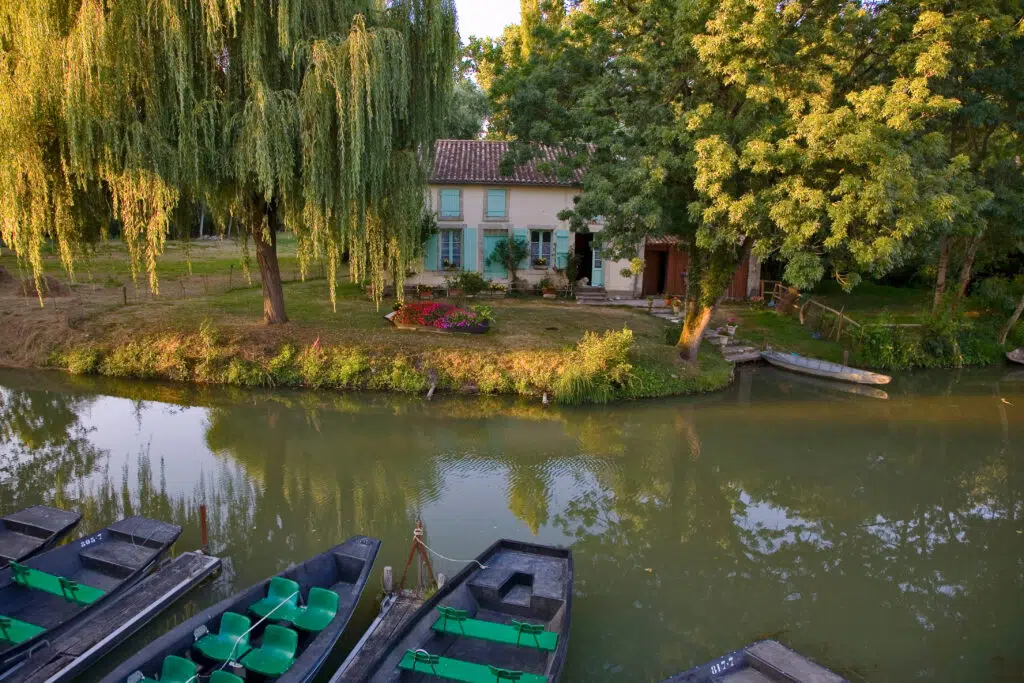 Some of the best places to visit in France in April for relaxation and being at one with nature are Marais Poitevin and Green Venice. This wetland area is famous for its 'slow tourism' experiences. The region is what is left of the former Poitou Gulf, a place where dense emerald forests and charming villages are set aside in interconnected canals in 112,000 hectares.
With calm canals and rivers to glide along, it's the perfect area to explore via barque – a flat-bottomed boat. Drift past willow, ash and poplar trees and discover the biodiverse flora and fauna of the region which includes frogs, donkeys, the European otter and herons.
Centuries-old local traditions remain steadfast in this area and there are interesting places to explore. At Esnandes you can learn all about mussel production at Maison de la Mytiliculture, see an 18th-century watermill which still operates today at Nieul-sur-l'Autise or learn all about the wetlands and marshes at Coulon.
This area is also a wonderful place to hike, birdwatch and cycle, soaking up the stunning scenery as you become one with nature.
---
Hopefully, that's all the inspiration you'll need to visit France in spring! With beautiful gardens and medieval towns that inspired artists, parks and wetlands abundant with flora and fauna, and spring festivals in France showcasing jazz music and medieval carnivals, there's a place for everyone during springtime in France!