From Normandy to Nouvelle-Aquitaine, Provence to the Grand Est; each of France's regions has its own unique story to tell. During the Middle Ages, incredible feats of engineering, art and architecture, religious movements, and economies took shape, and all of this can be explored as you begin to discover the incredible medieval towns in France.
Wander along winding streets of medieval villages in France and take a deep dive into the history and mystery that lies within. Photograph breathtaking landscapes and idyllic town squares, as you imagine life through the eyes of people who lived in times past. Step inside intricate churches, admire the craftsmanship of half-timber houses, sit in the gardens of grand châteaux, and sample wine from centuries-old vineyards.
To visit these historic towns in France is to become part of their heritage, so get ready to pack your bags and enjoy this curated list of some famous, and a few lesser-known, French medieval towns.
Saint-Cirq-Lapopie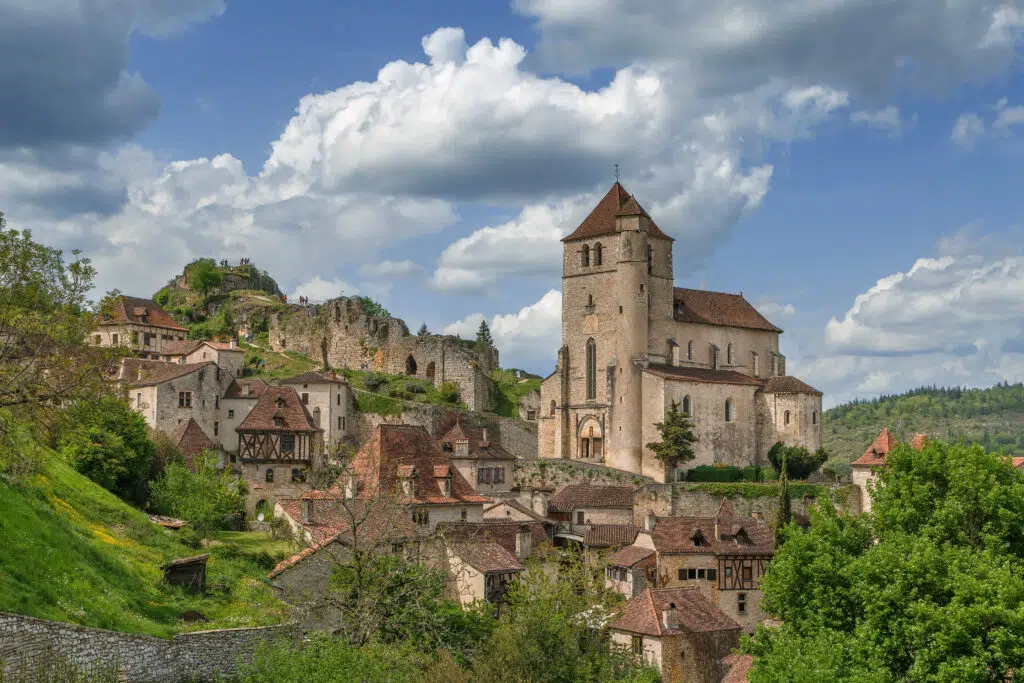 Once a major seat of the viscounties of Quercy, Saint-Cirq-Lapopie was on the original pilgrimage route to Santiago de Compostela in Spain. The storybook town is surrounded by a lush emerald landscape with whimsical houses and a gothic church, set along a steep rugged cliff overlooking the Lot River.
Saint-Cirq-Lapopie is entered from the highest point by the car park, where the remains of ancient fortresses still stand. As you begin your descent into the town, winding cobbled streets are lined with old stone houses hiding wine caves, charming boutiques, and restaurants.
Pop into L'église Saint-Cirq-et-Sainte-Juliette to admire beautiful stained-glass windows, visit Rignault Museum, a small 15th century building containing a collection of ancient statues, or opt to see Maison Andre Breton and learn of the poet's works.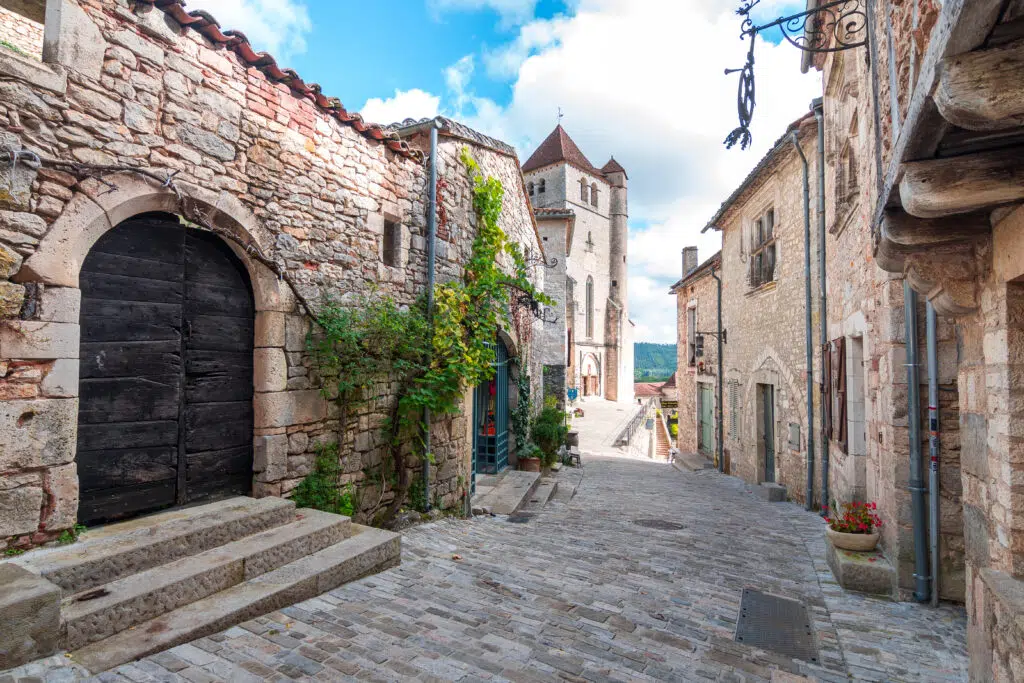 One highlight is to walk Le Chemin de Halage de Ganil (the towpath). Flat-bottomed boats were once towed along this path transporting tobacco, grains, wine and dried fish to larger cities. The trail, which leads to Bouziès, sits alongside the river, and much of it is carved into the rockface, giving shelter from the elements as you walk.
Follow up with a trip to Pech-Merle prehistoric caves less than 20 minutes' drive away. The limestone cave complex contains paintings and drawings of mammoths and horses dating back almost 30,000 years.
Sarlat–La-Caneda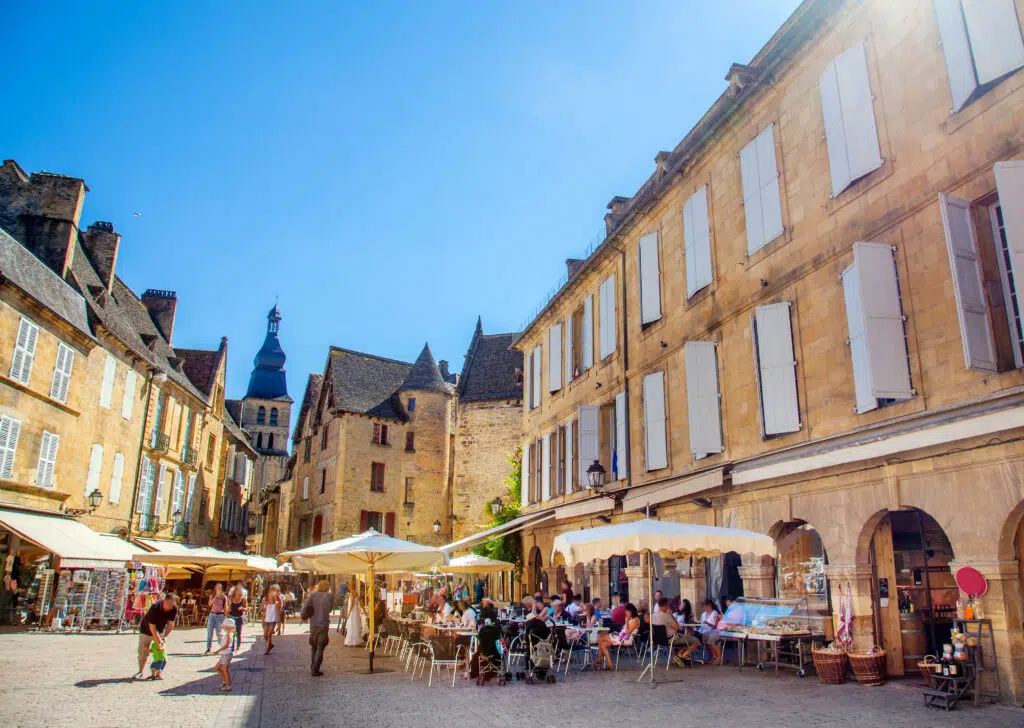 Sarlat-La-Caneda is the glittering prize of Black Périgord in the Dordogne region of France. One of the best preserved medieval towns in the region, it boasts over 75 iconic monuments and protected buildings to visit during your stay.
Sarlat has a rich history, it was once protected by the Holy See of Rome, was part of England in the mid-1300s and played a key role in bringing supplies to soldiers during the Hundred Years War. Proud residents of this town value their Occitanie roots and some schools still teach students the 'language of the d'oc' to help preserve its heritage.
Unmissable highlights of Sarlat include Place de la Liberté, Sarlat's pretty main square, and Saint Sacerdos Cathedral, with its 9th-century belfry.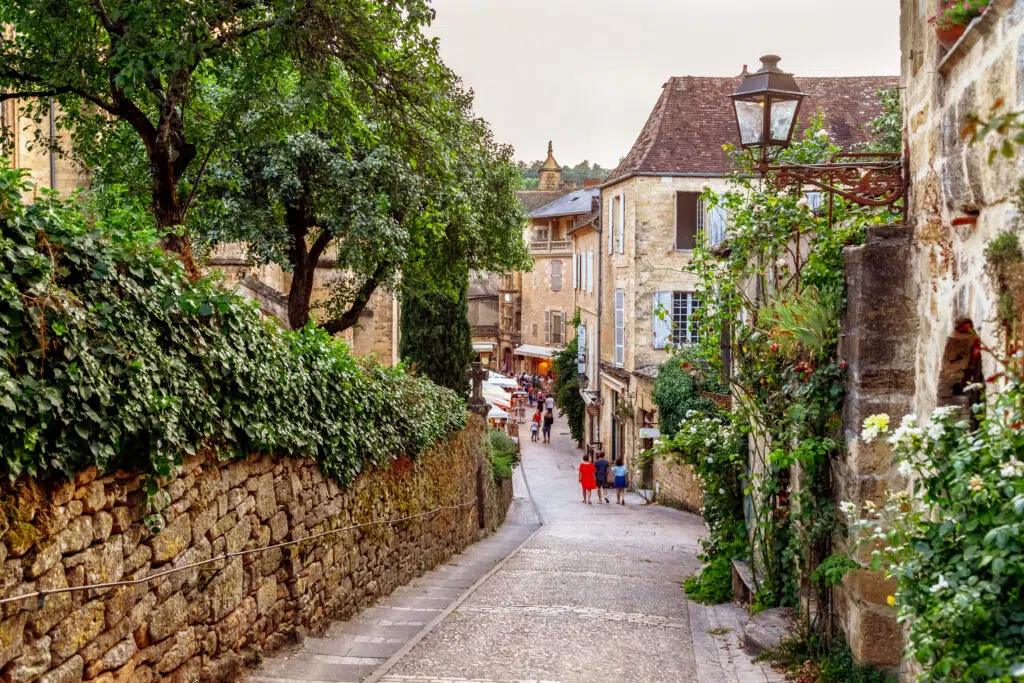 See the famous La Boetie Residence, bronze statues of the three geese (des trois oies) and browse the covered market at St Mary's Church. Here, an elevator can transport you to the top of the church for fantastic views across Sarlat-La-Caneda.
This medieval town in France is also known for its gastronomy. Truffles and mushrooms of the chanterelle, porcini and morel varieties, chestnuts and strawberries all feature heavily in the town's cuisine.
For more relaxing pursuits, spend a few hours in Les Jardins d'Eau, akin to the Gardens of Giverny, peppered with bridges, trees, and ponds filled with waterlilies or enjoy a canoe trip, gliding along the Dordogne River.
Èze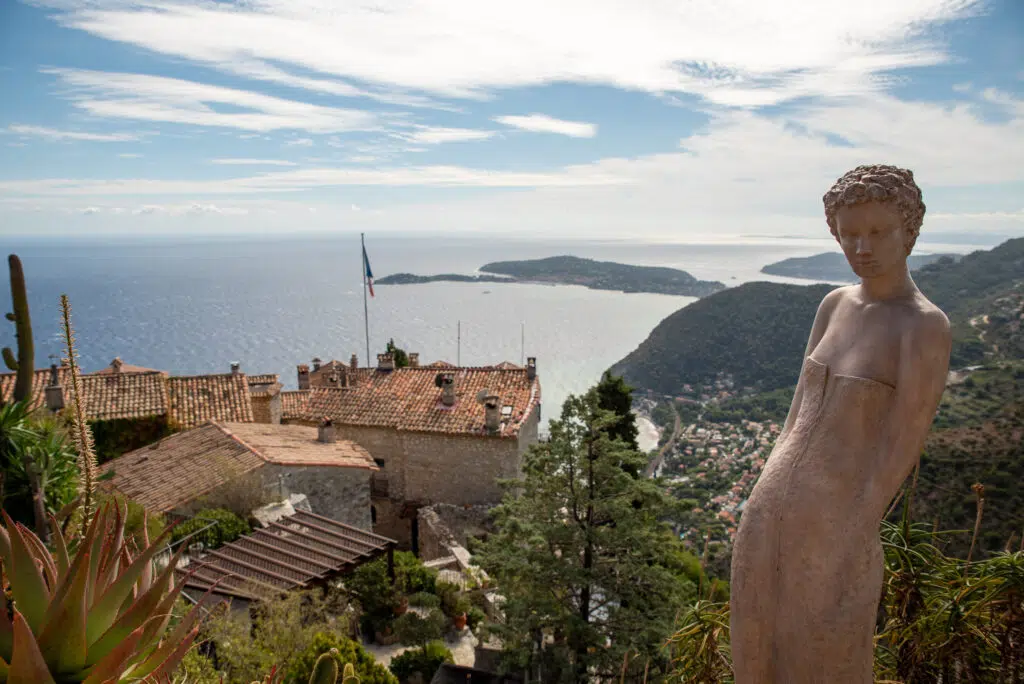 One of the best medieval towns in southern France, Èze, sits resplendently on a hilltop along the French Riviera near Nice.
During medieval times, around the late 1300s, Èze was ruled by the House of Savoy, a powerful royal dynasty from northwest Italy. Following this, the small village underwent turbulent times before being finally recognised as part of France in the mid-1800s.
A popular first stop on arrival to Eze is the botanical gardens. The Exotic Garden of Èze is set on the site of an old fortress with panoramas stretching as far as Saint Tropez. Spend time discovering several species of cacti and exotic plants before venturing to the caves and cascades.
Wander the car-free cobbled streets of the village towards Èze Church or stroll to Moyenne Corniche for incredible views.
Splurge to dine at La Chèvre d'Or, with its Michelin-star restaurant and stunning Mediterranean views, or spend time popping into art galleries and craft shops to pick up souvenirs of your trip.
At the foot of the hill, it's possible to visit one of France's largest perfumiers – Fragonard, who have a factory here. Alternatively, hike the Nietzsche path, a stunning shaded pathway that leads down to the beach through ancient forests.
Read More: Best Things to do in Eze
Rocamadour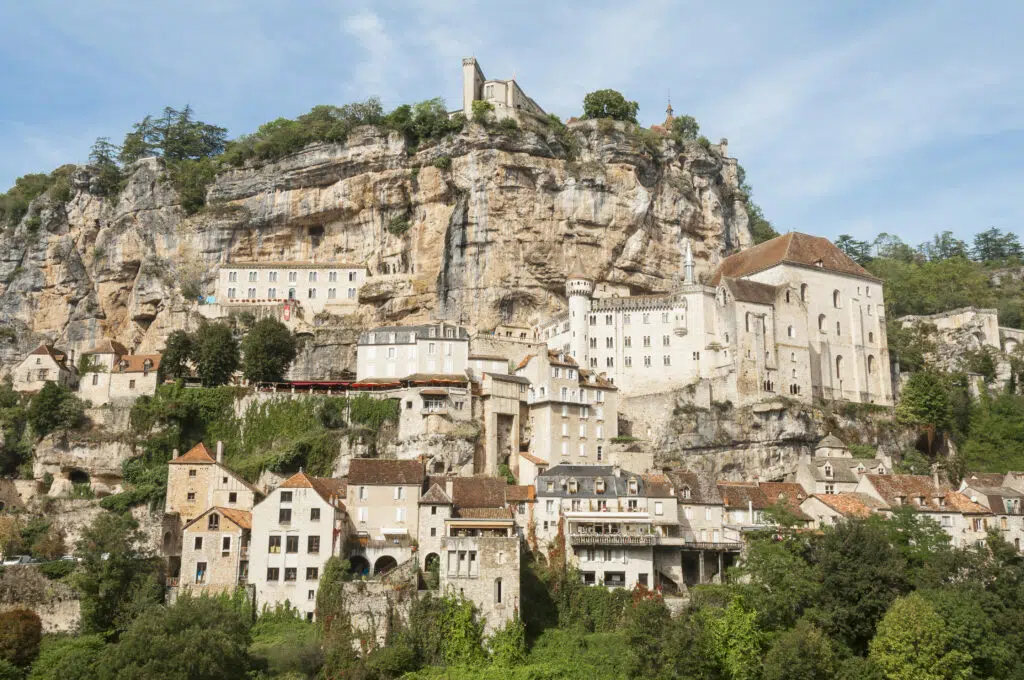 The sacred town of Rocamadour is etched into a limestone cliff overlooking Alzou Valley, surrounded by lush forests in the Lot region of France. It's the second most visited site in France after Mont Saint-Michel in Normandy.
Looking like a scenic location snapshot from Game of Thrones from afar, the town dates back as far as the Paleolithic era and Iron Age when it was known as Roca Major – a combination of roca – 'sheltered rock' and major – 'importance'.
The town has been a pilgrimage site en route to Santiago de Compostela since Saint Amadour's body was discovered in a tomb in 1166. Locals viewed the discovery as some kind of miracle; thus the town's name was changed to 'Roc-Amadour' and has remained ever since. It began to enjoy fame as prominent celebrities of the time, Eleanor of Aquitaine and Henry II arrived to pray to a statue of the Black Madonna housed in the Basilica.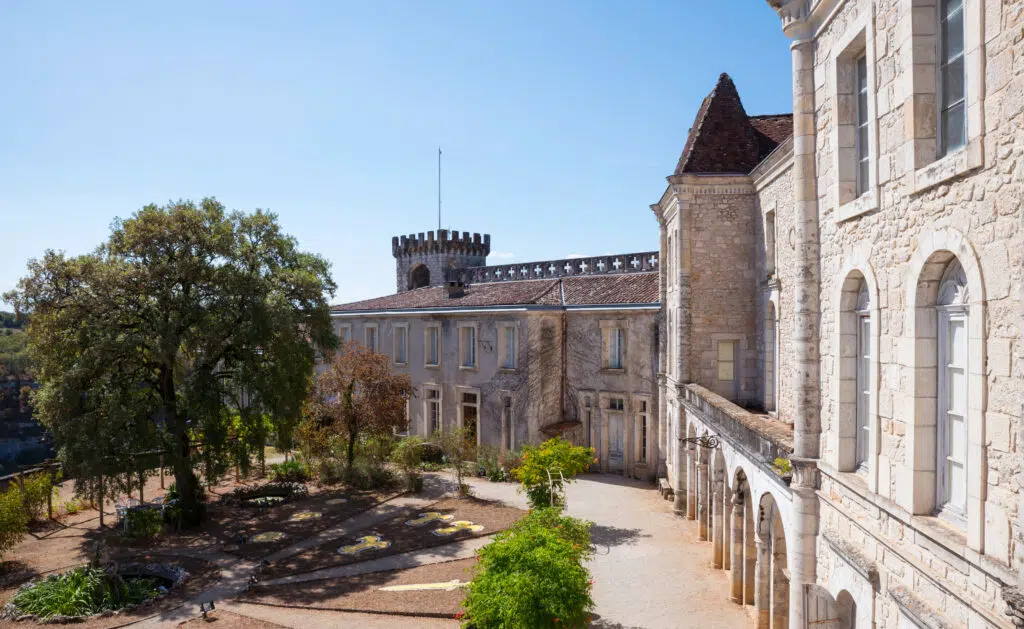 Today, the town is divided into upper and lower levels. The religious buildings are positioned near the summit, accessed via the Grand Escalier staircase, or a lift. The lower town is lined with shops, restaurants, galleries, small boutique hotels and cafes entered via a fortified gateway.
A few must-see places of interest include Sanctuaire Notre-Dame de Rocamadour (home to the Black Madonna), Saint Amadour's tomb, 12th century Chapelle St. Michel with its well-preserved frescoes and Porte de l'Hopital.
Nearby, 20,000-year-old cave drawings embedded at Grotte des Merveilles transport you even further back in time, and if you enjoy trying new foods, don't forget to try the local 'Rocamadour' cheese before you leave.
For a truly unique experience and to see the picturesque village from an aerial perspective, book a discovery hot air balloon flight across the valley from Rocamadour Aerostat. Or plan your visit during the annual hot air balloon festival.
Gordes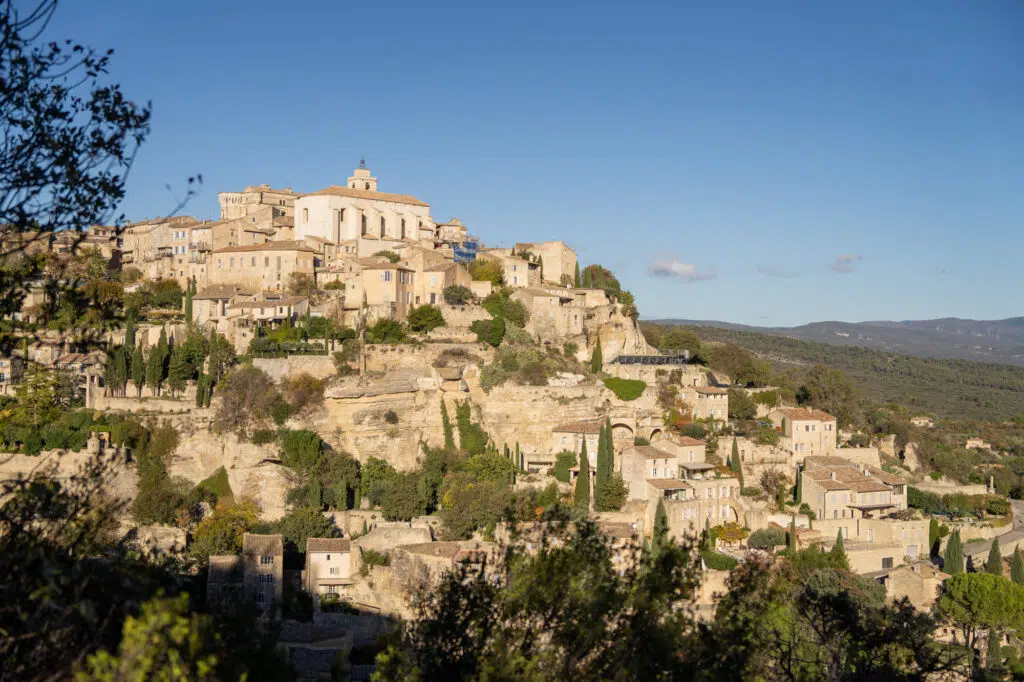 Gordes is a beautiful hilltop medieval French village located in the heart of Provence. In its early existence, Romans occupied the area, leaving behind columns, theatres, and artefacts in the surrounding landscapes.
Following Arab invasions during the Middle Ages, it was decided that a heavily fortified castle should be built to help protect the village and its citizens from further attacks, plagues, and wars. This castle still stands today, (albeit with a few tweaks), and houses the Pol Mara Museum and exhibitions.
Nearby, Saint Firmin Palace stands proudly, an impressive feat of architectural engineering. However, one of the most interesting historical sites lies beneath, in ancient cellars. This semi-troglodyte world carved into rocks showcases relics and remains which include an old olive mill and ancient cisterns.
In the pretty village streets, open-air markets sell fresh produce, soaps, lavender and linens, and cafes and restaurants line the pavements where you can easily enjoy a leisurely afternoon dining and sipping local wines.
Gordes, which is officially named one of Les Plus Beaux Villages de France (the most beautiful villages of France) is also great for outdoor adventurers, with hiking and cycling trails crisscrossing the Luberon.
If visiting Provence in the summer months, head for the Abbey of Sénanque where resident monks tend to some of the most beautiful lavender fields in the Luberon. Alternatively, spend a few hours discovering Bories Village, an open-air museum with dry stone conical houses nearby.
Read More: Complete Guide to Gordes
Beaune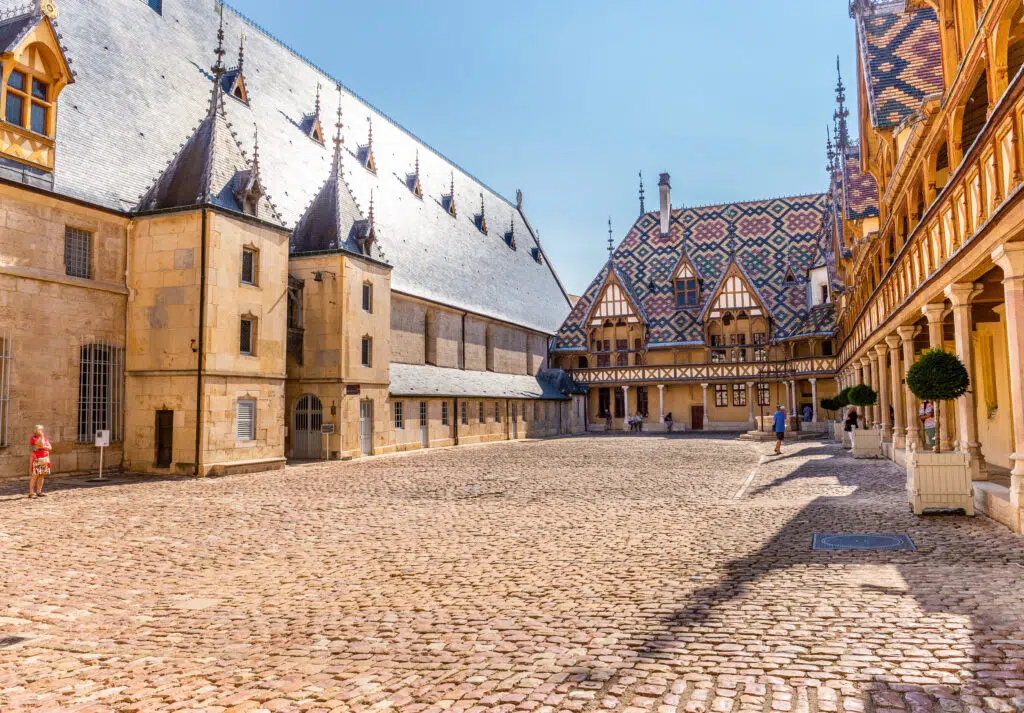 Beaune, Burgundy is located around 35km south of Dijon and two hours from Paris. The town dates back to Pre-historic times and was once used by the Romans as a centre for viticulture and cattle breeding. It was fortified during the 3rd and 4th centuries to prevent invasions and then later became the seat of a count under the rule of Charlemagne.
During medieval times, it was documented that the first Parliament of Burgundy met in Beaune in 1227, and consequently, the town became home to many Burgundian dukes, before the religious wars began and Beaune's fortunes began to decline.
The picture-perfect French medieval town we see today is still surrounded by ancient ramparts and vineyards dating to these times, primarily, the Hospice de Beaune – an impressive hospital dating back to the Middle Ages with a 60-hectare wine estate.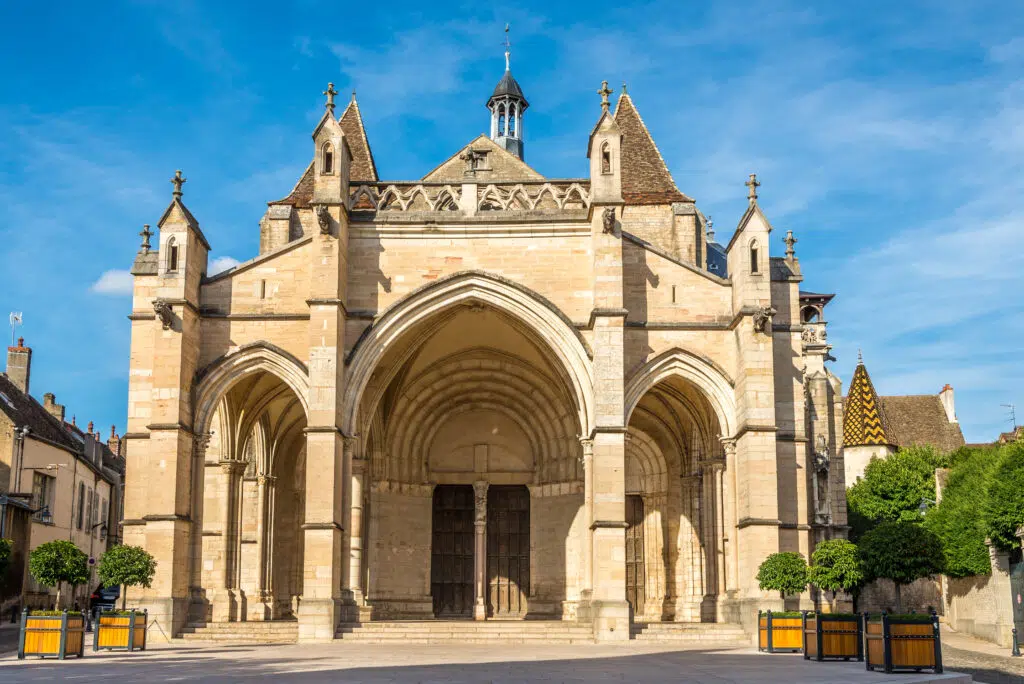 Learn all about the town's rich history as you walk the ramparts. Pass the Chateau de Beaune, a 15th-century castle, Porte de Nicolas, one of the original gates into the town, and Lion Square.
For the best views, climb the bell tower, or visit Musée du Vin de Bourgogne – a famous museum dedicated to all things grape and wine.
Keen cyclists can navigate the Route des Grands Crus, while foodies indulge in true Burgundian fare, created from seasonal produce from the land. Coq au Vin and Boeuf Bourguignon are popular here, accompanied by a crisp Chablis or Pinot Noir.
No trip to Burgundy would be complete without visiting a mustard factory. The Fallot Mustard Mill in Beaune tells a fascinating history of the tangy condiment, coupled with a sensorial experience and full insight into the production process!
Riquewihr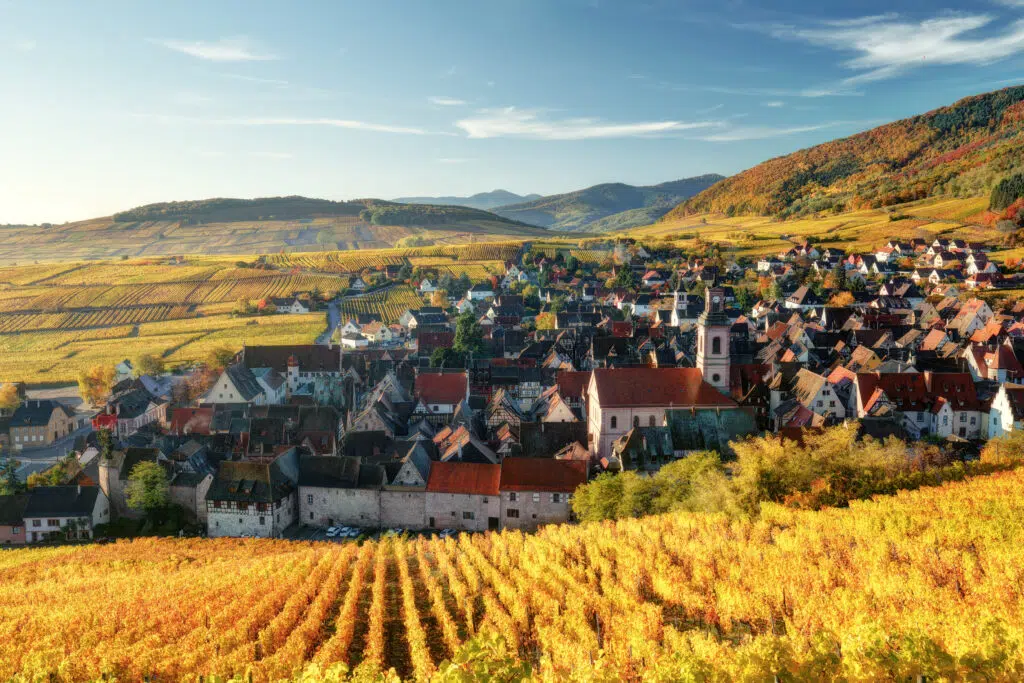 One of finest old towns in France, Riquewihr sits along the historic Alsace wine route just 12 km from the pretty canal town of Colmar. Riquewihr has changed very little from the Middle Ages when it was under the rule of the Dukes of Württemberg, and photographers will adore capturing pictures of cobblestone streets flanked by colourful, half-timber gingerbread houses.
Explore the 13th century village ramparts and browse quaint shops along Rue du General de Gaulle, the main street. Pop into Musée de Dolder to discover Riquewihr's intriguing history or visit the Thieves Tower, a former prison built in 1291, with a gruesome torture chamber inside.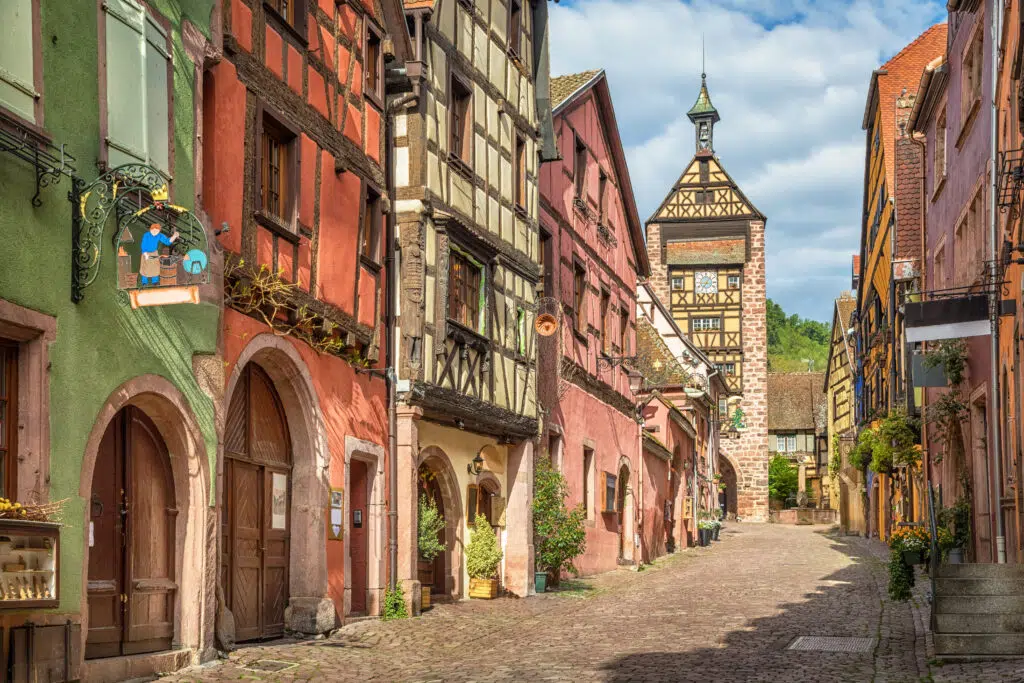 It would be remiss to travel to Riquewihr without venturing into the Alsace vineyards. Jump on a bike or hike the rural trail loop with interactive stops that showcase information about wine production in the local area.
Arriving in the Alsace region during December? Immerse yourself in festive cheer at the magical Christmas markets. Wooden chalets sell a whole host of crafts, gluhwein, and sweet treats.
Don't leave Alsace without trying mouth-watering tarte flambée, made from onions and Riesling wine produced in the region.
Turenne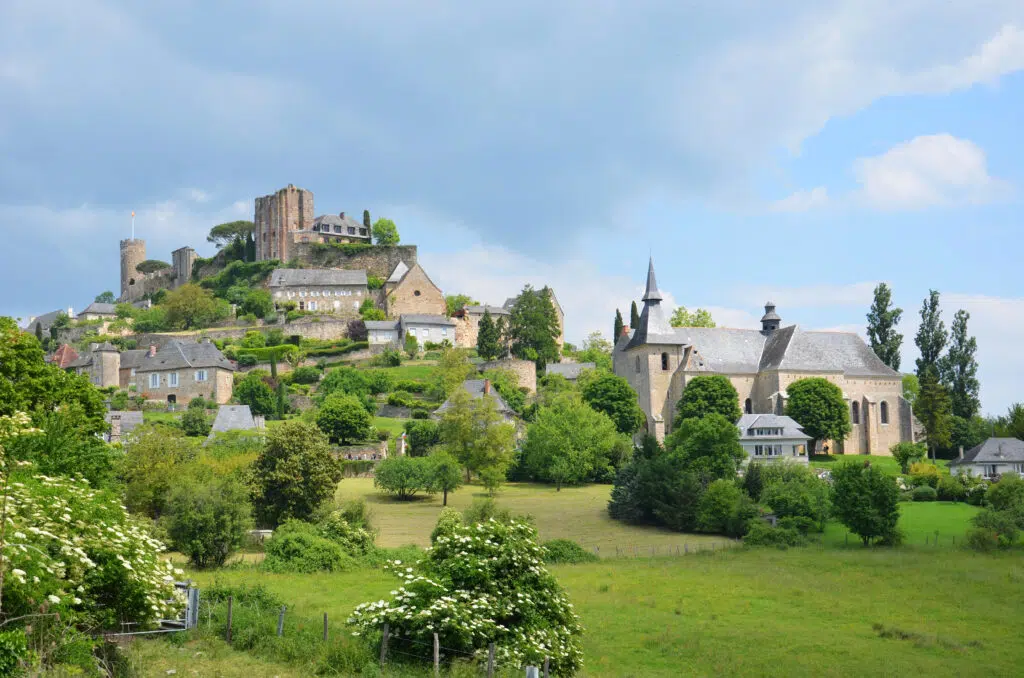 Turenne in Nouvelle-Aquitaine is a tiny village offering stunning vistas across the verdant rolling hills beyond.
One of the most historic towns in France, Turenne was one of the great fiefs during the Middle Ages. The lords ruled the town, governing the people, and sheriffs were free from taxation, forming their own independent state within France for a time. This continued until the Reformation, and in the mid-1700s, Turenne was sold to the king to pay off debts, thus, ending the town's independence from the state.
During a visit to Turenne you'll see many traces of this storied past. Walk streets that have barely changed in centuries to see the Seneschal's house and Porte de Mauroilles, the town's original entrance gate.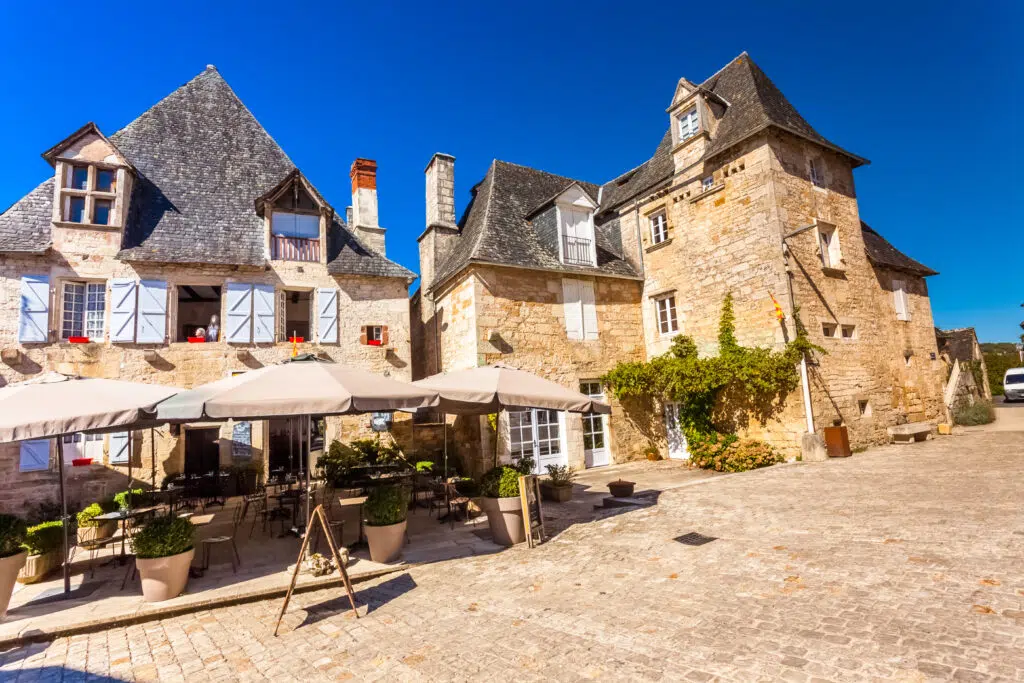 Hike to the 13th century hilltop Château de Turenne. Tree-lined gardens offer magnificent views across the town and countryside – a great place to picnic, and if you climb the spiral staircase inside the Tower of Cesar, the vistas get even better!
Turenne draws avid hikers throughout the year and is often used as a waypoint along the 'Way of Saint James'.
Saint-Paul-de-Vence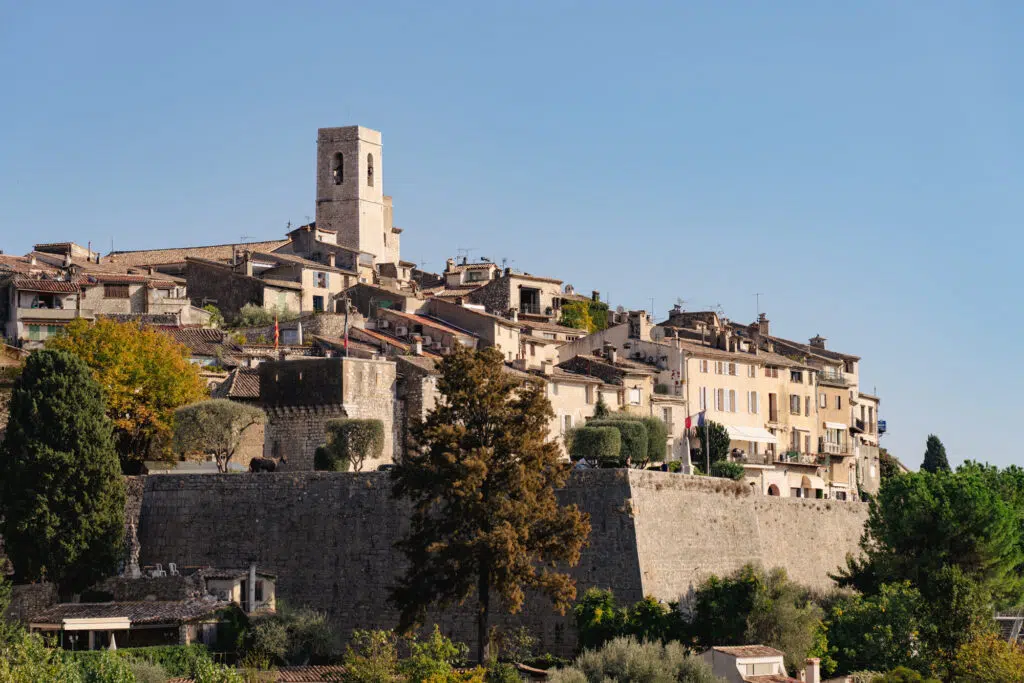 Saint-Paul-de-Vence is a delightful small town in France, tucked away among the pine-clad valleys of the Alpes-Maritimes department, inland from the dazzling French Riviera.
During the Middle Ages, Saint-Paul-de-Vence became an important border stronghold after Nice switched allegiance to the County of Savoy in 1388. Many of the town's ramparts were built around this time and a couple of the original towers remain to this day – Tour de l'Esperon and Porte de Vence.
The town, which is an easy day trip from Nice, has long been a haven for creatives. Picasso, Chagall, and Matisse all spent time here – their works inspired by the ever-changing light and colours of the landscapes. Chagall's grave is located in the local cemetery and as you look out to the great beyond, from beneath palm and cypress trees, you begin to see the countryside through the eyes of an artist.
Prominent sites to visit include the private art museum Fondation Maeght, containing a vast collection of modern European art, the medieval fortress and the picturesque Saint Charles-Saint Claude chapel.
La Colombe D'Or is a famous restaurant in town, much-loved by famous artists and celebrities who would dine here and leave their works as payment. Book a table to enjoy delicious Mediterranean fare with a distinctly French twist.
Saint Emilion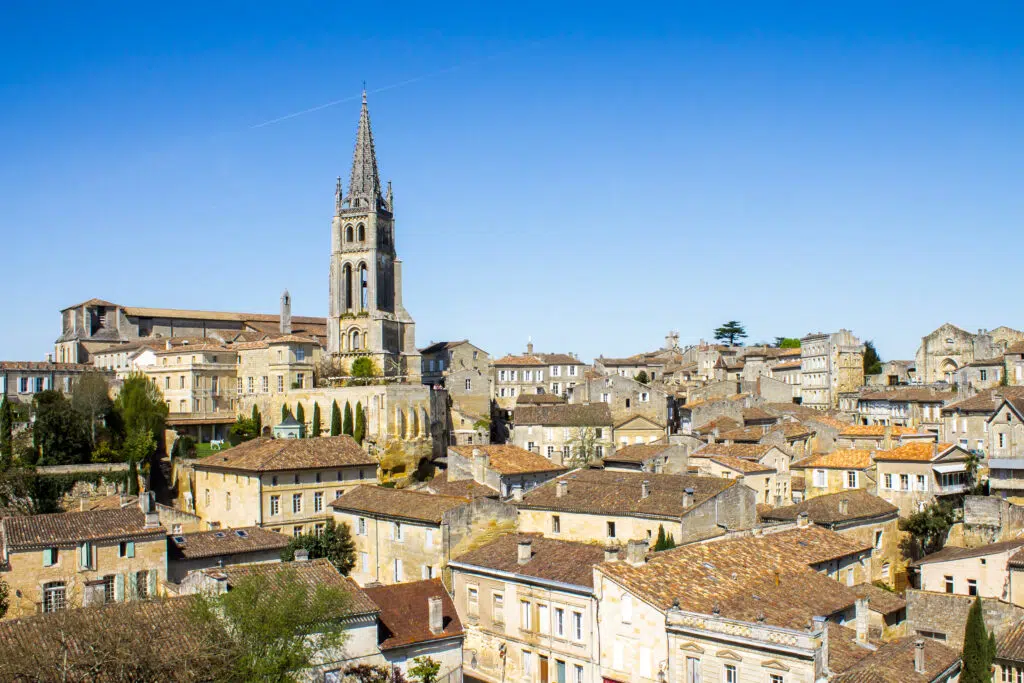 Saint Emilion in the Bordeaux region is one of the best medieval towns in France. The stunning UNESCO-listed hilltop town has a long tradition of winemaking, dating back to the 2nd century when Romans originally planted vines here.
Between the 12th and 14th centuries, Saint Emilion was under English rule and in exchange for the citizen's freedoms, the king instructed his merchants to take wine from the vineyards for his own use. After the religious wars, it took until the late 19th century for the local wine economy to recover.
Today, this charming French town is punctuated with interesting historic sites which include exploring the house of Emilion, the monk for whom the town is named. Adjacent, you'll find the eerie underground catacombs and the Monolithic Church and Chapel of the Holy Trinity.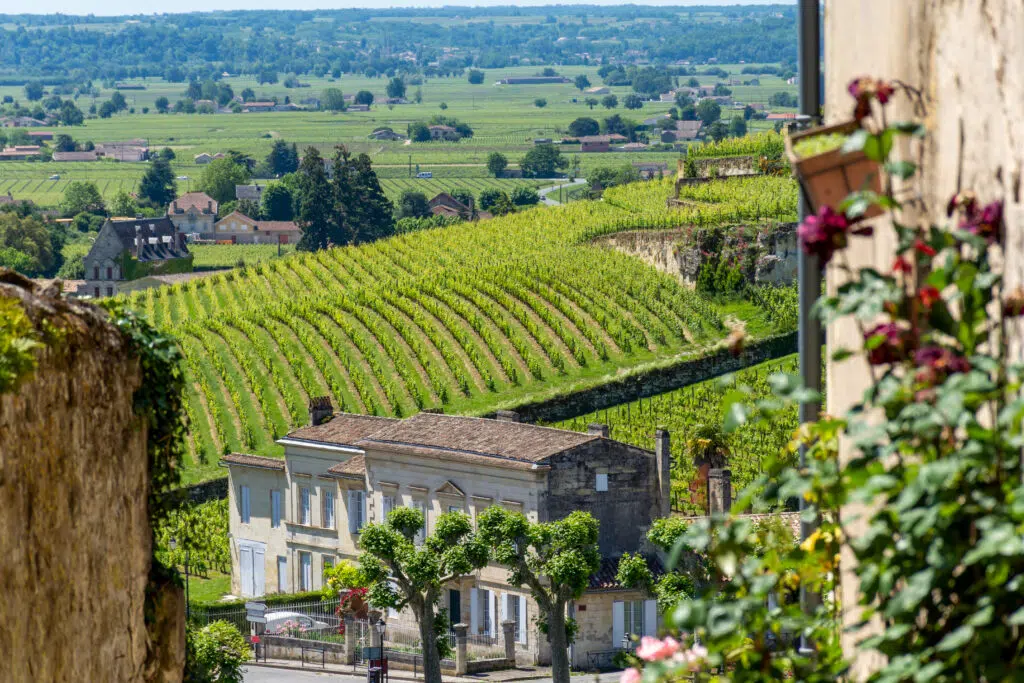 Built in the 12th century and easily recognisable by its 68-metre-high bell tower, the church was a main stop-off point for pilgrims venturing to Spain along the 'Way of Saint James'. Climb the 196 steps to enjoy town and vineyard views.
Book a wine tasting tour if you're staying for a few days or longer. Château Ambe Tour Pourret offers both food and wine pairing events and it's easy to reach on foot, a mere 15-minute' walk from the town centre.
Saint-Remy-de-Provence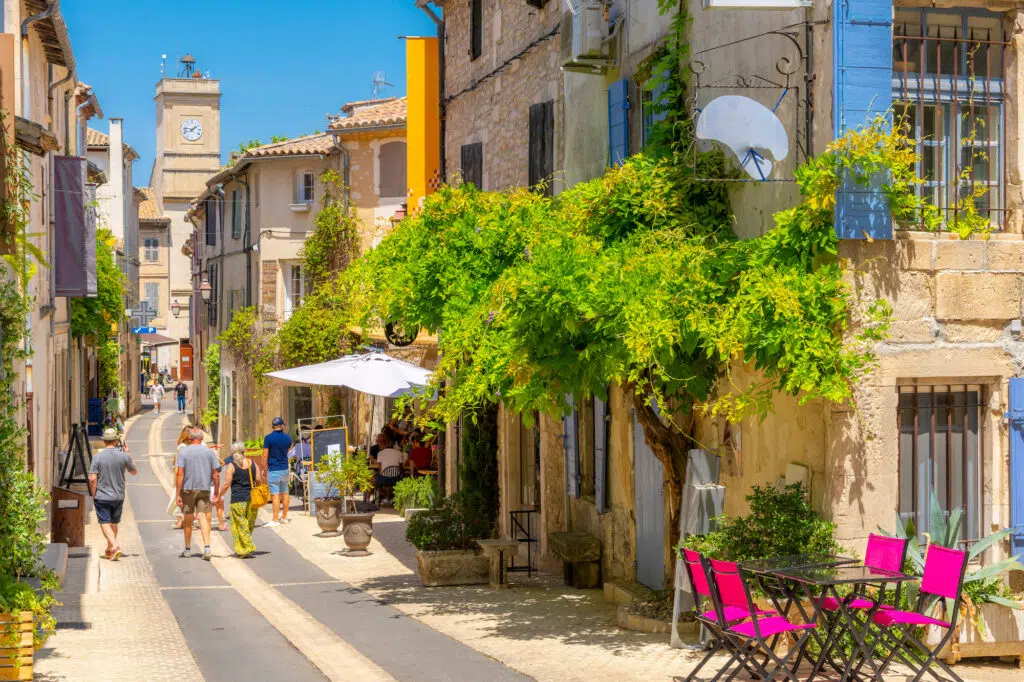 Tucked away in the foothills of the Alpilles Mountains, 25km south of Avignon, Saint-Remy-de-Provence has existed on this site since pre-history. The pretty town is surrounded by olive groves and vines and was named after a Bishop of Reims, Saint Remigius, who was born in Picardy – son of the count of Laon.
The 16th century seer, Nostradamus was born here, and artist Vincent Van Gogh checked himself into nearby Saint-Paul Asylum, a former 12th century Augustine monastery (now renamed the Clinique Van Gogh) for a year between 1889 and 1890.
During this period, Van Gogh painted 'The Starry Night', 'Irises', and 'Olive Trees with the Alpilles in the Background', some of his most famous works. Guided walks can be taken to discover the places that inspired him in the local area.
History lovers will enjoy seeking out the remains of Glanum, a major city during the Roman empire on the south side of the town. Admire the stonemasonry and reliefs at the archaeological site as you imagine life during this era in Saint-Remy.
This beautiful medieval town is also a great place to shop. On Wednesday mornings, the town market takes place – a plethora of stalls and vendors selling everything from clothing and gifts to olives and locally harvested lavender.
Feeling adventurous? Nearby, gliders soar up and over hills and forests of the Alpilles, allowing you to see Provençal landscapes from a different perspective. For a more calming experience, hike one of the many shady trails along the Saint-Remy canal pathways.
Provins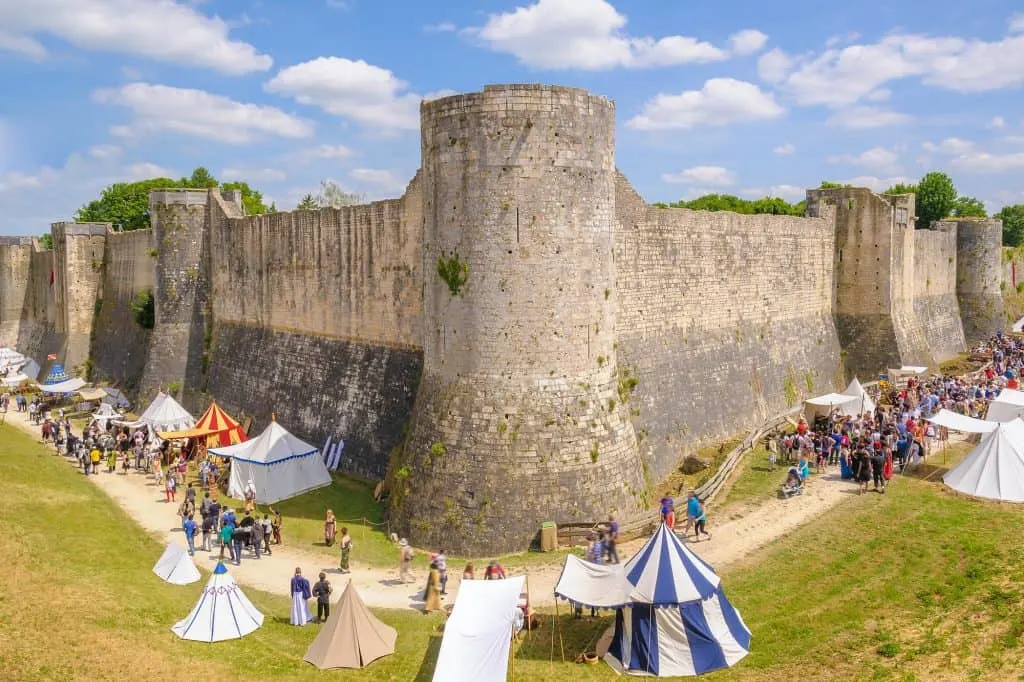 If you're looking for a day trip to a medieval town near Paris, Provins is just over an hour by car or train.
The UNESCO World Heritage Site was a hub of trade in the 12th and 13th centuries and hosted annual trade fairs known as 'The Champagne Fairs' where merchants sold textiles and spices.
Almost 60 listed historical buildings still exist from medieval times in France, making Provins a fascinating place to visit. The ramparts are primarily intact and the original gateways still remain.
One highlight is Caesar's Tower offering stunning vistas over the countryside. Visit the Grange aux Dimes featuring recreations of the trade era during the Middle Ages or access underground tunnels beneath Hotel-Dieu which were used for storage and trading.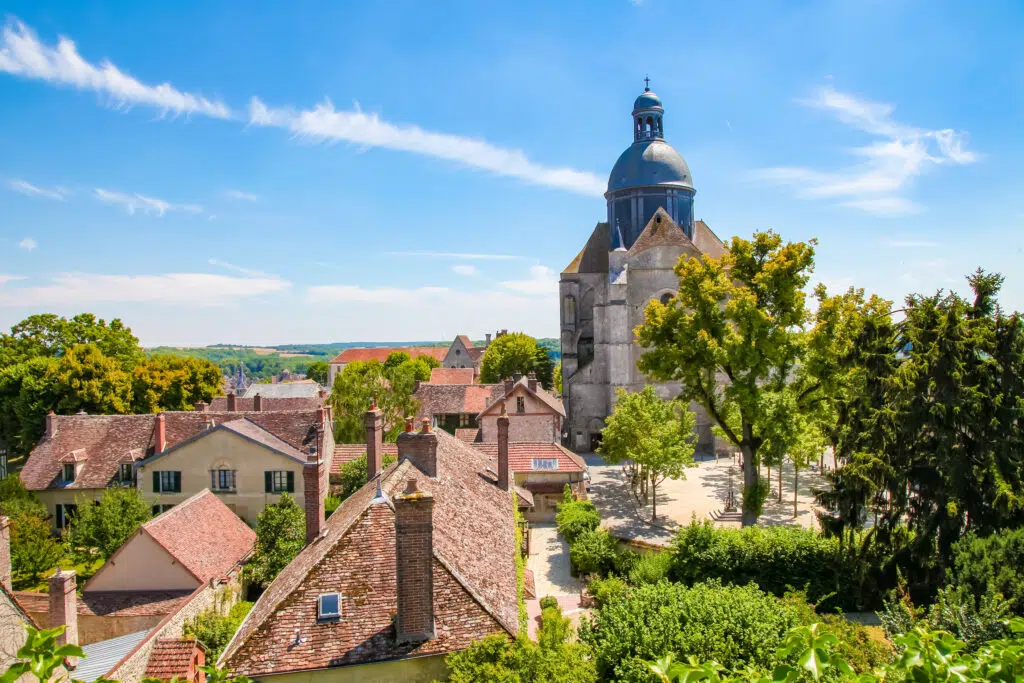 Admire the architecture of Cordelieres Convent or head for Maison Romane, the oldest house in town displaying a collection of artefacts from Pre-history to the 19th century.
Nearby, the fortified village of Saint-Loup de Naud contains one of the region's oldest churches with impressive statues and reliefs. Alternatively, spend a day at Fontainebleau Castle, surrounded by beautiful parklands.
Mont Saint-Michel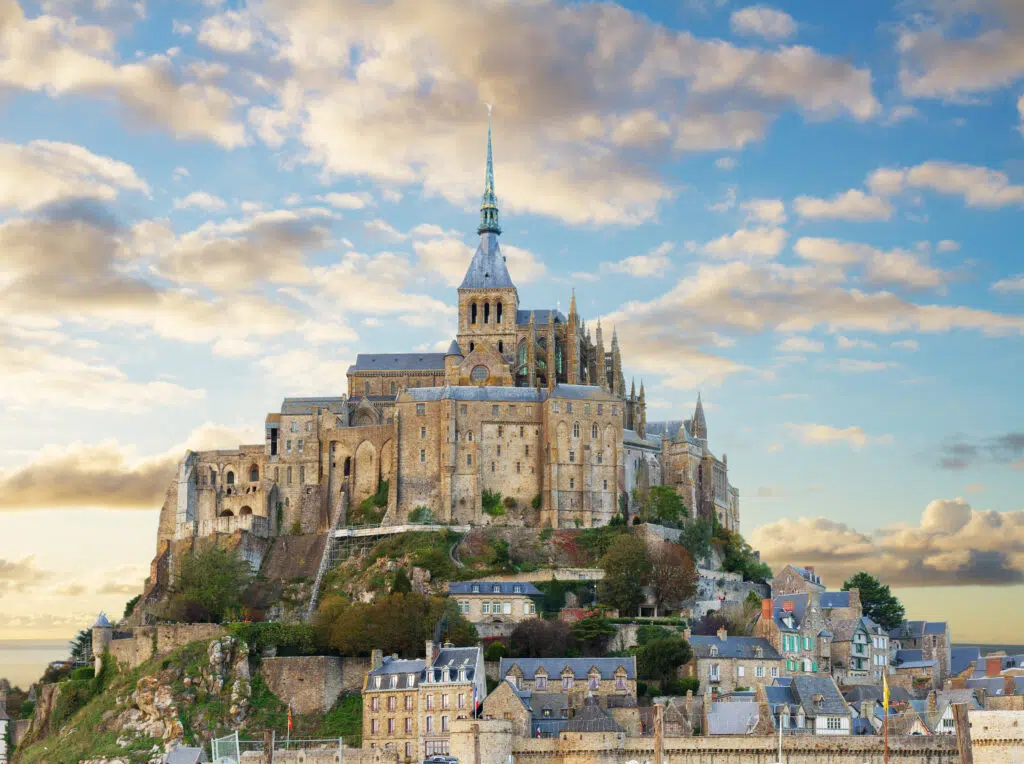 One of the finest medieval towns in northern France, Mont Saint-Michel in Normandy rises like a Disney castle out of the sea, a 240-acre medieval marvel, which was once an island, only accessible when the tide was low.
Walk through the ancient stone gates of this ancient town to be instantly transported back in time – to days when the tiny town in the sea was a haven for pilgrims and brilliant teachers of the Middle Ages.
Mont-Saint-Michel began as a 6th century seat of power which evolved into a strategic stronghold and bustling village for over a thousand years.
The town was flanked by several defence towers, constructed during the Hundred Years War, which helped to prevent English attacks, and during the French Revolution, the famous Abbaye du Mont-Saint-Michel became a prison known as the 'Bastille of the Sea'. Today the monks have returned, and the 8th century abbey is open to visit, with its beautiful courtyards and grand halls.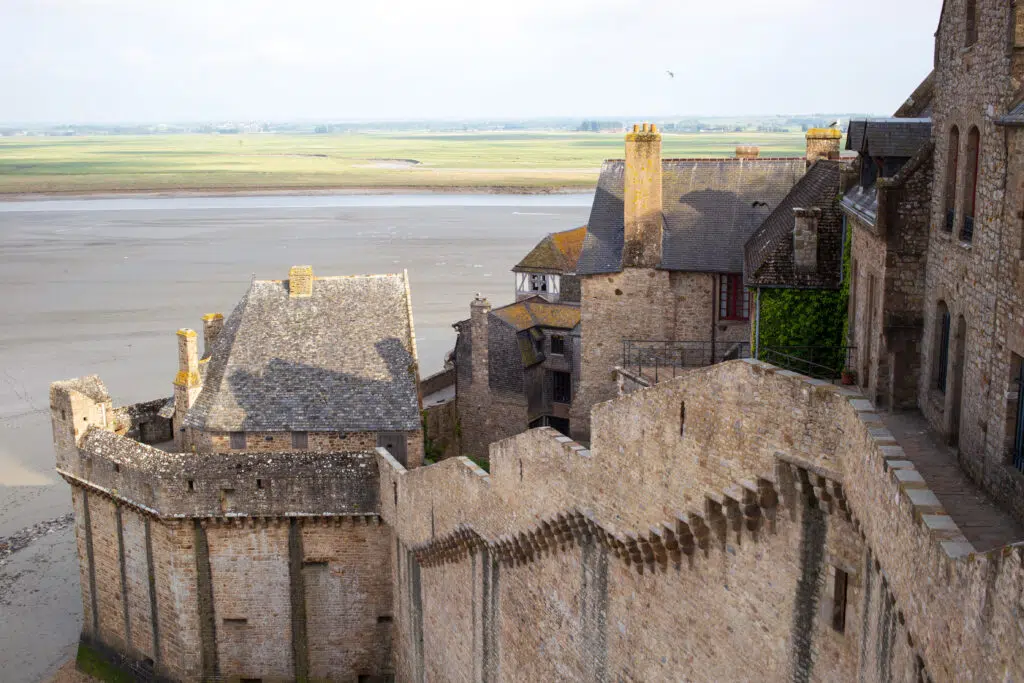 The UNESCO Site highlights also include La Chapelle-Saint-Aubert perched on a group of rocks overlooking the sea with paintings inside. Visit during low tide to gain access.
Halfway up the hill towards the abbey, Église Paraoissiale Saint-Pierre is a sacred and peaceful place to collect your thoughts en route and see the statue of St. Michael.
Also, spend time in La Grande Rue, a charming, old-world street (think Diagon Alley from Harry Potter) filled with cosy cafes and shops. Off-season, the main street becomes even more appealing as tourists are few.
Martel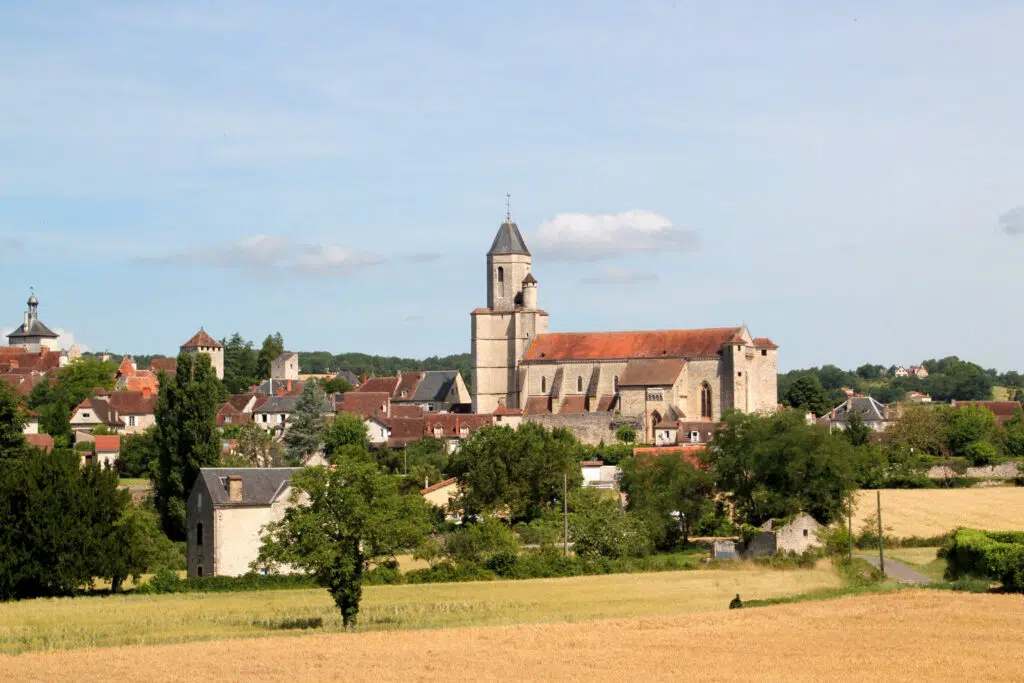 A relatively undiscovered medieval gem, Martel sits in the Occitanie region of France. Often passed by in favour of nearby 'red town' Collonges-la-Rouge, Martel is a peaceful medieval masterpiece. Ornate houses with mullioned windows line streets with arches, and a distinctive skyline with tall medieval towers dominate from afar.
Begin an exploration at Place des Consuls in the heart of the town and head for Palais de la Raymondi built in the late 1200s. This building was once home to the tax collector of Martel and is identifiable by a large tower.
Pretty cafes sit in the square by the old wooden market hall and in narrow streets wine cellars and artisan shops tempt you with their wares.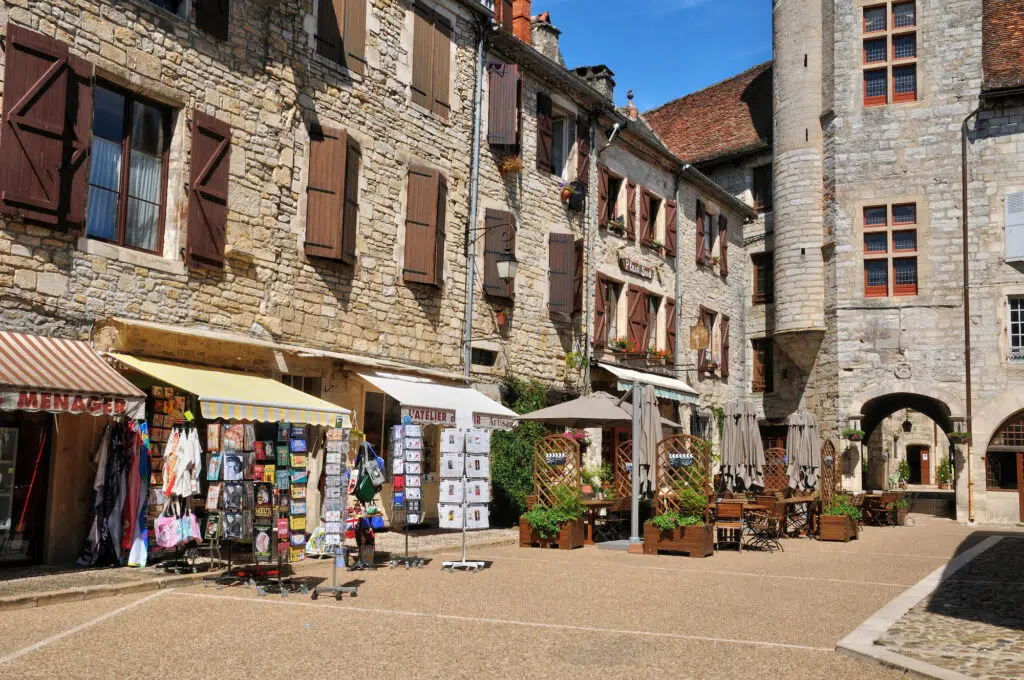 Stroll to Saint Maur's Church, see the Cordieliers Tower which used to be part of a 13th-century Franciscan monastery and visit La Tour Tournemire, which once served as the local prison during medieval times.
Close by, you can hop on a steam train to take a tour of the countryside or visit the sacred cliffside town of Rocamadour.
Dinan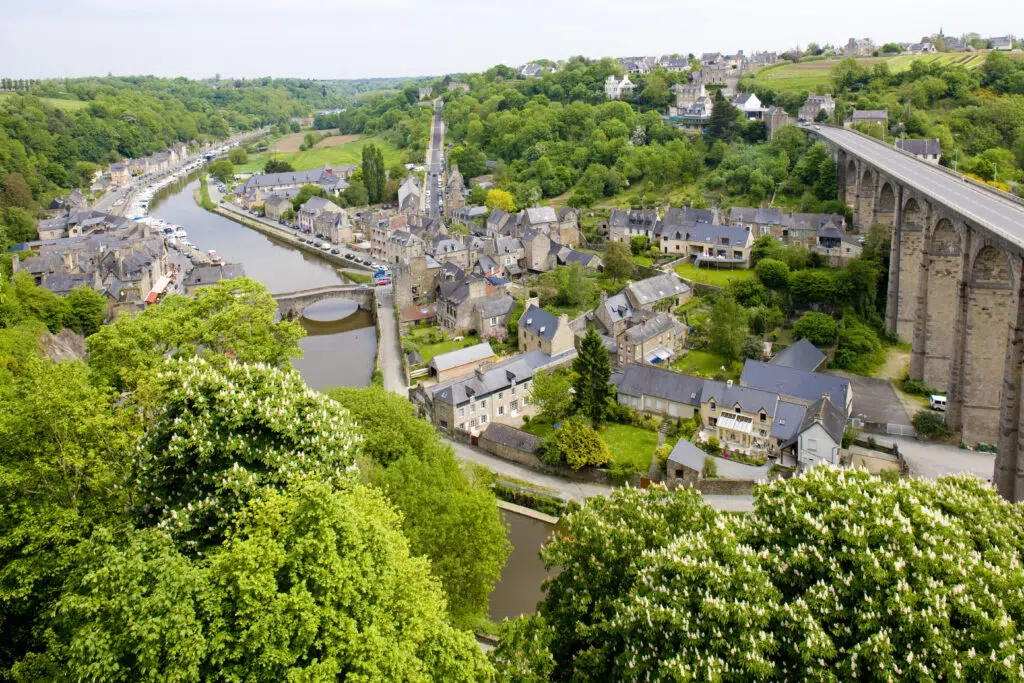 Dinan in Brittany is defined by its charming, half-timbered houses which appear to defy gravity as they jostle for position in the maze of streets. The town, which sits alongside the river Rance, is how you would visualise a Brother's Grimm fairytale – slightly dark and steeped in history and hidden mysteries.
The town stands on the river, with its medieval walls dating to the 11th century. They survived several attacks from the English, therefore, today many buildings you see date back several hundred years.
One of the most picturesque streets, Rue du Jerzual, transports you from the top of the town to the port area along the river. Browse artisan shops or simply admire the medieval architecture and embellishments around the windows and doors as you go.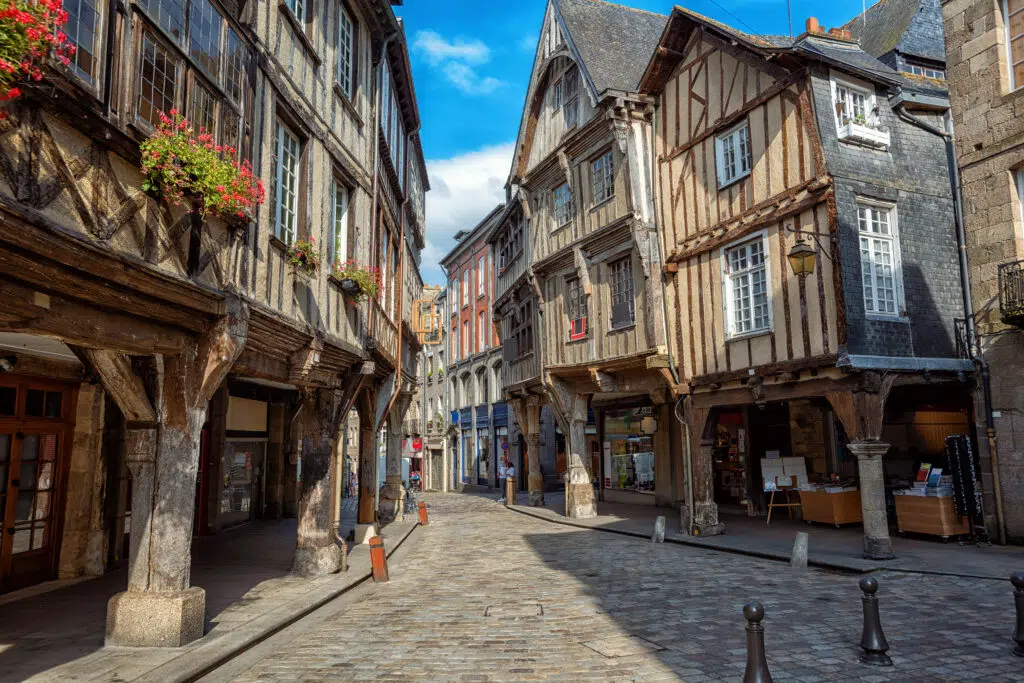 Walk to Place des Merciers to sip coffee and feast on crêpes below timber arcades or climb to the top of Tour de l'Horloge for amazing views of Dinan and beyond.
Other highlights include the Basilica of Saint Sauveur, a short walk from the centre, or take a boat ride along the Rance river, gliding past forested landscapes and beneath ancient aqueducts.
Yvoire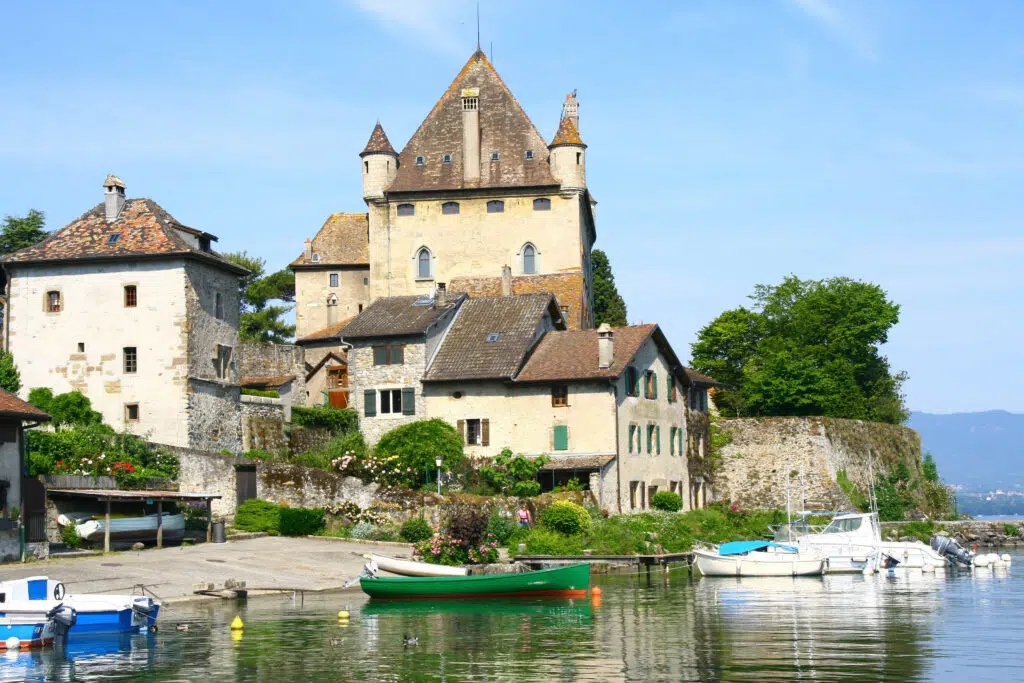 Close to Geneva, Switzerland, in southeastern France, lies the beautiful medieval village of Yvoire. It is one of the prettiest medieval French towns, surrounded by natural beauty, with the lake on its doorstep, a mountainous backdrop and exquisite gardens to peruse.
Venture to nearby Yvoire Castle on the shores of Lake Geneva. It stands as a sentry, as it has since the 14th century, deterring invaders who wished to enter France. Enjoy a picnic by the water's edge watching birdlife and sailboats, enjoy a refreshing swim or marvel at the sunset as it beams its golden light onto the lake.
The Garden of Five Senses is packed with colourful plants, curated hedgerows, flowers, and fountains. The gardens were once used to grow medicinal plants for healing, and if you time your visit well, it's possible to meet the gardeners to ask them questions about the 1300 species here.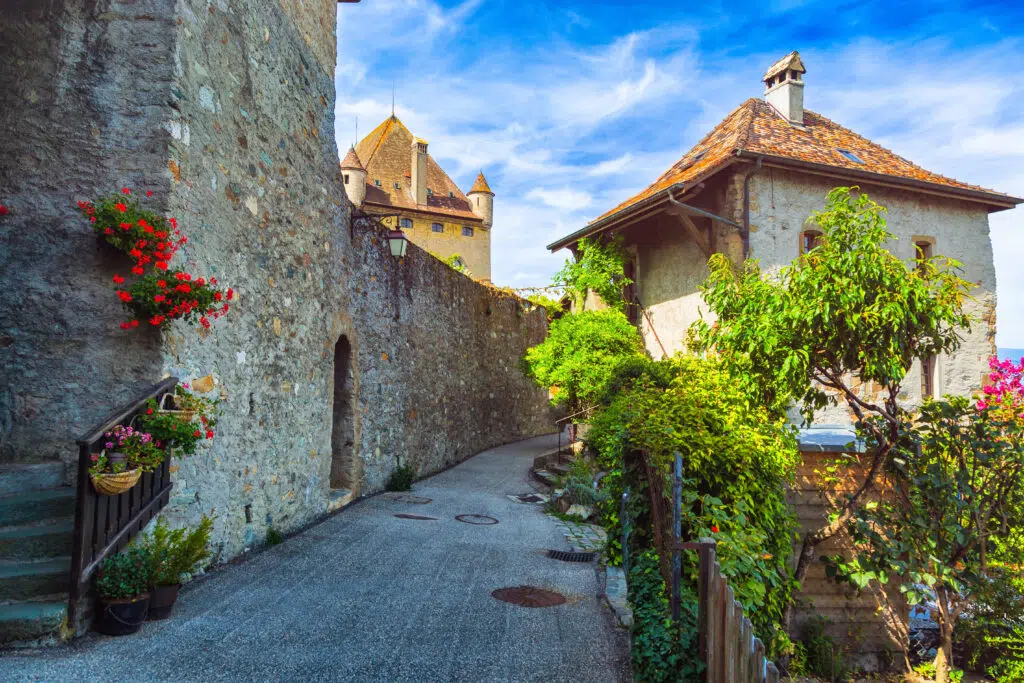 Don't leave without visiting the House of History, where you can learn all about the history of medieval France in and around Yvoire.
There are many more outdoor activities to savour too, including hiking and cycling at Cornettes de Bise Mountain Park, sailing and watersports on Lake Geneva, skiing during winter in the French Alps, plus, you can always pop into Switzerland for the day to sample delicious Swiss cheese and chocolate!
---
Whether you seek a deep dive into local history, unique wine tasting experiences, fabulous food and architecture or adventurous outdoor activities, there's a medieval town in France that will deliver it in spades!