When Mother Nature waved her magic wand over France, she blessed the country with wondrous landscapes throughout.
Rolling hills, rugged coastlines and tree-lined canals are all evident, with much to capture the attention of outdoor enthusiasts, photographers, and wildlife lovers.
However, some of the most underrated, yet most beautiful natural attractions often go unnoticed, and these are the majestic waterfalls of France.
The gushing cascades can be found tucked away in forests, emanating from caves, and trickling down mountainsides and rock faces, curating a spectacular scene for all to see and enjoy.
Many can be accessed via hiking trails, with picnic areas and crystalline clear pools for wild swimming. So, on your next escapees through the country, be sure to explore at least one of the top 20 French waterfalls on this list.
Cascades du Sautadet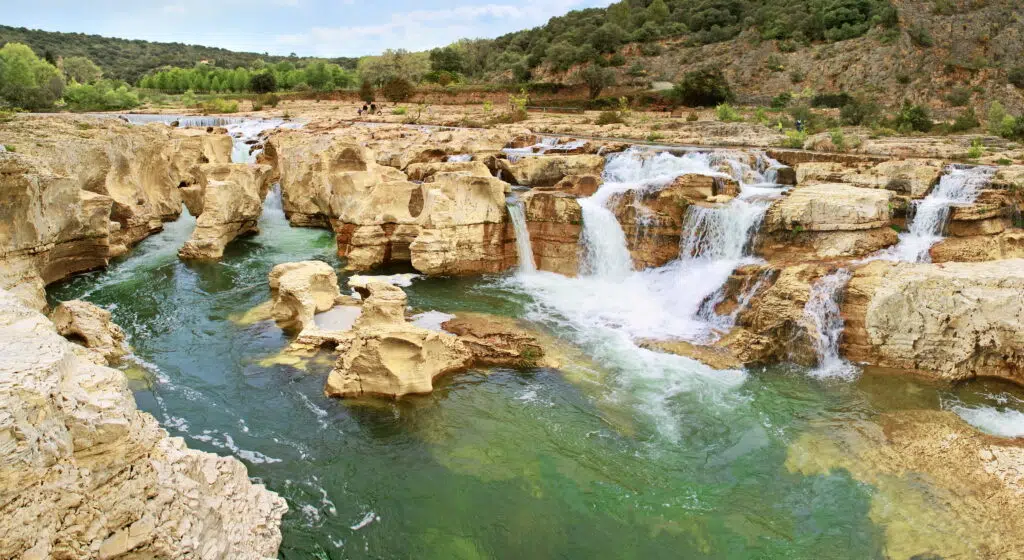 The patchwork landscapes that surround Les Cascades du Sautadet are almost as impressive as the waterfalls themselves.
Backed by ancient forests of the Occitanie, the tiered limestone rock formations and deep gorges leading to the Cèze River are punctuated with a series of waterfalls between five and 15 metres high.
Although swimming is not permitted in some parts, the area is ideal for enjoying stunning scenery, sunbathing, and picnicking with family and friends.
These spectacular waterfalls are easily accessible via a 12th-century stone arched bridge which has parking nearby. It's also a pleasant 10-minute walk from the medieval village of La Roque-sur-Cèze.
La Cascade des Tufs du Jura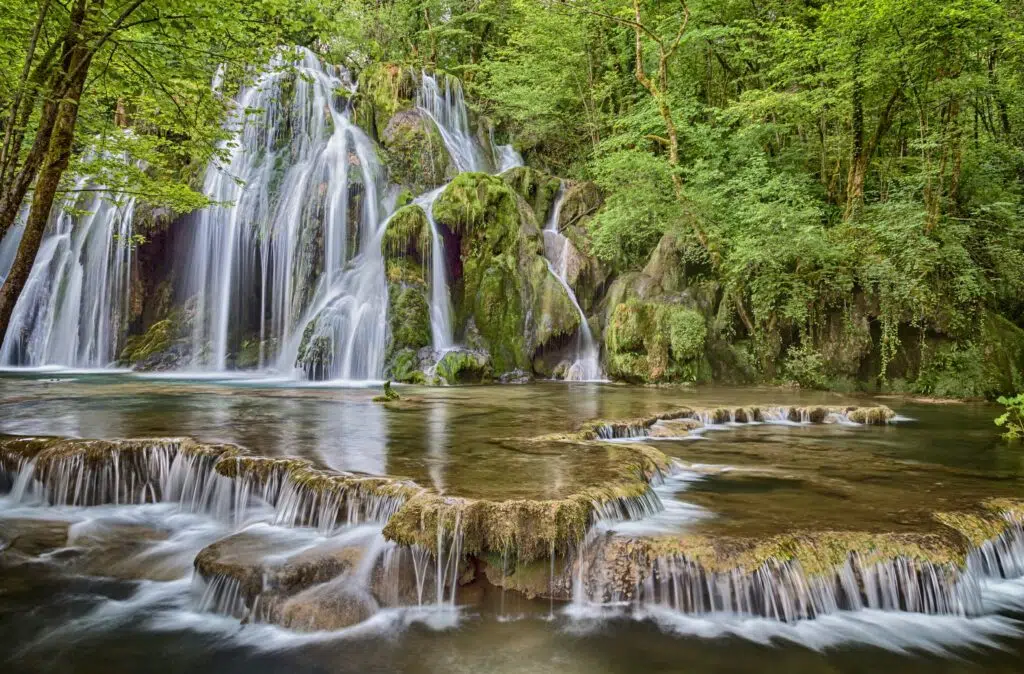 The Tufs waterfall in Jura could easily take the award for the most beautiful waterfall in France. The fantasy cascade is tucked away in an ancient forest of streams, cliffs, and caves and makes its way down the rocks forming the elegant shape of a fan.
The full loop hiking trail from the parking lot near Planches-pres-Arbois takes around five hours to complete, and en route you'll take in the Damandre Waterfall, the castle ruins of Mahaut d'Artois, Belvedere of Mont Denons and Church of Chatelaine.
The falls can also be accessed from the villages of Arbois and Mesnay.
Sillans la Cascade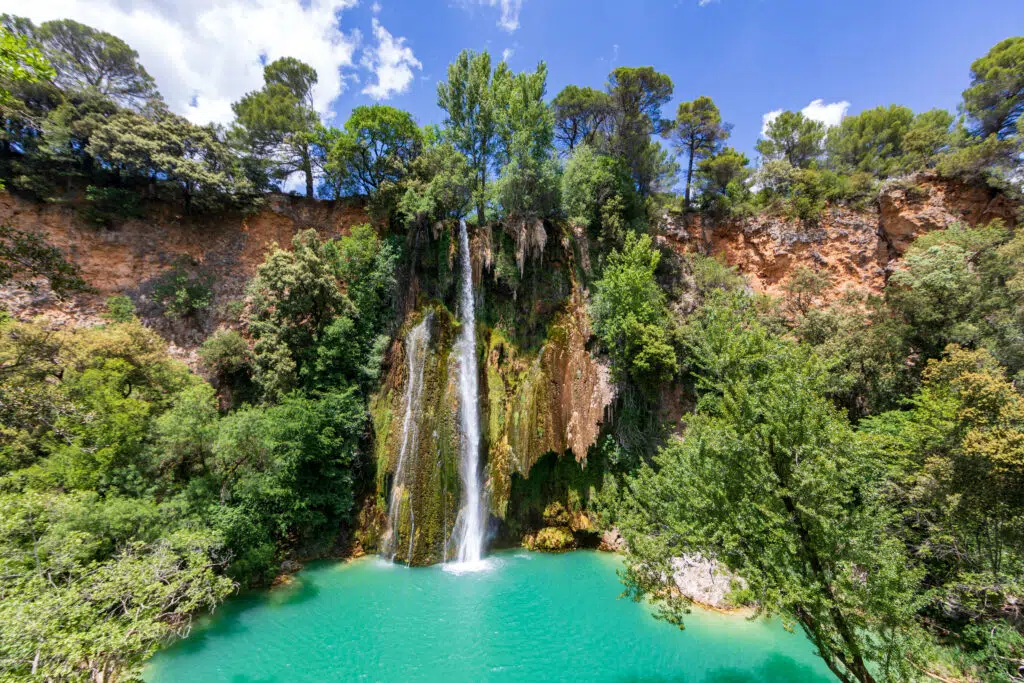 One of the most beautiful waterfalls of France, Sillans-la-Cascade is located 10 kilometres south of Parc Naturel Régional du Verdon.
The waterfall is akin to those found in a tropical climate, at 42 metres tall, surrounded by trees, with dual cascades that plummet down moss-covered travertine rocks into a turquoise pool.
The cascades are easily reached via a 10-20 minute walk from the village of Sillans-la-Cascade, along Le Cour path which leads to an observation deck.
Swimming is not permitted due to the risk of rocks falling; however, picnics can be enjoyed from several areas nearby.
Cascade Du Rouget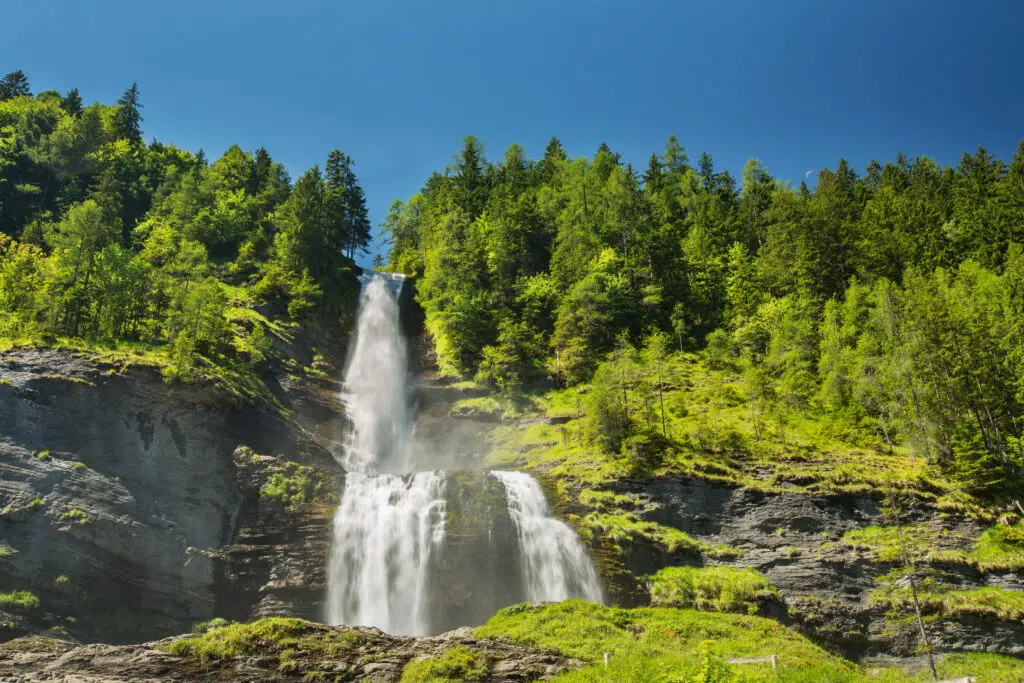 One of the best waterfalls to visit in France, Cascade du Rouget is located near the pretty hamlet of Salvagny in Haute-Savoie.
This powerful waterfall has earned itself the nickname "Queen of the Alps", featuring two drops and standing at a majestic 90 metres high.
The cascades plunge down a moss-covered cliffside, surrounded by picturesque Alpine landscapes and fir trees, and they can be viewed from below, or from the terrace of Auberge de la Cascade du Rouget restaurant nearby.
Adventurers can walk or snowshoe in winter, which takes around an hour and dogs are welcome.
Cascades Du Hérisson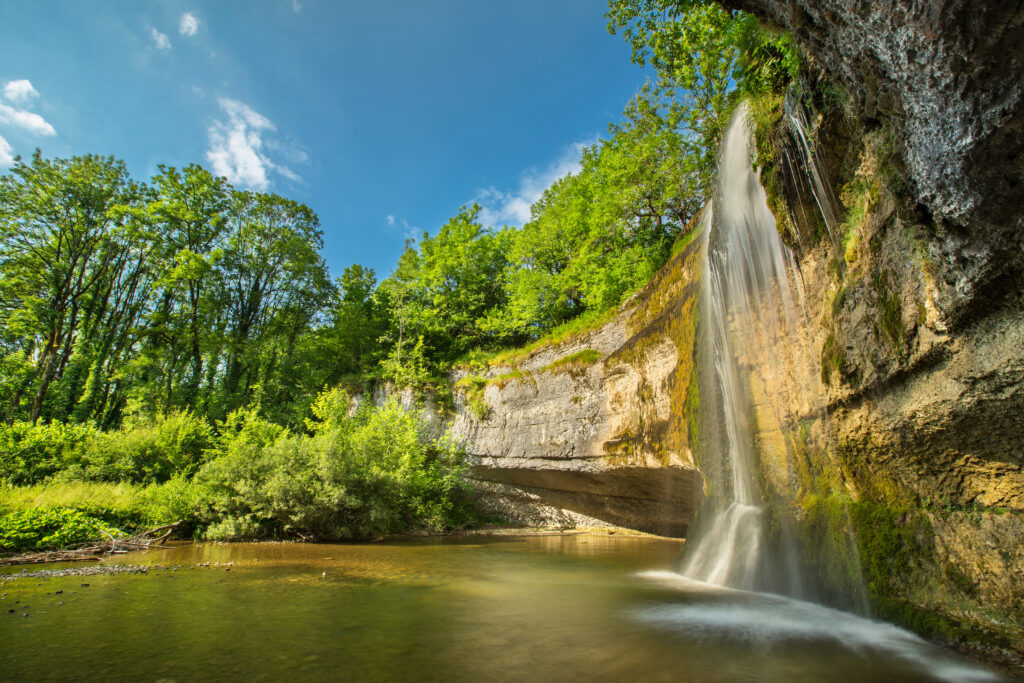 The Hérisson waterfalls (or Hedgehog waterfalls in English) in the Jura massif belong to a Grand Site de France. There are several waterfalls to discover along the hiking trail, and the first, walking upstream, is stunning Cascade de l'Eventail, or 'The Fan' at 65 metres tall.
Other highlights include Grand Saut (60m) and Saut Girard (35m) the latter of which visitors can walk beneath.
The trail is open year-round and accessible from three separate locations; however, parking is conveniently close to l'Eventail and costs €6 for 1-3 hours, plus, there's an audiovisual centre and museum – Maison des Cascades nearby.
Cascade De Gavarnie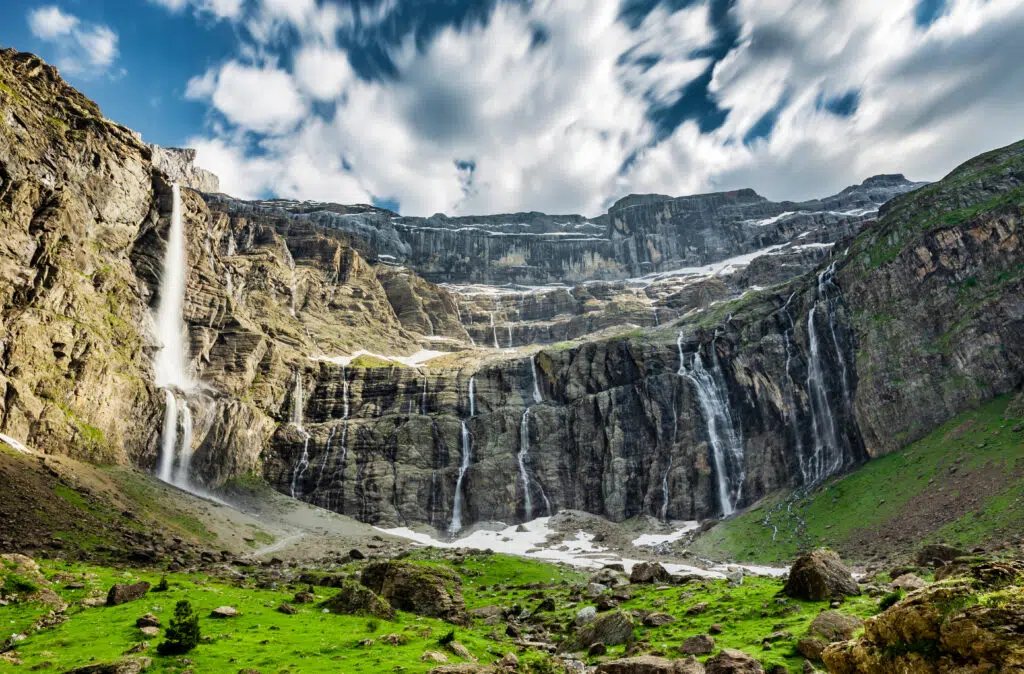 Cascade De Gavarnie is located amidst the dramatic scenery of the Pyrenees National Park along the border of Spain and France.
The waterfalls sit in a 'cirque' – a mountainous amphitheatre formed by glacial erosion, and the cascades cumulatively reach over 420 metres in height – making them the largest waterfalls in France!
One of the best ways to view France's tallest waterfall on a clear day is from the town of Gavarnie, but if you want to see the full drop, it's possible to hike there in 2.5 to 3 hours.
The walk to the country's highest waterfall is relatively flat, very scenic with forests, meadows, and houses, and not overly challenging until the final ascent towards the cascades.
Cascades Du Saut Du Loup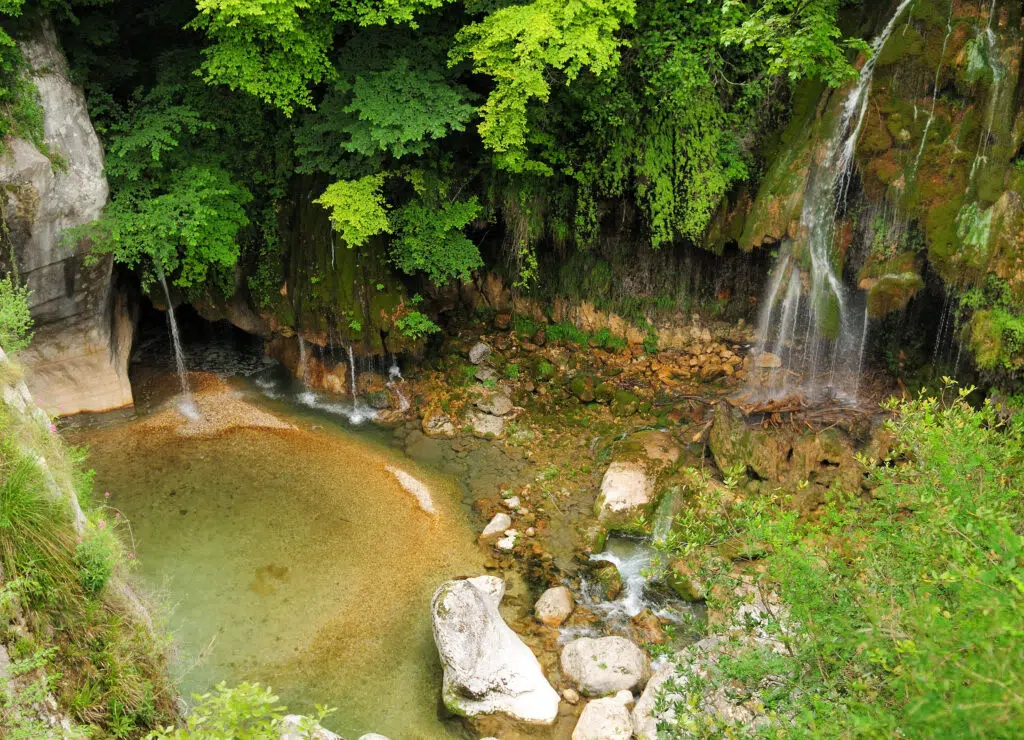 The two magnificent waterfalls of Du Saut Du Loup (or Wolf Jump) can be accessed around 30 kilometres drive inland from Cannes.
The waterfalls emerge from the river Loup, after traversing through a narrow valley, and in the gorge, there are also smaller waterfalls with teal green pools, although swimming is not permitted.
It's a great place for photography, accessed via an easy walk, and the cascades can be viewed from a bridge, plus, there's a restaurant and lavender distillery (open July-September) nearby. The parking and entry costs €1.
Cascade De Glandieu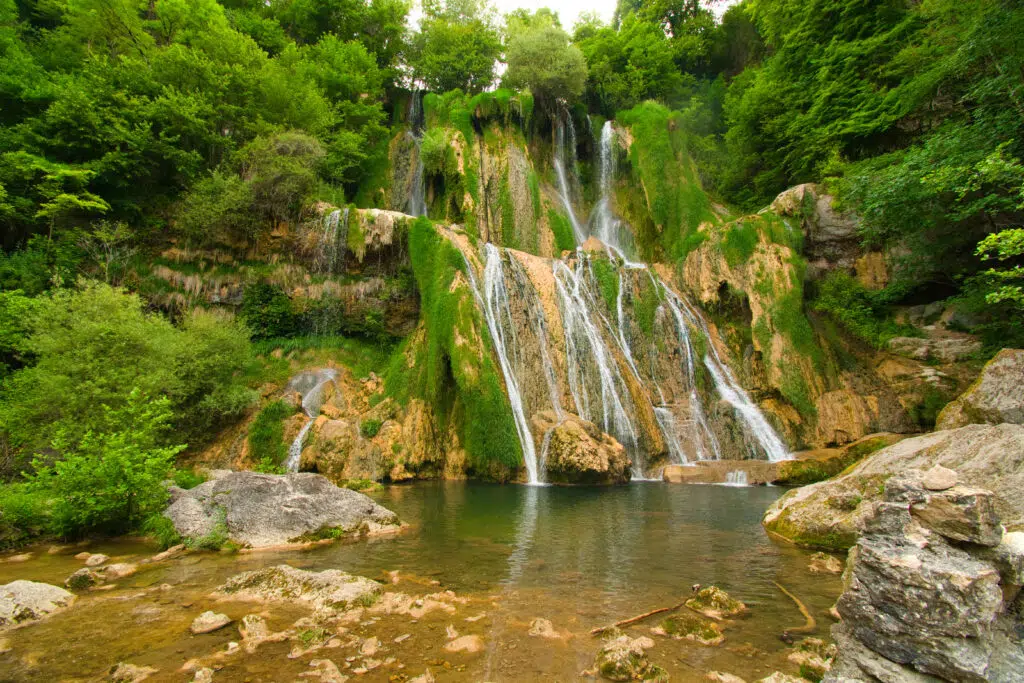 Cascade de Glandieu in Ain consists of two successive waterfalls dropping from an elevation of over 60 metres.

The streams of water navigate their way over moss ledges, surrounded by trees into a deep pool below. Unfortunately, there's no swimming, picnics or dog walking permitted, due to this being a "Sensitive Natural Area".
Parking is available in the village of Glandieu, accompanied by a short walk or and there's a restaurant with parking at the foot of the waterfall. The cascades are open daily throughout the year.
Chute De La Druise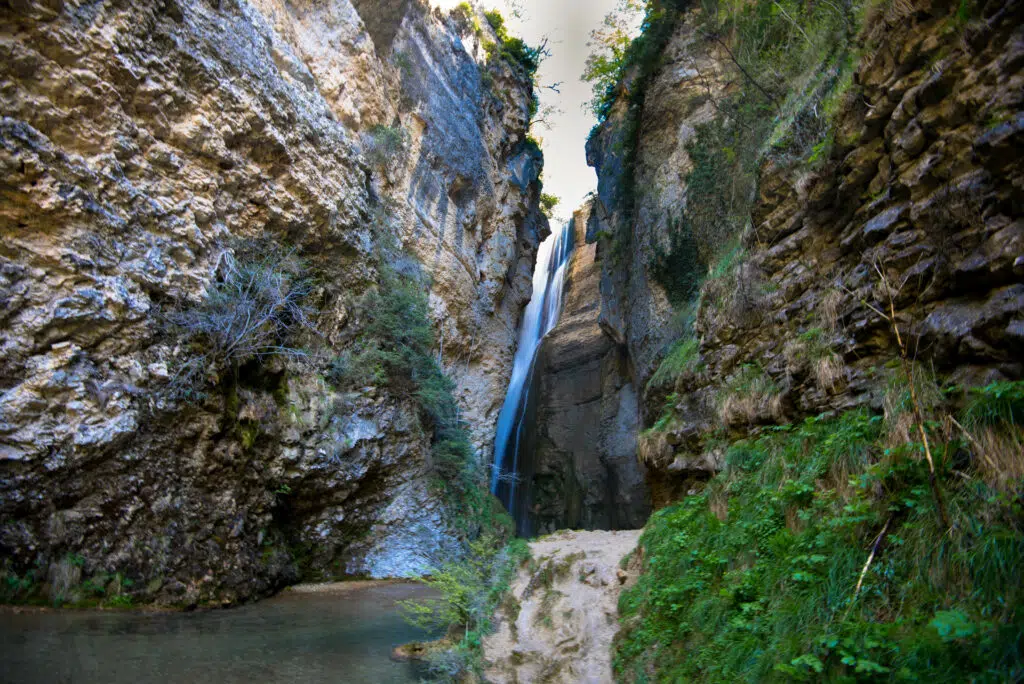 One of the most stunning waterfalls in France, Chute De La Druise can be discovered near the small village of Plan-de-Baix.
The cascade gushes over a cliff in one single vertical drop from an elevation of 72 metres. It's set within a deep gorge scattered with lush vegetation – the emerald greens, combined with earth tones and aquamarine blue of the pool below.
It's an easy 20-25 minute hike from the car park, and the best times to visit are spring or early autumn, especially after rainfall. Bathing in the river is not advised, but it's a superb place for photography, picnics and simply connecting with nature.
Cascade de Saint-Maurice-Navacelles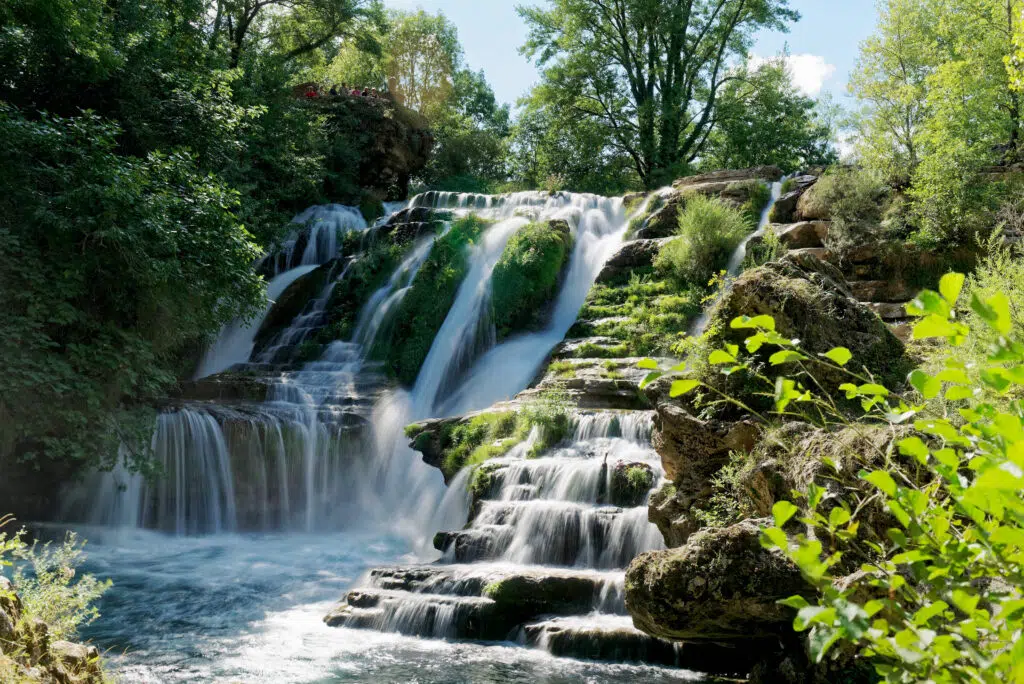 Nature lovers will adore taking a day trip to Cirque de Navacelles in the Occitan region of France. The 300-metre circus is one of the largest canyons in all of Europe with waterfalls, ancient mills, and picture-postcard hamlets to explore.
One highlight is the impressive waterfall, with a series of cascades and an elevation of almost eight metres. It's surrounded by fertile grounds and greenery, with seemingly unending streams gushing into clear pools below, which are perfect for swimming.
The rocks are perfect for enjoying a picnic and sunbathing, and the hike from the village is relatively short.
Cascade de la Lance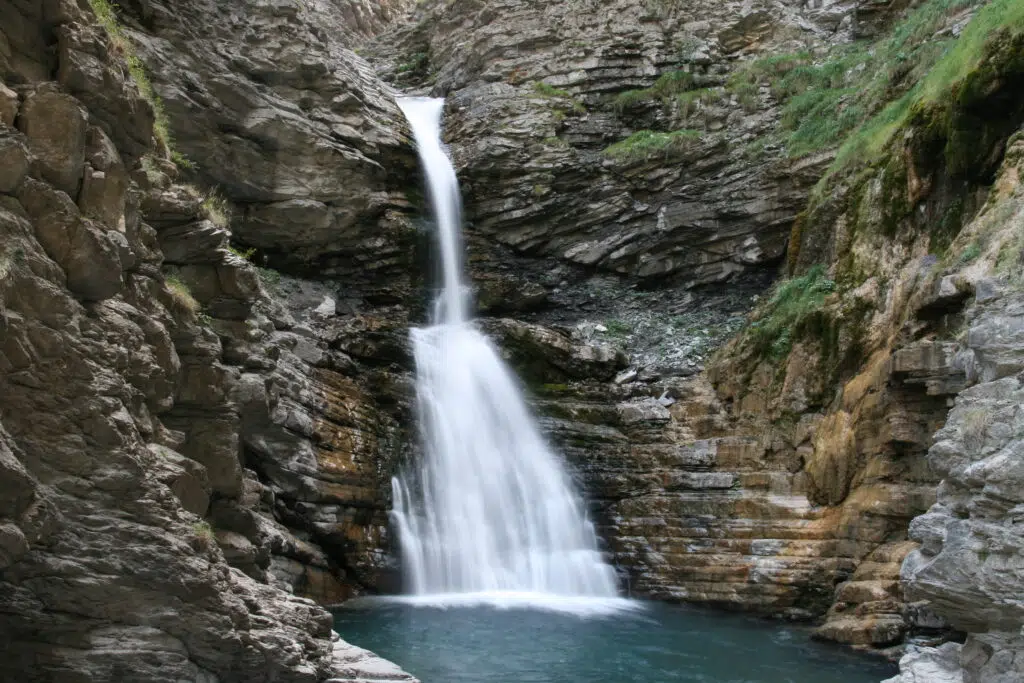 Cascade de la Lance is located near Colmars-les-Alpes and is easy to reach on foot in 20-30 minutes from the village car park.
This single waterfall of 25 metres has a beautiful emerald-coloured pool at the base. It's a magical place surrounded by natural décor and is accessible from mid-April until late October.
The pathway boasts incredible mountain views and is infused with the scent of moss, and there are plenty of places to sit on the rocks, picnic, swim or try to spot the skeleton Tichodrome bird in its natural habitat.
La Cascade Du Cirque De Saint Même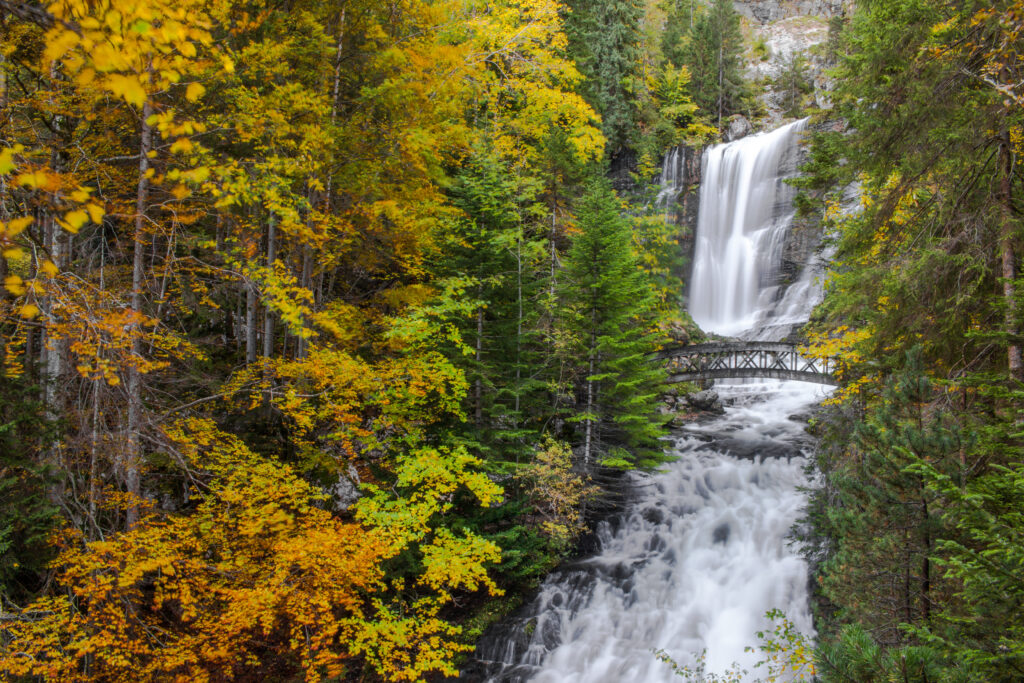 In the heart of Chartreuse National Park is Cirque de Saint- Même, a place of outstanding natural beauty. It's home to four magnificent waterfalls etched into a 500-metre limestone amphitheatre.
There are several hiking routes leading to Cascade Isolee, Pisse du Guiers, Grande Cascade and Cascade des Sources, ranging from the forested 'Circus' loop which takes 30 minutes (great if travelling with kids), to the steep and more challenging 'Pas de la Mort' circuit at around five hours.
The cascades and trails can be accessed via St Pierre d'Entremont village where there is a car park charging €3,50 on weekends between June and September.
La Cascade De La Vis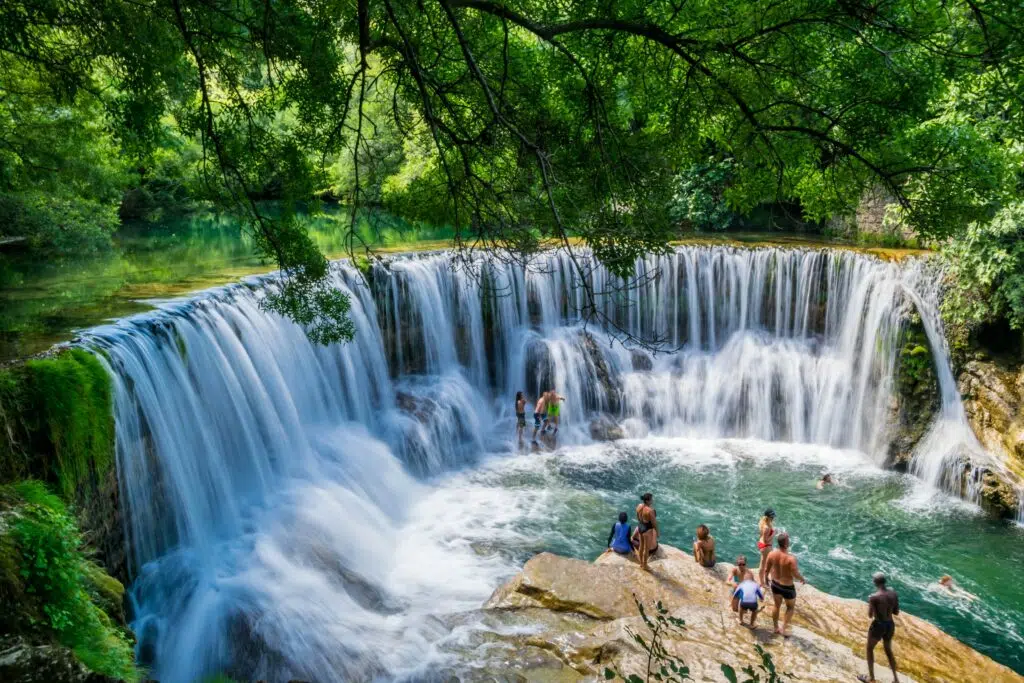 La Cascade de la Vis, near Saint-Laurent du Minier village in the Hérault, is an ideal spot for a relaxing day out with family and friends or a scenic walk with the dog.
This dreamy waterfall sits in a horseshoe bend, sourced by the Vis river, close to a stone arched bridge, surrounded by flat-topped rocks and ancient forest landscapes.
It's the perfect place for swimming, picnicking and sun worshipping and can be accessed on foot easily from the village where there is paid parking (€5) and free parking.
Les Cascades des Mortain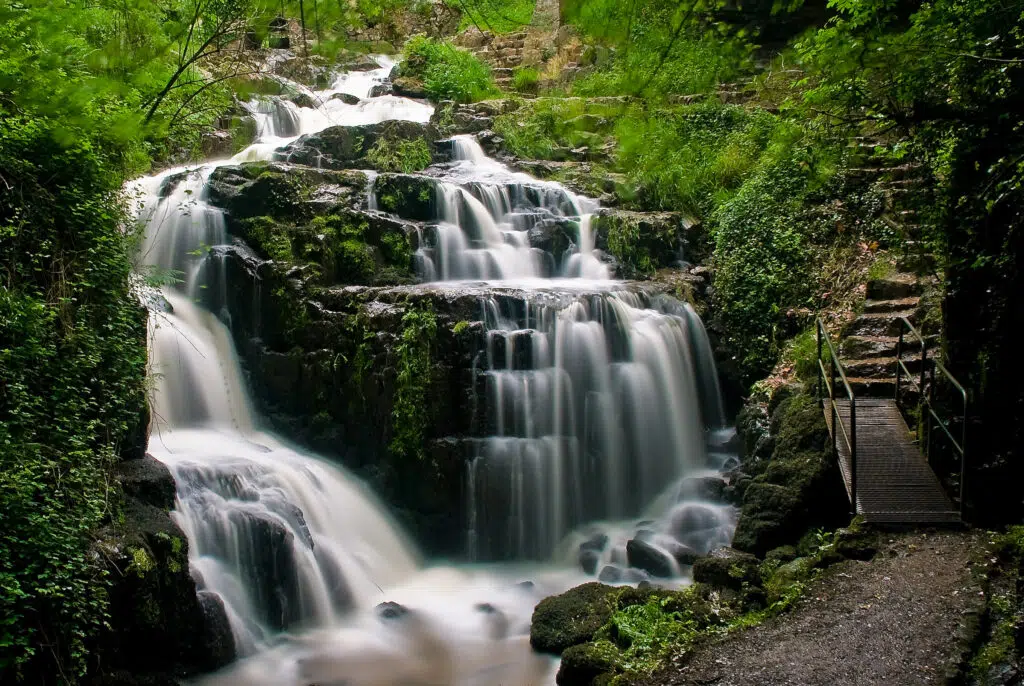 The Mortain area of Normandy is steeped in myths and legends, with beautiful unspoilt hiking trails leading to the cascades.
There are two waterfalls in the region, one small waterfall – Le Petit Cascade, accessed via a forested path, and the larger, Grande Cascade, with a 25-metre staggered elevation surrounded by lush vegetation.
Visitors can enjoy a picnic on the rocks or read a book while listening to the soothing sounds of water. Parking is available to the right of the D977 from Mortain close to the Grande Cascade (10-15 minutes walking) and the waterfalls are free to access.
Cascade De La Queue De Cheval
Cascade de la Queue de Cheval (horsetail waterfall) is a gem of the Haut Jura region of France. It can be accessed via the village of Saint-Claude on foot in around one hour.
The waterfall features two jumps with a total drop of 60 metres and is most impressive after heavy rain. The trail to reach the base of the cascade can be uneven underfoot, winding through fields and forests, but it's worth the trek.
Visitors can pass beneath the waterfall from the right bank, and the area offers spectacular photo opportunities.
Les Cascades de Cauterets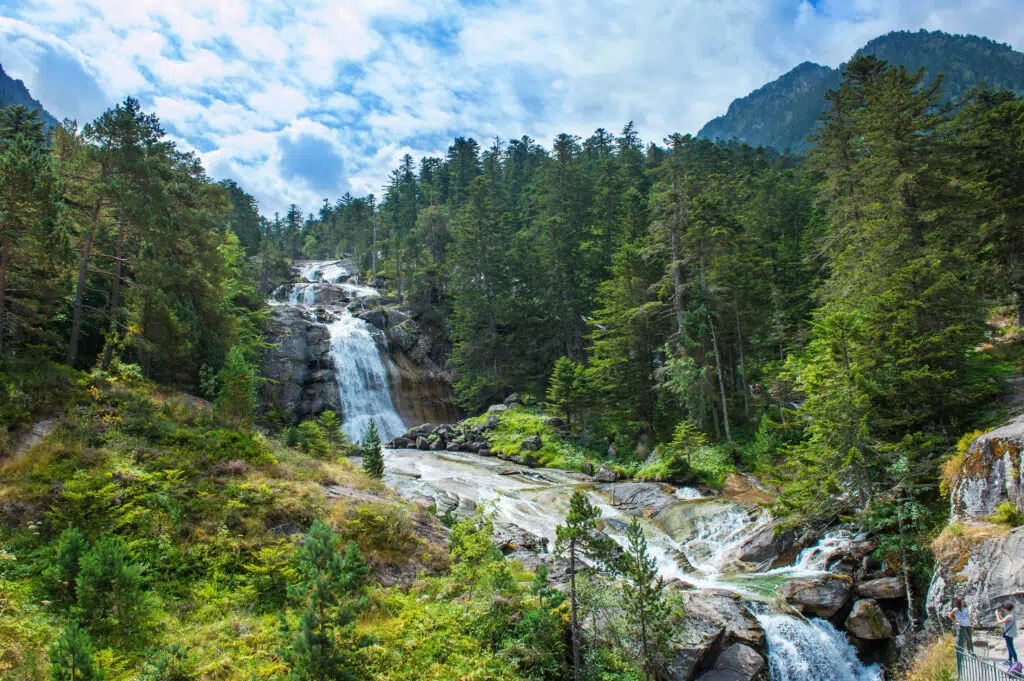 Les Cascades de Cauterets are a series of six majestic waterfalls located close to the French Pyrenean spa town of Cauterets.
If you're not into hiking, it's possible to view the convergence of the two most powerful waterfalls from le pont d'espagne (Spanish Bridge), however, there are also walking trails of varying lengths and difficulties on offer too.
The loop trail to access all waterfalls takes around three hours, and most routes can be attempted on sunny days, or in fog and snow with appropriate clothing and footwear. Parking can be accessed in the village of Raillère.
Cascade De Piscia Di Gallo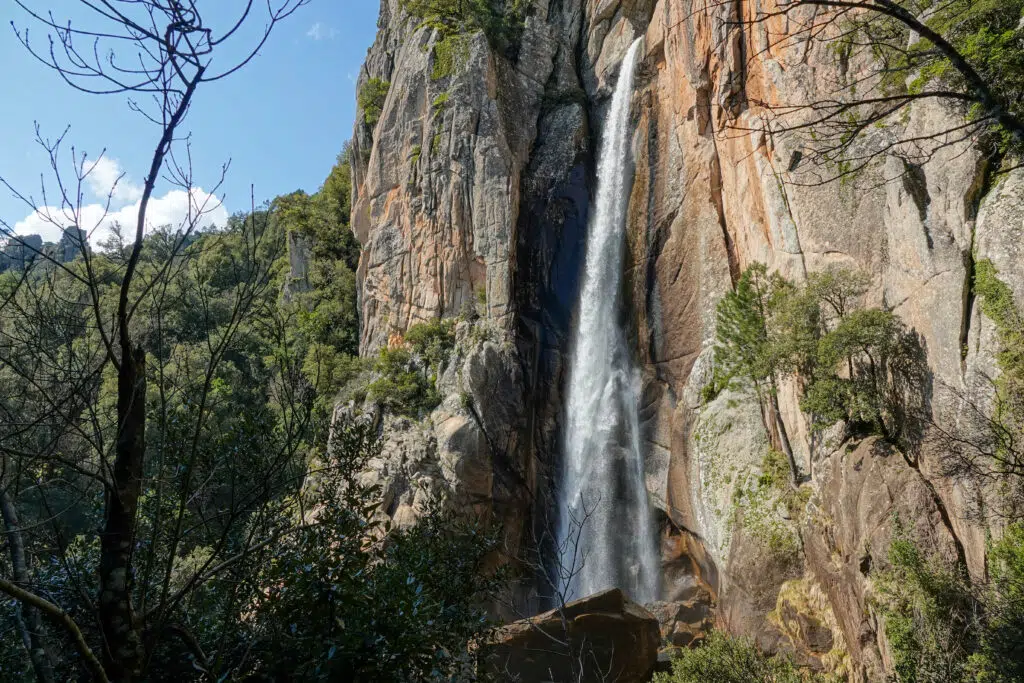 Cascade De Piscia Di Gallo can be found north of Porto Vecchio on the French island of Corsica. The 60-metre-high waterfall is the tallest on the island – a majestic cascade plummeting down a steep rock face, flanked by mountainous landscapes.
It can be accessed via a hiking trail from the car park (€4) and the 2.5-kilometre path has multiple stop-off points for photography and picnics.
As the route is quite uneven, the marked trail is probably not ideal for small children and adults with limited mobility.
Cascade de Salles-La-Source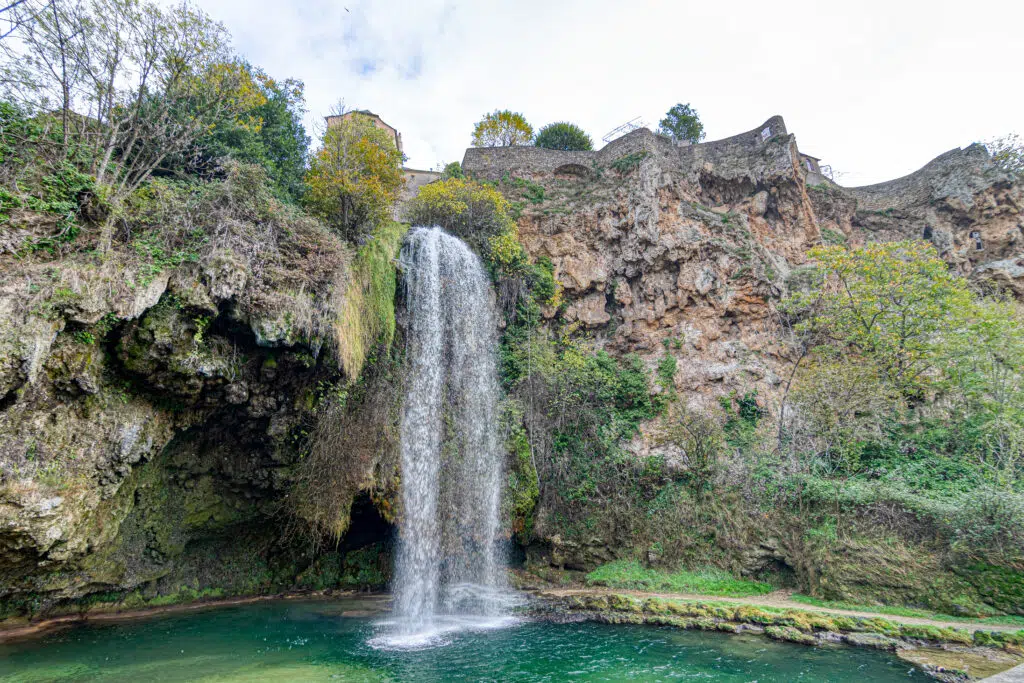 Cascade de Salles-La-Source is a beautiful three-stream waterfall located in the heart of the picturesque Salles-La-Source village in Aveyron. The waterfall can be viewed from the village or accessed via paths suitable for all ages.
The cascade is flanked by vegetation and hanging plants, with a house at the summit and there's a limestone tuf cave which can be accessed from behind the veil of water.
The emerald pool below is an ideal spot for a refreshing dip, plus, there are places at the water's edge for viewing and picnics.
Cascade du Pain de Sucre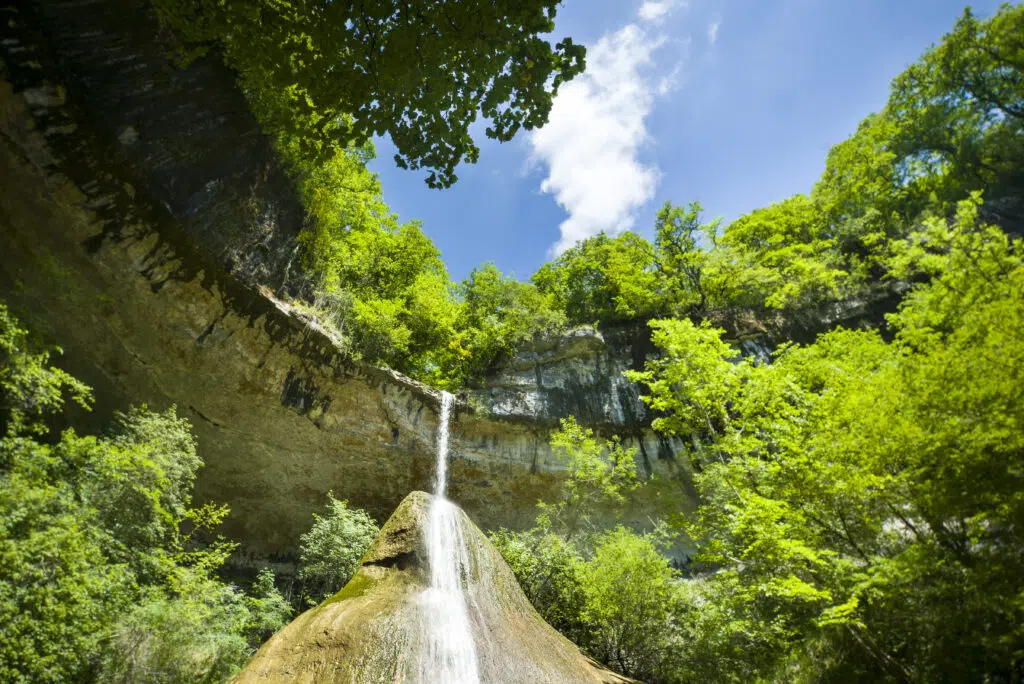 This unique cascade in Jura is known as the Sugarloaf Waterfall due to its shape reminiscent of the mountain in Brazil.
The pretty cascade has a 20-metre-high elevation, and as the water plummets down it moulds the top of the rock, creating earth-tone patterns, before plunging into the clear natural basin below.
The breathtaking waterfall is relatively easy to reach via an access path with children and dogs, plus, it's open from mid-March until late November and free to visit.
Cascade de l'Arpenaz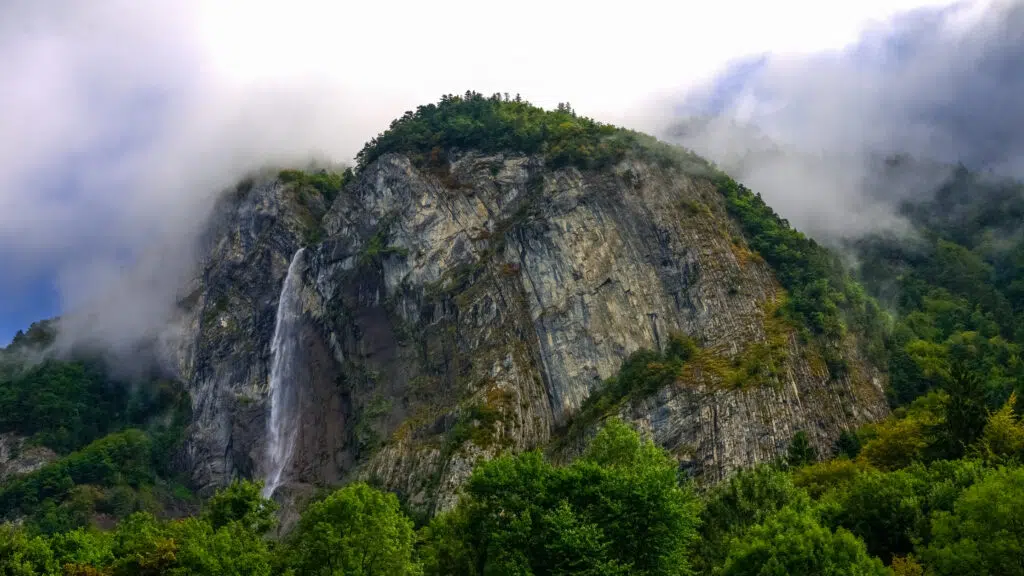 Cascade d'Arpenaz sits on the western cliff face of the Faucigny massif overlooking the hamlet of Luzier. The waterfall has a huge jump of 270 metres followed by two smaller jumps on its plummeting descent towards Alpine streams below.
Nearby meadows and forested landscapes allow for picnic opportunities and there are hiking and mountain biking trails nearby.
The best time to visit is during springtime when the melting snow has added to the spectacle, or in early summer when a pool forms below for wild swimming. The waterfall is open year-round, is easy to walk to, and parking is available.
---
We hope you enjoyed exploring some of the most beautiful waterfalls in France, and the list has inspired your next trip. Most of the cascades are ideal to visit solo, as a couple or with family and friends with swimming and picnic sites, and outdoor adventurers will adore the scenic hikes!