"Is it snowing outside?"
These were the hopeful words I heard every morning during December as my 3-year-old clumsily tried to open the bedroom shutters. Alas, we live in the Charente-Maritime region of France and likely wouldn't be seeing much in the way of snow anytime soon (as I write this I'm looking out of my office window to a beautiful blue sky on a balmy 8 degree January day).
But not wanting to break the bad news, I decided we'd try our best to find some snow at Christmas when we visited my husband's parents in Cantal. And so it happened that we headed to Le Lioran Ski Station late December in search of the long-awaited snow.
The drive to Le Lioran took us through pretty hillside villages shrouded in fog, the normally lush green landscape covered in a thick layer of frost. Anticipation grew as we searched the looming mountains for tell-tale white caps. We were on a mission. And we desperately hoped that Cantal's mountain ranges were going to deliver the goods.
---
Le Lioran Ski Station and le Plomb du Cantal
My husband has fond memories of Le Lioran resort from his childhood years. He'd been skiing here almost every winter with holiday clubs and family holidays.
My childhood memories consisted mainly of grabbing a makeshift sledge (aka a breakfast tray) and sliding down the hilly streets of Dunedin on our few "snow days" of the year.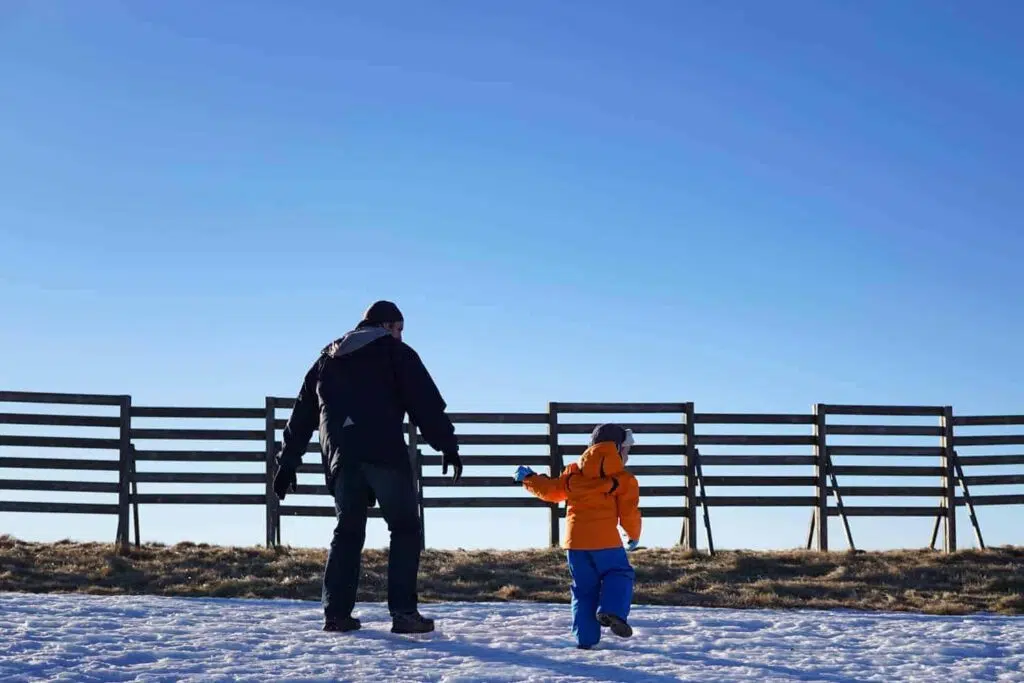 Despite this mismatched history, he hadn't done much to build up my expectations, downplaying the size and facilities of the mountain. I'd imagined one lone rickety chairlift hanging idly on an almost deserted mountain. Ha – that couldn't have been further from the truth!
After our pleasant drive up through the ranges, we arrived at the entrance to the village and it started to dawn on me that this wasn't some deserted station in the wilderness… Rather a built-up resort with hotels, restaurants, shops, and more activities on offer than the mountain alone could provide.
The busy car park was full of families as we searched out a spot and donned our hats and gloves – ready for some fun in the snow. Temperatures hadn't been cold enough throughout December to get a decent dusting on the mountain, but the resort had compensated with snow cannons.
There was enough snow for learners to practice on, and the younger visitors were making the most of the gentle slopes which were perfect for speeding down on sledges.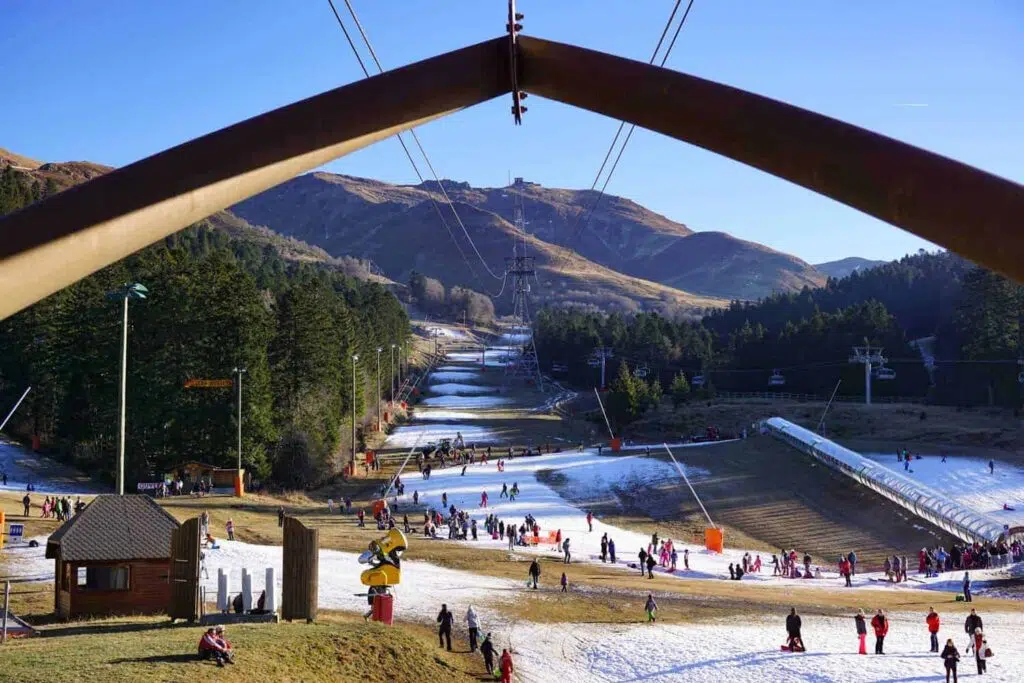 Le Lioran Resort
The resort served a stark contrast between stunning natural scenery and 80's kitsch. The alpine mountains providing a serene backdrop to the unsightly apartment buildings and loud neon signs adorning the shops. But appearances aside, it offered everything we needed for a full day of fun.
We'd made a dash into Aurillac the day before to kit our son out with snow gear (possibly a bit overenthusiastic!). But soon after arriving, we realised we'd forgotten to bring his sunglasses. And his woollen mittens would be soaked through after the first snowball had been rolled. Oops, parenting fail.
Luckily there was an Intersport on site which had forgetful parents covered. €40 later we were on our way once more with suitable sunnies, waterproof mittens, and a hired sledge trailing behind us.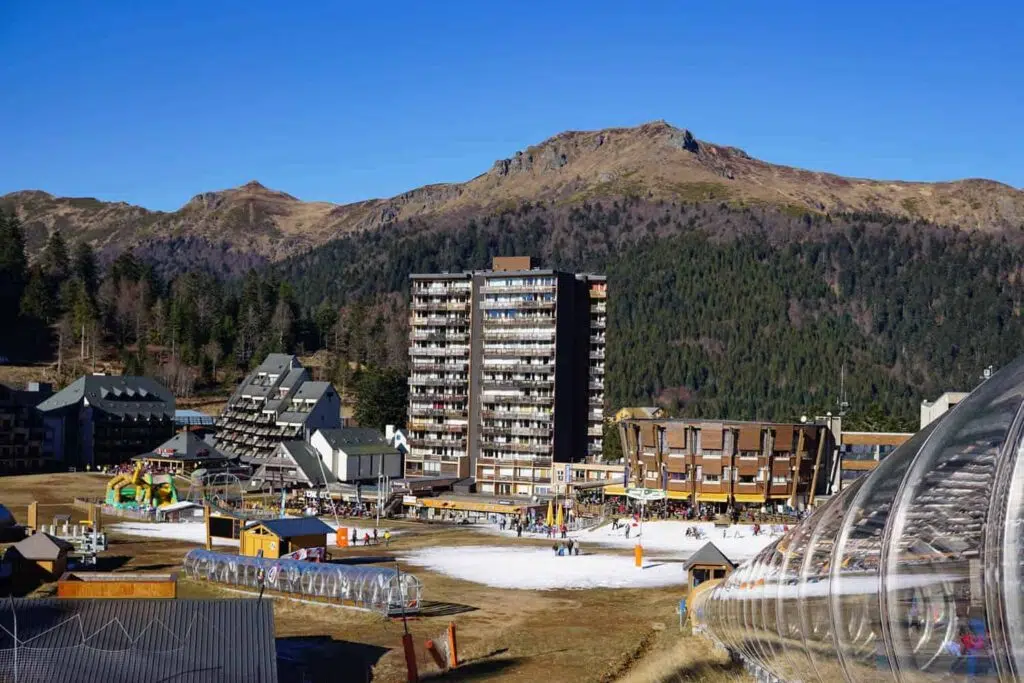 After sliding around in the snow for an hour or two, and testing out our son's new water-proof remote control car (a Christmas gift), we went in search of sustenance.
There are several eateries at the resort. We chose a casual looking place with a view of the mountain and ordered veggie pizzas "sans fromage" (our go-to vegan meal in France), with a side of salty fries. I washed mine down with a warming glass of vin chaud.
We ate alfresco while watching the scenes on the slopes in front of us. Kids shrieking with laughter as they skidded around, four-legged family members hot on their tails. As a dog owner, I'm still surprised that there is no place the French deem unsuitable to take their furry friends. And it seemed the ski field was no exception.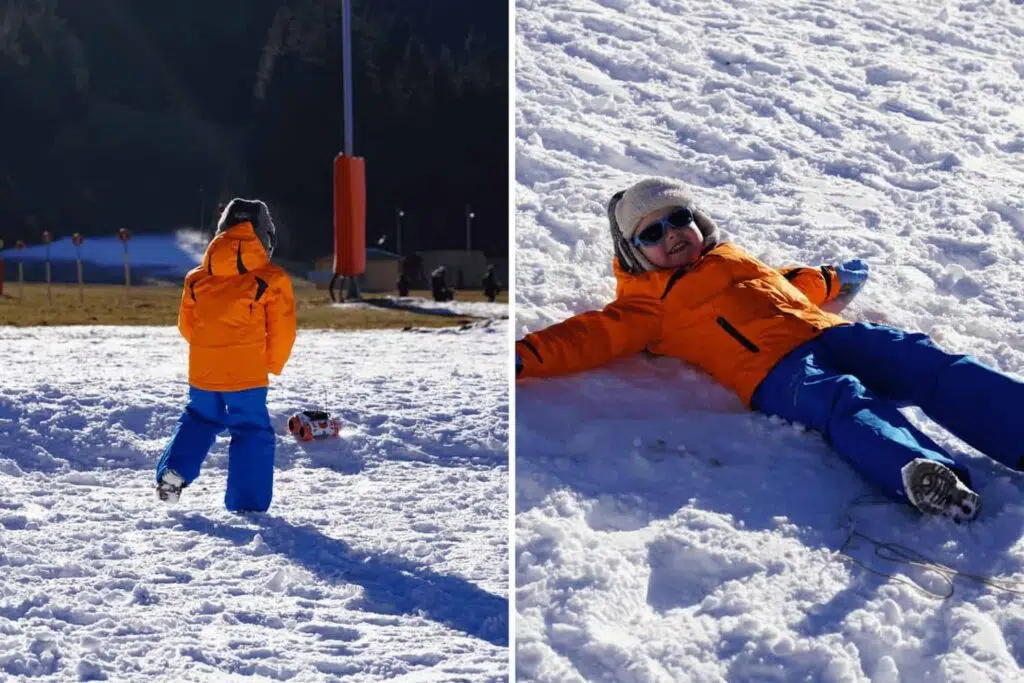 Le Plomb du Cantal
The best decision we made all day was to take the cable car up near the top of le Plomb du Cantal – the highest mountain in Cantal.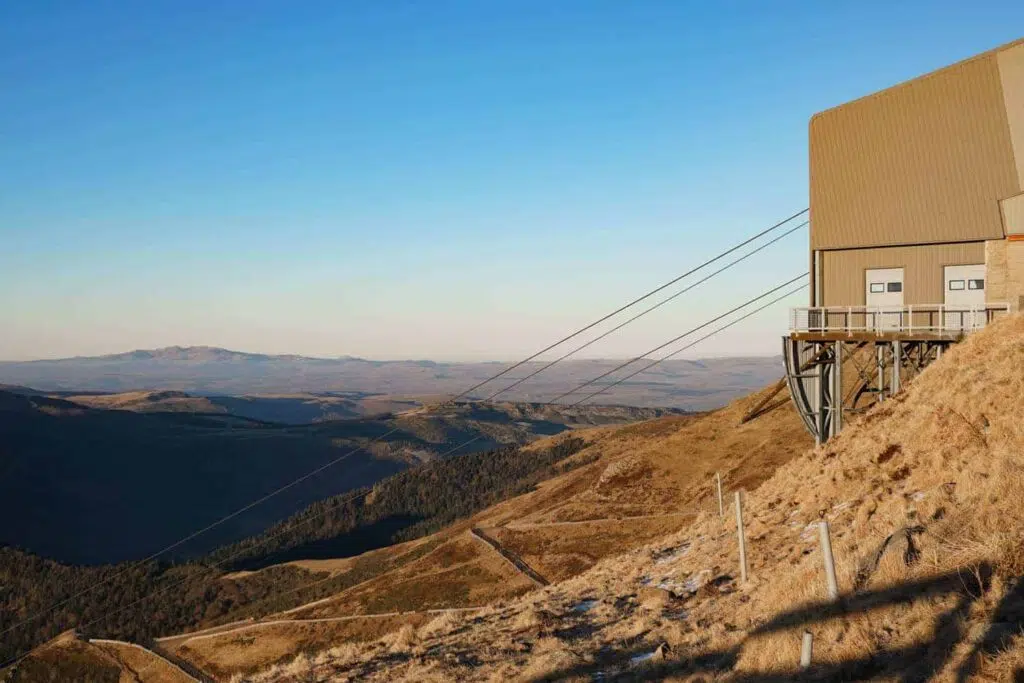 The cable car was heaving with mud-splattered mountain bikers high on the thrill of speeding down the mountain again and again. At the top a fairly basic shed greeted us. It housed a vending machine and small restaurant should we get hungry.
We were eager to see the views and they did not disappoint! It was a crystal clear day and we could see for miles over the Massif Central.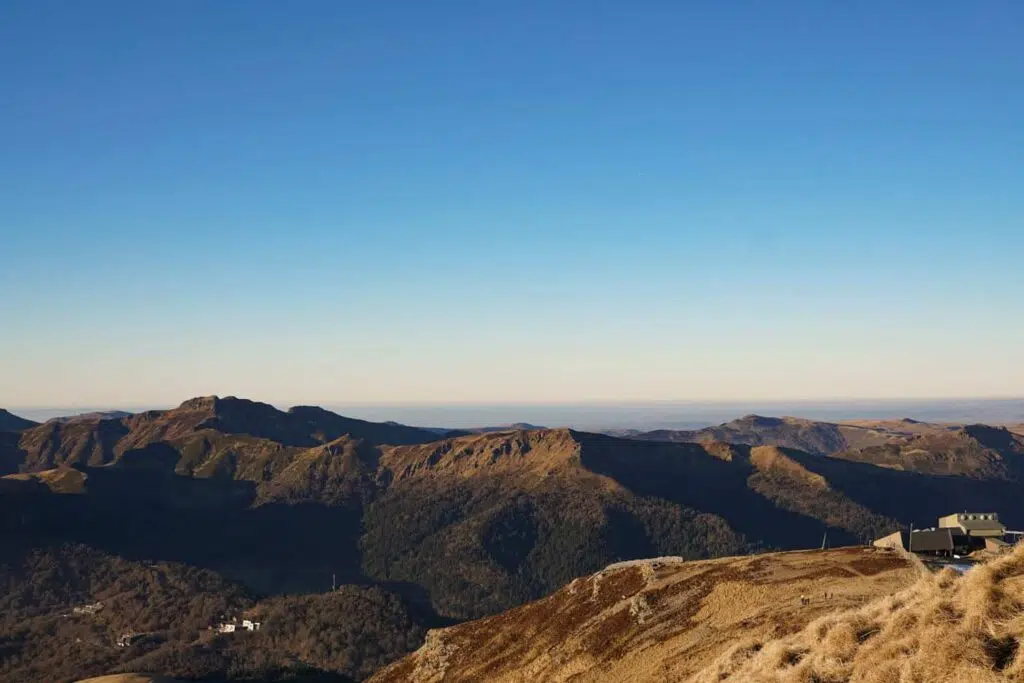 From where the cable car deposits you, there is a short walk up to the peak of the mountain. The final ascent aided by a winding trail of stairs. The walk is worth it – simply breathtaking scenery greets you at the top.
Despite it not being the best day for the snow, the sunny weather meant it wasn't unbearably cold and we were comfortable enough to hang out for a while.
There is an information point showing you in which direction you'll spot other notable mountains. On a clear day, you can see as far as Puy de Dôme in the north, the plateau de l'Aubrac in the south-east, and Puy Mary and Puy Griou in the west.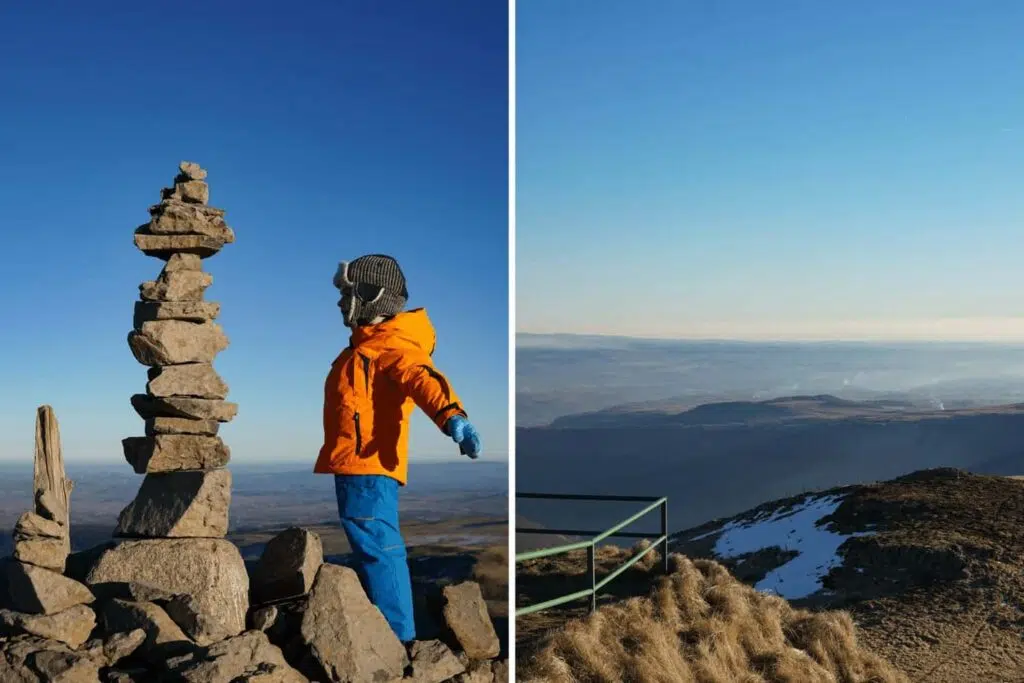 It wasn't until we realised we couldn't see another soul on the mountain that we had a rush of panic thinking we may have missed the last cable car back down. Visions of slippery, difficult descents filled our heads as we rushed back to the shed – and jumped on the last cable car with 5 mins to spare.
Safely back to base, we grabbed a sledge for a few final thrills before retreating to the car. Heading home we had smiles planted firmly on our faces and fantastic memories of our first family snow day.
---
Pin this for later!