The Christmas market – or Marché de Noël – is what attracted us to visit Nantes this December. Having moved to France earlier this year, I was determined to experience my first French Christmas properly! If I can't be in New Zealand sipping sauvignon in the sunshine, I may as well grab a mug of mulled wine and do Christmas the wintery way…
Boasting 120 stalls, the Nantes markets are the biggest Christmas market in Western France! We drove up from Saintes earlier in the day and decided to check out Les Machines de l'île before hitting the markets at dusk.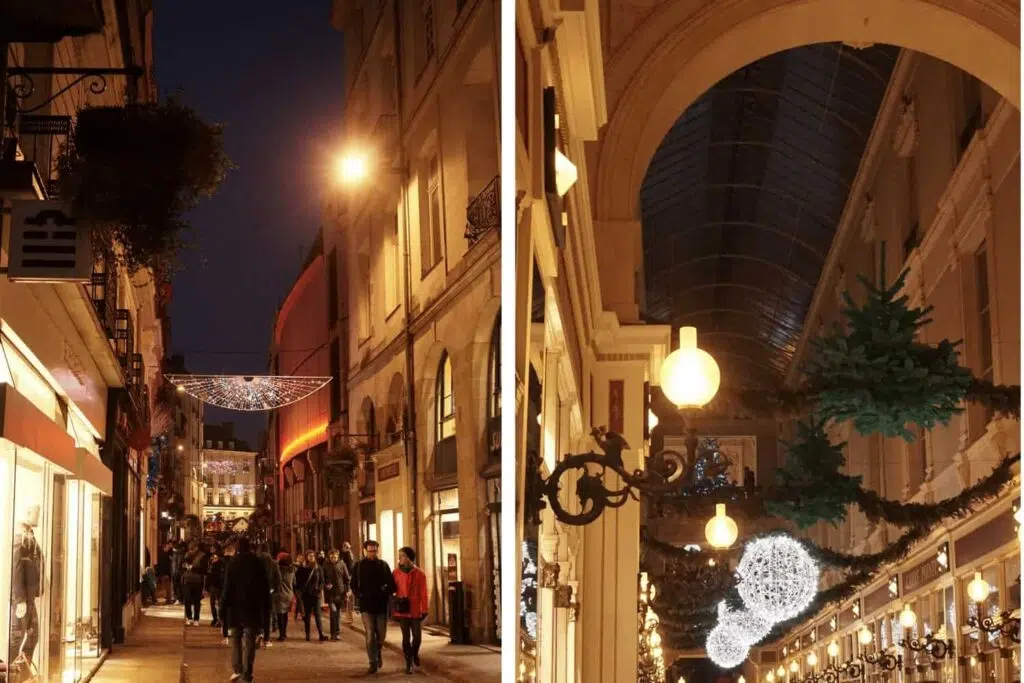 Even before reaching the Christmas markets, it was clear that Nantes is a city who takes Christmas seriously. Sparkling lights hang between the buildings like extravagant chandeliers. Lush looking Christmas displays adorning the shop windows at their lower levels.
Christmas Markets in Nantes
We started with the market at Place Royale (the market is so big it spreads over two large public spaces) where brightly lit Christmas huts jostled for space around a centre fountain. Market-goers swarmed like bees around the huts selling warming churros, waffles and vin chaud (mulled wine) or chocolat chaud (hot chocolate).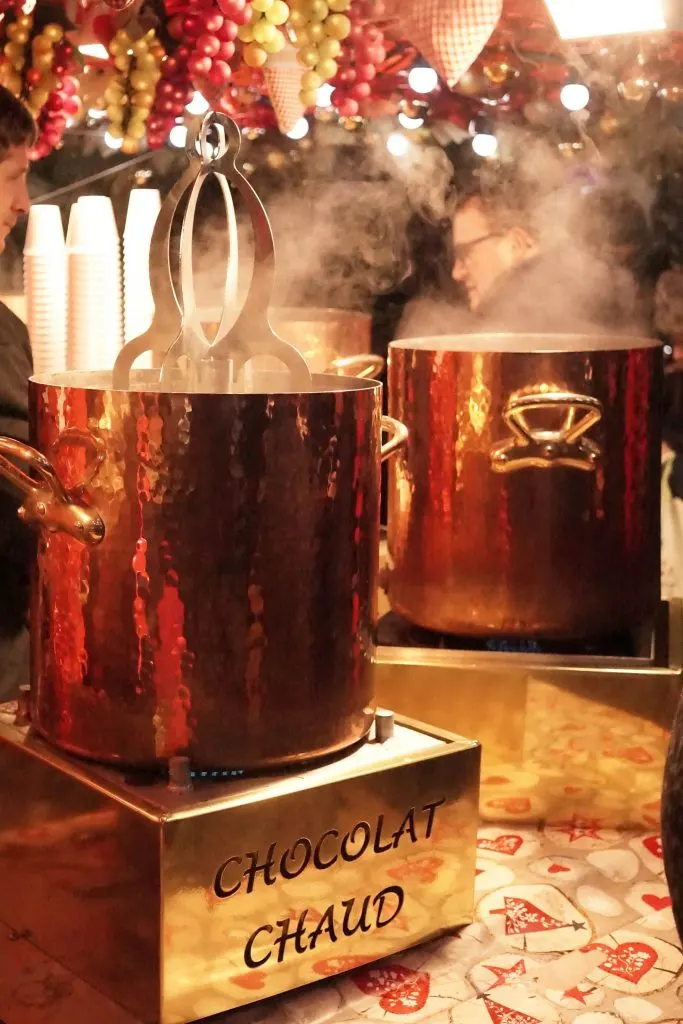 I have limited experience of European Christmas markets, but the setting in Place Royale was exactly how I'd imagined Xmas markets should be! The beautiful buildings lining the square (well, more accurately a semi-circle), the Basilique Saint-Nicolas proudly standing high over the slate grey rooftops, and the ornately sculptured fountain peeking up through the middle of the market.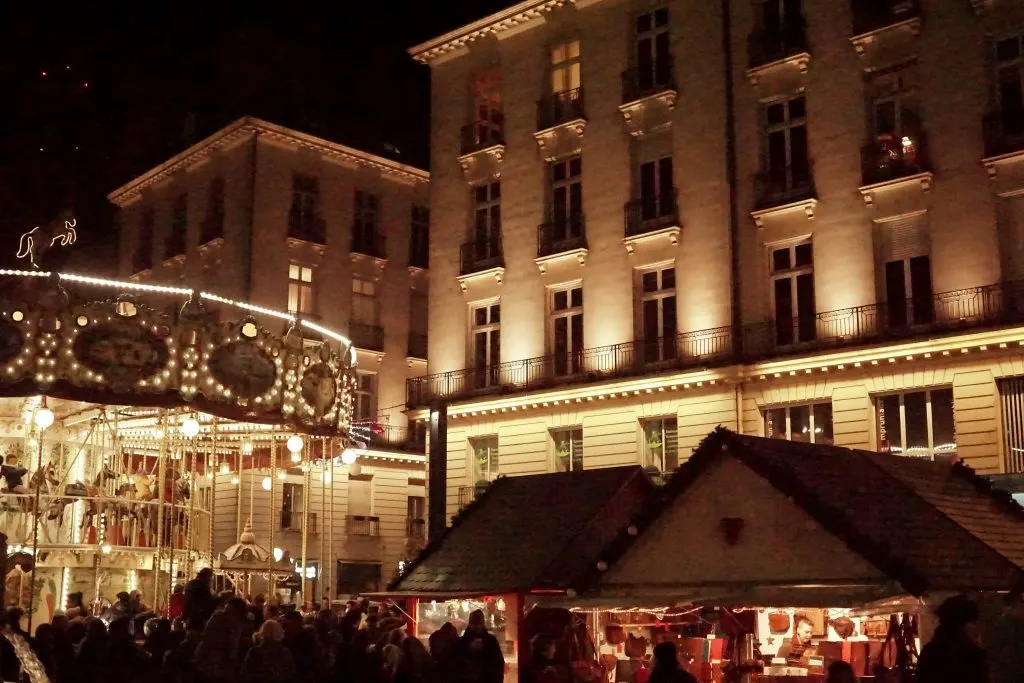 We wandered through the red and white huts, soaking in the festive atmosphere and stopping to take a closer look when something interesting caught our eye. The festive wares on offer range from locally crafted giftware to Christmas trinkets to edible treats.
Those feeling peckish can indulge in traditional goodies such as roasted chestnuts (the marrons grillés hut was a very popular place!), multiple flavours of nougat, creamy artisan chocolate and almost-too-cute-to-eat gingerbread men.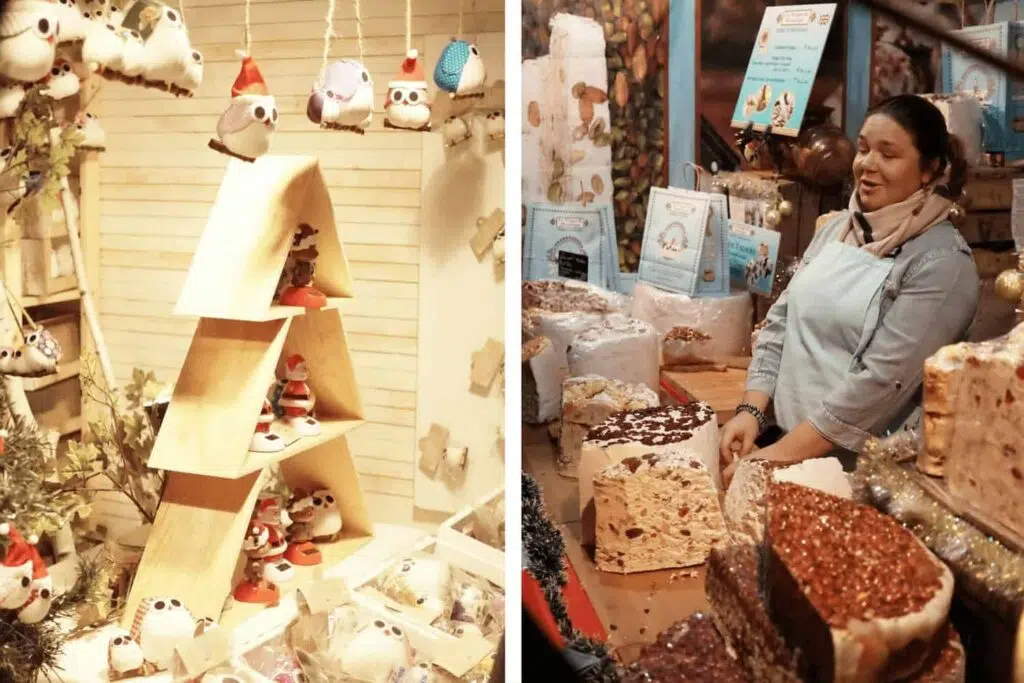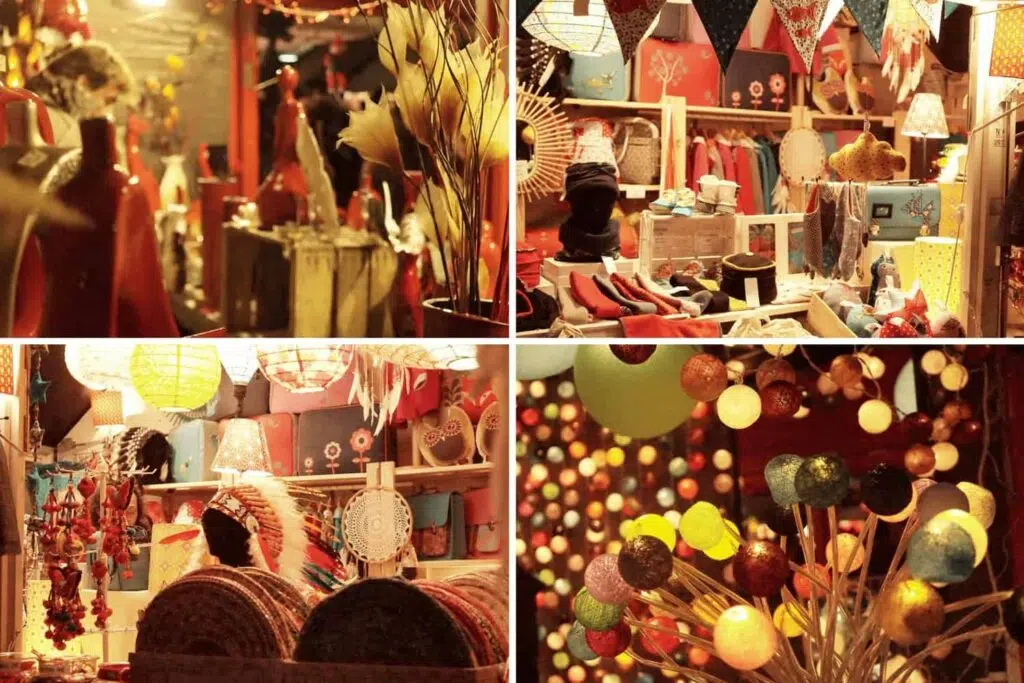 From the Place Royale market, we strolled down decorated streets towards the Place du Commerce – where the rest of the Christmas market was taking place. It was getting late by this stage so we didn't linger too long. Stopping only to grab another sugar-dusted waffle and have a quick browse of the beautiful handiwork on display.
There really is so much to see – you could easily spend a few hours meandering through the stalls and snapping up Christmas gifts and treats. The kids will be happy riding the colourful carousel, and they even have Santa himself in attendance!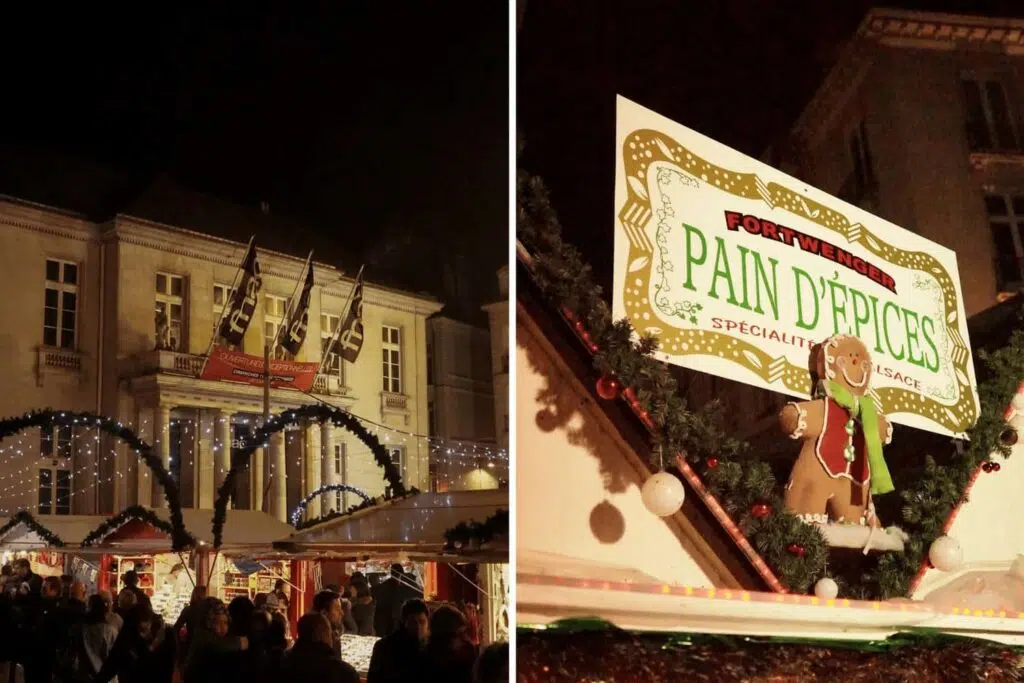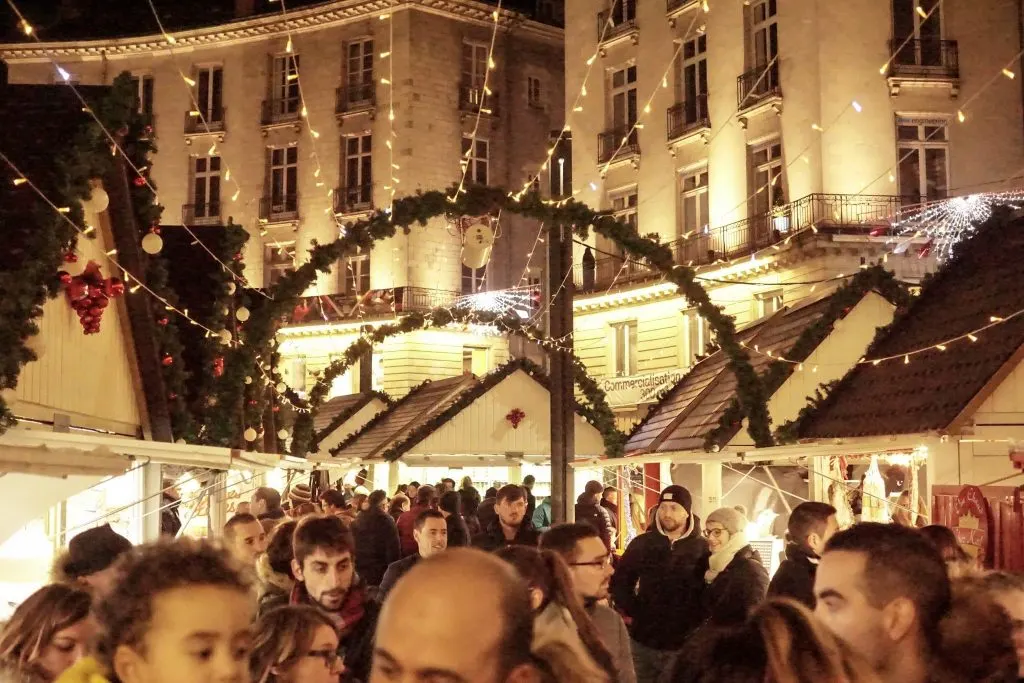 Heading back towards the car, we made another festive discovery. A hip, slightly bohemian style market I've since learned is simply called "the other market" (L'Autre Marché).
It's a pity we didn't have more time to explore. The "Other Market" has a focus on local, sustainable and fair-trade products – the kind of businesses we really like to support.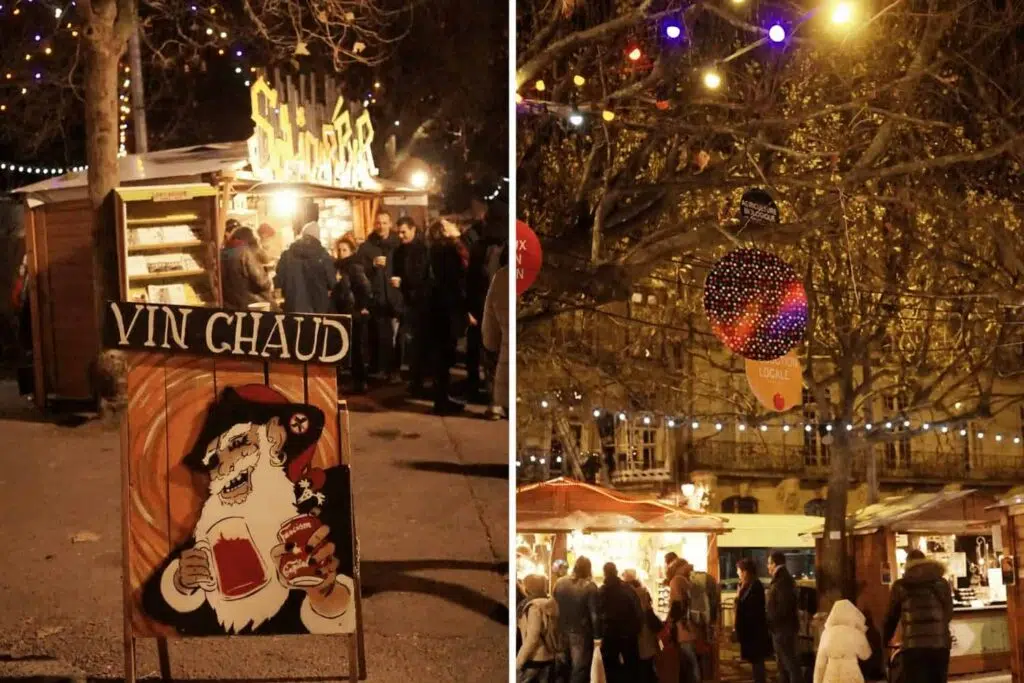 If you want to head along to the Nantes Christmas markets this year (which I highly recommend you do!) – they are open every day until Christmas eve.
Where to find the Nantes Christmas Market:
Place Royale and Place du Commerce, 44 000 NANTES
When to visit the Nantes Christmas Market:
10am – 8pm Monday – Thursday 10am – 9pm Friday and Saturday 11am – 8pm Sunday.
Pin it for later!