Ah, Paris! City of romance, culture and unbeatable gastronomy, the French capital has all the essential ingredients for a perfect city break. Boasting world-class museums and art galleries, stunning architecture, and rich history, any vacation here is sure to please culture buffs. But if you're planning a trip to Paris, you'll soon find out it has much more to offer beyond its rich heritage.
This forward-looking capital features a host of vintage pop-ups, a cool underground music scene, all the latest gastronomic trends, and cutting edge fashion, meaning there's something for everyone in the romantic City of Lights.
Indeed, there's so much on offer that planning for just four days in Paris can seem like a tall order. How do you create a Paris travel itinerary that crams in everything you want to see, while still enjoying a relaxing city break?
This article offers you a comprehensive guide to visiting France's premier destination, complete with a suggested Paris 4 day itinerary, neighbourhood recommendations and insider tips, ideal for anyone planning a trip to Paris, France.
---
Why Four Days In Paris?
One of the hardest things about planning a Paris trip itinerary is deciding on the length of your stay. Too short, and you'll end up rushing frantically around a handful of attractions; too long, and sightseeing fatigue can set in.
When considering how many days to spend in Paris, remember that you won't see absolutely everything the city has to offer in just one trip. Prioritise the sights that are important to you, and make sure to build in enough time to relax and soak up some of the legendary atmosphere of the Parisian streets!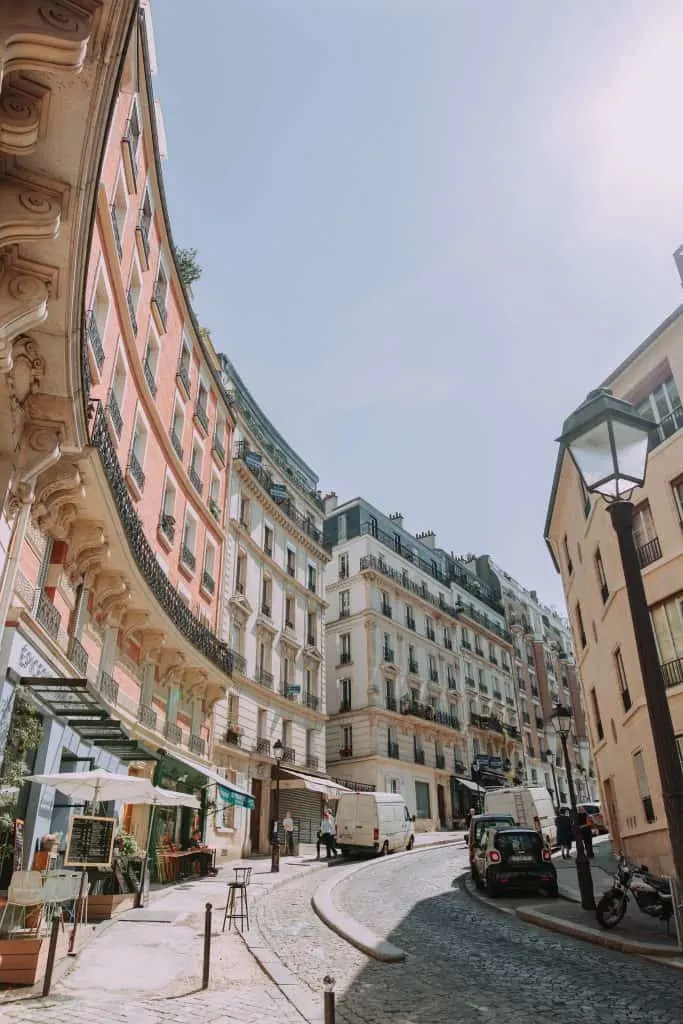 For this reason, four days in Paris offers a perfect compromise. In four days you can hit many of the city's major sights and attractions, and still have time to breathe, kick back, and enjoy some people-watching at a Parisian terrace.
But beware – after 4 days in Paris you'll have experienced just enough to whet your appetite for a return trip!
Best Season To Spend 4 Days in Paris
It's an old cliché, but it rings true: Paris is beautiful in all seasons. Whether it's decked out in sparkling Christmas lights, garlanded in spring blossoms, or shimmering under autumn rains, this romantic city always shines.
In particular, spring is a wonderful time to experience Paris. The cherry blossoms of the Parc de Sceaux, Champs-de-Mars, and Jardin des Plantes burst into life in April, and make for wonderful photo opportunities. The city feels fresh and vibrant as it shakes off the last of the winter chill, and this is an ideal time to enjoy French café culture.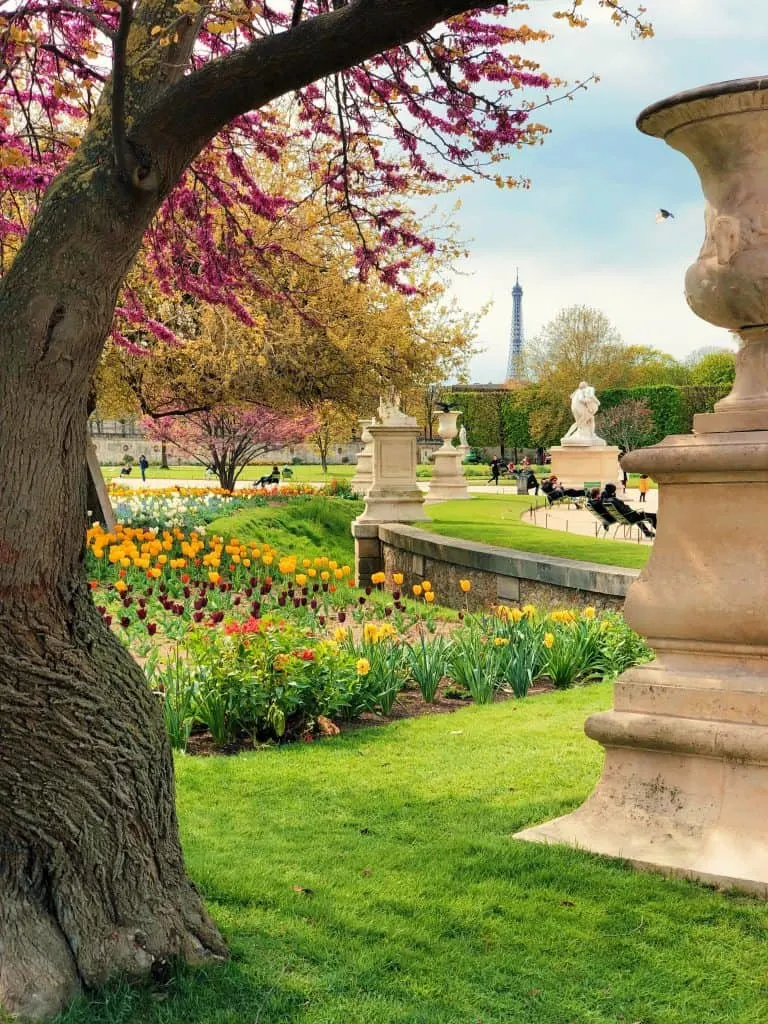 Summer is peak season for tourists, with visitors flocking from all over the world to enjoy fine weather, festivals, and all the outdoor activities the city has to offer. While summer is your best guarantee of sunshine, you'll have to contend with the crowds – Paris welcomes an estimated 40 million visitors every year and a summer visit certainly won't be a quiet one.
In fact, the city is best avoided in August, when many Parisians flee the stifling heat and head for the beach or the mountains. Although all the main tourist attractions will be open, many cafes and independent shops close their doors, and several neighbourhoods lose some of their local charm.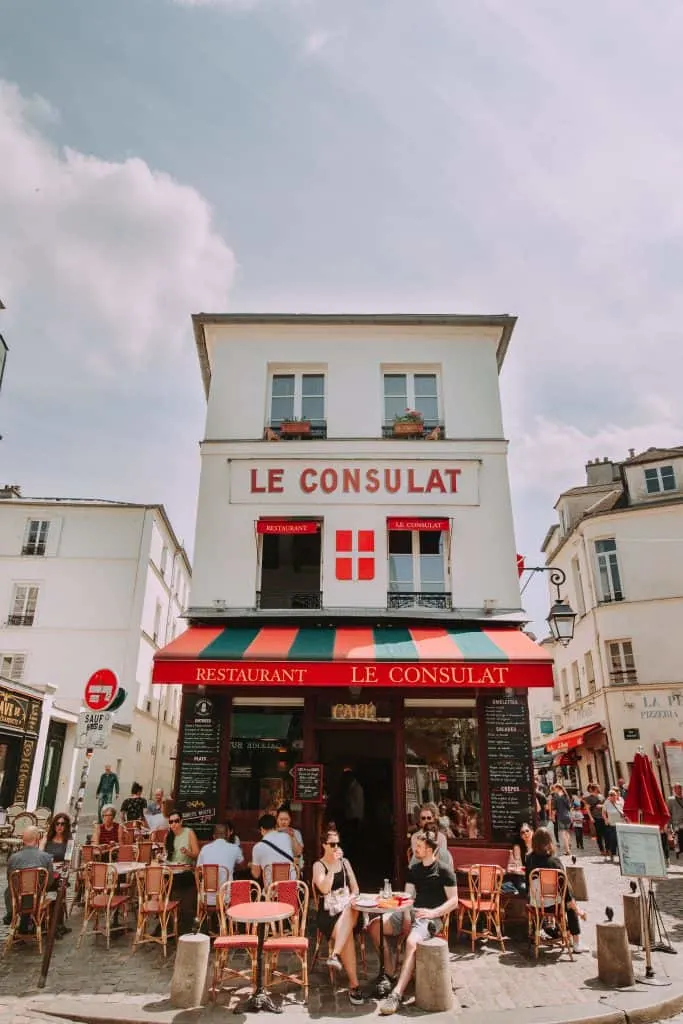 In contrast, September, known as 'La Rentrée' (literally 'The Return') is a wonderful time to visit. As the Parisians return refreshed from their summer holidays, the city springs to life and the atmosphere on the streets is particularly lively.
Moving into October and November, Paris changes colour once again, as the leaves turn and the parks glow with autumn hues. Come in autumn to see these beautiful colours, and to experience the end-of-season festivals, such as the grape harvest in Montmartre.
Finally, if you're looking for a Paris in winter itinerary, you'll be in for a treat. In the weeks leading up to Christmas, the city shimmers with millions of fairy lights and festive decorations. Late November sees Christmas markets popping up all around the city, offering plenty of opportunities for Christmas shopping and festive fun.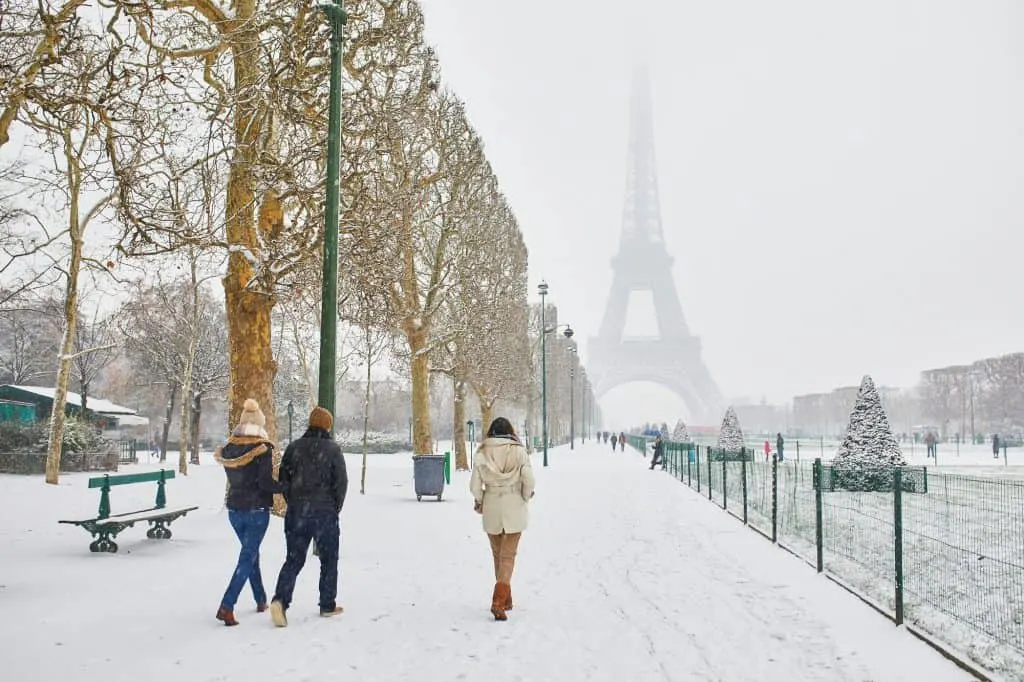 Things To Know When Visiting Paris
On the whole, Paris is an easy city to navigate and a safe place to visit, and the vast majority of visitors encounter few problems. However, there are a few things to be aware of in order to make your 4 day trip to Paris run without a hitch.
Language:
Parisians have something of a reputation when it comes to communication with tourists. While the stereotypes are largely exaggerated, it does help to learn a little of the language before you arrive. A few simple words of French will go a very long way, even if it's just "Bonjour, parlez-vous Anglais?" (Hello, do you speak English?).
Money:
The currency in France is the Euro, and you will find ATMs and places to change money in all areas of Paris. Although credit cards are accepted in the vast majority of establishments, it helps to carry some cash. Most shops have a lower spending limit of €10 or €20 on credit cards, so you'll need to carry cash for smaller purchases.
Opening Hours:
Always check opening hours in advance, as many smaller museums and attractions are closed on Sunday or Monday.
Etiquette:
Always greet people with 'Bonjour' when you enter a shop or begin to talk to a sales assistant – it's considered very rude to launch into a request or conversation without first saying hello.
Crime:
Although Paris is generally a very safe city, the major tourist attractions do suffer from large numbers of pickpockets. Avoid the scammers handing out bracelets and gifts in places like the Sacré-Coeur – they can become aggressive and demand money.
Keep your valuables safe in a purpose-made travel purse, and be vigilant! For more tips on what to expect on your first visit to France, check out this helpful list.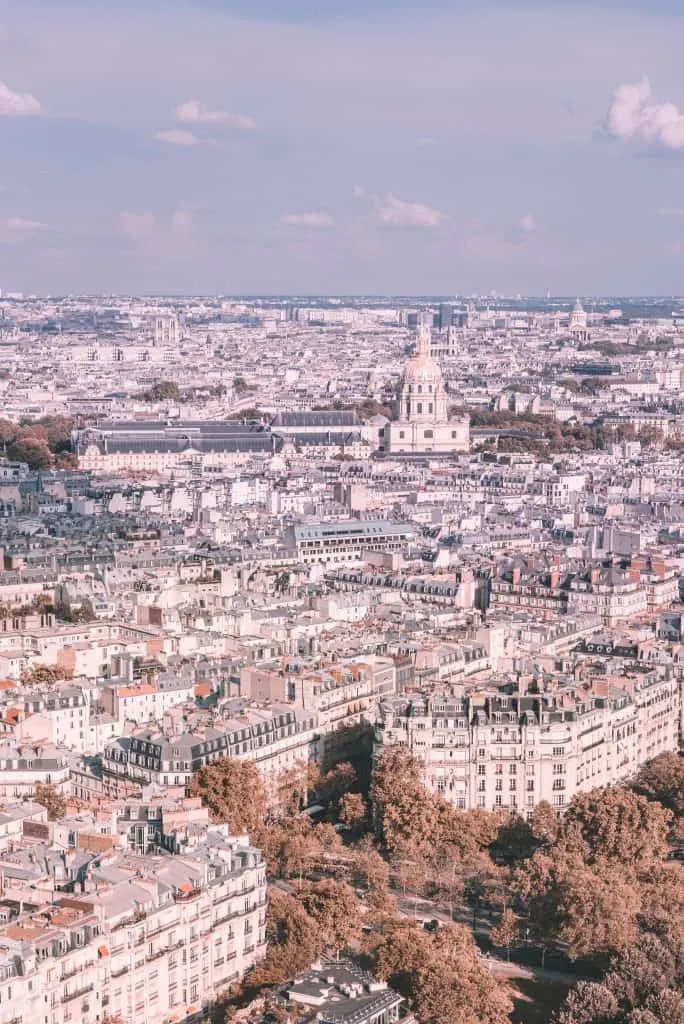 How To Spend 4 Days In Paris
Asking a group of Parisians to plan the best Paris itinerary is a sure-fire way to start an argument. The diversity of attractions means that all tastes are catered to, and consequently, pretty much everyone has a different opinion about the top things you must see in Paris.
However, there are no hard-and-fast rules and whatever way you choose to spend your 4 days in Paris, you're sure to have a wonderful time. As a general rule of thumb, when planning a 4 day trip to Paris, make sure to build in variety.
If you spend 4 days rushing from one museum to the next, you'll probably go home tired and overwhelmed, and will have missed out on the wonderful atmosphere of the Parisian streets.
Use this guide to plan a trip to Paris and you'll be sure to get a great all-around sample of la ville lumière.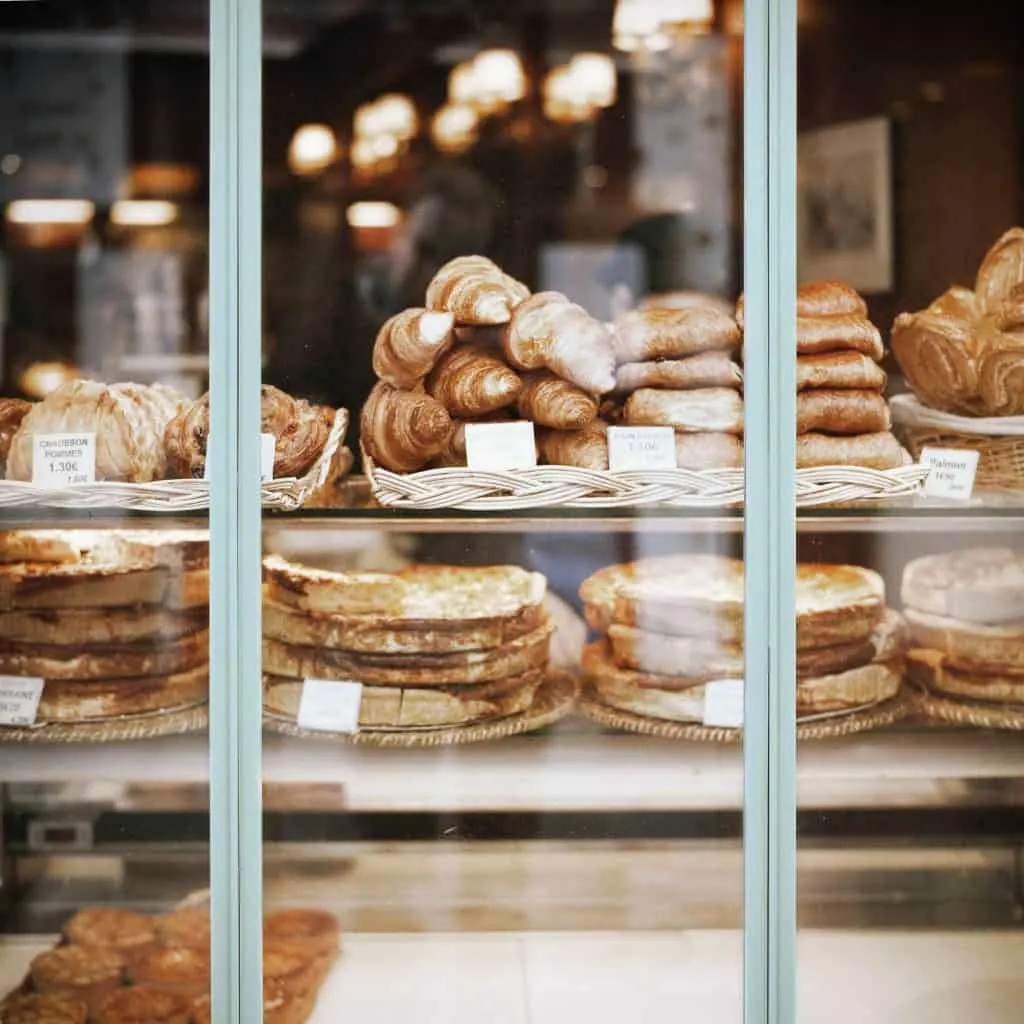 Day One in Paris: The Eiffel Tower and The Latin Quarter
Start your Paris 4 day itinerary with one of the city's most iconic sights. The Eiffel Tower looms large over the city, decked out in coloured lights on festive occasions, and forming an inescapable part of the cityscape.
While it's high on the list of most travellers, the Eiffel Tower can be a difficult experience in the busy season, with visitors queuing for hours for tickets, clamouring for space on the viewing platforms, and being bombarded by touts around the Champ de Mars.
The best way to experience the Iron Lady of Paris is to head there early in the morning, ideally at sunrise. As the first rays of sunlight hit the waters of the fountain at Trocadero, reflecting the Tower, you'll be first in line for a fabulous photo opportunity.
Grab some breakfast at a Parisian terrace, and you'll be ready to make the climb early when the tower opens at 9.30am. And if you buy your tickets in advance, there will be very little waiting.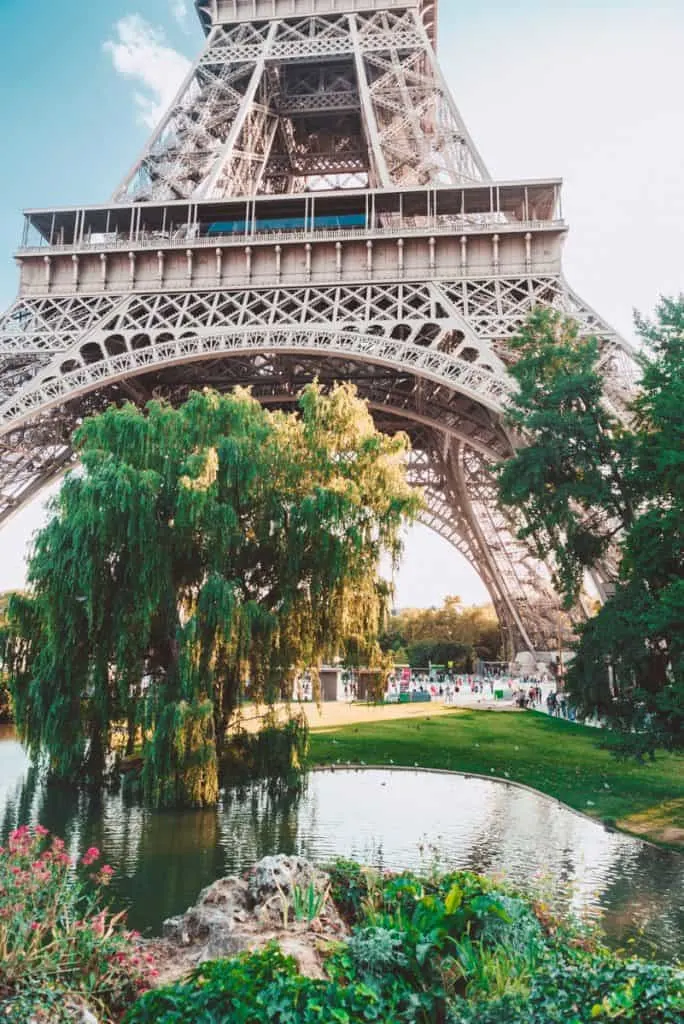 Once you've seen the Tower, head to the nearby Rue Cler for a taste of Parisian markets and wonderful French produce. This pedestrianized market street is at its liveliest on Sunday mornings when local churchgoers flock to the street after mass to pick up a few groceries and grab a bite to eat. This is an excellent spot to sample a crepe or a hearty brunch to prepare you for the rest of the day of sightseeing.
From Rue Cler, it's just a short walk past the monumental military museum at Les Invalides to the Rodin Museum. This fascinating, compact museum, set in beautiful gardens, showcases some of Rodin's most famous works, including The Thinker and The Burghers of Calais.
If the morning's activities have worn you out, put your feet up and take one of the many ferry trips along the Seine from the Eiffel Tower or Les Invalides. A boat ride is one of the best ways to see the city, and there are many companies that offer tours, some with audio tours and lunch or dinner included.
The Batobus is a useful option, with a 24-hour hop-on-hop-off ticket, allowing you to travel up and down the river at your own pace.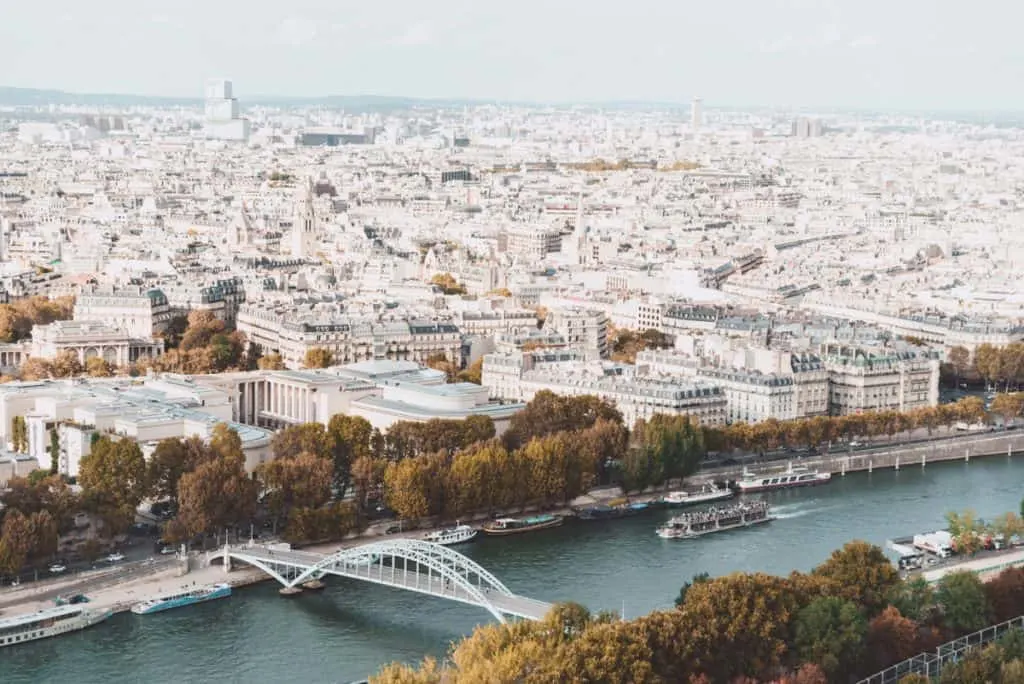 Disembark the ferry at the Jardin des Plantes. This expansive park contains a small menagerie and explodes into stunning colour in spring. If you're spending 4 days in Paris with kids, skip the art galleries and instead visit the Natural History Museum, located just inside the Jardin des Plantes. This is a great activity for children and the park has plenty of space for them to run around and burn off some excess energy.
Located just next door, the tearoom at the Great Mosque of Paris offers an excellent place for an afternoon pit stop. This magnificent building contains a café, restaurant and spa, with a pleasant, leafy outdoor garden. Don't miss the mint tea and the amazing traditional Algerian pastries!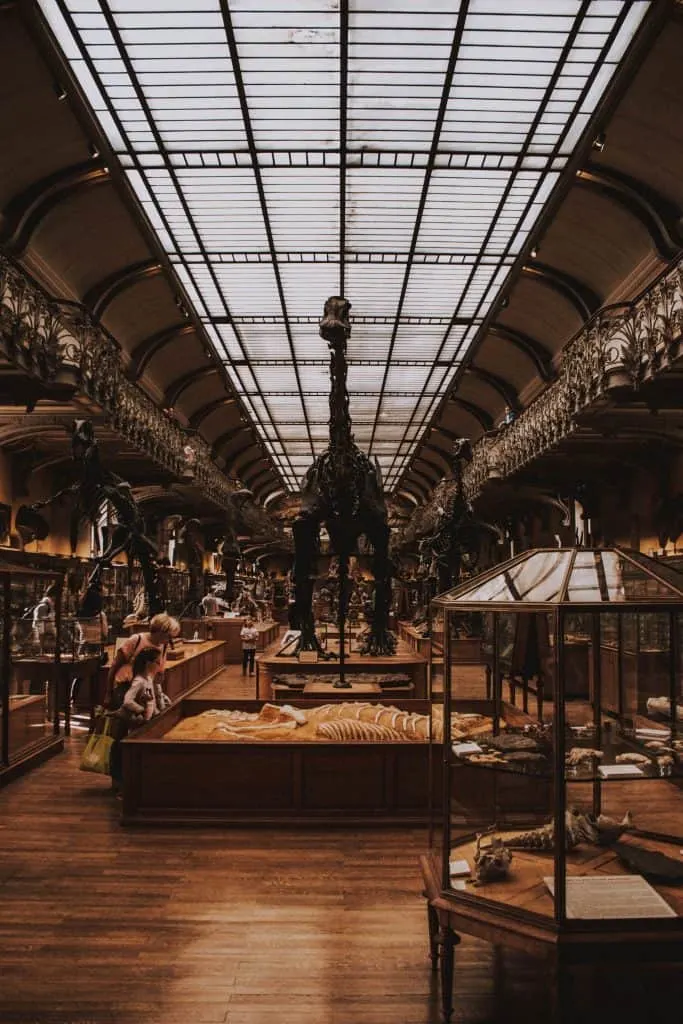 Spend what's left of the day browsing the shops and narrow streets around the Pantheon and Rue Mouffetard, just a short walk from the Grand Mosque of Paris. This picturesque cobbled alley cuts through the medieval streets of the Latin Quarter and is lined with popular cafes and bars where you can stop for a pre-dinner drink.
From here it's not far to go for dinner at Mavrommatis, one of the Latin Quarter's most popular restaurants, offering a classy French take on modern Greek cuisine.
Day Two in Paris: Explore Montmartre
On your second day in the city head north for a change of scene. Montmartre is high on the list of things you must see in Paris, and this compact, distinctive neighbourhood has a character all of its own.
Perched on the 'Martyr's Hill' from which it gets its name, Montmartre has stunning cobbled streets, picturesque squares and plenty of bars and restaurants where you can sit back and soak up the artistic atmosphere.
Popularised by hit French films such as Amélie and Moulin Rouge, Montmartre attracts throngs of tourists, and it's probably best avoided in August when the tour groups reach their peak.
However, in spring or autumn, this glorious part of the city deserves pride of place on your Paris travel itinerary. Montmartre is an ideal place to wander and get lost, so bring comfortable shoes and be prepared to walk!
Avoid the touts and overpriced restaurants around the Place du Tertre, and explore the winding streets nearby, where you'll find plenty of hidden gems and photo opportunities galore.
The crowning glory of Montmartre is the Basilica of the Sacré-Coeur, dominating the hill with its striking white domes. Take the funicular railway up the hill (or tackle the stairs if you're feeling energetic) and admire the fabulous view over the city from the viewing platforms right in front of the church.
The area around the Sacré-Coeur is always busy, and often teeming with street artists. For a quieter view of the church, head for the tranquil Square Marcel Bleustein Blanchet, where you can catch your breath amid lush, green scenery. In autumn, this pretty little square dazzles with vibrant colours, offset by the brilliant white of the Sacré-Coeur.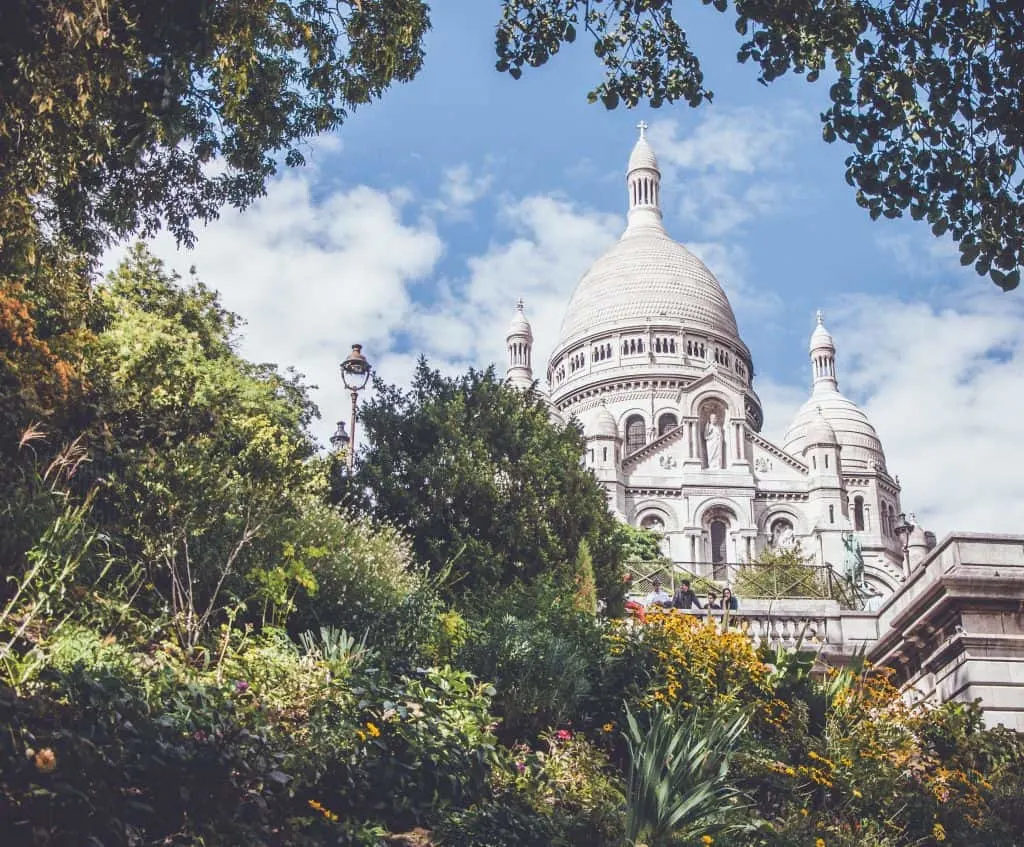 One of the most fascinating sights in Montmartre is the atmospheric cemetery on the west side of the hill. The final resting place of literary giant Émile Zola, this crumbling cemetery is definitely worth a visit, and a good alternative to its more famous counterpart of Père Lachaise.
Other attractions in this pleasant part of town include the Musée de Montmartre and the Espace Dali, both a must on any Paris travel itinerary for art lovers.
If modern art is your thing, try the Musée d'Art Naïf Max Fourny, a hub for the vibrant contemporary art scene that dominates Montmartre. La Mandigotte, located a stone's throw from the Musée Montmartre, is an excellent place to stop for lunch, where you can try some typical French cuisine.
Montmartre was once a bustling agricultural centre, as testified by the numerous windmills that once stood proudly on the hill. Today, all that remains of this bucolic past is a small vineyard, the Clos Montmartre, hidden in plain sight behind the Musée Montmartre. If you're here in the harvest season, don't miss the opportunity to sample the local produce.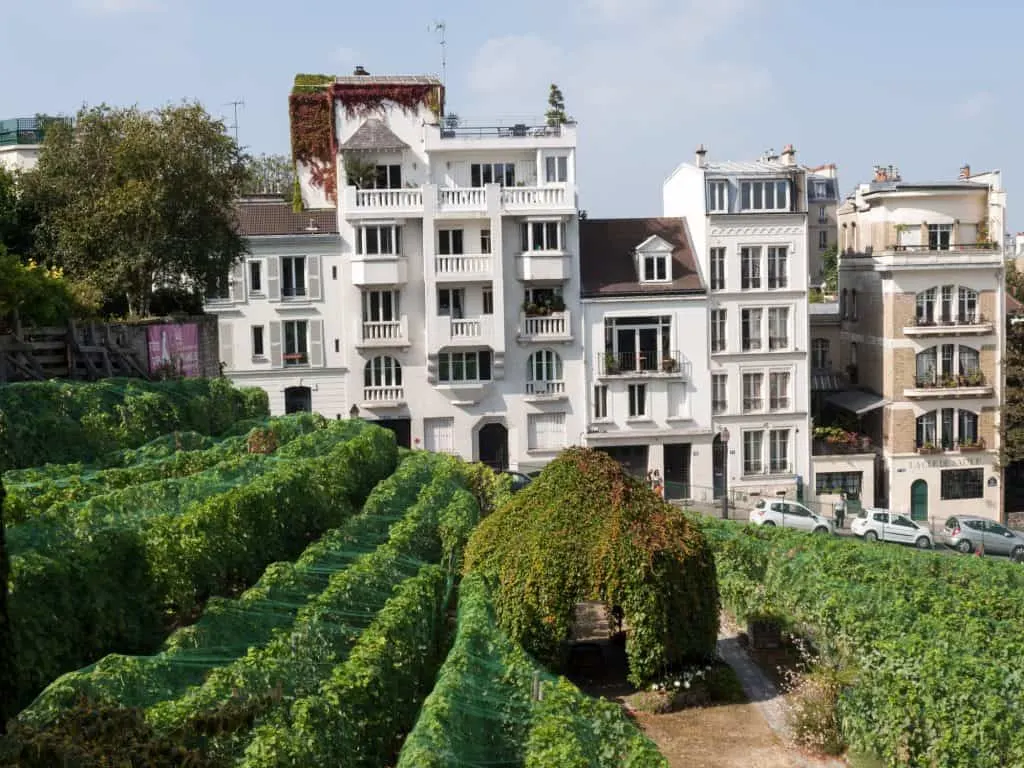 When you tire of the crowds on this picturesque hill, take a short Metro ride from Anvers to the Parc des Buttes Chaumont, possibly one of the prettiest and most romantic parks in Paris.
This gorgeous green space offers temporary relief away from the busier parts of the city and includes a neo-classical temple, a fascinating Orthodox church and a 30m gushing waterfall. The Buttes Chaumont is one of Paris' best-kept secrets and the perfect place to spend a sunny afternoon.
For dinner, head back towards Montmartre and the neighbourhood known as South Pigalle, or So-Pi in local parlance. This trendy, up-and-coming neighbourhood has a host of innovative and interesting restaurants, often providing a French take on international cuisine.
Try Le Pantruche for some fantastic French fare, or Le Dépanneur for a trendy burger, followed by cocktails or craft beer at one of South Pigalle's many bars.
Day Three in Paris: Visit The Palace of the Sun King
Any four day Paris itinerary has to include Versailles, the opulent home of the French monarchs made famous by the 'Sun King' Louis IV. Here, you can walk in the footsteps of Marie Antoinette and marvel at the grandeur of the French monarchy in the dazzling Hall of Mirrors.
The gardens are at their best in spring and early autumn, and in summer you might even enjoy a magnificent fireworks display in the palace grounds.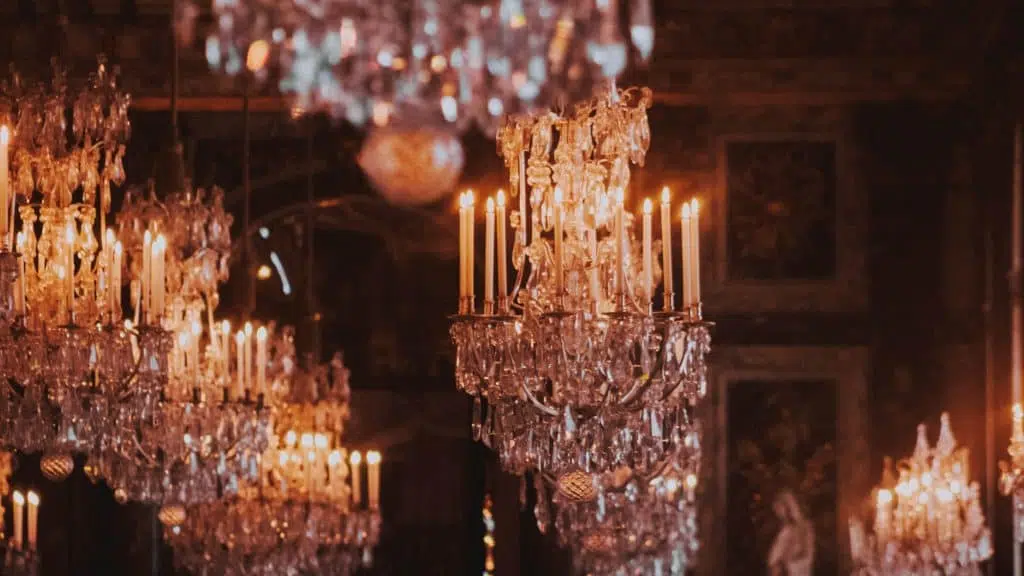 Versailles is a short day trip from Paris and is very easy to access via public transport, although you'll need to leave the best part of a day clear to allow enough time to see all of the main sights. Wear comfortable shoes, as the visit involves plenty of walking, don't forget to pack water and snacks, especially if you are travelling with children.
As with many major attractions in Paris, it's best to book tickets in advance to avoid the queues and arrive early if you plan to visit in the high season. Guided tours and audio-guides are available, and there is plenty of information at the ticket office.
Make sure you don't miss the King's state and private apartments, the Hall of Mirrors, and the Gallery of the Great Battles, in addition to the Trianon Palace and the Queen's Hamlet.
There are several excellent restaurants at Versailles, including Gordon Ramsey's Au Trianon, but if the weather is fine, there's no better way to enjoy the beautiful palace grounds than with a picnic. Gather supplies in the morning at the Marché Notre Dame, close to the RER station, and find a nice spot in the grounds for lunch.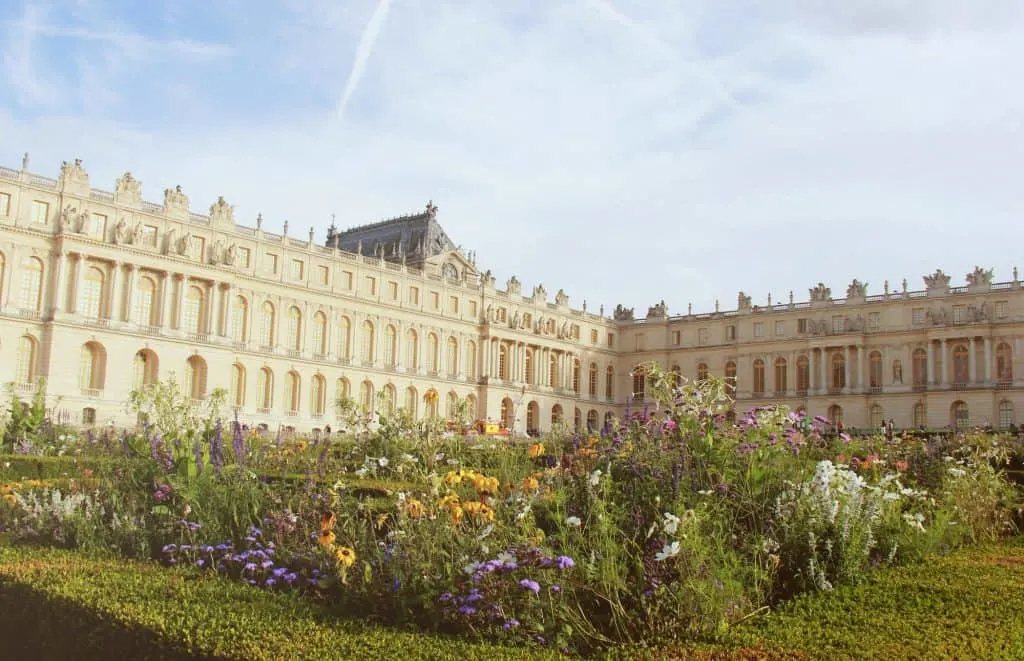 If a day in Versailles has given you a taste for luxury, head back to the city and the trendy 11tharrondissement for dinner. Septime, certainly one of the hottest restaurants in Paris, is a great place for a special treat, with a vegetarian-friendly seven-course tasting menu showcasing fresh and innovative French cuisine. You'll need to book a few weeks in advance, but this place really does live up to the hype.
If you can't secure a reservation, try sister restaurant Clamato, just next door, or venture towards Bastille where there are plenty of excellent dining options.
Day Four in Paris: Art, Antiques and Shopping
Start your final day in Paris with a trip to its most famous museum: the Louvre. This former royal palace now boasts an impressive 35,000 works of art on display, and over 400,000 more hidden away in gargantuan underground storage rooms.
While it's certainly possible to spend an entire day exploring this incredible collection, most people find that a few hours or a half-day is plenty. Do your research ahead of time and decide what you'd most like to see, otherwise, it's very easy to get lost in this immense, sprawling museum.
The best time to visit the Louvre is early in the morning, preferably on a weekday (although it's closed on Tuesdays), in order to avoid the crowds and the queues. Book tickets in advance and use the entrance at 99 Rue de Rivoli to save time.
Once you've had your fill of art and history, exit through the Pyramid gate, where you can take the obligatory photographs and wander through the lovely Jardin des Tuileries.
If your trip to the Louvre has worked up an appetite, avoid the tourist traps around Rue de Rivoli and instead head a few blocks north to Higuma at 32 Rue Saint-Anne. This popular local canteen serves up delicious Japanese fare, including gyoza to die for, and rich, tasty ramen. It also offers excellent value for money and is the ideal way to replenish those energy stores after a long museum visit.
After lunch, walk down to the river and along the right bank of the Seine until you reach the Ile de la Cité. Walk through the Marché aux Fleurs, a beautiful Parisian flower market, to the Sainte-Chapelle.
This is one of Paris' medieval marvels and is best visited on a sunny afternoon when the remarkable stained glass windows flood the interior with coloured light.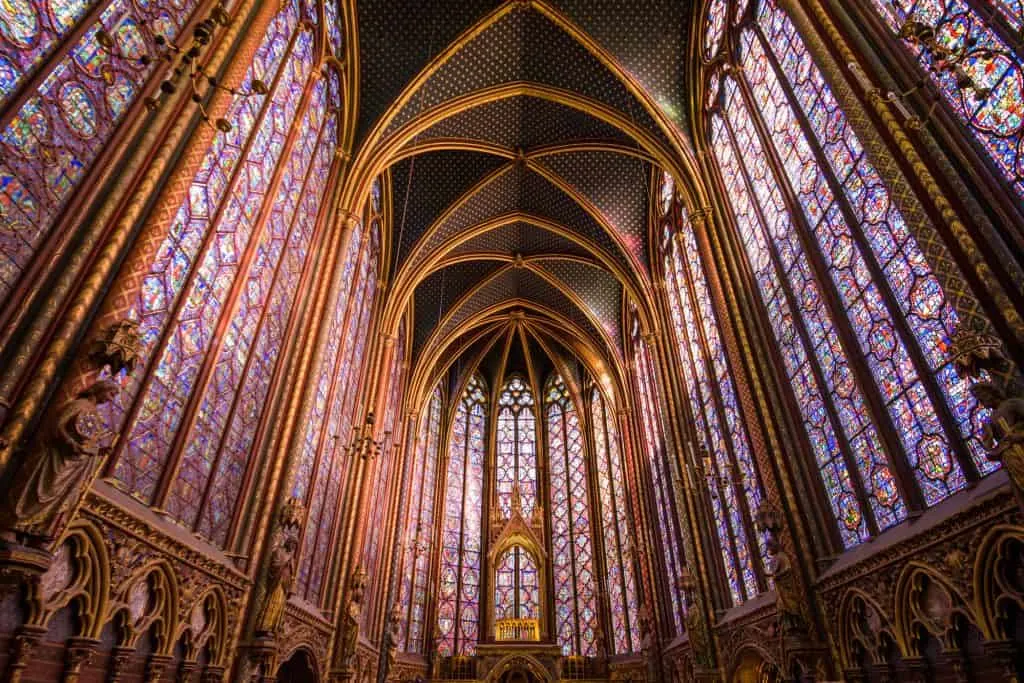 Continue through the Ile de la Cité to Notre Dame, now sadly inaccessible, and cross the river to visit the busy labyrinthine streets of Saint-Michel for a spot of shopping.
Don't miss the legendary Shakespeare & Company bookshop, a crumbling treasure-trove of English-language literature that once played host to literary giants such as Ernest Hemingway and Jack Kerouac.
Cross back over the river and spend the rest of the day wandering through the pleasant streets of the Marais. This chic part of town has vintage and antique shops, trendy wine bars and clothes stores galore, in addition to beautiful leafy squares such as the Place des Vosges.
If you have the time and energy, the newly renovated Picasso museum is well worth a visit, but if not, kick back with a cocktail at one of the neighbourhood's many bars, and then head out for dinner at Le Colimaçon to finish your Paris experience with a fine traditional bistro.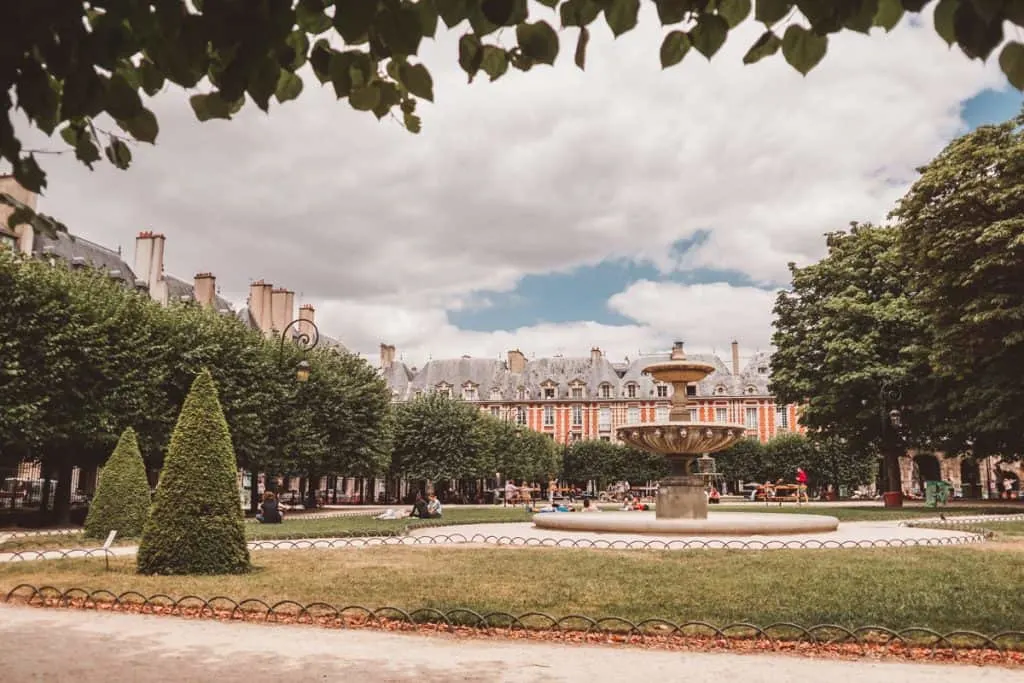 Where To Spend 4 Nights in Paris: Neighbourhood Guide
When it comes to where to stay in Paris, visitors are spoiled for choice, with a plethora of atmospheric, charming neighbourhoods and hotels to suit every budget.
However, the twenty arrondissements that make up central Paris each have a distinct identity, and it can be difficult for first-time visitors to know how to navigate them.
Luckily, Paris is a compact city with a robust transport network, so wherever you choose to stay, you'll never be too far away from the major sights and attractions.
Each arrondissement has its own charms, but if you're looking for a good combination of character, atmosphere and convenience, try these three spots.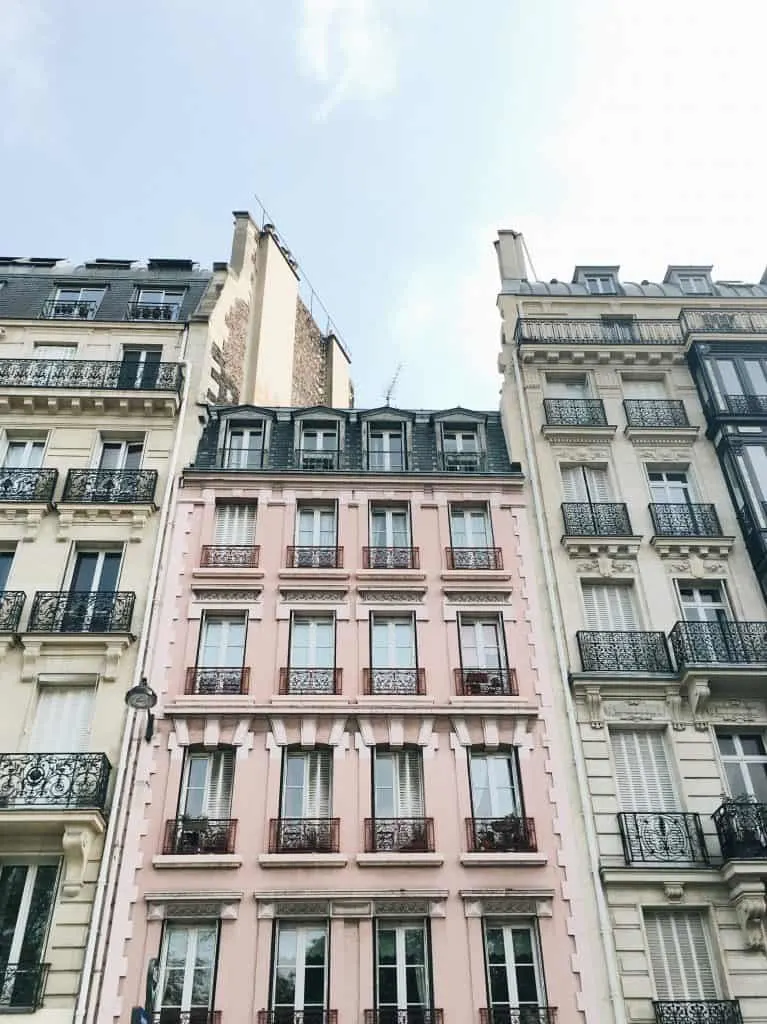 The Marais: Best For Location
The Marais is one of Paris' most chic and colourful neighbourhoods, with leafy squares and parks, trendy shopping and plenty of attractive bars and terraces for an afternoon pit-stop or a pre-dinner drink.
The Marais is a wonderful area to wander and get lost, with countless antique shops, vintage markets and stylish boutiques. It also offers some of the city's best falafel, in the historic Jewish quarter, and one of Paris' prettiest squares: Place des Vosges. This centrally located neighbourhood is filled with character and local charm.
The Latin Quarter: Best For Atmosphere
Paris' Rive Gauche, literally the 'left bank' of the river, has an enduring reputation for philosophy, literature and café culture. The leafy boulevards and squares of Saint-Germain, and the lively cafes and restaurants of the Latin Quarter offer a perfect destination for those seeking a taste of the city's intellectual heyday.
Walk in the footsteps of Jean-Paul Sartre, Simone de Beauvoir and Albert Camus in the Café de Flore, or follow the Hemingway trail all the way to Rue Mouffetard. Brimming with history, the Latin Quarter offers bookshops galore, bustling bars and terraces, live music and beautiful medieval architecture.
Montmartre: Best For Romance
Although best avoided in peak season, Montmartre in the low season is one of the best places to stay in Paris. Perched high above the city, this picturesque neighbourhood oozes charm and offers wonderful views over Paris.
There are plenty of excellent restaurants and cafes, particularly if you wander down the hill into South Pigalle, and a host of attractions to keep you busy. If you're looking for the most romantic Parisian destination, then Montmartre is the neighbourhood for you.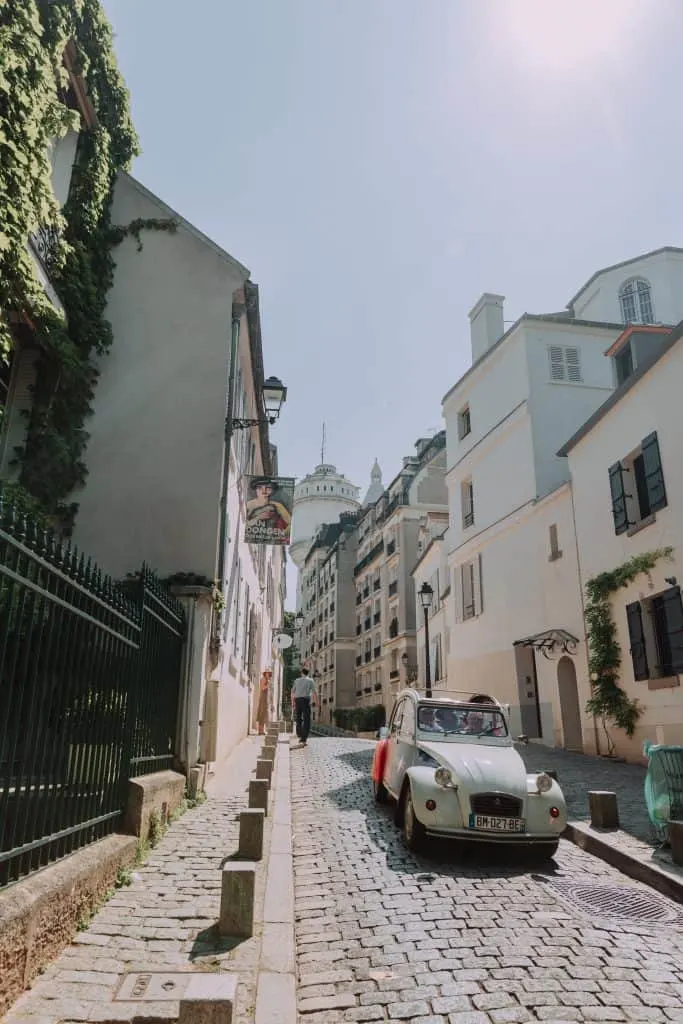 How To Get Around Paris
By far the best way to explore Paris is on foot. However, the public transport network in the city is excellent and offers a cost-effective and efficient way to get around.
The buses, Metro and RER service all parts of the city, and the RER also offers transport to the suburbs including Versailles, and Charles de Gaulle and Orly airports.
Metro tickets can be bought from all stations, individually or in discounted packs, and can be used for single journeys on the Metro, buses and RER within Zone 1. At the time of writing, it's not possible to buy a Paris Metro 4 day pass. However, the 4 Day Paris City Pass is an excellent choice as it covers all your public transport needs and grants free access to 60 museums, exhibitions, and attractions in Paris.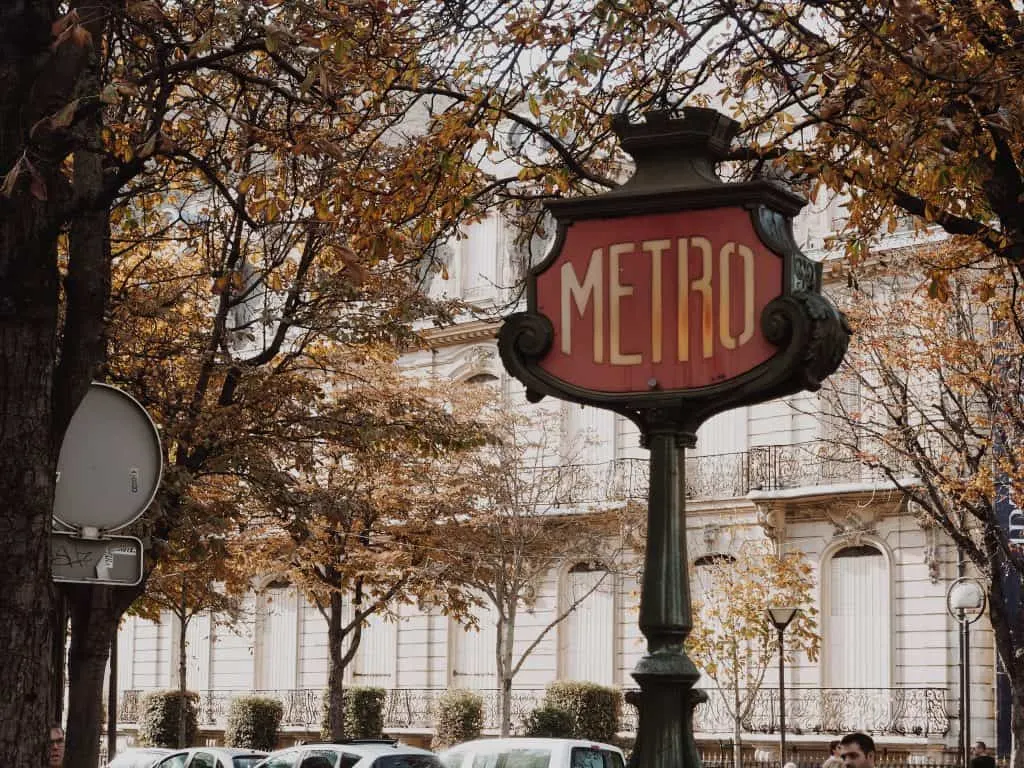 ---
A short city break in Paris is simply not enough time to enjoy all that the city has to offer. However, this Paris 4 day itinerary hits many of the major attractions, while still building in time for some relaxation, great food and a few lesser-known, hidden gems.
One thing is certain: a 4 day trip to Paris is bound to leave you wanting more, and this Paris tour itinerary is just the tip of the iceberg. You'll need to keep coming back to enjoy all that the remarkable City of Lights has to offer.
Read related posts: Paris Walking Route Planner – One Day Self Guided Tour of Paris Inspiration for where to go after Paris – Best Places to Visit in France, Outside of Paris
Pin this for later!