Hidden away among the bucolic, diverse landscapes of France, are a number of beautiful French lakes. These lakes sit high upon the slopes of Corsican mountains, on the periphery of the Alps, flowing between two countries or even in centuries-old volcanic craters.
Some popular lakes of France offer watersports activities and eco-friendly boat rides, while others attract with a more natural vibe – spaces where one can sit lakeside and meditate, photograph flora and fauna or even camp in the great outdoors and indulge in wild swimming.
Whichever experience you're seeking, you'll find it below in our selection of the most beautiful lakes in France.
---
Lake Der-Chantecoq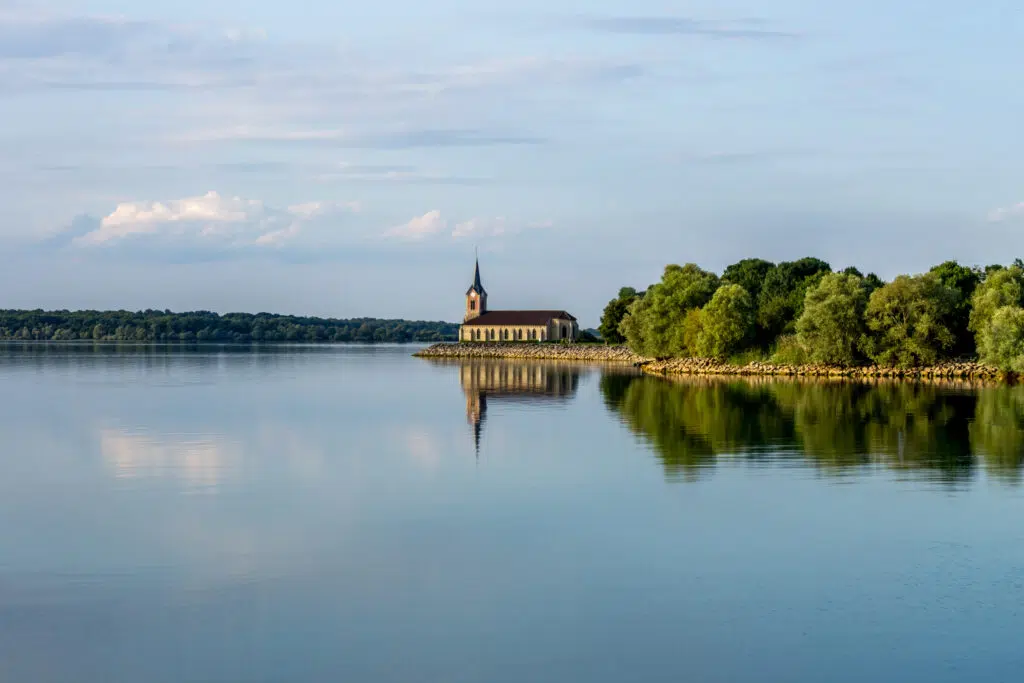 Sparkling Lake Der-Chantecoq in the Champagne region is the country's largest artificial lake spanning 48 square kilometres. It takes its name from the surrounding oak forests and the charming village of Chantecoq which resides nearby.
The lake offers 70 kilometres of shoreline for walking, skating, and cycling, and water sports enthusiasts can enjoy a range of activities from kayaking and jet skiing to windsurfing and swimming.
Enjoy a picnic or relax on one of six sandy beaches, go birdwatching or hop aboard a speed boat to see the natural environment from a different perspective.
Lake Pavin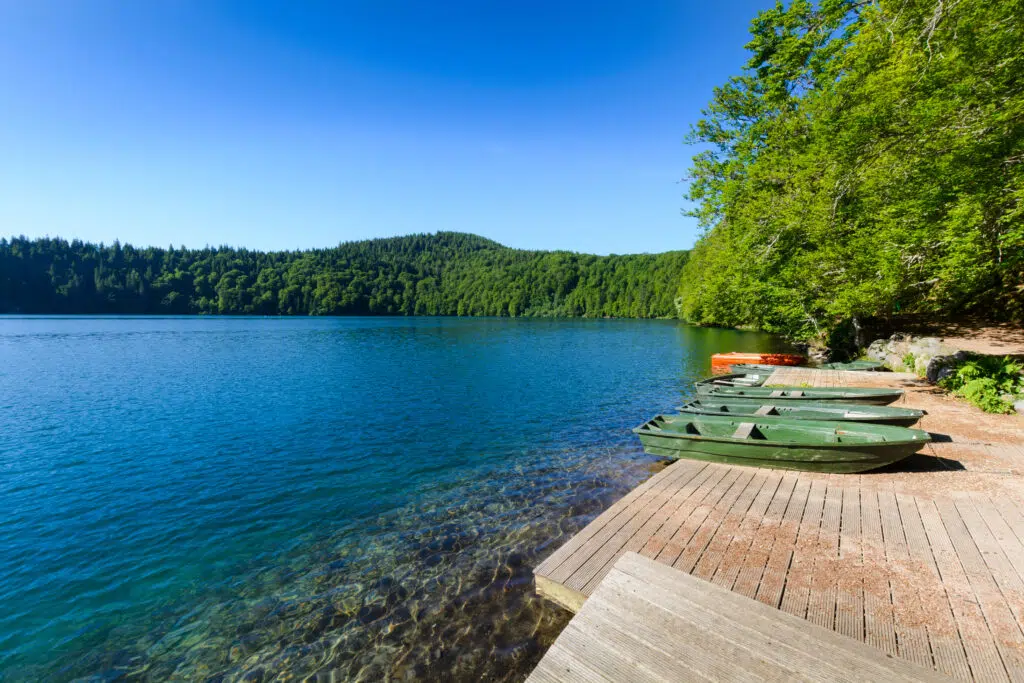 Lake Pavin is a meromictic lake tucked between emerald green pine and spruce forests near Besse-et-Saint-Anastaise in Auvergne.
Hiking, cycling, and jogging routes circumnavigate the lake, and there are several viewpoints en route for photography and picnics. A modern hotel resides on the shore – Hotel Restaurant Le Lac Pavin, which hosts overnight stays in rooms overlooking the water.
Although no swimming is permitted in the lake, the natural beauty of its surroundings and easy walking trails, make it a great choice for families with younger children.
Lac d'Annecy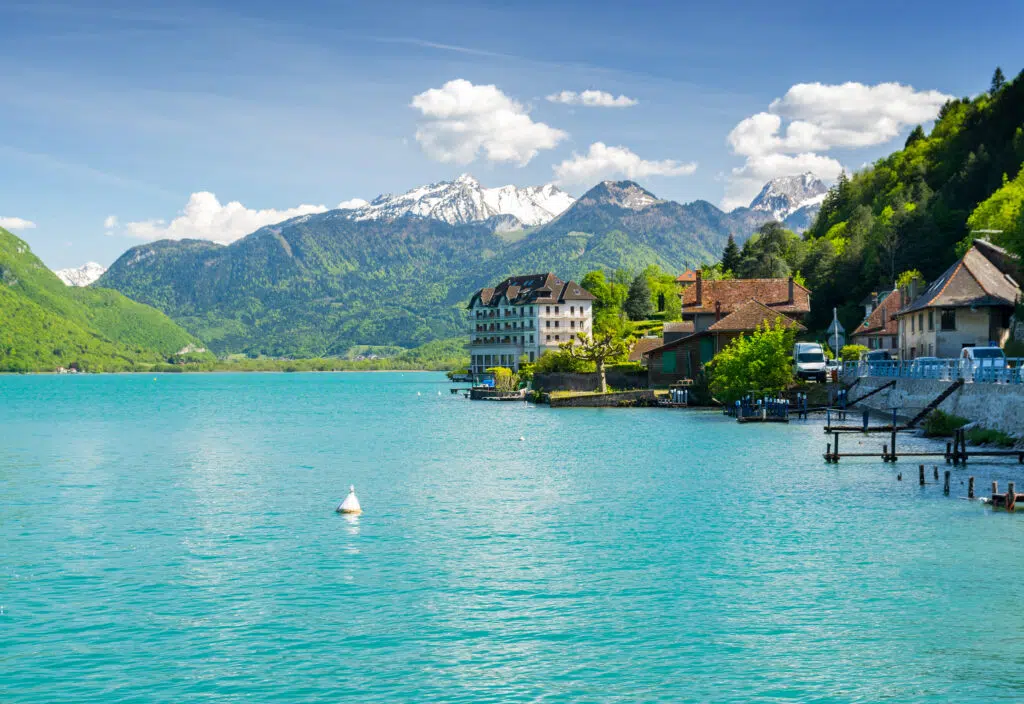 Lac d'Annecy in Haute-Savoie is one of the most beautiful lakes to visit in France – it also boasts the accolade of "Europe's cleanest lake".
With a spectacular backdrop of mountains scattered with flora and fauna in spring and summer and snow-capped peaks in winter, this is a unique destination for all seasons and is often regarded as one of the best lakes of France.
Outdoor enthusiasts can learn how to sail, paddleboard or scuba dive, enjoy a hot air balloon ride, go hiking, mountain biking, paragliding or simply relax on one of the beaches with a gourmet picnic from Annecy's farmer's market.
In winter months, many hiking routes transform into Nordic ski and snowshoe trails, making Lake Annecy a fun year-round destination.
Lac de Sainte-Croix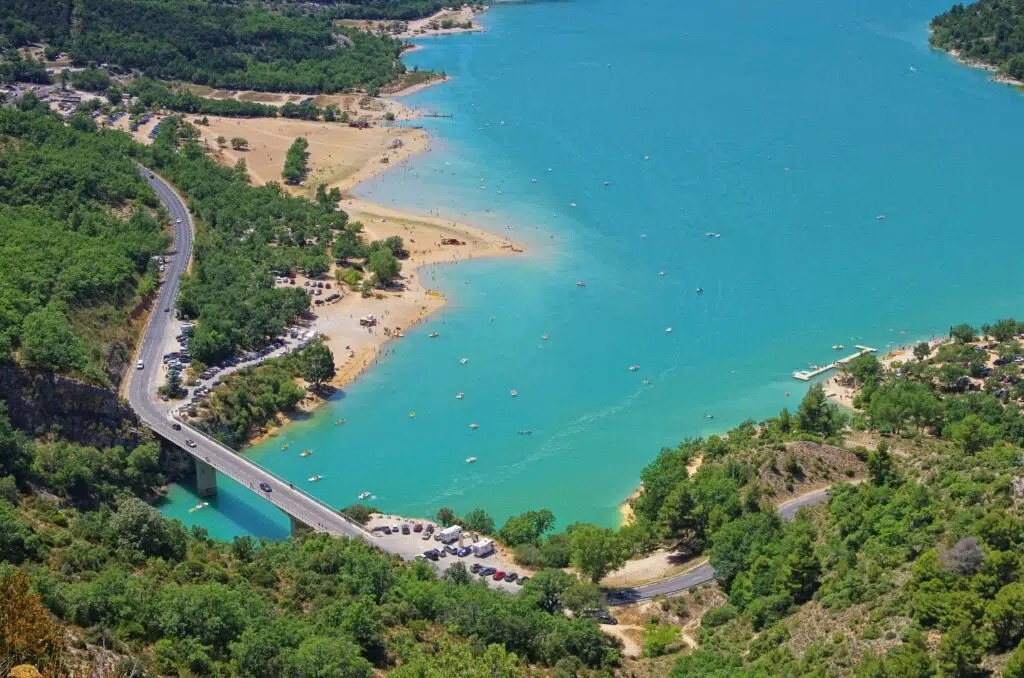 Set inside the Regional Natural Park of Verdon, Lac de Sainte-Croix is a popular tourist destination. In addition to being a leisure lake, these vivid turquoise waters are a reservoir too, fed by the Verdon River.
This is one of the best swimming lakes in France. Day trippers can relax on the beaches, hire an electric or pedal boat, glide along in kayaks, try their hand at windsurfing or navigate hiking trails sprinkled with oaks and pines.
The village of Baudeun on the south shore with its honey-hued houses and restaurants is the perfect spot for lunch, or head to Moustiers-Sainte-Marie further north, renowned for its earthenware pottery.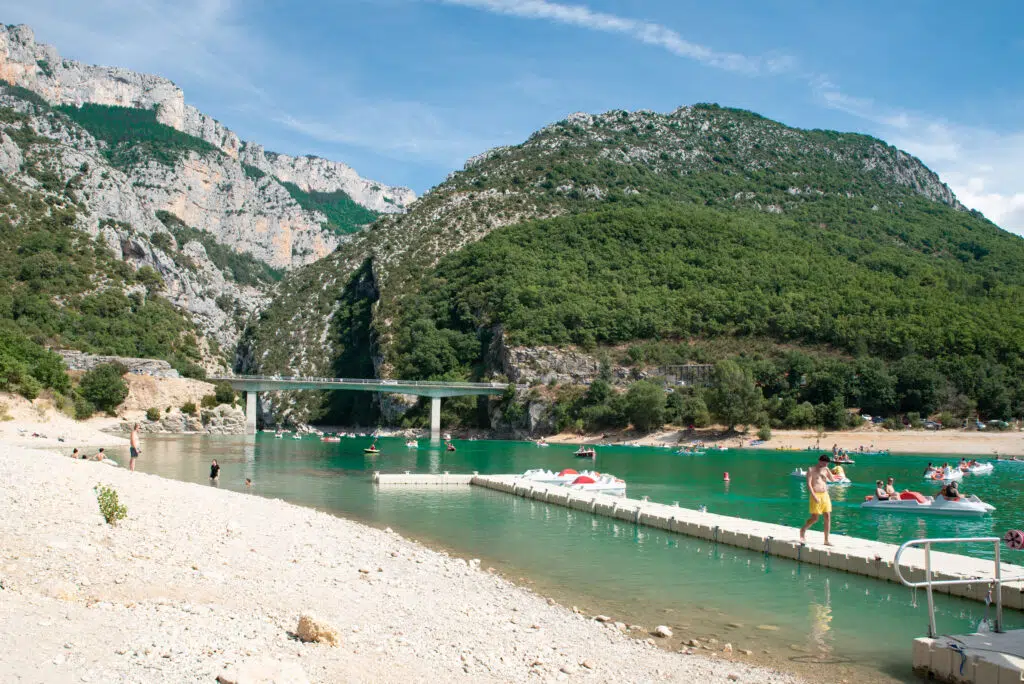 If visiting in early summer, you'll also be in for a treat, as the fields around the lake are filled with flowering lavender, sage and sunflowers. Take your time to meander down the country lanes between Sainte-Croix-du-Verdon, Valensole, and Moustiers, to find some of the most beautiful lavender fields in Provence.
Lake Chavillon
Lac Chavillon in the Hautes-Alpes is flanked by the greenest grass and pine trees, with a generous dose of rocky massifs as its backdrop.
This is the best place to experience and connect with nature in its purest form. There are several hiking trails to the lake – moderate to challenging, although they may not be suited to young children or those with limited mobility.
Photographers will adore the views and flora and fauna of the wilderness. Simply bring a backpack, picnic and water bottle, soak up the views and digitally detox for the day.
Lake Gérardmer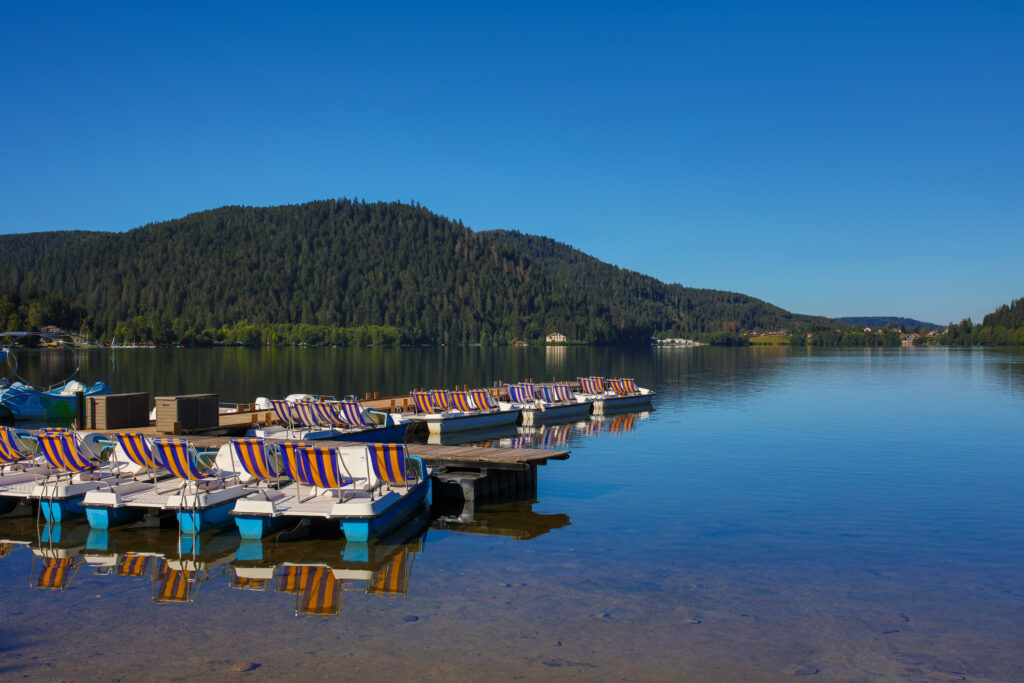 Lake Gérardmer is a glacial lake, fringed by dense ancient forests, 660 metres above sea level in the Vosges region of eastern France.
This is one of the largest natural lakes in France, and during summer months, tourists can enjoy swimming, relaxing on the beaches, boat trips, canoeing, paddle boarding and hiking to waterfalls and observation towers.
Campsites, hotels and restaurants are located by the town of Gérardmer, and in winter the lake freezes, transforming it into a popular ice skating rink.
Lake Bourget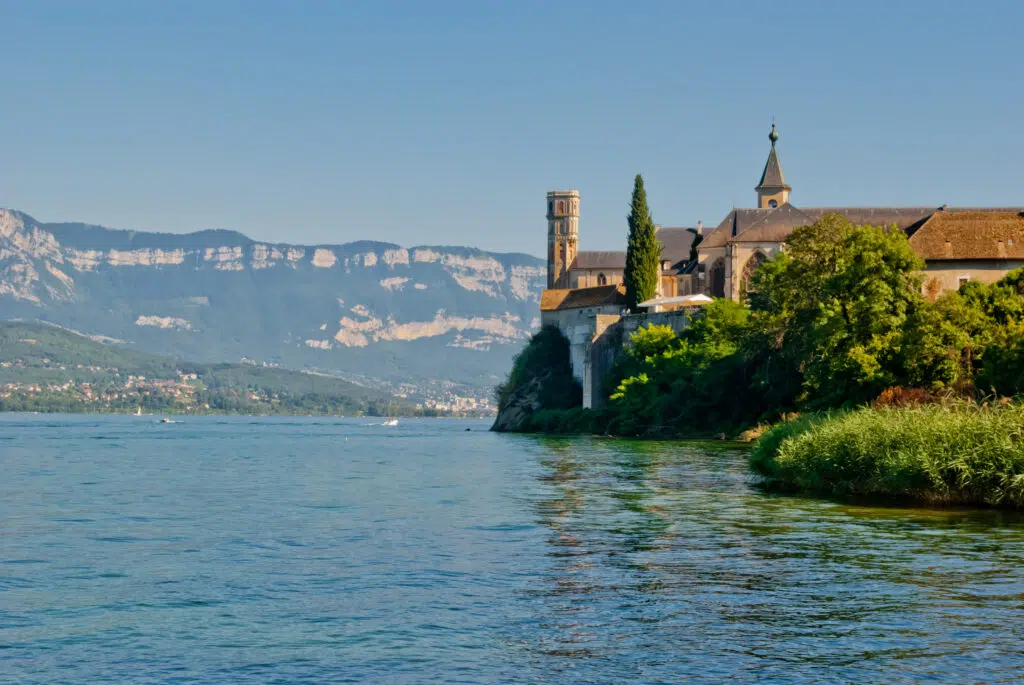 Surrounded by the Epine Massif, Lake Bourget is the largest lake of glacial origin in the country, stretching for a vast 18 kilometres.
With several ports and watersports on offer including kayaking, diving, wakeboarding, waterskiing, and rafting, there's always an exciting activity to partake in.
Swimming is permitted in the lake and water temperatures can reach up to 25°C in summer. Beaches are accessible, although not all are free to access in July and August.
Around Lake Bourget, forested slopes, wild shorelines and historic abbeys are ripe for exploration, or take a tour of the beautiful spa town, Aix-les-Bains.
Lac d'Aiguebelette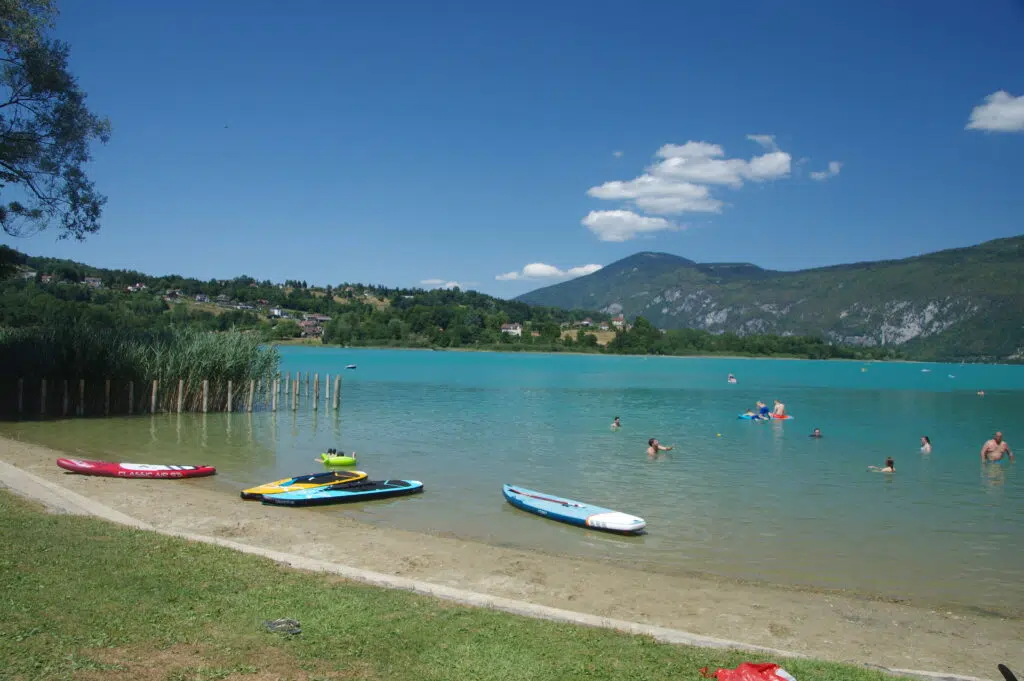 Lac d'Aiguebelette is located at the foot of the Epine mountains in the Rhone-Alps. This is one of France's largest natural lakes, infused with hot springs which allow the water to heat to a pleasant 28°C in summer.
The lake is sheltered by verdant mountains and limestone cliffs which makes it a perfect spot for swimming, canoeing and paddle boarding.
Landscaped beaches with facilities are available around the perimeter, with St Alban beach being a popular choice for families and Lepin le Lac offering games and a snack bar. Stay the night at a campsite, enjoy a barbeque and stargaze by the water's edge.
Lac de Genève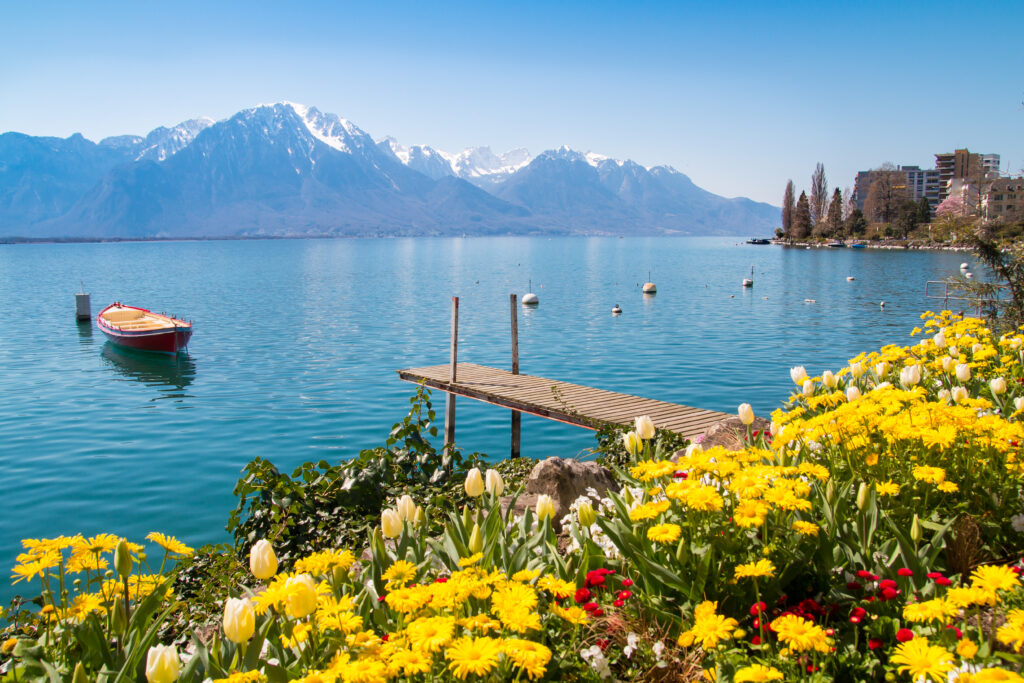 Lake Geneva or Lac Léman (French) is one of the most famous lakes in Europe, with sweeping vistas of Alpine mountains and picture-postcard scenery showcasing both France and Switzerland.
Observe the lake from the medieval village of Yvoire with its 14th-century castle, hike the trails, picnic in the gardens or hop aboard a Belle Epoque paddle steamer or solar-powered shuttle to spend a day exploring Swiss cities.
A variety of water sports activities are available in Thonon-les-Bains, including kayaking, sailing, windsurfing and diving and if you're seeking somewhere to stay on the French side, elegant Evian-les-Bains boasts several hotels.
Lac de Gaube
Lac de Gaube sits at the base of the Vignemale, less than 40 kilometres from the town of Lourdes in the Pyrenees National Park.
The oval-shaped lake can be reached via Pont d'Espagne at Cauterets and offers breathtaking natural landscapes with stunning panoramas to photograph.
It's flanked by lush mountains and pines with two kilometres of shoreline and in the distance, even during summer, Pyrenean peaks are laced with snow.
Visitors can hike through ancient forests spotting endemic flora and marmots, or if travelling with younger children, another option is to view the Gaube lake from the cable car.
Lac de Guéry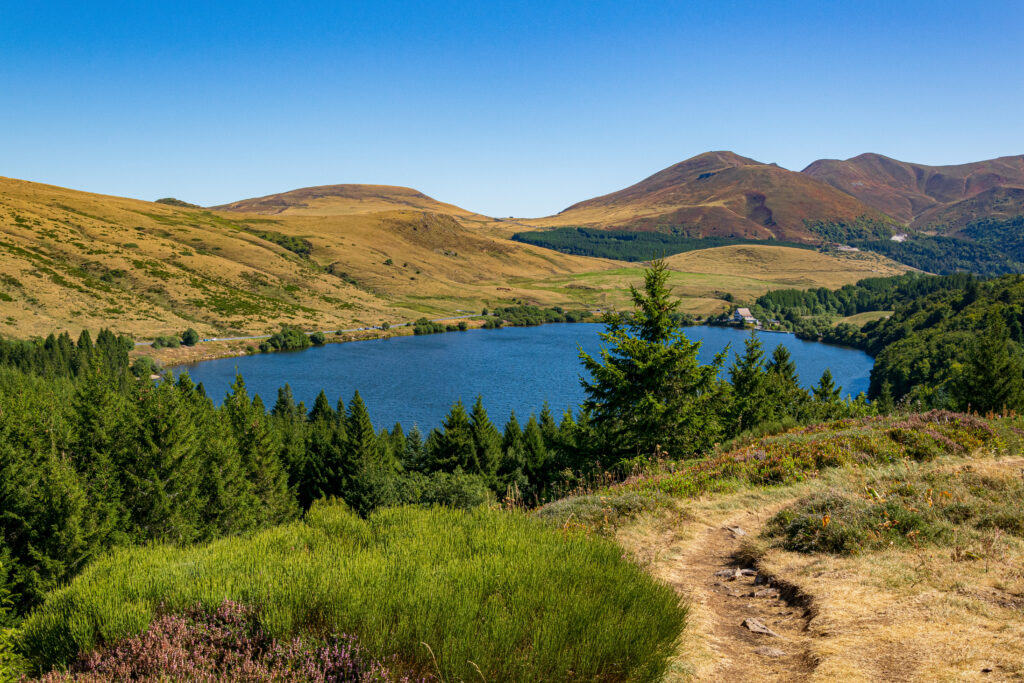 The highest lake in the Auvergne region, Lac de Guéry stands at an altitude of 1224 metres above sea level.
The scenery is spectacular – rolling green hills sweep down towards the lake shore, and in summer, colourful wildflowers pepper the trails.
Between June and mid-October, sailing is available, and during winter months, the landscapes transform into a snow-covered wonderland with racket circuits and cross-country ski routes.
For a pleasant afternoon, drive or cycle along Col de Guéry a picturesque mountain pass overlooking the lake.
Lac du Salagou
One of the first things you'll notice about Lac du Salagou is the way the light catches the landscapes. The artificial lake covers 750 hectares and boasts red/orange shores and rolling forested hills which sweep down to sapphire blue waters.
Drive around the lake to discover different viewpoints or take a walk or bike ride along 'Route Forestiere'.
Visitors can break for lunch in the traditional town of Salasc a few kilometres away or bring a picnic and relax by the peaceful water's edge.
Swimming is permitted at the south side of the lake near Clermont l' Hérault and windsurfs and boats can be hired from the beaches or campsites.
Lac de Capitello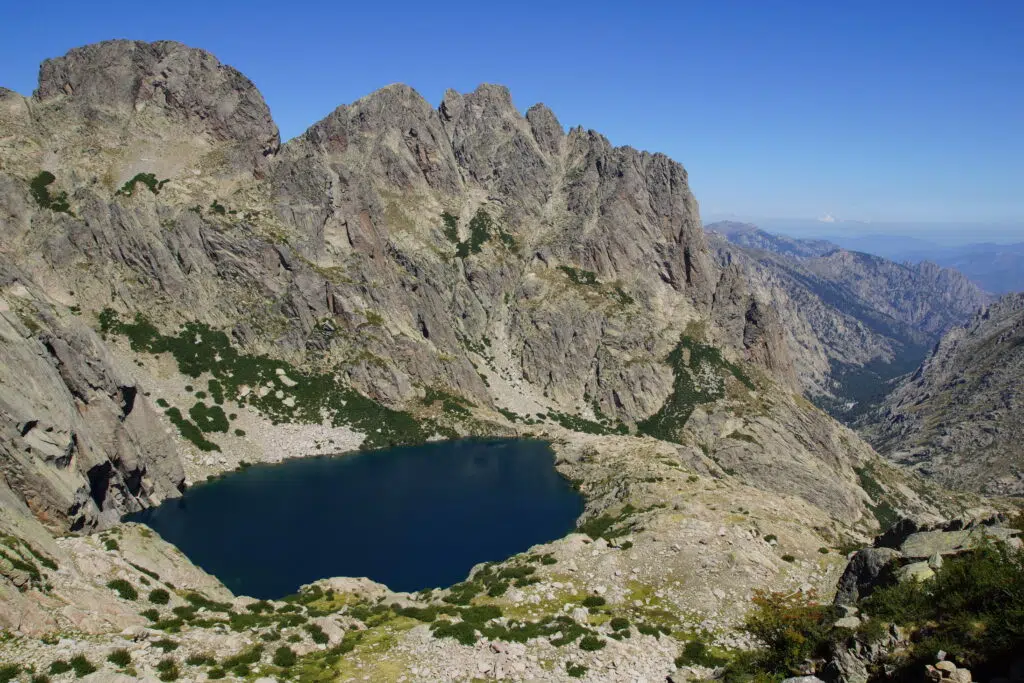 A short drive from the town of Corte in Corsica is the deepest lake on the island. Lac de Capitello sits proudly at the river Tavignano tributary with sparse, other-worldly panoramas consisting of limited vegetation and granite cliff walls.
It's a striking scene, with the water a shimmering shade of cobalt blue and the elusive golden eagle soaring up above.
This is a wonderful place to hike, take photographs and enjoy a picnic, however, the route to the lake can be tricky in winter months, therefore should only be attempted by seasoned hikers. It's also worth considering that this lake freezes for around eight months each year!
Lac du Mont Cenis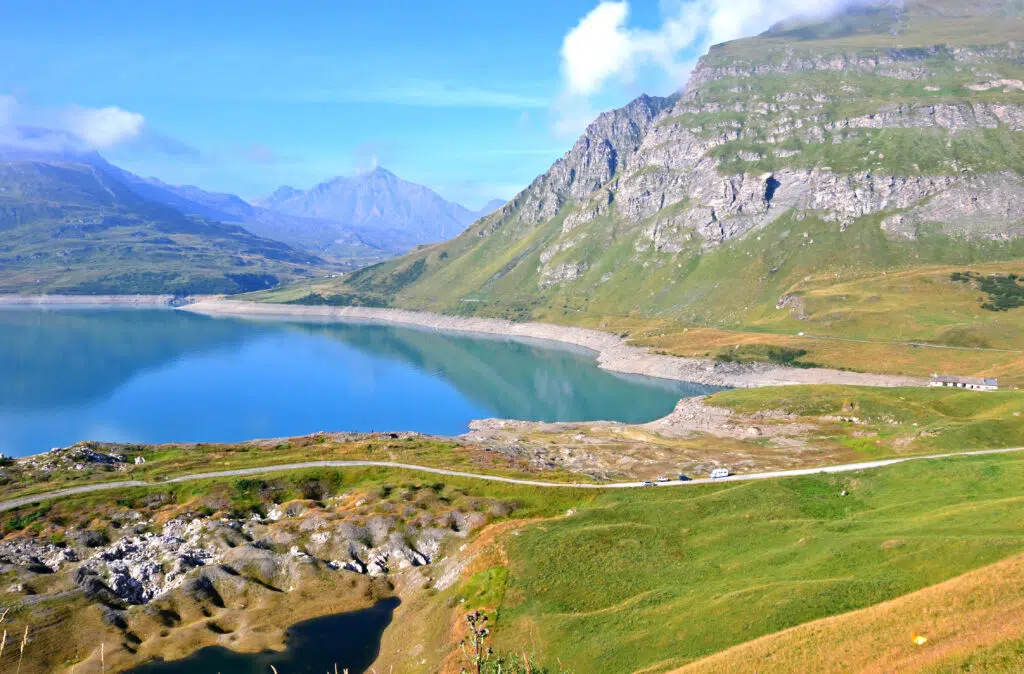 Lac du Mont Cenis is part of an artificial dam built on the site of the original border crossing between France and Italy.
Outdoor enthusiasts come to hike or cycle along the trails (which have been featured on the Tour de France), and nature lovers venture here to see the endemic flowers that grow in this unique microclimate.
In spring and summer, nature's beautifully curated Alpine scenes flourish, and in winter, jagged peaks are iced in snow. No swimming is permitted here, but it's the perfect day retreat if you want to leave the city behind and connect with nature.
Lac de Serre-Ponçon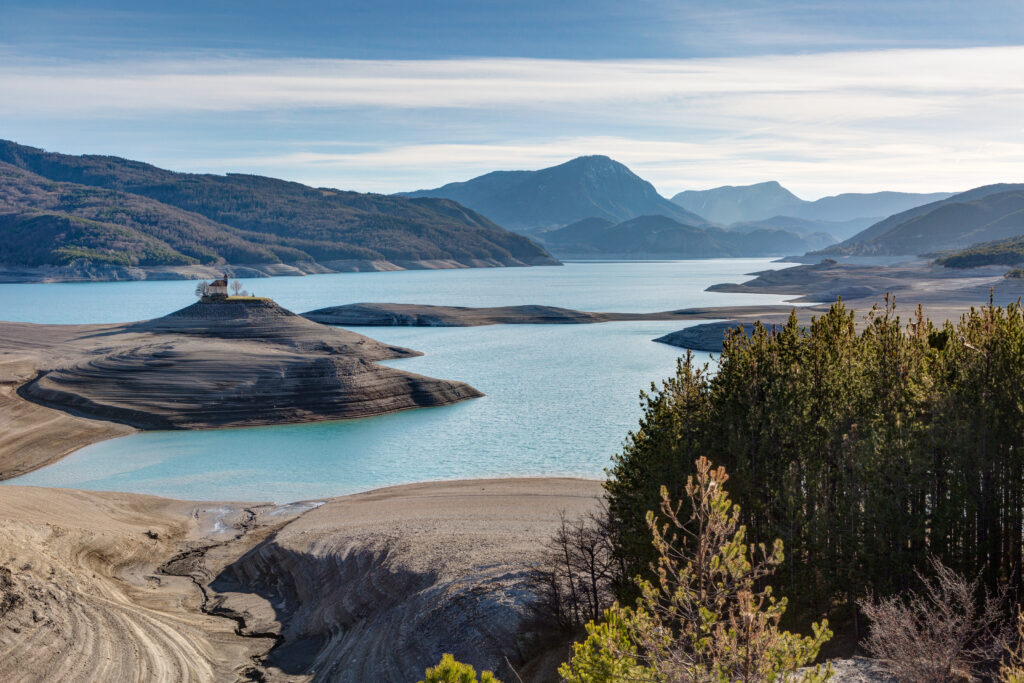 Lac de Serre-Ponçon sits in the Alps surrounded by mountains and the shoreline is infused with a rugged, unspoilt wilderness.
Pretty villages punctuate the perimeter, and those interested in local history can visit the nearby Museoscope du Lac – a museum with information about the dam construction.
From the village of Savines-le-Lac, take a boat ride, or learn to wakeboard, windsurf, or waterski. Also, if the opportunity arises, head to the Chapel of Saint-Michel on the island – it's one of the most photographed landmarks in the Hautes-Alpes.
Lac De Chéserys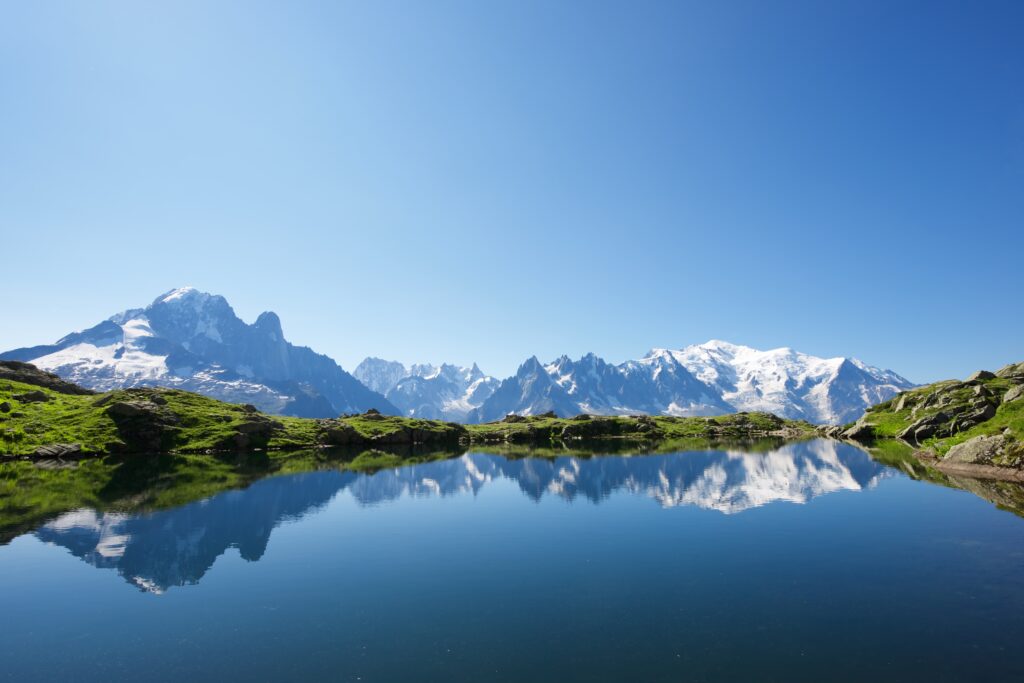 Lac De Chéserys is a hotspot for nature lovers and photographers, who come to capture the scenic landscapes and observe the majestic Alpine Ibex in its natural habitat.
This beautiful Alpine lake is particularly stunning in summer, when pistachio greens of the grassy trails contrast with rugged landscapes and fuchsia pink wildflowers are in full bloom.
During winter months the landscape is blanketed in white, flanked by snowcapped summits with ski slopes nearby.
When weather permits, camp outdoors by the lake and view constellations with clarity, thanks to zero light pollution.
Lake Bort-les-Orgues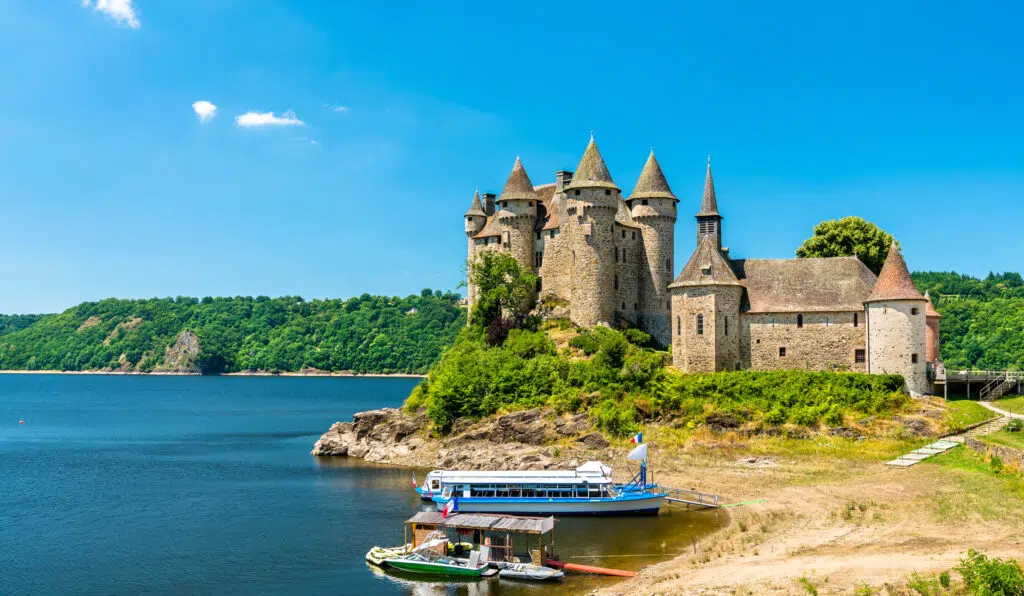 Lake Bort-les-Orgue sits beneath the giant basalt cliffs of the Dordogne region. It sits amidst woodland shores, as an artificial reservoir spanning 21 kilometres in length.
It's an ideal place for families to spend a day with lake cruises (April to late September) water skiing, jet skiing, swimming, canoeing and pedalo hire.
Camping is available, dine alfresco at a waterside bistro or visit the nearby towns of Beaulieu and Bort-les-Orgues to delve into local history. Another bonus for animal lovers – dogs are permitted at this lake!
Lac d'Allos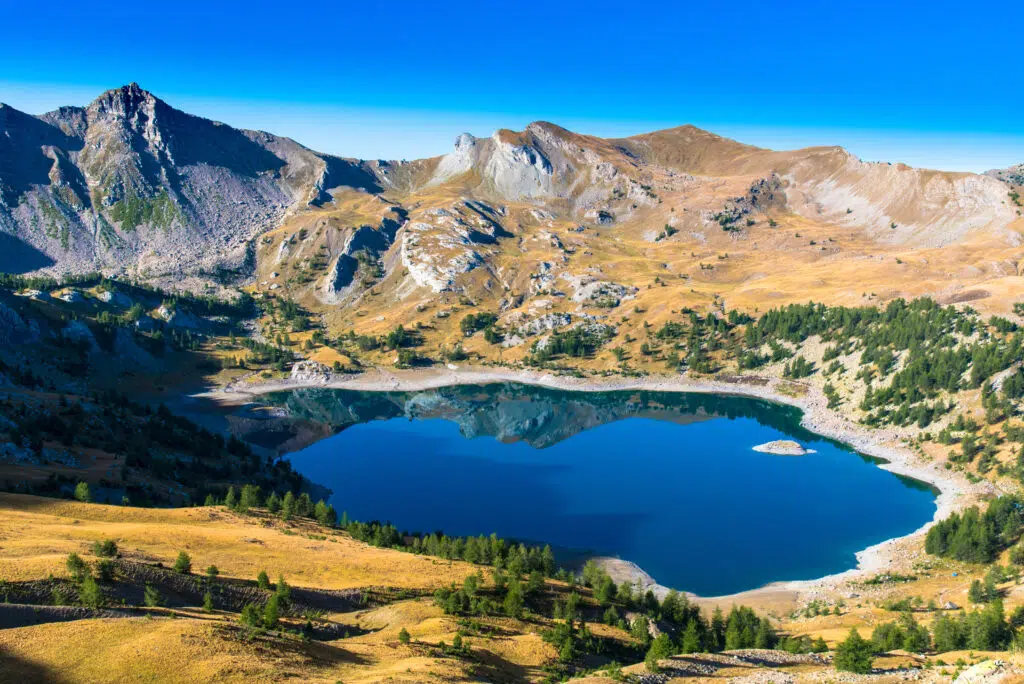 Lac d'Allos in Mercantour National Park is the highest lake in Europe, surrounded by mountains caked in snow and ice, and forests strewn with emerald pines.
A short hike (ideal for kids) to the small glacial lake offers spectacular photo opportunities and it's the perfect place to bring a picnic and simply soak up the natural beauty.
In summer the trails are abundant with butterflies, rhododendrons and Swiss pines and the rare edelweiss flowers here. Bring binoculars or a camera with a zoom lens to seek out pretty cascades, herds of chamois, ibex and griffon vultures.
Lac d'Esparron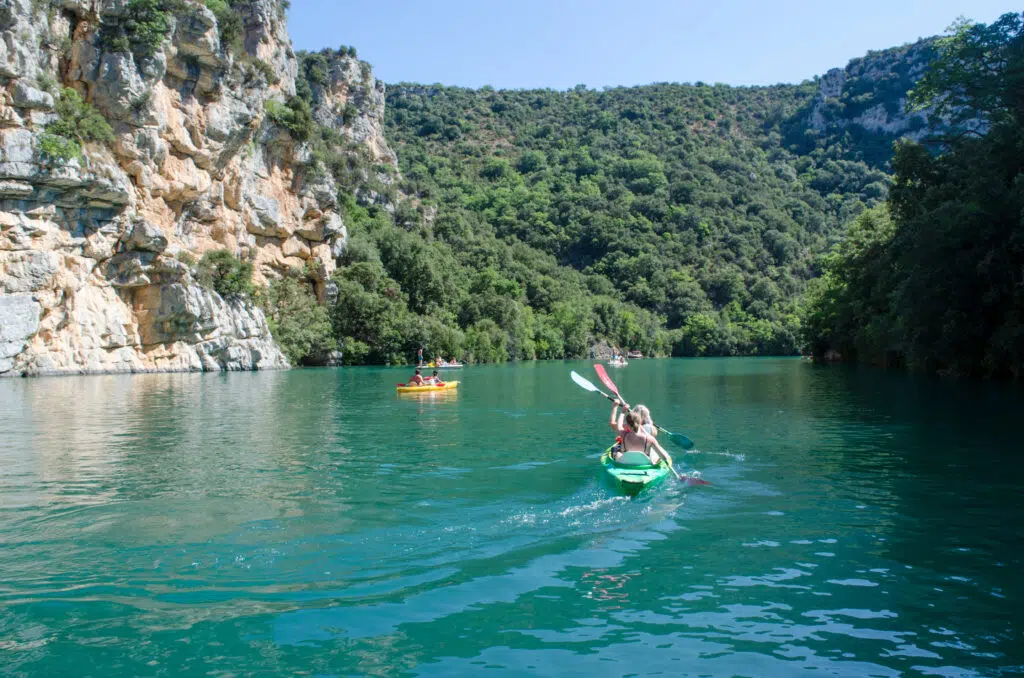 Slightly smaller (and less busy) than nearby Lake Sainte-Croix, Lac d'Esparron is famed for its beaches and mirror-like waters. The artificial reservoir in Provence boasts a range of ancient footpaths to hike along and several creeks are available for swimming close to the village.
Day trippers can enjoy sailing on an electric boat, canoe or pedalo and it's possible to venture into the lower Verdon Gorges.
For a more relaxing day out, dine lakeside with friends and family, soak up the sun, or if visiting in season, stop off to see the nearby lavender fields in full bloom.
Lac de l'Oriente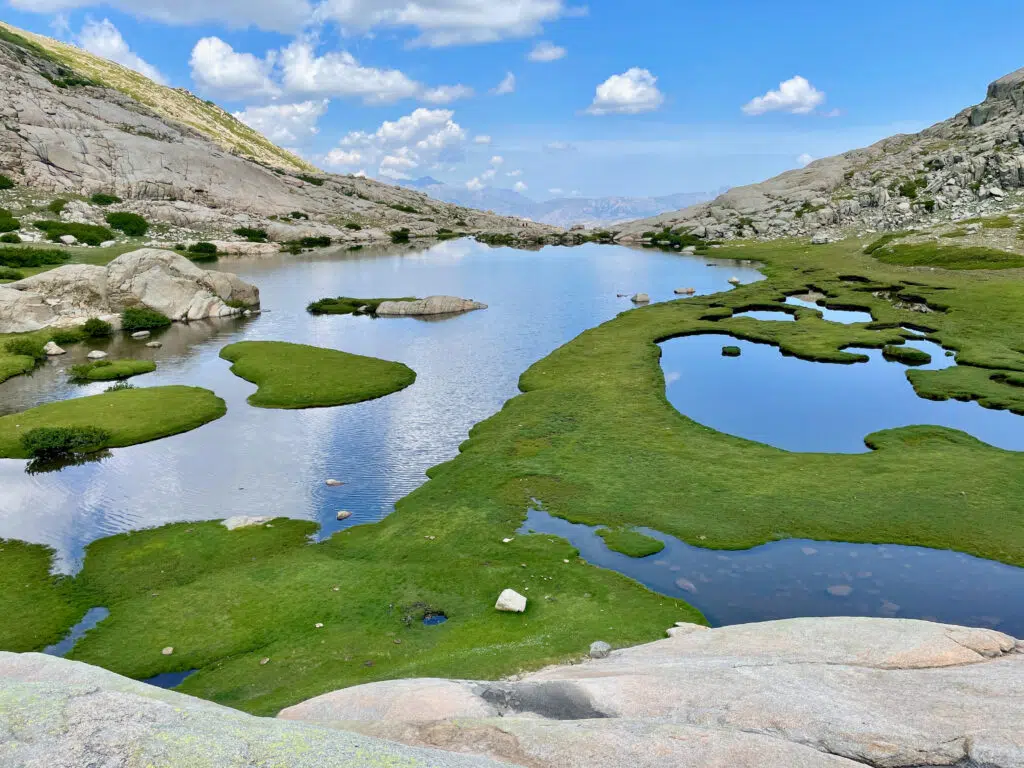 Lac de l'Oriente is located on the island of Corsica in the northern Mediterranean Sea. The lake is located in the Haute-Corse, inside a basin on the slopes of Monte Rotondo. The mountain provides a natural amphitheatre scenic backdrop and in the lake itself, there is a network of canals and pozzines (pools) which are familiar in this region of Corsica.
The hike along the river is rocky and challenging, which makes it unsuitable for young children, and pets are not permitted. However, if you're physically fit, the trail provides incredible waterfalls, wildlife and photo opportunities.
---
There are lakes of outstanding natural beauty to visit throughout France and its islands. Whether you're travelling solo, with children or as a couple, you're sure to find a location to suit your needs from our list of best lakes in France.