Creating a 7-day itinerary for the South of France is no easy task. With so much to see and do, you really do have to narrow your focus a little or you could end up spending all of your time in the car!
With this in mind, I've created the perfect Southern France itinerary that will allow you to see many of the highlights of the region while minimising driving time and allowing you to chop and change some aspects to suit your holiday style.
This South of France itinerary focuses on what I consider to be the most beautiful and authentic area of Southern France – Provence. I'm lucky enough to call Provence home, and I love sharing my knowledge of what makes this region of France so special. So let's jump in and start planning your holiday to Provence!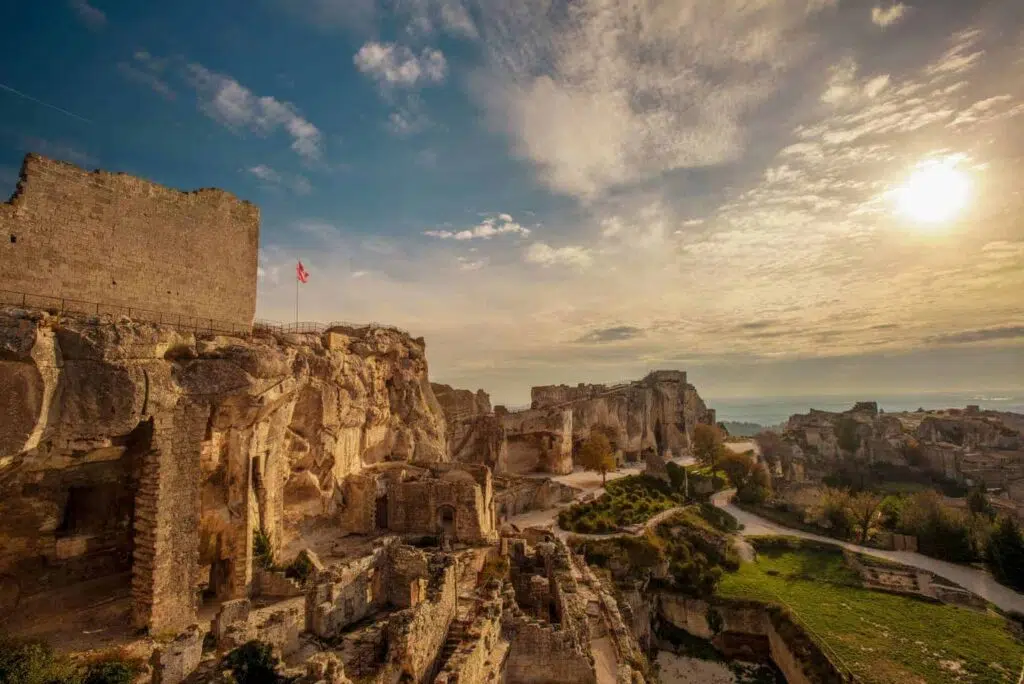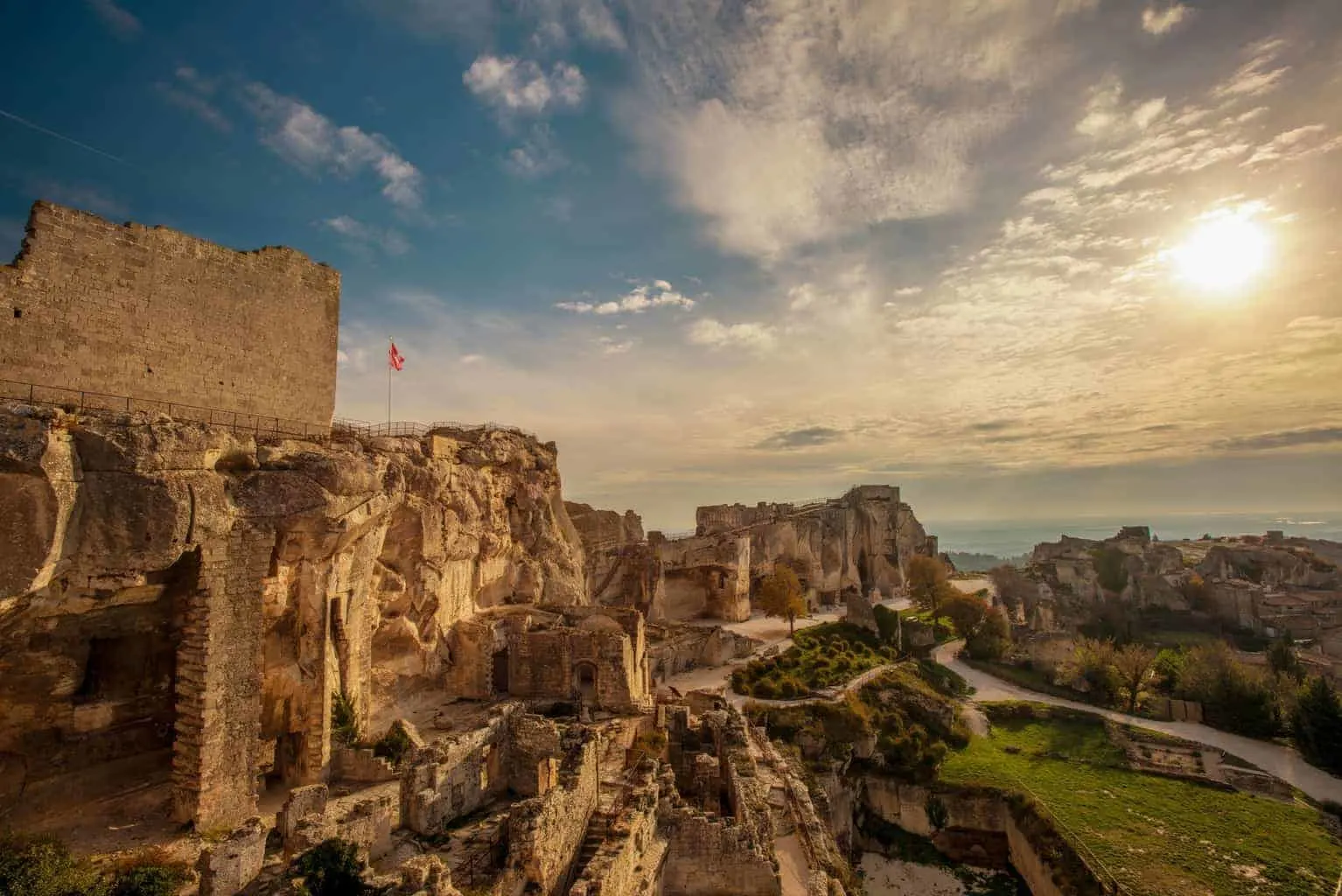 ---
Itinerary for a Week in Provence, France
Ideally, you'll arrive on a Friday and leave on a Friday to take full advantage of the following Provence itinerary. It's been designed to make the most of opening times, market days and other seasonal events.
But if that's not possible, don't despair! You'll still have a brilliant time, and you can mix the days up as you choose.
The following itinerary also assumes you'll have a car available to use during your visit. Although some people are nervous about driving in France, there really isn't too much to be concerned about. I really believe the best way to explore Provence is by car, so you can go at your own pace, discover hidden gems and stop at breathtaking roadside scenes as you go.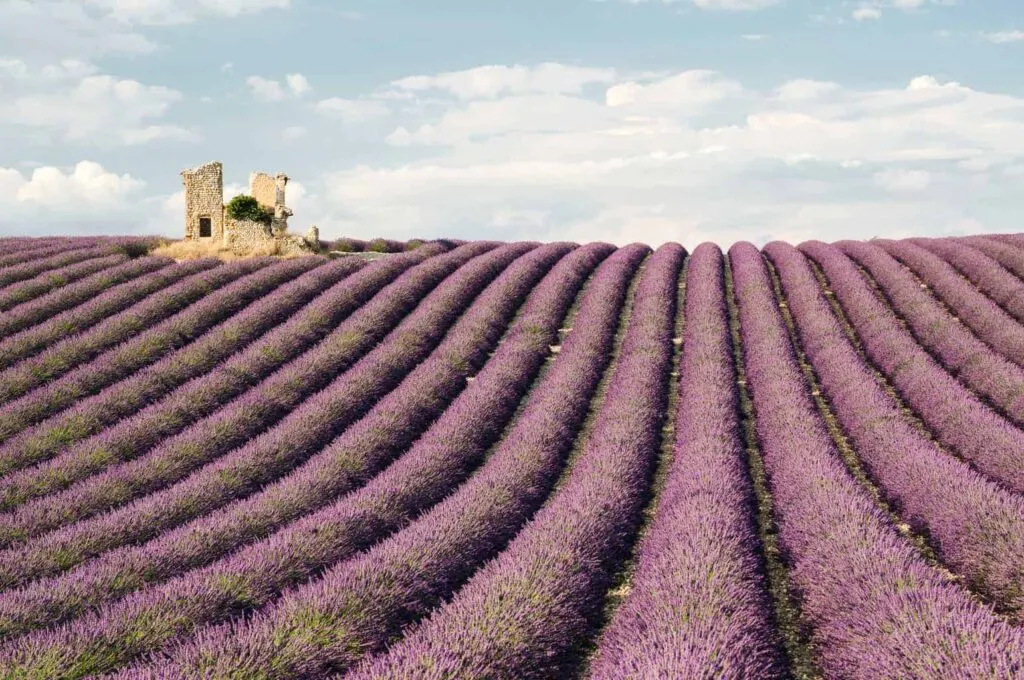 Tips for Getting Around Provence
The roads are narrow, so it's best to hire a smaller car (book your car rental here).
Directions are well signposted, or you can get around with the help of a map, GPS, or map on your phone.
Stick to smaller road networks instead of the motorway to drive alongside vineyards and olive groves, and you'll get to see some beautiful hamlets or smaller villages that you'd otherwise miss.
Best Time to Visit Provence
It's hard to pinpoint the best time to travel to Provence, as it depends on what you want to do while you're here! With that said, there are definitely pros and cons for each season, so I'll go over these briefly below.
Visiting Provence in Winter
Winter is not a popular time to visit Provence unless you're headed for the Alps! It's therefore much quieter around the region, but as a consequence, you'll find a lot of the attractions are closed during this period.
Pros
Good deals on accommodation
Experience the 'real Provence'
Visit beautiful Christmas markets and experience Provençal Xmas traditions
Cons
Some tourist attractions closed
Colder weather
Visiting Provence in Spring
I know I said it's hard to pick the best time to visit Provence, but if I absolutely had to, I'd say Spring. The landscape is filled with wonderfully bright flowers, the sleepier villages start to come to life again and the weather is much more pleasant.
Pros
The sun is out, and the weather is generally lovely by mid-late Spring
Tourist attractions open their doors again
Experience Easter celebrations around the region
Cons
Spring is prime time for the Mistral to be blowing – a strong, cool wind that makes it almost impossible to enjoy outdoor activities in exposed areas. The good news is that it usually only lasts a day or so before dying off again.

Visiting Provence in Summer
Summer is, without a doubt, the most popular time to visit Provence. The days are hot and long, the lavender fields are in full bloom, and the beaches are perfect for sunning yourself. But there are also downsides to visiting in the busy period of June to September.
Pros
Consistently hot, dry weather.
Perfect time to enjoy swimming in the Mediterranean, or in your own pool
Many festivals and events take place throughout July & August
Cons
Crowds, especially on the beaches
Some walking tracks (such as the Calanques walk) are closed due to the risk of wildfires
Visiting Provence in Autumn
Autumn is another good time to visit Provence. The weather remains hot throughout September and the crowds begin to thin. School is back, which means mid-week trips to the beach and attractions are much quieter.
Pros
Weather at the beginning of Autumn is hot, and it remains fairly warm throughout the season
School is back, meaning fewer holidaymakers are around
Cons
You can expect more rain in Autumn than in Spring.
---
Looking for more Provence travel inspiration? Don't forget to join our free Facebook group Provence Travel Planning!
---
Where to Stay in Provence
To choose the best place to stay in Provence, I'd advise you to have a read of our Provence Hotel Guide.
For the purposes of this itinerary, I've recommended the best location to stay for each day in order to reduce the number of accommodation changes throughout the week. No one likes to have to pack up and check-in/out of hotels every day!
I'm going to start the itinerary in the popular base of Avignon, but you could just as easily pick a base in many a place nearby. L'isle-sur-la-Sorgue is a good choice if you'd like a slower pace, and Saint-Rémy-de-Provence is a popular spot too.
Alternatively, you could do this Provence itinerary backwards and start in Aix-en-Provence!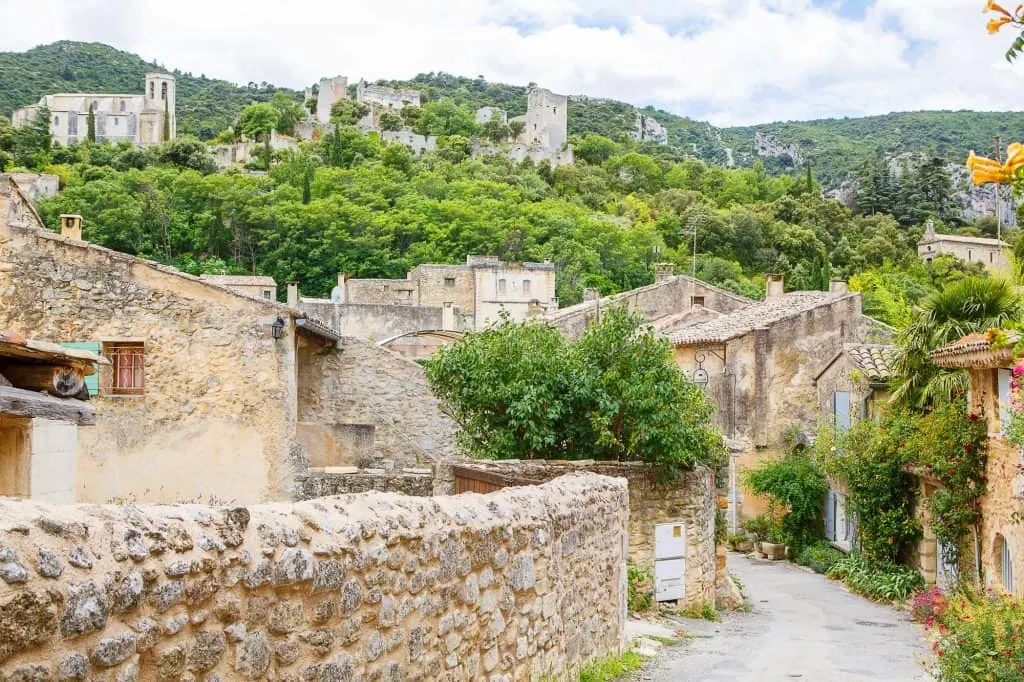 ---
Day 1 (1/2 Day) Pont du Gard & Avignon
Stay: Avignon
Arrival day in Provence! Whether you're driving, taking the train, or flying into Provence, it's going to eat up a few hours of your first day, so I've started this itinerary with a half-day, and it's ending with a half-day on day eight.
Once you've arrived and are ready to explore – set the tone of your tour around Provence with a visit to one of the finest sites in the South of France! The Pont du Gard is just a half-hour drive from Avignon and the perfect place to spend your first afternoon.
Before leaving Avignon, pop into Les Halles to pick up some picnic supplies. Les Halles is Avignon's centrally-located covered farmers market that's open every day except Monday and offers an authentic way to get acquainted with the fresh flavours of the region.
Tip – If you happen to be visiting Avignon on a Saturday, don't miss the live cooking demonstration at Les Halles at 11 am!
Once you arrive at the Pont du Gard you can settle down for lunch with a view of the highest Roman aqueduct in the world. Depending on the weather, you may like to take a dip in the Gardon River before drying off and strolling across the bridge into the heavenly scented bush on the other side.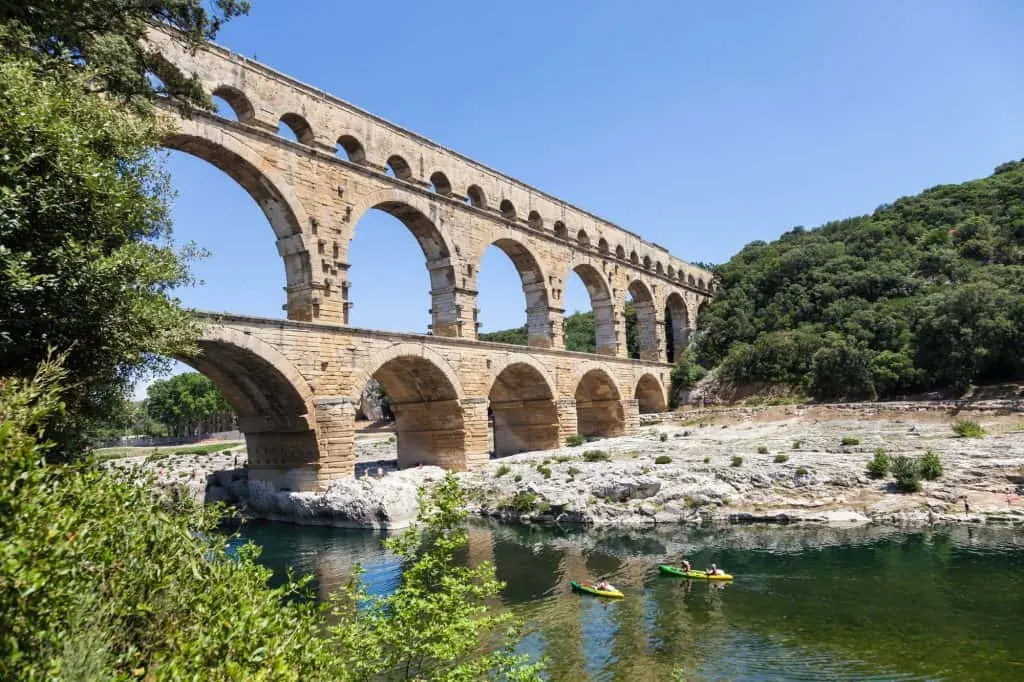 When you head back into Avignon, you can enjoy dinner in the old town, where you'll find plenty of dining options – from Michelin Star restaurants to cheap and cheerful family-run bistros.
Day 2 – Avignon
Stay: Avignon
Leave the car parked today and explore the sights of Avignon by foot.
Start with a visit to the most famous attraction in Avignon, Palais des Papes. Once home to the Popes (hence its name), the well-preserved palace is an intriguing place to visit throughout the morning. Take a virtual tour of the palace and papal apartments before pausing for lunch.
For a fun lunch experience, you could try the open kitchen in Les Halles – Cuisine Centr'Halles. Or simply fill up on delicious treats from the boulangerie before heading to your next stop – the Pont d'Avignon.
If you've seen a photo of Avignon, you've most likely seen a picture of its most famous bridge. Once spanning the length of the Rhône, nowadays only 4 of its original 22 stone arches remain. Take a stroll to the end, pop inside the petite chapel, and visit the exhibition that includes a couple of short films about the history of the bridge.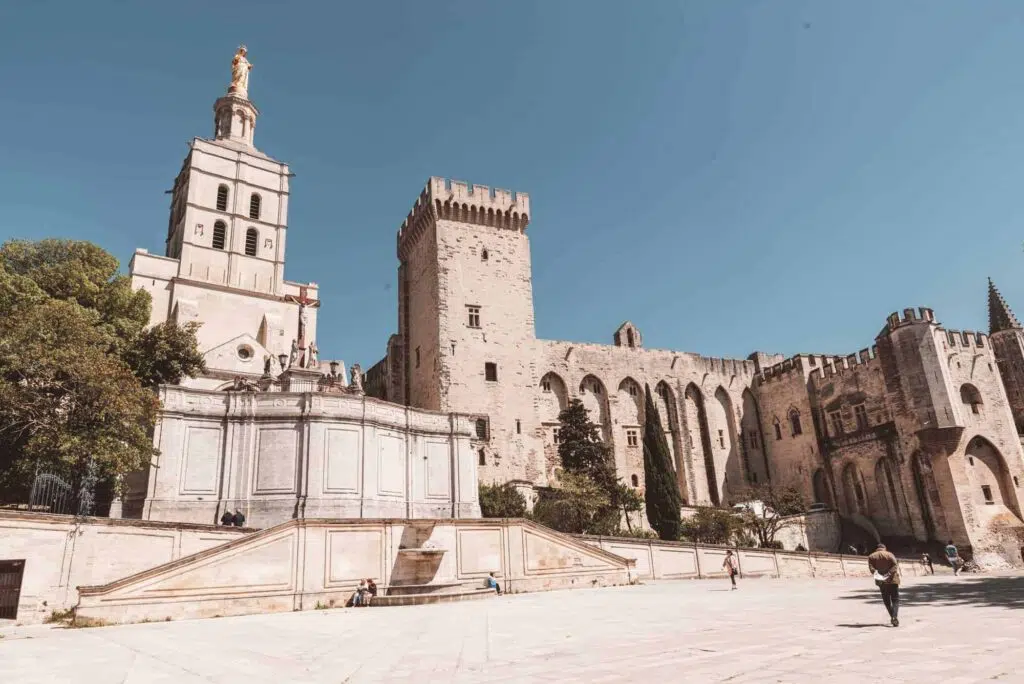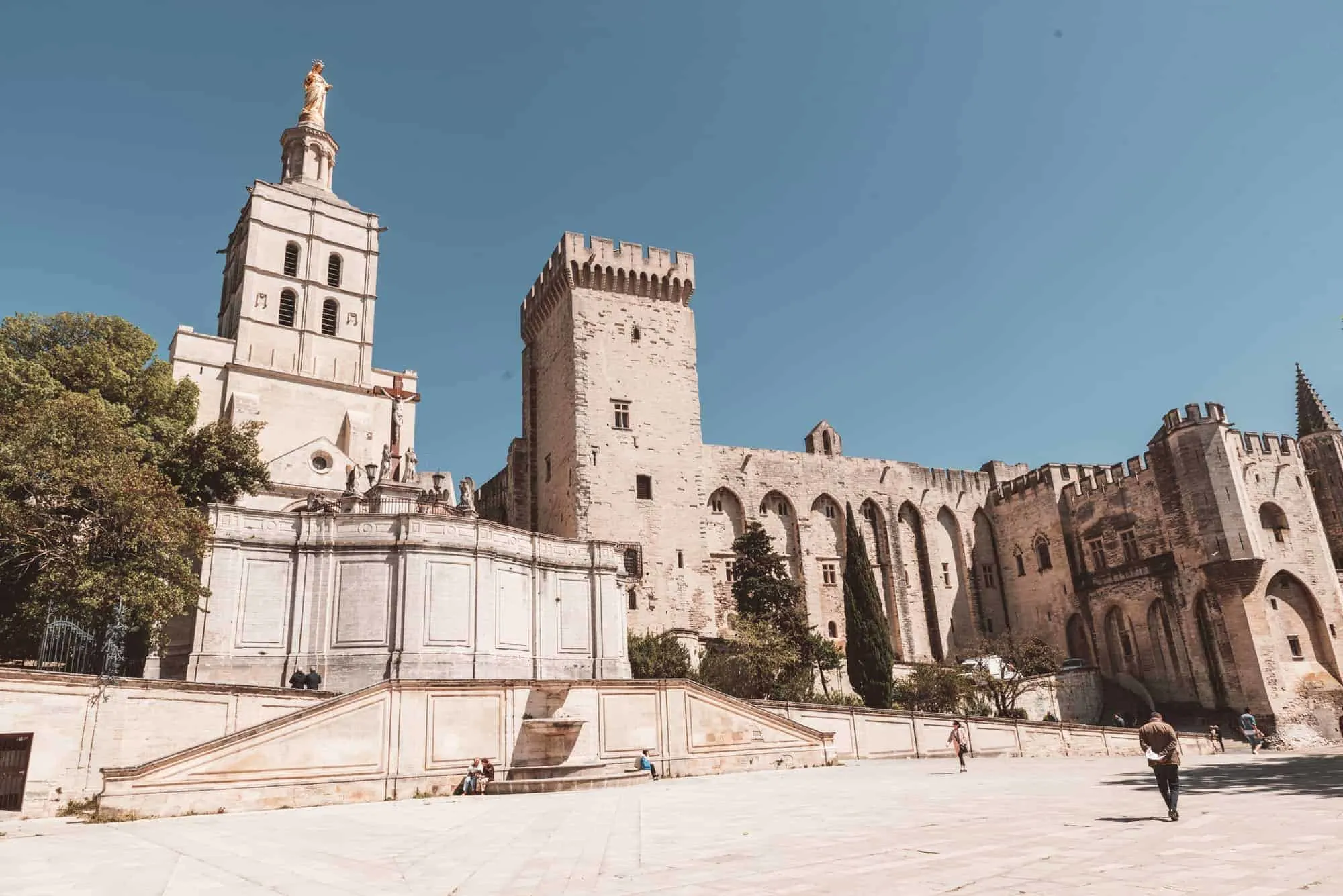 Tip – A combined ticket to the Pope's Palace and the Pont d'Avignon will save you money. Buy your tickets here.
In the afternoon, head to Avignon's elevated garden, Rocher des Doms, for stunning views of the city. The shaded garden is a good place to seek respite from the afternoon heat, have a cool drink at the café, or relax by the pond as you watch the peacocks strutting by.
Day 3 – L'isle-sur-la-Sorgue and Fontaine de Vaucluse (plus Grottes Option)
Stay: Avignon
Head to the charming canalside town of L'isle-sur-la-Sorgue. Known as the antique capital of Provence, you'll be spoiled for choice if you're looking for a unique souvenir or memento of your time in France.
Even if you don't visit on market day (Sunday), there are many brocantes and antique stores dotted throughout the town where you'll find both expensive and inexpensive gems.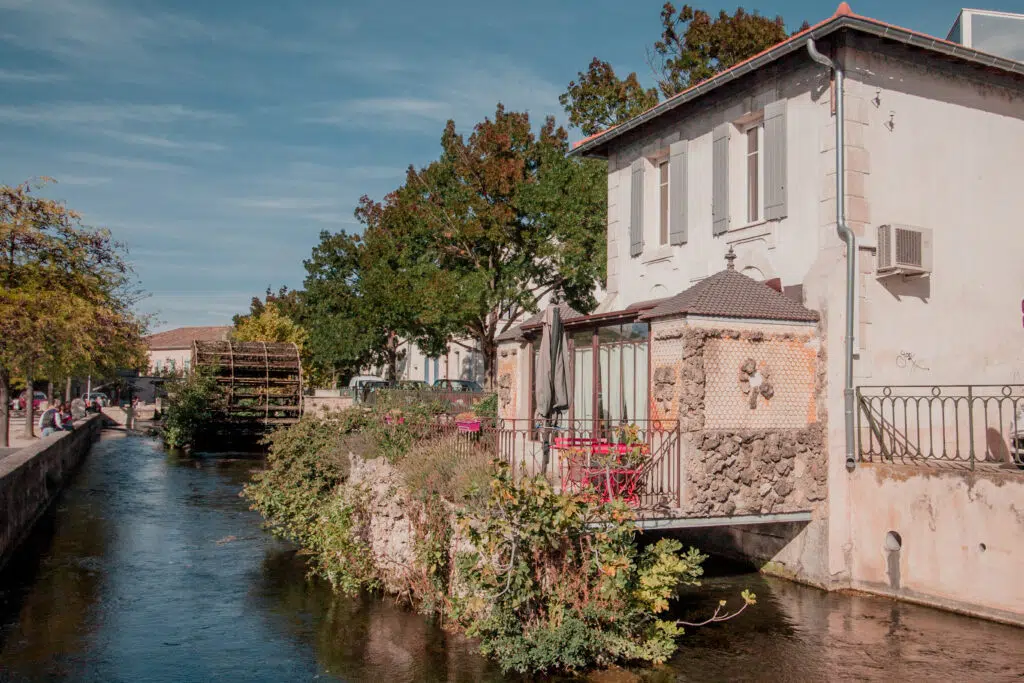 Enjoy lunch at one of the cafés positioned to make the most of the town's unique situation. L'isle-sur-la-Sorgue translates to "the island on the (river) Sorgue" and you certainly feel as though you're on an island as you explore the water framed streets. Wander past the moss-covered waterwheels that serve as a reminder of the town's textile industry before heading to the nearby village of Fontaine de Vaucluse.
It's in Fontaine de Vaucluse that you'll find the source of the river Sorgue. A deep spring emerges from the craggy mountainside and flows down into the village of the same name.
As you enter the village you'll find a small smattering of boutiques selling locally made wares, and restaurants strategically positioned to make the most of the stunning views. A short gently sloping walk will take you along a riverside path to the fountain. The fontaine always looks different – sometimes spilling over the rocks and through any stubborn trees that dare grow in its path, and at other times resting silently at the bottom of an orange-hued cave.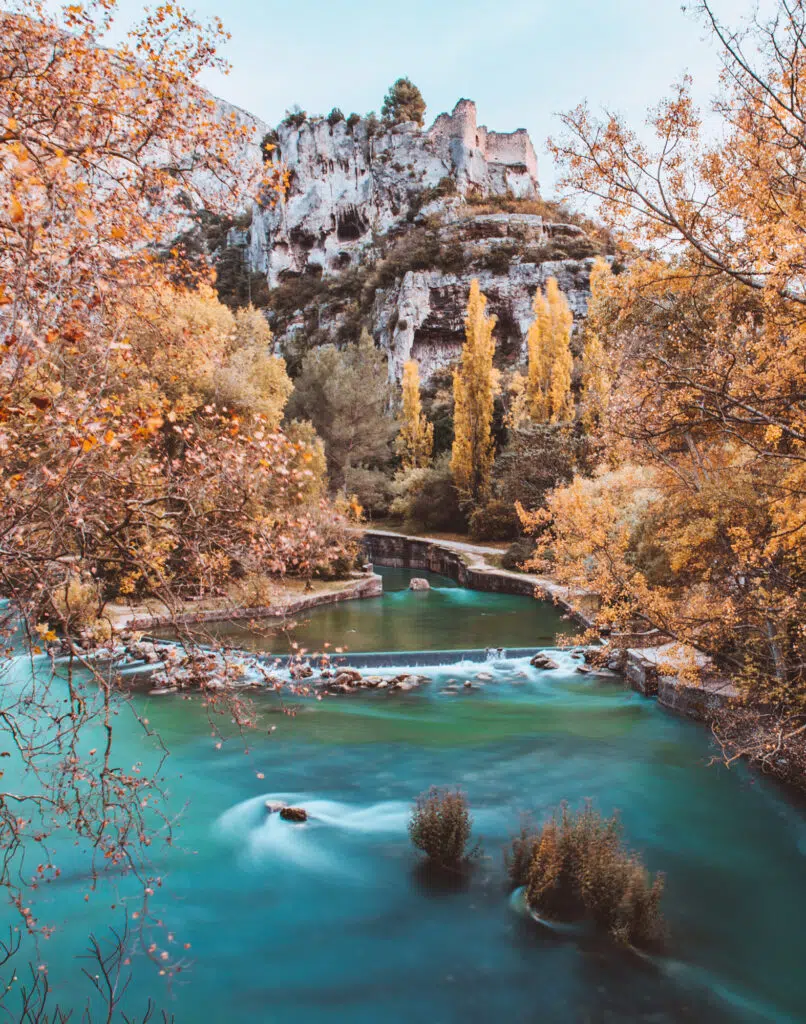 As an optional extra, if you have the time, the Grottes de Thouzon make for a fascinating side trip before heading back to Avignon for the night. A short walk through a grotto full of pencil-thin stalactites, cave pearls, and underground lakes will delight you, and the informative guides will make the experience a memorable one.
Day 4 – Les Baux de Provence and Glanum
Stay: Avignon
History buffs will be in their element today with not one but two ancient sites to discover. But even if history isn't your thing, there's still plenty of variety to keep everyone happy on day 4 of our 7-day South of France itinerary.
First up you'll be heading to Les Baux de Provence, officially one of the most beautiful villages in Provence, and home to the magnificent Château des Baux. Although the castle is now in ruins, it remains one of the most impressive châteaux in Provence, and there's plenty left to explore within the old walls and wider grounds.
Once you've taken the time to wander the charming village and explore the château, head 5 mins down the road to Carrières de Lumières. Unlike anything you've likely experienced before, Carrières de Lumières is an art-based multimedia show set within an abandoned underground stone quarry in the Alpilles.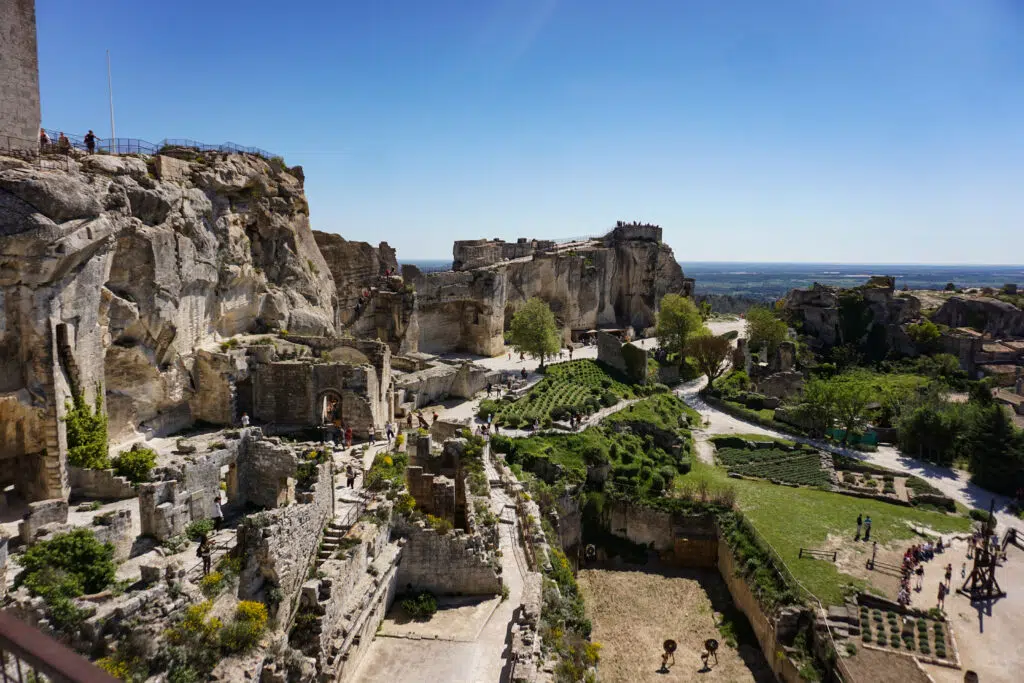 The exhibit changes yearly and showcases some of the greatest artists in history. The 2020 exhibition brings works from Spanish artist Salvador Dali to life. The show, "The Endless Enigma" features works spanning the length of the artist's career. It's truly one of the most unforgettable things to do in Provence.
Tip – Buy a combined ticket to Château des Baux and Carrières de Lumières to save money.
A short drive back in the direction of Avignon will bring you to the fortified town of Glanum. A remarkable site not far from Saint-Rémy-de-Provence, Glanum is over 2,000 years old. It was destroyed by Germanic tribes in 260 AD and has remained abandoned ever since.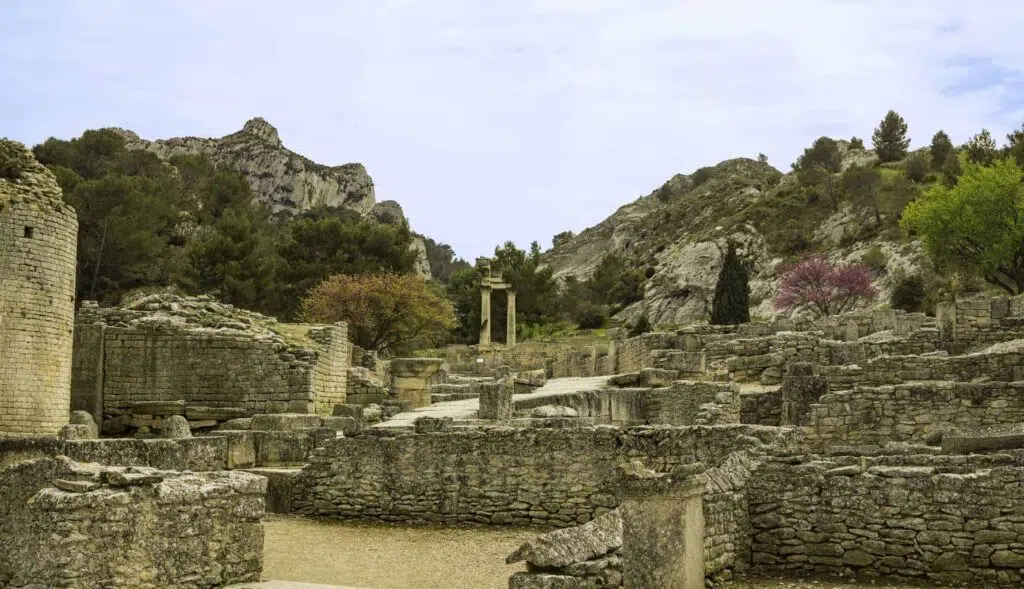 First rediscovered in the 16th century, it wasn't until more recent times that serious excavation and preservation efforts have been carried out. Today you can walk among the ruins while imaging the grand structures that once stood in their place. Peek into the sacred well, rest your eyes on the remnants of the twin temples, and hear the water that flows beneath a deserted street.
Day 5 – The Villages of the Luberon
Stay: Avignon
An absolute must-do on your South of France itinerary is a tour of the Luberon Villages. It's easy to spend an entire day (or several) exploring the hillside villages and incredible scenery of this unique part of France.
Start at the Sénanque Abbey and you'll find a wonderful scene framed by fragrant lavender fields in the summer months. From here it's a short drive to the most famous Luberon village, Gordes.
Tuesday is market day in Gordes, so sample the freshest flavours of the region as you wander around the ancient streets. Think about visiting the Village des Bories nearby before continuing on to the pastel-coloured town of Roussillon.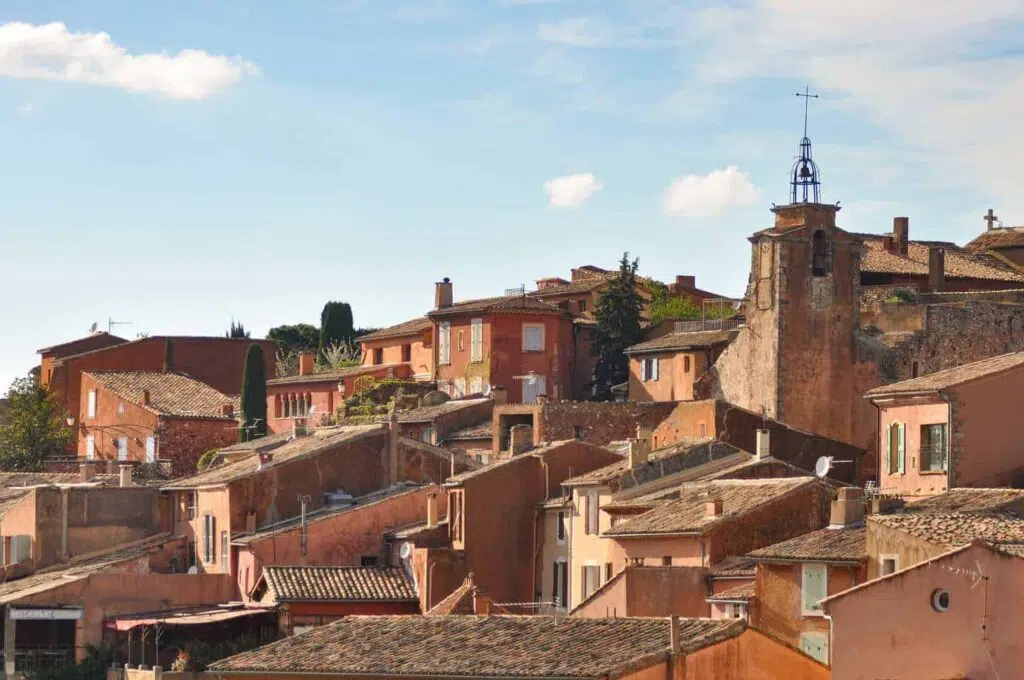 Built next to an ochre mine, the village lends itself as a haven for artists and the streets are awash with galleries and generous splashes of colour. The ochre mine next door is an attraction unlike any other. Take a short but stunning walk through the dusty red canyons and pine-fringed valleys of the ochre trail before continuing your Luberon tour.
Bonnieux and Lacoste are up next. Both lovely villages with a slower pace of life and enough differences to make them both worthy of a visit. Bonnieux is lovingly restored and has sweeping views over the fertile landscape of the Luberon. Walk the stone staircase to the church at the top of the village for the best views.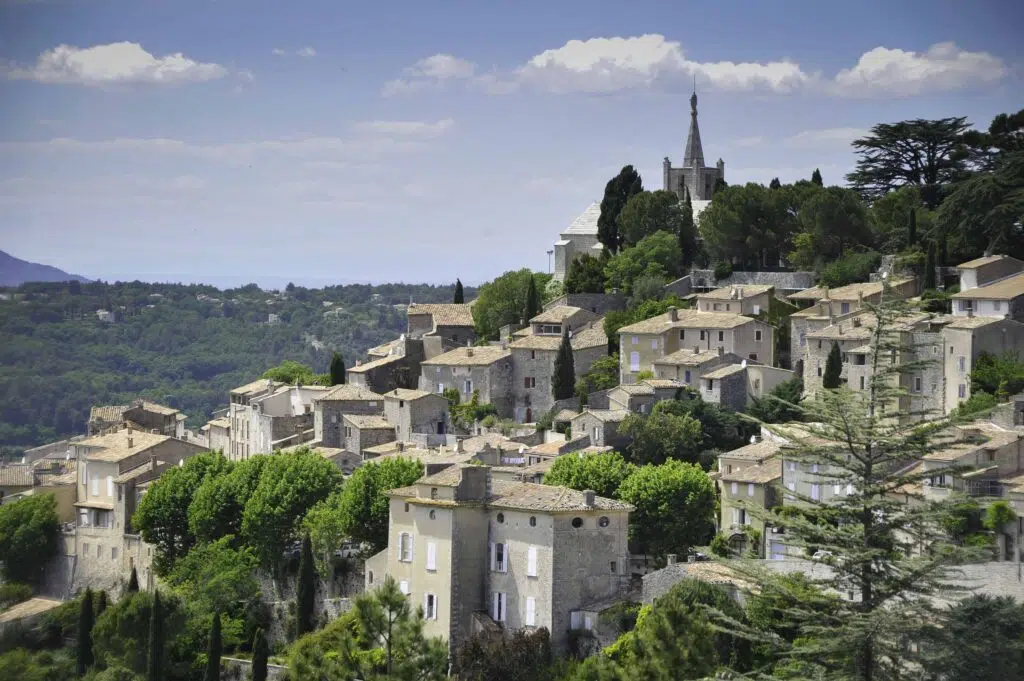 Next door, Lacoste is home to a semi-restored château that you can visit during the summer months. At other times, walk around the back of the castle to view the contemporary sculptures and views of surrounding hilltop villages.
A trip to Goult and Ménerbes will round the day off nicely. In Goult, follow the signs through rustic streets to take in all the best bits. Don't miss the restored windmill and the terraced gardens showcasing the area's agricultural history.
Ménerbes is best explored at leisure. Stroll the bucolic village before heading to the quirky corkscrew museum nearby and end the day with a wine tasting session at Domaine de la Citadelle.
Tip – full details of your Luberon driving tour and options to extend can be found here.
Day 6 – Camargue and Arles or Nîmes
Stay: Avignon, Cassis, or Aix-en-Provence
The sixth day of your Provence itinerary will see you heading south to one of the most intriguing places in Provence.
The Camargue is Western Europe's largest river delta with around 930 sq km of marshes and wetlands to explore. Unsurprisingly this fertile land attracts a vast array of wildlife and it's here you'll find over 400 species of birds including the impressive pink greater flamingos.
The infamous black Camargue bulls also roam freely among the reeds and herds of snow-white horses – one of the oldest horse breeds in the world – live in harmony with nature.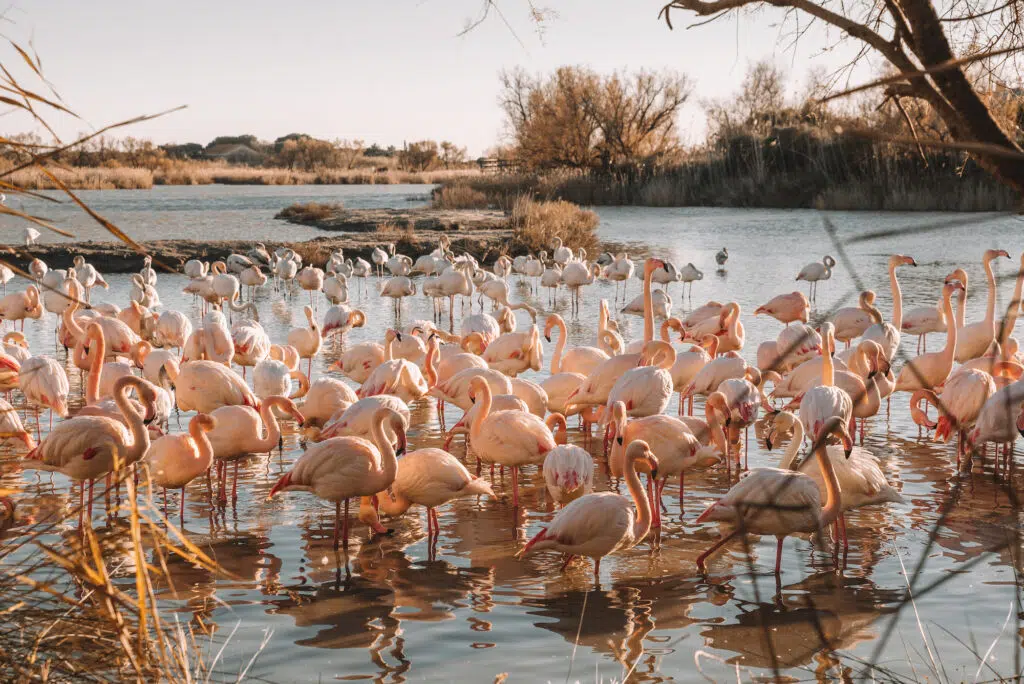 The best way to discover this area when you're short on time is to take a tour. Tours depart Arles and Avignon daily and will allow you to see the best of the Camargue while providing you with an interesting and informative commentary.
Alternatively, you can head directly to Parc Ornithologique du Pont de Gau where you're almost guaranteed to see flamingos in the wild.
In the afternoon, you can choose to visit Arles nearby, or Nîmes a little further afield.
Arles has a small but perfectly formed old town with plenty to see and do in an afternoon. Take a free Van Gogh walking tour to see the exact spots depicted in the late artist's work, visit the grand amphitheatre, or take a walk through the underground Cryptoportiques.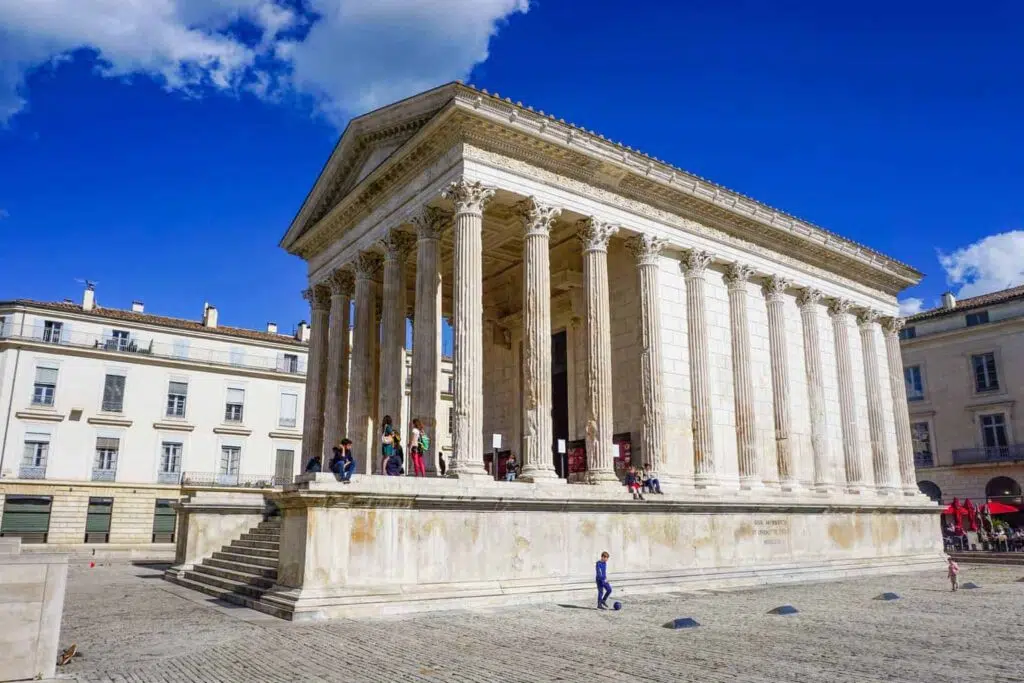 Nîmes is a larger town but is still very walkable. It's notable for its many Roman monuments – many of which are among the most well-preserved in the world. Be sure to take a walk through the magnificent public gardens – the Jardins de la Fontaine.
One of the first-ever public gardens in Europe, they are a fascinating mix of open green spaces, large water features, intricate sculptures, and ancient ruins. Climb to the top of the gardens for unmatched views of the city!
Day 7 – Cassis and the Calanques
Stay: Aix-en-Provence
Cassis is a charming portside town tucked in between towering cliffs near Marseille on the Mediterranean coast. It's by far one of the more popular places to visit in the South of France due to its recent reputation as the new St Tropez.
But while Cassis benefits from its stunning geographical location, beautiful beaches, and historically interesting sites, personally I think it's better suited as a day trip destination than a long-term holiday base.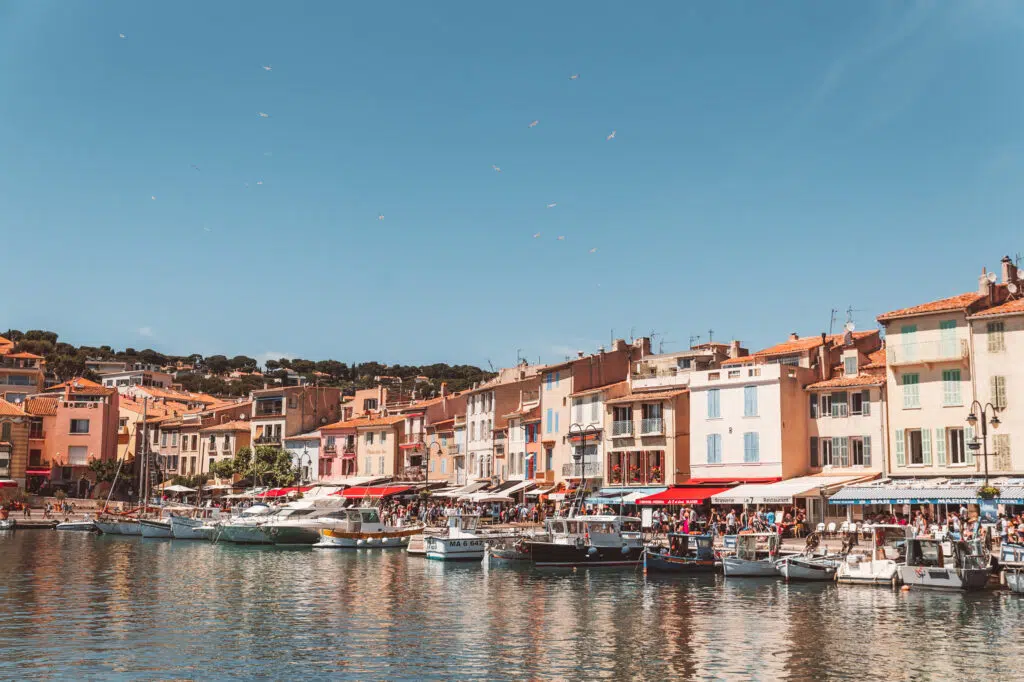 If you arrive early enough, you can stroll through the old town, browse the colourful boutiques, take in the historic buildings, and walk the pier – all in a morning. You then have the option of dining quayside, or grabbing lunch to-go and heading to the calanques.
The Calanques of Cassis are one of the most impressive natural attractions in Provence. The first time I laid eyes on these high-rise limestone cliffs I was absolutely blown away by their incredible size and stature as they jut out into the azure blue sea.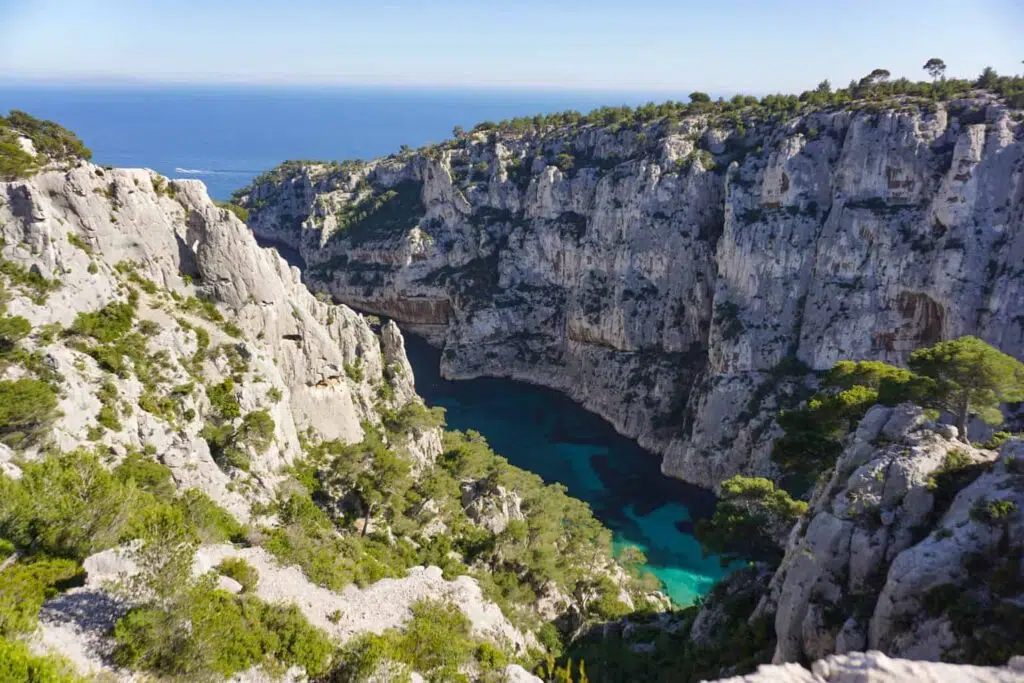 Hiking the calanques is an ideal way to appreciate the natural beauty of this national park, but if you're short on time, or the track is closed (as it often is during the summer months when the risk of wildfires is higher), then taking a boat tour or hiring a kayak to explore the calanques from below is the way to go.
Whichever way you decide to explore the calanques, it's sure to be one of the most memorable moments of your trip.
Day 8 – Aix-en-Provence
The last half-day of your one week in Provence itinerary is spent enjoying Aix-en-Provence. The cultural capital of Provence really deserves a longer stay, but perhaps after being immersed in the city for a morning, you'll be convinced to come back!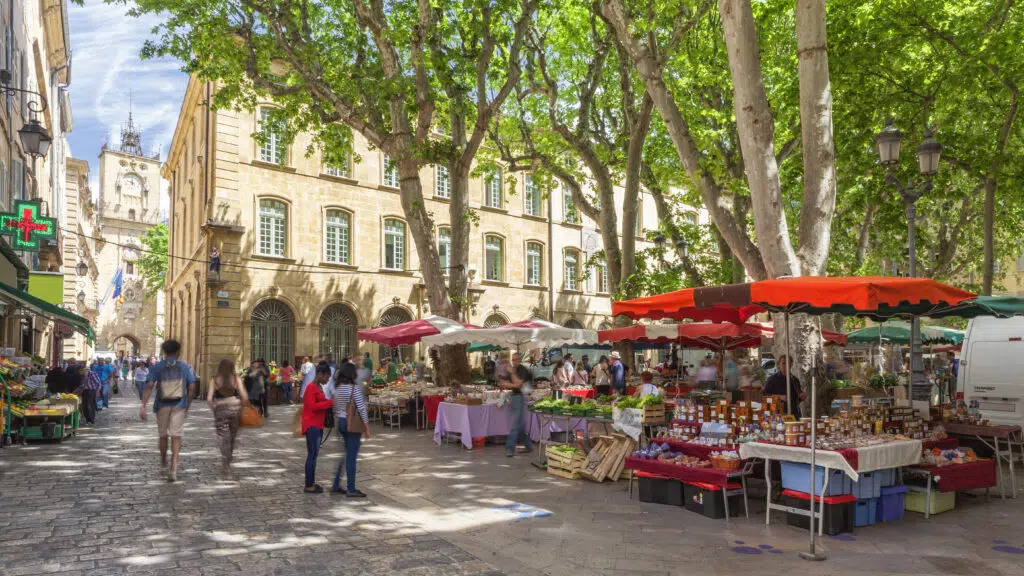 Colourful produce and flower markets are held throughout the week filling the streets with the lively atmosphere synonymous with the South of France. After you've browsed the wares on offer, stop for a coffee at a corner café or head to one of the famed museums to witness the true heart of this historical city.
The old town is best explored without a plan of attack. You'll thoroughly enjoy wandering around the curved streets and hidden alleyways, coming across an elaborate – or downright eccentric – fountain at every turn. The Pavillon Vendôme is perfect for a mid-morning repose, and the iconic Hôtel de Caumont arts centre shouldn't be sidestepped!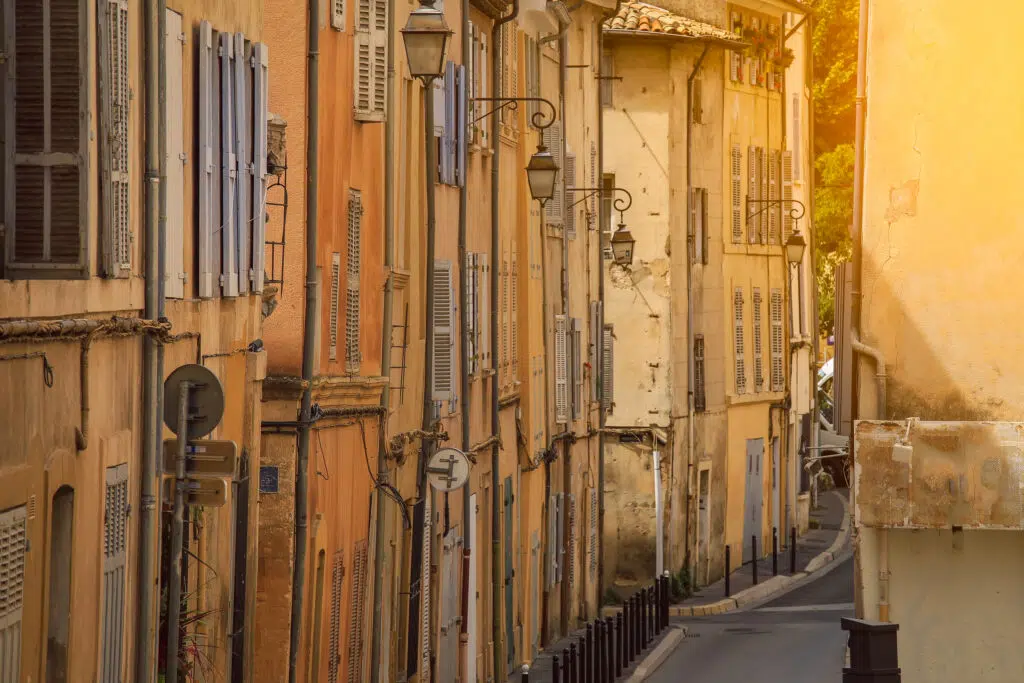 Tip – If you've forgotten to pick up Provence souvenirs or gifts for those back home, pop into the gift shop in the centrally located tourist office. They stock a small but curated selection of the region's finest products.
---
It's impossible to see everything Provence has to offer in just one week, but this 7-day South of France itinerary is sure to give you an in-depth taster of this delectable part of France!
If you're looking to extend your trip by a few extra days, I'd suggest checking out my posts on day trips from Avignon, and Aix-en-Provence to find inspiration for a few extra days touring.
Pin this for later!