Have you always wanted to swim with wild dolphins? I always thought of swimming with dolphins as some mythical "bucket list" experience I'd love to do one day… But in my head, such experiences were reserved for far-flung tropical locales in Central America or the Caribbean.
It wasn't until I returned to my homeland of New Zealand for a holiday recently, that I discovered New Zealand is not only regarded as one of the best places to swim with dolphins in the wild, but the Cantabrian town of Akaroa is also the only place to swim with the world's smallest – Hector's Dolphin!
---
Swimming with Dolphins in Akaroa
The small seaside village of Akaroa is just an hour's drive from New Zealand's third-largest city, Christchurch. It is located on the Banks Peninsula, which was originally home to two large volcanic cones. Their craters now take form as the Lyttelton and Akaroa Harbours.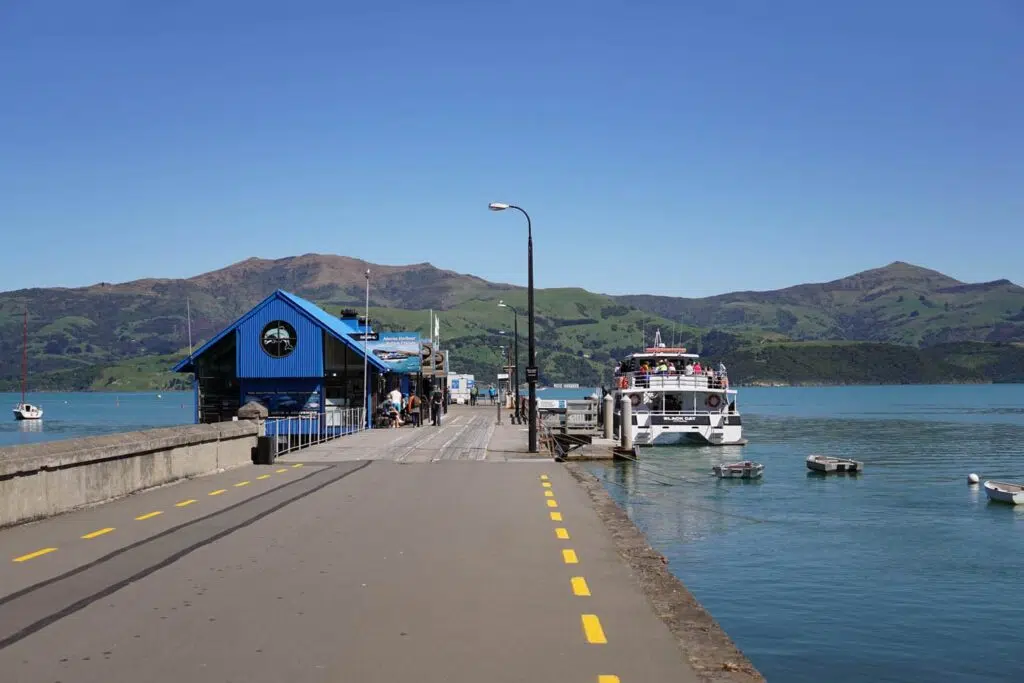 A town with a tumultuous past, Akaroa was discovered by French sailor Jean François Langlois in 1838. He decided it would make a good whaling town and purchased the land from local Māori before heading home to France.
Meanwhile, the Treaty of Waitangi took place and the French families who Captain Langlois had dispatched to the town arrived to find that Akaroa had already become an English settlement.
Regardless, the French decided to stay on and their legacy remains today in the form of the Gallic street names throughout Akaroa. Not only is Akaroa a charming, unique town to discover on a day trip from Christchurch. Its harbour is a haven for New Zealand's Hector's dolphins.
New Zealand's Hectors Dolphin
Hector's dolphins are the smallest oceanic dolphin on the planet. Their petite frame stretches around 1.2 – 1.5m for females, and surprisingly the males of the species are slightly smaller and lighter.
Like their more famous counterpart, the bottlenose dolphin, their bodies are grey in colour. But what sets them apart is the black, dark grey, and white markings that adorn their faces and underbellies.
Their most distinctive feature is their rounded dorsal fin, which makes them easily identifiable.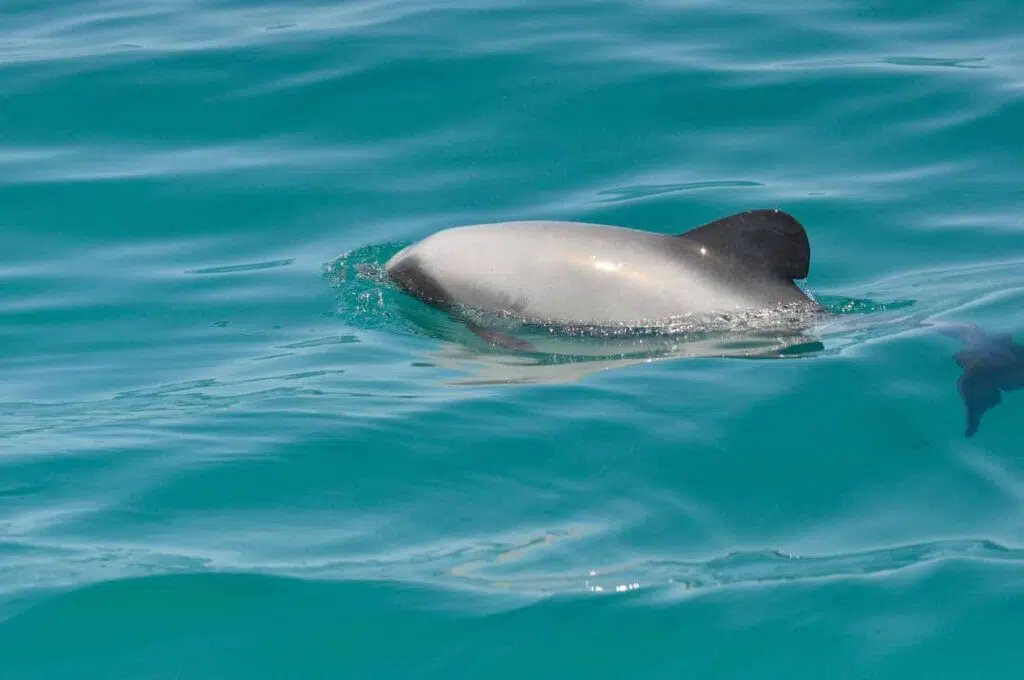 There's more to Hector's Dolphins than their looks though. They are incredibly playful dolphins! When they're not feeding, Hector's dolphins spend the majority of their time clowning around. Whether it's surfing or playing tag with sea debris, these funny little dolphins sure know how to have a good time.
They're also very curious about humans, which means they willingly approach boats and swimmers – even more reason they're the perfect wild dolphins to get into the water with!
Sadly, Hector's dolphins are now an endangered species. Only around 7,000 remain in the wild.
Akaroa Dolphin Swim with Black Cat Cruises
When booking to swim with the Akaroa dolphins, I researched the different cruise operators. But there was one clear choice. Black Cat Cruises stood out for being New Zealand's first Eco-tourism operator. They claimed to respect the environment in which they operate and they actively take part in the conservation of New Zealand's unique marine mammals.
Not only do they take care of the environment by reducing, recycling and reusing. But they also give back to the community, with a portion of each fare going towards programmes involving education, advocacy and research.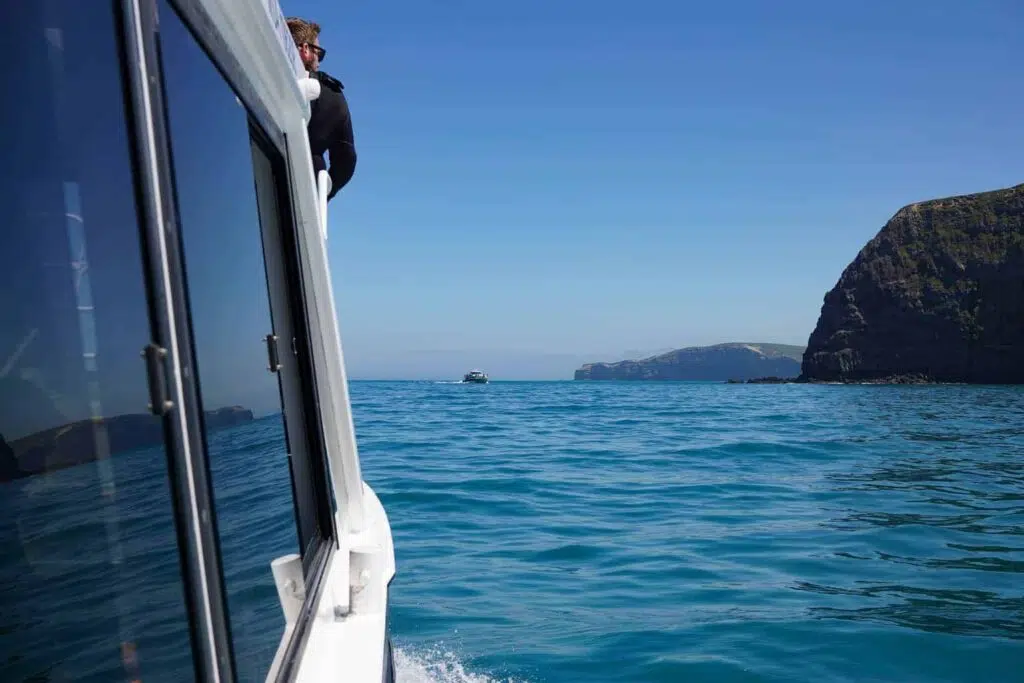 Being the original Akaroa dolphin cruise operator, Black Cat Cruises are experts in their field. They know how to find Hector's dolphins efficiently, but they also know when the dolphins aren't in the mood for company. I was most impressed that not only did our skipper read and understand the dolphin's body language, he responded by turning the boat in the other direction when he identified they didn't want to play.
Black Cat Cruises also offer a dolphin "guarantee" meaning if you don't get to swim or see any dolphins, you won't walk away empty-handed. Such cases are extremely rare though!
---
My Experience of Swimming with Dolphins in Akaroa, New Zealand
October in New Zealand can be a very mixed bag in terms of weather. So I was super excited when on the day of my dolphin swim I woke up to beautiful blue skies! My husband, son, and I packed up our things for the day and headed out towards the Banks Peninsula.
If I'd known how beautiful the drive was I would have left earlier in order to stop and take in the views on the way… But my swim was booked for 11am and I didn't want to risk being late!
Arriving in Akaroa we headed straight to the wharf where Black Cat Cruises depart from. As my son Arthur (4 years old) was too young to swim, I had booked him and my husband as 'watchers' instead of swimmers. For a reduced price, they could still come along for the ride, but would get to see the dolphins from the safety of the boat!
They hung out in the sunshine while I headed inside for our safety briefing and wetsuit fitting. The wetsuits provided are amazing! The water was icy cold, but my body felt snug inside the thick suit and booties.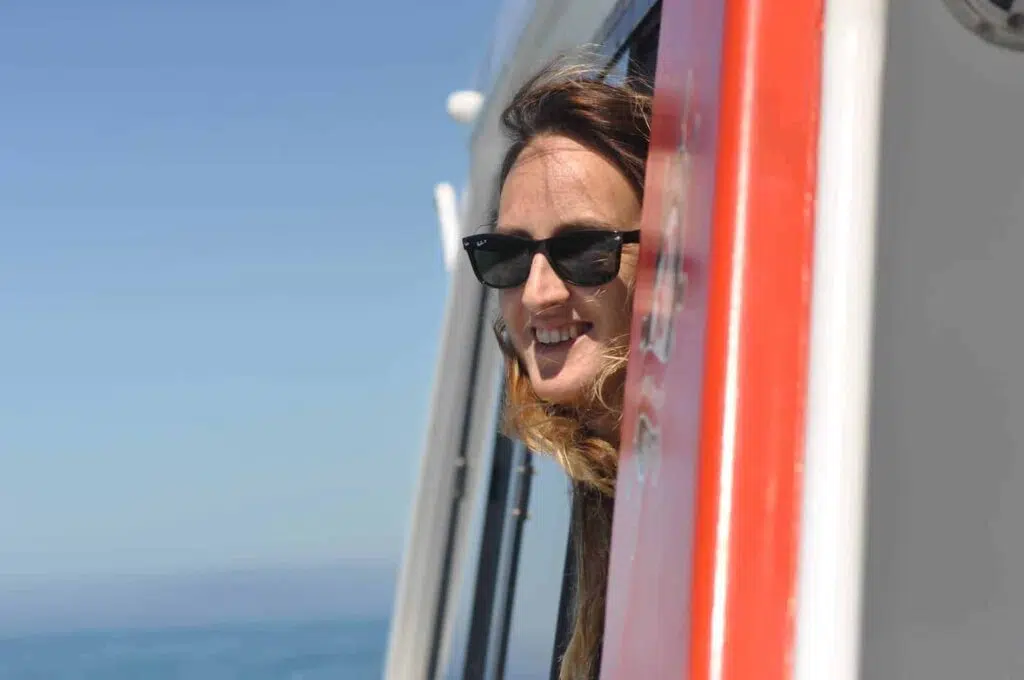 Once we were changed into our swimming gear it was time to board the boat and head out into the harbour. Our destination was the harbour mouth, where the choppy waters of the South Pacific Ocean meet the calm harbour inlet.
The short journey was punctuated with stops to see a sea lion playing on the surface of the water, its flippers raised as if in greeting, and later when we spotted a penguin paddling around outside.
Everyone was ecstatic to spot these unexpected extras, but we pushed on as our skipper jokingly remarked: "we're not here to swim with seals!". It didn't take us long to see the telltale dark fins splicing the sparkling waters ahead. There was a real buzz of excitement as we realised our chance to swim with these magical creatures was drawing nearer.
Sure enough, the boat slowed and we were instructed to get into the water asap! We did as we were told and soon the curious creatures started circling us – coming in for a closer look at these clumsy visitors to their domain.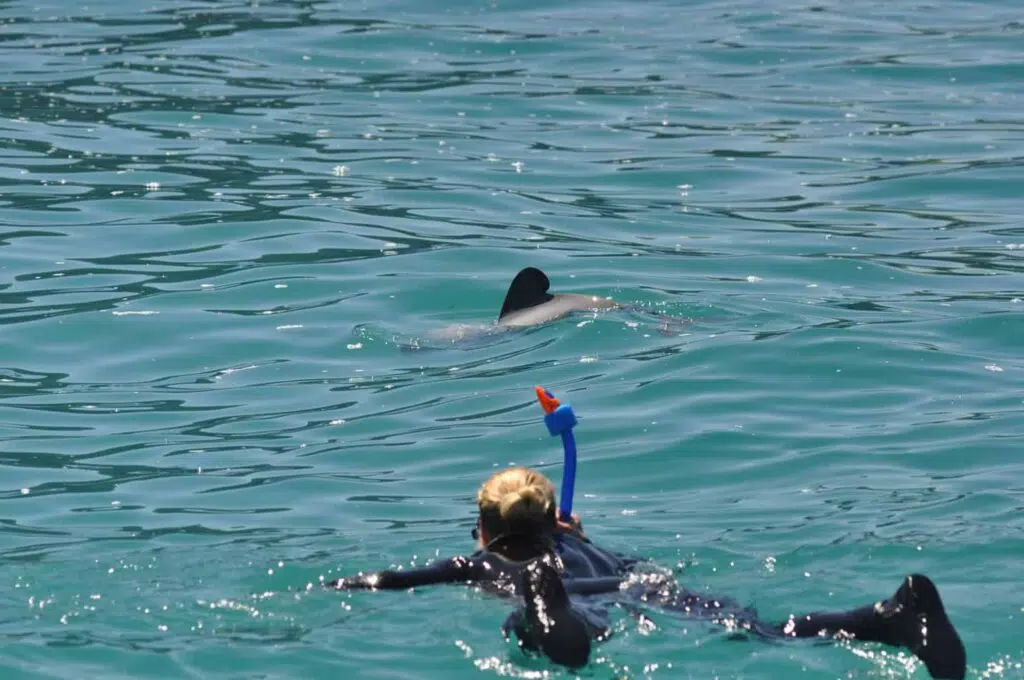 The buoyant nature of our wetsuits made us float flatly on the water's surface. And, as my husband tacitly remarked, we looked like ungainly octopuses as we flailed our limbs around in an effort to stay upright!
But as soon as I remembered the instructions to paddle my feet slowly (so as to not alarm the dolphins) it was easier to stay in the correct position and manoeuvre about.
A small pod of dolphins obligingly swam around and delighted us with their antics. Staff onboard the boat would warn us when they were approaching so we could quickly strap on our goggles and snorkels and duck our faces beneath the water to see them swim under us.
My euphoria every time a dolphin came up close was reflected back to me as I watched the faces of the swimmers around me. It was simply one of the best experiences of my life and certainly one I'll remember forever!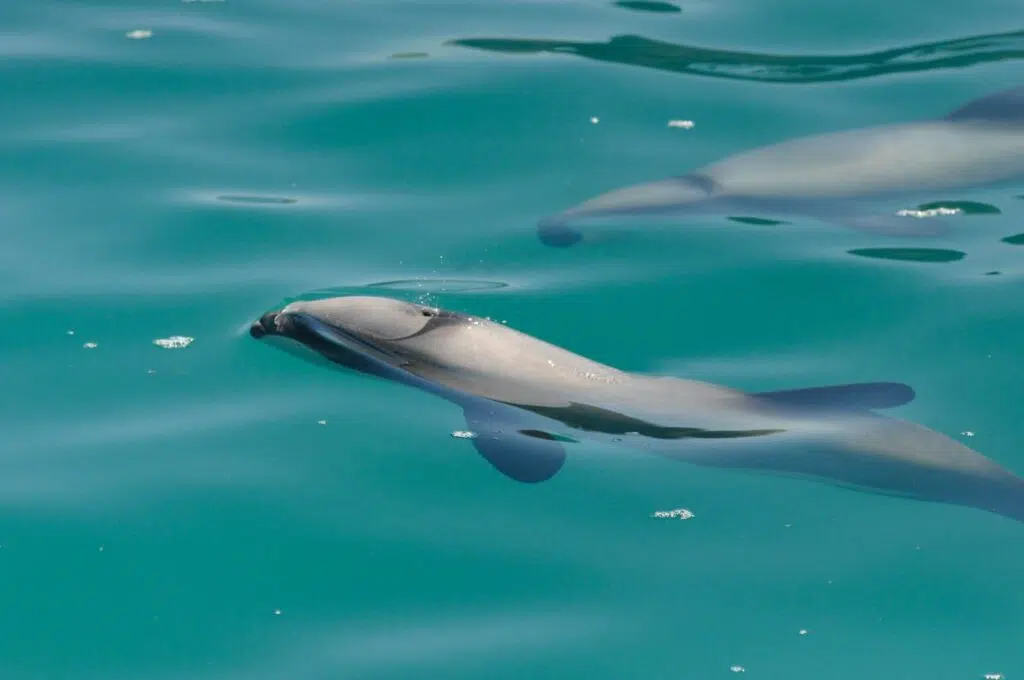 We spent the better part of an hour swimming with Hector's dolphins before reluctantly retreating back onto the boat to return to Akaroa. The staff onboard plied us with hot chocolate and cookies as we warmed up in the boat's cabin.
Needless to say, there were smiles all around as we clambered out of our wetsuits back at base and enjoyed a very welcome warm shower before heading off to eat lunch at a nearby cafe.
Ready to book your dolphin swim in Akaroa? Check out the latest prices and time slots here.
---
Final Things to Know When Swimming With Dolphins in Akaroa
Before you book your New Zealand dolphin swim experience, there are a few things you should know:
Kids under the age of eight are not permitted to swim with dolphins.
Children aged between eight and twelve who wish to swim must be accompanied by an adult swimmer.
A reasonable level of fitness is required, and you must know how to swim.
If you're not keen on swimming, but still want to get up close to Hector's Dolphins, you can book this cruise instead.
Asthmatics must take their medication on board the vessel.
If you're not a native English speaker you must be able to read and understand the safety instructions, which are provided in several foreign languages.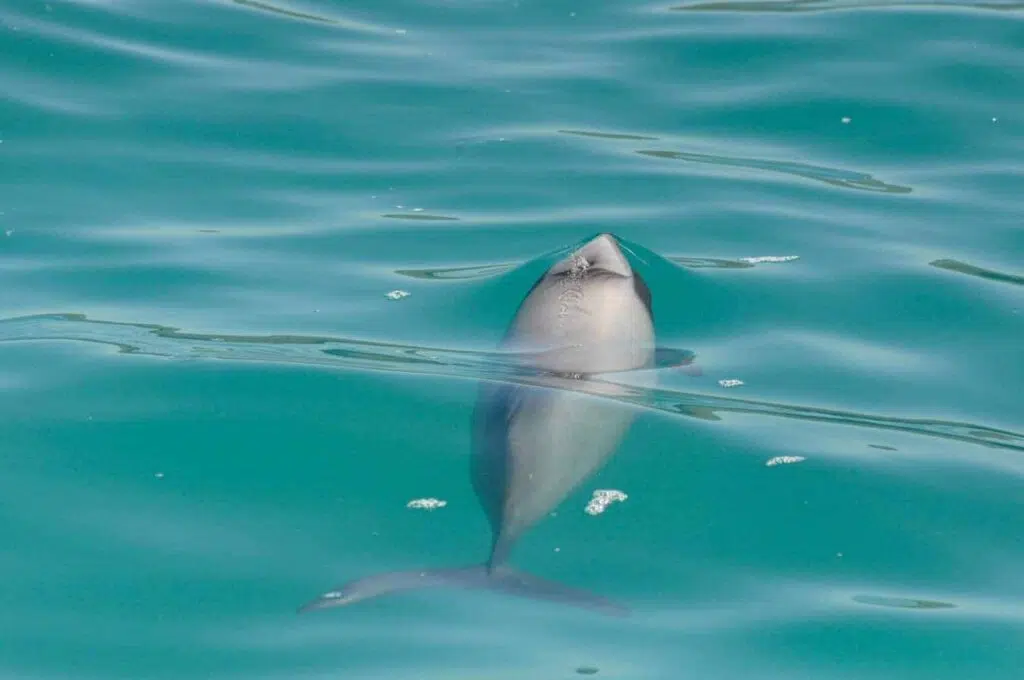 To protect the dolphins, there are also a few other rules to observe:
Don't try to touch the dolphins. They have extremely delicate skin.
Splashing near the dolphins will scare them off. Keep your movements slow and deliberate.
Never try to feed the dolphins (and don't support any tour who tries to lure them this way).
Things to Take With you on Your Akaroa Dolphin Swim
To make the most of your dolphin cruise, be sure to pack these essentials:
Towel. You can hire a towel from Black Cat Cruises, but save yourself some money and take your own.
Underwater Camera (and something to attach it to you!). I recommend using a GoPro Hero5 or up (as these versions are waterproof) teamed with a wrist strap or floaty stick so you can remain hands-free while swimming.
Sunglasses, sunhat and sunscreen for the boat trip. The New Zealand sun doesn't muck around!
Swimsuit for under your wetsuit. Don't wear a rash top or similar, as the wetsuit actually insulates better if it's directly on your skin.
---
Swimming with dolphins in Akaroa is an absolute must-do experience in New Zealand! Not only is it an incredible feeling floating around while the world's smallest dolphin smoothly swims laps around you, but if you book your dolphin swim with Black Cat Cruises, you can also be proud that you're giving back to the species' conservation.
Pin this for later!