Finding beautiful beaches in Auckland isn't exactly difficult. Located on an isthmus between the Waitematā Harbour and the Manukau Harbour, Auckland is a city encompassed by water.
But finding the best beaches in Auckland takes a little insider knowledge. And that's where we're here to help.
There's no such thing as a typical Auckland beach: they range from black sand to white sand, wild to mild, ideal for swimming to perfect for surfing. Auckland's top beaches are located on all points of the compass, and you can expect 360 degrees of variety when comparing them.
So let's dive in and discover what makes Auckland City beaches so incredible!
---
Map of Auckland Beaches
This map not only illustrates the number of great beaches in the Auckland area. It also highlights how many of them are well within city limits. Wherever you are, finding nice beaches in Auckland is easy.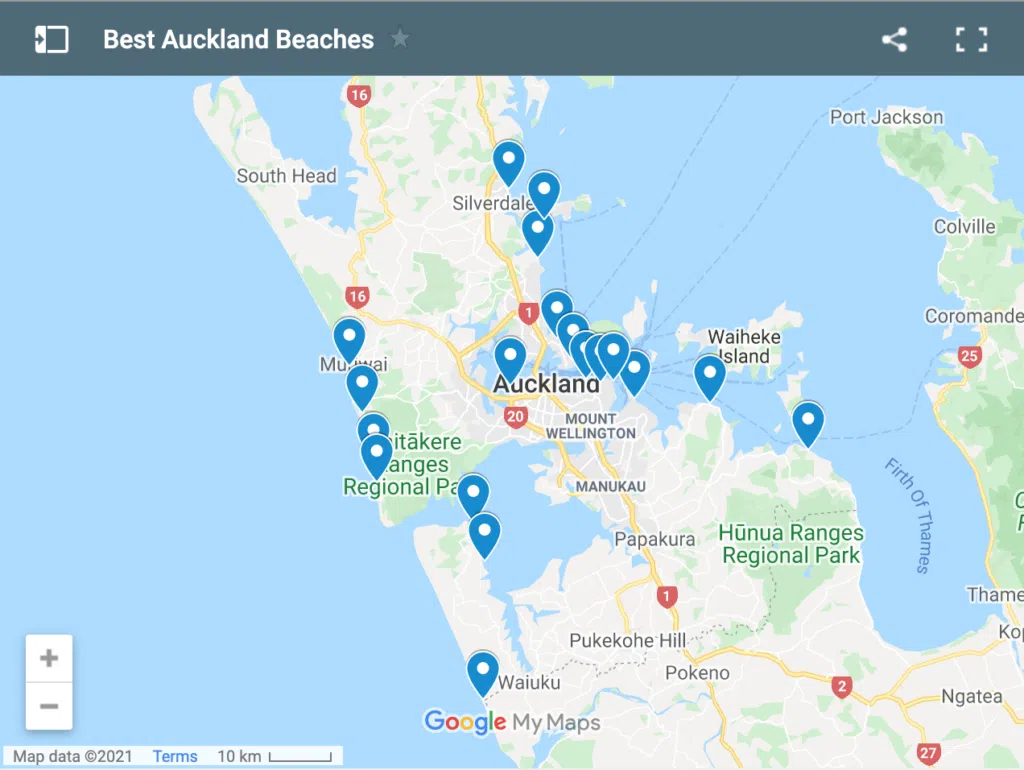 ---
North Auckland Beaches
Some of the best Auckland swimming beaches are found across the Harbour Bridge on the North Shore. North Auckland beaches within the harbour are more sheltered than those on the west coast, where winds and waves combine to make mischief.
As a bonus, the best beaches north of Auckland are just a pebble's throw from some of the city's loveliest seaside suburbs.
TAKAPUNA BEACH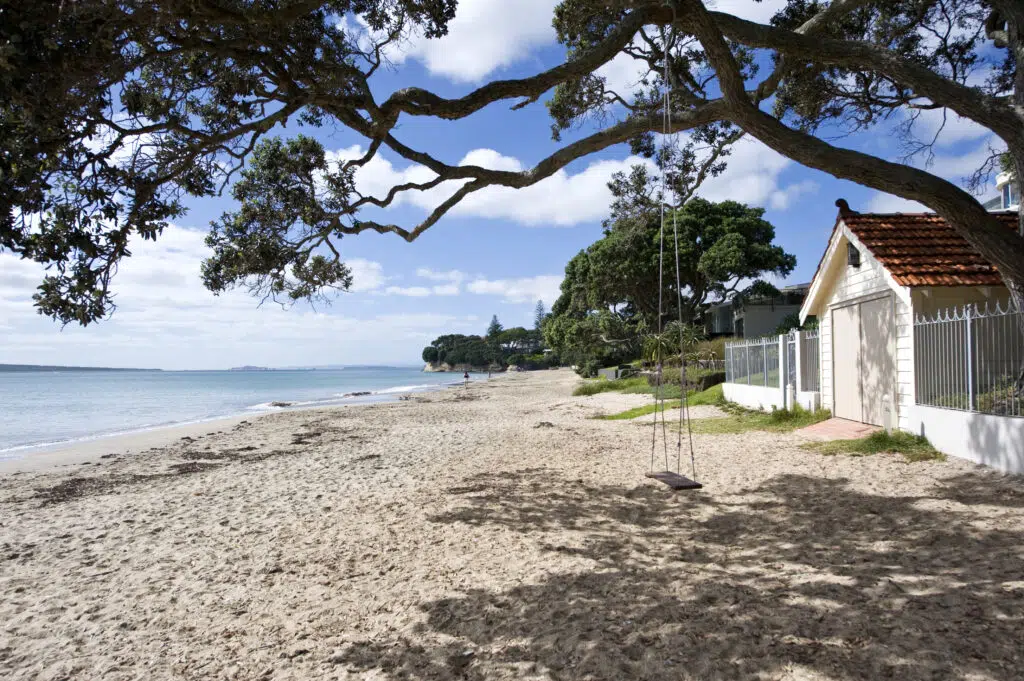 Takapuna Beach is one of those North Shore beaches where you can drive from the city and dive into the sea in no time at all. This popular family beach is only 10 minutes from Auckland's CBD, and a short walk to the restaurants, cafes and bars of relaxed and friendly Takapuna, the coastal suburb often referred to as "the capital of the North Shore."
When you're not enjoying the water, you can take a stroll along Takapuna Beach Path, which gives you amazing views of Rangitoto Island in the Hauraki Gulf. The island is an iconic and symmetrical volcano cone much loved by Aucklanders, and an unofficial symbol of the city. Rangitoto emerged from the sea about 600 years ago so, in geological terms, it's just a baby.
CHELTENHAM BEACH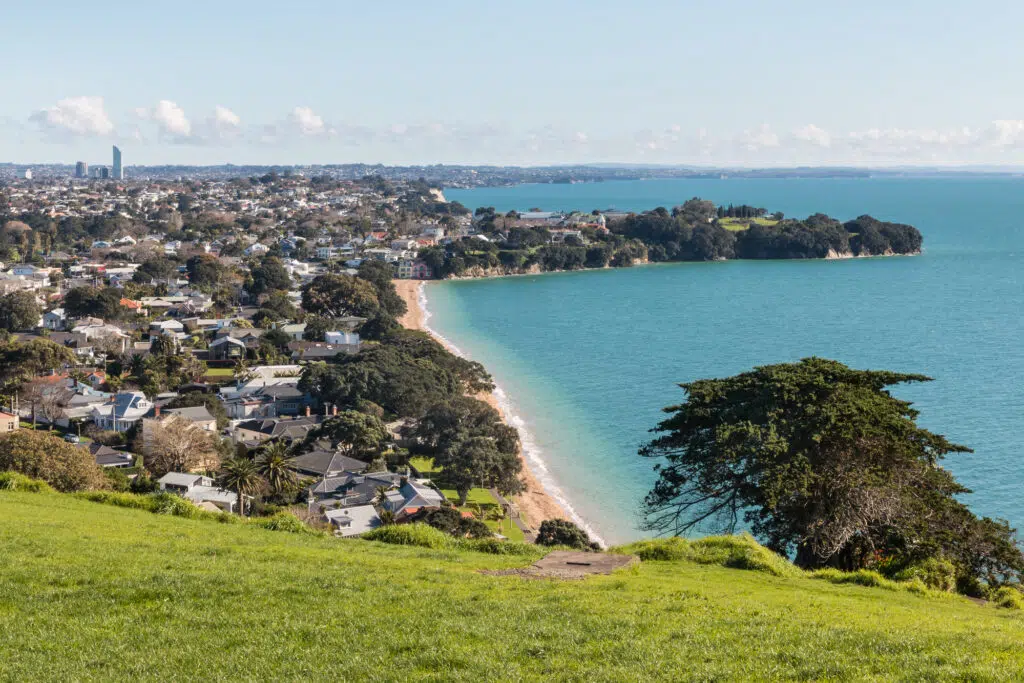 Cheltenham Beach in Devonport is one of the most attractive North Shore beaches, and like neighbouring Devonport Beach, it's located in one of Auckland's most charming suburbs.
A pleasant way to get there is on a ferry from the Quay Street wharf in the CBD, followed by a quick walk to the beach itself. Keep an eye out for the beautifully restored Victorian villas which give Devonport its unique appeal.
Once you reach the beach, you'll be greeted by calm waters lapping onto a long stretch of golden sand. The grassy areas above the beach are great for picnics, or to chow down on the traditional 'Kiwi' classic – fish and chips. Wander up to North Head for unbeatable views over Devonport and the Auckland skyline in the distance.
LONG BAY BEACH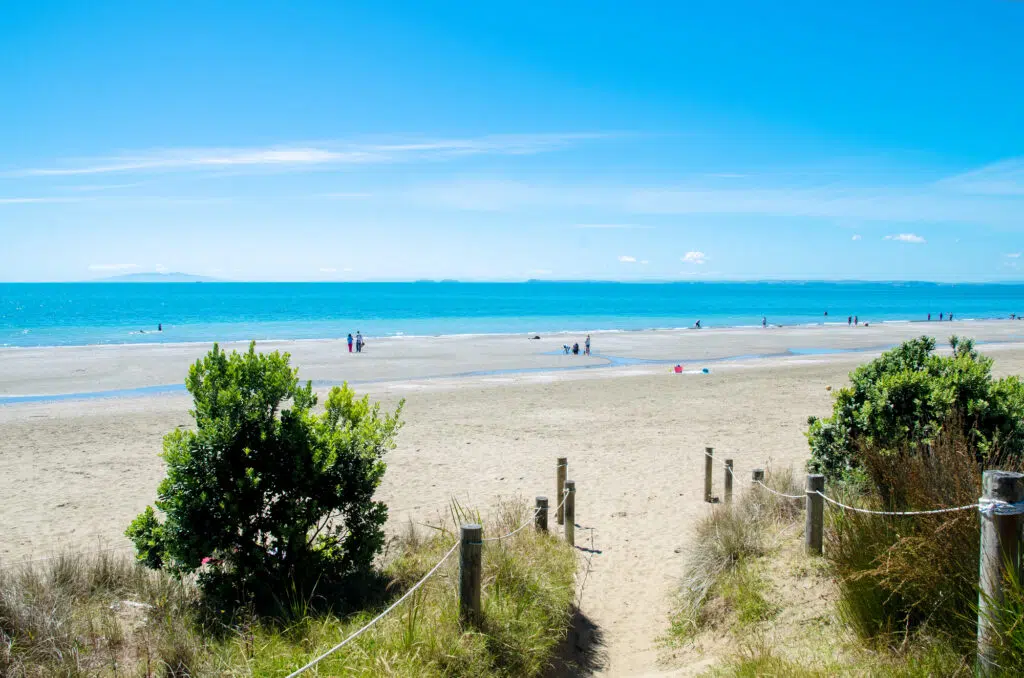 Long Bay Beach is a little further afield than the other Auckland beaches on the North Shore, but it's still only a short drive from the central city.
Because of its privileged position on the upper limits of the North Shore residential area, Long Bay Beach feels more secluded. And even in the busier summer months, you'll find plenty of space to spread out.
The main walking trail from Long Bay Beach leads you through native forest, and the side tracks are worth exploring too as you'll find remnants of World War II gun emplacements. These were built when the threat of Japanese invasion hung over New Zealand like an ominous cloud.
Staying safe and protected is still in vogue at Long Bay Beach; it's a coastal marine reserve so both sea and birdlife flourish here.
BIG MANLY BEACH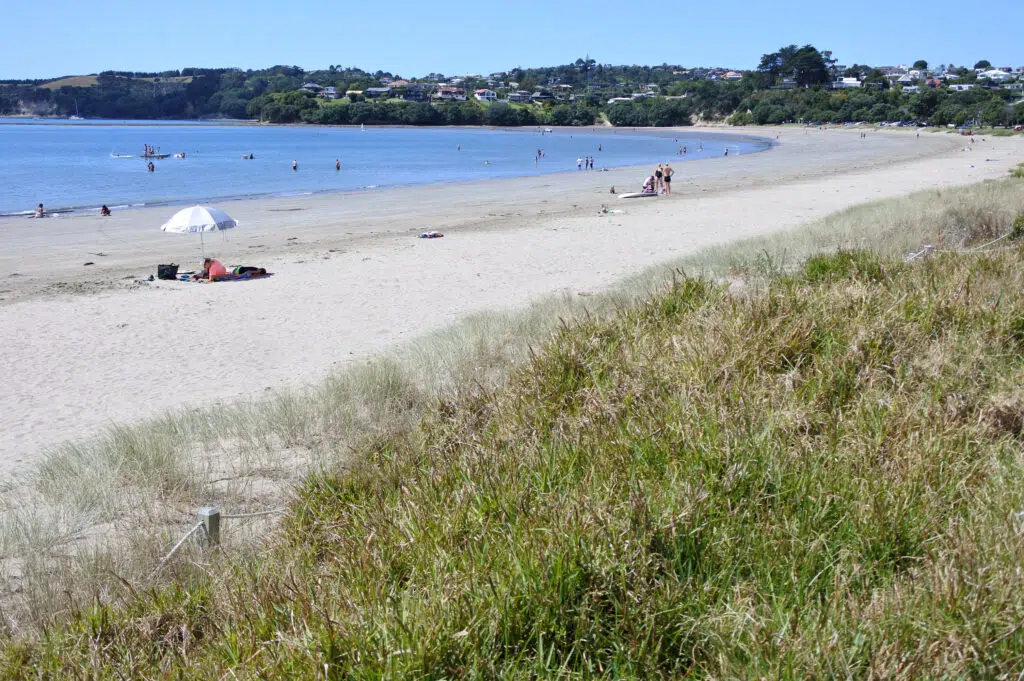 You don't have to be the strong, masculine type to enjoy Big Manly Beach. Located on the Hibiscus Coast, it's a safe and popular swimming spot for families who can take advantage of the excellent facilities including change rooms, bathrooms, a children's play area and barbecues.
The most compelling reasons to make the 40-minute trip from Auckland are in the water rather than on the beach. Dolphins and orcas are regular visitors to the waters off Big Manly Beach, often coming close to the shore to the delight of the local beachgoers.
OREWA BEACH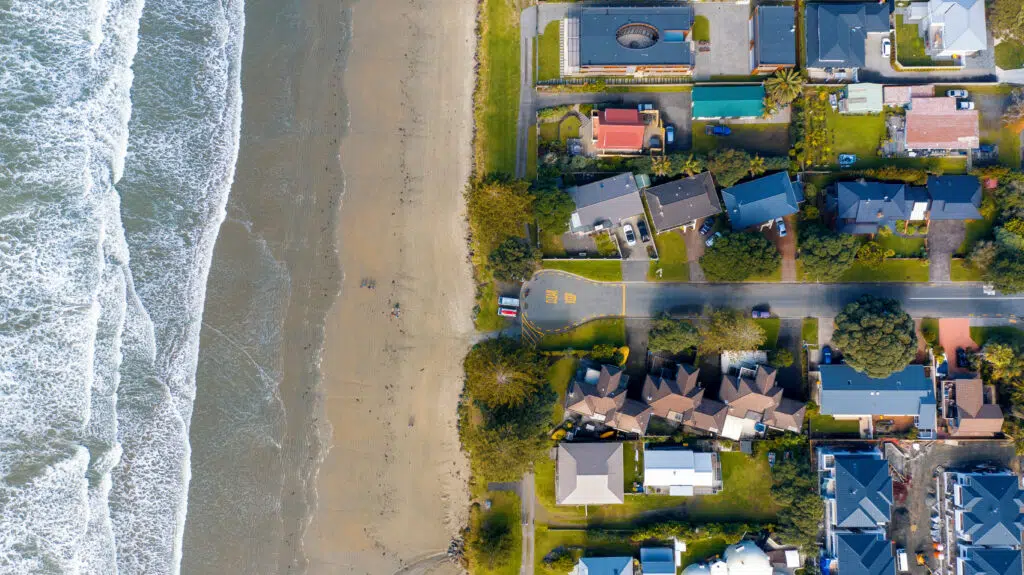 A list of the best Auckland beaches, particularly beaches on the North Shore, is not complete without a local favourite, Orewa Beach. A 40 minute drive from Auckland City will whisk you away from the bustle, and deliver you to the scenic Orewa Beach, and the peaceful seaside suburb that shares its name.
Orewa Beach has holiday accommodation and dining options for all budgets and tastes, which makes it a great choice if you want a North Shore beach experience that lasts longer than just one day.
The beach is about three kilometres long, and as a regularly patrolled area, it's one of the safest Auckland beaches for swimming, especially for less confident swimmers. Just make sure you swim between the flags; advice which applies to all patrolled New Zealand beaches.
---
West Auckland Beaches
West coast beaches in Auckland are not golden and serene like the beaches on the North Shore. They're often wild and moody, more temperamental than tropical.
The black sand found on Auckland's west coast beaches is volcanic in origin, with a high iron content that makes it especially hot in summer. And the waves at these west coast surf beaches are bigger and more powerful than those on the east coast.
That's why Auckland surf enthusiasts love them! But even if surfing isn't your thing, there's plenty to get you excited about visiting the West Auckland beaches, as you're about to find out.
PIHA BEACH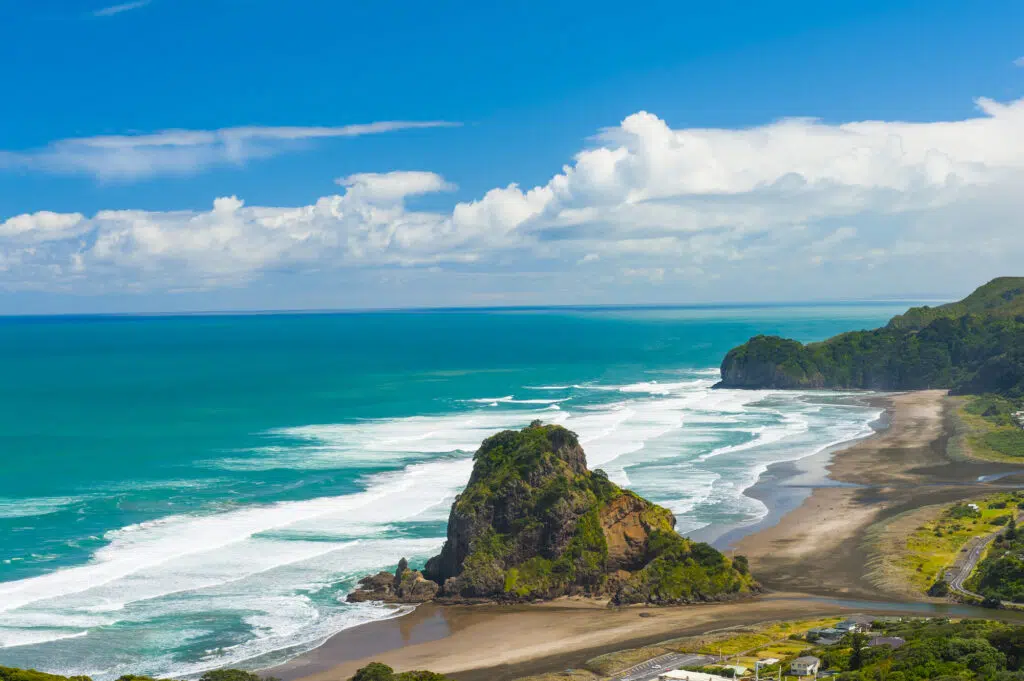 As far as surf beaches in Auckland go, Piha Beach is the most famous. Actually, infamous might be a better word. During an ironman competition in the late 1990s, kayaks and surfboards were snapped in half by Piha's notoriously wild waves and winds. Needless to say, you don't swim at Piha Beach when it is not being patrolled by lifesavers, and while it is the most renowned Auckland surf beach, it is also one of the most challenging, even for experienced surfers.
Piha Beach is located 40 kilometres west of Auckland city. The name 'Piha' comes from the original Maori name for what is now known as Lion Rock. It's fitting that a rock named after a wild beast is the most iconic landmark at this wild beach. Enjoy its beauty but do so with caution!
BETHELLS BEACH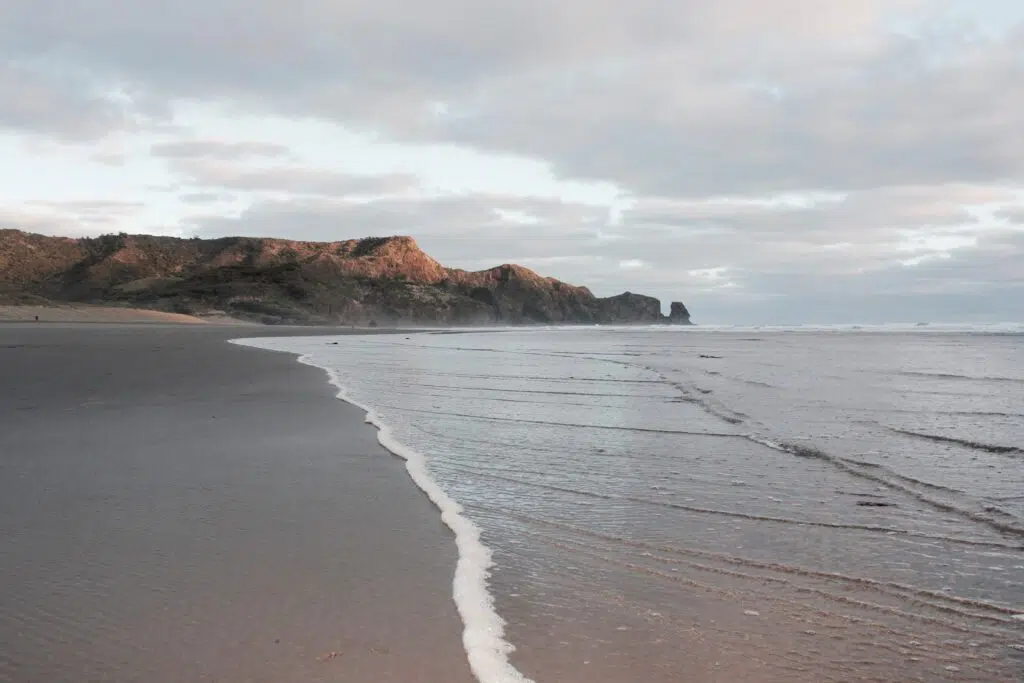 Bethells Beach is a neighbour to Piha Beach, and about the same distance from Auckland, but this black sand beach has a slightly different feel. While Piha can resemble a beachside suburb in some places with its holiday homes and residents' cottages, Bethells is not as built up thanks to limited subdivision of the residential land in the area.
If you're into fishing, Bethells is well-known for its surfcasting and rock fishing. You should wear a lifejacket at all times while fishing here, and never turn your back on the unpredictable ocean. Waves can pounce out of nowhere and have dragged people off the rocks, and even the beach itself.
There are also three good surf breaks at Bethells Beach, and not too many surfers to share them with, especially in comparison with Piha.
MURIWAI BEACH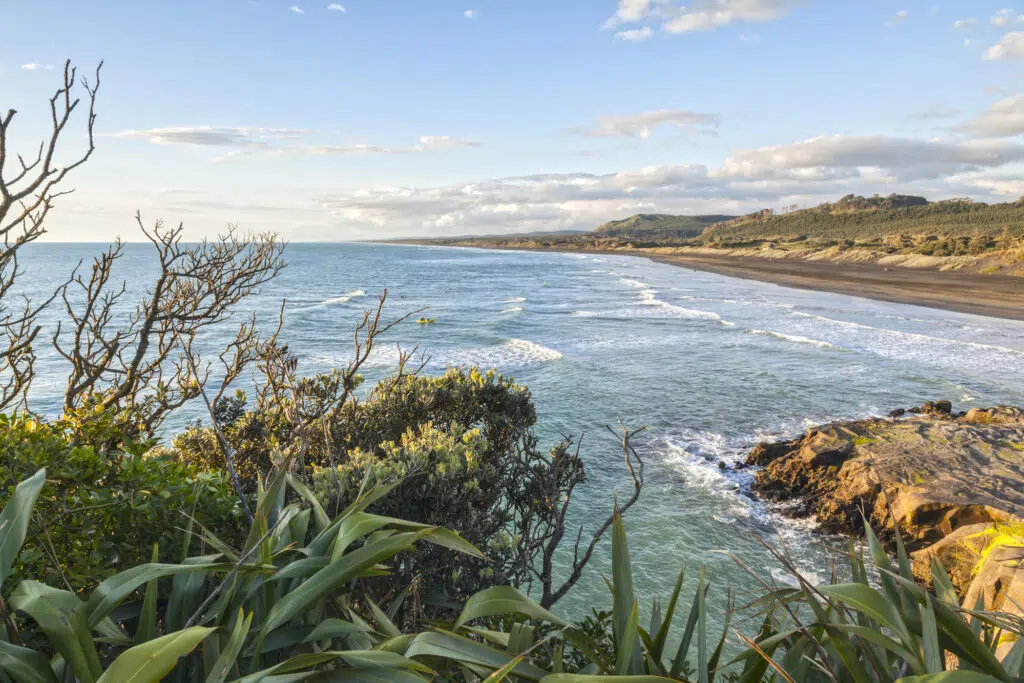 It's possible to walk from Bethells Beach to Muriwai Beach along the Te Henga walkway. The clifftop views over the Tasman Sea are spectacular, especially when the sun sets, but it is a three-hour (return) trek. So if time isn't on your side, take the 40-minute drive from Auckland direct to Muriwai instead.
Other visitors to Muriwai Beach actually fly there. This West Auckland beach is home to a huge colony of Australian gannets, and these big, beautiful birds call the clifftops their home between the months of August to February each year
Muriwai Beach is also home to a New Zealand fur seal colony, and is a nesting spot for the endangered dotterel, a member of the plover family. The little blue penguin can also be found nesting in the protected surrounds of Maori Bay.
Muriwai hasn't always been the peaceful haven it is today though. Some of the country's first car races were held on the firm black sands at Muriwai Beach in 1921, with sand dunes acting as grandstands for the (human) spectators. Cars are still permitted on the expansive beach, but permits are required and rules enforced.
POINT CHEVALIER BEACH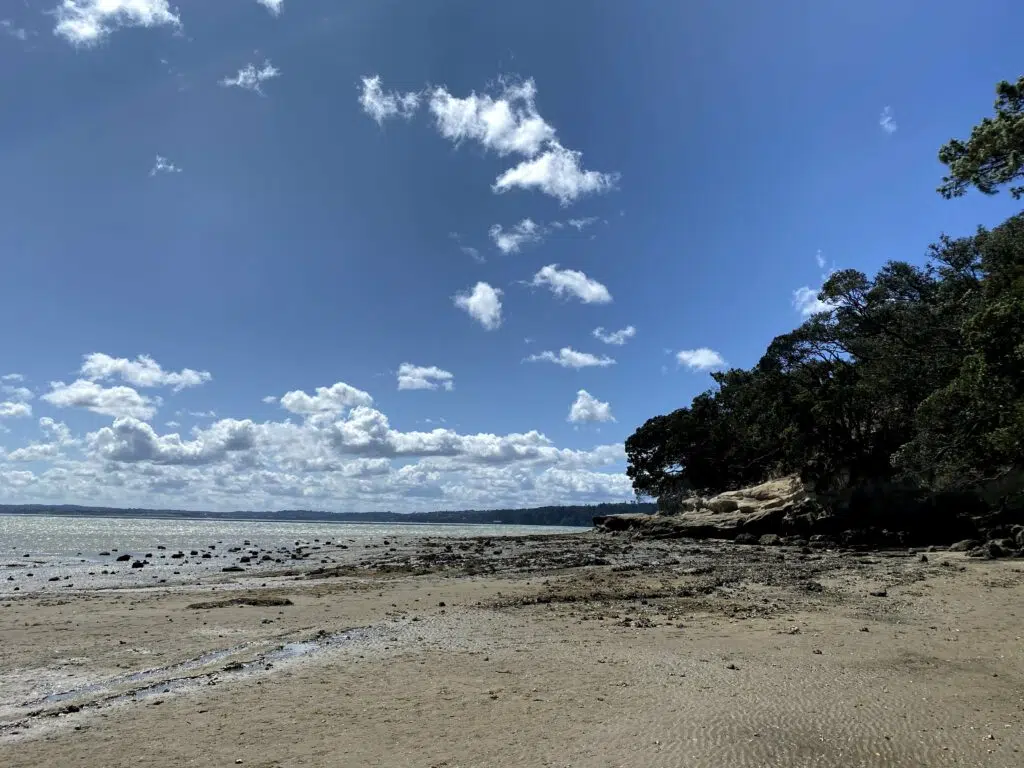 This is not your typical Auckland west coast beach. For a start, it's closer to the city than better known west coast beaches out on the coast, like Piha or Karekare. Point Chevalier is only five kilometres west of the Auckland CBD, and as an inner-city beach rather than a coastal one, it is relatively sheltered, with the best swimming at high tide.
Point Chevalier beach was a hugely popular swimming beach in Auckland in the 1940s and 1950s, but the construction of the Auckland Harbour bridge, and increasing vehicle ownership, saw people go further afield for their seaside fun.
Thankfully, after being re-sanded in 2008 with 16,000 cubic metres of alluring golden sand, a more attractive beach area has been created. As they say, build it and they will come. Locals and visitors are now rediscovering the joys of Point Chevalier beach, especially on summer weekends, holidays and during festivals.
KAREKARE BEACH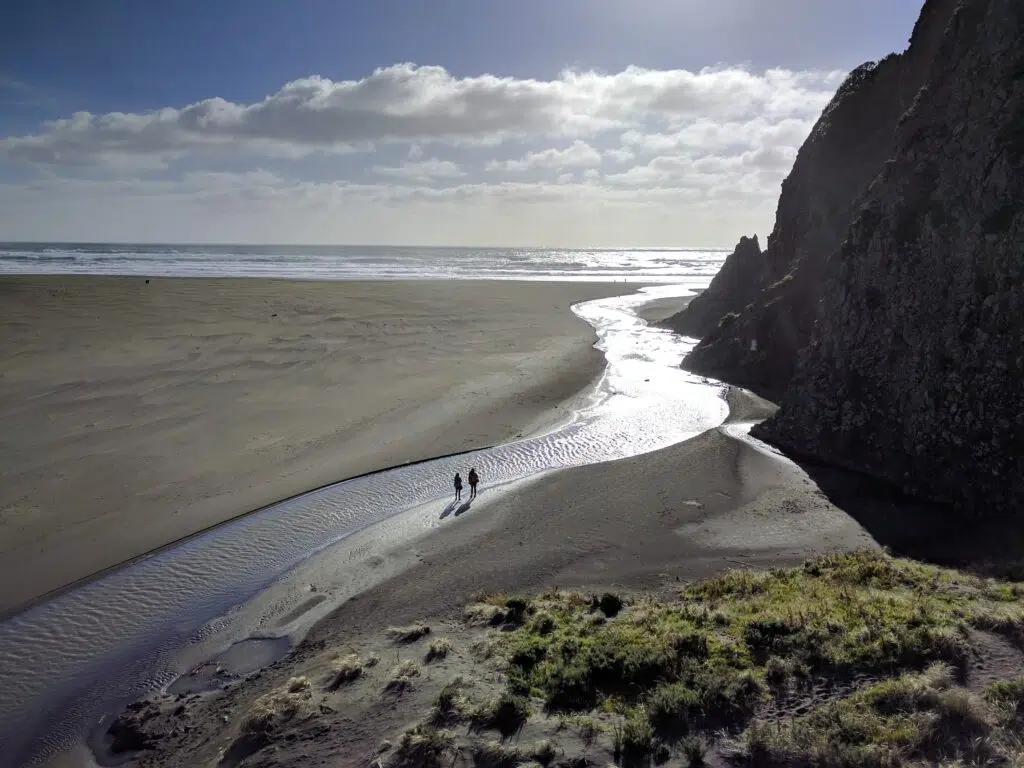 Many first-time visitors to Karekare Beach take a look around and feel like they already know this place. That's not surprising. Karekare Beach was the setting for Jane Campion's Oscar winning movie "The Piano". With its brooding, forbidding surrounds, the beach was the perfect backdrop for this dark, unsettling film.
When it's not starring in Hollywood movies, Karekare Beach is the venue for horse race meetings, which have been taking place since 1985. After the horses have finished charging along the firm black sands, Karekare Beach becomes a quieter place, and it's certainly less crowded than other West Coast black sand beaches. Just watch out for horses and assorted Hollywood types.
---
Beaches in South Auckland
South Auckland beaches don't get the same publicity as the surf beaches on the west coast, or the sheltered swim beaches on Auckland's North Shore. But that's a good thing. They're quieter and less crowded as a result, especially during the summer months when holidaymakers head to more famous coastal playgrounds.
Beaches in South Auckland still have something of secret feel to them, so let's keep the following information between ourselves!
BROOKS BEACH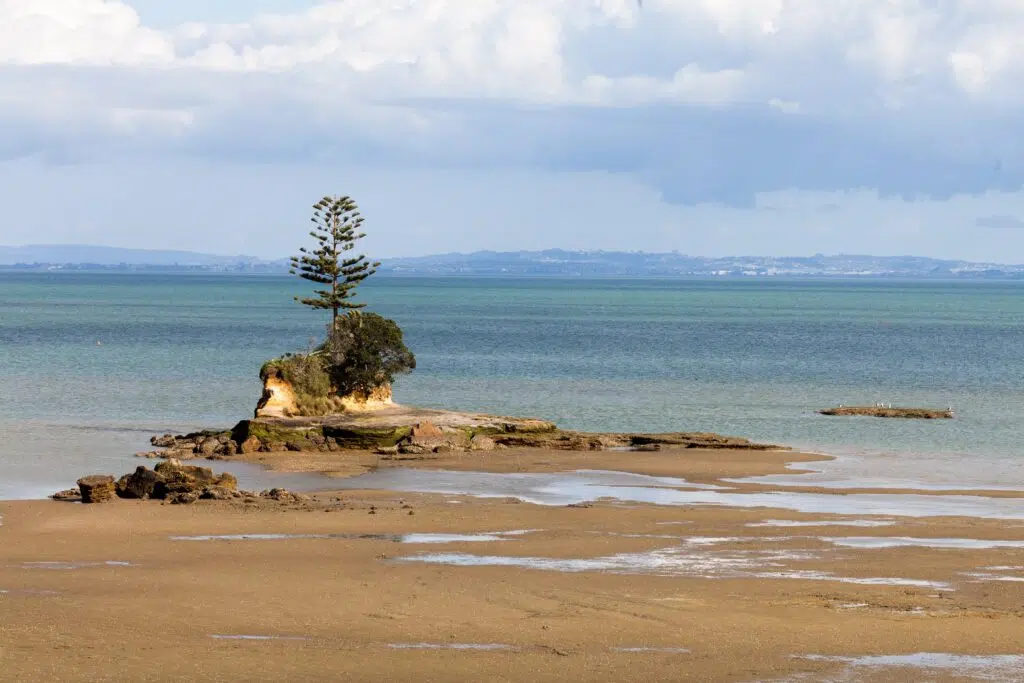 Brooks Beach is another beach on Manukau Harbour's western shore, and like Big Bay Beach, very few people seem to know about it. The beach has white sand and tranquil water, typical of Auckland harbour beaches, but that's not the only reason to visit this unspoiled spot.
Brooks Beach is part of Awhitu Regional Park, which is rich in history and birdlife. The Brook homestead, built in 1880 from local kauri, was home to a family of English immigrants who farmed in the area. Parts of the park are still operated as a working farm, a reminder that New Zealand's rural roots are deep and strong, even in recreational parks.
As for the birdlife, Awhitu Regional Park teems with heron, pied oystercatcher, godwit and banded rail, which can be seen in the bush and on the foreshore.
BIG BAY BEACH
Big Bay Beach is on the Manukau harbour, about 90 minutes south of Auckland's CBD, with views over the water back to the city. Most people haven't even heard of this place, so when we discuss the best beaches in Auckland that no one knows exist, Big Bay Beach could well be at the top of that exclusive list.
Don't come here expecting shopping, nightlife, and a thousand thrills a minute. Of all the beaches in South Auckland, this could be the quietest and most peaceful, with not much to do but swim and relax. If you're looking for an Auckland beach that feels a million miles from nowhere, but actually isn't, this is it.
KARIOTAHI BEACH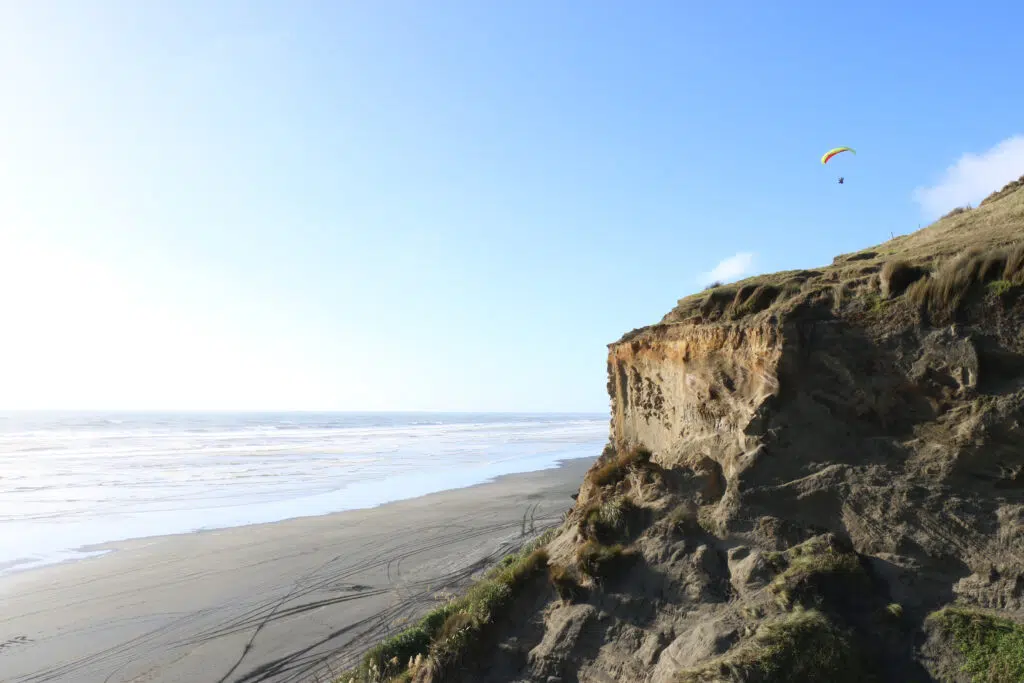 Kariotahi Beach is the South Auckland beach that thinks it's a West Auckland beach. It's wild, windswept, and rugged, with a long, long stretch of black sand underfoot.
Located one hour southwest of Auckland, rather than due west like Piha and Bethells, Kariotahi Beach isn't the first place you'd choose for a quick dip in soothing water, especially when it's unpatrolled outside of the summer months. However, you can do pretty much everything else there.
Kariotahi is one of the most action-packed black sand beaches near Auckland. Fishing, surfing, horse riding, four-wheel driving, and off-road motorcycling are all popular activities on this long beach, and it has some of the best beach walks in Auckland.
Kariotahi Beach is best known among thrill-seekers for paragliding. The cliffs above the beach are a perfect take-off spot for novice paragliders, with a huge stretch of black sand beach to soar above and plenty of sea breezes to keep you airborne.
TAWHITOKINO BEACH
Tawhitokino Beach is a perfect example of a beach in South Auckland with that magical secretive quality. That's because the tides keep it hidden away from the public eye for large portions of the day. Tawhitokino Beach is only accessible on foot during low tide, or by boat at any other time. Checking tide times for beaches in South Auckland is as essential as packing sunscreen when planning your visit to this particular spot.
When the tide permits, Tawhitokino Beach is a peaceful and sheltered place, and a safe swimming spot with crystal clear water. Because it is not the easiest South Auckland beach to get to, it is secluded and private, so the beautiful white sands are rarely crowded.
---
East Auckland Beaches
Some of the best white sand beaches in Auckland are in the Eastern suburbs. This part of Auckland includes some wonderful seaside suburbs, and a lifestyle to be envied, so it's well worth exploring before and after your relaxing day on the pale sands.
BUCKLANDS BEACH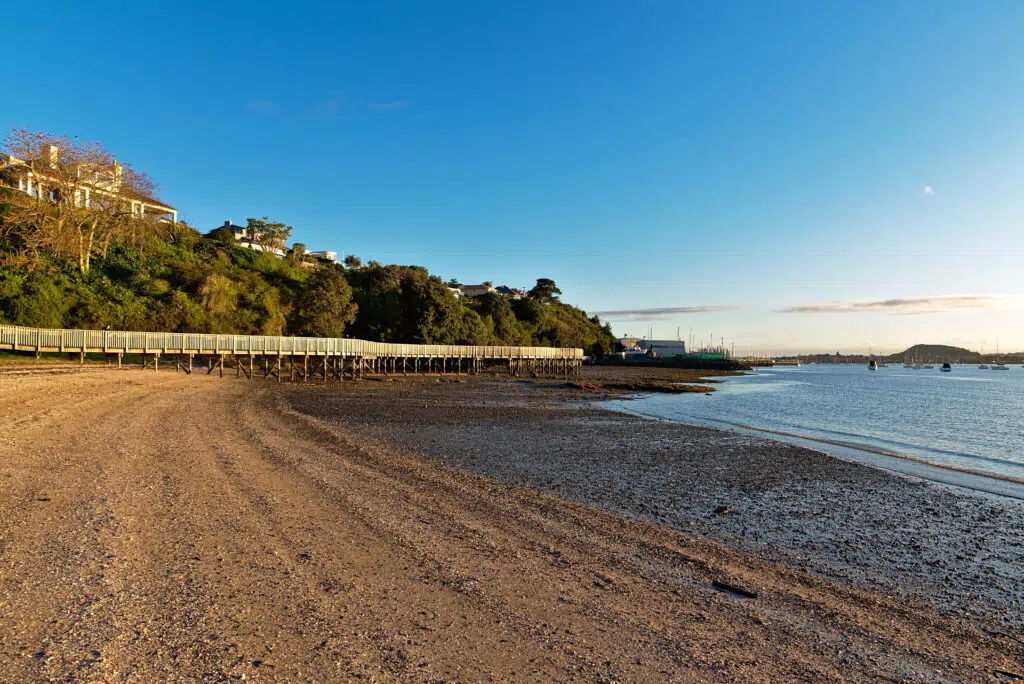 Of all the east coast beaches in Auckland, Bucklands Beach is one of the most enjoyable to explore by foot, thanks to the Bucklands Beach Pathway. The pathway is an easy stroll alongside the Tāmaki Estuary, with panoramic views over the Waitemata Harbour towards Rangitoto Island.
The path takes you from Little Bucklands Beach to Big Bucklands Beach, where you can check out the best swimming spots to head to after your walk.
Bucklands Beach has quite a history. It's named after Alfred Buckland, a local businessman who ran an ostrich farm on the beach in the early 1900's. You might also see remnants of World War II trenches near a concrete bunker in the vicinity. These were built as a precaution after Japan attacked Pearl Harbour in 1941.
MISSION BAY BEACH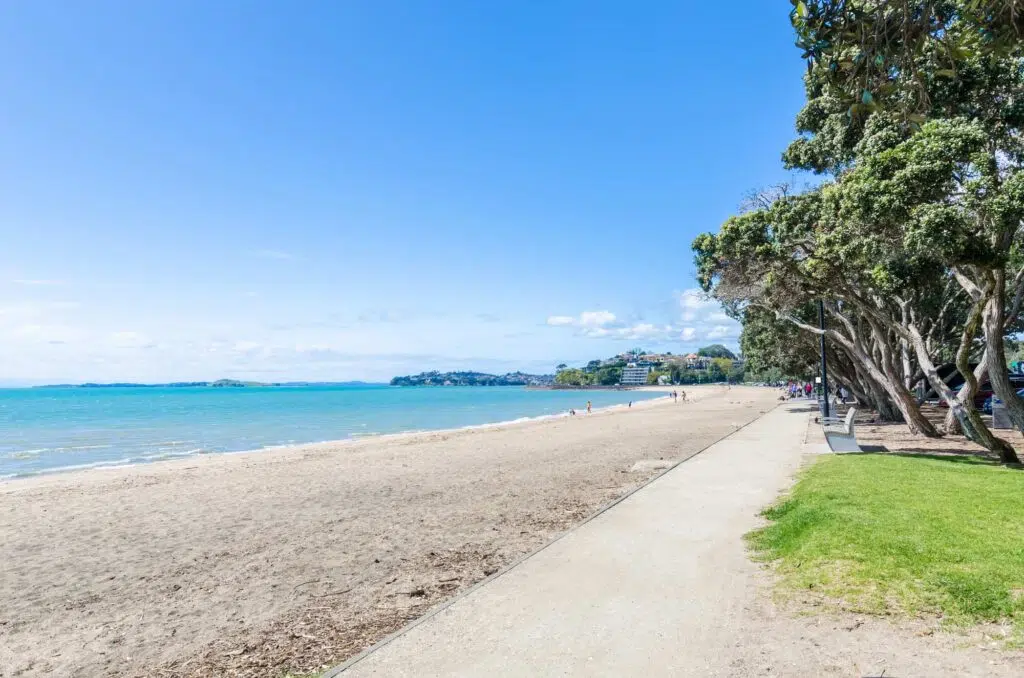 Mission Bay Beach is one of the most beautiful Auckland city beaches, especially when the pohutukawa trees bloom during New Zealand's summer.
Pohutukawa trees are known as New Zealand's native Christmas tree because of their bright red blooms which look like decorations on a Christmas tree. When they're all in flower, in November and December, the effect is spectacular.
The still water at Mission Bay makes it a good spot for kayaking and paddleboarding, while the beach is safe to swim year-round. Mission Bay is a fashionable seaside suburb, with high-quality restaurants and bars dotted along the Promenade, as well as a striking Art deco cinema. This, along with its proximity to the city centre, makes it one of the busiest beach destinations in the city.
ST HELIERS BAY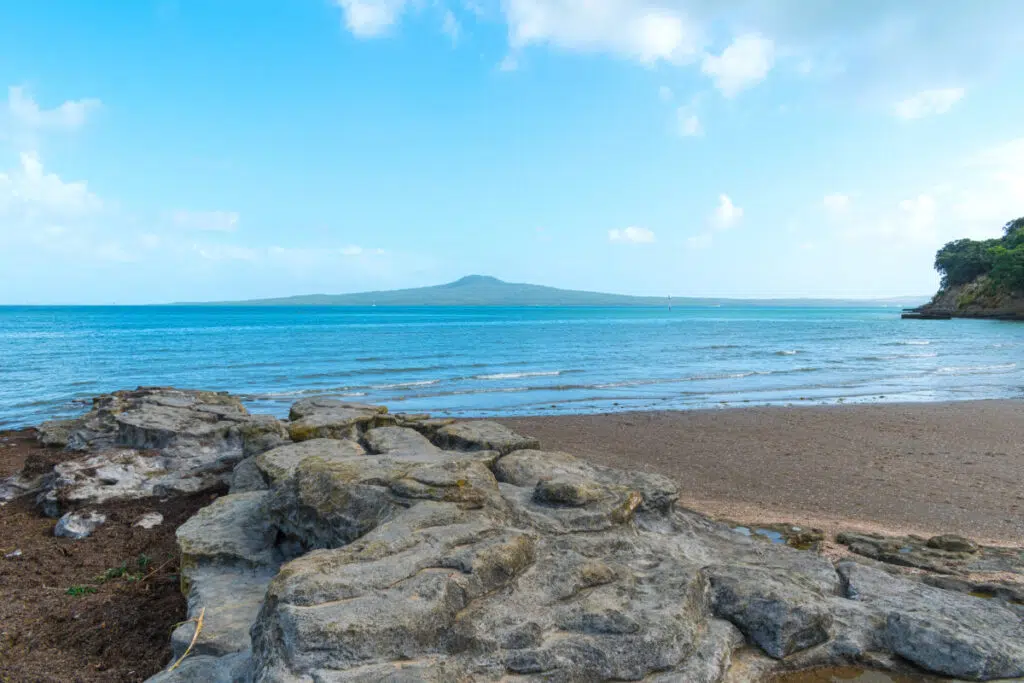 St Heliers is an affluent Auckland suburb, and the cafes and restaurants across the road from the beach are where many well-heeled locals catch up over cappuccinos.
Thankfully, you don't need to be wealthy to enjoy the beach at St Heliers Bay. It's actually one of the more accessible inner-city Auckland beaches, with plenty of free car parking and buses coming and going from the city on a regular basis.
St Heliers Bay is a popular launch point for kayak tours, and a good spot for kitesurfing. If you prefer to save your energy and laze on the beach, you'll enjoy white sands and calm, cooling waters.
A word of caution though: if you're hoping for a quiet day on the beach in early March you might be disappointed. St Heliers Bay is the finishing point of Auckland's world-famous Round the Bays fun run. If you happen to be on the beach on that day, your peace will be shattered by 30,000 hot and sticky runners looking to cool off in the ocean!
MARAETAI BEACH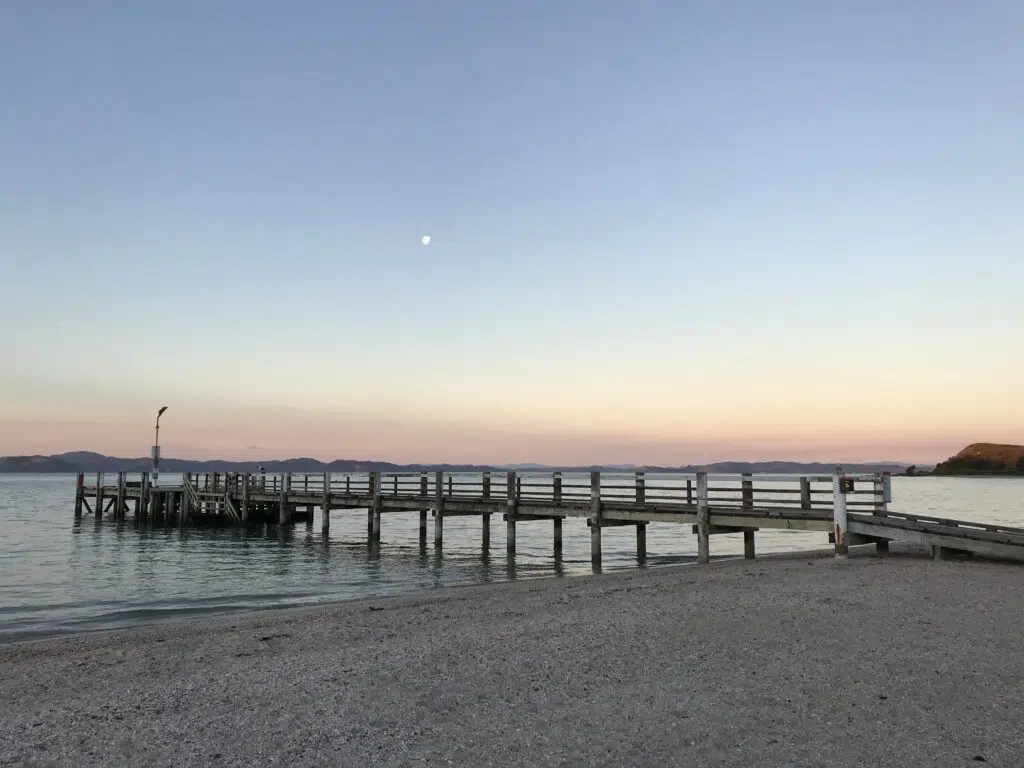 In Maori, Maraetai means "meeting place by the sea", and it is certainly a popular gathering spot for locals and holidaymakers who enjoy its safe swimming and laidback semi-rural setting. Maraetai is the easternmost suburb of greater Auckland, yet this beautiful white sand East Coast beach still draws crowds from far afield.
The pier at Maraetai Beach is one of its main attractions. It's a popular fishing pier, but was once used for moving cattle and sheep from Maraetai farmland onto boats bound for Auckland, some 40 kilometres to the west.
The pier is an enduring reminder that Maraetai is a country settlement at heart. In fact, local residents still use tank and bore water instead of tapping into Auckland city's main water supply.
KARAKA BAY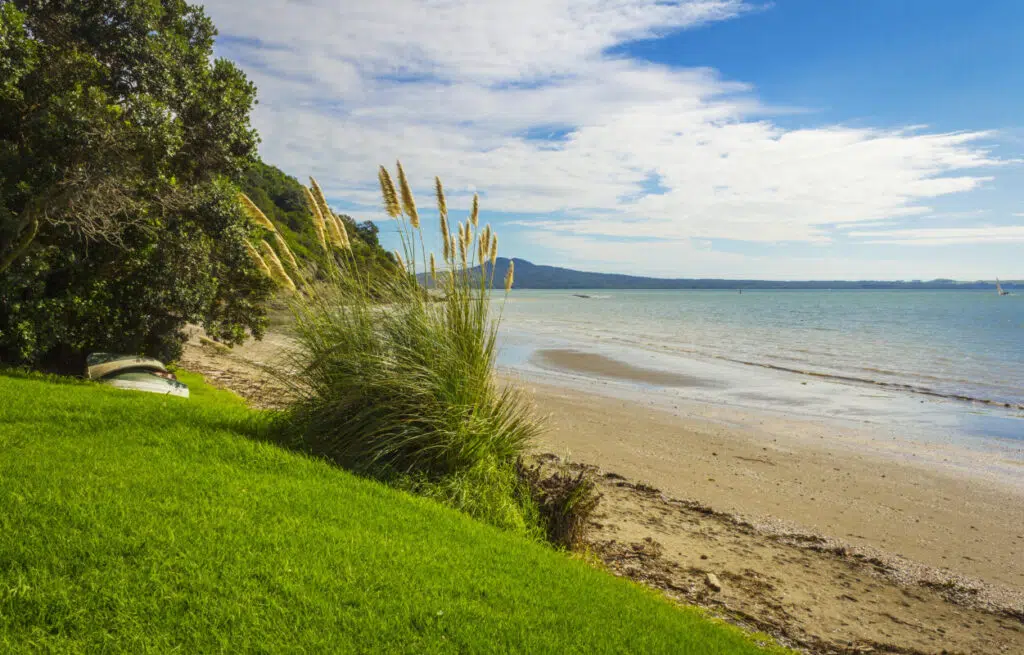 This pretty and shaded white sand beach, 25 minutes east of Auckland's CBD, is a historically significant site. It was here that local Māori leaders and British Crown representatives signed Māori language versions of New Zealand's founding document, the Treaty of Waitangi.
This followed the first signing of the Treaty in the Bay of Islands in February 1840. There was once a Māori fortified site at Karaka Bay and many historical artefacts have been unearthed here.
Getting to Karaka Bay involves parking at the end of Peacock Street, then following a steep path through the bush down to the beach. It's worth it. Karaka Bay hasn't been spoiled by modern architecture, with many of the beach houses looking just like they did when they were built in the 1950s. It makes for a nostalgic glimpse of what life was like in Karaka Bay in "the good old days", as Kiwis like to call them
---
Things to know about Auckland's Best Beaches
The first thing most people want to know is: are Auckland beaches safe to swim? After all, a beach, no matter how lovely it looks, is only as good as the quality of its water. The Swimsafe website, monitors Auckland beaches water quality and provides regular updates on their interactive map.
The good news is, the water quality of Auckland city beaches is generally very high. But that water can still be dangerous because of treacherous tidal conditions, powerful waves, and rips, especially off Auckland's west coast beaches. Therefore, the best and safest Auckland beaches for swimming, are the ones patrolled by New Zealand lifesavers. They patrol the area between the red and yellow flags you'll see on New Zealand beaches, so when they advise you to "swim between the flags", it's advice worth taking.
If there are no lifesavers on patrol, or no flags, especially on those wild west coast beaches near Auckland, it is best to stay out of the water altogether unless you're a confident swimmer.
The weather in Auckland is very fickle, and can change suddenly. Especially on the more exposed beaches on the coast. Metservice provides comprehensive weather forecasts for all of New Zealand's urban and rural regions, as well as regularly updated marine and surf information.
(Psst – you can find things to do in Auckland on rainy days here).
As you've read, Auckland's best beaches are very different, and so are the bylaws and regulations you need to follow at each one. For example, exercising your dog off a leash might be fine at one beach, but punishable by a hefty fine at another. While it is something of a Kiwi tradition to take your dog to the beach, there are restrictions about where and when that can happen.
Each beach will have signs pointing out the bylaws and regulations that apply in that area. Dog walking, alcohol consumption, and overnight "freedom" camping are the most common areas covered by local laws and regulations, and friendly New Zealand council staff are less friendly if those rules are broken. For more information, the Auckland City Council website covers all the bylaws you need to be familiar with.
---
---
The top beaches in Auckland underline the city's connection with the ocean. Auckland is also known as the "City of Sails", thanks to its rich maritime heritage, and its beaches act as the link between the sea and the city.
Your Auckland experience will be all the more enjoyable with a visit to a white sand beach in the inner city, or a black sand beach on Auckland's west coast. In this seaside city, where you'll find beaches on all points of the compass, it's the natural thing to do.