Dubbed "the city of sails", there is no doubt that Auckland is the perfect place for lovers of all things nautical. But it's not only 'boaties' who'll enjoy sampling the best of what Auckland has to offer.
This vibrant city on the north island of New Zealand has something for everyone – and every budget. If you're looking for the best free things to do in Auckland, look no further – we've compiled the ultimate list right here!
---
Free Galleries & Museums in Auckland
Why not take advantage of Auckland's cultural attractions to learn about New Zealand's history and heritage. Many Auckland Museums offer free admission (at a minimum to Aucklanders), so there's no reason not to indulge in a little learning.
The Auckland (War Memorial) Museum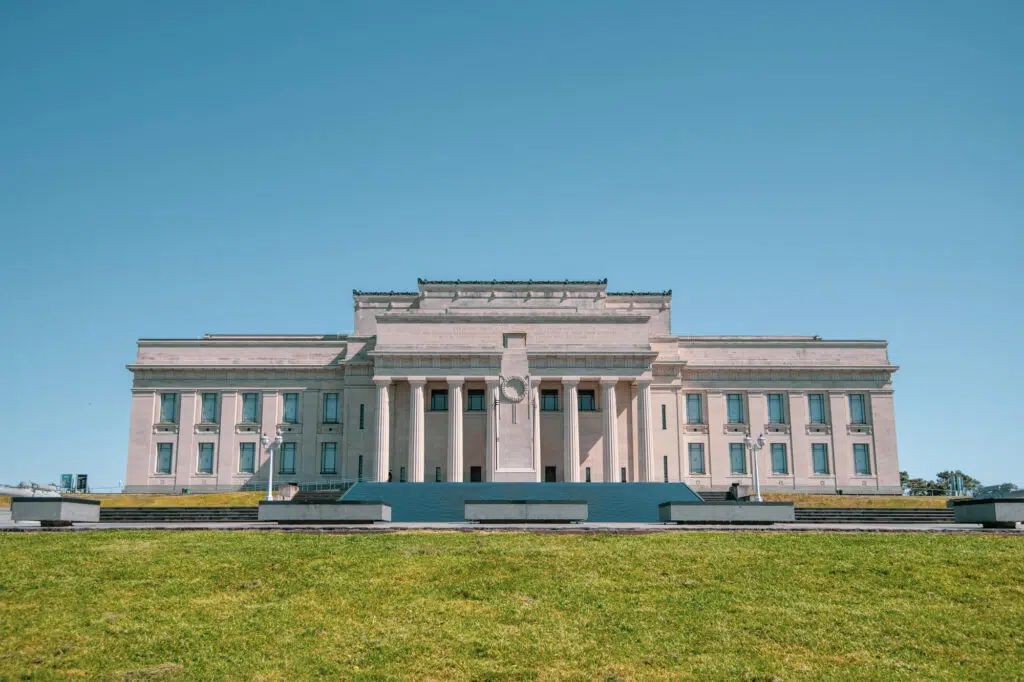 Auckland's favourite museum and one of New Zealand's largest, The Auckland War Memorial Museum offers hours of entertainment and enjoyment. In fact, you could spend several visits taking in all the exhibitions on offer if you wanted an in-depth experience!
Located in the Auckland Domain, the museum is housed in an iconic building that dates back to the early 20th century. But don't let its grand exterior lead you astray, the interior of this multi-level museum is thoroughly modern, as are some of its interactive exhibits.
Most prominently, the Auckland Museum tells of New Zealand's Māori culture, our history, and our natural world. Several tours and performances are also on offer daily.
Museum entry is free for Auckland Residents (with proof of address). For visiting New Zealanders, donations are invited, and International visitors must pay an entry fee of $25 per adult/$10 per child, or $60 per family (2 adults and up to 4 children).
New Zealand Maritime Museum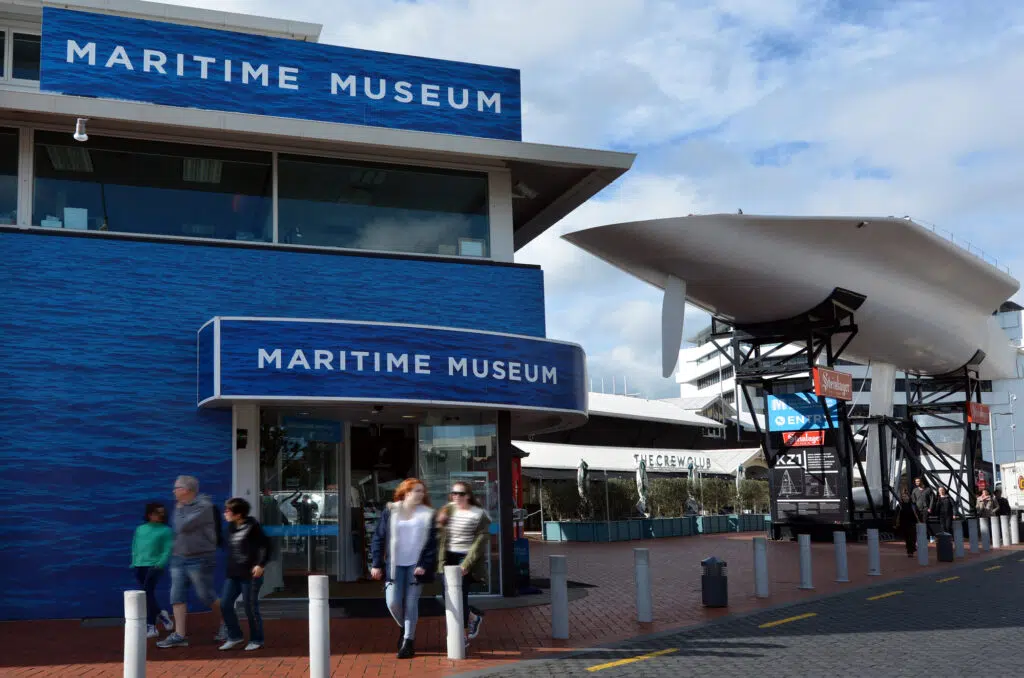 The nautical-themed New Zealand Maritime Museum tells of the country's close connection with the sea through a series of permanent and temporary exhibitions.
The museum will take you on a journey, from the first ocean voyage that reached New Zealand, to the country's whaling past, right through to modern America's Cup racing yachts.
Want to make the experience more interactive? You can head out into the harbour on one of the museum's heritage boats! Note that a charge does apply for this, though prices are reasonable and start at just $5 for a ride on the 19th-century steam tug.
Museum entry is free for Auckland residents. All other visitors pay $20 per adult/$17 per student/$10 per child, or $40 for a family pass.
Auckland Art Gallery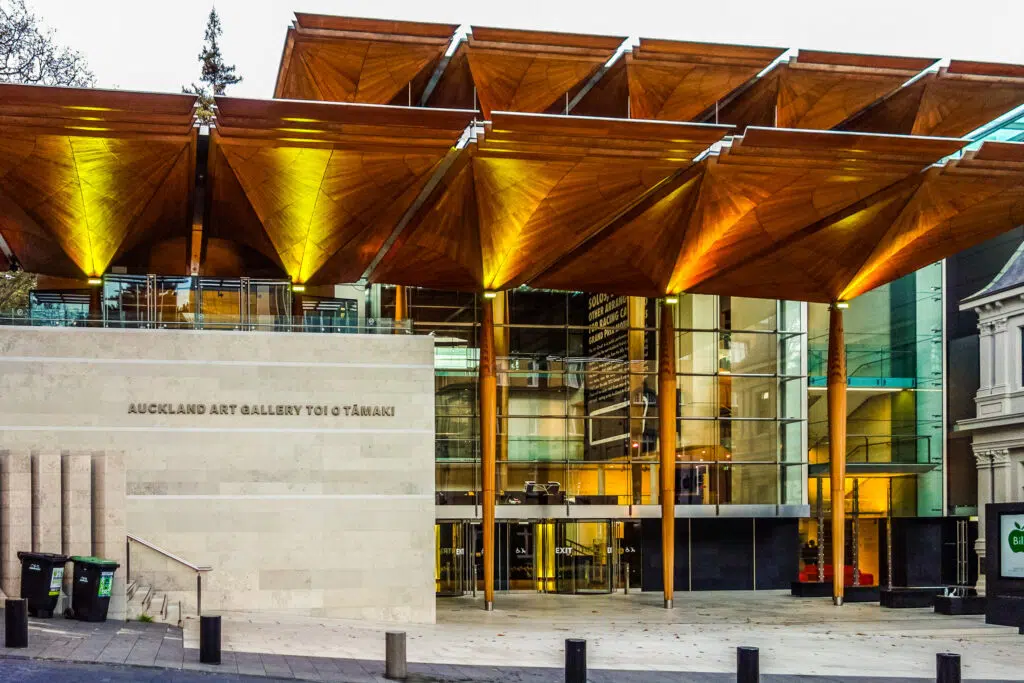 Head to the centrally located Auckland Art Gallery for New Zealand's largest visual arts experience. The gallery houses collections of New Zealand and international historic, modern and contemporary art, alongside awe-inspiring and inspirational art exhibitions.
Housed in a beautiful modern building, the gallery offers an interactive experience in a family-friendly environment. There are also free tours available to help you fully appreciate the art on display.
The art gallery is open every day from 10am-5pm and is free for New Zealand residents (with proof). International visitors must pay $20 per adult/$17 per senior (65+)/$17 per international student. Children 12 and under are free.
Te Uru – Waitakere Contemporary Gallery
Located in the lush landscapes of West Auckland, Te Uru is a contemporary art gallery with a local focus. Community is at the heart of everything they do, and the gallery aims to reflect this by showcasing local talent and art that reflects the cultural diversity of the region.
The space is light & bright, which brings art to the forefront. Exhibitions change frequently too, so there's always something new to see.
The gallery is open every day from 10am to 4.30pm and entrance is free to all.
Te Toi Uku – Crown Lynn & Clayworks Museum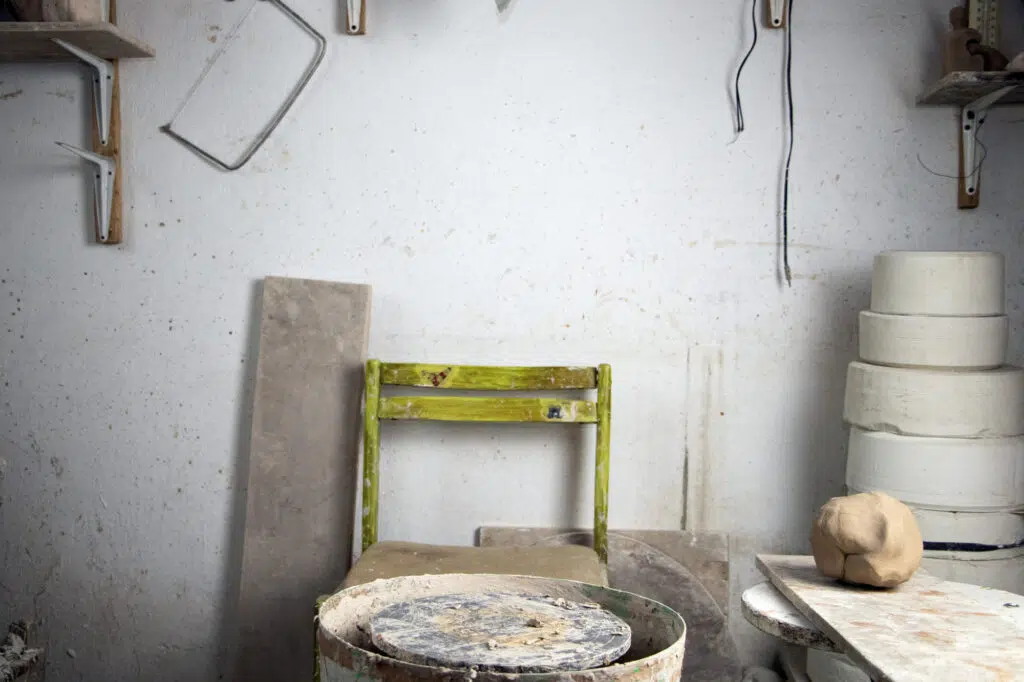 Crown Lynn is an iconic New Zealand pottery brand, and there was once a time where no home would be without at least one of their pieces taking pride of place on the mantlepiece. These days they're a bit more of a collector's item, but their reputation lives on – no more so than at the Te Toi Uku Museum.
The petite museum showcases the bygone ceramics company, with a large collection of their products on display, alongside the tools that were used to make them. The collection joins forces with exhibitions relating to the brick and pipe making industries of the area.
Te Toi Uku Crown Lynn & Clayworks Museum is a nostalgic experience for any kiwi, and an interesting insight into our industrial past for visitors. Visits are free, however, donations are welcome on the museums givealittle page.
---
Free Outdoor Activities in Auckland
There's no mistaking that New Zealanders are an outdoors-loving bunch, and Auckland is the ideal place to take advantage of the unique geography that includes beaches, volcanic cones and lush forests.
Free Walking Tours in Auckland
Those wanting to explore the city can take part in a free walking tour of Auckland City, thanks to Auckland Free Walking Tours! The tours depart from Queens Wharf Village daily at 10 am and take in some of Auckland's most famous sights. Tours last approx 2.5 – 3hrs.
Go for a hike in Auckland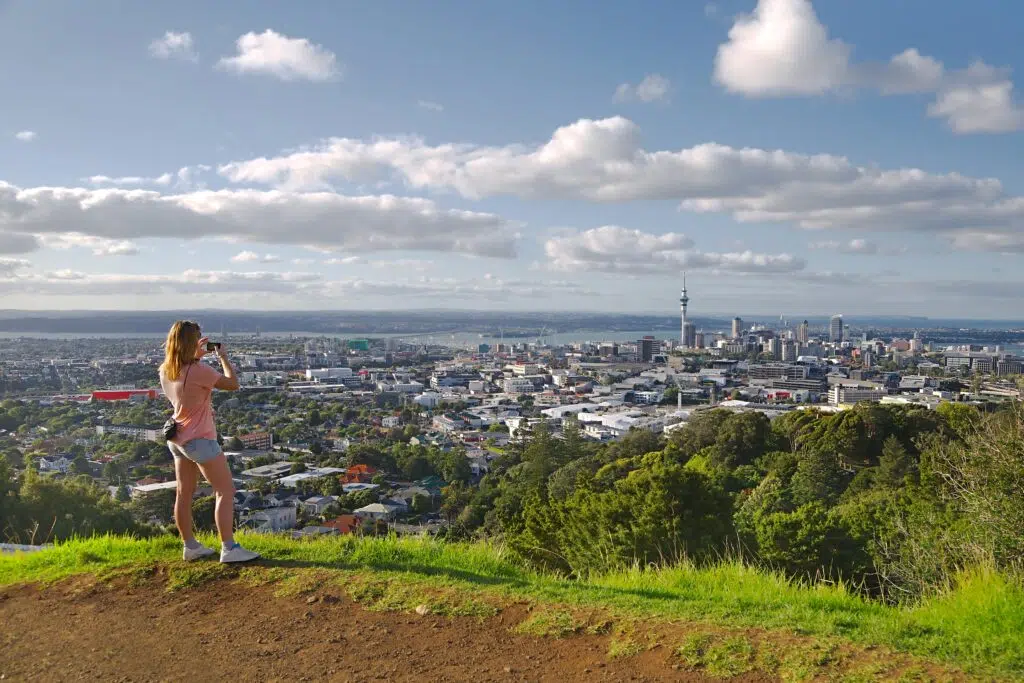 There's no better place than Auckland to ditch the car and hit the hiking trails! From tramping through the dramatic landscapes of Auckland's Waitakere Ranges to walking the 16km long coast to coast trail, there are inspiring walks to suit every age and ability in Auckland.
Delve into Devonport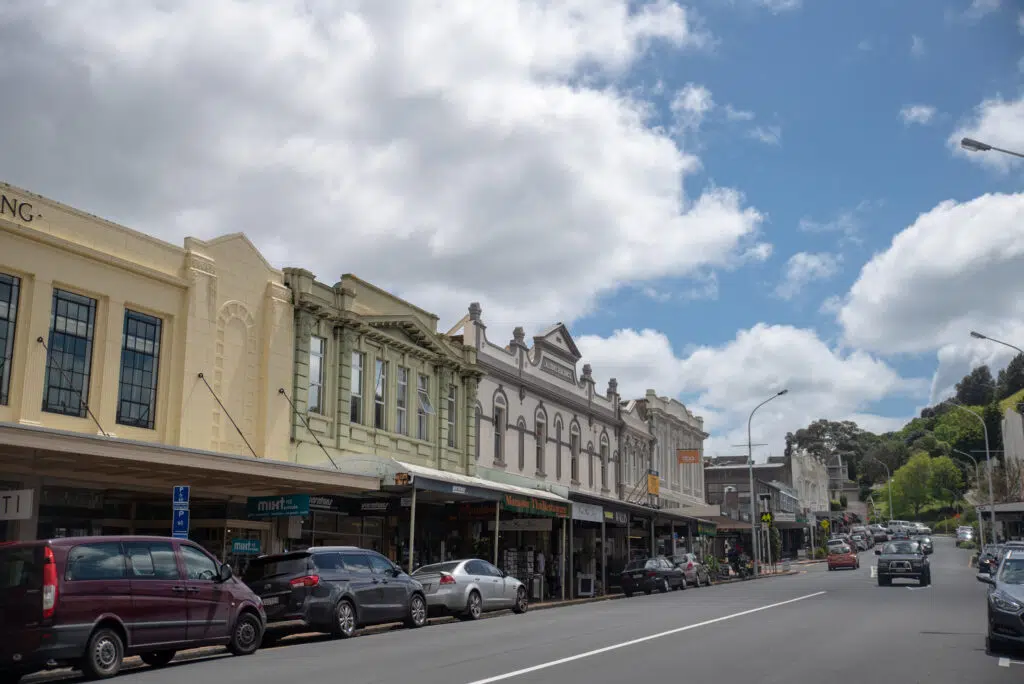 The historic seaside village of Devonport is one of the most picturesque places to take a stroll in Auckland. Wander down the main street and window shop at the quaint boutiques, walk up north head for a breathtaking view over the harbour, stroll along the tree-lined waterfront, and dig your toes into the warm white sand at one of many beautiful beaches.
It's a short 13km drive from Auckland City centre, or take the ferry (not free) for the scenic route!
Parnell Rose Garden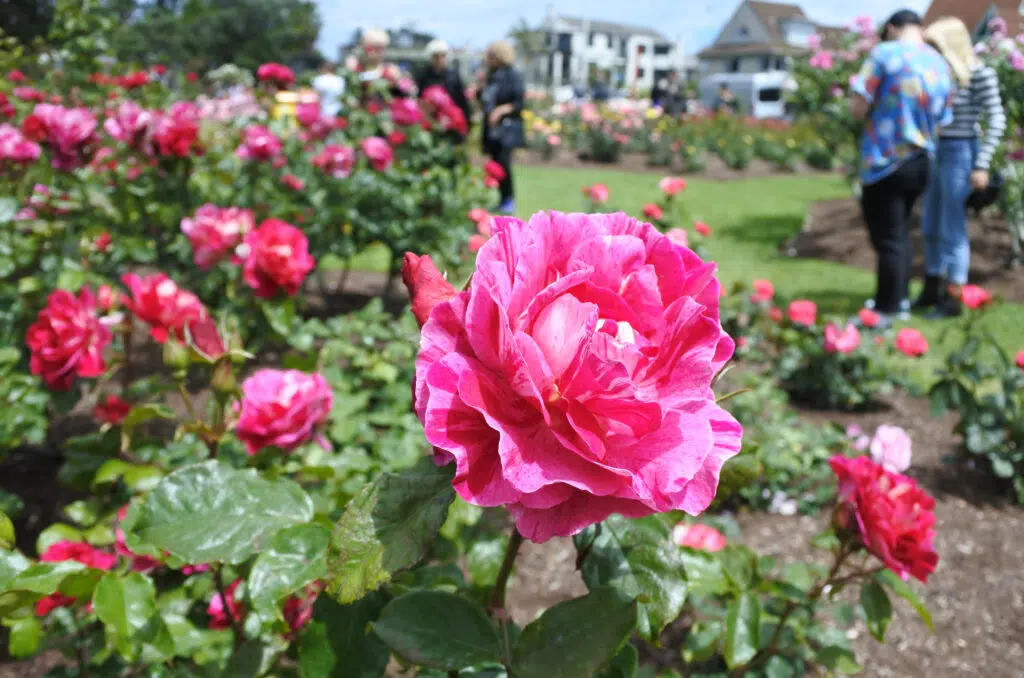 These sweetly scented gardens in one of Auckland's most affluent suburbs are home to an impressive array of flowers including, most notably, a stunning and diverse selection of roses.
The perfect place for a relaxed picnic or a Sunday stroll, the gardens also play host to a free "Festival of Roses" every November where you can enjoy live music and market stalls.
Hit the Beach(es)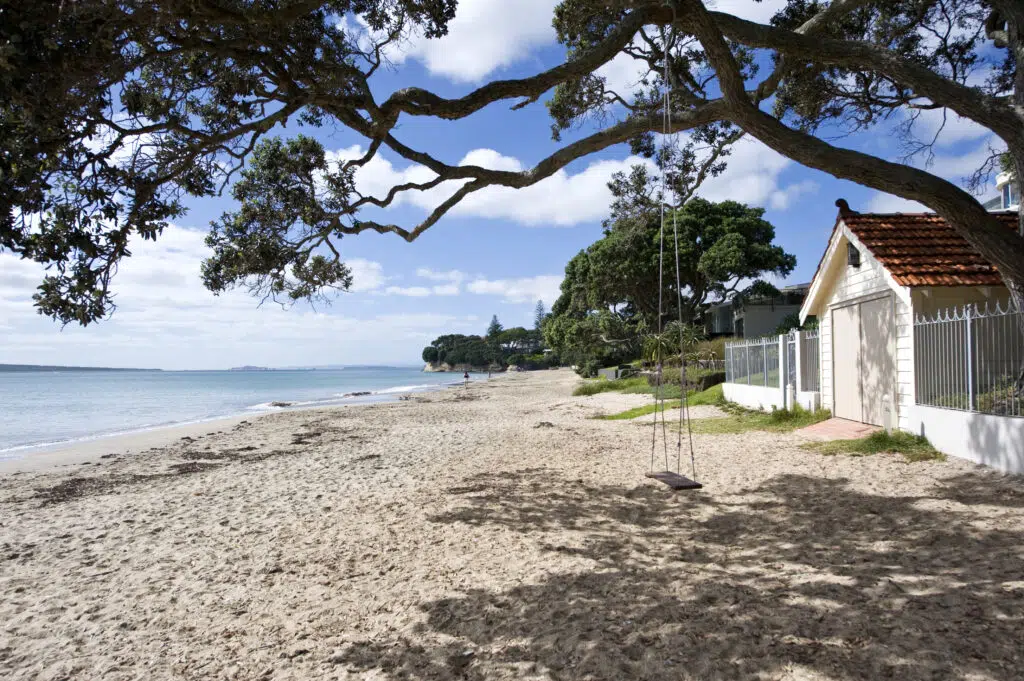 With over 3,700km of coastline, it comes as no surprise that there are many spectacular beaches in Auckland. Choose from the golden sand shores in the east or wild and rugged black sand beaches in the west.
My favourites include Mission Bay (close to the city) for family fun, Bethells (West Auckland) for untamed beauty, Takapuna (North Shore) for its trendy vibe, Cheltenham (Devonport) for chilled afternoons, Piha (West Auckland) for surfing and scenery, and Long Bay (North Shore) for wild water sports.
Discover Dormant Volcanoes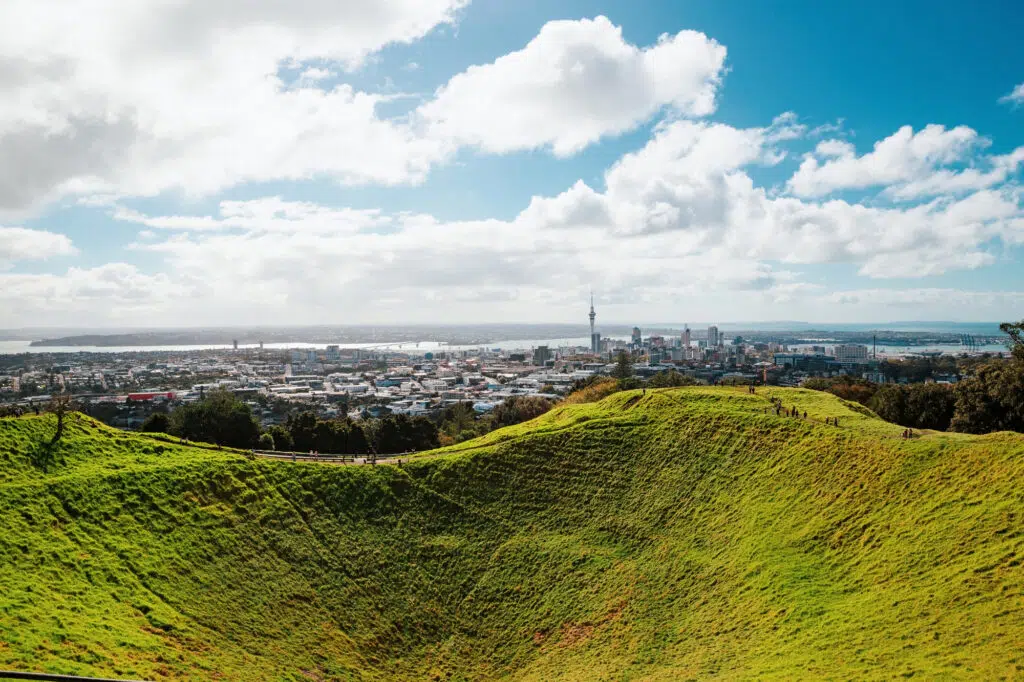 Dormant volcanoes dot Auckland's landscape and provide fantastic viewing platforms. Climb Mount Victoria for captivating views over the North Shore and Hauraki Gulf towards Rangitoto Island.
Walk up Mt Eden (Auckland's largest volcano) to see the impressive craters and breathtaking views of the city centre. And at the top of One Tree Hill, you'll find a memorial to Māori alongside the grave of Auckland's founding father.
Mountain Biking Trails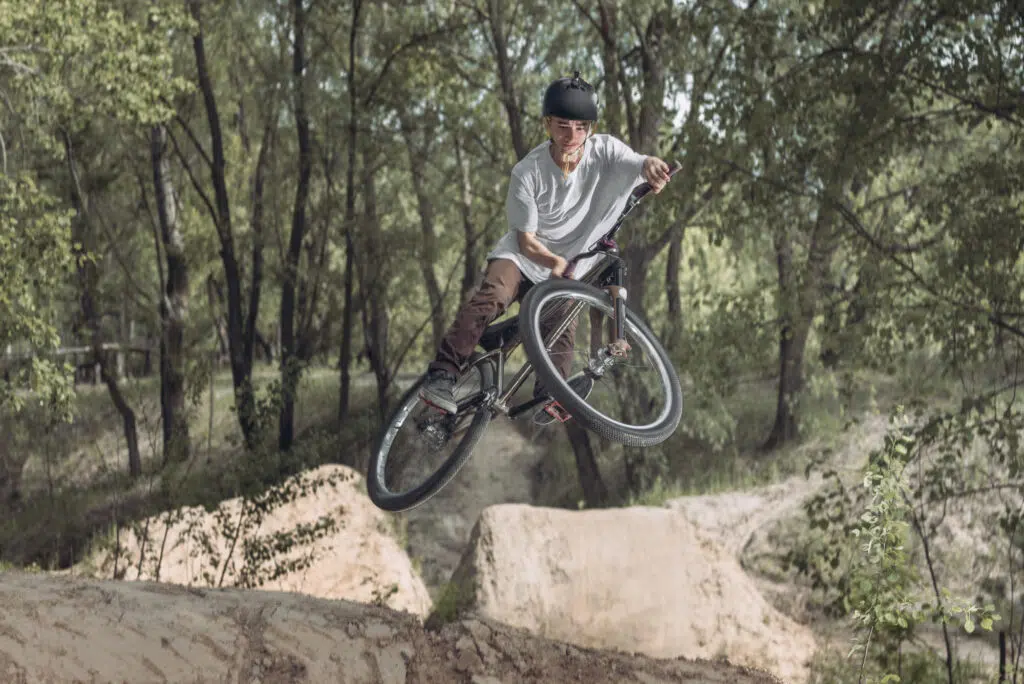 Auckland is a mecca for mountain biking enthusiasts! From scenic beginner tracks to harrowing bike trails for the experienced rider – there's something for all levels and many are completely free of charge.
Head for the Beveridge trail in West Auckland for a gentle ride through native bush in the Waitakere Ranges, or go south to the Hunua trails where you'll find tracks of varying lengths and grades – including expert downhill sprints!
Wing it in Wynyard Quarter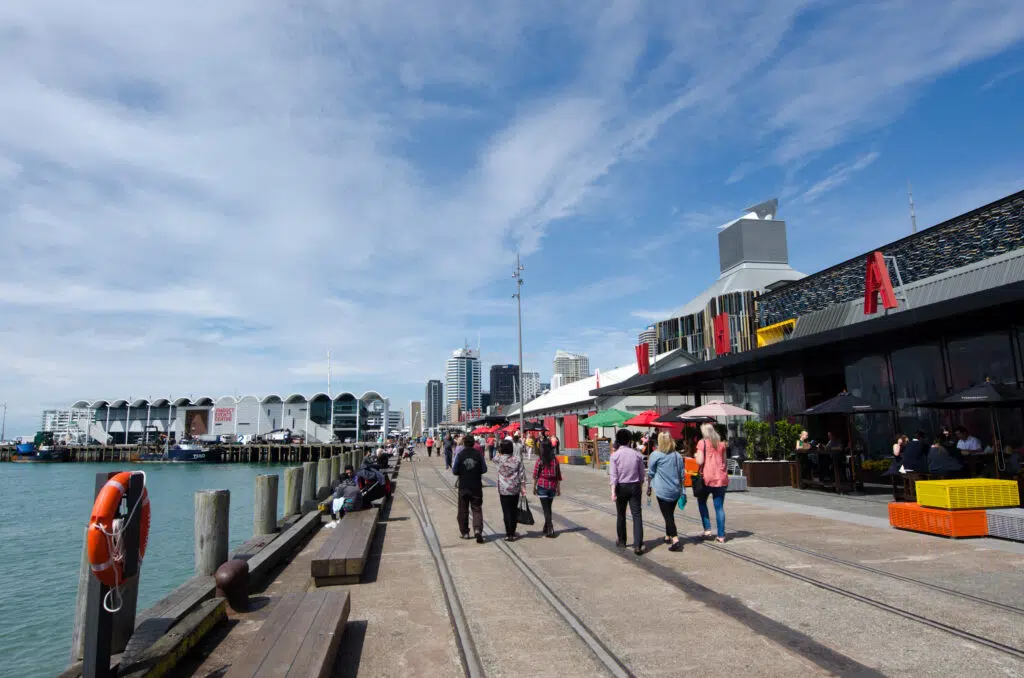 Wynyard quarter is Auckland's newest waterfront development and a great place to sit back, soak up the buzzing atmosphere and partake in people watching! Kids will love the maritime-themed play space, and in summer you can enjoy the markets and free movie nights with the outdoor Silo Cinema.
Head to Cornwall Park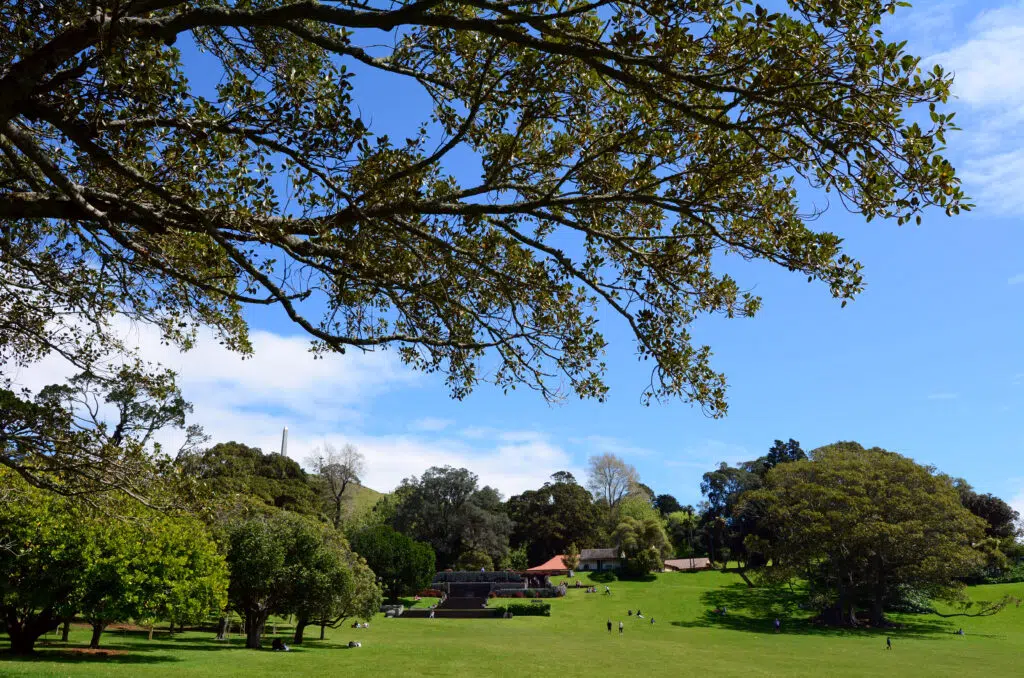 Beloved by Aucklanders, Cornwall Park is a haven within the city. Encompassing a massive 670 acres, there's plenty of space for everyone to enjoy, whether that's going for a walk, having a family gathering, playing a casual game of frisbee, or simply reading a book under the shade of a leafy tree.
The park is also a working farm, so you'll find plenty of animals grazing in the paddocks, and come spring lambs and calves make a welcome appearance too.
Stay for the day, and cook up a BBQ on the facilities provided, or have lunch at one of the three onsite cafes.
You can download maps of the expansive park here, or pop into the Huia Lodge Discovery Hub to get first-hand knowledge about the Auckland park – including any upcoming events and free workshops.
Visit the Wintergardens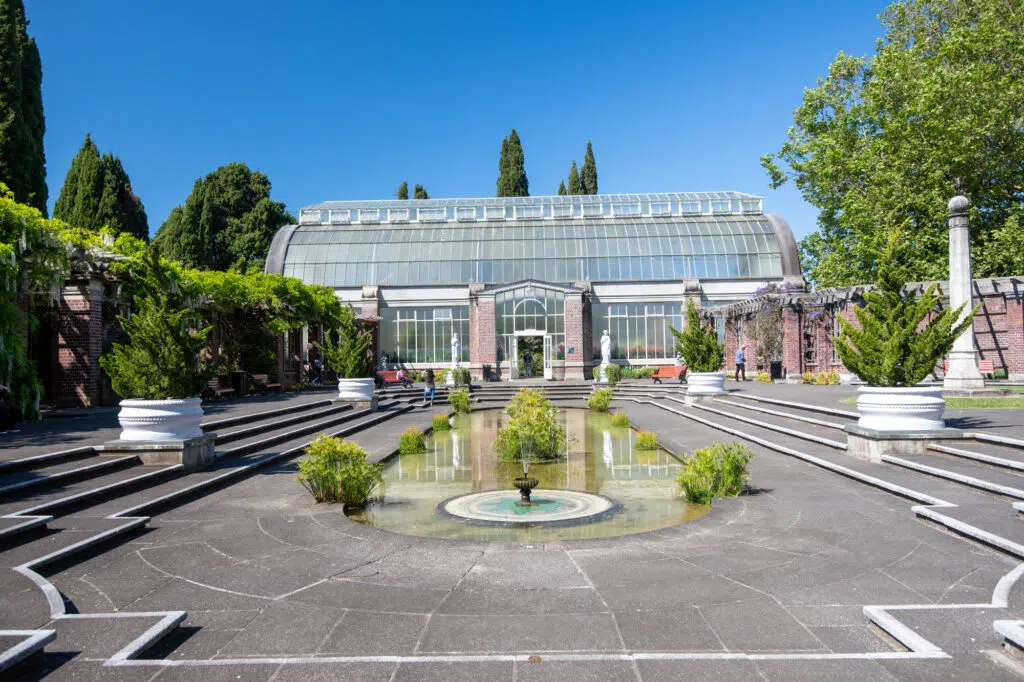 Technically an indoor activity in Auckland, the Auckland Wintergardens are housed in an elaborate glasshouse. Located within the Auckland Domain (along with the Auckland Museum), the gardens are among the most beautiful in Auckland.
Designed in the early 20th century, the gardens display interesting and unique plants from around the world, alongside a variety of native New Zealand plants. Entrance is free and the gardens are open every day with extended hours in the summer months.
---
Free things to do in Auckland with Kids
If you're planning a family holiday in Auckland, you're in luck! There are plenty of free things to do in Auckland with kids that'll keep them entertained for hours!
Auckland's playgrounds
New Zealand as a whole knows how to do playgrounds well, and Auckland is no exception. Playspaces are found in every suburb, but for the best experience, seek out one of the wonderful destinations playgrounds listed below.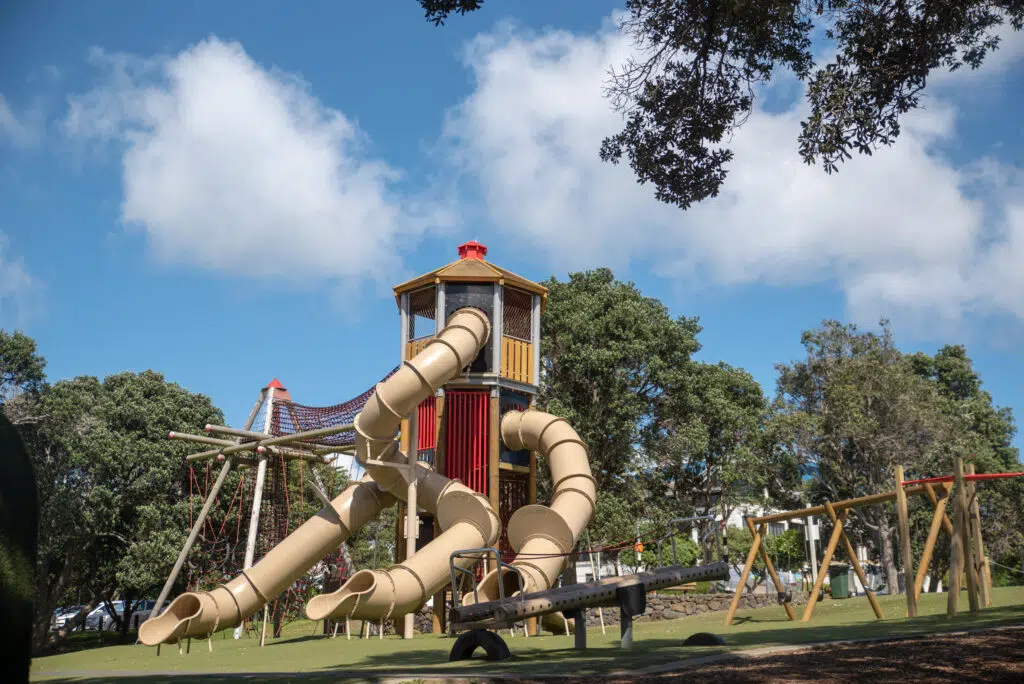 Takapuna Beach Reserve
This beachside playground has everything you'll need for a fun free day out. Basket swings, tube slides, a trampoline and a wheelchair-friendly merry go round add to the fun.
Daldy Street Park
If your kids love water play as much as mine do, you're in for a treat with a visit to the Daldy Street playground. Located in downtown Auckland, this is the perfect place to go to let little ones let off some steam in between sightseeing.
Onepoto Domain
If you've got kids that love their scooters, take them to this Auckland playground which has a great bike and scooter track as well as an epic play area. It even has a pond for feeding the ducks!
Myers Park Playground
If you're staying in central Auckland you'll want to take the kids to this fun and bright play area in the city. There's all the usual equipment, but the addition of shade and a splash pad make this a great choice in summer!
Mt Eden Park
Featuring two flying foxes (ziplines), climbing frames, slides and suspension bridges, this free playground in Auckland will tick all the right boxes with your kids.
Take an Amble Through Ambury Farm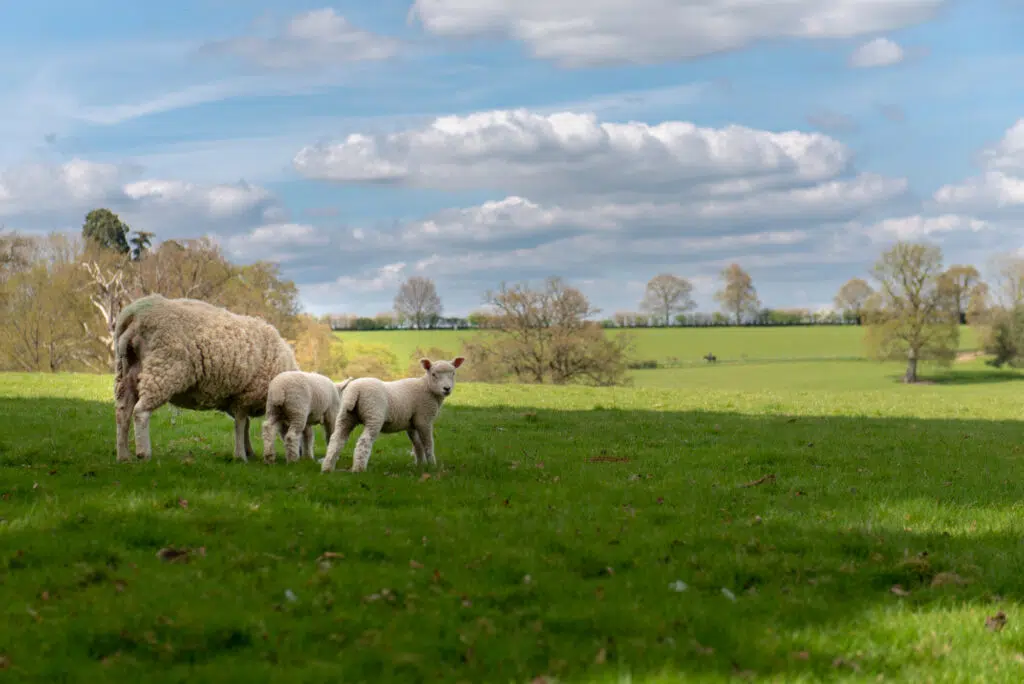 It's a little way from central Auckland, but this farm is one of the best famil-friendly free things to do in South Auckland! The farm features many species of animals including cows, sheep, goats, horses and pigs – making it popular with animal-loving kids (and grown-ups!).
Picnics and BBQs (electric and wood) welcome you to stay for a meal, and picnic tables are provided too. There's no playground in the park, but you'll find a small one nearby at the Mangere Boating Club. The park's proximity to the Auckland International Airport make this a popular spot for killing time before a flight.
Discovery Trail at the Botanic Gardens
The Auckland Botanic Gardens are loved by kids and adults alike and provide a full day's entertainment for free! Little ones especially lie the Potter Children's Garden with its magical maze and misty rainforest.
But it's not all fun and games, children will also be learning as they discover, with educational tips designed to arouse their curiosity.
Print out a free activity sheet here before you go and you're guaranteed a fun day out.
---
Free School Holiday Activities Auckland
If you live in Auckland, or you're visiting with kids during the school holidays, you'll be pleased to know there are a host of free activities in Auckland, especially for school-aged kids.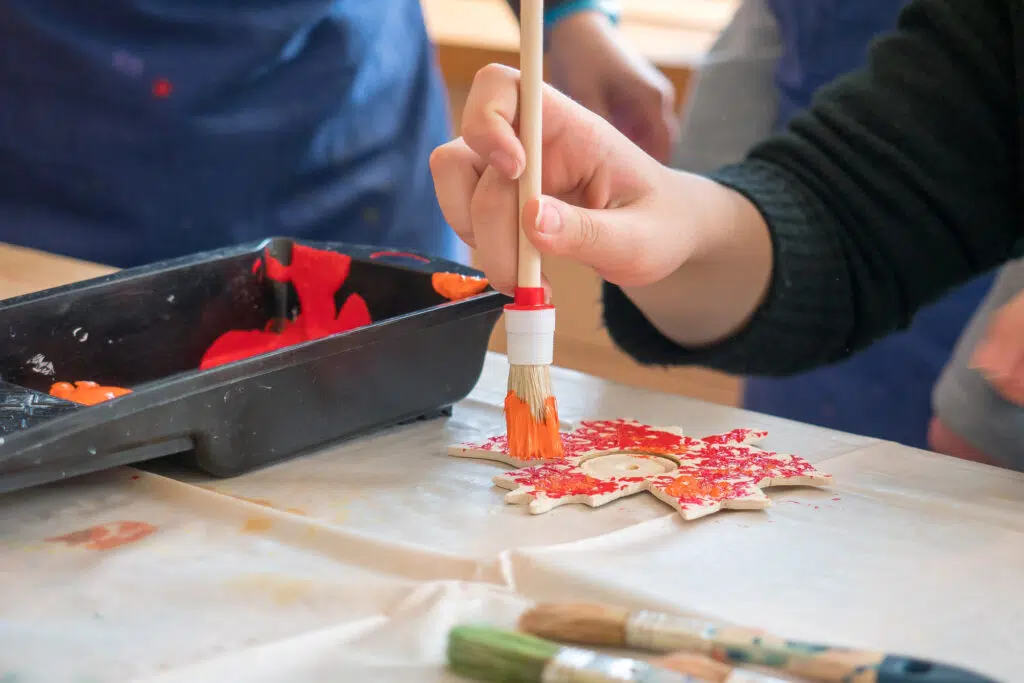 Westfield Mall School Holiday Activities
Westfield malls throughout Auckland host a range of holiday activities for kids – and they're always free! From crafts to lego playing stations, and age-appropriate workshops and entertainment – there's something for every kid. Check out the Westfield Mall website for more information.
Cornwall Park School Holiday Activities
Free school holiday activities take on a nature theme at Cornwall Park. Craft workshops encourage kids to get creative, while year-round exhibitions, events and nature talks inspire everyone to learn about, and spend time in the great outdoors.
Auckland Libraries School Holiday Programme
Public Libraries throughout Auckland host a range of school holiday activities for kids of all ages. Events range from movie afternoons to yoga storytime and clever craft projects. So check out your nearest library and get involved in these free activities in Auckland!
Animates School Holiday Activities
The popular nationwide pet store Animates often hosts free animal-themed activities for kids during the school holidays. The programme usually consists of an educational element (how to safely interact with dogs, how to care for rabbits), as well as a fun quiz or game at the end. All participants will go home with a "certificate of completion" at the end.
School Holiday Fun at the Botanic Gardens
The Auckland Botanic Gardens host many events throughout the year, and the school holidays are no exception. Free workshops are available but they fill up fast, so be sure to keep an eye on the garden's events page for further details.
---
Free Events in Auckland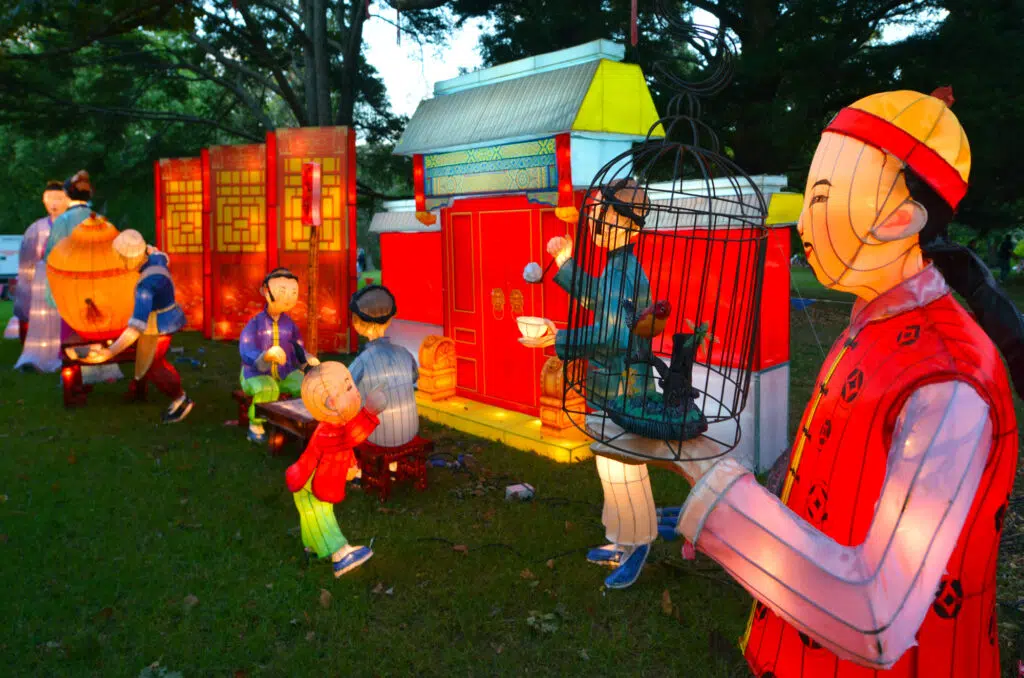 As the saying goes "The show never stops in Auckland". Free events take place throughout the year and range from markets to family Christmas celebrations, to free live music concerts, to cultural festivals like the Chinese Lantern Festival & Pasifika. To see what's happening during your visit, check out the Eventfinda website and search by "Auckland" and "free".
There are many regular markets throughout Auckland, and they range from country farmers' markets to bustling inner-city markets. A trip to the Silo markets in summer is well worthwhile to pick up local arts & crafts, vintage clothing and sample street food while being entertained by musicians and street performers. And be sure to sample the authentic French fare on offer at La Cigale French Market, held on Saturday and Sunday mornings in Parnell.
---
With so many free things to do in Auckland, New Zealand, you don't need to break the bank to enjoy the best of what the city has to offer… So strap on some shoes, grab a mate, and as we say in New Zealand "get amongst it"!