Guest Post by Camille Daniels
New Zealand is well known for its mountain vistas, Great Walks, and pristine beaches. However, exploring Aotearoa doesn't come cheap. But that doesn't mean it's impossible to travel this beautiful land with little money.
In fact, there are many ways you can travel New Zealand on a budget. I spent over two months on an epic road trip around the land of the long white cloud and I was spending only $35 NZD per day.
Are you looking for an affordable way to travel around NZ? Read on for the best tips on how to find cheap flights, accommodation, food and more in this stunning country.
---
How to find cheap flights to New Zealand
New Zealand is so far away that flying there is usually an expensive exercise, unless you go to New Zealand from Australia.
However, you can still find affordable flights from anywhere in the world if you choose your dates wisely and look around for deals and cheap fares.
One of the best ways to find cheap airfares is to use Skyscanner. You can sometimes find return flights from Paris to Auckland for around 550 euros (which is approximately $650 US). Even better, if you're in the USA you'll find return flights from New York to Auckland for around $500 US.
You can also have a look at AirFare Watchdog. This website is good for finding error fares or last-minute deals. And don't forget to check Secret Flying, which offers cheap flight deals around the world. They don't always have deals for every destination, so check back regularly – when they do, you can really save big bucks!
Another way of finding good airfares is to travel off-season. Don't forget that if you're traveling in high season, airfares will be a lot more expensive.
If you're looking for cheap fares, consider going to New Zealand between September and November, which is springtime. Or in winter, between June and August. Just be flexible in your travel dates, and you'll find some good deals.
---
How to get around New Zealand on a budget
Getting around New Zealand can quickly become expensive if you don't know how to travel on a budget. However, there are a few affordable ways to visit this fantastic country including renting a campervan, going on a backpackers tour or hitchhiking. Let's have a look at your options.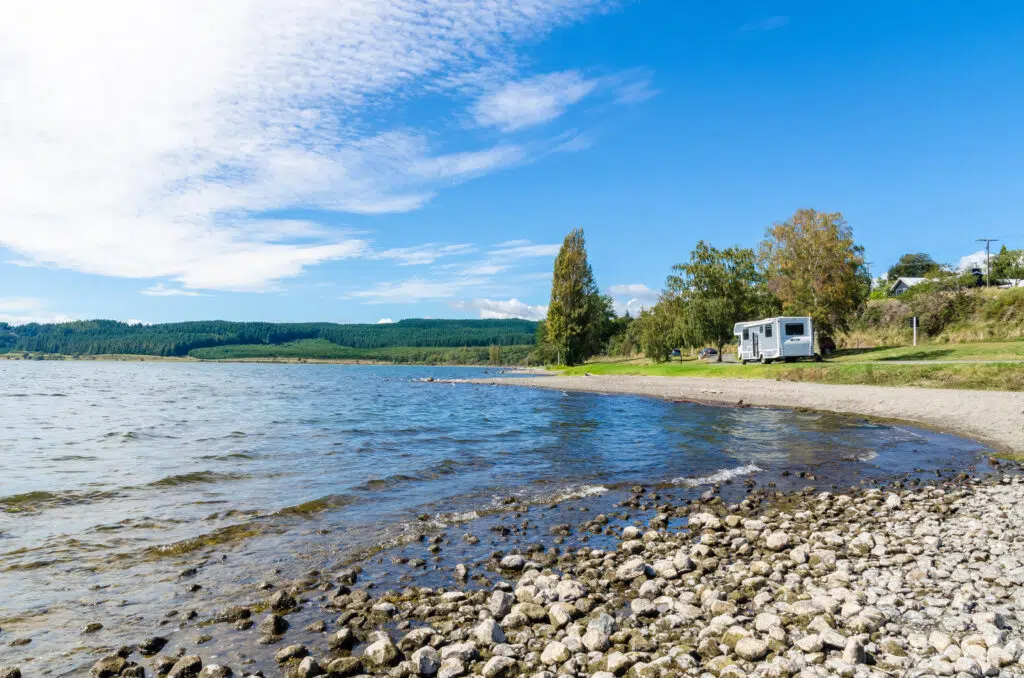 Rent a campervan
There are many ways to get around New Zealand, but the best way is definitely to rent a campervan. The land of the long white cloud is a beautiful country best explored on an epic road trip!
Honestly, there is no better way to enjoy New Zealand. The country is very well equipped in free and cheap campsites, commercial campgrounds and holiday parks.
Do you want to rent a campervan in New Zealand? Check out these companies for the best prices:
If you're planning on doing a road trip around New Zealand, you can stay in one of the 200 campsites managed by the Department of Conservation (DOC) for free or under $15 NZD per person per night (more on this later).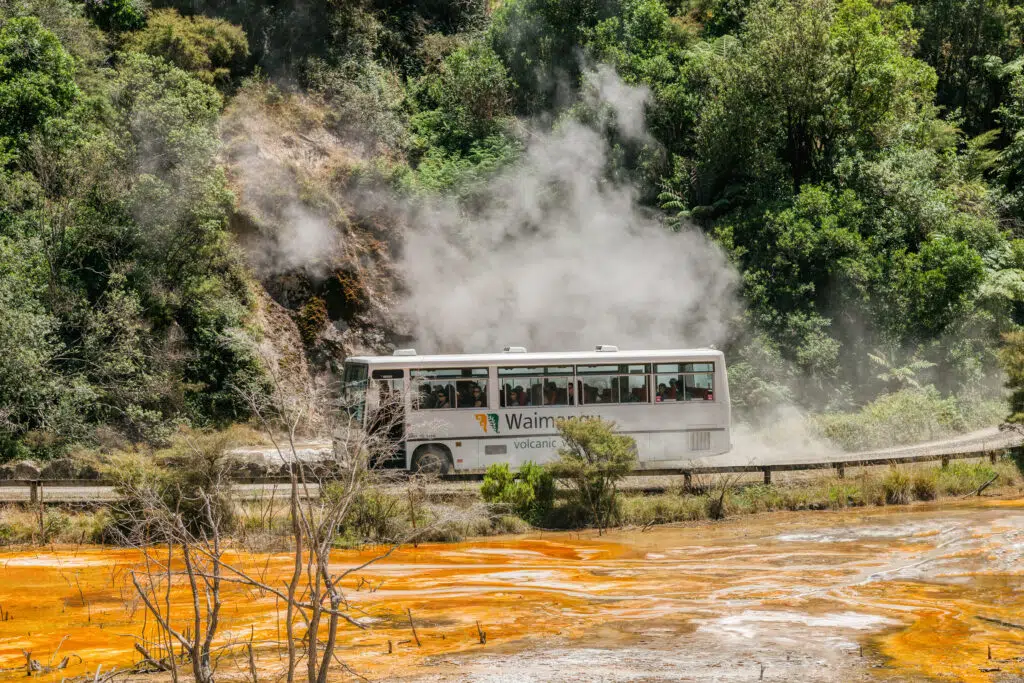 Take the bus
For those who don't want to rent a campervan or don't have a drivers license, your second best option would be to take the bus.
Intercity is New Zealand's most popular and largest bus network. They even offer bus passes for backpackers starting at $132 NZD. They offer two types of passes. The Flexi Pass and the Travel Pass.
The Flexi Pass is an hours-based bus pass which you can top up. Starting at $132 NZD for 15 hours, the Flexi pass is best for flexible travelers. This pass includes Interislander ferry and some day tours.
The Travel Pass is a fixed-route pass. All you have to do is choose where you want to go from their pre-planned itineraries. The pass is valid for 12 months, and they offer many different routes on both islands.
Go on a backpackers tour
Another popular way of exploring New Zealand (especially among backpackers and young travelers) is to take a backpackers tour. There are two very popular companies for that: Kiwi Experience and Stray.
Kiwi Experience is best for young travelers (18-22 years old) looking to have some fun and meet new friends. The driver is also here to entertain and guide you along the way. Kiwi Experience offer routes on the South and North Islands and always have great deals!
Stray is also a hop on/hop off guided tour bus for backpackers, but it is more popular among older travelers. It's the best backpackers tour for mature adventurers and nature lover's alike. They also offer deals with savings up to $400 NZD.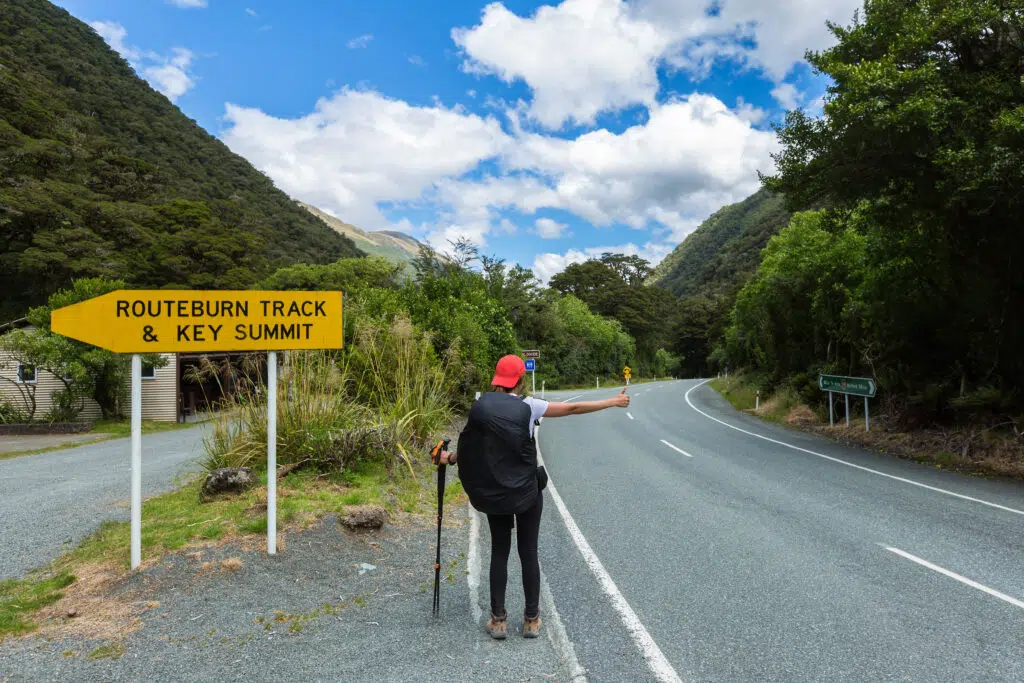 Hitchhike
Hitchhiking in New Zealand is quite safe* and is a great way to travel New Zealand on a budget. Everybody goes to the same places, so don't worry, you'll surely find someone to take you to your next spot!
Another great way to find people to travel with is to check out Facebook groups such as Backpackers New Zealand or apps like Thumbs up NZ and Coseats New Zealand.
Additionally, you can check out the boards in hostels where you'll find people looking for rideshares.
*Compared to many other places in the world. However, hitchhiking is never 100% risk-free, so it's always best to take some precautions, for example hitchhiking in pairs, and not hitchhiking at night.
---
Where to find cheap accommodation in New Zealand
The most affordable accommodation option in New Zealand is obviously camping. But if sleeping in the great outdoors is not for you, you can also choose to stay in a hostel or an Airbnb.
Are you on a very tight budget? Try work exchange or house sitting. Below, you'll find more details on the different ways you can find cheap accommodation in New Zealand.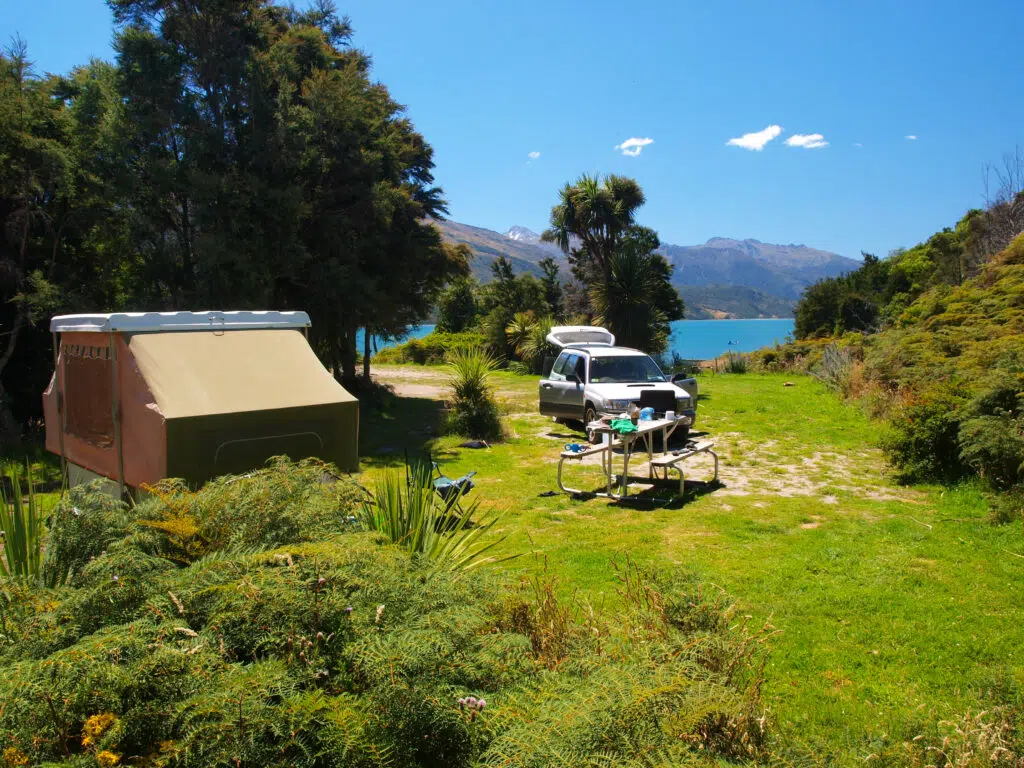 Campsites and Holiday Parks
Most campsites in New Zealand are managed by DOC (department of conservation). They offer many camp spots in some of the most beautiful and remote places of the country.
From free camps with limited facilities to more scenic spots offering a wide range of facilities, DOC campsites are definitely your best option for a hassle-free outdoor vacation.
I spent most of my time in DOC campsites while I was traveling around New Zealand. They are usually very affordable (many of them are free or under $15 NZD), and are located in the most stunning spots.
If you want a little bit of extra comfort, you can stay in holiday parks. You'll find them everywhere in New Zealand. They offer a wide range of facilities over and above what the DOC campsites offer, such as flush toilets, showers, fully equipped kitchens, lounges and more.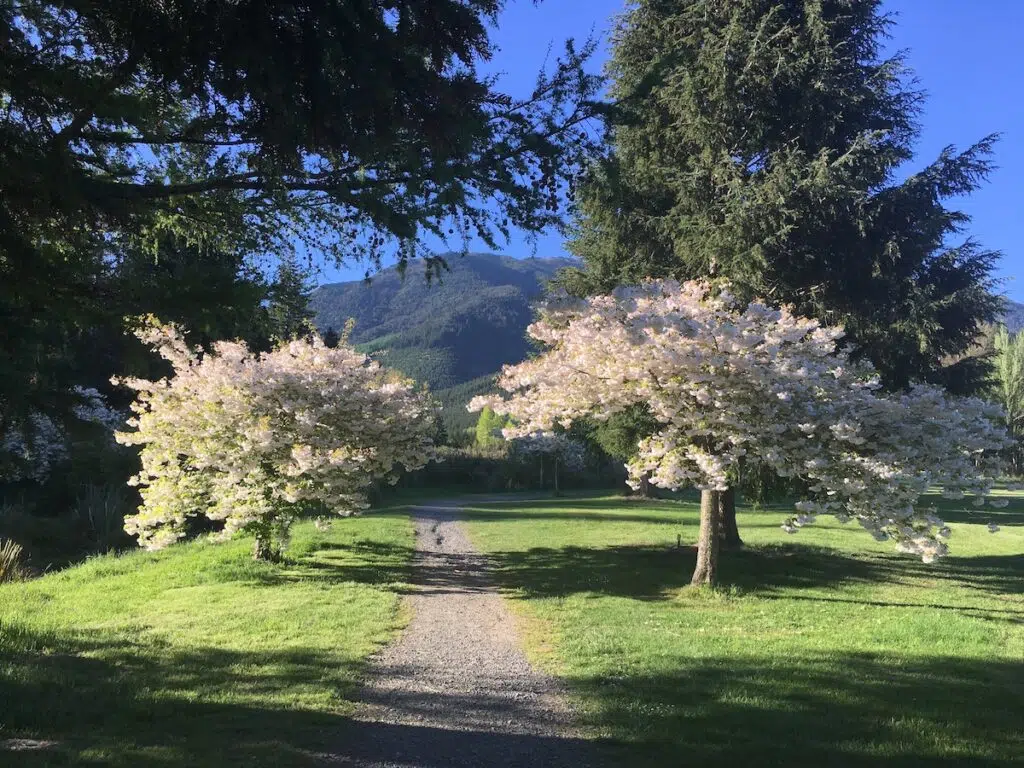 They are usually more expensive than DOC camps, but still, you'll find some pretty affordable ones starting at $20 NZD per person per night.
Check out Kiwi Holiday Parks for a wide range of holiday parks across New Zealand. Some of the best holiday parks in New Zealand include the following.
Top 10 Holiday Parks is a big holiday parks chain in New Zealand and they usually offer great facilities. I stayed at a few of them, and my favorite is the one in Te Anau.
This holiday park offers clean and modern facilities, a nice and warm TV room with comfy chairs, and a big kitchen. You can use the laundry facilities for an extra fee. On top of that, this park is located in the heart of Te Anau, near the shops and restaurants.
Located right on the beach, this holiday park is very popular among Kiwi families. You'll find all the facilities you need, including a kitchen, showers, toilets, as well as a lounge and dining area. This holiday park is also a great spot to see the milky way at night.
Rotorua Thermal Holiday Park is located near the best attractions of Rotorua, including the famous Pohutu Geyser and Whakarewarewa Thermal Reserve. It features free hot pools, playgrounds for kids, and a swimming pool.
The park is also perfect for mountain bike lovers, as it is located only five minutes from the mountain bike trails.
If you want to travel New Zealand on a budget, Lake Tekapo Motels and Holiday Park is definitely one of the best places to stay. Located right in front of Lake Tekapo, this holiday park offers campsites, cabins and dormitory rooms.
The park is situated right next to the Tekapo Hot Pools, and the beginning of Mt John Walkway.
Smiths Farm Holiday Park is a quiet family-owned holiday park near Picton. With its animals on-site, it's the perfect place for families. The owners are very friendly, and you'll find yourself surrounded by nature. There is even a place where you can see glowworms for free only ten minutes walk from the farm. Don't miss that!
Hostels in New Zealand
Hostels are definitely a great way to stay in New Zealand on a budget and meet tons of friends at the same time. Best for solo travelers, hostels offer very affordable accommodation with all the facilities you need for a comfortable stay.
Usually located in the most popular tourist spots, hostels in New Zealand cost on average $20-30 NZD for a dorm room per night. Below, you'll find some of my favorite hostels in the country.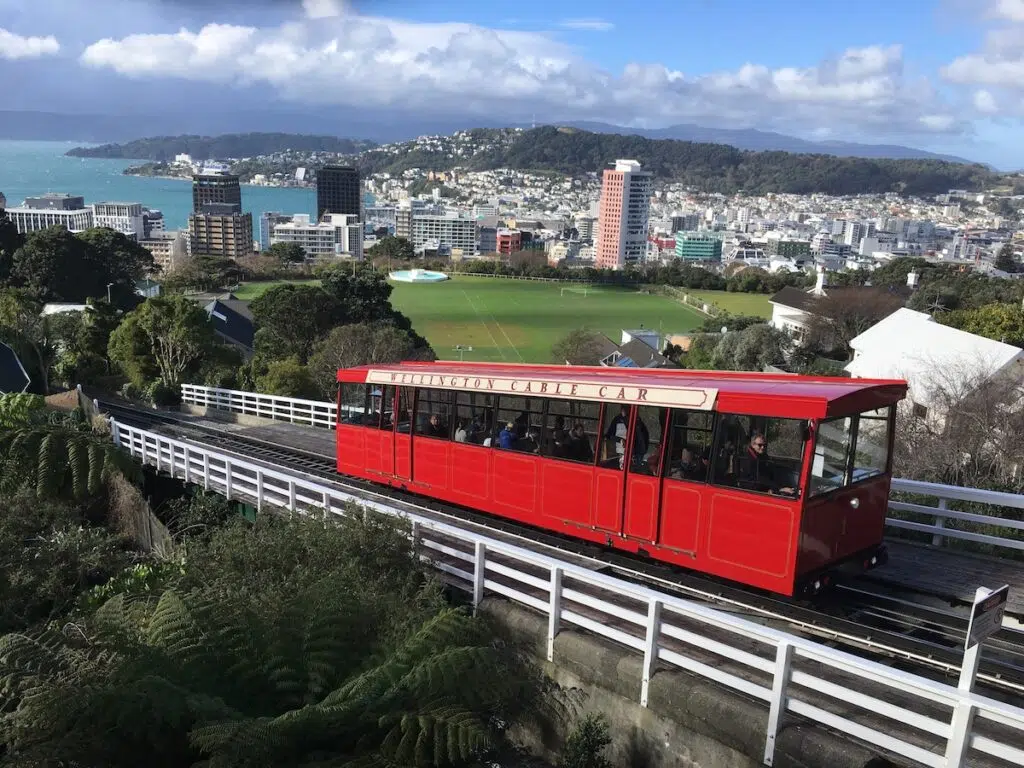 Jailhouse accommodation is an award-winning hostel set in a former prison. This unique hostel has an on-site cafe, a guest lounge, and free wifi.
Located only 10 minutes from Christchurch railway station, this awesome hostel has all the facilities you need including a laundry room, communal kitchen, and billiards table. Their information desk will help you organize your day trips, activities, and excursions in and around the city.
This modern hostel located in the heart of Queenstown offers comfortable budget accommodation for travelers. With nightly activities, unlimited internet and free coffee and tea all day, this fantastic hostel is your best choice in Queenstown.
With its small capacity (only 49 beds), big lounge and dining areas as well as balconies, you'll love Adventure Queenstown hostel and its fun and vibrant atmosphere.
The Dwellington is a luxurious hostel located near the ferry terminal of Wellington. With its incredible tennis court, cinema room, games room, and free breakfast this hostel is definitely worth a stay!
The Dwellington offers a variety of rooms from private doubles, twins to dorm rooms. Their friendly staff all help you book activities or the ferry to the South Island. Don't miss this stunning place if you're traveling to Wellington.
Haka Lodge is a funky hostel for budget travelers located in Auckland CBD. At the Haka Lodge, you'll enjoy free wifi, a shared lounge area, and a shared kitchen.
This hostel offers dorm rooms for those traveling on a tight budget, but also private rooms with a flat-screen TV and private bathroom. With its clean rooms and comfy beds, Haka Lodge is definitely the best hostel in Auckland.
YHA Wanaka features breathtaking views of Lake Wanaka and the surrounding mountains. With its reading area, billiards tables, balcony and movie room, this hostel features great facilities.
Located in the best area of Wanaka, YHA backpackers offers dormitory rooms or private rooms with en suite bathrooms. This hostel is great value for money in Wanaka, so don't miss it.
Airbnb in New Zealand
Believe it or not, you can sometimes find Airbnb rooms that are cheaper than hostels! And they are often more comfortable as you'll most likely have your own room as opposed to sharing a dorm room.
Airbnb is a great way to meet the locals, stay in more remote parts of the country and get a real kiwi experience. You can even find unique Airbnb rooms that are definitely worth a visit.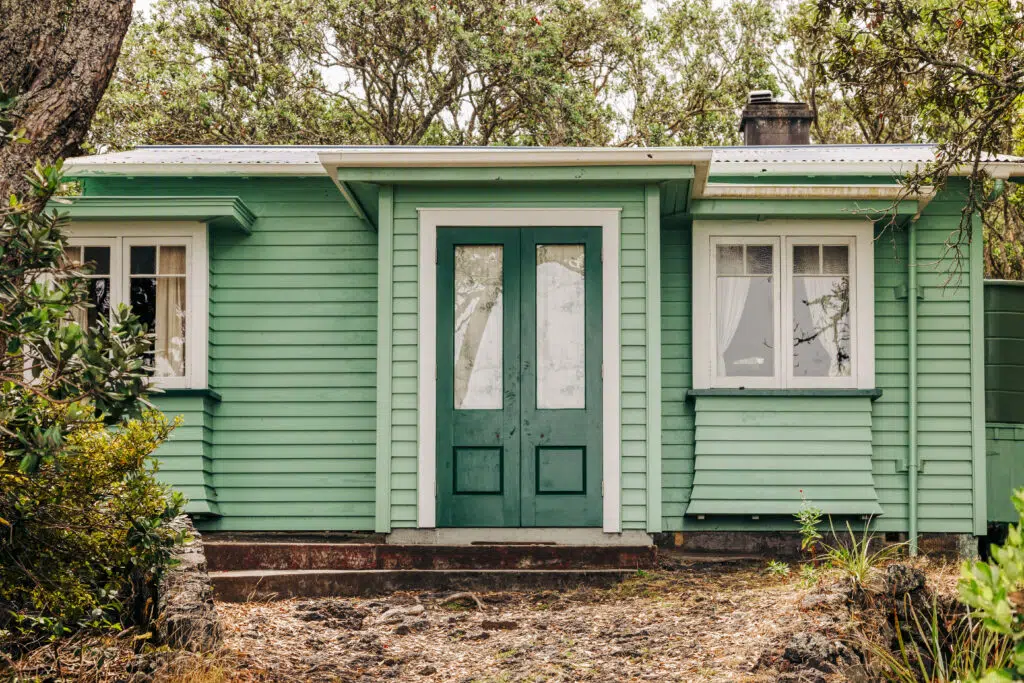 On Airbnb, you can find modern and comfortable rooms in homes near the city center of Auckland for only $35 NZD per night. Basically, you get the luxury of a hotel but for the price of a hostel!
For adventurers, Airbnb also offers cabins in the bush. They are great for those who want to unwind and connect with nature. Some don't even have electricity or hot water, perfect for a retreat away from the hustle of the city.
If you still want to be in nature but with more comfort, you can also find tree houses. Usually made from recycled materials, these huts offer a warm and comfy bed, power and even free wifi. If you're on a budget, and looking for a great escape, you'll love it.
Couchsurfing
Couchsurfing is definitely not for everyone, but for the adventurers, it might be a great option. When you're traveling New Zealand on a budget, Couchsurfing is a fantastic way to meet the locals and build lifelong friendships with people around the world.
On the platform, you'll find many hosts who offer free accommodation to world travelers. Couchsurfing is safe and is really great for those traveling on a tight budget.
Work Exchange
Work exchange is a fantastic way of traveling around New Zealand if you're on a budget. If you're new to work exchange, here is how it works: you work for a few hours per day (usually 4 to 6) in exchange for food and accommodation.
If you're looking to stay at the same spot for a few weeks to save money, work exchange can be a great option for you. Helpx and Workaway are two popular websites you can use to find reliable hosts in New Zealand.
However, on both platforms, you must be a member to be able to contact your hosts.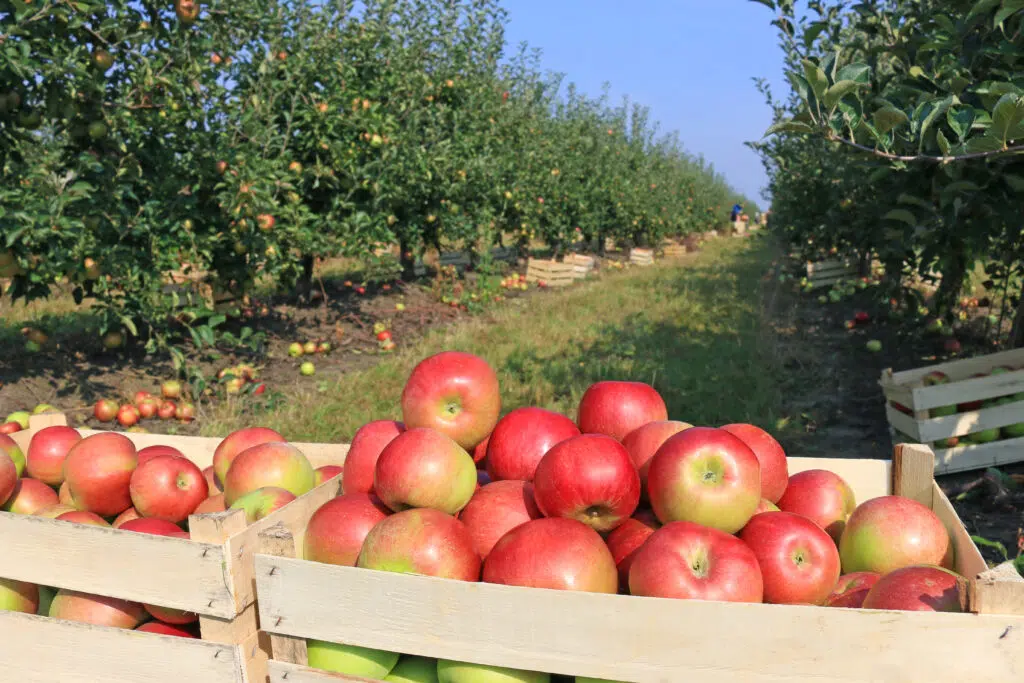 House Sitting
House sitting is becoming a more and more popular way of traveling. Best for slow travelers, house sitting is a fantastic way to discover New Zealand while caring for pets.
Most house sitters are often required to care for dogs or cats, sometimes do a little bit of gardening and general maintenance of the house. In exchange, you get free accommodation in a beautiful house in New Zealand.
If you're interested in house sitting check out Trusted House Sitters, the biggest network of house owners and sitters worldwide.
For house sitting specifically in New Zealand, I definitely recommend using Kiwi House Sitters. The website is reliable and regroups the largest house sitting and pet sitting community in New Zealand.
---
How to book cheap activities in New Zealand
Activities in New Zealand will probably be your biggest expense. But splurging on experiences is something I always recommend, simply because these will be your best memories.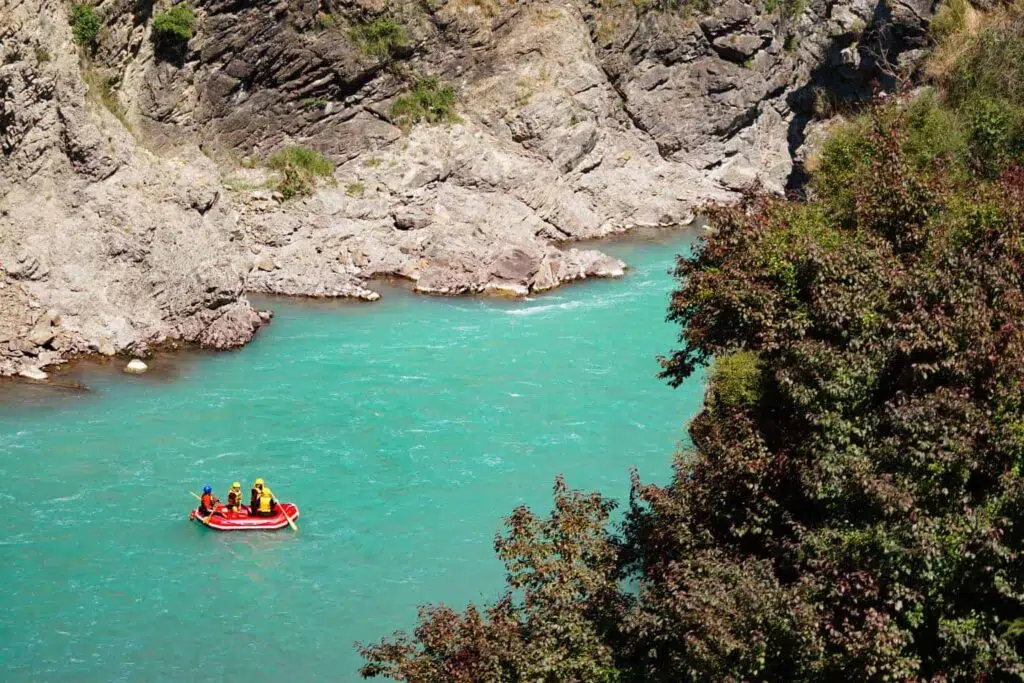 The best way to find cheap activities in New Zealand is to book them with Book Me. I used this website countless times and got discounts for many major activities in New Zealand such as Milford Sound cruises, Tekapo Hot springs or Puzzling World in Wanaka.
They offer fantastic discounts, with often more than 50% off the normal price.
Can't find what you're looking for on Book Me? Try Backpacker Deals! They also have a wide range of deals and discounts on many popular activities across New Zealand, including Hobbiton and skydive experiences.
---
Where to find cheap food in New Zealand
New Zealand is home to several big supermarket chains including Countdown, New World and Pak'nSave.
If you want to save money, head to Pak'nSave! They have very good prices compared to Countdown. New World is the most expensive supermarket in New Zealand so I recommend you go there only if there's nothing else around.
You'll only find Pak'nSave in big cities, but most other towns will have at least a Countdown. For fruits and vegetables, head to local markets where you'll find products in season for a much cheaper price than in shops.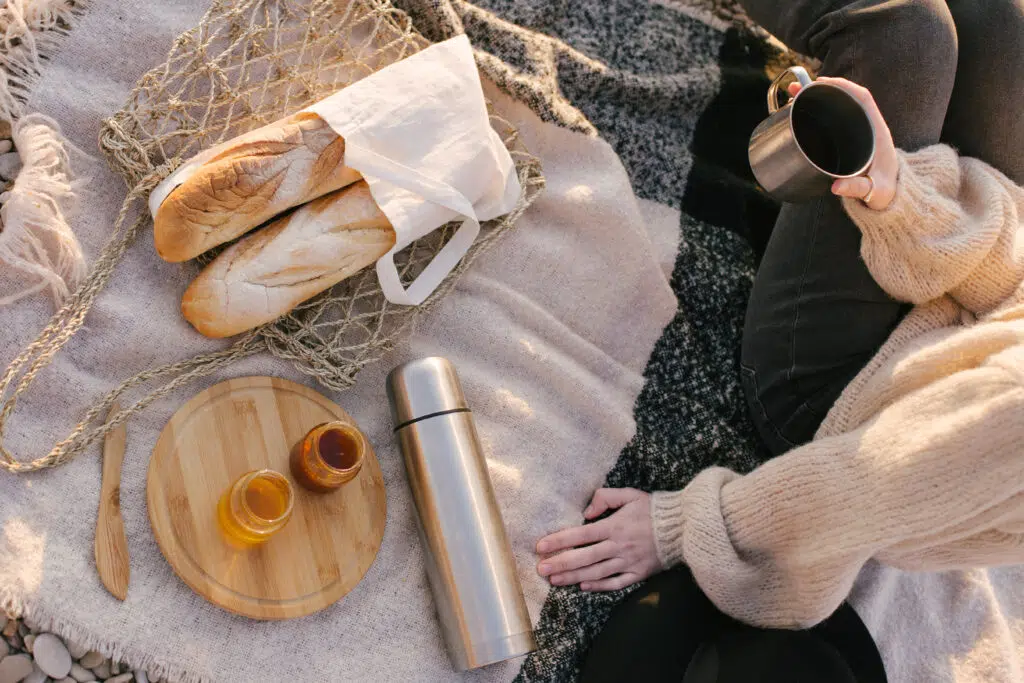 Here are examples of cheap meals you can have while traveling New Zealand on a budget:
Breakfast: Bread and peanut butter, a cup of tea, breakfast biscuits
Lunch: Sandwich made of bread, carrots, tomatoes, pickles, and cheese
Snack: Banana, apple, orange, feijoa, and nuts
Dinner: Couscous with tempeh, beans or lentils
These meals are easy to make when you're on a road trip and pretty cheap too. By the way, if you want to add a bottle of wine, you can find some at the supermarket for as low as $7 NZD. Alcohol in bars and restaurants is pretty expensive in NZ.
If you're looking for cheap takeaway food for a treat, check out Pizza Hut and their $5 pizza! I had so many of these when I was traveling around New Zealand.
You'll also find the usual fast food places in cities around the country. If you're traveling the south island and craving some delicious Indian food, check out Coriander's. They have really good prices, big portions and very tasty food.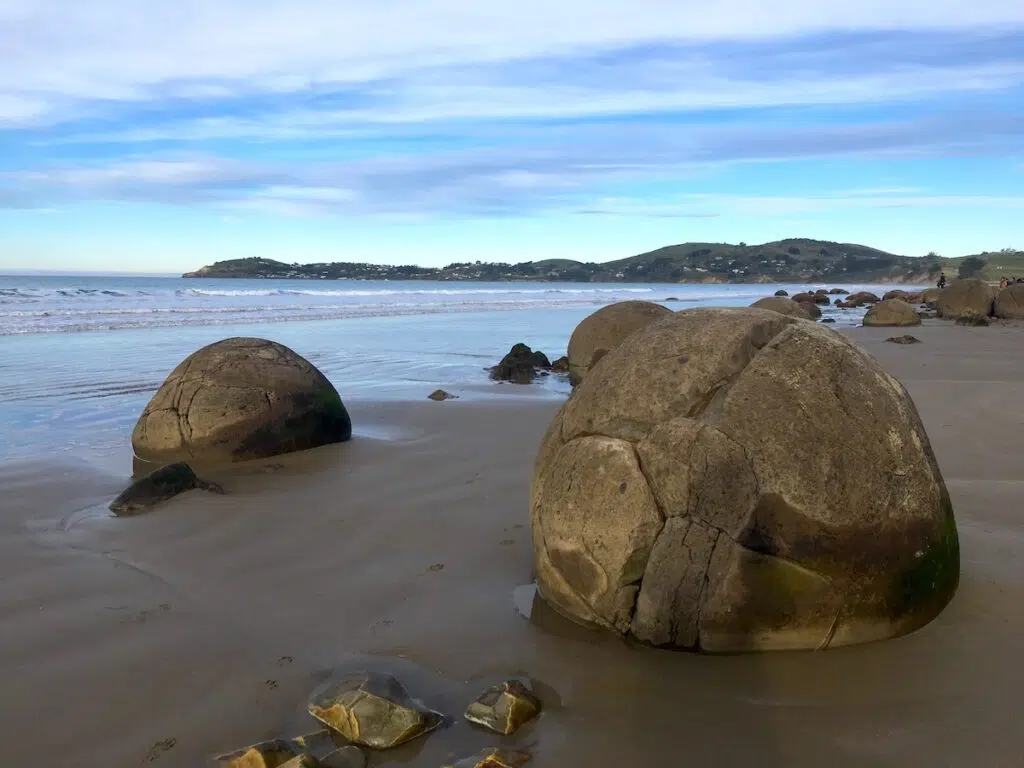 Bottom Line on Traveling New Zealand on a Budget
New Zealand is definitely one of the most beautiful countries to visit, and you can definitely travel around on a tight budget.
If you're heading to this breathtaking place, rent a campervan and stay in free campsites to save money. Splurge on activities such as a Milford Sound cruise, a scenic helicopter flight above Mount Cook or a skydive experience.
AUTHOR BIO: Camille is a blogger at crystal healing ritual and craft blogger from France. Dedicated to traveling sustainably, Camille has been roaming the world and living abroad for over 7 years. When she's not traveling, you'll find her hiking or reading a good book.
Pin this for later!