It was a last-minute decision to visit Sardinia. We were faced with an ominous gap in our schedule and were at a crossroads. Return to the home we'd abandoned when we moved to Provence earlier in the year, or travel somewhere new.
Perhaps it's no surprise that travel won this round. And Sardinia promised to have everything we were looking for. A relaxed vibe, affordable accommodation, fantastic weather, and great beaches to boot. It was decided to plan a Sardinia family holiday!
---
A Family Holiday in Sardinia
While Sardinians take care to distance themselves from their Mediterranean neighbours, they share one thing in common with the Italians – their love of Bambini.
Children are affectionately regarded on the island, bestowed with warm smiles, hair ruffling and pinched cheeks wherever they go. It's no wonder then, that kid-friendly activities abound. And restaurants and hotels are all too happy to cater for younger visitors.
Add in a healthy dose of sunshine and an easy-going island attitude and you've got the recipe just right for a holiday with kids.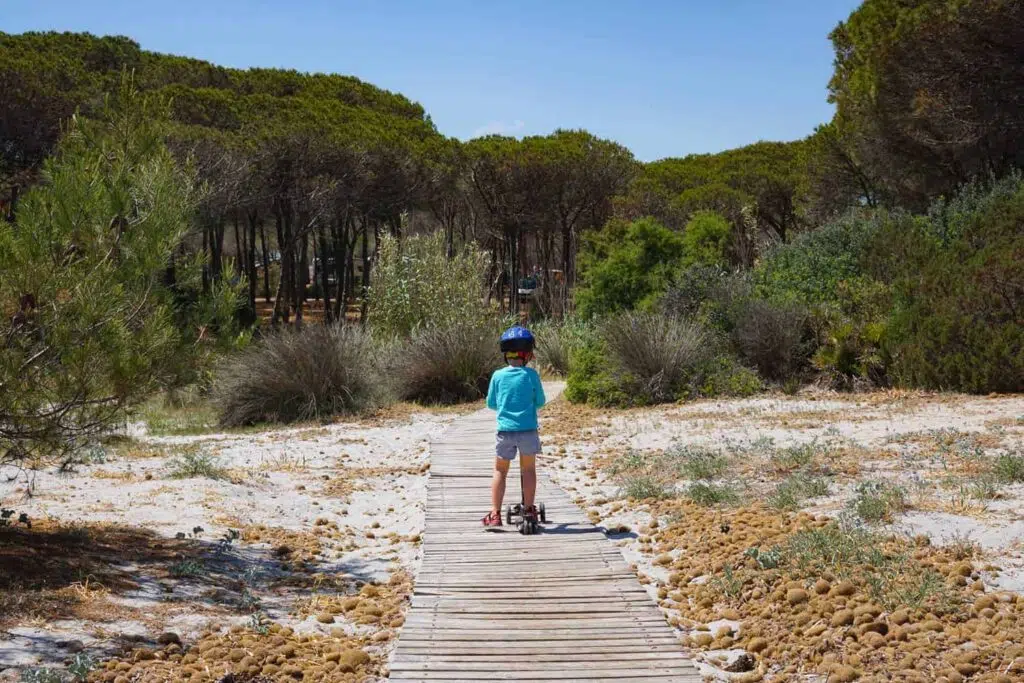 How to get to Sardinia
While you can fly to Sardinia fairly easily from many major airports in Europe, taking the ferry from France or Italy has many benefits if you're travelling to Sardinia with kids. Firstly, it's full of novelty factor for little ones!
Our 4-year-old was just as excited about "sleeping on a boat" as he was about the holiday itself… Between our cosy cabin and the multitude of play areas, there's plenty to keep little ones occupied on the way over.
Although you can take 'fast' ferries during the day, I'd recommend choosing the slower, overnight option to maximise your vacation time on the Italian island.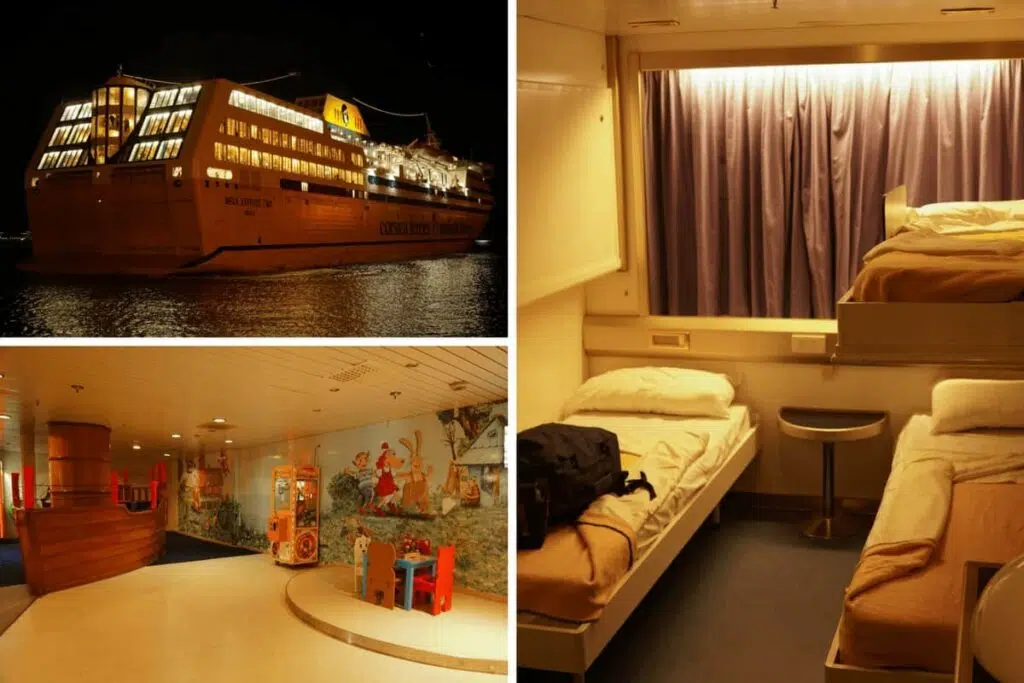 Ferries are also a more cost-effective option than flying. We paid €272 return for two adults and a child, plus a large station wagon. This also included two nights' accommodation in a cabin (one night each way).
When you add in the benefit of having your own car to explore once you get there, and the extra convenience of being able to pack as much as you like – well, it seemed like a no-brainer to us…
You can even take your dogs onboard if you please!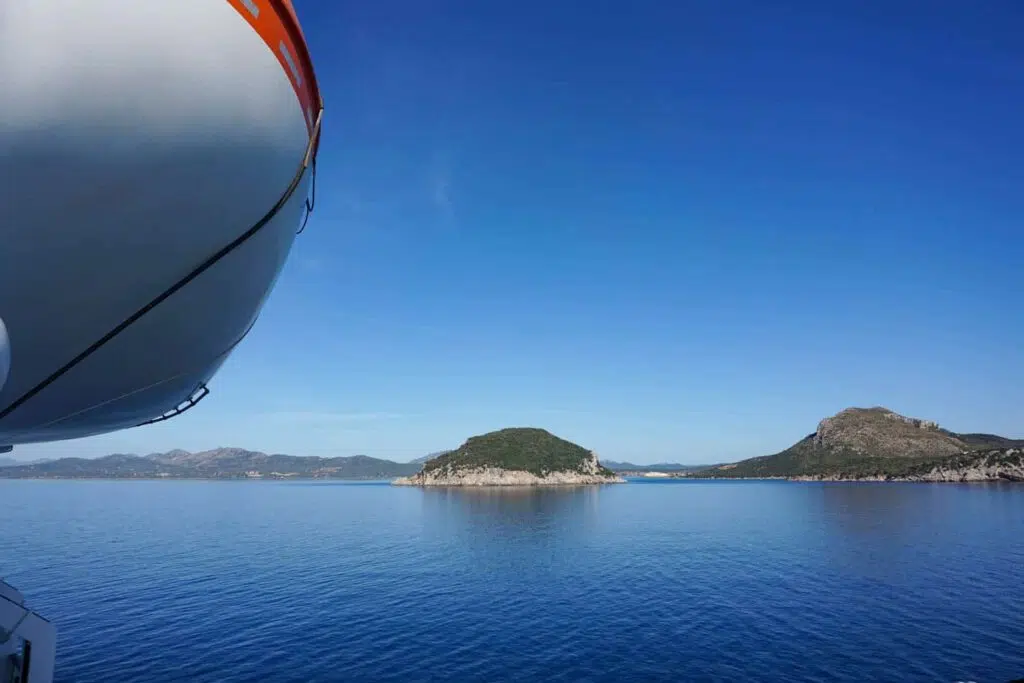 Things to do in Sardinia with kids
Whether you want to relax on the beach all week, or head to the mountains for an inland adventure – the choice is yours in Sardinia.
While little ones are more than content making sandcastles and splashing in the shallow shores, older kids are also catered for with everything from water parks to treetop adventure courses and even flyboarding!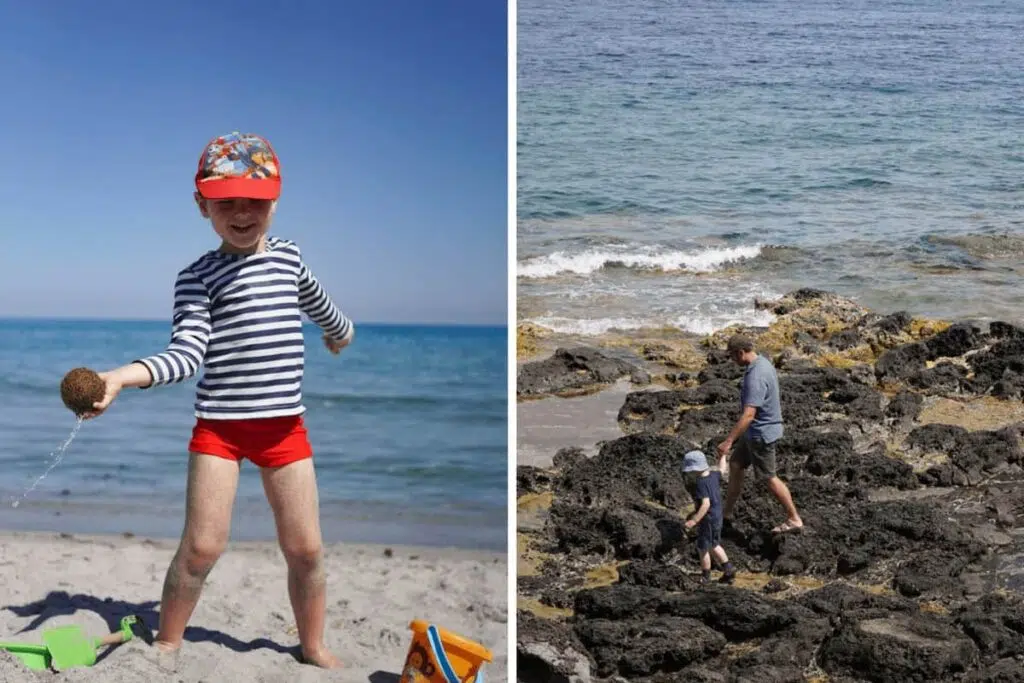 We normally like to mix a little bit of downtime with plenty of adventure, but this holiday was more about relaxing. We loved the change of pace that came with just allowing the day to unfold before us – without a packed agenda.
And when we did venture further than our own little slice of paradise, we discovered an island with such diverse beauty. From the wild and rugged terrain in the mountains to the colourful coastal villages.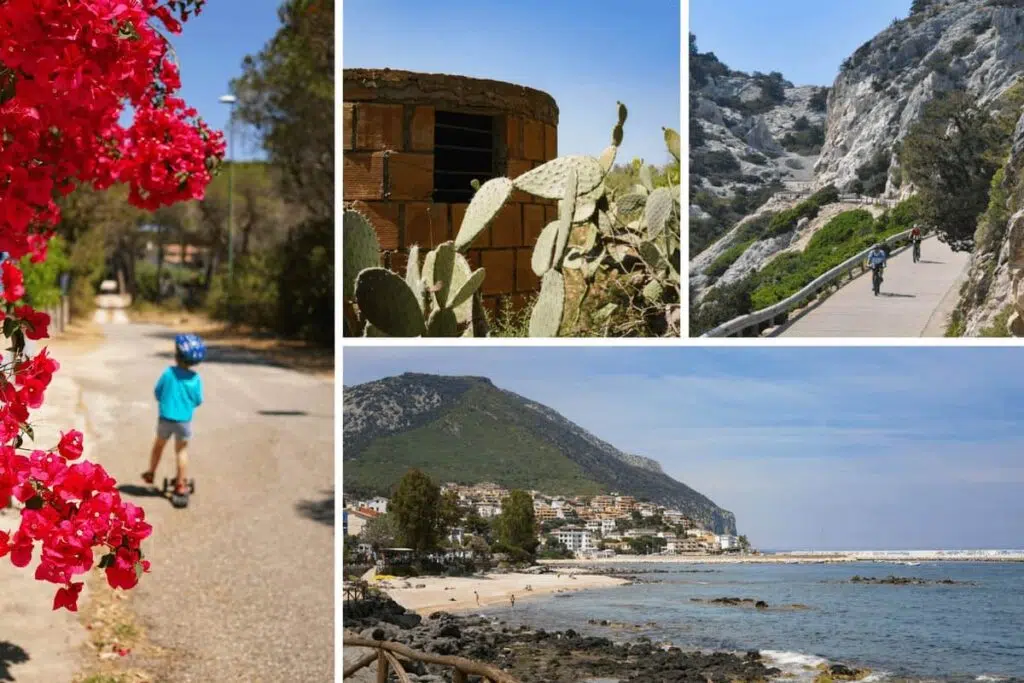 We explored the North-East coastline of Sardinia, from Puntaldia down to Cala Gonone. In the north, we were hoping to spot the pink flamingos that are known to congregate in the San Teodoro lagoon. But apart from seeing what may have been a few idle flamingos in the distance, we had no luck.
In the south, we visited the popular beach town of Cala Gonone with its beachfront eateries and boats jetting off for excursions at sea.
Grotta di Ispinigoli
Further inland, but not far from Cala Gonone is the Grotta di Ispinigoli. If I had to recommend just one thing to see while in Sardinia, these impressive caves would be it. Tours run every hour from 9am – 5pm, but break for lunch with no tours at 1 or 2pm. They take you inside the innocuous looking mountain through a gated entrance where you'll descend stairs 60m into the first well.
The interior of the cave is incredibly intricate, with stalagmites rising up towards the ceiling like organs in a grand cathedral. In fact, Grotta di Ispinigoli is home to the world's second-largest stalagmite. At around 37m high, it joins a 1m long stalactite dripping from the ceiling – making the total length of the gnarly formation 38m!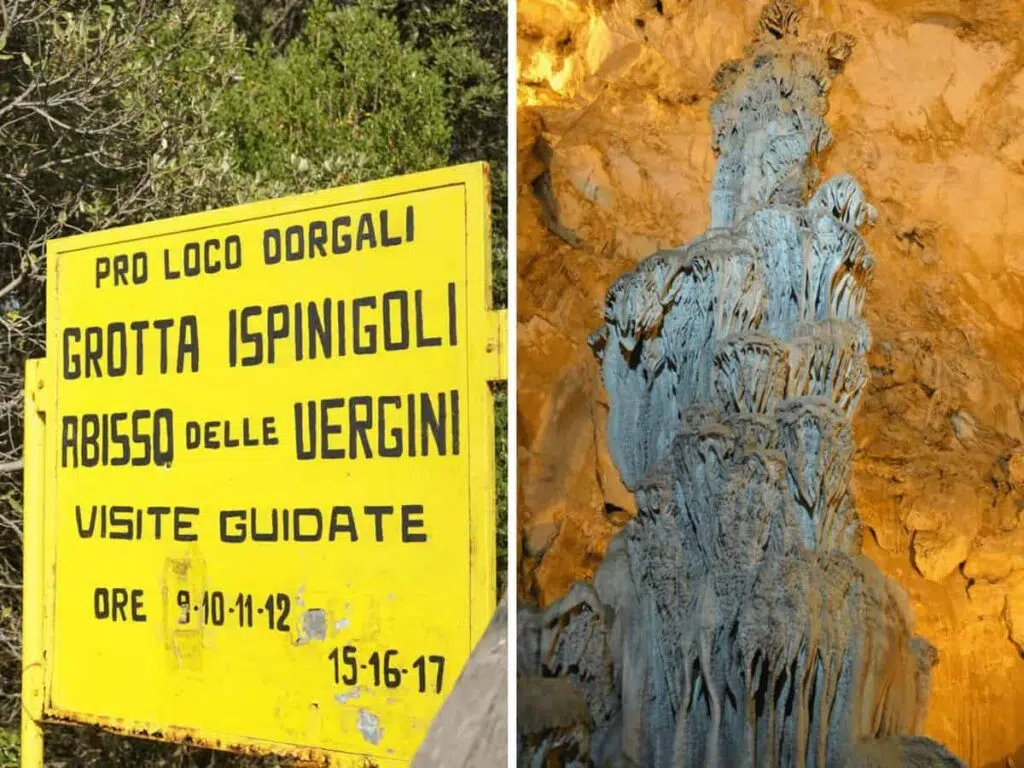 Our son was the only child on the tour, and he really enjoyed exploring this underground world. He was fascinated by the rock formations that surrounded us as we descended deeper into the cave.
Unfortunately, photos are banned inside the grotto. It was discovered that the light from camera flashes was negatively affecting the living organisms within the cave.
Where to stay on a Sardinia Family Holiday
When travelling as a family, we normally prefer to live locally for a more authentic experience. A quick search of our usual booking site – VRBO – revealed a multitude of accommodation options, from cheap and cheerful lodgings to luxury seaside mansions.
It didn't take us long to find our ideal beachfront bach. Located on one of Sardinia's best beaches (Cala Liberotto), it sported two large bedrooms, two bathrooms, a fully stocked kitchen, modest dining room and a cosy lounge. And came in at a very reasonable €80/night!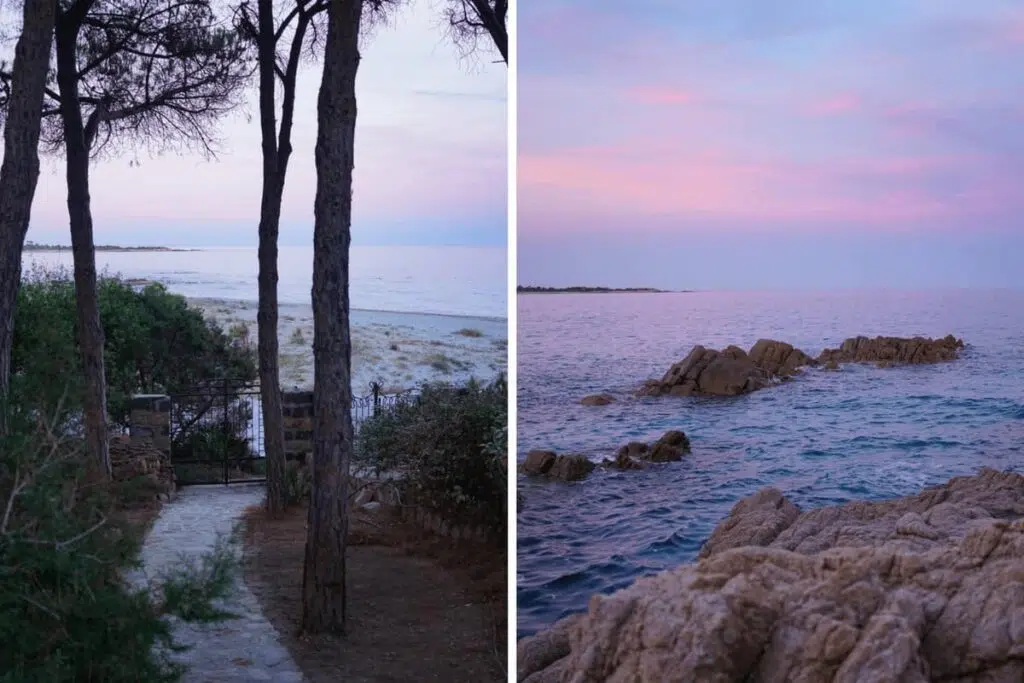 If you want to take the easy route and stay at a kid-friendly resort, you will be well catered for. Head to the ever popular Forte Village for a luxury family getaway, or to Cruccuris Resort for family fun that's a little easier on the wallet.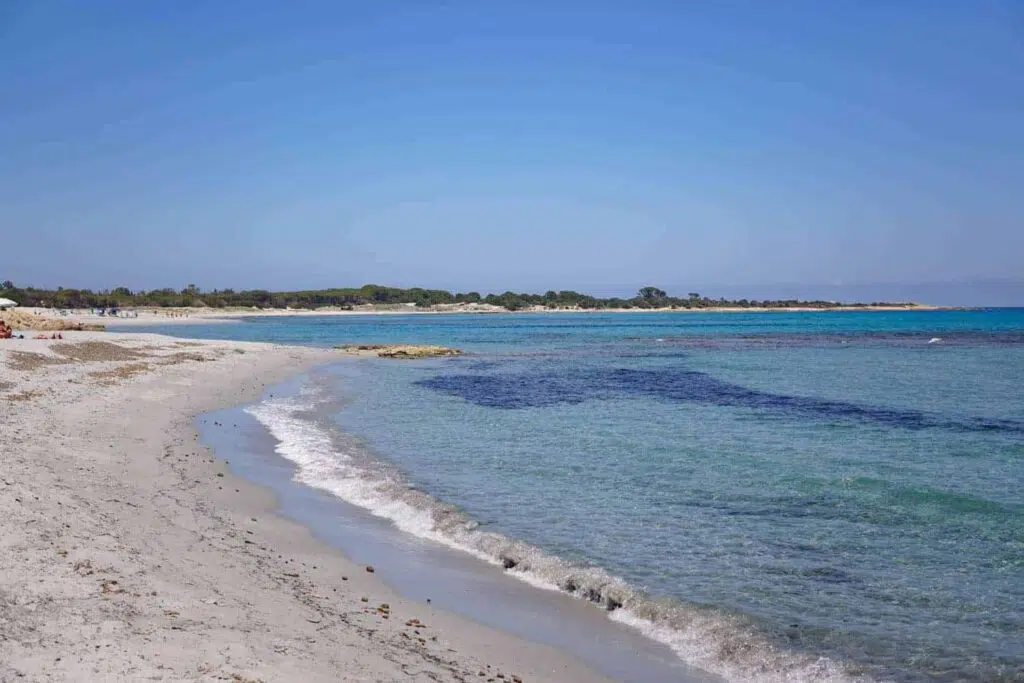 At the other end of the accommodation spectrum, you'll find camping grounds with plenty of on-site activities to entertain children. Camping Sa Prama is ideally located near Cala Liberotto, and has something to offer for every budget.
Where to eat and drink in Sardinia with kids
The rustic food typically served in Sardinia is a hit with children. Which kids don't love wood-fired pizzas and homemade pasta? Even the local flatbread (pane carasau) that accompanies each drink or meal will keep the little ones munching happily.
Head away from the touristic areas to find authentic food that's easier on the wallet. Just look for where the locals eat! We ate out about half the time we were in Sardinia. Meals were generous and usually cost us around €30-40 for a family of three.
But eating out for every meal can soon add up. So to save money I'd recommend booking accommodation with a kitchen. I love browsing foreign food stores and the market isles in Sardinia were no exception! We stocked up on locally made gnocchi, pane carasau, loads of fruit & veggies and a few guilty treats (vegan cornettos are amazing!) at a small supermarket in Orosei and ate very well for the week we were there.
To mix things up, try alternating meals. If you eat out for lunch, cook dinner at home – or vice versa.
Best time to visit Sardinia with kids
We visited Sardinia in late May and the weather couldn't have been better! Hot days (but not too hot!) followed by warm evenings and nights that were cool enough to sleep. We also found the island to be very quiet – sometimes we'd be sharing the beach with just one other family!
Visiting Sardinia during the shoulder season months of May, June and September means fewer crowds to compete with. Meaning accommodation prices are much more reasonable. You'll also find transport costs to/from Sardinia to be cheaper during these months.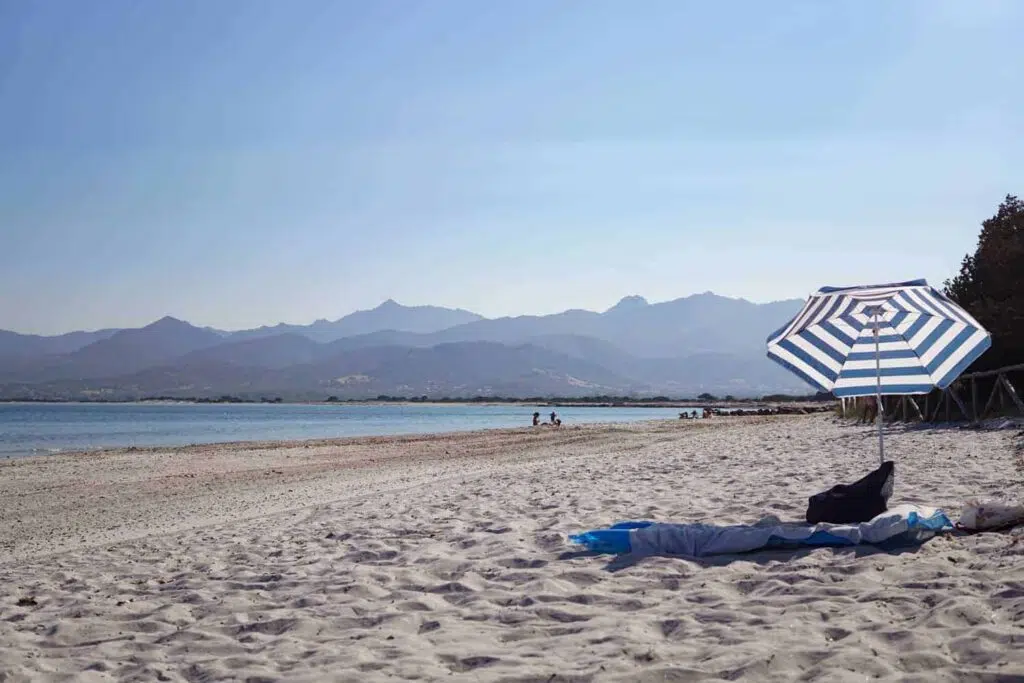 The low season (October – April) will be even quieter and cheaper still. And there's still plenty to do if the weather doesn't play ball. Many festivals take place during the year including Autunno in Barbagia which takes place from September- December, Festa di Sant'Efisio in May, and Carnival in February.
Final thoughts on a Family Holiday in Sardinia
Sardinia absolutely won us over with its rugged beauty, genuine hospitality and agreeable climate. The accessibility and affordability of this Mediterranean island also made it an excellent choice for a holiday with kids.
We came in search of a relaxing getaway but soon discovered there is much more to Sardinia than we imagined. And more than one family can cover in a week!
We'll most certainly be visiting Sardinia again to sample what the rest of the island has to offer…
Pin this for later!