From breathtaking bays to lavish oceanfront resorts and secluded stretches of white sand, Sardinia beaches live up to their poster child reputation. If you want to spend your entire holiday walking barefoot along the edge of bluer-than-blue seas, this Italian island boasts a couple of hundred beaches for you to do so.
Choose from serene coves hiding beneath soaring cliffs in the east and windswept dunes in the west. The Costa Smeralda enchants billionaire jet-setters and celebrities with azure waters, powder-soft sand, five-star hotels and a gourmet dining scene. Whether you're swimming, surfing or taking a coastal drive to discover the next spot to throw down your towel, Sardinia is a beach lover's dream.
---
Map of the Best Beaches in Sardinia
The top beaches in Sardinia can be found scattered around the island's perimeter. Below, we've detailed the best beaches to visit in the North, East, South & West, so you can easily find the most beautiful beach to visit near you.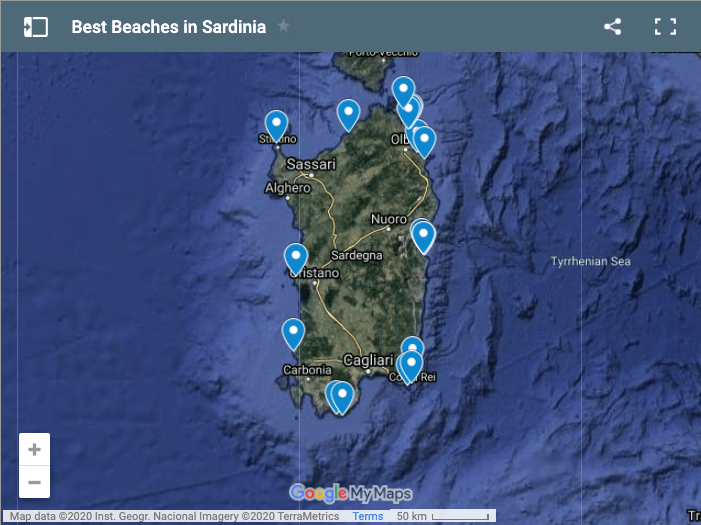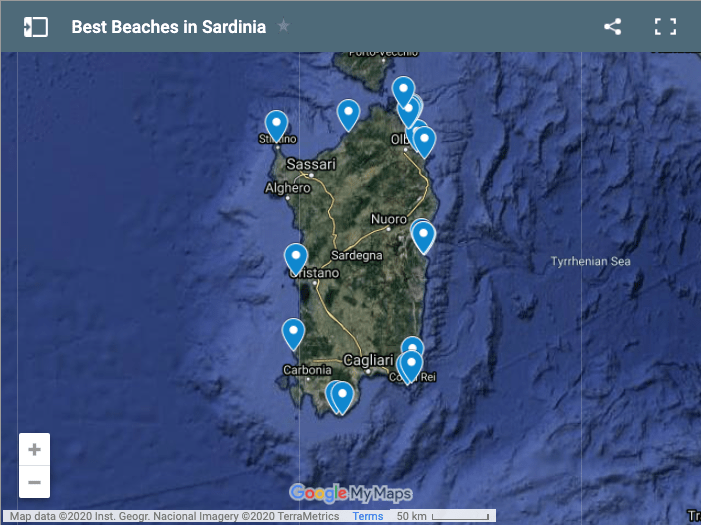 ---
Best Beaches in North Sardinia
With ever-changing hues of blue, rocky coves for snorkelling and charming villages dotted around the coast, North Sardinia beaches are as diverse as they are spectacular.
SPIAGGIA POLTU DI LI COGGHJ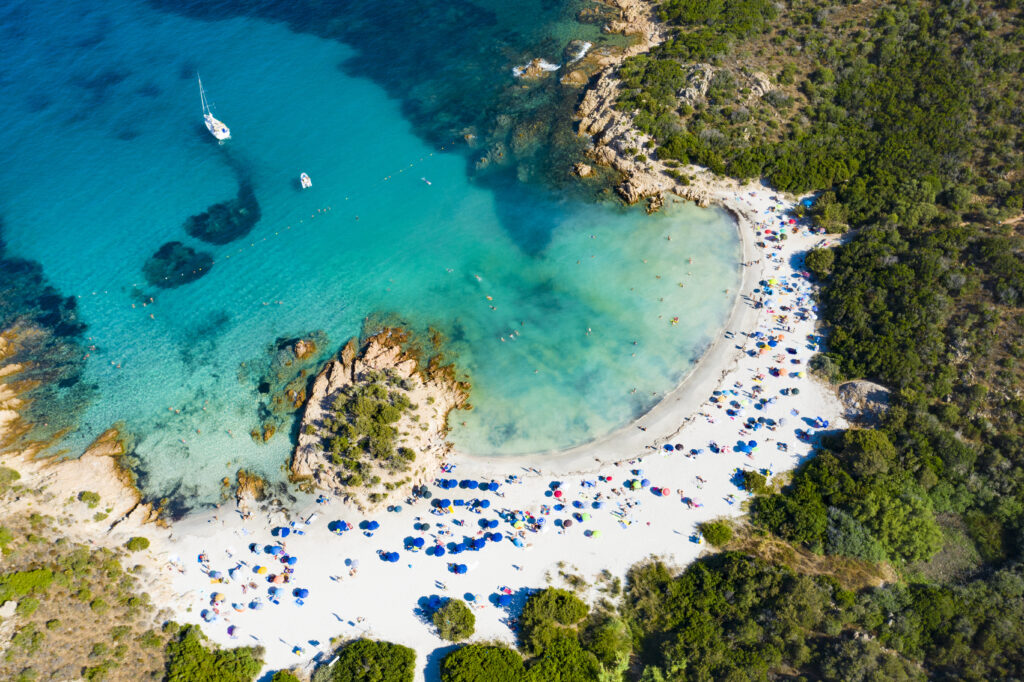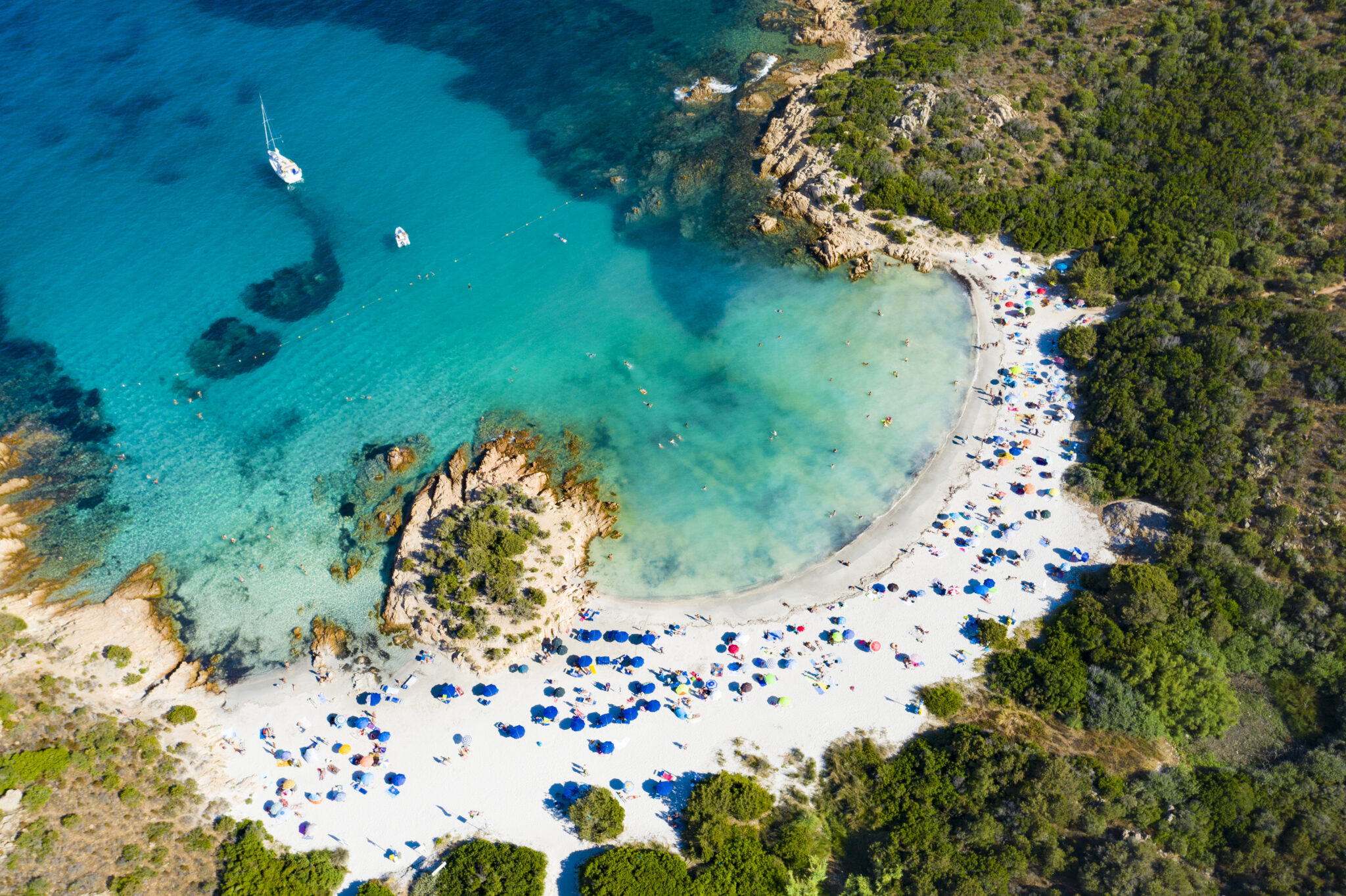 Apparently, this beach was a favourite of Prince Karim Aga Khan, who initiated the development of the Costa Smeralda. Also known as Spiaggia del Principe, the crescent of sand rests against a backdrop of lush, low-lying cliffs. Large, pink granite rocks join sunbeds and umbrellas surrounded by impossibly turquoise water.
It's located in the historic region of Gallura, near the villages of Cala di Volpe and Porto Cervo, but much of its appeal is that development goes unnoticed here.
As one of the most beautiful beaches in Sardinia, it's extremely popular in summer. Get there early and don't forget your snorkel and mask.
PORTO ISTANA BEACH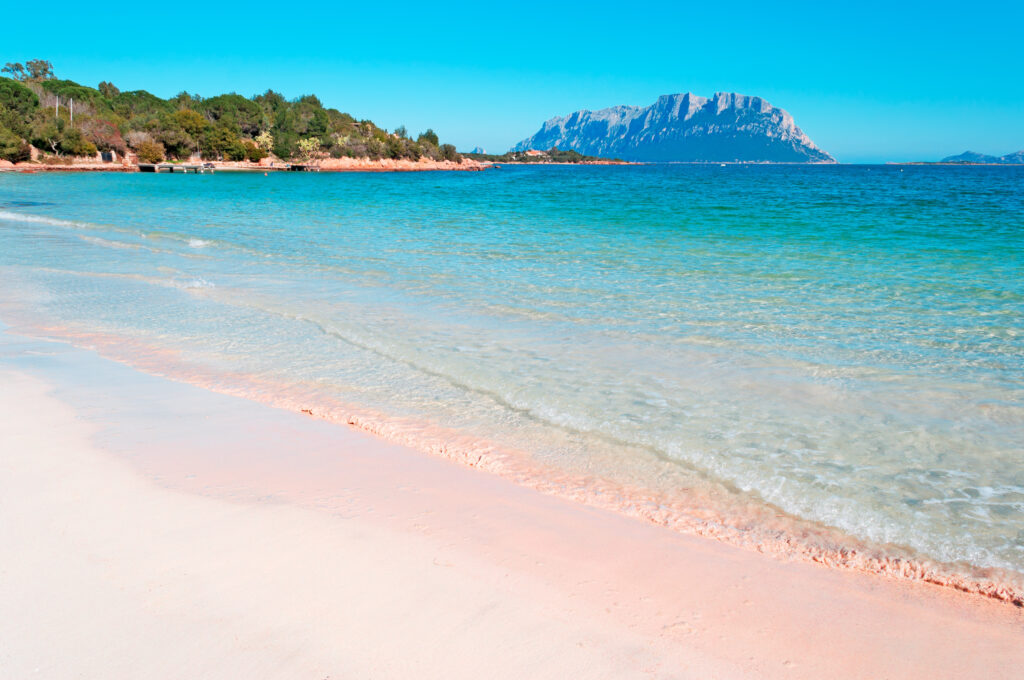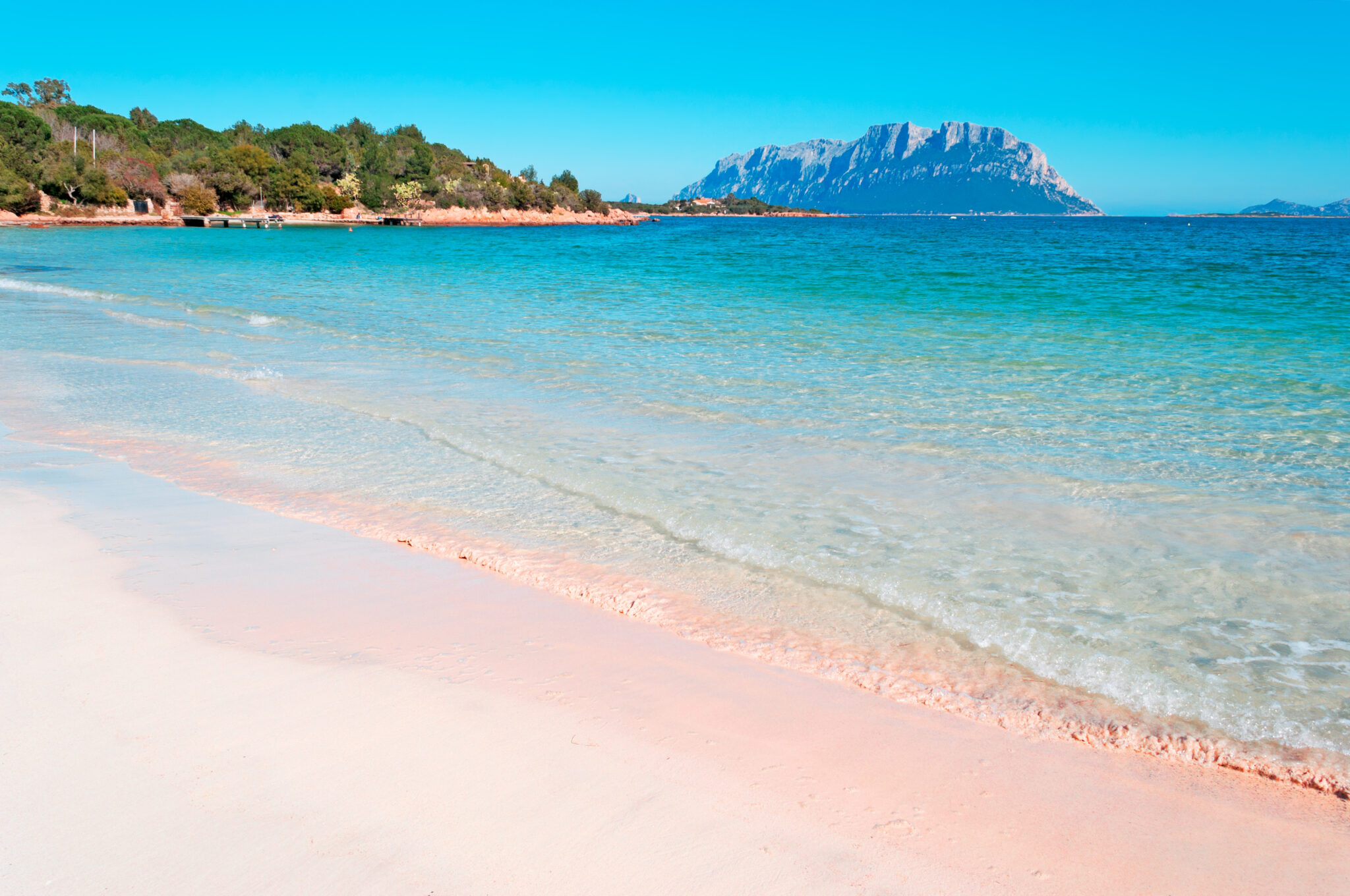 Make sure you've got your sunglasses on to admire the stunning white sand at Porto Istana Beach, which is a short drive from Olbia.
Isola Tavolara rests within view offshore, across the ridiculously clear blue water. The bay itself laps at the edge of Capo Cesaro, a huge granite headland, and it's within the boundary of the protected Capo Coda Cavallo marine area.
Jump in from one of a few sandy stretches separated by small rock walls – and don't be surprised if you spend your whole Sardinian beach experience struggling to get out of the pristine water. When you do, you'll find restaurants, hotels and bars close by.
SPIAGGIA CAPRICCIOLI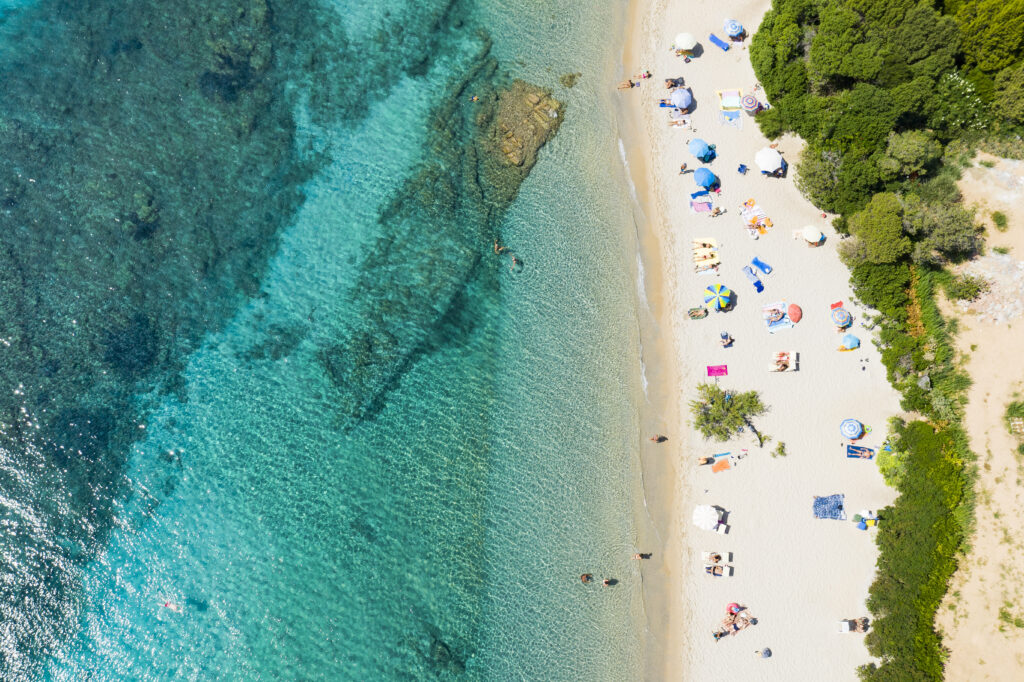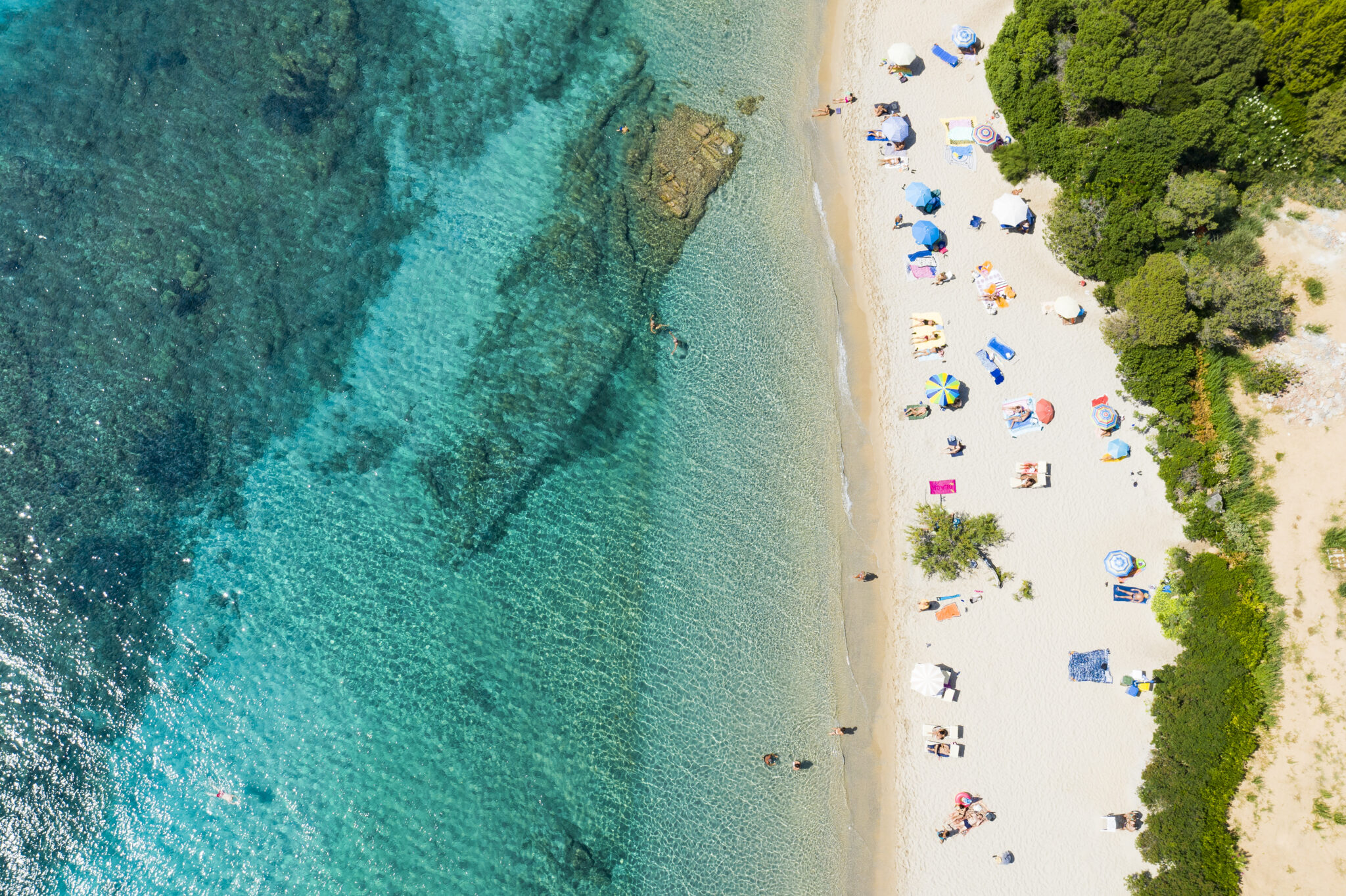 Pinkish granite rocks hide sea creatures and protect the cluster of four beaches called Capriccioli. Backing the fine white sand, olive and pine trees provide that quintessential Mediterranean scene, including shallow water that's perfect for kids.
Hire a pedalo or a canoe and take a break at the wooden pier at Pirate beach. Discover Turtle beach, named after the marine residents who lay their eggs in a protected area around the dunes. Offshore, you'll see the unspoilt beauty of Soffi and Camere islands.
SPIAGGIA DI LISCIA RUJA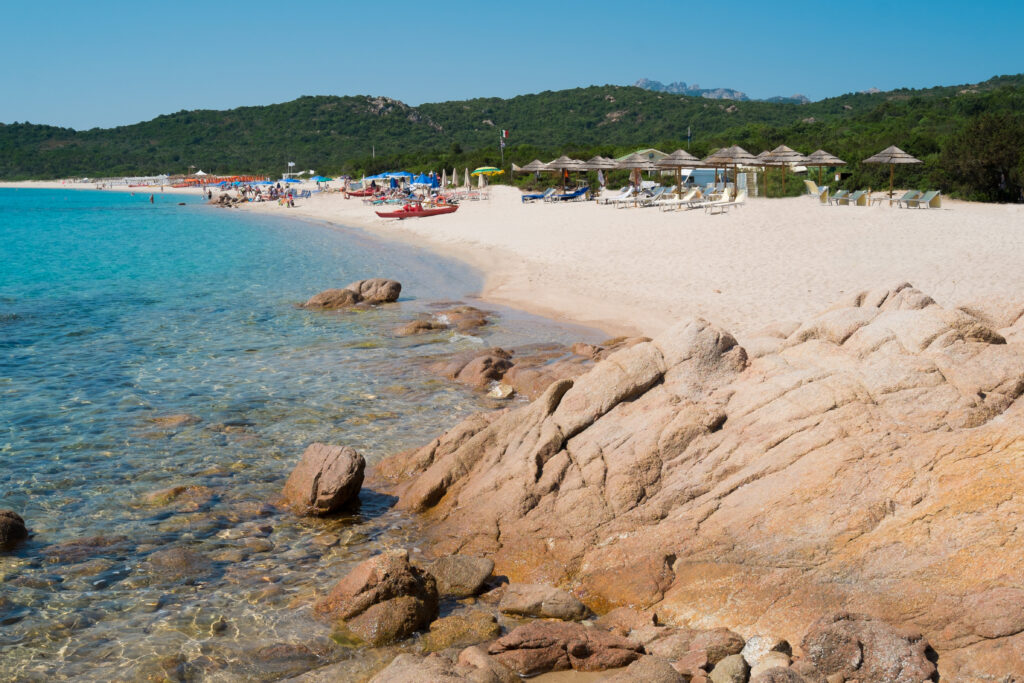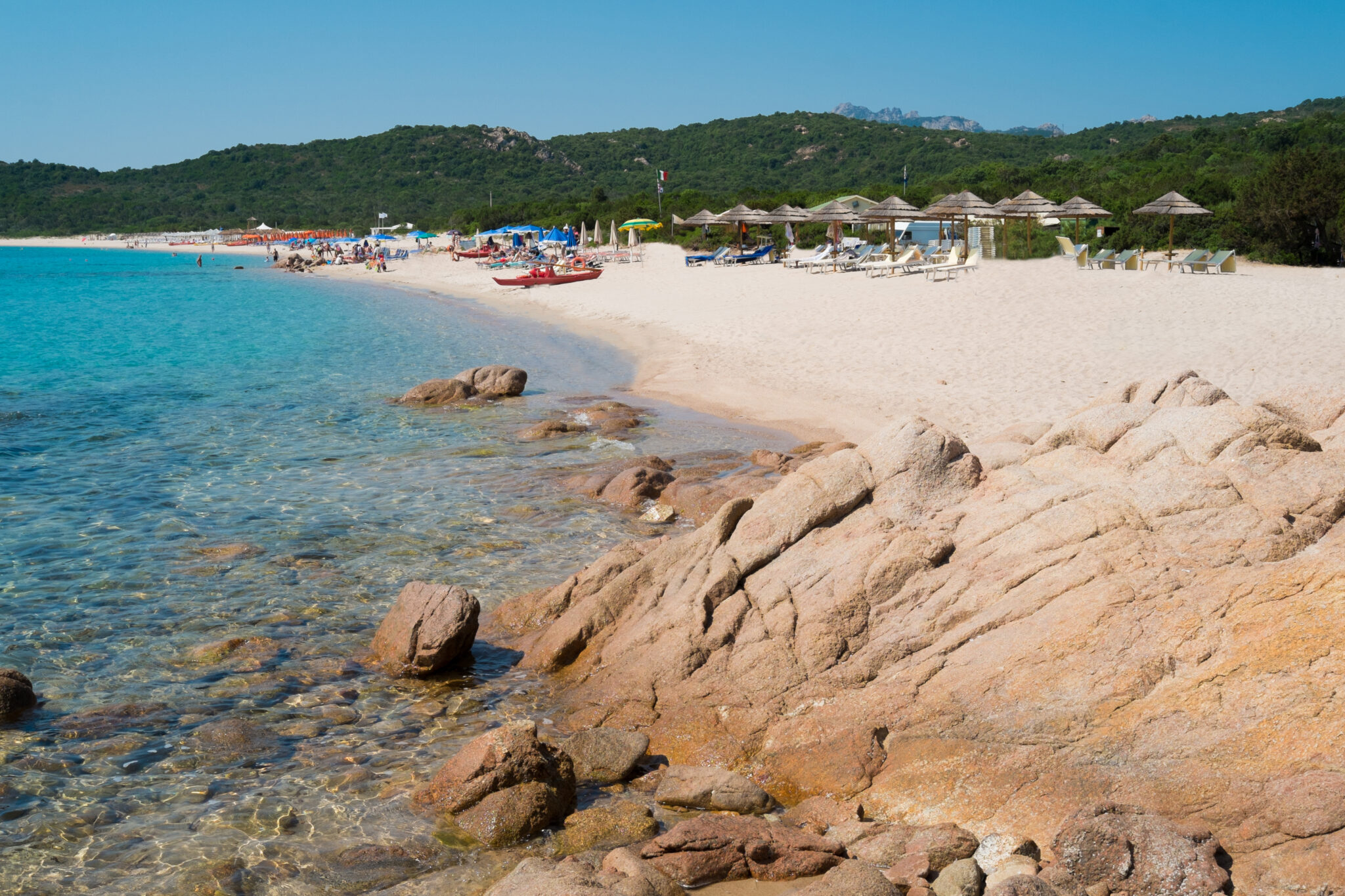 If you love leisurely strolls on the sand, Spiaggia del Liscia Ruja is one of the longest Costa Smeralda beaches. This vast expanse of powdery sand is located between the villages of Cala di Volpe and Portisco. It's known for a chilled out vibe, even in the height of summer.
Hire a boat and set out to explore the islands of Soffi and Mortorio. Back at the beach, there's an oceanfront bar and restaurant for delicious feasts accompanied by the salty breeze. Or, simply hire a sunbed, laze under the umbrella and float atop azure water.
CALA BRANDINCHI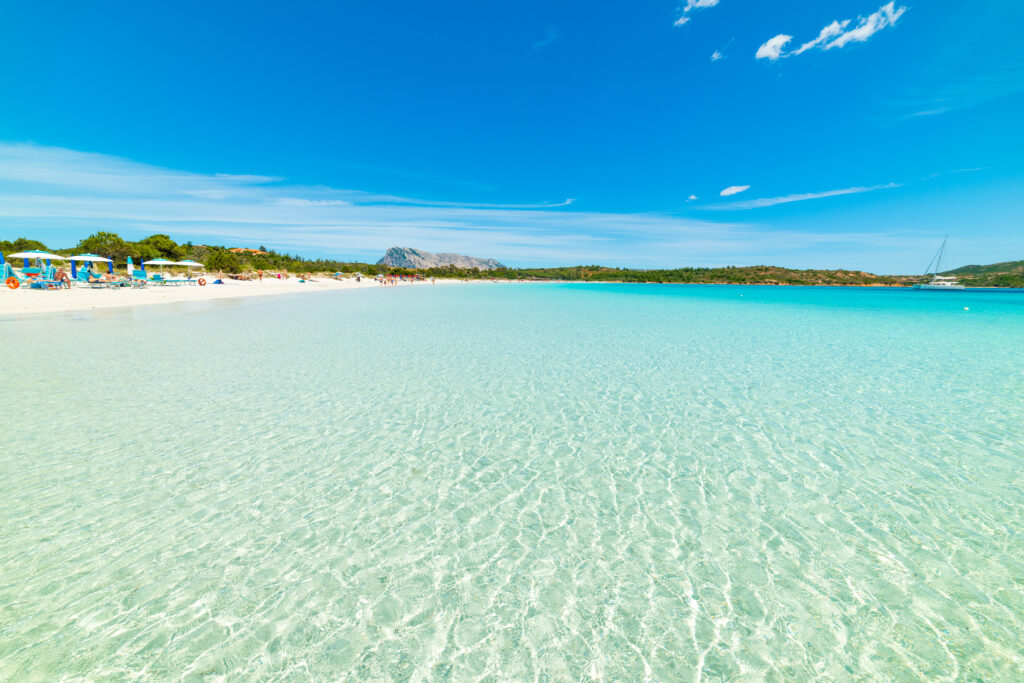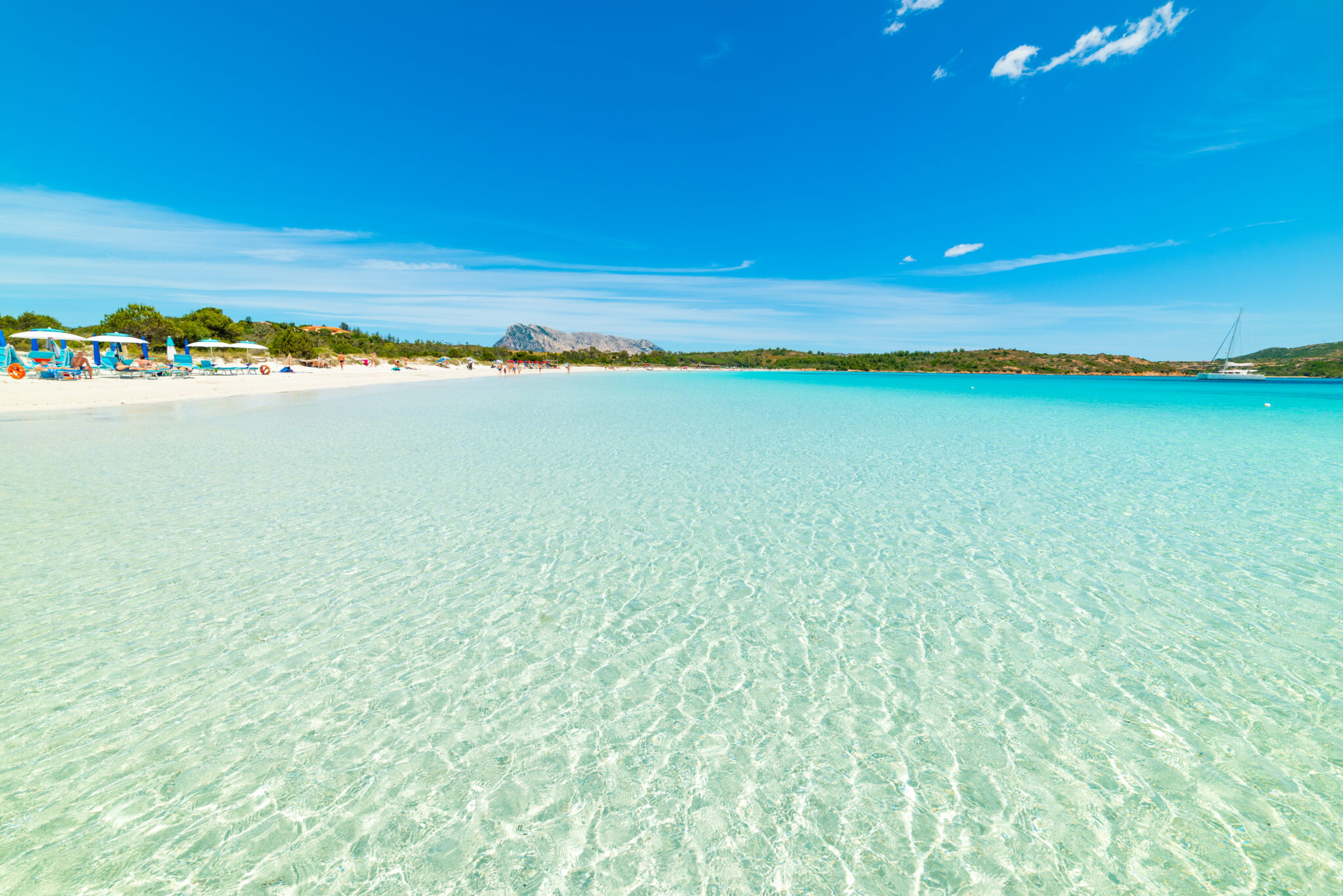 Known as 'Little Tahiti', Cala Brandinchi lives up to a nickname that suggests a true beachy paradise. Located just north of San Teodoro, it's easy to find Sardinia beach resorts nearby. So, you won't have to spend too long away from the crystalline water.
Gaze out to sea at Isola Tavolara for a bit, then turn your attention to lush pine woods as you explore the perfect arc of sand. It stretches for some 700 metres and you'll find water sports, sunbeds and restaurants to make a day of it.
SPIAGGIA DI CALA LI COSSI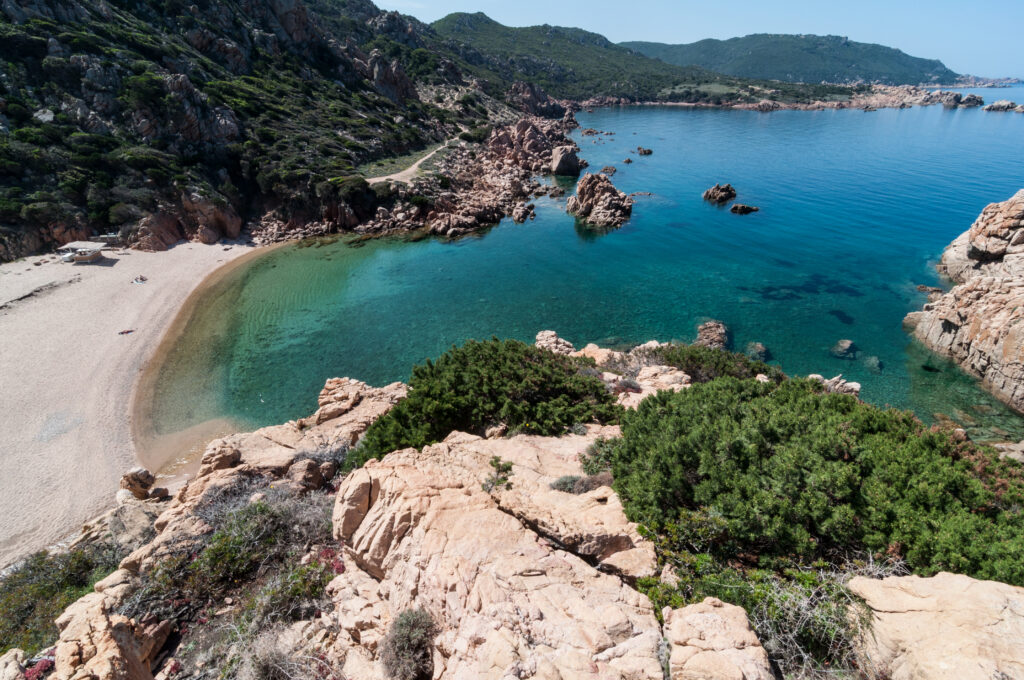 Costa Paradiso really is a coastal paradise and Li Cossi beach is a dazzling highlight. A wall of granite rocks hugs a strip of light golden sand spilling into a sea that changes from aqua to emerald.
To get to this Sardegna beach, you'll walk across a scenic path that follows a river. Sunbeds and umbrellas are available in summer. And if you feel like going on an adventure, tackle the rugged slopes to find picturesque inlets and caves. This beach is a popular stop for boat tours across the island.
CALA COTICCIO BEACH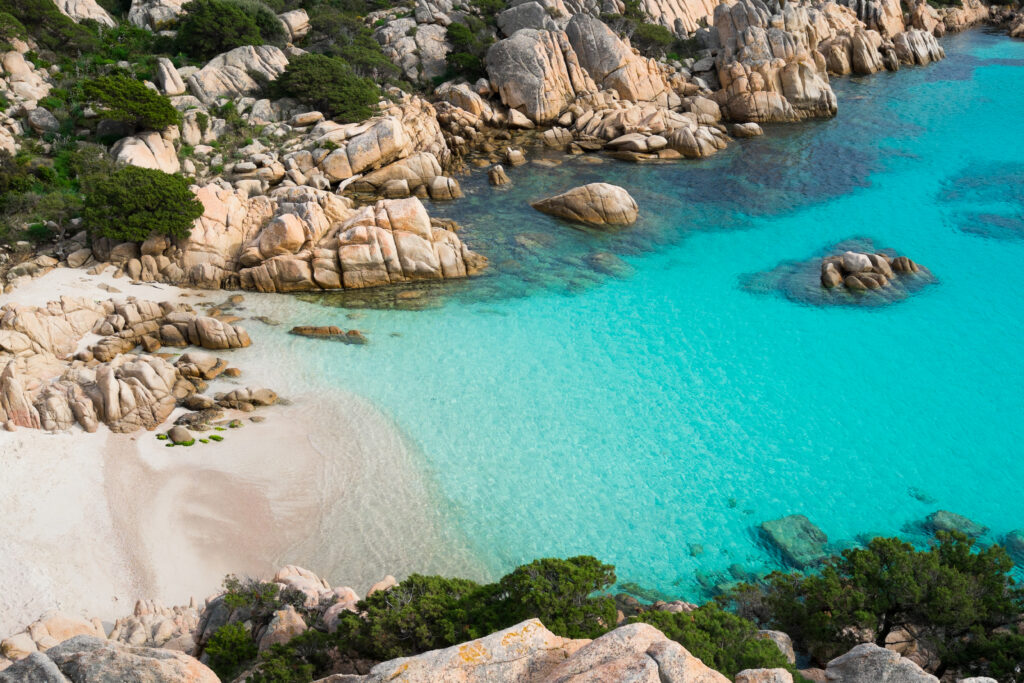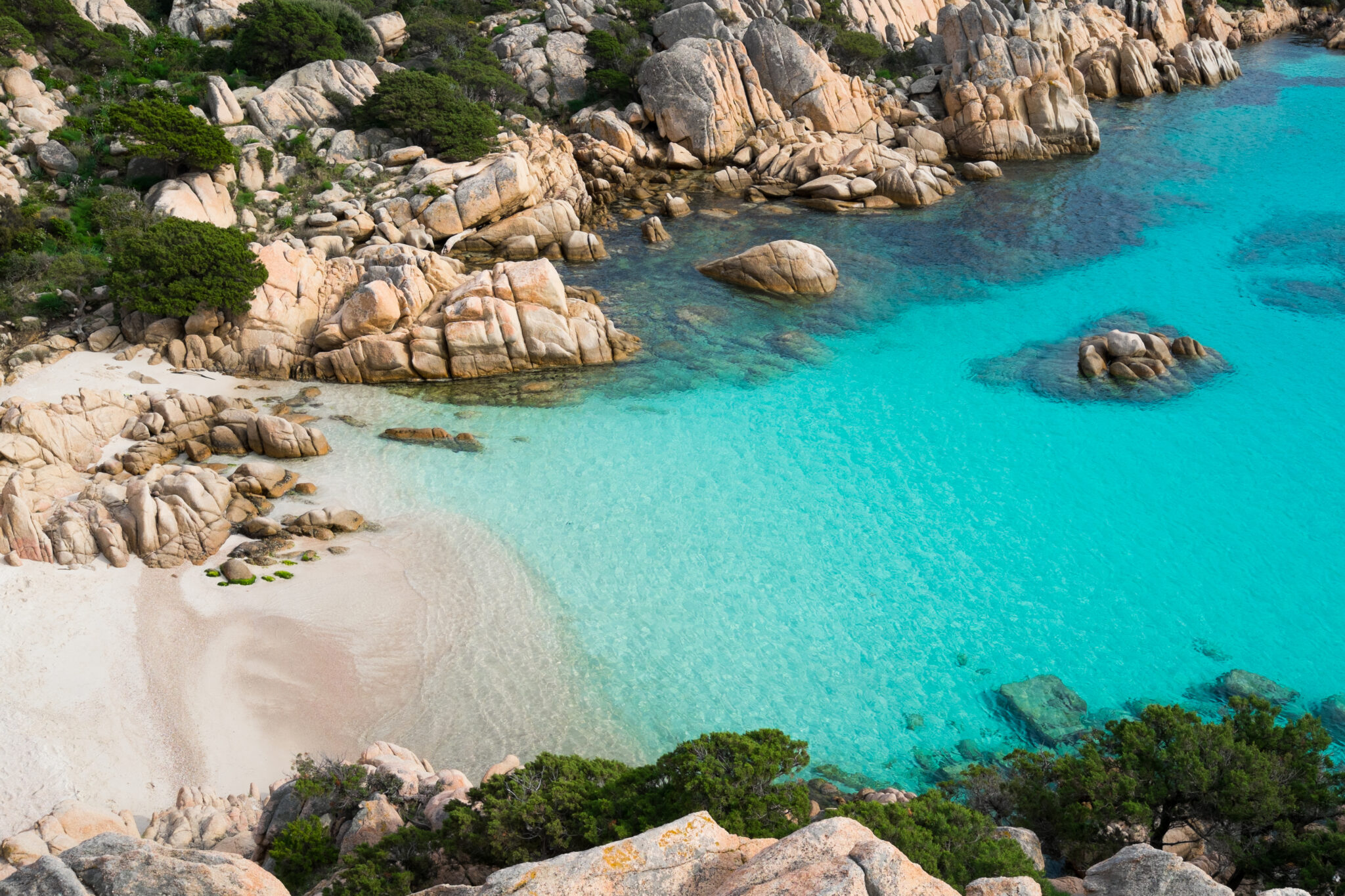 The island of Caprera is a gem in the Maddalena National Park, surrounded by popular dive sites and picture-perfect beaches. It was also the home of Giuseppe Garibaldi for the last 26 years of his life, and his former house is open to visitors.
A favourite of photographers, Cala Coticcio Beach is a natural haven framed by high, rose-tinged rocks and translucent aqua water. It's a bit of a hike to reach the petite, undeveloped cove, so you might get it all to yourself if you visit Sardinia in the low season.
Home to one of the Mediterranean's most beautiful beaches, Caprera is connected to La Maddalena island by a bridge. Pop over on a ferry from Sardinia or on an island boat tour.
---
Best Beaches in East Sardinia
You'll swim beneath soaring limestone pinnacles, laze on unspoilt stretches of sand and spot plenty of wildlife on the Sardinia east coast.
CALA GOLORITZÈ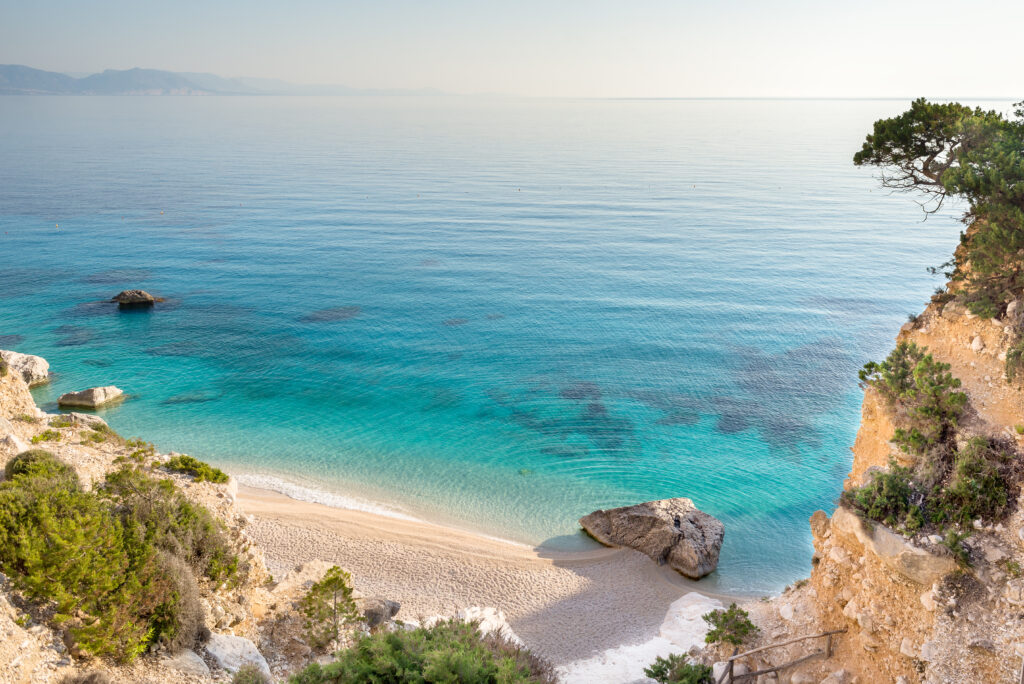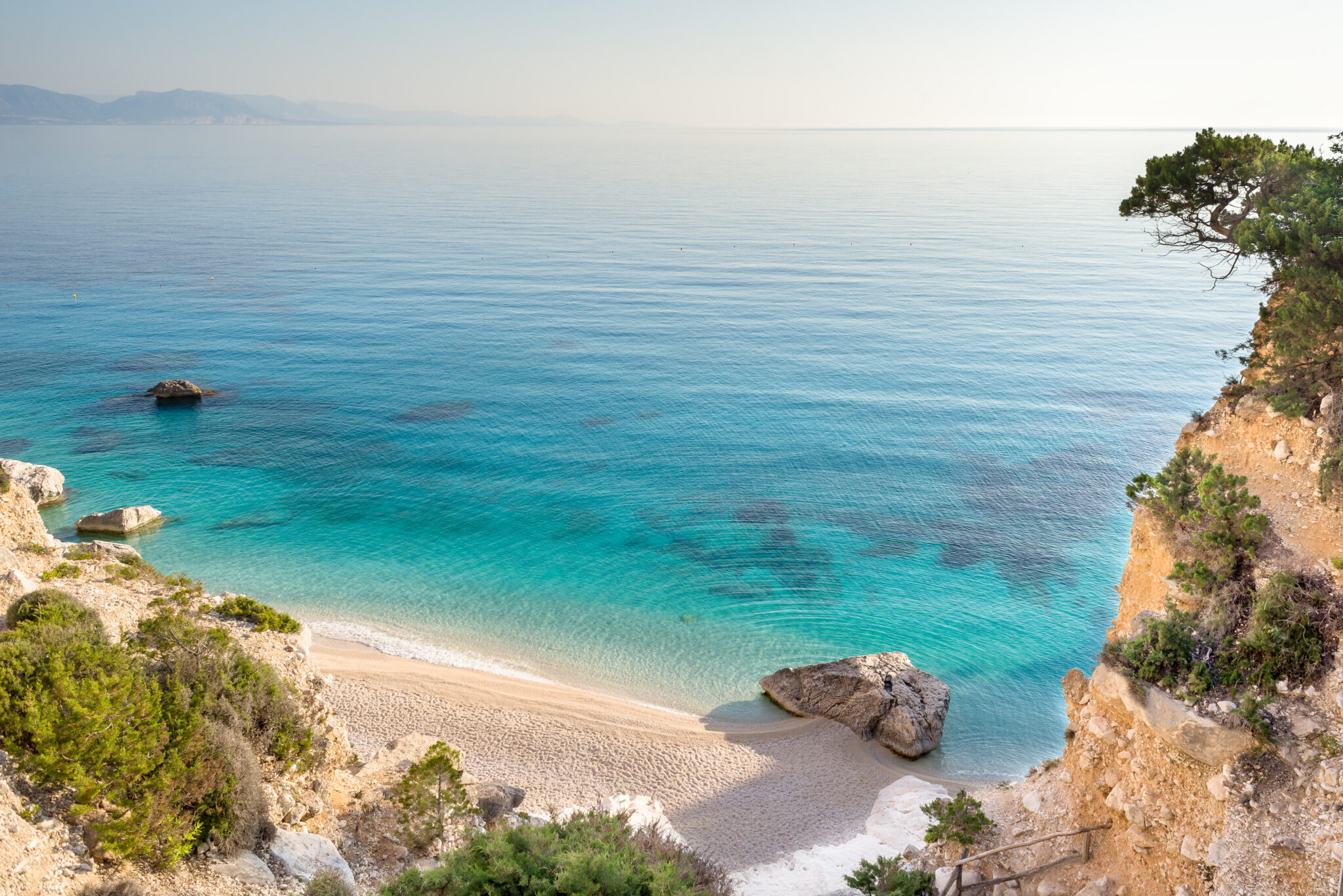 If you love a bit of a hike with a spectacular reward at the end, Cala Goloritzè is among the top beaches in Sardinia to do just that.
Located in the Golfo di Orosei, the shimmering blue sea is surrounded by surreal limestone formations that attract keen rock climbers. Behind the beach, holm oaks and strawberry trees complete the stunning picture.
You'll reach the white, pebbly beach by trekking down an old mule trail for about an hour, and it might take you two to get back up. Otherwise, arrive at this wild paradise via boat and dive into water so blue you'll never forget it.
CALA BIRÌALA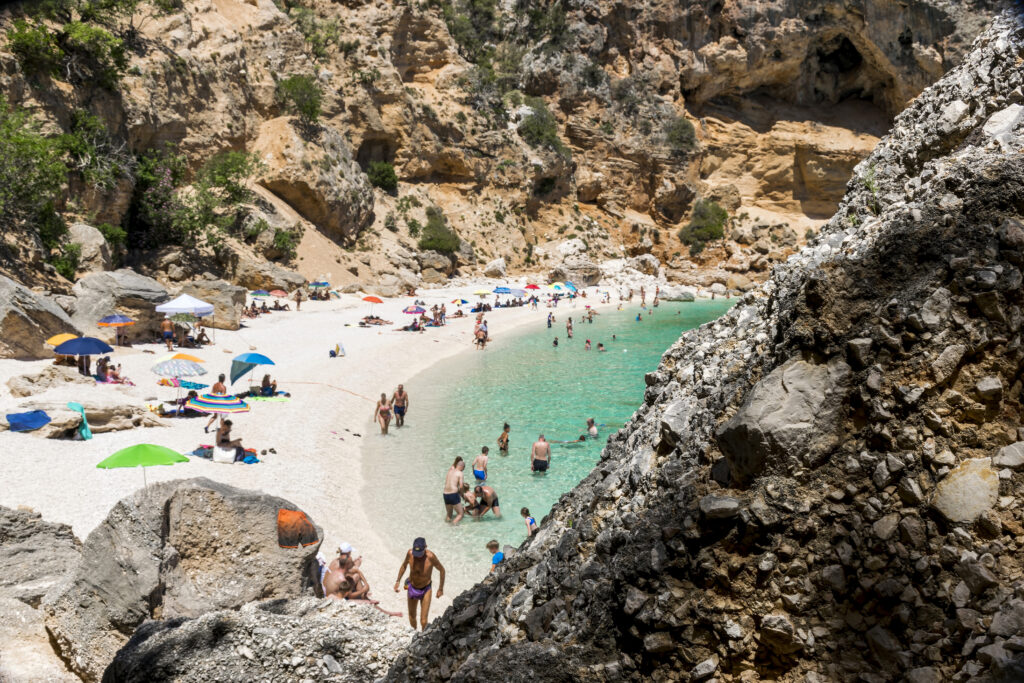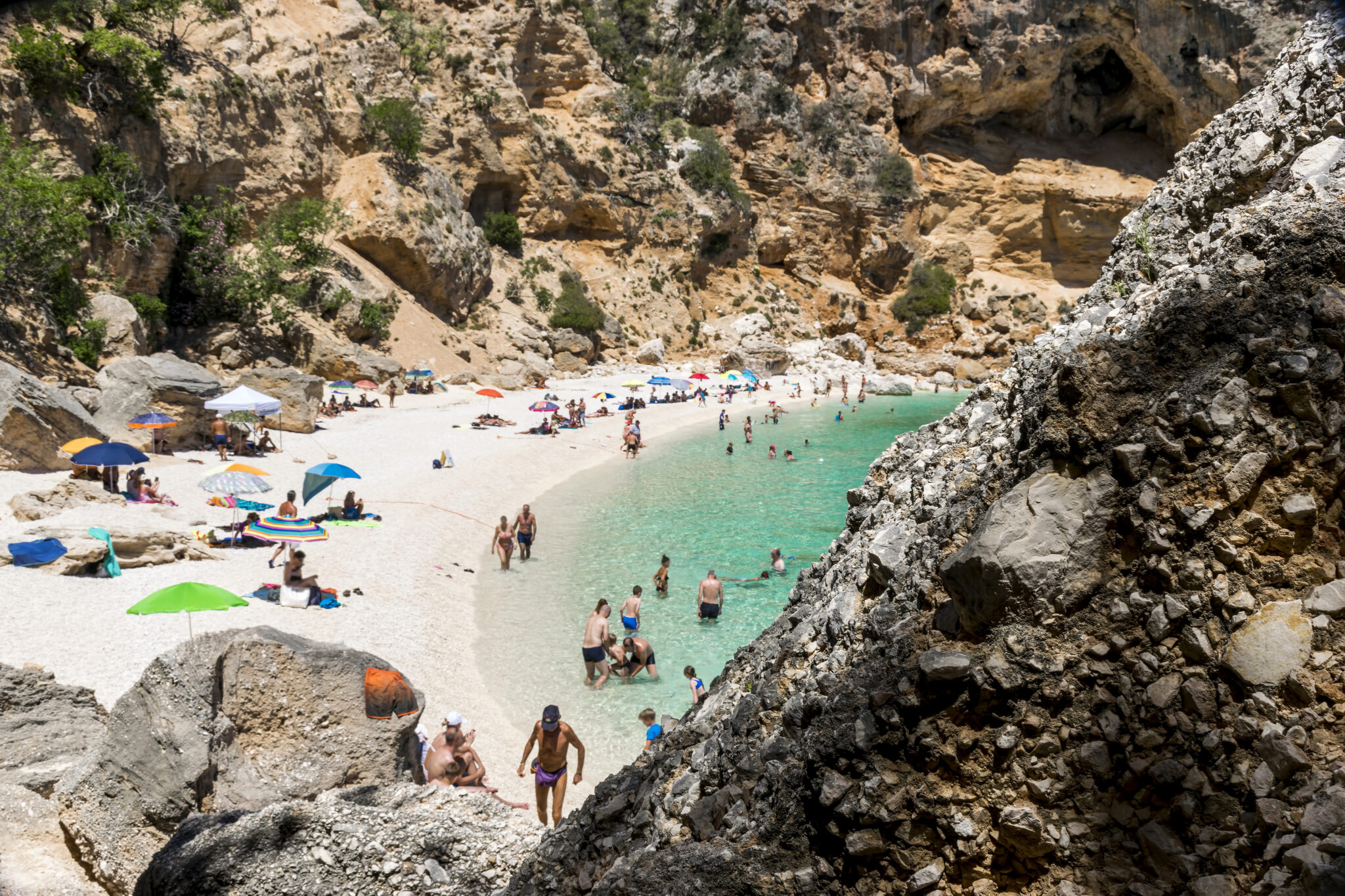 A natural arch, sheer cliffs and rock platforms surround Cala Birìala on the coast of Baunei. Wade into the iridescent sea from a sand and pebble arc of sand, lay back and simply gaze at the wonder of nature surrounding you. The rock platforms are simply made for diving off.
It's possible to hike to this wild cove through the dense forests of Birìala and Billariccoro. The trek takes about three hours and guides are available to help you navigate. Alternatively, hop on a group or private boat tour to get there.
CALA MARIOLU & CALA DEI GABBIANI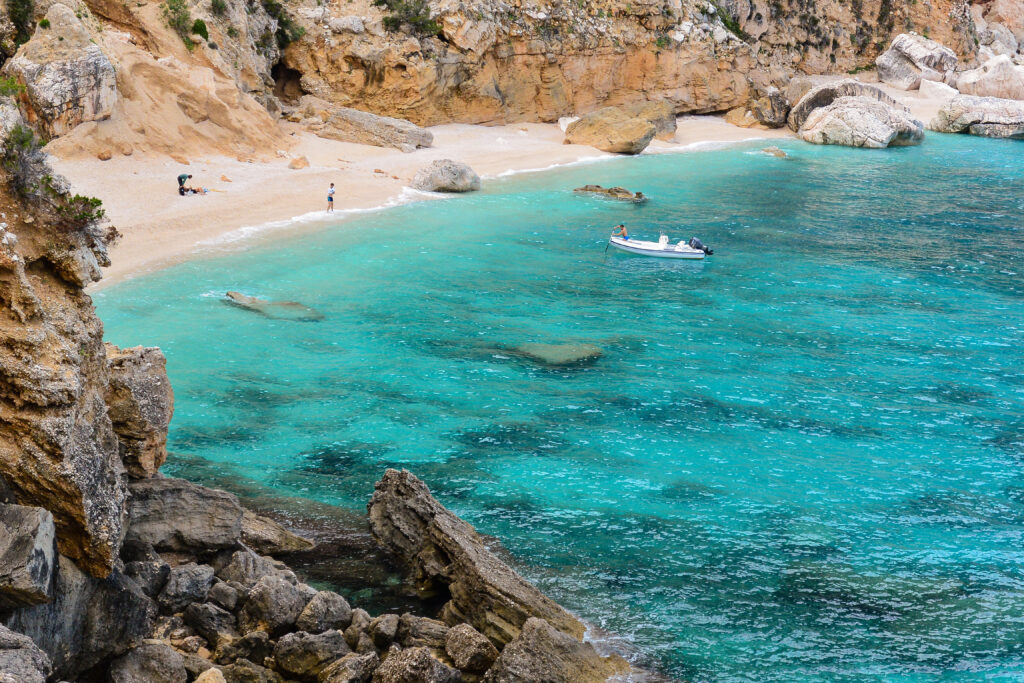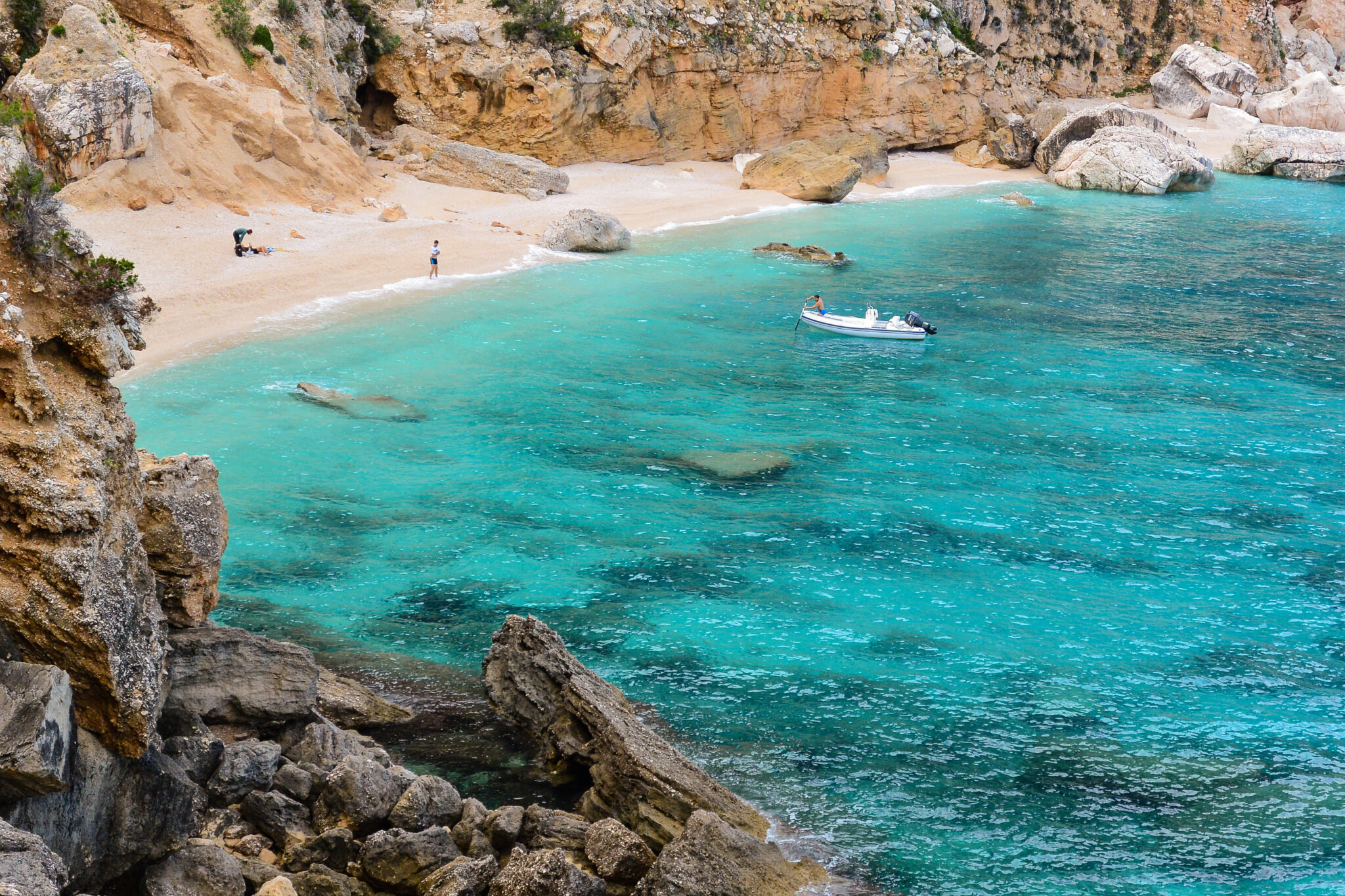 You'll stroll on tiny white pebbles made smooth by the ocean at these two neighbouring stunners. Cala Mariolu and Cala dei Gabbiani are the perfect spots to experience some of the best snorkelling in Sardinia, with extraordinarily clear water and intriguing marine homes to explore.
A rocky outcrop separates the beaches and limestone cliffs tower over the tranquil setting. Caves dot the cliffs and you'll find the spectacular Grotta del Fico nearby.
The beauty of this coastal wildness is that it's hard to get to by land – although possible for experienced hikers – so most people visit by boat.
---
Best Beaches in South Sardinia
Lush headlands, abundant marine life and water sports welcome you when you discover south Sardinia beaches.
SPIAGGIA DI PORTO GIUNCO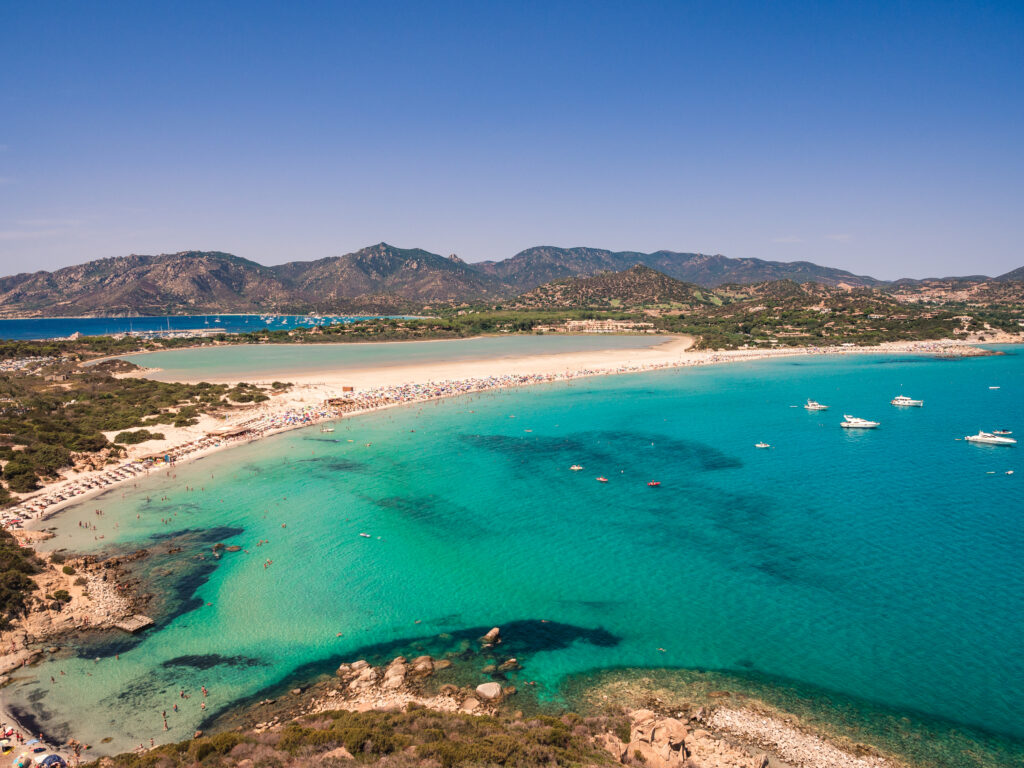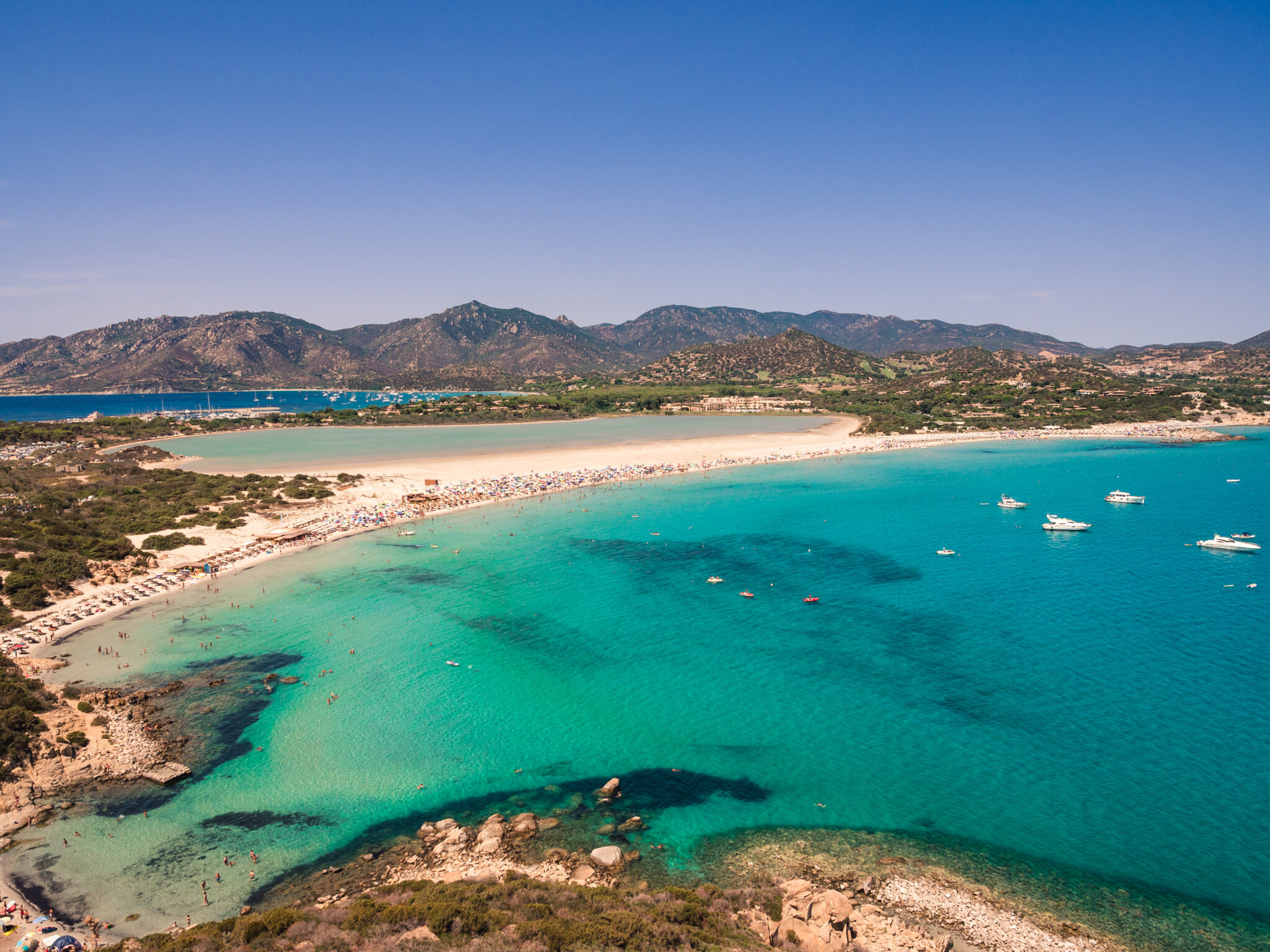 Many of the best beach holidays in Sardinia take place in Villasimius, a vibrant resort that's referred to as the 'pearl of the south'. A long, pink-tinged stretch of sand makes Spiaggia di Porto Giunco one of those spots that's simply too hard to leave.
Powder soft sand drifts into glassy water that represents every shade of blue. Lush headlands encase the beach, protecting it from the wind and ensuring serene swimming conditions. Beyond restaurants, kiosks and hotels, a shimmering lagoon plays hosts to migratory pink flamingos.
PUNTA MOLENTIS BEACH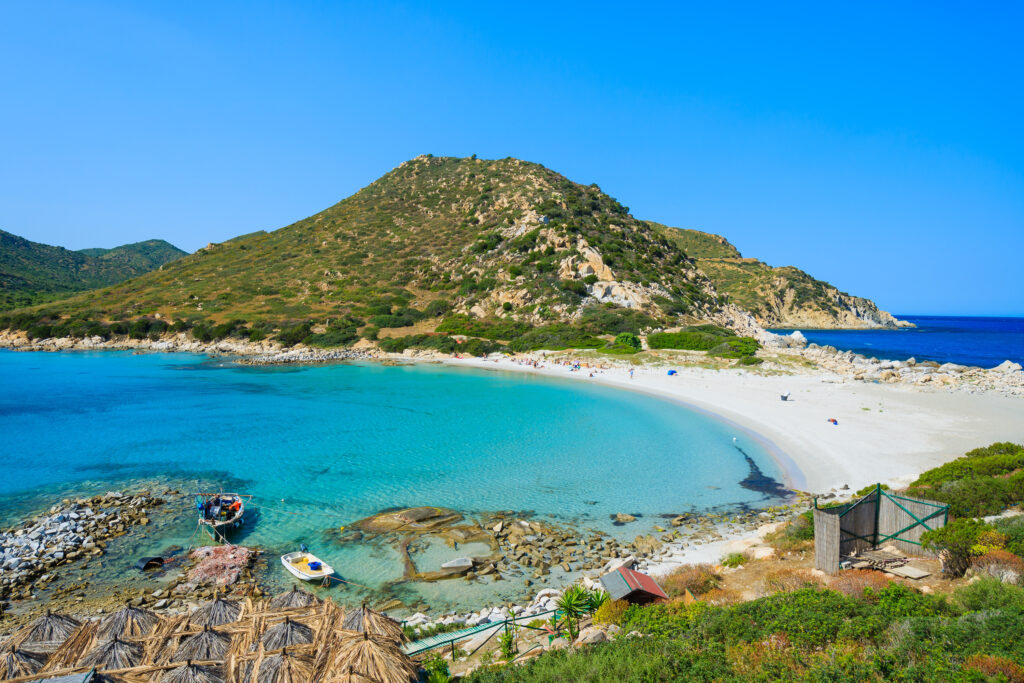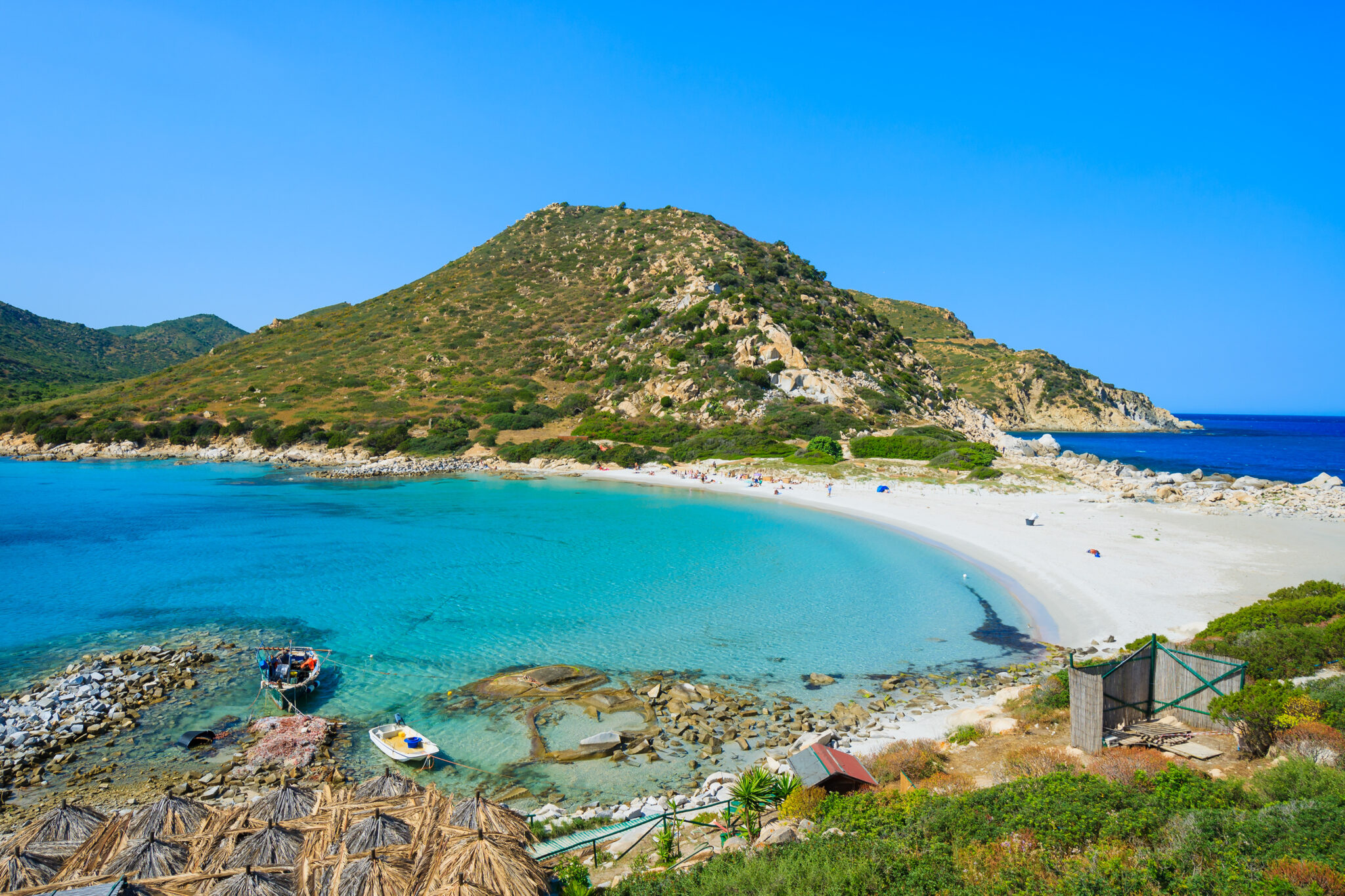 Wondering where to go in Sardinia if you're dreaming of the Caribbean? Film crews flock to Punta Molentis Beach for its picture-perfect style, colourful coral reefs and glorious water. It's set between a hill and a promontory, with azure water on both sides of a narrow strip of land.
As one of the nicest beaches in Sardinia, expect rather large crowds in season, along with snack bars and pedalos for hire. Head off to explore Mediterranean plants and scenic coves surrounding the beach. Along the way, you're likely to spot rabbits and marine birds.
TUERREDDA BEACH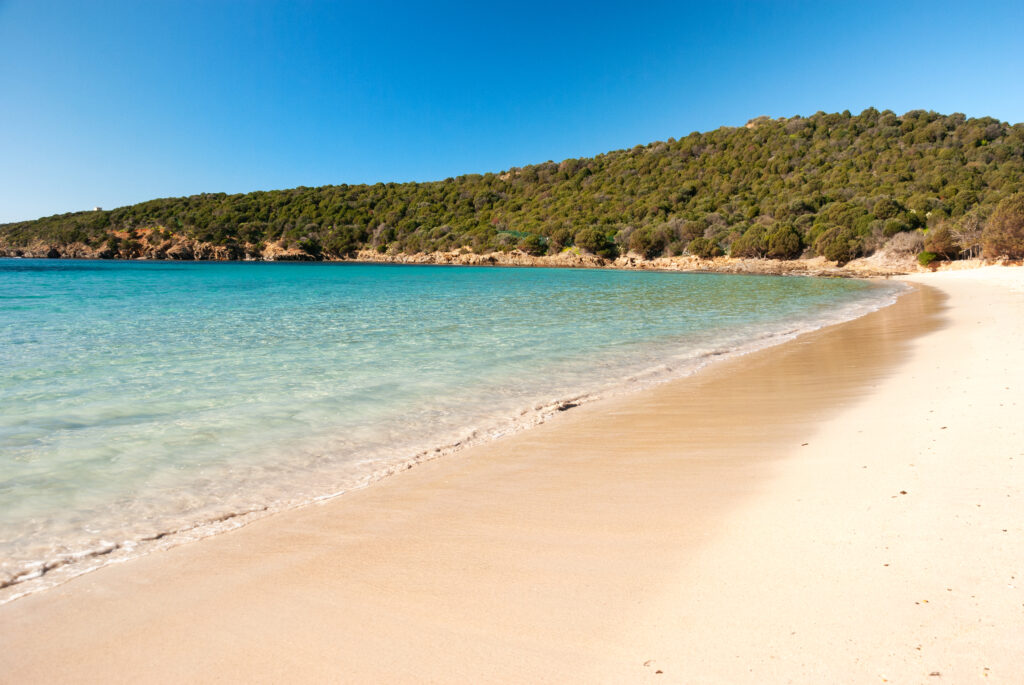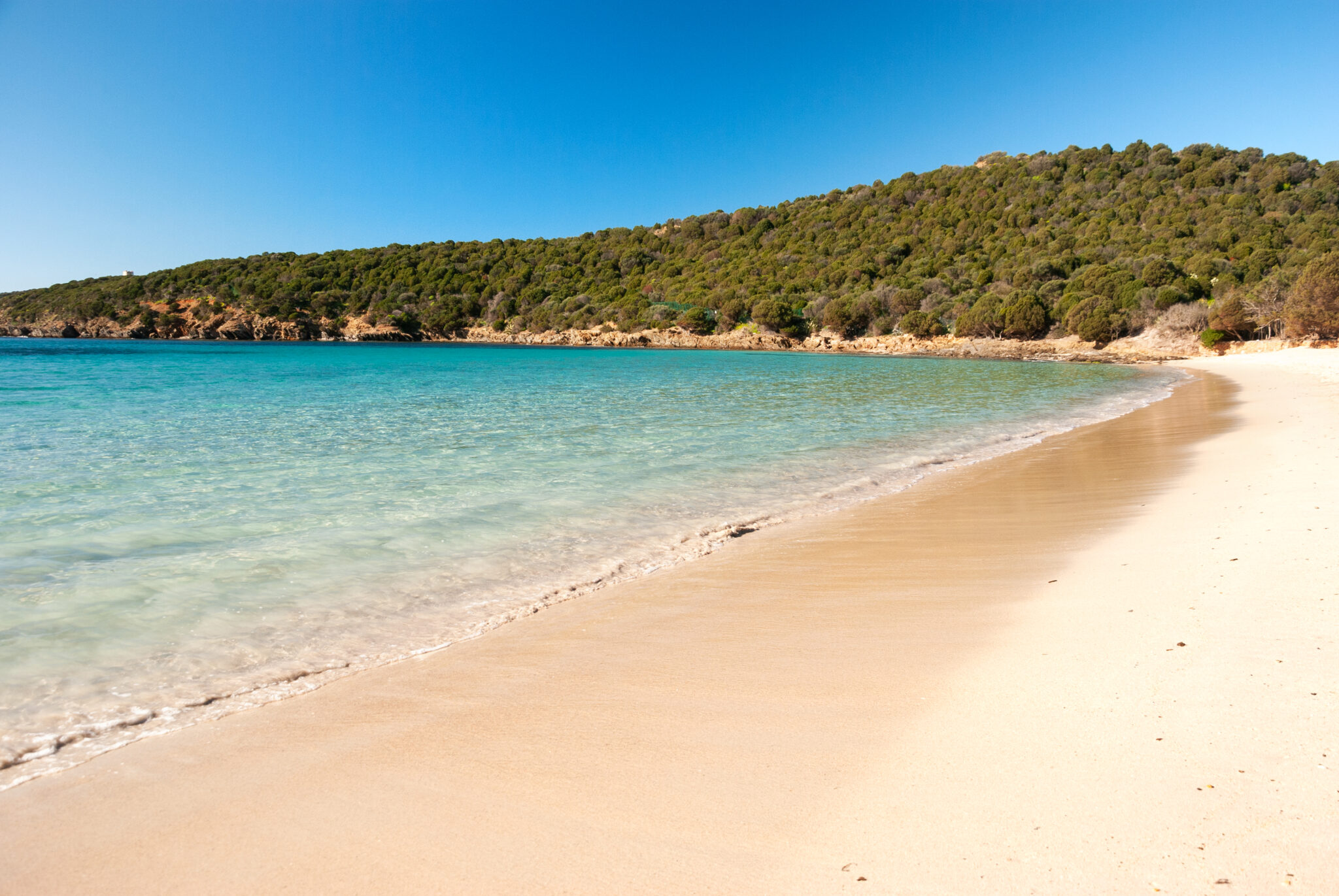 Often counted among the top 10 beaches in Sardinia, Tuerredda is a unique, v-shaped beauty with lovely views of Isola di Tuerredda just off the coast. In fact, you can swim on over there if you're feeling particularly active.
If you can step foot off the impeccable white sand, you'll find the town of Teulada close by, on the backdrop of the Sulcis mountains. In season, this popular beach offers canoe and pedalo rentals, and you'll find bars and restaurants to fuel up after all that swimming.
SPIAGGIA DI SANTA GIUSTA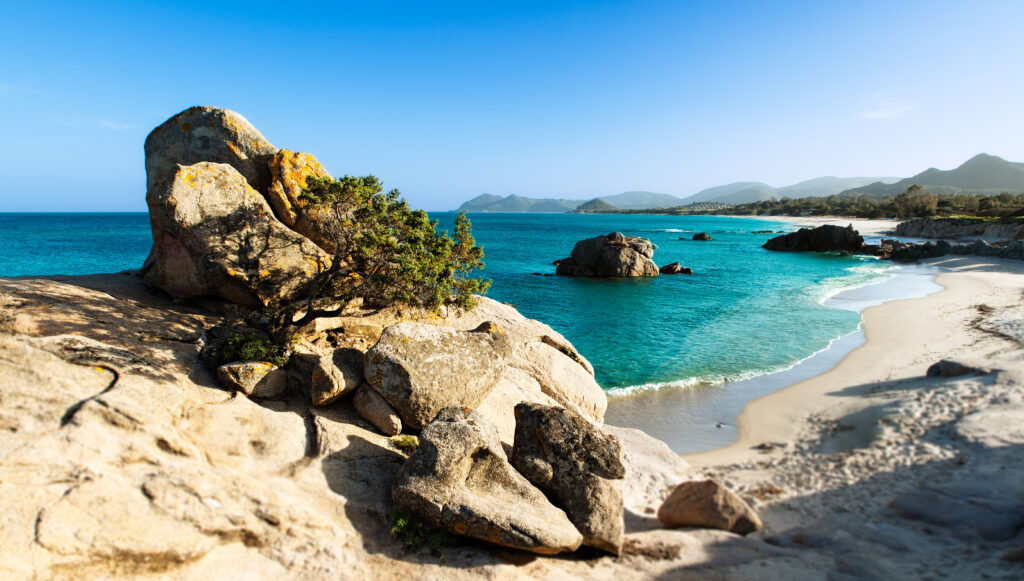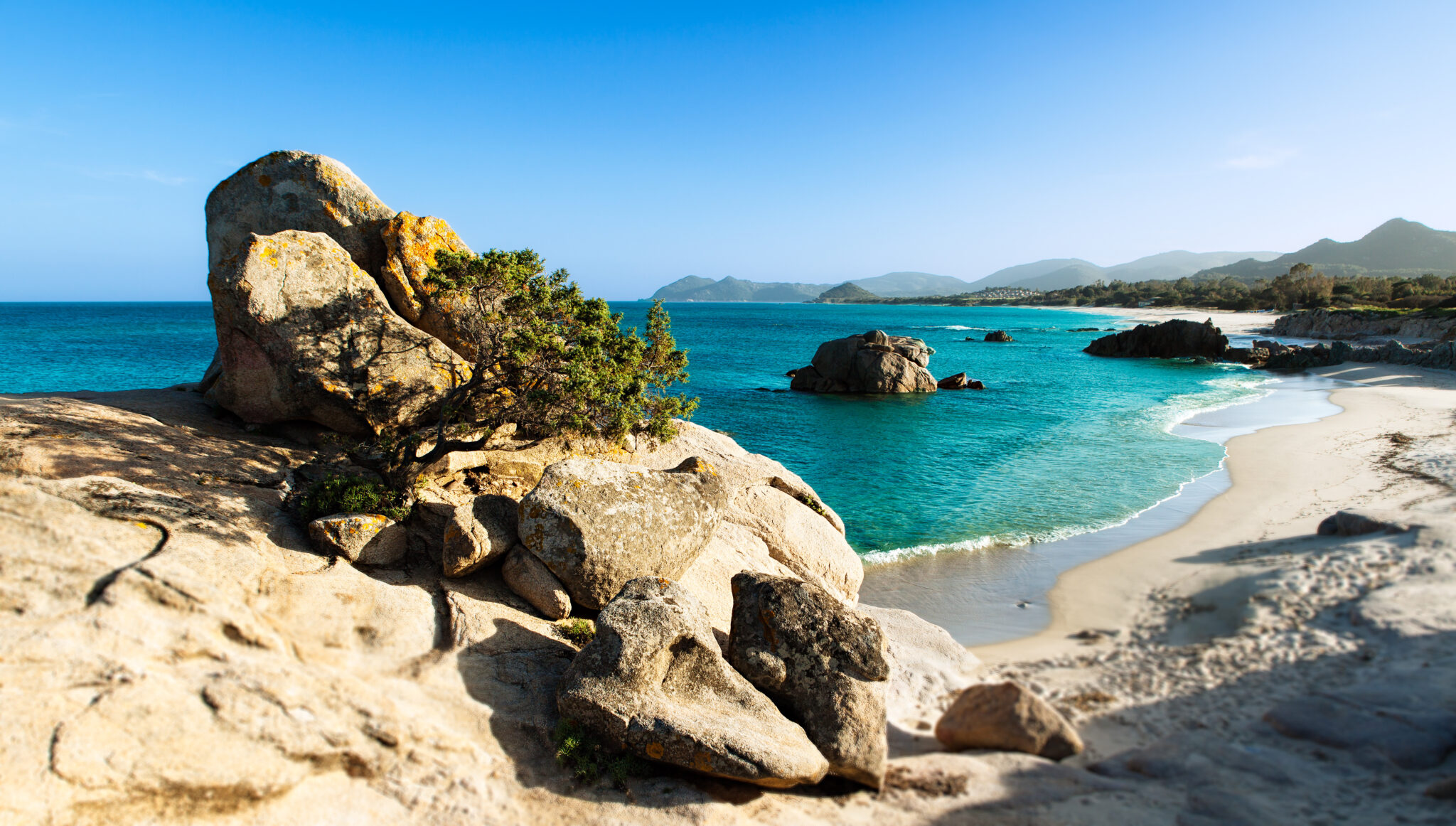 Peppino's Rock resembles a large whale or a turtle, depending on how you look at it, and it's a natural highlight of Spiaggia di Santa Giusta. It's possible to wade through the water for a walk on the rock, which is apparently named after a local fisherman.
With natural rock pools to explore, shallow water for safe swimming, pedal boats and sunbeds to hire, this is one of the best places in Sardinia for families. If you're visiting on a day trip in summer, get there early to nab a good spot.
SU GIUDEU BEACH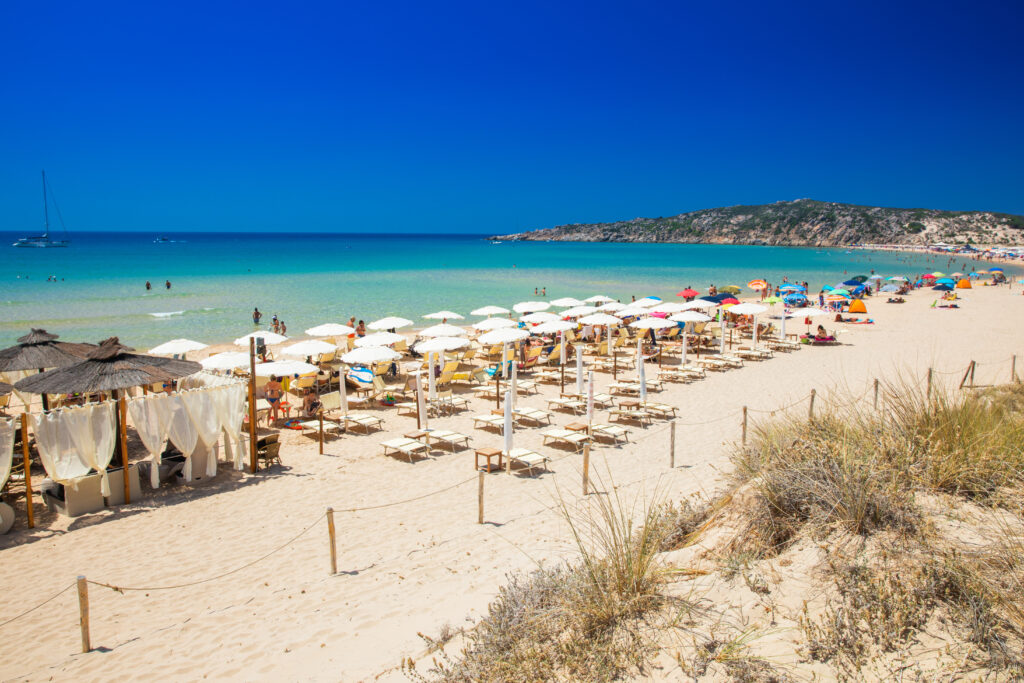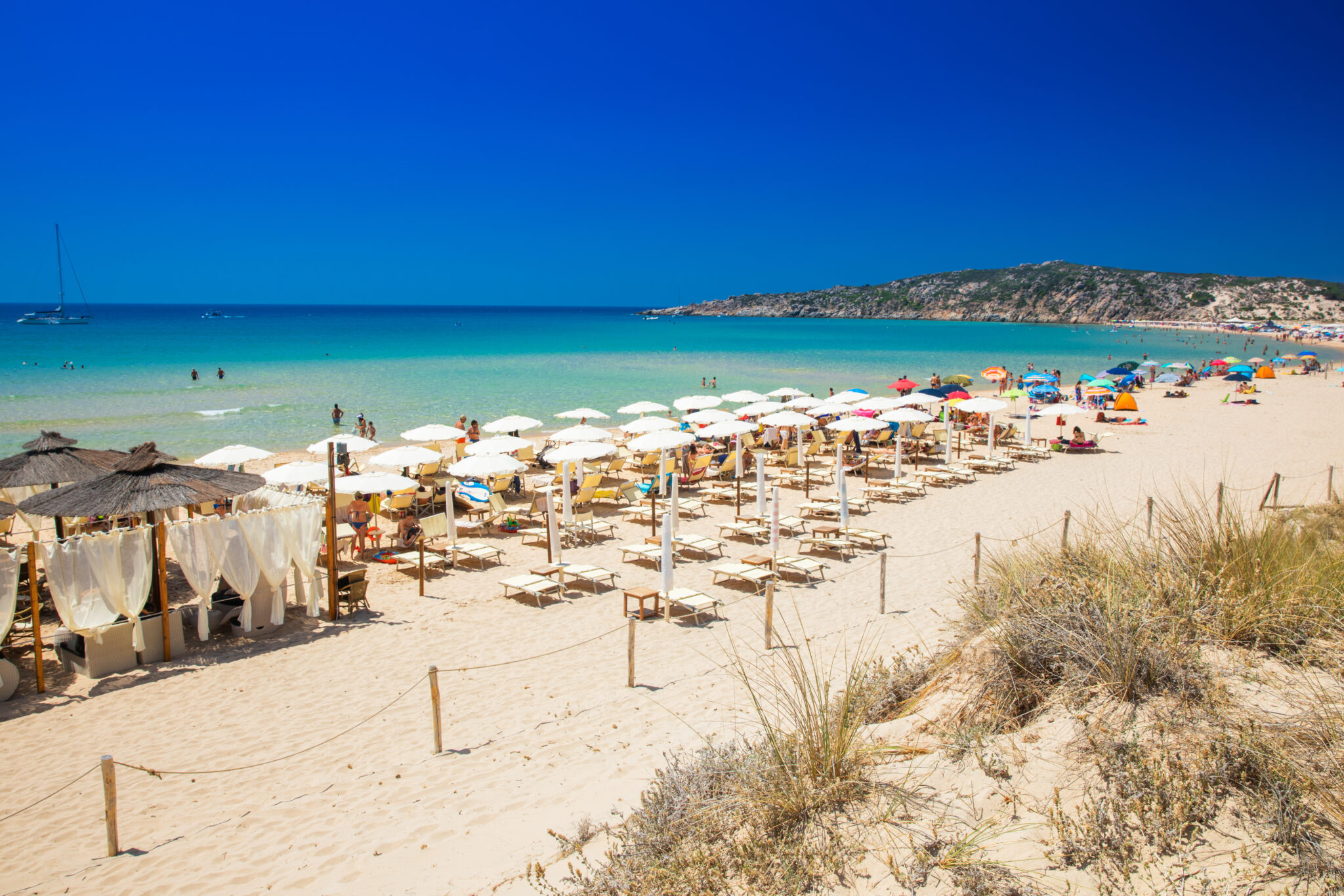 One of the best beaches near Cagliari in Sardinia, Su Giudeu is both a scuba diving haven and a hot spot for surfers. If you're travelling with the kids, there's plenty of room on the fine, white sand to spread out and play, with a shallow sea bed for splashing.
Gear up to stay for sunset, as the beach changes vibe with music and drinks at the bar and restaurant. Su Giudeu beach is just one kilometre from the famous Chia beach, and the archaeological site of the ancient town, Bithia, is nearby.
---
Best Beaches in West Sardinia
The west coast of Sardinia is ruggedly beautiful, with plenty of secluded stretches to seek out your own slice of paradise.
SPIAGGIA LA PELOSA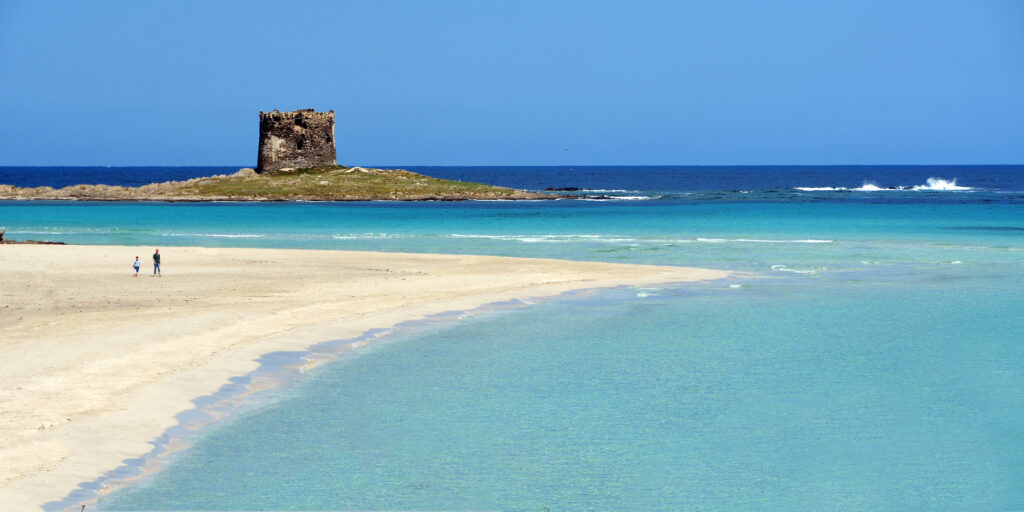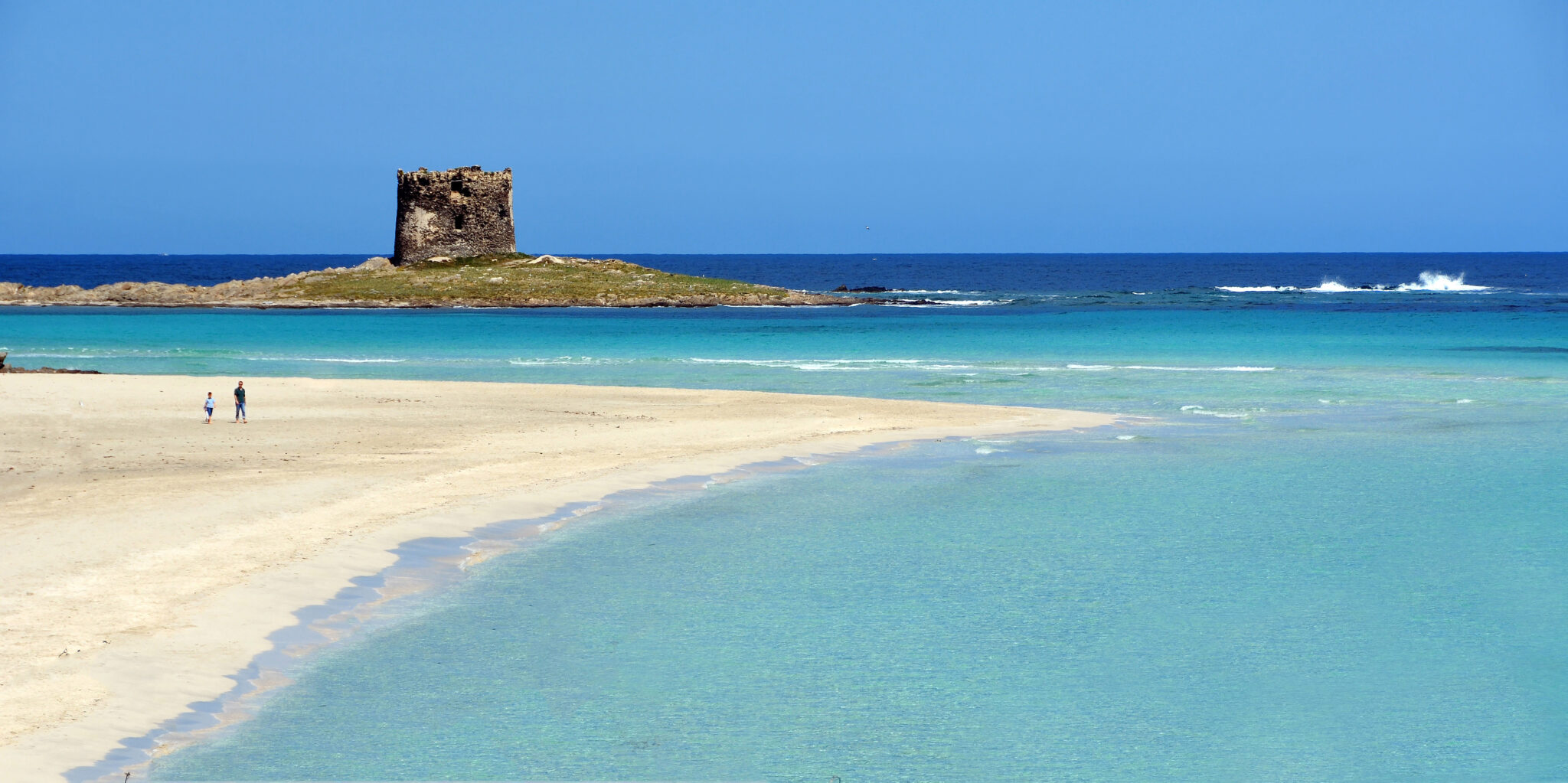 The picturesque, 16th-century watchtower of Torre della Pelosa overlooks an iridescent seabed at Spiaggia La Pelosa. You'll find some of the best diving in Sardinia off the coast of these shores, and two dive centres in the vicinity help you delve into the underwater magic.
If windsurfing or kayaking is more your style, it's easy to rent your favourite equipment. For pure relaxation, step off the white sand and walk for metres in ankle-deep water, taking in the Mediterranean flora, the uniquely flat Isola Piana and the Asinara cliffs in the background.
SPIAGGIA LA FRANA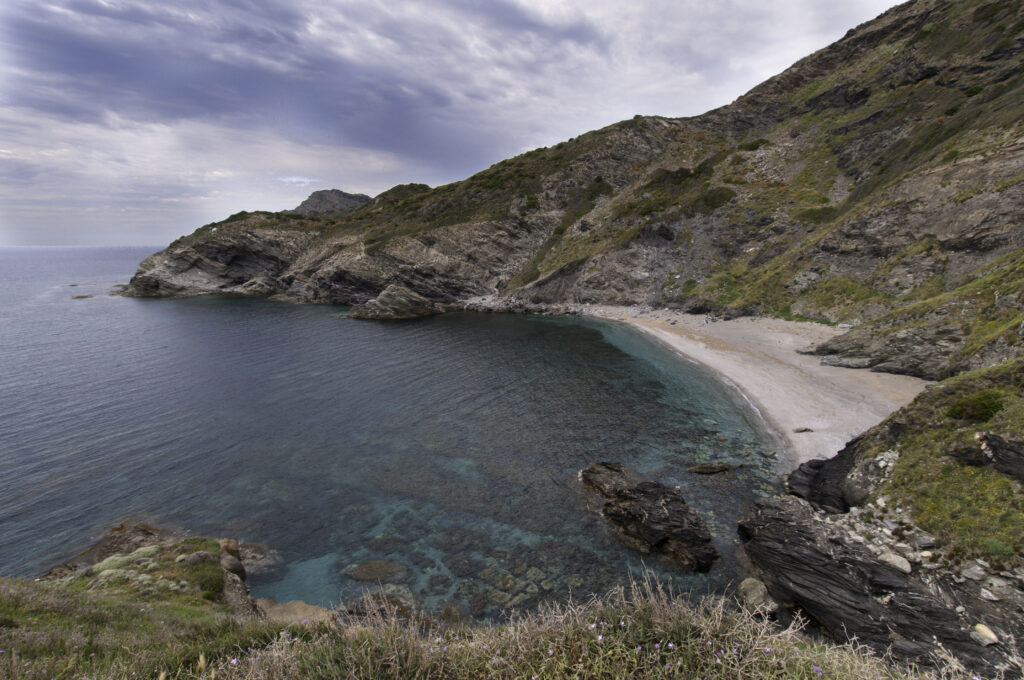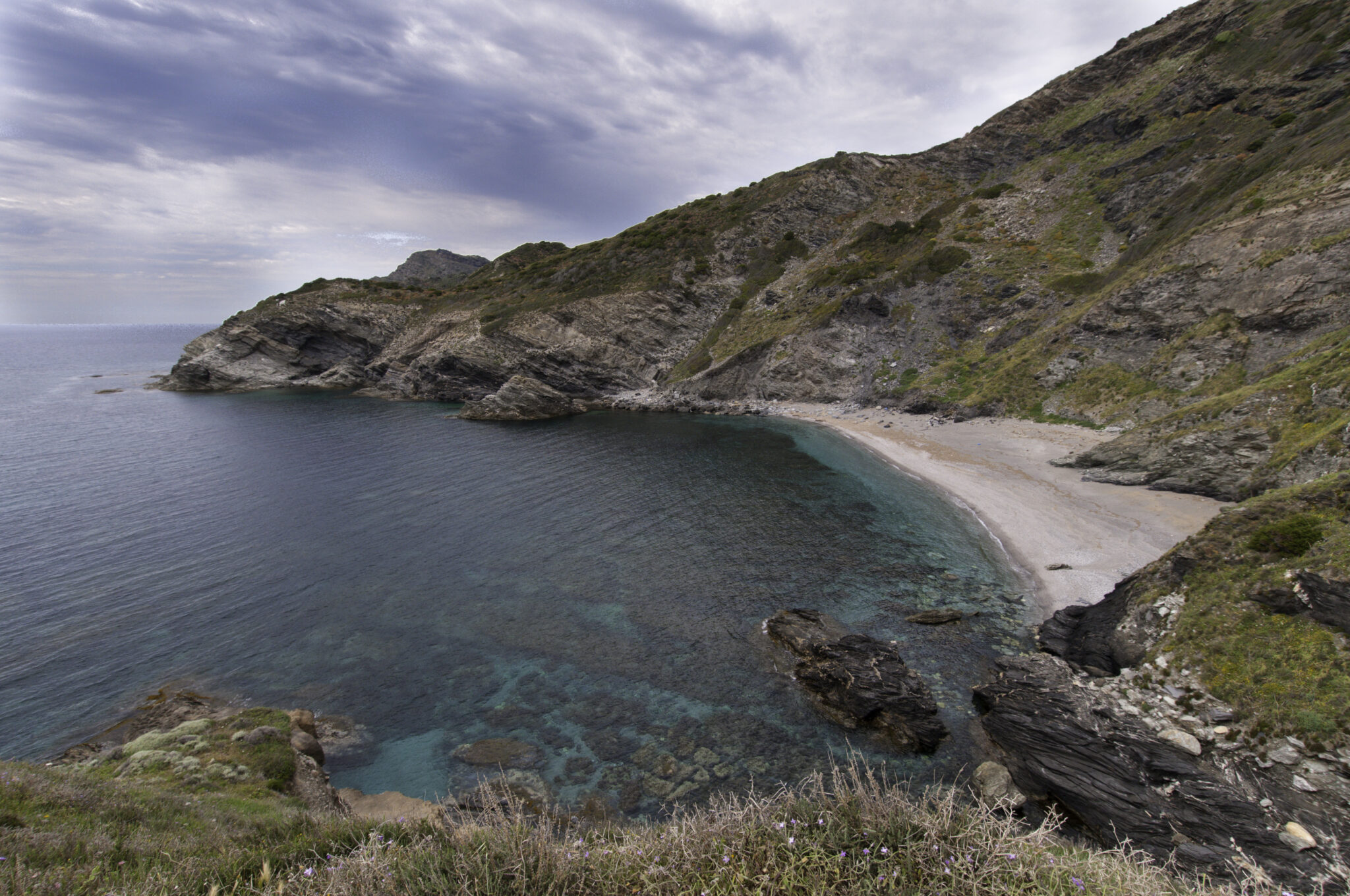 The crescent-shaped Frana Beach is a wild and rugged sight, hidden by soaring cliffs on the west coast of Argentiera. Once a silver mining region, history has almost disappeared to make way for landscapes sculptured by nature alone.
A trekking route allows the intrepid beach lover to reach the cove via adventure. Otherwise, it's best to visit on a boat trip. Don't forget your snorkel and mask to explore the rocky underwater world beneath turquoise water.
SPIAGGIA DI IS ARUTAS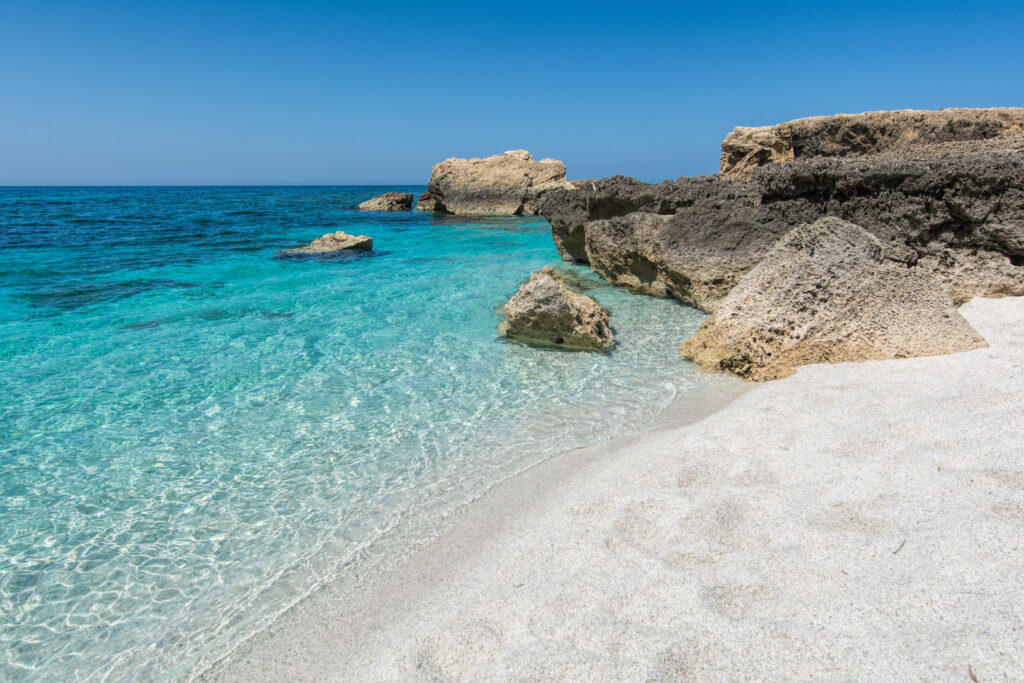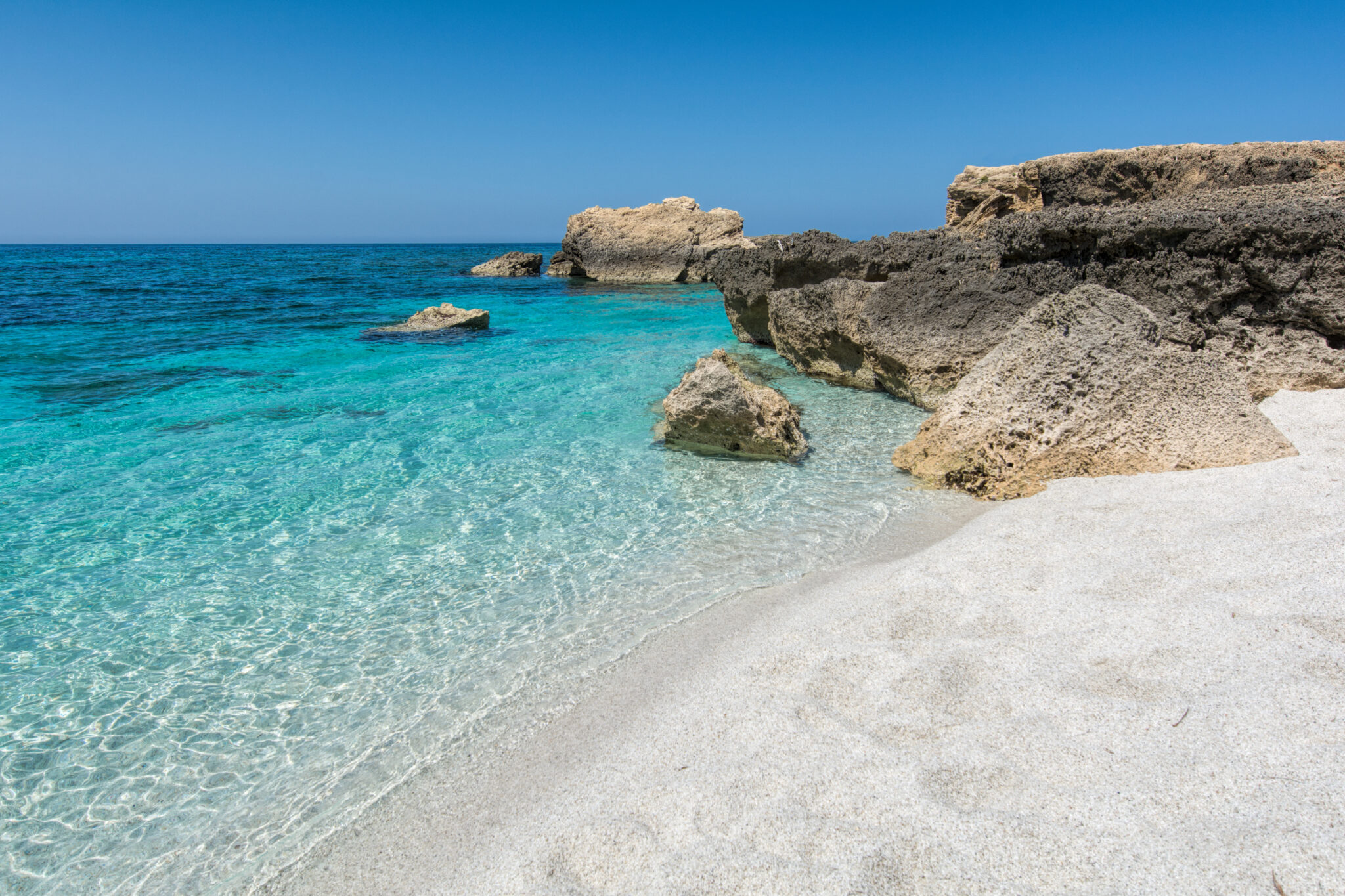 The island of Sardinia is celebrated for its pink sand, but the tiny grains of quartz create a palette that includes green and white at Spiaggia di Is Arutas. Located in the Sinis peninsula, you'll get there through the uninhabited village of San Salvatore, which was once used as a set for Spaghetti Westerns.
The multi-coloured sand extends for several kilometres and reflects with brilliant blues on the water. Though it's easily reached, Is Arutas is miles away from the tourist vibe and it's a great spot to surf, windsurf or go kiteboarding in the winter months.
SPIAGGIA DI CALA DOMESTICA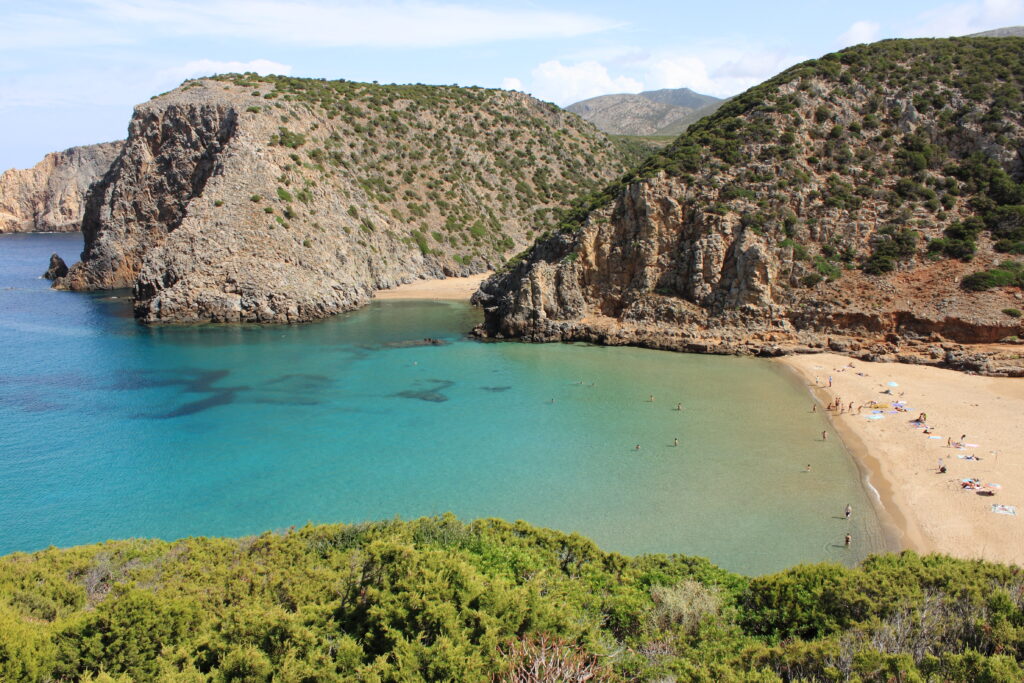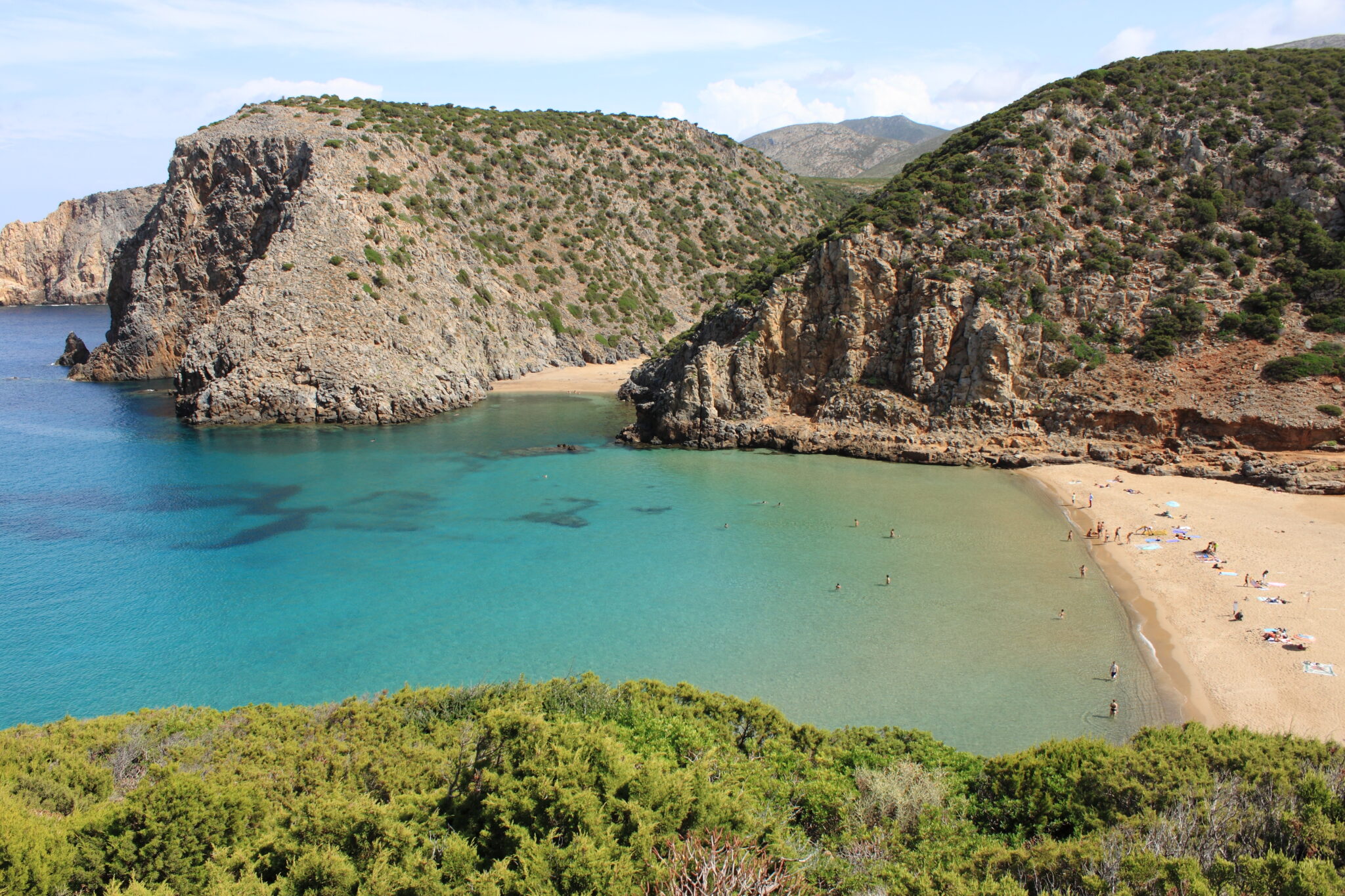 This dazzling cove was a hub of mineral mining up until 1940 and the area is still home to ruined warehouses and tunnels. The history adds an intriguing element to what's now a tranquil paradise cove just two kilometres from Buggerru.
Often compared to a fjord, sheer cliffs enclose a wide strip of delicate golden sand. With water as clear as glass, you don't even need a mask to admire a variety of fish swimming below. Out of the sea, follow the path leading to the top of the promontory for sweeping views.
---
---
The beaches in beautiful Sardinia all have one thing in common – the capacity to take your breath away. Expect to develop a serious addiction, of the best kind, to exploring the island's dreamy stretches of white sand, awe-inspiring coves and serene holiday vibes.
Pin this for later!