Located on the Bay of Naples in the Tyrrhenian Sea, the Italian island of Ischia delights with its pastel-hued houses, thermal springs, mountainous landscapes, beautiful beaches, and fascinating historical sites.
Explore the six bustling towns brimming with artisan shops, relax on golden sandy shores, spend a day at healing hot springs, or indulge in kayaking, sailing, snorkelling, or diving.
The beauty of visiting Ischia is that you can do as little or as much as you please, and all travel styles are catered to – whether you're after a luxury 5-star stay, an adventure trip, or a fuss-free budget getaway.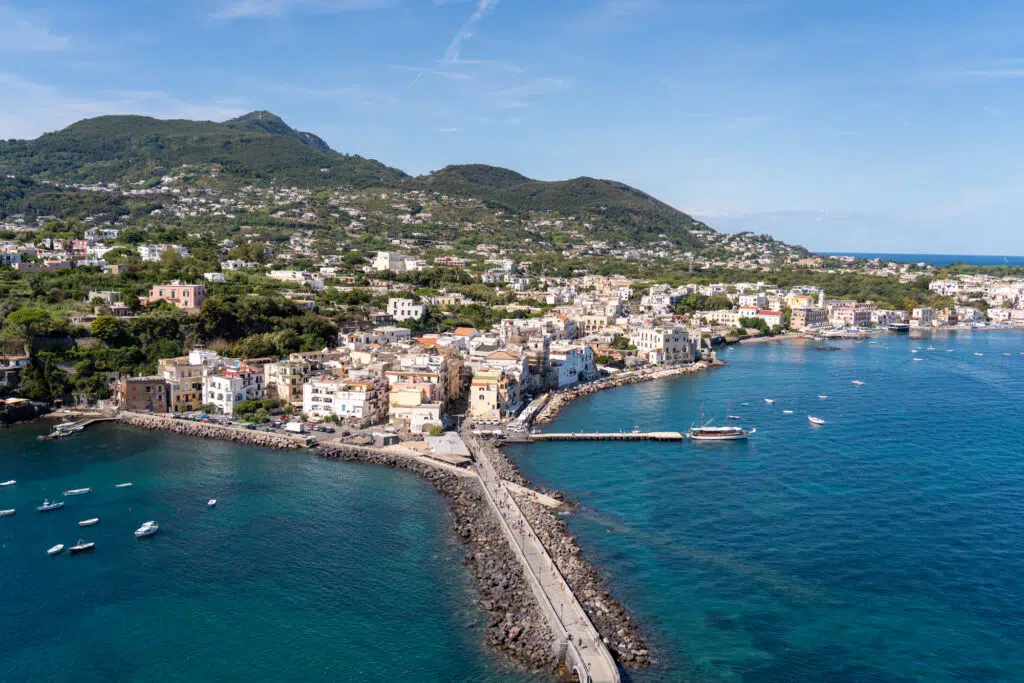 Where is Ischia?
Ischia is the largest of the Phlegrean Islands, an archipelago that sits around 30 kilometres offshore from Naples in Italy. The smaller island of Procida lies to the east, and is easily accessible for a day trip, while glamorous A-list hotspot Capri is southeast and can be reached by high-speed ferry ride from Ischia Porto in under an hour.
The easiest way to reach Ischia by ferry is from the port of Naples near the city centre. Conventional ferries leave from Calata Porta di Massa Quay and faster hydrofoils depart from Beverello Pier. There are active sailings year-round (30 ferries per day in high season) operated by four different ferry companies.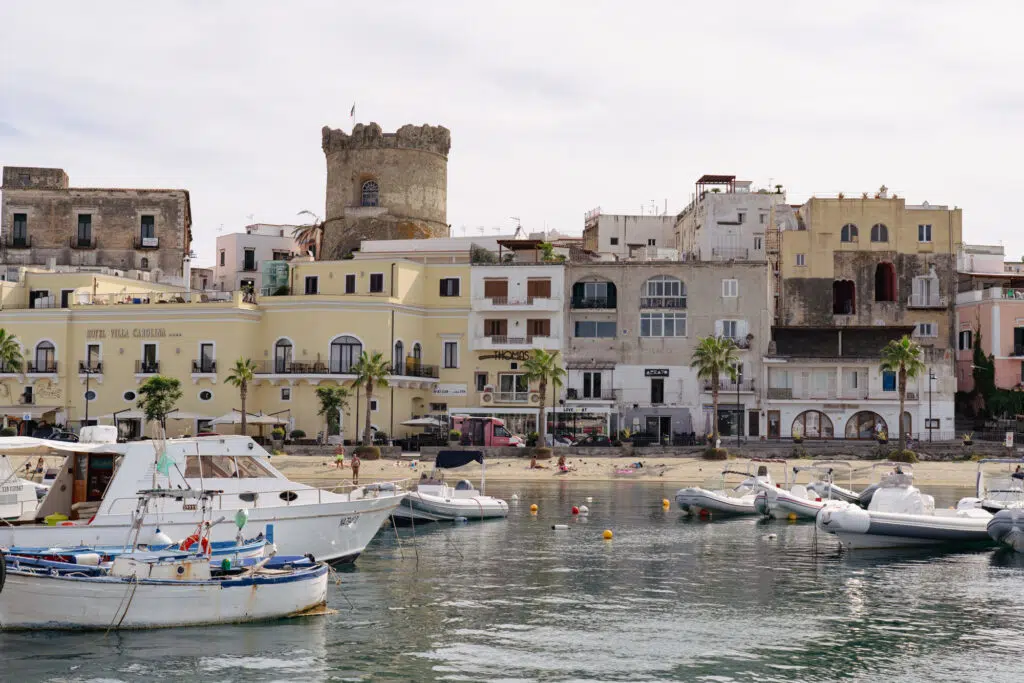 Depending on which ferry crossing you choose from Naples, the average cost is around €20 each way. Journey times are approximately 50 minutes on the fast hydrofoil or up to 1 hour 30 minutes via conventional ferry.
It's also possible to reach Ischia from Sorrento and Positano, although ferry services are only available during the summer season and are much less frequent.
It's also worth noting that Ischia has three ports – Forio, Ischia Port and Casamicciola Terme. Choose the port nearest your accommodation if staying on the island for longer than a day trip.
Top Ischia Attractions & Things to do
On holidays to Ischia, visitors can venture into magical grottos, browse museums, hike mountains, and end blissful days marvelling at blazing sunsets from centuries-old churches, before feasting on fresh seafood while seated along the walls of Castello Aragonese.
If visiting Ischia in Italy is on your bucket list, be sure to add some of the following experiences to your itinerary!
Visit Castello Aragonese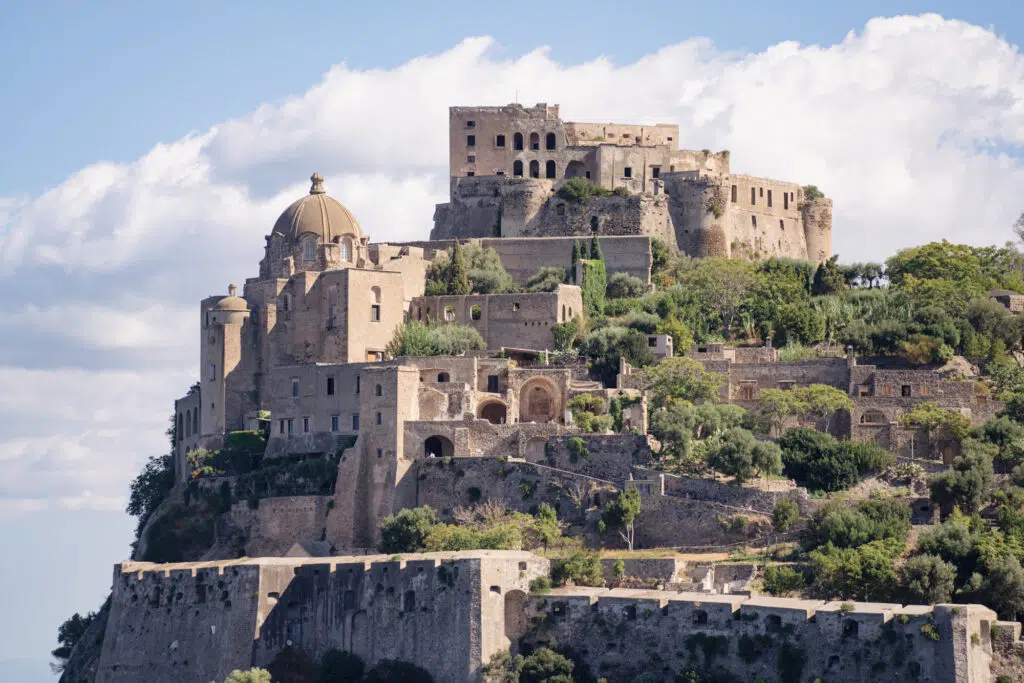 One of the most popular Ischia attractions, the Aragonese castle sits on a volcanic island connected to the mainland via a bridge. The castle has withstood a host of invasions and was once a haven for locals fleeing volcanic eruptions.
During the 1700s, the tiny island housed over 2000 people and had 13 churches. Today, the castle is one of Italy's most photographed sights, it is privately owned and open to visitors who wish to learn more about its heritage.
Follow the trails to discover the Cattedrale dell' Assunta, the Convent of Santa Maria della Consolazione and Casa del Sole Museum, or shop for locally made souvenirs in the charming bookstore/boutique.
Admire the sunset from the terrace while sipping cocktails at Bar Il Terrazzo, or feast on delicious local cuisine at the hotel restaurant set inside a former monastery.
Tips for visiting:
Wear shoes with a good grip when visiting, as even when the ground is dry, the polished stones can be slippery underfoot. If you're unable to walk up a lot of stairs, perhaps it's better to call ahead, as although there is an elevator on-site, it's not always in service.
If you're looking for a beautiful viewpoint before or after your visit, head to this lesser-known gem nearby.
Relax on Ischia's Beautiful Beaches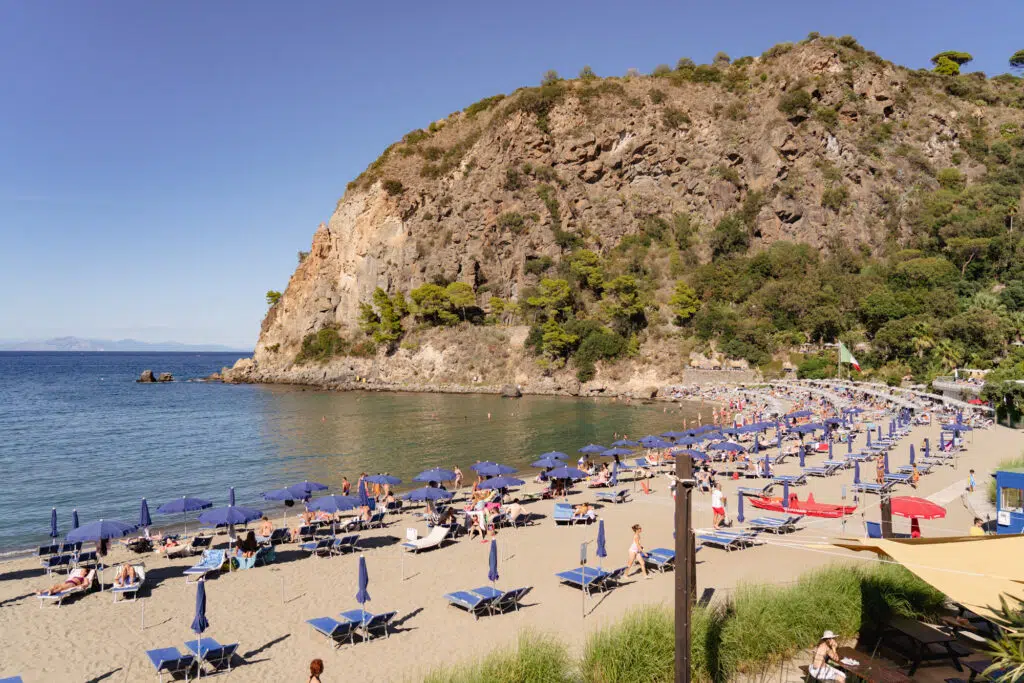 Although not a traditional beach destination, Ischia is still well-known for having blissful beaches, and there are plenty that cater to families, couples and those who simply want to swim, snorkel, and soak up the sun in relative solitude away from the crowds.
One of the best family places to visit in Ischia is Citara Beach near Poseidon Thermal Park. The waters here are perfect for snorkelling, lifeguards patrol during high season, and waterfront restaurants provide a lively backdrop to the cobalt blue sea.
Le Fumarole Beach is geothermal – known for its mineral rich thermal waters and hot sands. Locals have been known to cook food underground here as temperatures get so hot. And as the beach is close to Sant'Angelo, a relaxing morning on the beach can be coupled with dinner in a taverna overlooking the island at sunset.
Looking to escape from peak season tourists? Head for pretty San Montano Beach in Lacco Ameno. The beach is split into two sections – one part is owned by Negombo Thermal Park and the other is free for public use.
Rocky cliffs covered in vegetation offer shelter on breezy days and tropical trees dot the hillsides providing a picture-postcard canvas for photographers. The waters are shallow here too, making it a great place for swimming with younger children.
Tips for visiting:
In the summer months, it pays to either arrive early or book your sunbeds in advance. Many of the best beaches in Ischia follow the rules of the lido – that is, you have to pay to stay. Two sunbeds and a parasol are normally around €30 for the day. There is usually a small free area too, but that also fills quickly in the peak season.
Take a Day Trip to Procida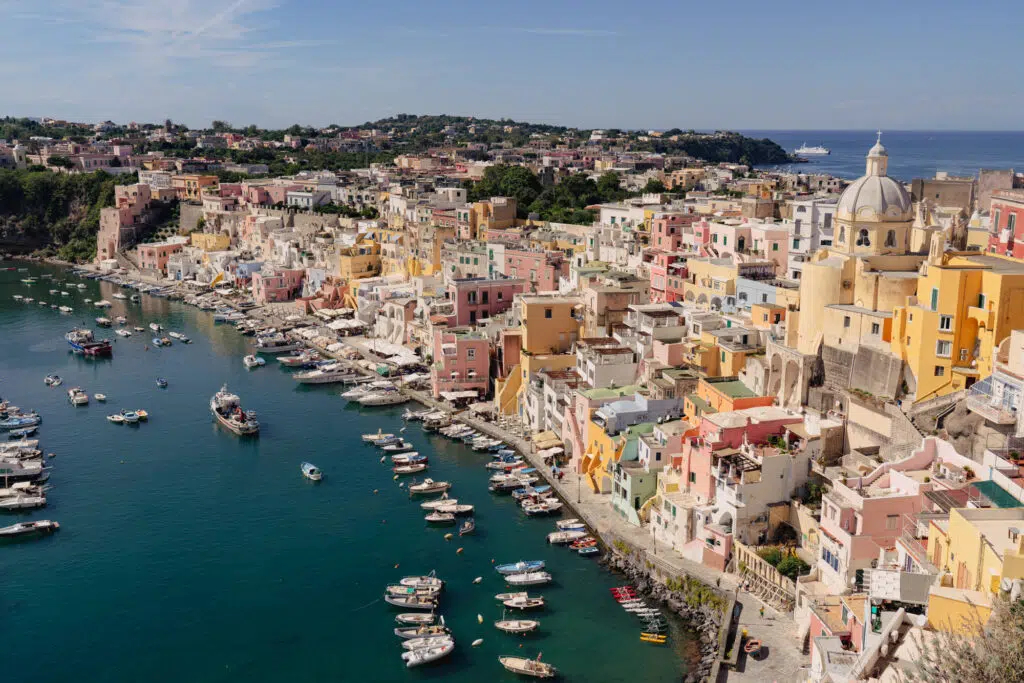 Procida is the neighbouring island to Ischia (and Italian Capital of Culture for 2022), where time appears to have stood still. It's a small island, measuring a smidge under 4 km2 and lesser known compared to Capri or Ischia, but possibly even more charming. With pretty fishing villages, fortified towns perched on hilltops, and black sandy beaches, the island has long been a favourite of Hollywood movie directors.
Explore colourful and characterful Marina della Corricella with its 17th-century harbour, imagining life as it was centuries ago in this part of Italy. Along the water's edge, awning-covered eateries and pastel-coloured houses draped with laundry jostle for attention as wooden fishing boats bob back and forth in the gentle sea.
Spend time relaxing on Chiaolella beach or hike to Belvedere Elsa Morante for panoramic vistas of the bay and island (access is currently only permitted through an organized tour). The medieval fortress town with peaceful streets, museums and churches is a great place from which to watch the sunset.
Don't leave Procida without sampling the local citrus salad or 'Tongues of Procida', a mouth-watering puff pastry treat with custard cream.
Tips for visiting:
You can book your day trip to Procida with the usual ferry companies, or you can head to the main port towns and look for a local company running day trips. The only downside to the second approach is that time on the island is very limited (sometimes as little as 2 hours). Whereas by booking your own ferries, you can pick the duration that suits you.
Soak up the Views from Giardini la Mortella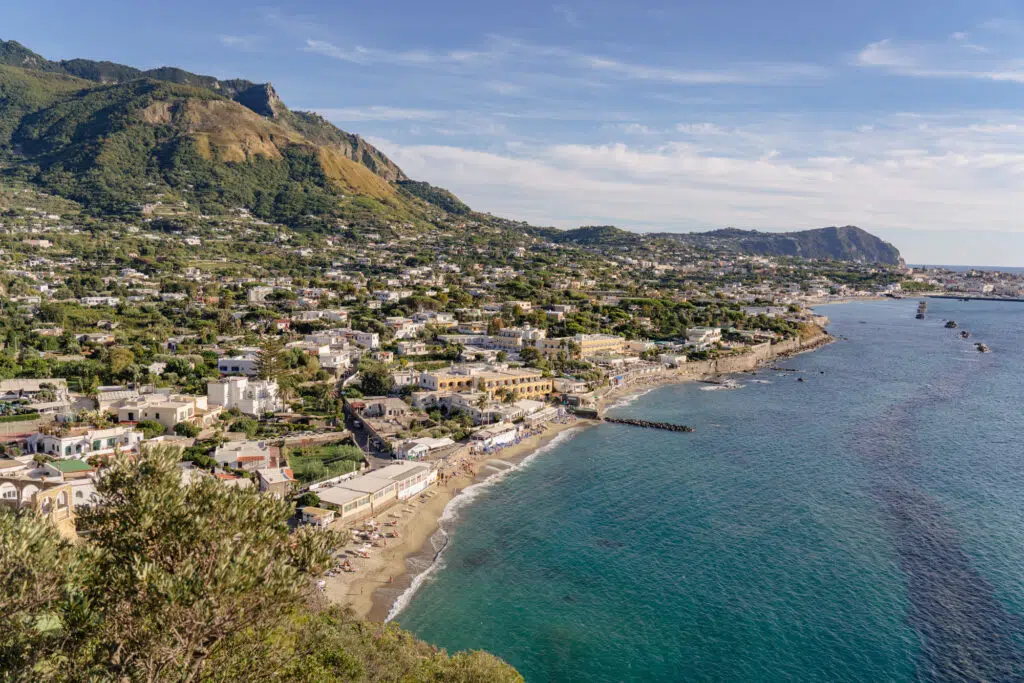 Tucked away amongst volcanic rock formations, Mortella Gardens stretch for over two hectares and are home to a huge collection of rare and exotic plants.
The brainchild of Lady Walton, her composer husband Sir William Walton, and landscape architect Russell Page, the botanical gardens, constructed in the late-1950s, are home to abundant vegetation with tropical greenhouses, meditation spaces, sculptures and water fountains.
The gardens are divided into two sections, the valley in the lower garden and the terraced hill above, both linked by steps and pathways. Wander along winding paths, inhaling intoxicating floral scents while admiring lotus flowers, agavi, bamboo and Japanese maple trees. Spend time at the Crocodile waterfall and photograph incredible views across the bay of Forio.
During spring and autumn months music recitals are held here and guided tours are available in the winter months if booked in advance.
Tips for visiting:
There's a free car park at the back (top end) of the gardens and you can enter this way through a supplementary ticket booth. Adult tickets currently cost €12, but if you wish to take in a concert while you're there, you can buy a combined ticket for €20.
There are plenty of toilets scattered throughout the gardens, and there's a beautifully scenic restaurant where you can buy a bite to eat, or simply sip on a refreshing drink while savouring your surroundings.
Spend a Day in Sant'Angelo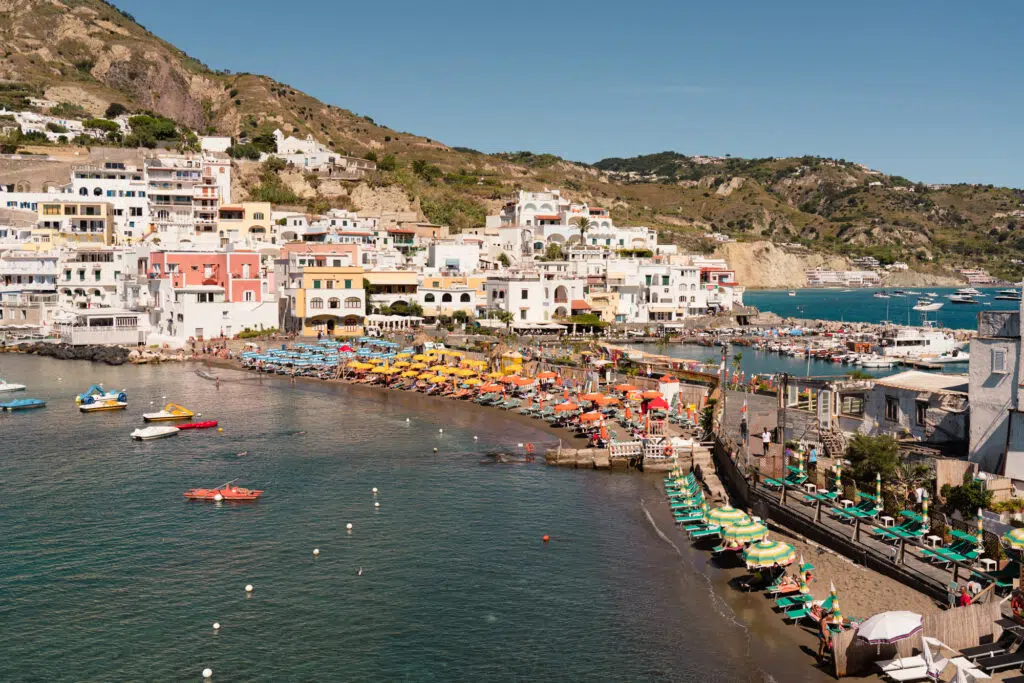 One of the prettiest seaside towns in Ischia, Sant'Angelo is easily recognized for its unique geography, including the iconic double-sided beach that stretches out to meet a bush-clad hill on the other side.
With an array of activities on offer, you can spend the day swimming, strolling the pretty streets, wandering up to the hilltop church, digging your own hot pool at Le Fumarole, or simply sitting back and people-watching while sipping an Aperol in the town square.
Shopping is a prime activity in Sant'Angelo, and you'll find no shortage of tempting boutiques to browse. Don't miss a trip to Sergio Modamare for linen dresses and leather bags, or Corallium Gioielli for beautiful jewellery.
Tips for visiting:
You can get to Sant'Angelo by bus, boat, or car. If arriving in your own car, the car park located here is easy to access and cheap (€2 for the first hour and €1/hour thereafter when I visited).
Shop and Dine along Corso Vittoria Colonna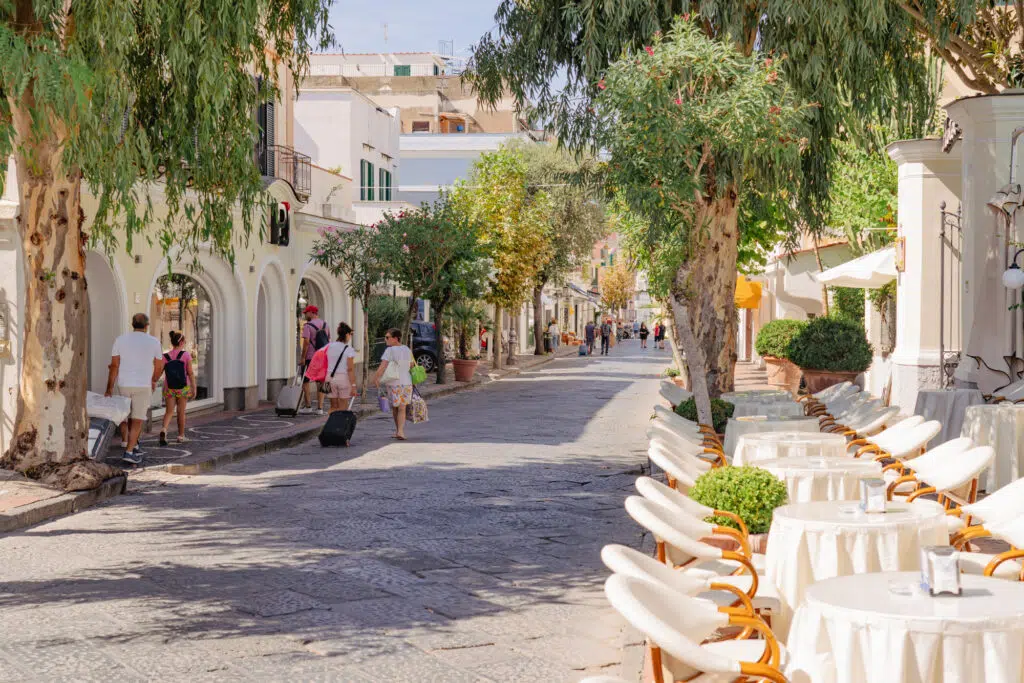 The tree lined street of Corso Vittoria Colonna in Ischia Porto is the island's main shopping throughfare. It's the perfect place to pick up souvenirs for family and friends, a new item of clothing or even some glitzy jewels and exclusive perfumes.
Designer shops are punctuated by chic wine bars, cafes, pizzerias, and seafood restaurants, plus, several three and four-star hotels are ideally located here to enjoy all that the port of Ischia has to offer.
Break up the shopping spree with a cocktail or gelato near Miramare e Castello beach with splendid views of Castello Aragonese.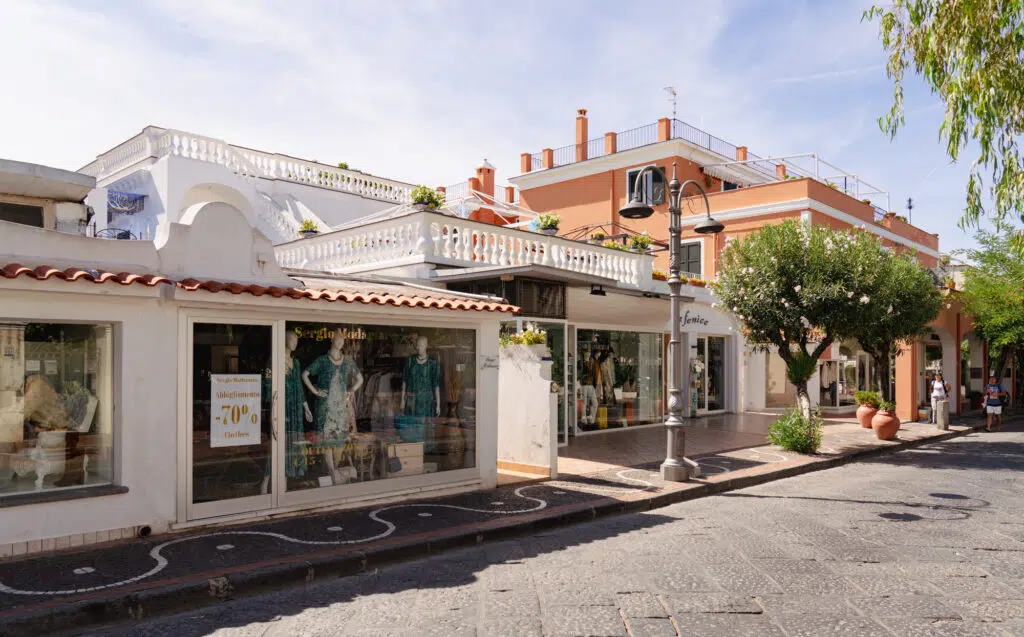 Tips for visiting:
Come September, you'll find many of the stores here have heavily discounted goods – presumably to clear out their summer stock. So save the date if you like picking up a bargain!
Soak in Ischia's Hot Springs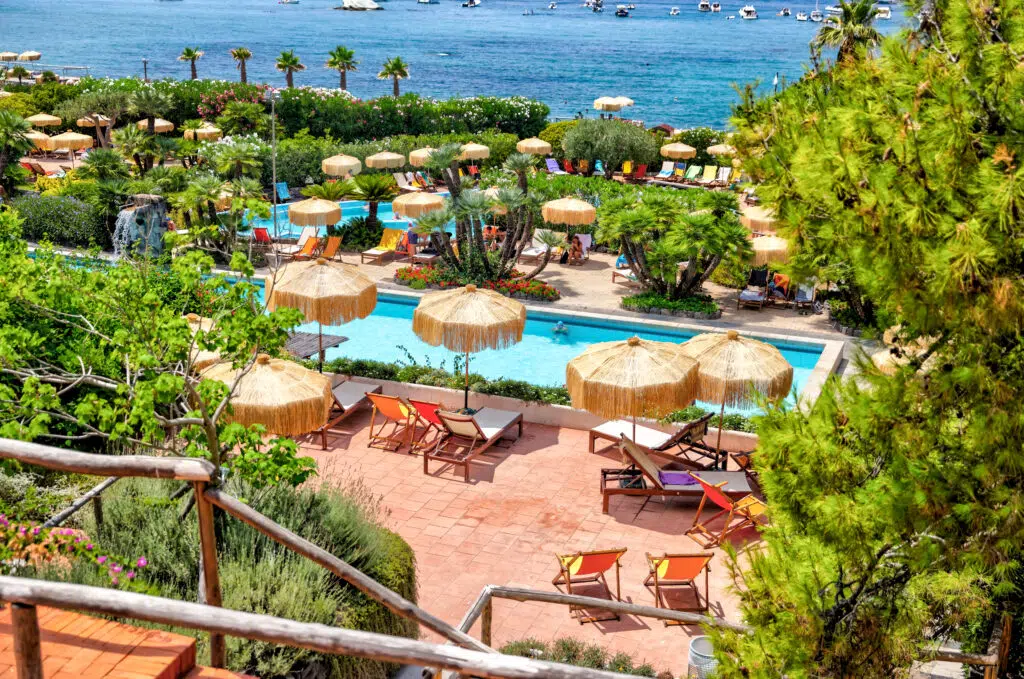 One of the most enjoyable activities in Ischia, is visiting one of the island's many thermal spas. The waters are said to have healing, therapeutic benefits, and there are over 100 natural hot springs geothermally heated by volcanic activity dotted around the island.
The most popular thermal baths are at Poseidon located on the Bay of Citara on the western shores of Ischia. Set next to the sea, it has over 20 pools fed by geothermal springs ranging in different temperatures, plus, saunas, hydromassage facilities and waterfalls.
In contrast, the oldest, most authentic healing spa on the island is Cavascura in Sant' Angelo with mud baths and steam caves. Alternatively, spend time at Le Fumarole beach, a unique place where heated steam jets exude from the sand.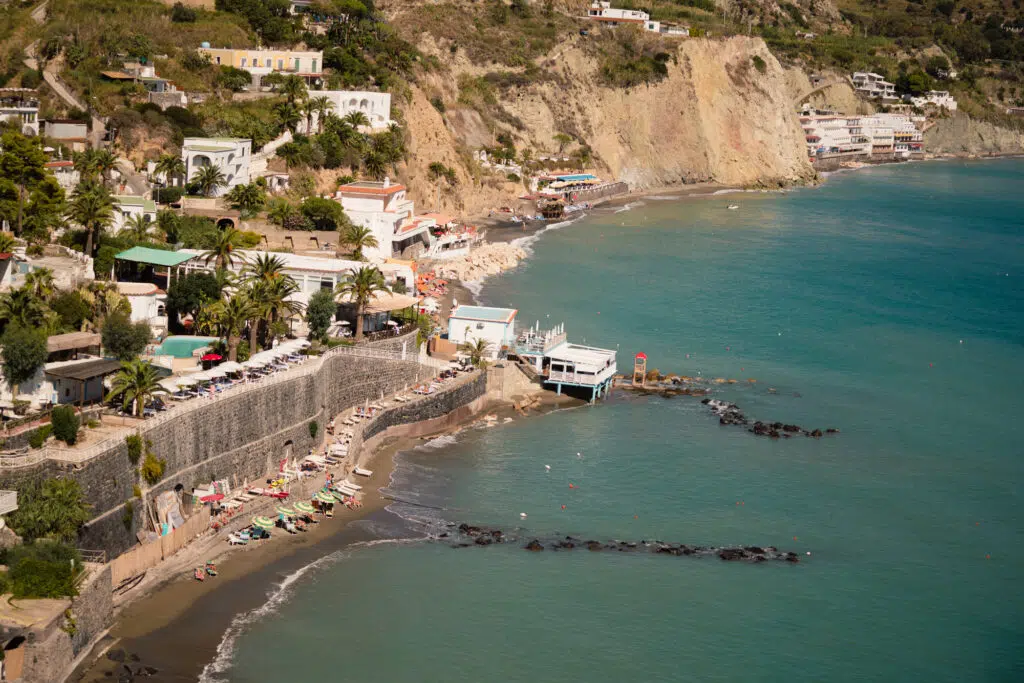 Tips for visiting:
Spend a little time thinking about the type of spa experience you're after before booking, as they can vary quite wildly.
Some, such as Poseidon, offer a more modern take on this ancient practice. While others, such as Cavascura, are much more rustic and quirky. Also, be aware of the various rules at your chosen location, such as access for children, or the need to wear a swimming cap.
Explore the Coast by Boat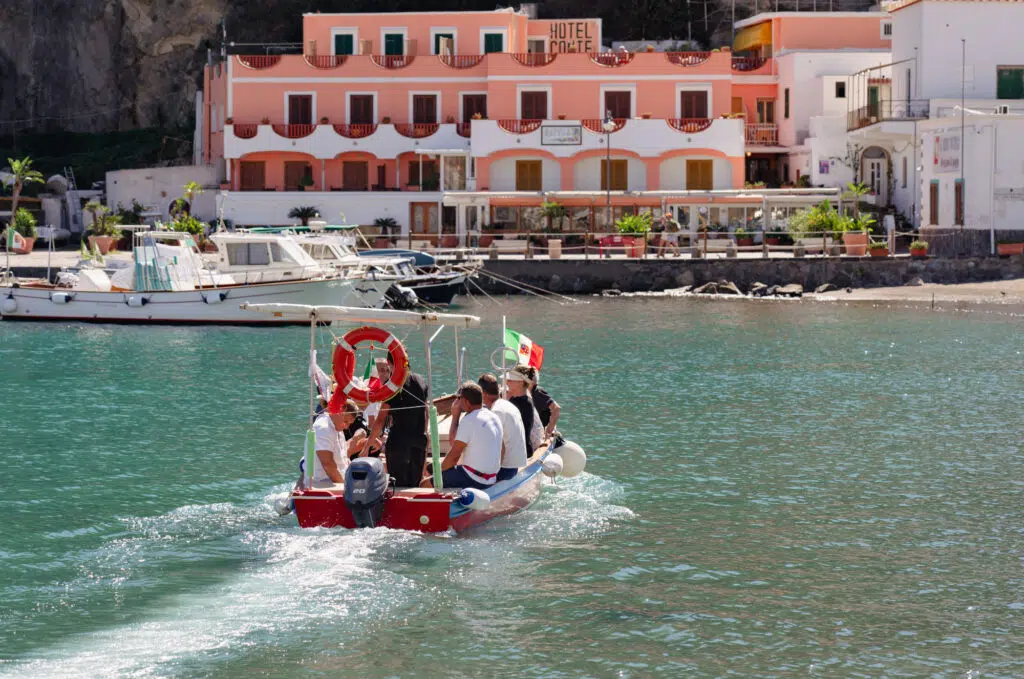 The fastest way to travel between coastal locations on Ischia is via water taxi. A handful of boat companies serve the island, with frequent trips departing from Sant' Angelo and Ischia Ponte to different beaches and grottos or to hiking trails located along the coastline.
There are also options to charter private boats with or without a skipper if you plan to venture to neighbouring islands or the glitzy cliffside resorts along the picturesque Amalfi Coast. These boat tours can be discovered in most towns with ports on Ischia.
Highlights of the coastline include Punta Sant' Angelo, at the southernmost tip of the island, Le Fumarole Beach with its volcanic activity and La Grotta del Mago. If snorkelling or diving are your activities of choice, stop in the bay of La Scannella to discover caves and underwater rocks in crystal clear waters with high visibility.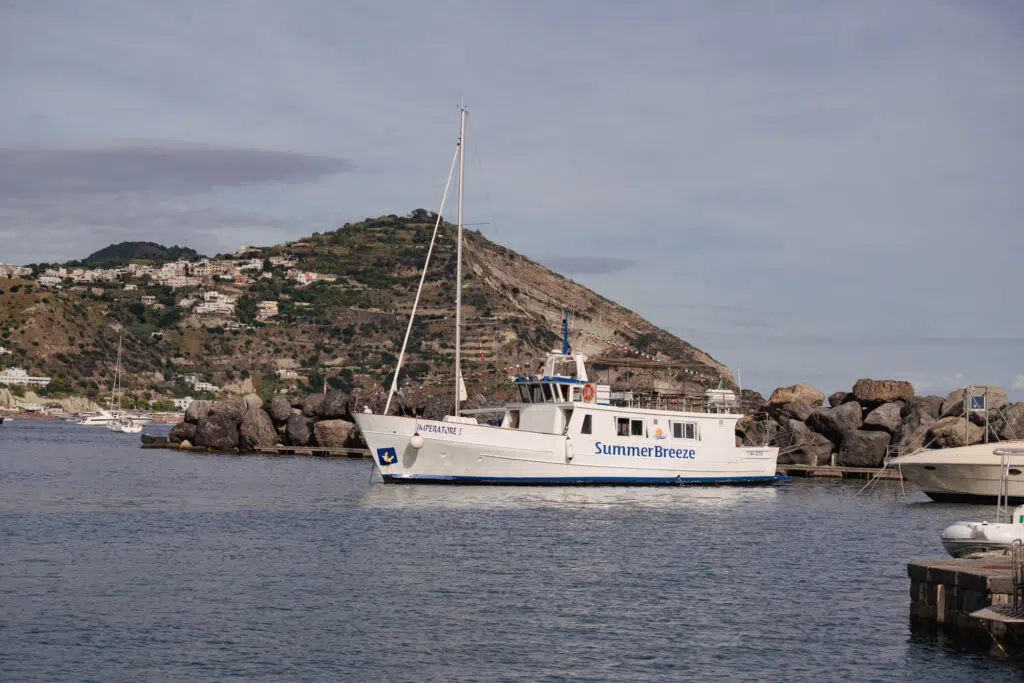 Tips for visiting:
You can find some boat trip options online on sites such as my usual go-to Get Your Guide. But there are many more options available at the ports – advertised through fliers and billboards. If you fancy being a little more spontaneous, you can simply stroll the port until you find a tour that suits your style.
Climb to the top of Mount Epomeo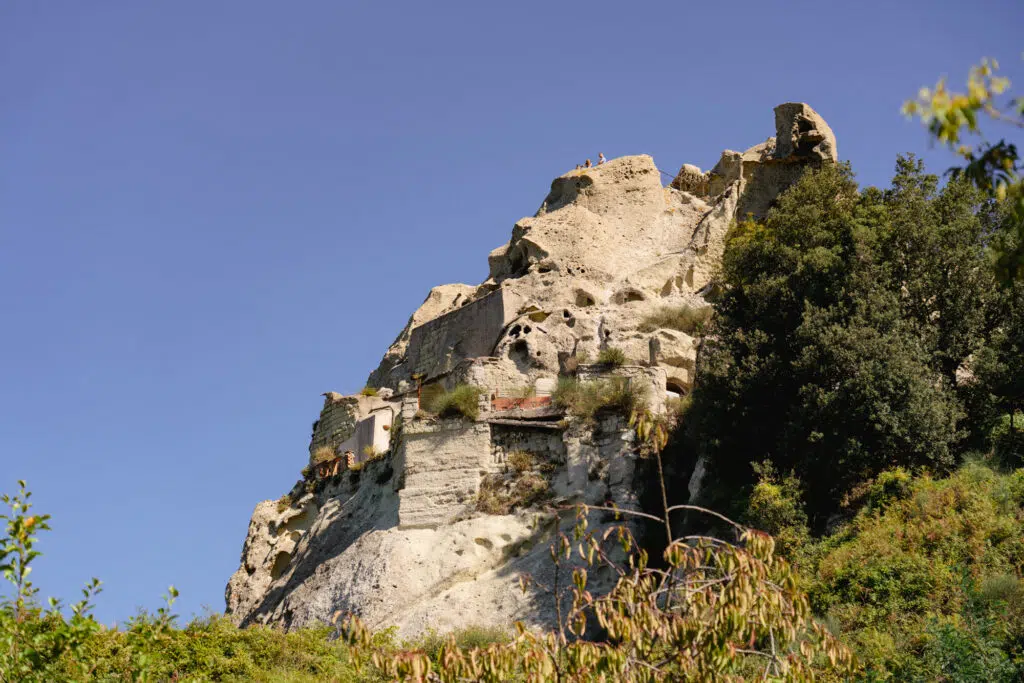 One highlight of things to do on Ischia is to trek to the summit of Mount Epomeo. The name derives from the Greek for "to look around" which is fitting, as the highest peak offers 360-degree vistas of the island and across the Tyrrhenian Sea.
Monte Epomeo is a volcanic horst, which can be seen from most areas of the island standing at almost 790 metres above sea level. It's covered in verdant terrain and the slopes are peppered with Ischia's vineyards. Close to the summit, white lava can still be seen – remnants of an ancient eruption.
Begin an exploration from Serrara Fontana and hike along the trail. The climb can be quite strenuous taking around 1.5-2 hours to complete, but once at the summit, you can marvel at magnificent views while rewarding yourself with a cool drink at the onsite rustic bar.
After your descent, stay for a while to explore Serrara Fontana. The commune is divided into several small villages which include Ciglio, Sant' Angelo and Succhivo. With pretty churches, farms, and trattorias aplenty, the region showcases a completely different side to the island.
Tips for visiting:
If you don't fancy hiking for so long, you can drive up Via Militare from Serrara Fontana, and park closer to the peak. Either drive all the way to the Miscillo Sapori restaurant, which has a paid car park next to it. The hike from here is approximately half an hour. Or stop a little before, at the entrance to Via Petto where there's enough offroad parking for a handful of cars (free). It'll take you an extra 10 minutes to walk from here.
Visit Romantic Chiesa del Soccorso in Forio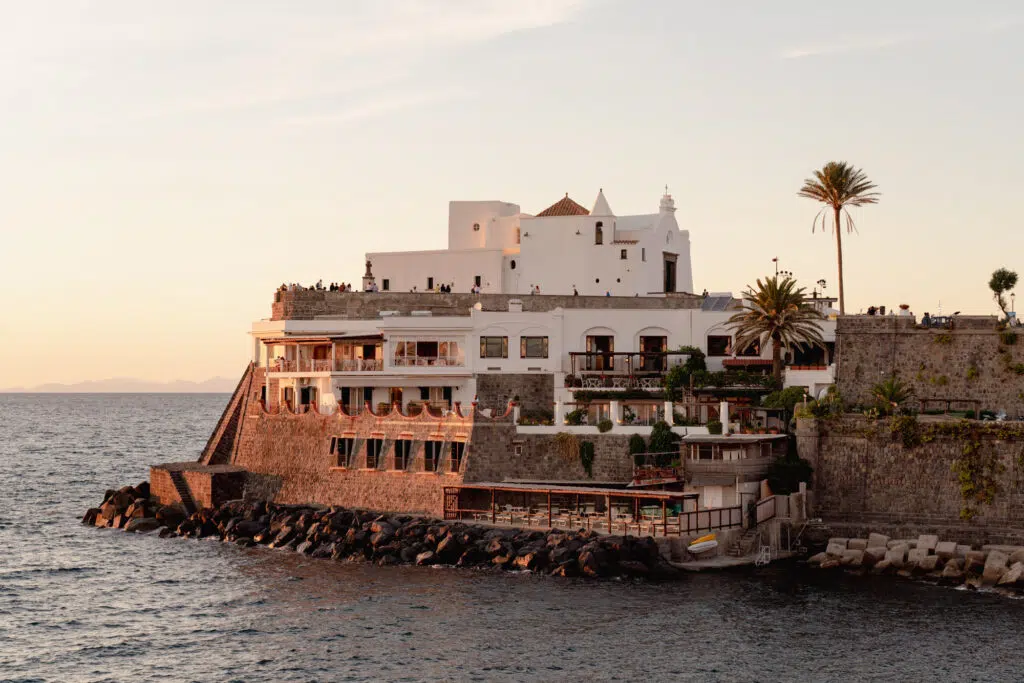 One of the top things to do in Ischia, is to pay a visit to the Soccorso church at sunset. Guarded by a solitary palm tree, this picturesque whitewashed church juts out into the sea in the Bay of Forio.
Although the 14th-century Moorish/Byzantine church has been rebuilt on several occasions, remnants of its former life as an Augustinian Monastery can still be seen in the intricate stone masonry designs.
In the chapels, well-worn oil paintings are still displayed, ceramic tiles line the floors, and above the main altar, there's a wooden figure of the Madonna del Soccorso for whom the church is named.
All these aspects allow visitors to curate a portrait as to how this tiny church functioned in its heyday. Stay a while, soak up the views of Forio and wait until the sun sets to experience an incredible kaleidoscope of blazing colours in the sky.
Tips for visiting:
Forio is well regarded as the best place to watch the sunset in Ischia, so don't expect to have this spot to yourself! An alternative option for sunset, once you've visited the church, is to grab a table at U' Paravis' – a small bar overlooking the bar and with front row seats for the action.
Discover the Island's Museums
Visitors who enjoy embracing local culture and wish to learn more about the history of Ischia Island should venture to some of its many museums.
Santa Restituta Museum boasts a vast collection of archaeological relics, ceramics and sculptures discovered from ancient settlements of the Greeks and early Christians in Ischia.
Interested in learning more about Ischia's seafaring heritage? Maritime memorabilia can be viewed in Museo del Mare, housed in the Clock Tower of Ischia Ponte.
Also in the same town, Museo Diocesan boasts unique displays of sculptures, paintings, marbles, and silver taken from churches around the island with artefacts dating from the 4th to 20th centuries. One highlight is the Sarcophagus showing the 'Miracle of Bethesda' from one of the earliest periods.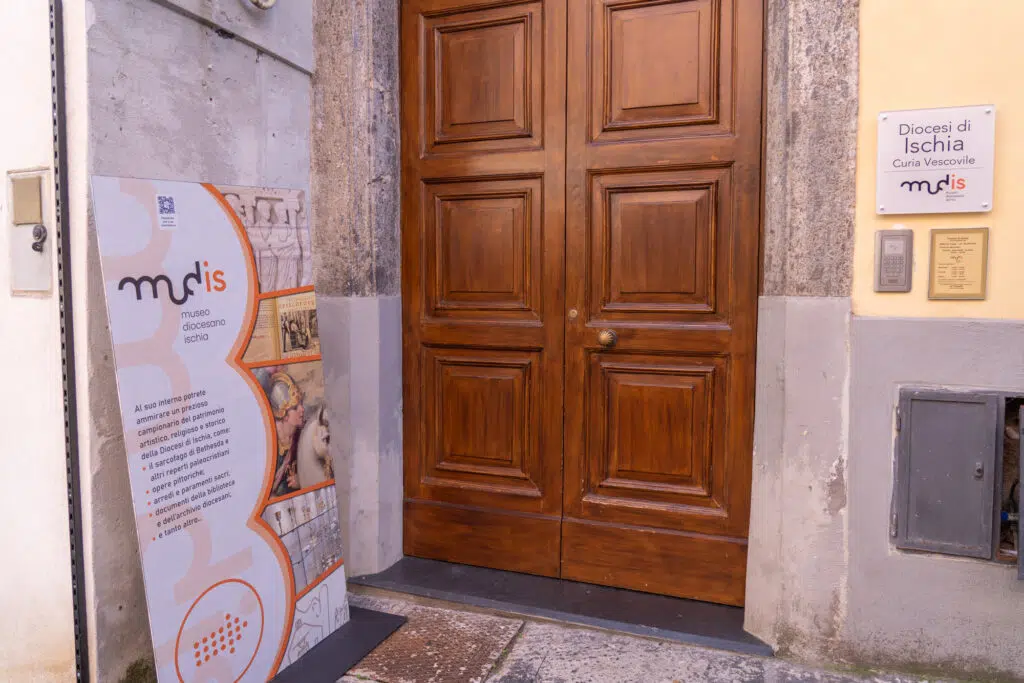 Tips for visiting:
Just because these museums say they're open online, it isn't always the case. So plan your visit alongside other things you want to see and do in the area to avoid disappointment if you find the doors inexplicably shut (as I did!).
Photograph the Mushroom Rock at Lacco Ameno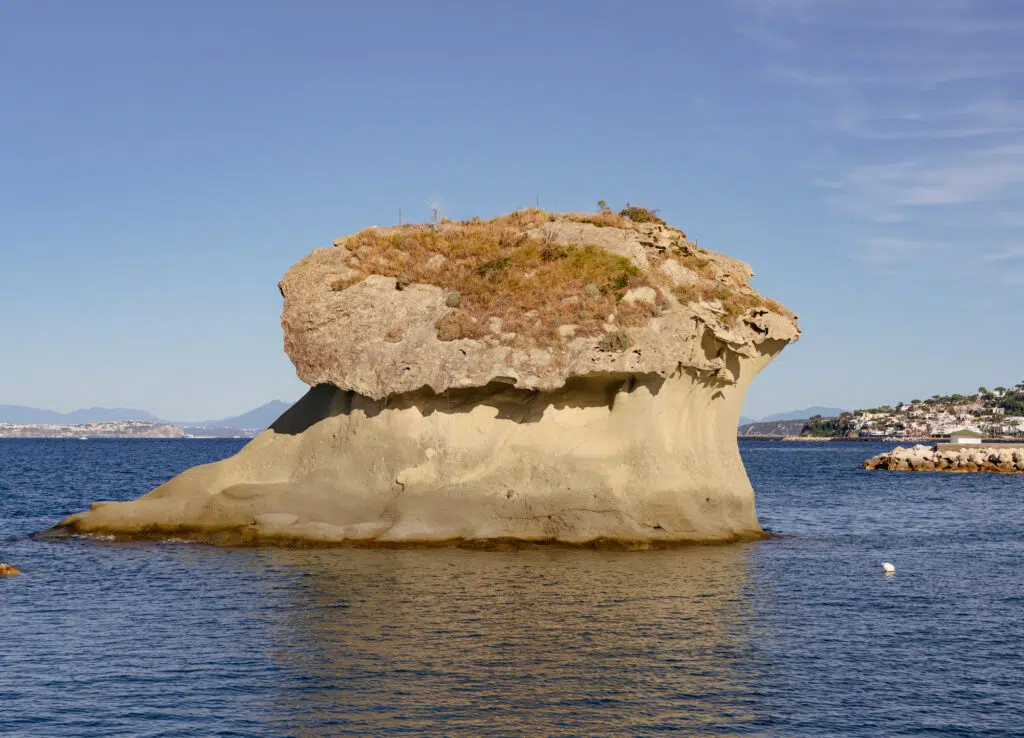 Ask any local about things to see in Lacco Ameno, and each one will reply that you must see 'Il Fungo'. The tufa rock emerges majestically from the water, shaped like a giant mushroom and is one of the top Ischia tourist attractions.
The 10-metre-high rock is a result of Mount Epomeo's volcanic activity many years ago and it encourages visitors to delve more into the geological history of the town and island.
Lacco Ameno is one of the smallest towns in Ischia, with tree-lined boulevards, colourful boutiques, churches, and historic landmarks jostling for space in the tight-knit streets. The Aragonese Tower dominates the shoreline, once preventing citizens from sea invasions, and the archaeological area of Pithecusae nearby allows tourists to explore the region's ancient origins.
The town really comes alive during the summer months, as promenade cafes play live music as locals feast on delicious fare.
Tips for visiting:
Come for the rock, but stay for the atmosphere of this lovely little town. Settle in for a drink with a view of Il Fungo, at one of the many seaside restaurants. And be sure sure to climb up to the viewpoint overlooking the town. Follow the stairs to the left of the Regina Isabella hotel, or drive up towards the Lacco Ameno cemetery.
Learn about Local Viniculture
No holiday in Ischia would be complete without sampling some of the island's famous wines.
Viniculture has been a core activity of the island since the Greeks and Romans arrived centuries ago, and in recent years, the combination of a mild Mediterranean climate, sea breeze and volcanic terroir has led the island's wines to be exported all around the world.
Most Ischia vineyards can be discovered on the slopes of Mount Epomeo or in hilly areas on the island. It's possible to visit Cenatiempo Vini in Serrara Fontana for sample tastings accompanied by homemade bruschetta, cheeses, charcuterie, and jams.
Tips for visiting:
During a stay in Ischia, sample white wines produced from "Forastera" or "Biancolella" grapes and pair with fish and seafood or try the or the "Piedirosso" ruby red, fruity local wines with traditional meat dishes and cheese plates.
See the Pilastri Aqueduct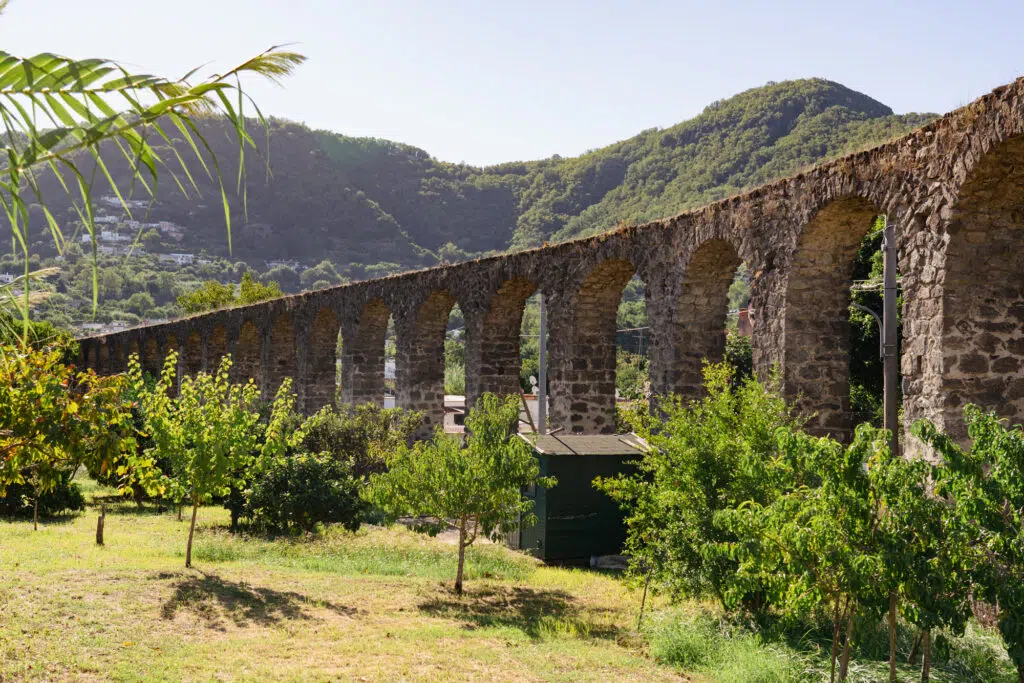 The Pilastri Aqueduct is one of the most unique things to see in Ischia. The towering, dual-arched stone aqueduct in Ischia Ponte appears to the onlooker as Roman in design, however, it was constructed much more recently around the late 1600s.
As water sources during the late 1500s became scarce, the governor of the district decided to impose a 'grain tax' on citizens to fund a new aqueduct construction. These new taxes didn't sit well with villagers and work was suspended for almost a century.
The Bishop of Ischia eventually pushed the construction to completion and taxes were forgotten as water flowed from the source to the village of Celsa once more.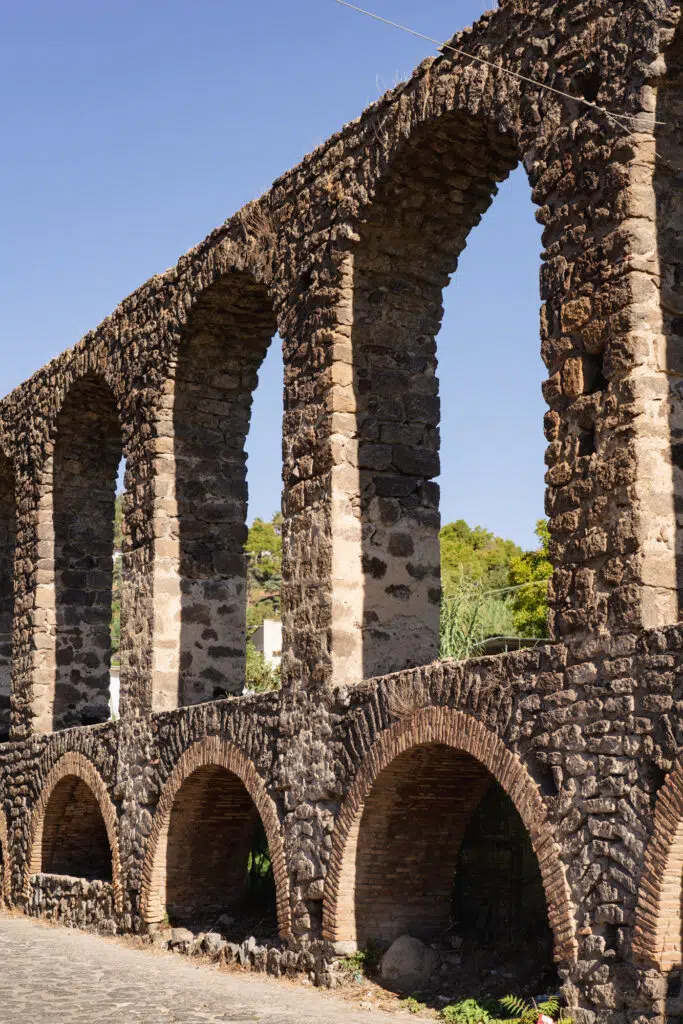 Tips for visiting:
While the Pilastri Aqueduct could have remained a symbol of strength and inspiration to the local community of Ischia Ponte – after all, it spelt the cure to many years spent lacking drinking water – the reality is that this area is a little dilapidated in appearance. So come to marvel at one of Ischia's historic sights, but don't expect much in the way of fanfare.
Pop into Michelangelo's Tower (Guevara's Tower)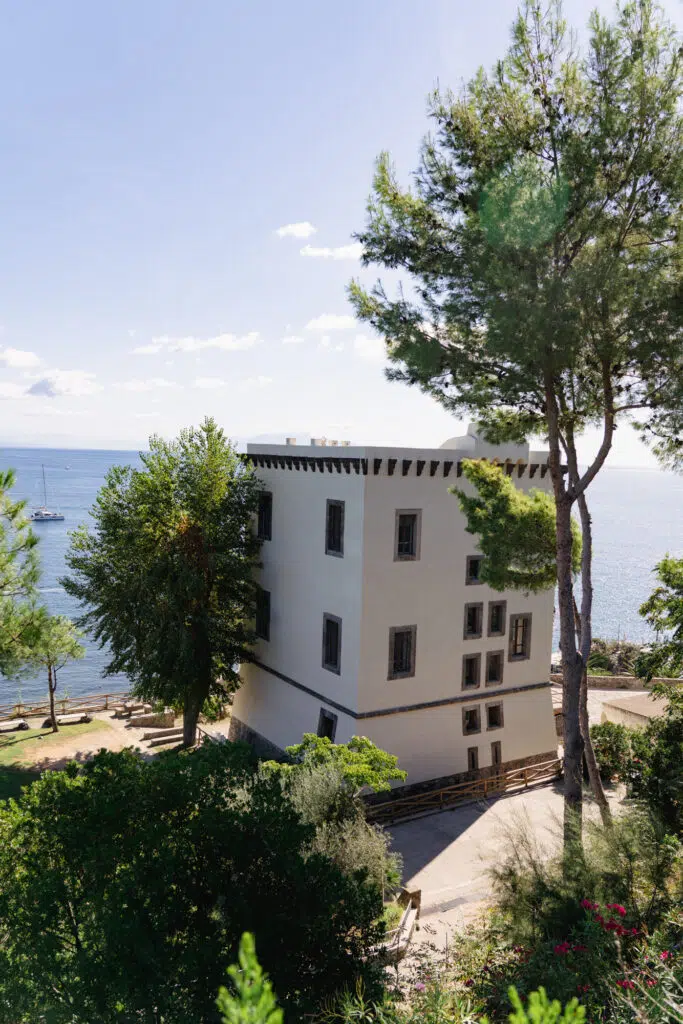 Michelangelo's Tower was built on the instructions of the King of Aragon in the 15th century and was owned by the Guevara family until the 1800s. The fortress, overlooking the sea, was constructed to protect the island from incoming invaders.
Locals say that artist and sculptor Michelangelo fell in love with an Italian poet by the name of Vittoria Colonna on Ischia, and that the paintings within the tower are some of his great works painted during a sojourn here.
The tower is best viewed from the sea by boat, but if you find yourself wandering nearby on dry land, throughout the year it also hosts art exhibitions.
Tips for visiting:
Superbly positioned to take in the views of Castello Aragonese, it's worth the trip here for that alone. Entrance is free, and the tower is open every day except Monday.
Boat or Kayak into Ischia's Mysterious Grottos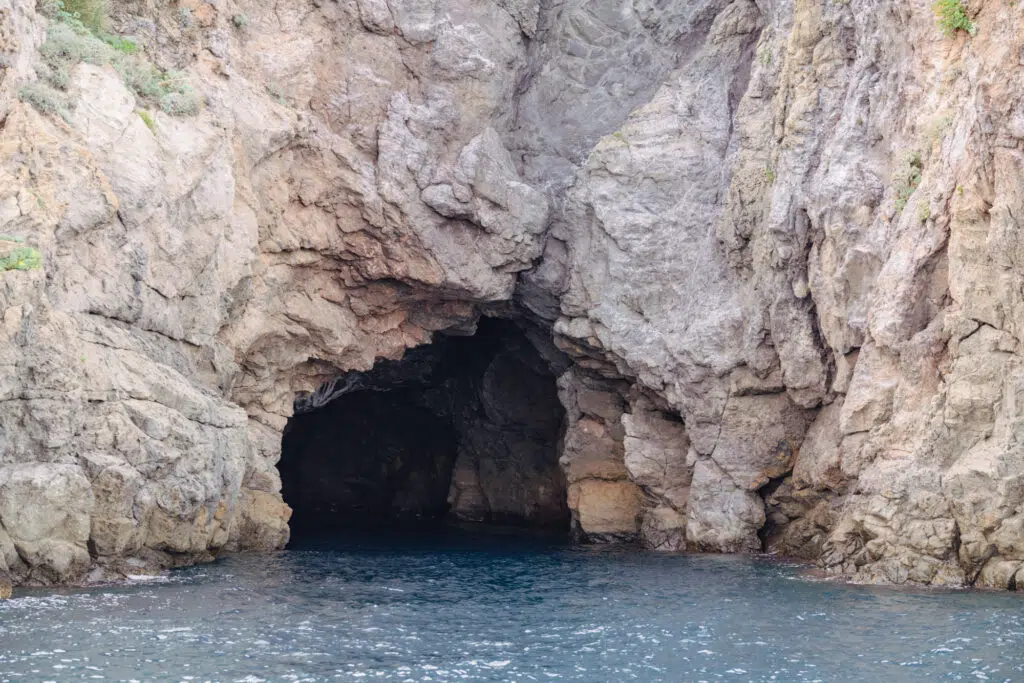 The coastline of Ischia hides a plethora of secret caverns and grottos, each one with a mysterious tale attached. Sail or kayak to Grotta del Mago – the 'Magician's Grotto' on the south-eastern shores of the island and listen to stories of the old giant sitting on a rock who helped fisherman score their daily catch and shelter them from storms. There are also tales of mysterious, ethereal voices surrounding the cave, listen for them as you explore!
Continue an adventure to Grotto Verde nearby, also known as the 'green grotto'. The sun's rays and the cavern and water combined reflect green on the skin, giving you an unusual emerald glow. It's possible to charter a boat, hire a kayak or enjoy an Ischia sightseeing excursion to most grottos surrounding the island of Ischia.
Tips for visiting:
If travelling by boat via the town of Sant'Angelo, be sure to also keep an eye out for the elephant grotto (shown above on the left). You can see all of these grottos on a circular tour of the island, but some don't stop to allow you to swim into the grotto – so choose your tour wisely.
---
As you can see, there are plenty of fun things to do in Ischia island during your stay. From historic attractions and sandy beaches to exploring ancient castles, hiking mountains, and discovering local food and drink, there's plenty to occupy even the most demanding travellers.