Sitting pretty in the Bay of Naples, Procida is a petite natural wonder that has been largely overshadowed on the tourist trail by its more famous neighbours Capri and Ischia.
However, the island of Procida has just as much charm, with pastel-coloured houses on backdrops of boat-dotted seas and natural reserves. First and foremost a fishermen's haven though, that charm is delivered with huge doses of authentic island living.
It's all about taking things slowly as you savour delectable local produce and meander to historic sites. On any one day in Procida, leisurely souvenir shopping trips merge into refreshing swims and bowls full of spaghetti to keep you going to the next location – some of which you'll recognise from the movies.
Best of all, as Italy's Capital of Culture for 2022, right now is a brilliant time to visit Procida Island.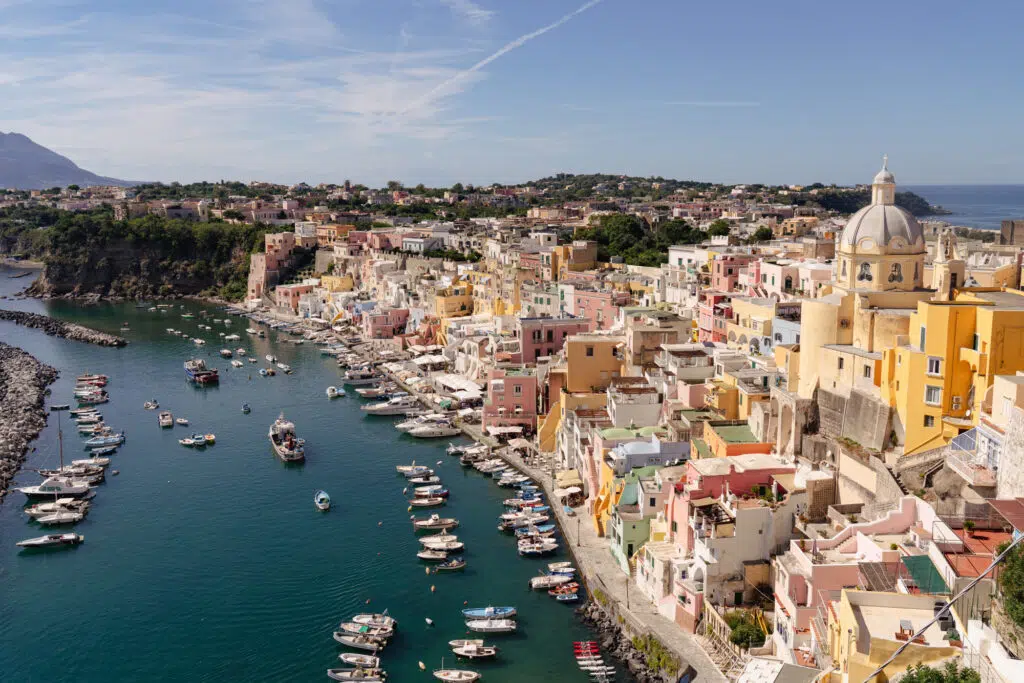 Italy's Capital of Culture 2022
Capital of Culture cities, or islands, in this case, highlight the diversity and richness of culture across Italy.
Procida's approximate 10,500 locals take immense pride in a long history of traditional artistry, along with Ancient Greek artefacts and crumbling ruins whispering secrets of the long-ago past.
A calendar of events showcases the island's unique identity with artistic projects like 'paper fleet', featuring origami boats made by the local children. Whether you experience an event or not, it's easy to see why the island has inspired many works of art, including a role in Alphonse de Lamartine's novel Graziella.
Moving forward into the future, the Italian Capital of Culture title ensures more investment in the island's distinct arts, crafts and traditions.
---
Best Things to do in Procida
It's just as easy to sink into the tranquil atmosphere of blissfully doing nothing much at all, as it is to launch into adventure on Procida holidays.
Whether you're out on the water, venturing into mysterious laneways or getting a second serving of lemony pasta, expect to quickly fall under the spell of the smallest inhabited island in the Gulf of Naples.
Admire Marina Corricella
You'll feel like you've wandered into a vintage postcard at the 17th-century Marina Corricella, Procida's oldest fishing village.
Buildings in shades of pink, yellow, green and blue appear to tumble down the hillside towards the sparkling harbour. Apparently, they were painted so beautifully bright to make it easy for local fishermen to spot their homes from the sea.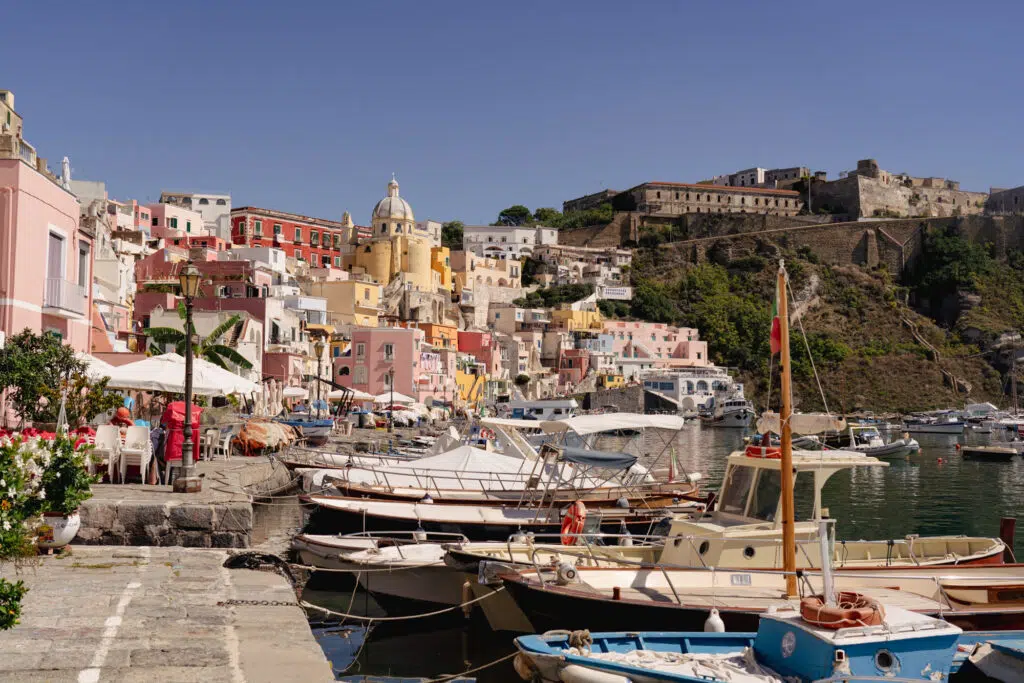 To add to the romance, fishing nets rest across the working harbour and a maze of staircases weave by houses decorated by domes and arches. Plus, the narrow lanes are car and scooter free, so it's a meandering delight for everyone.
Navigate your way up to the Church of Santa Maria delle Grazie and Piazza dei Martiri at the top of the hill – and have your camera ready for sweeping views. Back down at the marina, choose a charming spot for ice cream or Italian seafood feasts.
Climb to Terra Murata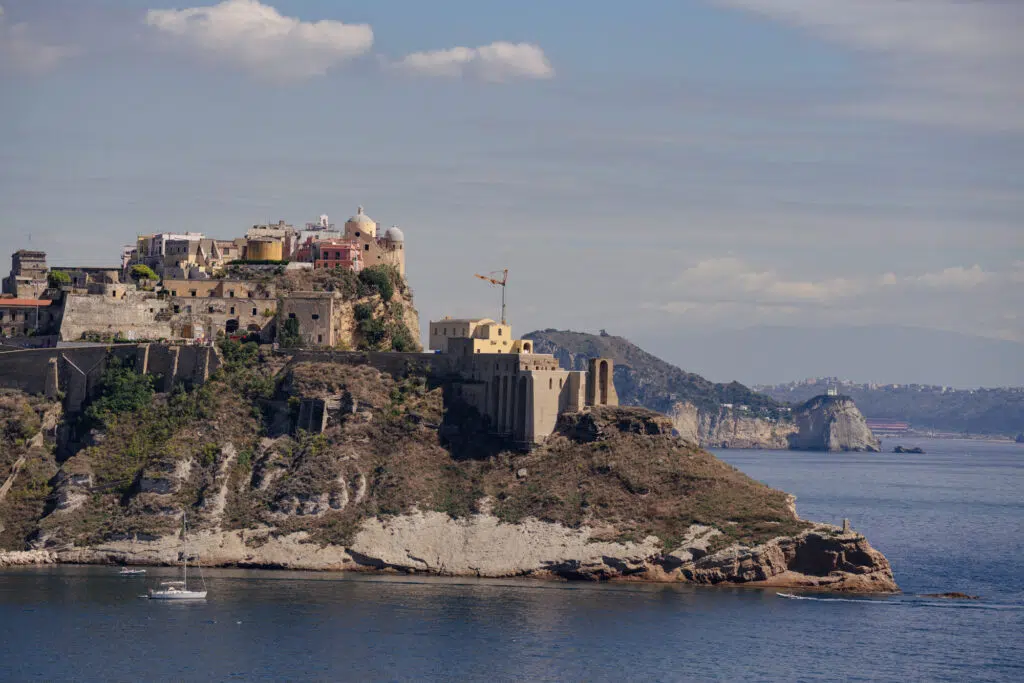 Dramatically set on a rocky point above Marina Corricella, Terra Murata is the highest point of the island. Exploring the fortified medieval village is also one of the top things to do on Procida.
Charming buildings built into the cliff face line narrow lanes, and you'll reach them via a steep walk that's worth every step. Wander the backstreets and you're treated to surprising and awe-inspiring viewpoints over the Bay of Naples.
Admire the works of art displayed in the museum of the Abbazia San Michele Arcangelo, an 11th-century Benedictine abbey transformed into a church.
To see how locals lived in the 1800s, check out the Graziella House Museum. The reconstruction of a typical house is dedicated to the protagonist of Alphonse de Lamartine's novel, complete with a panoramic terrace to add to the ambience.
Take a guided tour of Palazzo d'Avalos, a crumbling ruin built in 1500 to house the island's governors until 1700. In 1830, it was converted into a prison for political captives. By 1988, it was abandoned and left to become the picture of overgrown romance it is today.
Continue your history hopping at the Abbey of San Michele to see paintings of St Michael battling Satan.
Explore Casale Vascello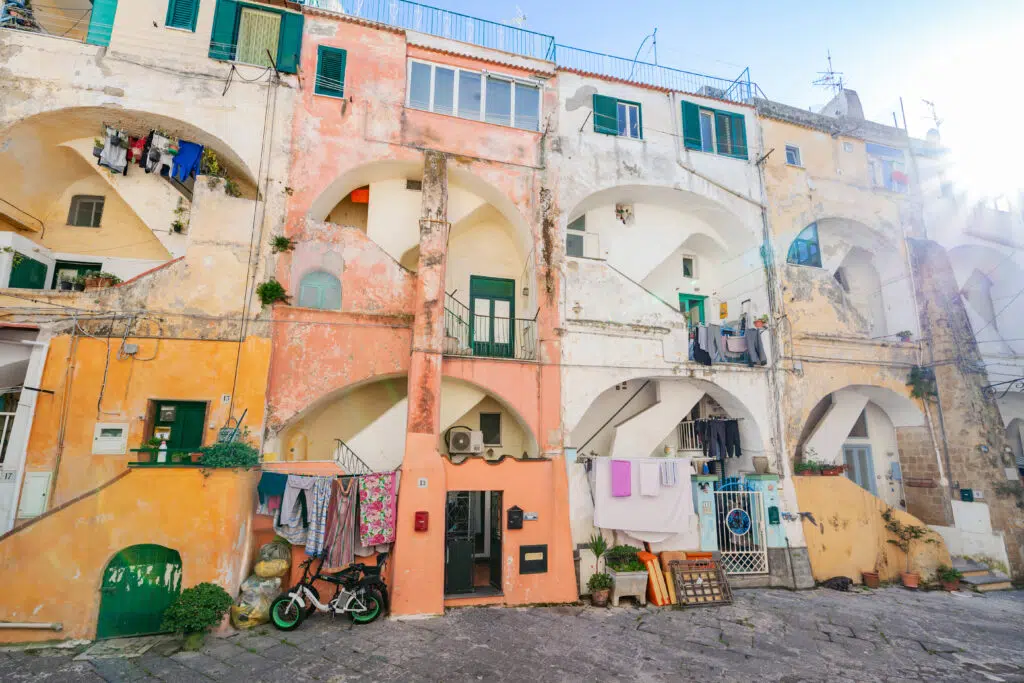 Hiding in the narrow streets below Terra Murata, the settlement of Casale Vascello was built in the 16th century after the Saracen invasions. Not surprisingly, the island was often the focus of invading forces. Therefore, people moved inland and uphill to tightly clustered houses with entrances inside courtyards for extra security.
You'll find two entrances at Via Principe Margherita and Via Salita Castello, once capable of closing off the town to the raiders. Still inhabited and undeniably picturesque, the village features a central courtyard framed by brightly coloured terraced buildings with quirky arched windows.
In summer, you might find cultural events in the courtyard. Otherwise, it's a joy just to wander around and frame photos with popping colours and ancient staircases.
Hang out at Marina Grande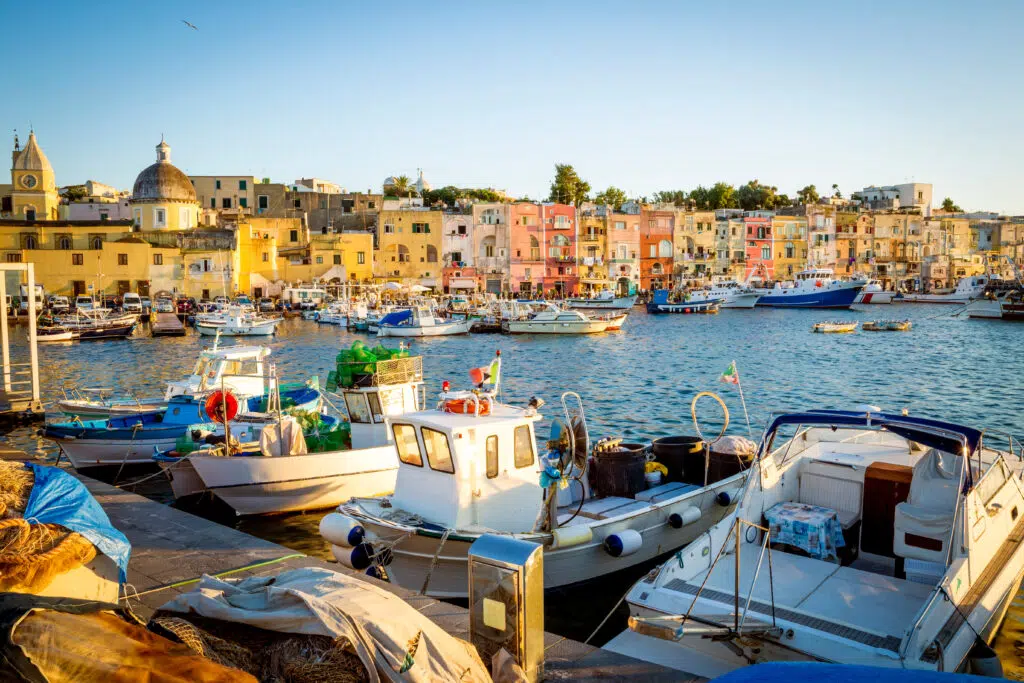 Step off the ferry to Procida and soak up some instant inspiration from the artistic scene of candy-hued houses framing Marina Grande.
The postcard-pretty harbour is where the buzz is at on the island, with all the restaurants, hotels and souvenir shops you'll need for your visit. Fittingly, Palazzo Montefusco greets you at the landing pier – it was once the summer home of the king.
While Marina Grande is the commercial heart of the island, the authentic vibe is on immediate display with locals selling fish straight from the boats.
Poke in and out of craft shops between meals along bustling Via Roma. Here, you'll also find the yellow, 18th-century Church of Santa Maria della Pieta, known as the fisherman's church.
Discover Isola di Vivara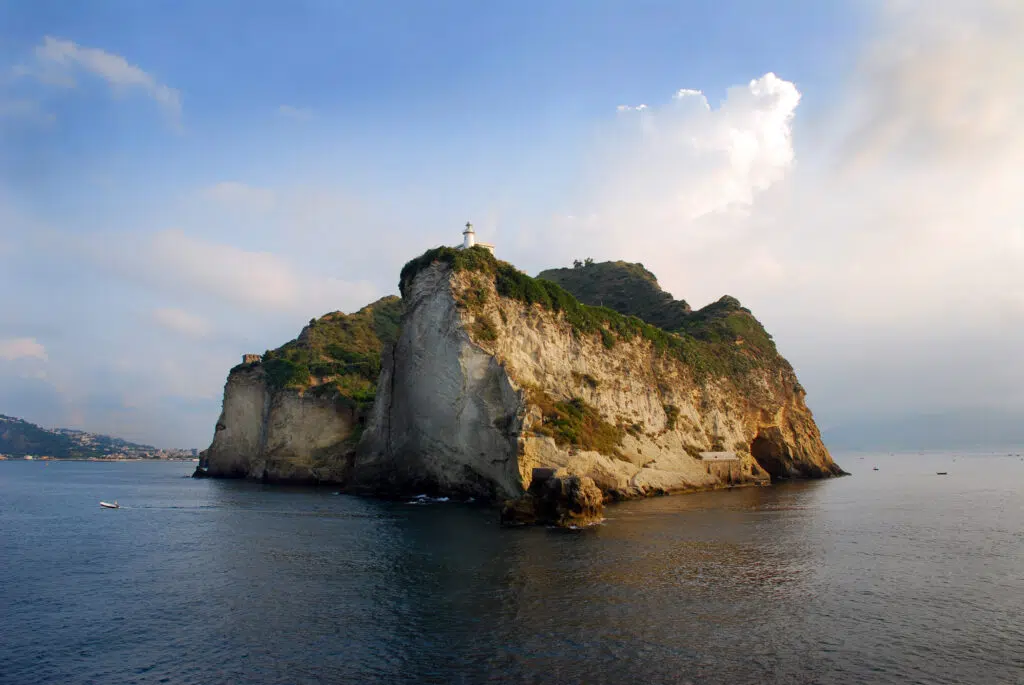 **The island of Vivara is currently not accessible to the public. Guided tours are sometimes available and more information can be found here. Please check in advance of your visit.**
Accessed via a footbridge at the end of Via Santa Margherita, the islet of Vivara is a protected nature reserve that was once part of a volcano connected to Procida by a cliff. The crescent moon shape is due to half the islet sinking into the sea years ago.
These days, it's crisscrossed with hiking trails that lead you through a lush wilderness home to migratory birds and wild rabbits.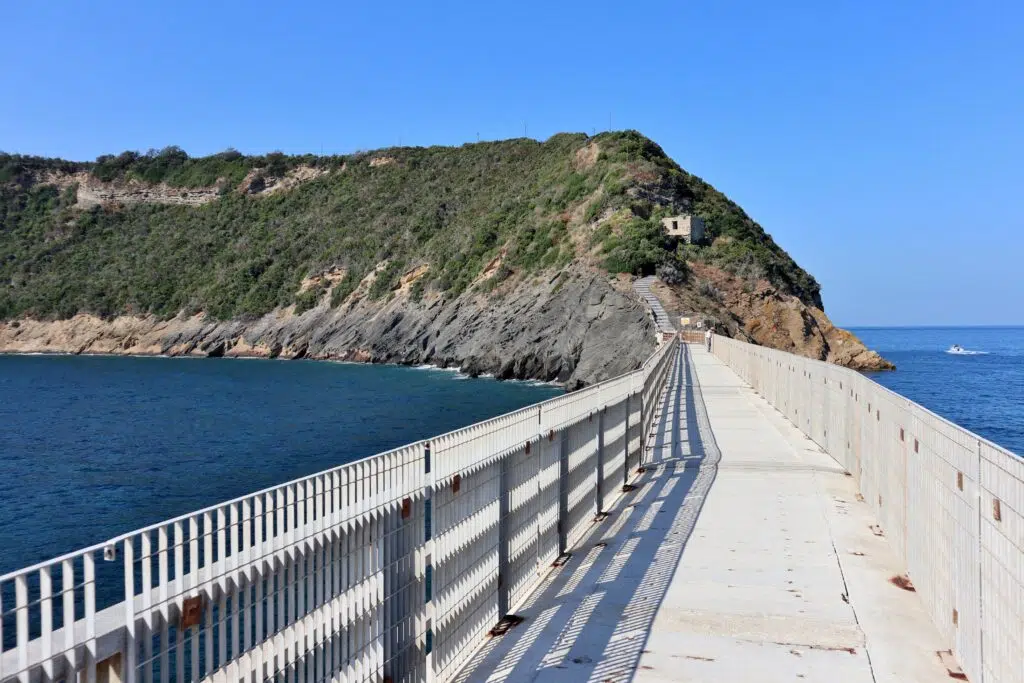 You won't find any modern facilities interrupting the natural surroundings. However, archaeological findings from the Mycenaean era hint at the islet's ancient history. Plus, you'll see abandoned farmhouses from the 1600s.
Take what you need for a day of immersing in dense Mediterranean scrub framed by steep rocky cliffs, and keep your eyes peeled for dolphins offshore.
Hit the Beaches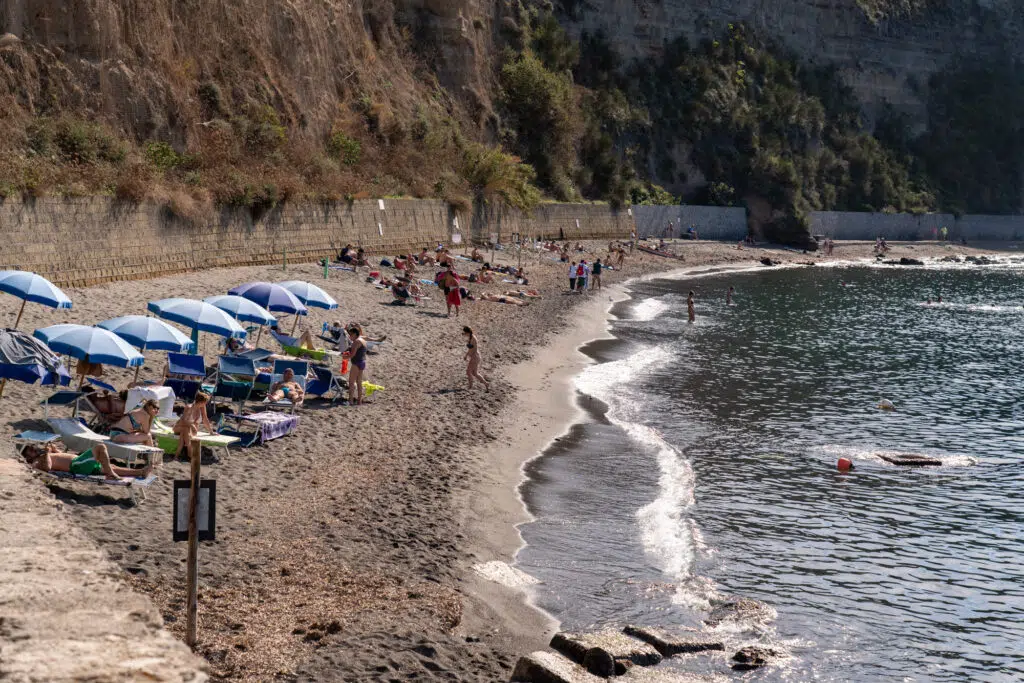 Framed by rugged cliffs, black and dark sands drift into clear, calm waters on Procida beaches. The jewel in the crown is Pozzo Vecchio, also known as Spiaggia del Postino from the 1994 film Il Postino (The Postman).
The horseshoe bay is backed by the cemetery up on the road and low-lying cliffs. There's a relaxed beach club for drinks between swims in the crystalline sea.
You'll reach Chiaia beach via steps down from an alley in Piazza Olmo. With magnificent views of Corricella along the way, you won't mind the exercise. Settle in on the stretch of dark sand and float peacefully in the azure, shallow water. A couple of beach clubs serve up tasty snacks with ocean views.
A family favourite is Ciraccio, separated from Chiaiolella by dramatic rocky sea stacks. These two stretches form the island's longest beach, and you'll find everything from sunbeds to snack bars and buzzing beach clubs.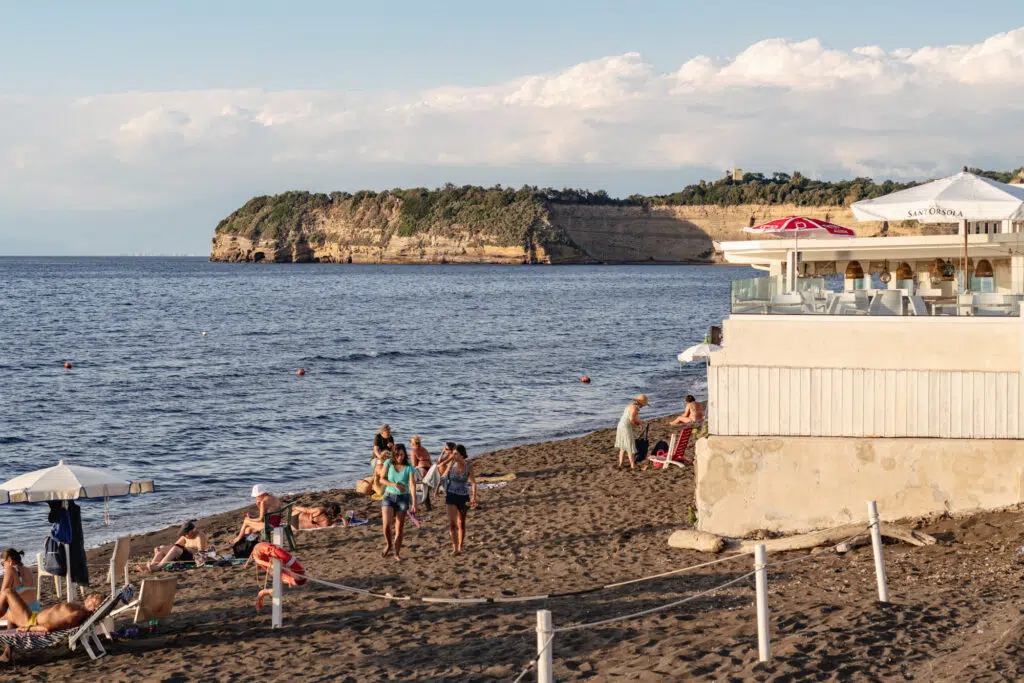 From the main port of Marina Grande, it's easy to reach a couple of beaches within a short walk. Silurenza is a comfortable swimming spot for those with little ones in tow, complete with bathrooms and a restaurant within a stone's throw from the water.
La Lingua is a pebbly beauty on the opposite side of the marina for swimming between shopping and dining.
Enjoy boat trips
From speedboats to luxury yachts, you'll find plenty of boat trips that zip around between Procida, Capri and Ischia. In terms of Procida things to do, take your pick from traditional wooden fishing boats to self-drive dinghies and pretend you're a sailor for a day as you discover the island from the sea.
Most boat excursions depart from the marinas for half-day adventures with stops for snorkelling and dolphin spotting between swims in idyllic lagoons. Or board a typical Mediterranean fishing boat to throw a line in with the experts. Prefer paddling yourself? Choose guided tours to circumnavigate the island in a kayak.
Find Famous Film Locations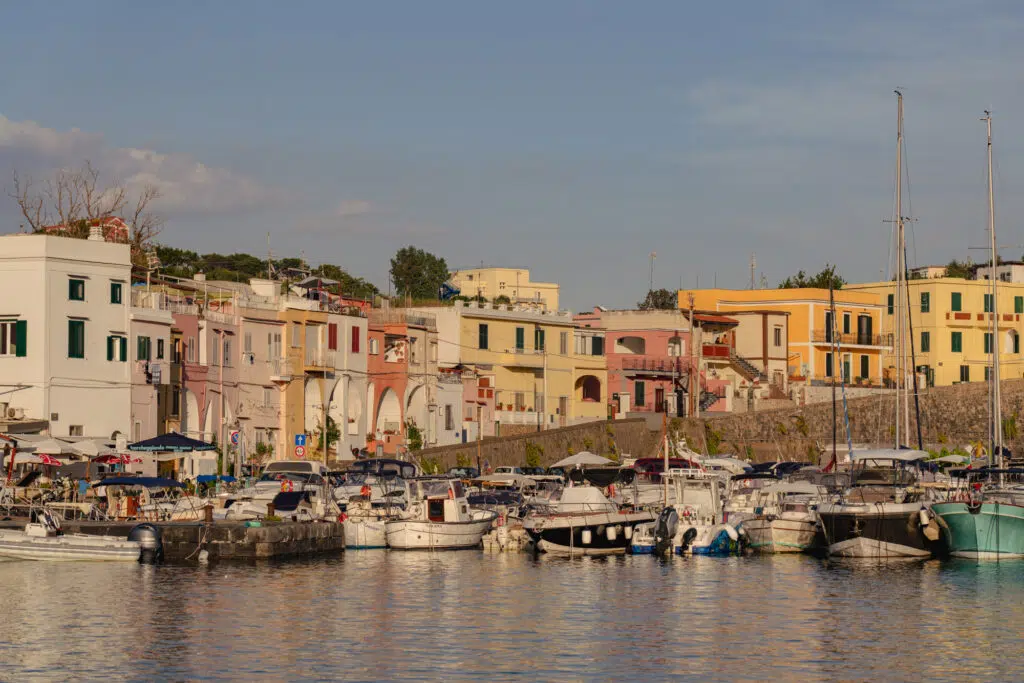 Even if Procida hadn't acted as a backdrop for beloved films and novels, you'd feel like you're stepping onto a movie set on arrival. No doubt that's why it was chosen for scenes in The Talented Mr. Ripley as the fictional village of Mongibello, along with the award-winning Il Positano that takes in much of the spellbinding scenery.
You'll laze the day away in beach scenes from Il Positano at Spiaggia di Pozzo Vecchio. In Marina Corricella, La Locanda del Postino is a bar where the main character romances a barmaid.
Watch The Talented Mr. Ripley before you go, then wander through Corricella to recognise scenes from the Via San Rocco and the Church of Our Lady of Grace.
Savour Island Feasts
On the backdrop of rainbow-coloured houses, with fishermen hauling in your next meal, eating is always at the top of the list of what to do in Procida, Italy. And you'll want to be hungry to sample the island's distinct culinary traditions.
Start or end each day the right way with a coffee and lingue di Procida. The lemon cream-filled pastries are crunchy, flaky and 'melt in your mouth' all at the same time.
The lemon theme will carry you through your trip, as they're prized in Procida. They're also abnormally large, and you'll see trees dripping with citrusy goodness across the island. Not only that, but you might spy tiles decorated with hand-painted lemons next to bowls of lemons on tables filled with lemon-flavoured dishes.
Wander along the waterfront at Marina di Corricella and feast your eyes on menus bursting with freshly caught fish served with shavings of parmesan. Choose sea urchin pasta or spaghetti topped with fried anchovies.
When it's hot and only something light will do, you'll always find lashings of insalata di limoni di Procida (lemon salad), otherwise known as sliced lemons with onion, garlic, chillies and fresh mint. And then finish it off with an Aperol spritz garnished with a dollop of fruity sorbet.
For a quick bite to eat, try the local cuzzetiello – bread stuffed with grilled vegetables and sauces.
Soak up the Sunset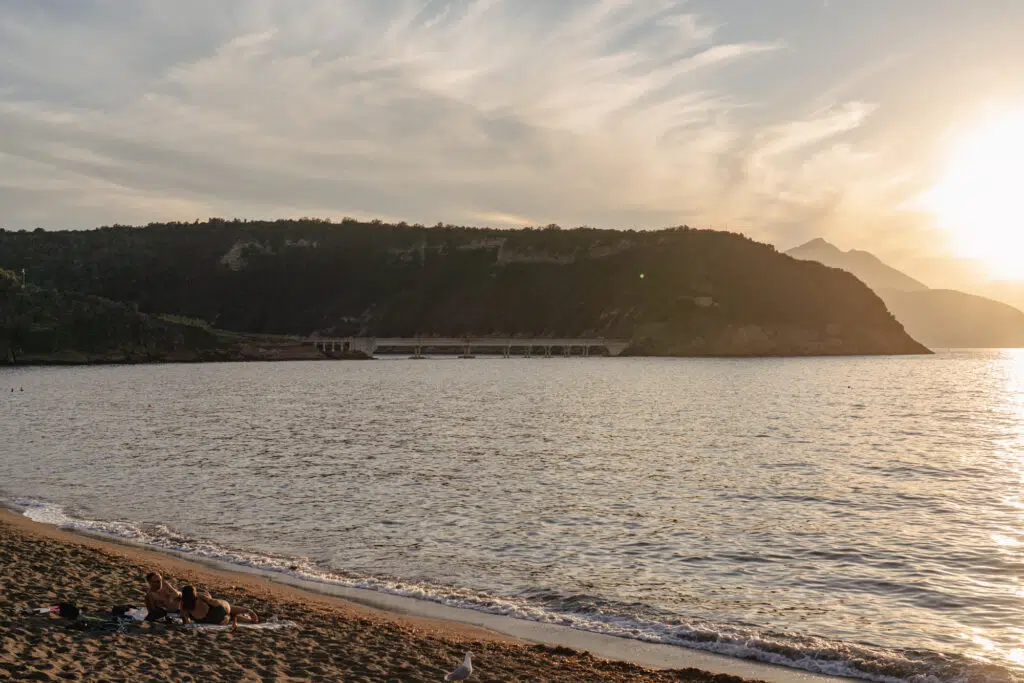 If it's possible for Procida to look even more enchanting, it's at sunset. As the streetlights begin to twinkle the colourful buildings take on a warm glow that extends to the sea. In terms of the best places to watch it, you really can't go wrong. Head to Marina Corricella for aperitivo cocktails and settle in for the natural show with your seafood.
For the best photos, make your way uphill from Marina Corricella to the entrance of Terra Murata and a panoramic viewpoint. You don't need to leave the beach to watch the sun dip into the sea at Ciraccio and Chiaiolella beaches. If you happen to be caught out still exploring, simply wander over to the nearest staircase with a sea view and soak it up from there.
---
How to get to Procida Island
The only way to visit Procida is via the sea, as there is no airport on the tiny island. The most common route is from Naples to Procida, but you can also reach the island by ferry from Pozzuoli, Capri, Ischia, and Sorrento.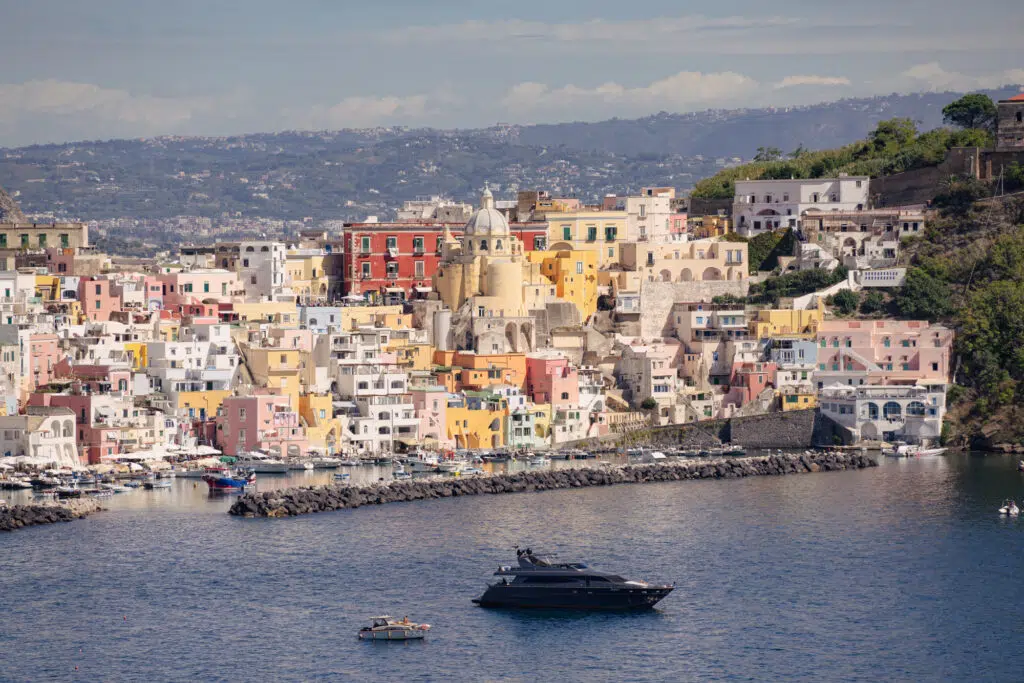 Ferry to Procida from Naples
If taking the ferry from the port of Naples, there are many options available to you. There are a handful of companies operating the route, and they offer both fast (hydrofoil), or slow (car ferries) options, with prices to match. Hydrofoils take around 40 minutes and large ferries take around an hour.
In any case, the fares are relatively inexpensive, with the average fare costing around €20 one way. You can buy your tickets online in advance, but you still need to go to the automated machines to "exchange your ticket" for a paper one, so if you're travelling out of peak season (any time other than the summer holidays), it's just as easy to buy your tickets on the day.
Do note, that there are two different ports in Naples (Molo Beverello and Porta Di Massa), and it's important to know which one you're leaving from as they're a fair distance from each other. The Alibus service from the airport (the cheapest way to travel to the port) stops at Molo Beverello.
Alternatively, you can bypass the busy Naples port altogether and catch the ferry from nearby Pozzuoli.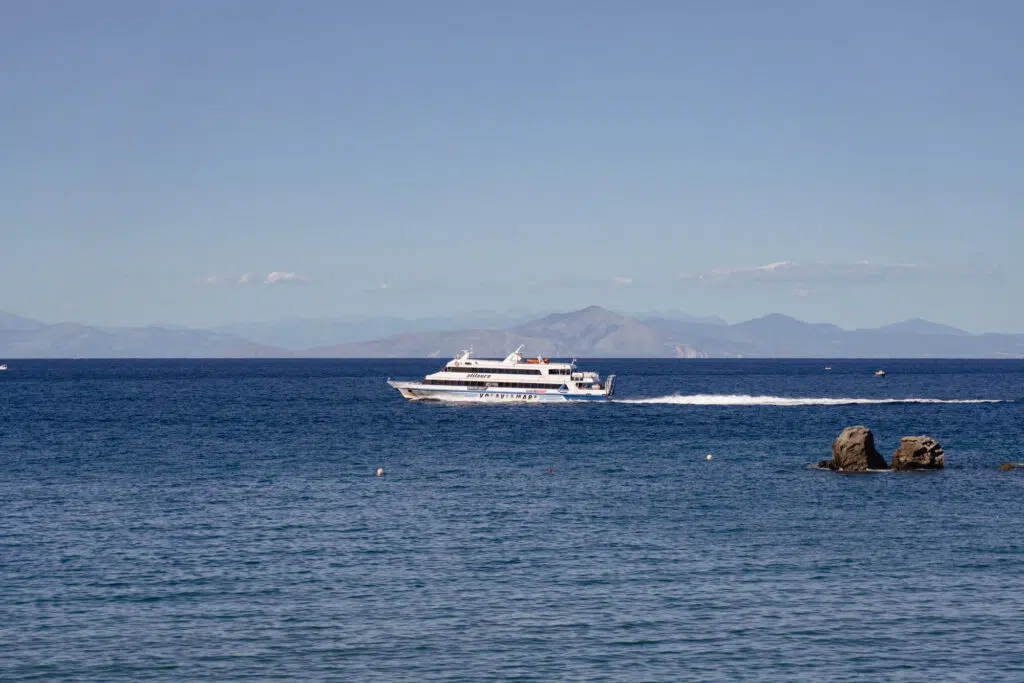 Ferry from Ischia to Procida
As Procida's closest neighbour, the island of Ischia is just a short 15/30 min journey via hydrofoil/ferry. You can depart from the port at Casamicciola Terme or the main Ischia port.
From Ischia port, there is a small ferry terminal where tickets can be purchased, and again, it pays to know that the hydrofoils and ferries depart from different areas of the port. Having this knowledge in advance could have saved me a stressful sprint around the port when I realised my hydrofoil was departing elsewhere!
Day tours are also available from either port to take you to Procida and back on the same day.
Ferries from Capri or Sorrento to Procida
These routes aren't as frequently serviced as the other options listed above, and they tend to only be offered during the busier months.
Tours from Sorrento to Procida
If you're visiting the Amalfi Coast and fancy taking the perfect day trip to Procida, a private tour may be the most enjoyable option. Tours depart 9am and return at 7pm, allowing enough time to visit both Ischia and Procida for a few hours, as well as enjoy swimming stops and sightseeing along the way. Check prices and availability here.
---
Getting Around Procida
With only a few square km to its name (four to be precise), Procida can be traversed on foot, but it depends on how much of the small island you want to cover, and how many detours you wish to take! Add in some gentle hills, and a scattering of steep staircases, and you may start rethinking your enthusiasm to walk.
Luckily, there are buses to help you out, should you wish to give your feet a break, or if you're carrying luggage.
There are four bus routes that run from the port to Marina Corricella, Il Postino beach, and Chaioiolella, and they're an inexpensive option at around €1.20 a trip. During 2022 these bus services are free as part of the Capital of Culture celebrations.
Alternatively, scooters, ebikes, light electric quadricycles, and cars are available to hire. Although I wouldn't recommend a normal-sized car, as the roads are very tight and often challenging for newcomers!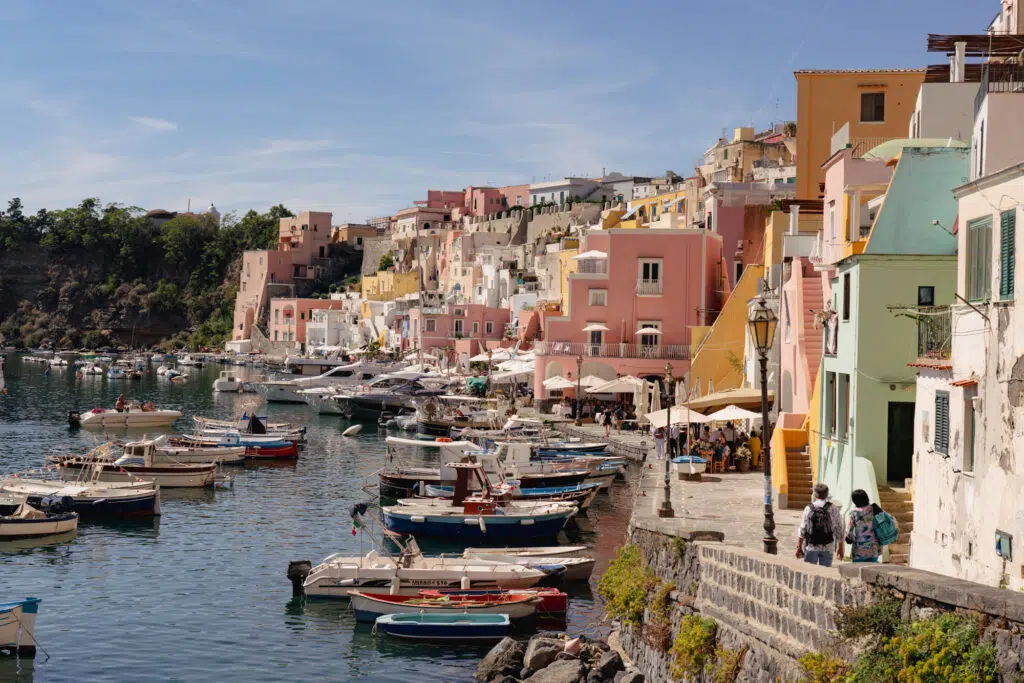 Where to Stay in Procida
Accommodation options in Procida cater to all tastes and budgets. It does pay to book in advance, however, as accommodation is limited on the island.
Budget Option – I stayed at the small Hotel Celeste during my visit to Procida. They offer very well-priced rooms (as well as single rooms for solo travellers like me), and I liked that it was away from the busyness of Marina Corricella. You're within walking distance of Ciraccio beach, and the included breakfast is delightful.
Mid-Range Option – The centrally located La Dolce Vita Rooms are an excellent choice for anyone wanting to get out and explore the island, while still being close to the action. The bed & breakfast offers both double and family rooms.
High-End Option – The rooms at Insula Boutique Hotel offer sea views, private jacuzzis and terraces. There's also a stunning communal pool, and a tastefully designed lounge area.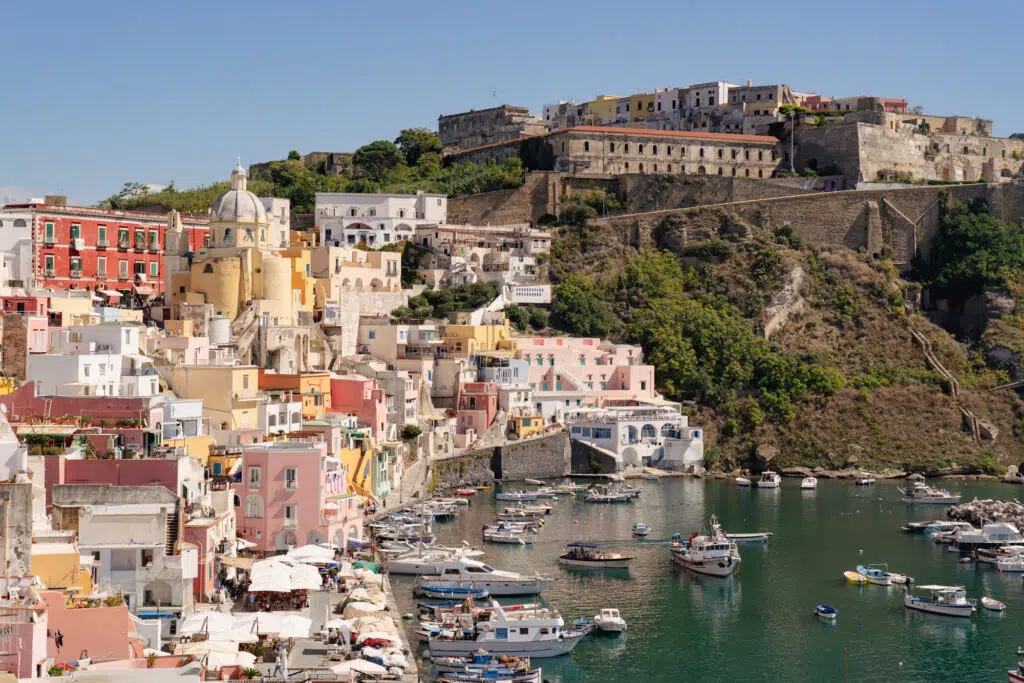 ---
From candy-coloured buildings made for postcards to history seeping from crumbling ruins, the island of Procida more than deserves the 2022 title of Italy's Capital of Culture.
However, this is a place that doesn't need any titles, nor the glitz and glamour of its neighbours. What people tend to fall in love with is the authentic atmosphere of time standing still, with large doses of all the best things in life. It's the epitome of 'la dolce vita'.