A directionless wind whipped around the olive grove sending leaves fluttering and causing sunlight to dance on the red earth. "It's the Libeccio. The crazy wind" says Giulia in her Italian-American drawl.
Puglians, it seems, are well acquainted with the winds. There's one for every day of the week, although you could experience more than one a day in this island-like strip of land between the Adriatic and Ionian Seas.
It was my first morning in Salento, and after a delicious sleep-in, I wandered outside to eat breakfast on the terrace of The Aia. Giulia joined me as I feasted on freshly baked bread dripping with olive oil and sun-ripened tomatoes. And as we shared a pot of strong, dark coffee we chatted about the weather and her plans to help me experience Salento throughout the week.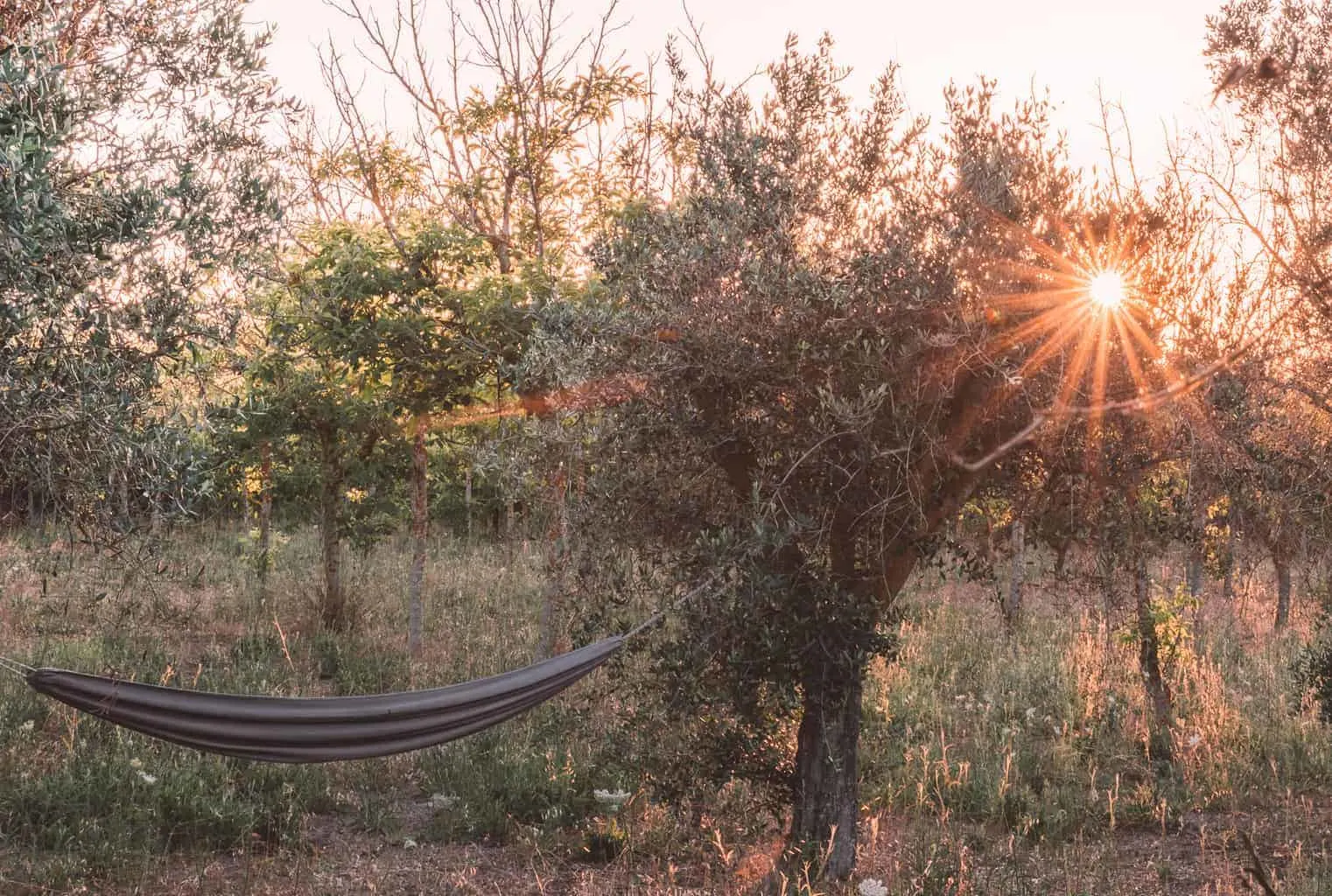 ---
At The Aia – B&B and Retreat Venue in Puglia
Tucked away at arm's length from nearby Nardò, and alluringly close to the sea, The Aia presents a sanctuary in which to unwind. Its strong angular construction is at odds with the soft agrarian backdrop in which it stands.
And yet, in hues of pink, cream, and forest green, The Aia takes on the traditional charm of a Masseria. As Giulia shows me around the garden, she points out the source of the farm-to-table meals she creates for her guests. Tomatoes grow in the rich soil, capers flourish by the yoga shala, and last season's apricots lay perishing beneath empty branches.
Every tree here has a purpose it seems, whether its simply to provide an anchor for a swing, shelter for a hammock, or to bear the fruit that's pressed into The Aia's very own velvety olive oil. The olive trees give way to a luxurious pool, and a wide path etched out of the local Lecce stone leads you back to the house.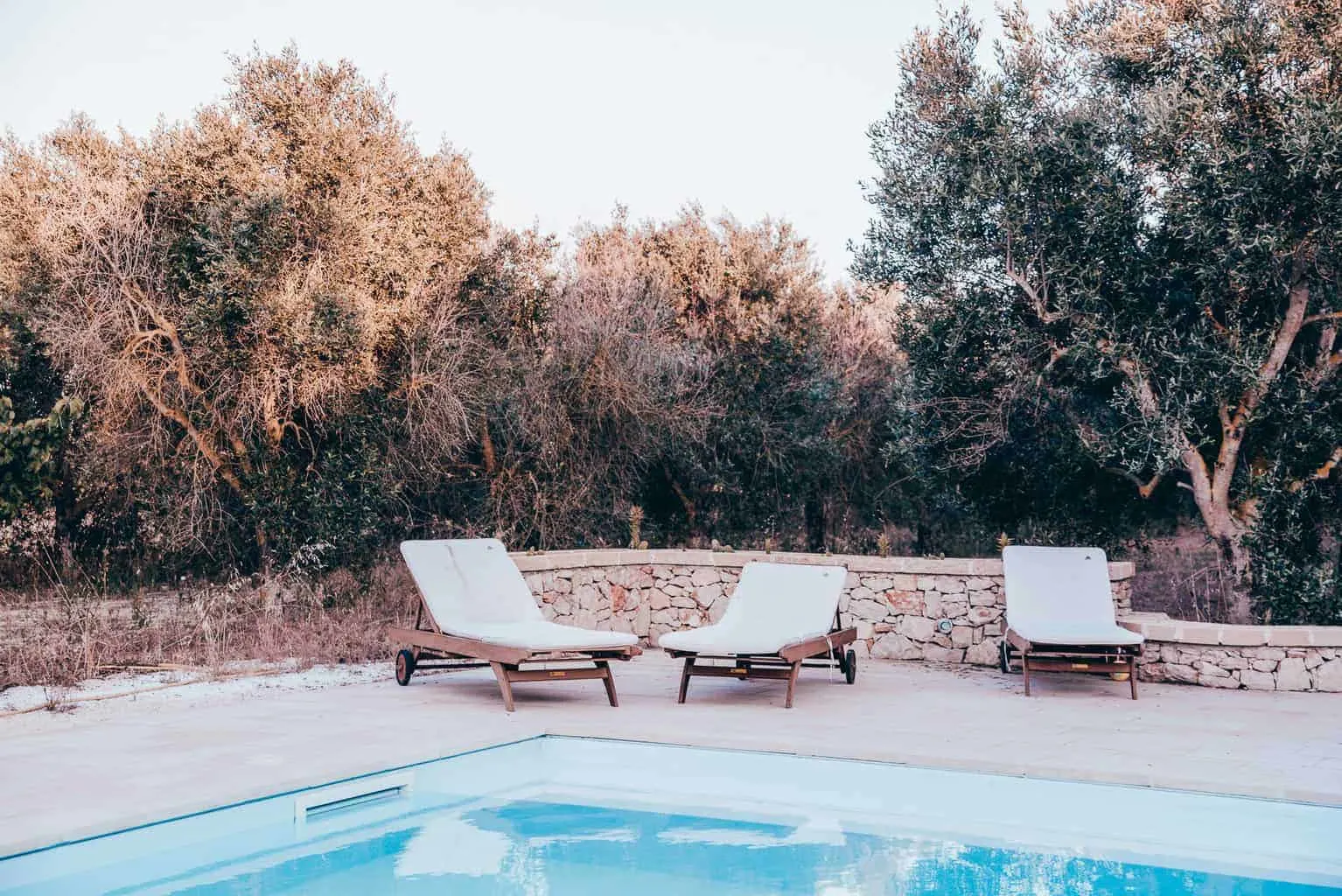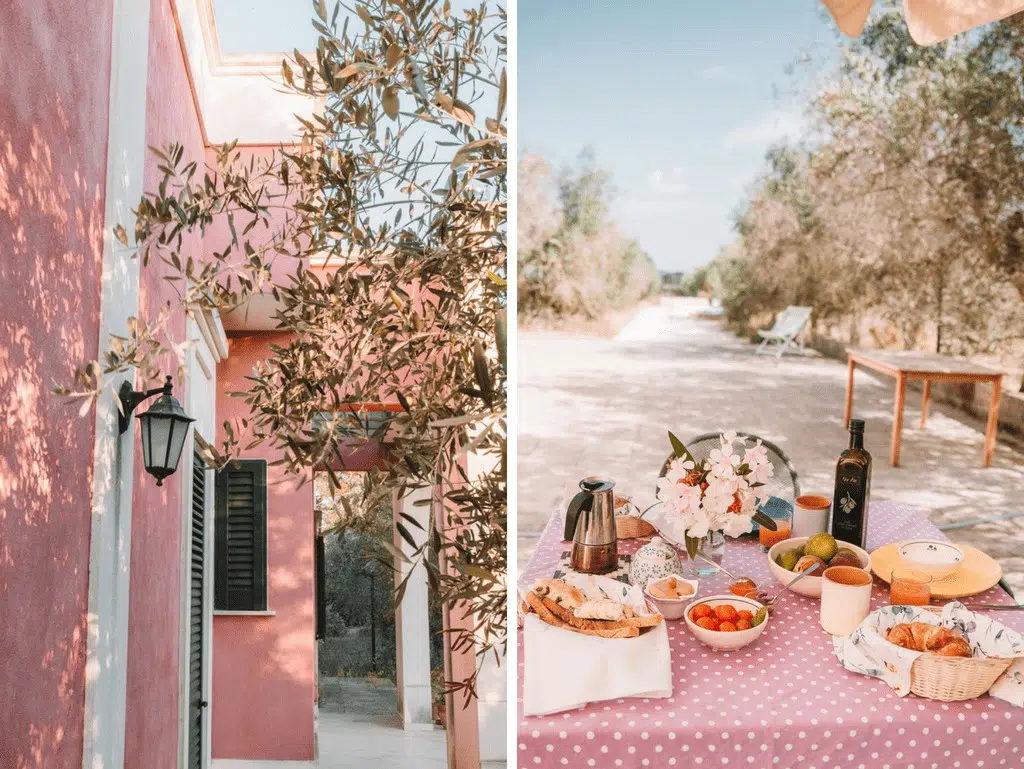 Inside is a cool retreat from the scorching Salento sun. White walls meet ashen tiles, and high ceilings create a feeling of space. Simple wooden furniture is painted vibrant green adding a pop of colour to every one of the 7 rooms.
But it's the personal touches that make The Aia present as more than an accommodation space. A well-read novel waiting to be read, family photographs adorning the vintage furniture, paintings picked up from Giulia's life and travels – she can tell you a tale about each and every one. Indeed, it's Giulia that makes The Aia the inviting haven it has become, so let me introduce you to the owner of The Aia.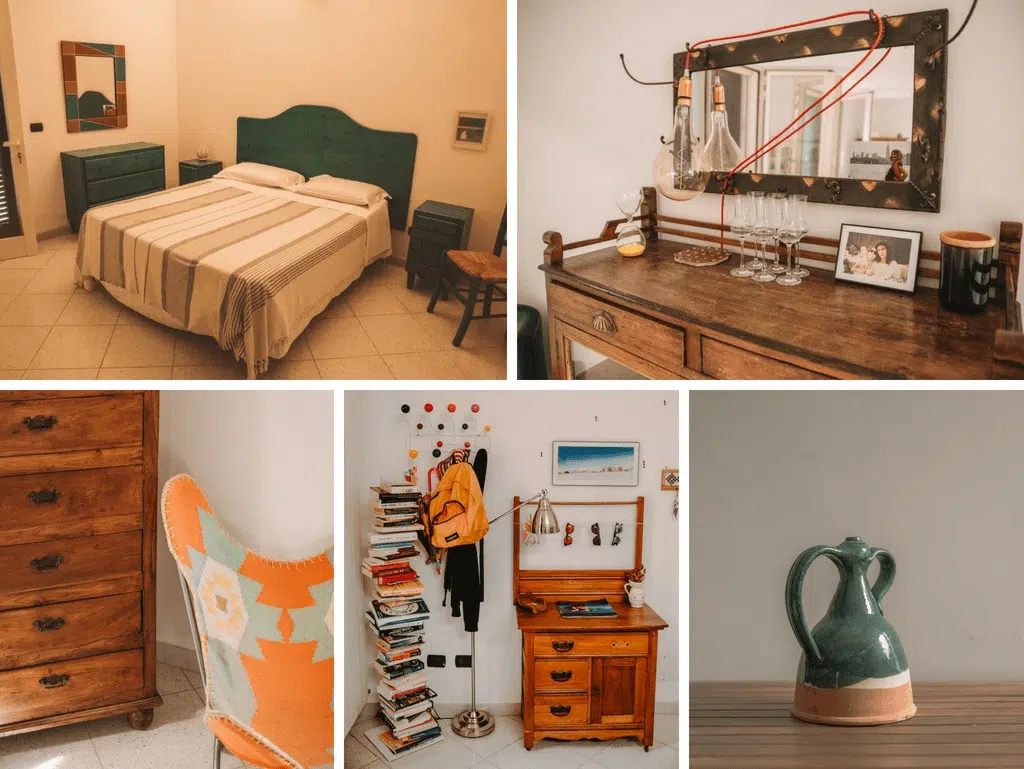 Meet Your Hosts
A New York native, Salento is about as far away from Giulia's childhood stomping ground as you could imagine. And yet it's a place that has always had a firm grip on her heart.
As she shows us around this bucolic corner of the country, it becomes obvious that summers spent here with her Italian family have played a big part in her life, and ultimately helped to lead her back to Puglia indefinitely. Since moving to Italy with her young daughter, Franci (now 4), Giulia has fully embraced the Apulian way of life.
In opening The Aia, she has created a welcoming space where visitors to Salento can learn about what makes this region so special; and locals can come together to enjoy a long lunch, practice yoga, or watch a movie together under the stars.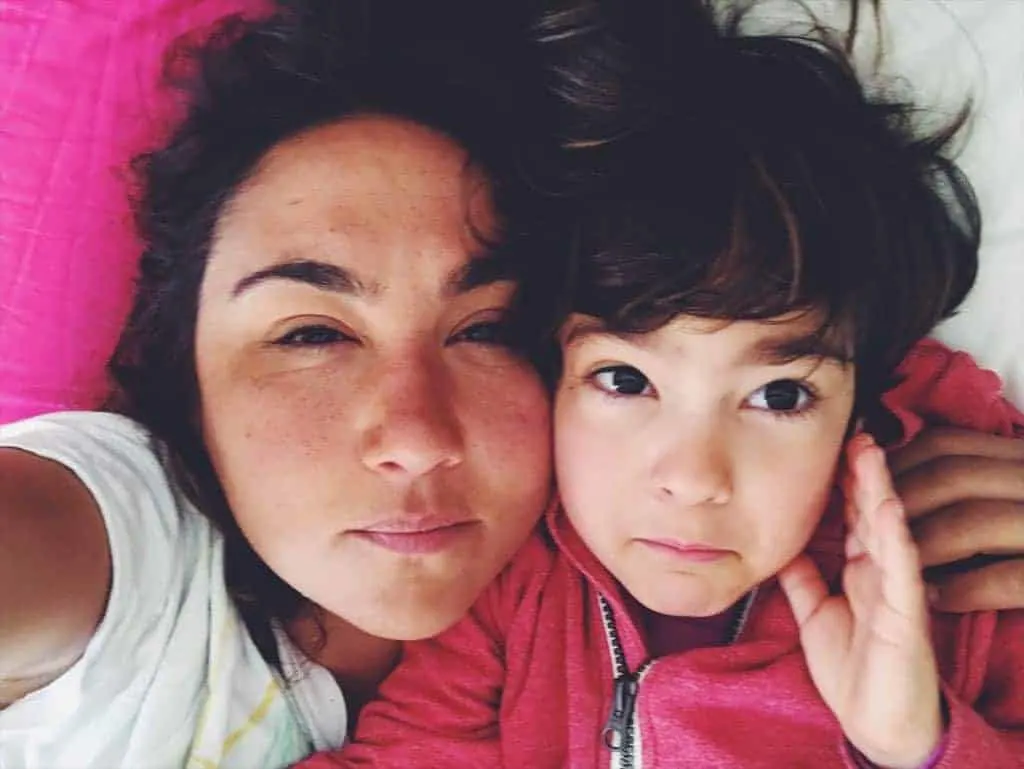 Giulia lives nearby in a property that has been owned by members of her extended family for years. And yet, her personality is evident everywhere around The Aia. She has managed to create the cosy, relaxed atmosphere you'd expect to find in a family-run B&B.
Experiencing The Aia
You have two options when it comes to discovering The Aia and the delights of the Salento region. You can simply book into the B&B as a guest for as many nights as you please, and explore on your own time. Or you can join in one of the 'Experience Salento' week-long retreats.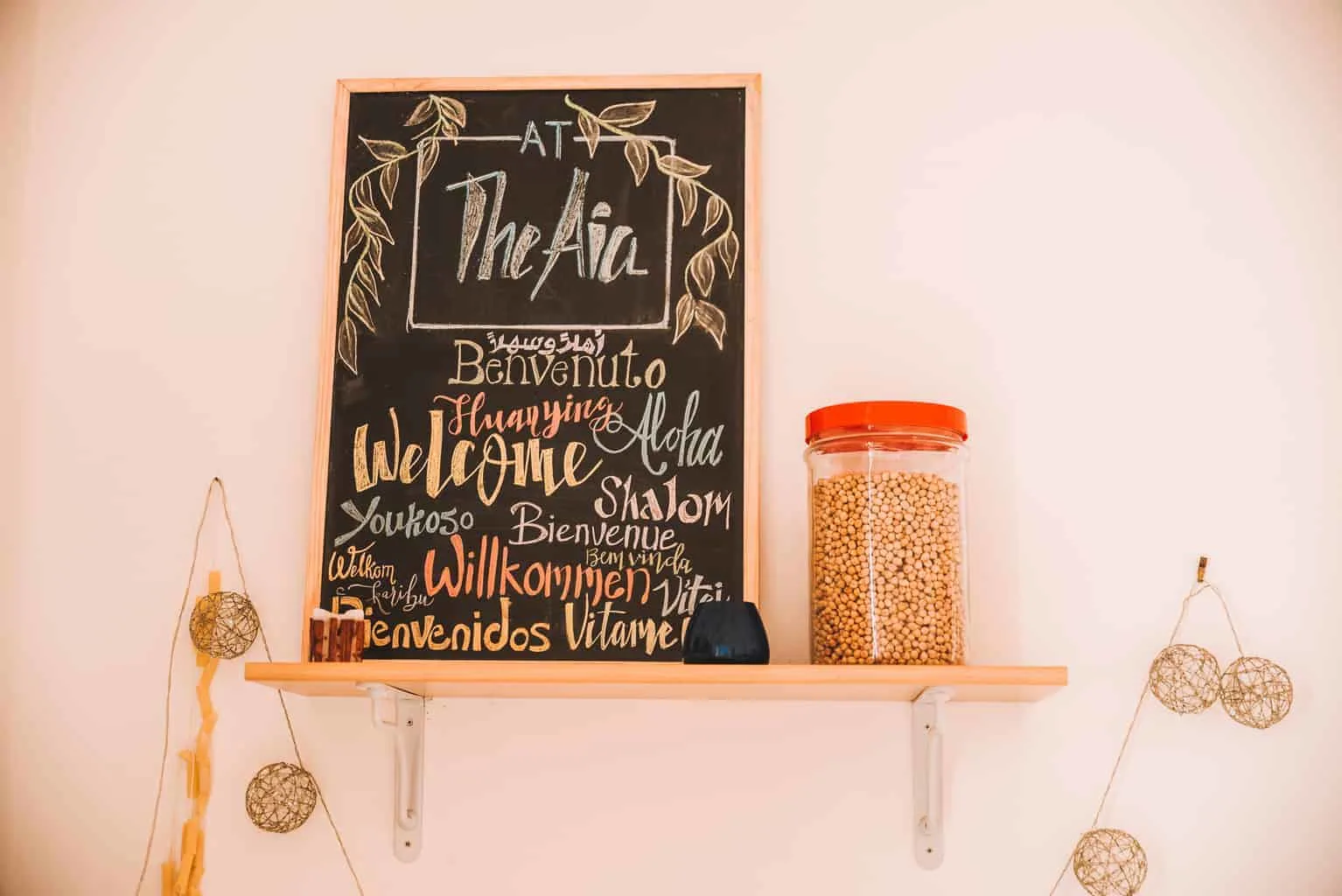 The Bed & Breakfast
Over the summer months, guests can appreciate The Aia at their own pace. Book one of the double or triple rooms and use it as an ideal base to explore Italy's heel.
Giulia will treat you to a fresh, farm-to-table breakfast every morning which will fuel you for the day's activities.
B&B guests are invited to take part in The Aia's regular events, including Yoga Wednesdays and Movie Night Thursdays. And other activities such as wine tastings, cooking lessons, or a delicious 4-course homecooked meal are available to be booked separately.
There's ample space inside and out for every guest to enjoy The Aia in their own way. Whether it's reading a book by the pool, taking a siesta in a hammock, chatting over coffee, or enjoying a walk through the olive grove.
Rooms in the B&B start at €80 – Click here for details.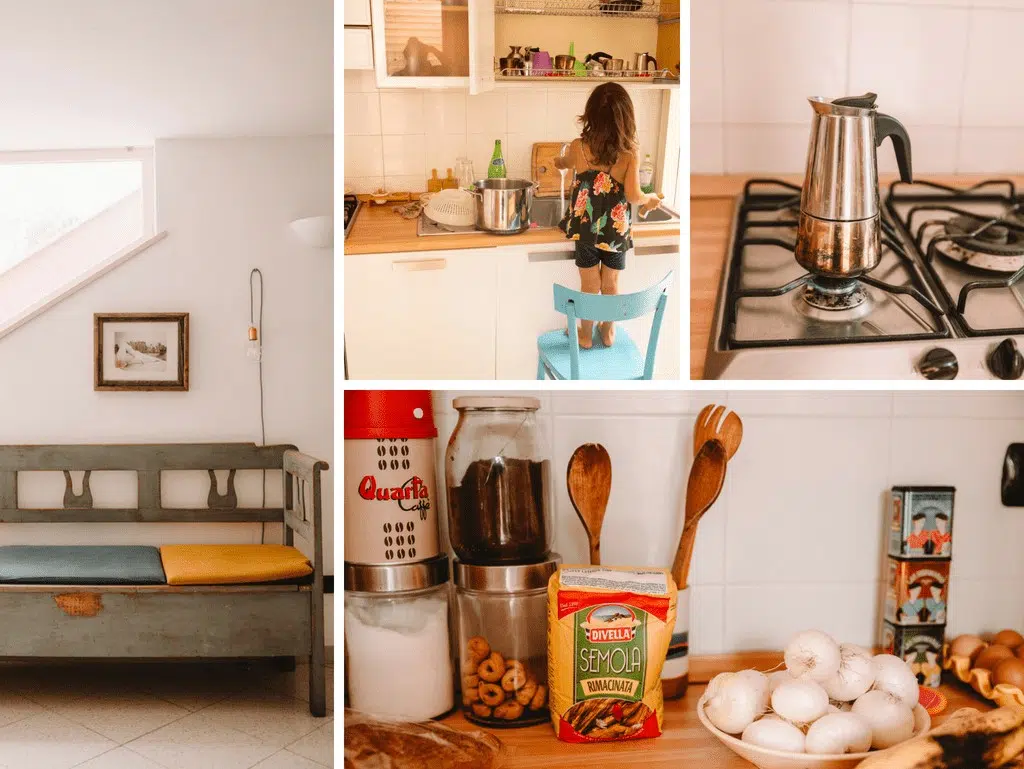 Experience Salento Retreat
These typically week-long retreats are held in the shoulder season months from March – June and September – October, and are the ideal way to experience the best of what the region has to offer while taking care of your mind, body and soul.
Arranged around a relaxed schedule, you'll sample the local culture, food and nature through a series of excursions and in-house activities. Benefit from Giulia's extensive knowledge of the region as she introduces you to the land she loves. And meet Kamal, The Aia's own in-house yogi, as she guides you to a calmer, more relaxed state through yoga.
Prices currently start at €590 for the retreat week – Click here for details!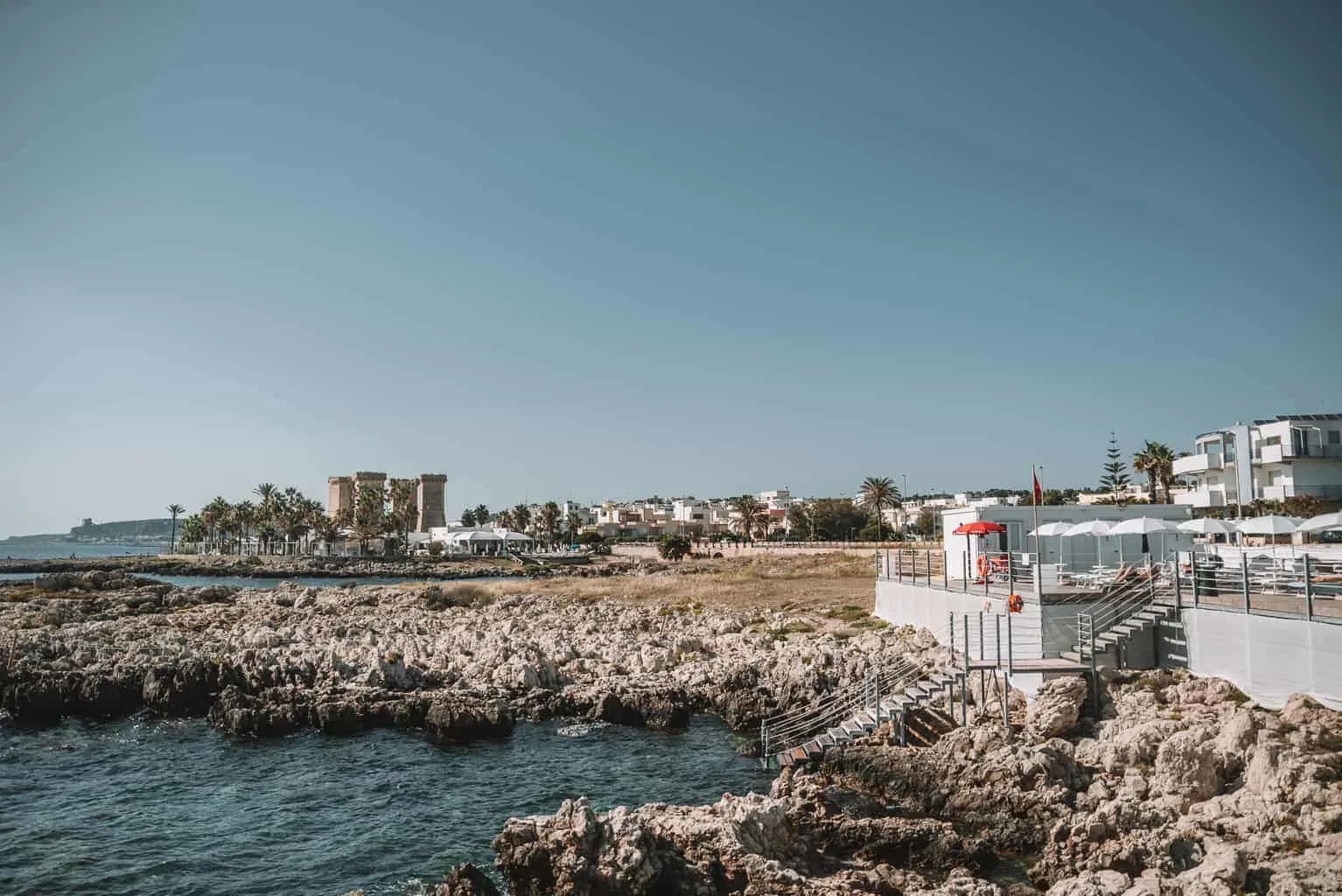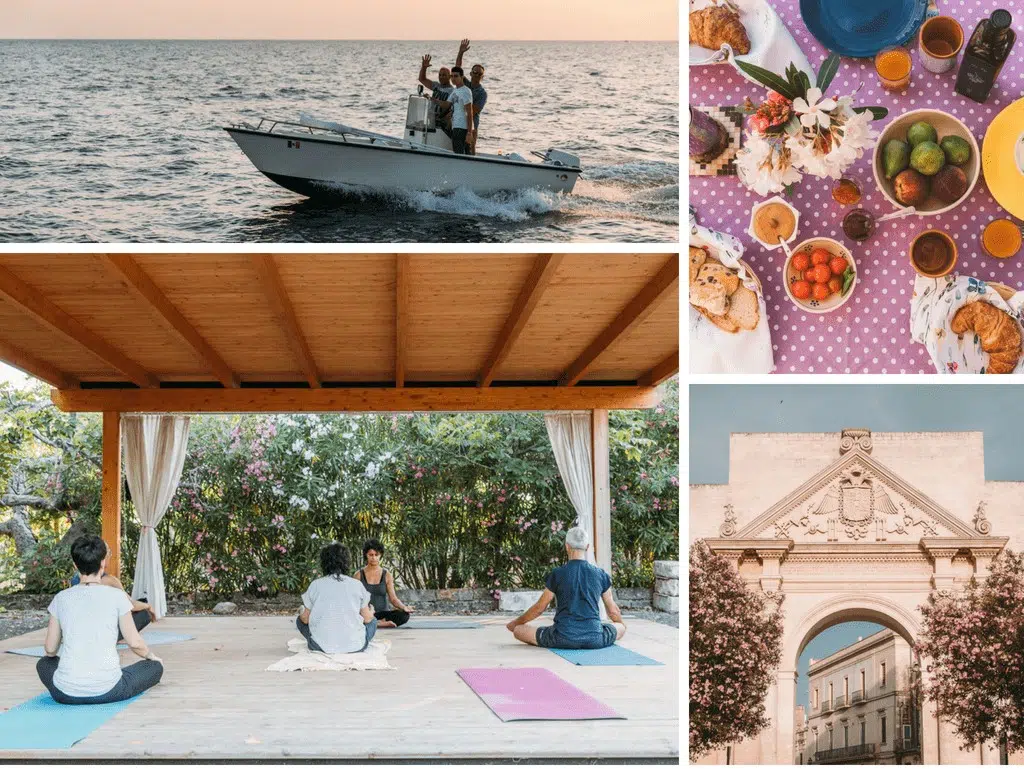 Experience Salento Activities include:
Yoga Classes
Allow Kamal to guide you through a series of hatha yoga poses as she expertly assists you in accomplishing greater flexibility, relaxation and breathing capacity. Kamal hails from England and has Indian roots. She can take classes in either English or Italian (or both).
Hiking
Giulia has accumulated a lifetime's knowledge of the walking trails around Salento. Her and Kamal will guide you through some of the region's finest scenery on hikes of varying lengths.
Cooking Class
There's nothing quite like fresh pasta made with love in the traditional way. Learn the tricks of the trade as you take part in an interactive cooking class with a local cook. Try your hand at different dishes typical to this part of Puglia, and then enjoy the fruits of your labour afterwards.
Wine Tastings
Sample the wines of the region with a fun and informal wine tasting session. It's the best way to experience a real Italian aperitivo!
Cultural Outings
Salento's capital, Lecce, is a stunning baroque city that deserves to be explored. Giulia's home when she first moved back to Italy, and where Kamal lives and works, both women have strong ties to this city and are happy to share their knowledge of it with you.
Nardò is another notable town nearby with impressive architecture, a gorgeous town square and the most amazing gelato! If you're interested in the arts, a visit to a traditional sculptor's workshop can be arranged. Watch how a local artist carves the soft Lecce stone into practical works of art.
Sunset Cruise
For another perspective of Salento, take to the sea! Join Giulia and Kamal on a sunset cruise from Santa Caterina and relax onboard as you're guided around the rugged coastline. Sip on a glass of champagne and nibble on olive laden bread while cruising in the calm waters.
Massage (extra charge)
For the ultimate in relaxation and restoration, book in for a healing massage at the hands of a trained massage therapist.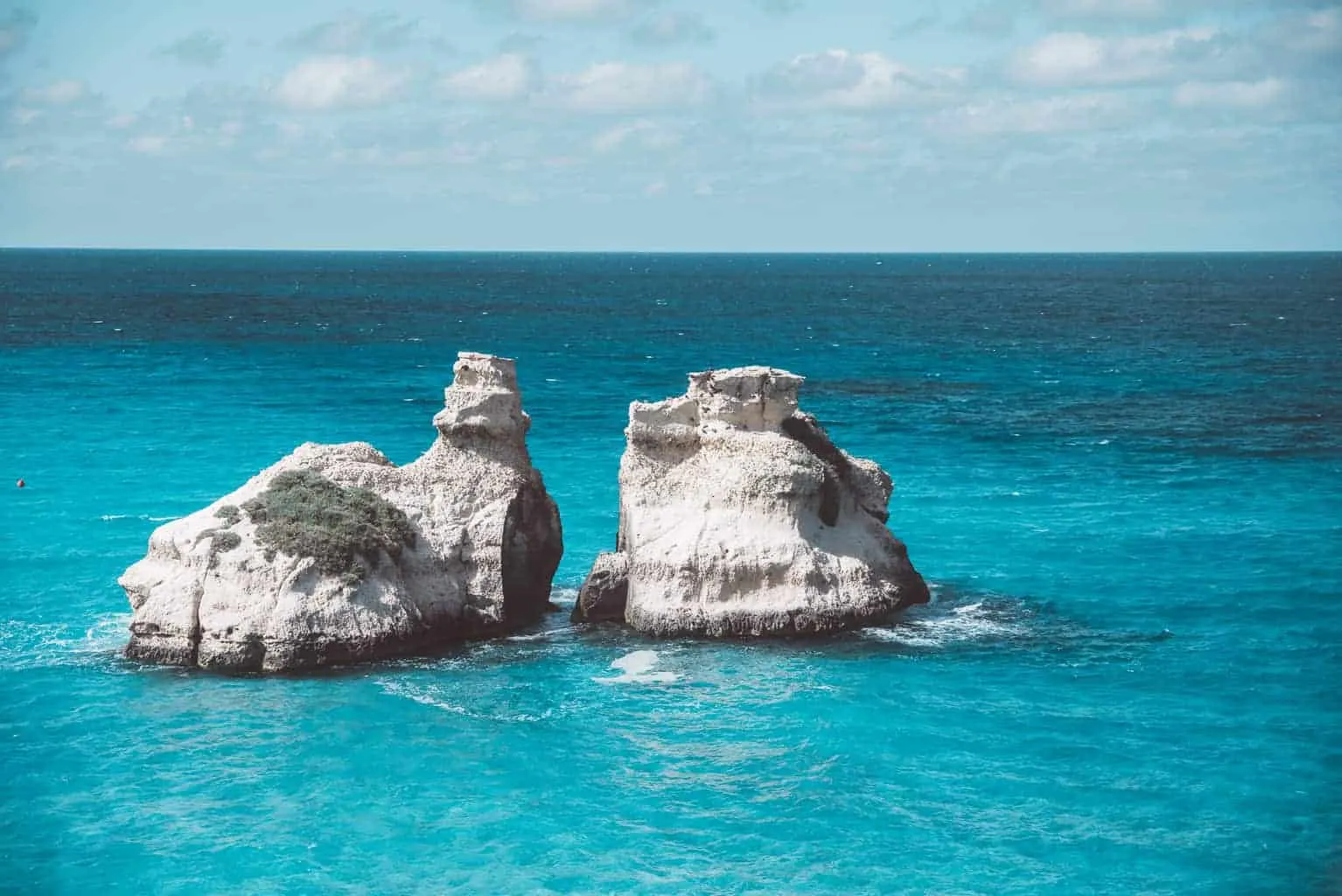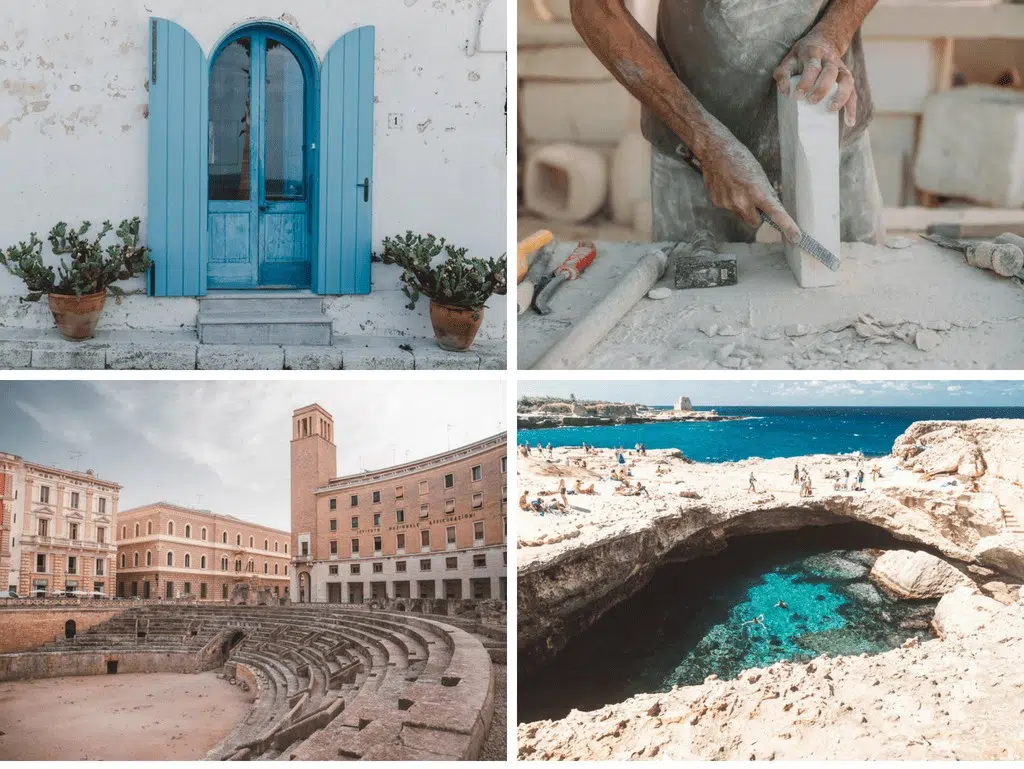 Things to do Nearby The Aia
The Aia is ideally located close to many activities within Salento. Choose to soak up the culture of the cities and towns, wander through the charming villages, swim in the sea at any of the incredible beaches nearby, dine on Puglia's own tantalising take on Italian cuisine, dive into the region's most famous swimming hole, or simply relax into the Puglian way of life. Spending time with family and friends is essential in this part of the world, and it's the perfect place to appreciate time with yours!
---
Whether you're after a relaxing and restorative retreat, or simply a quiet base from which to explore Salento, there's no doubt that The Aia is the ideal place to stay in Puglia.
Pin this for later!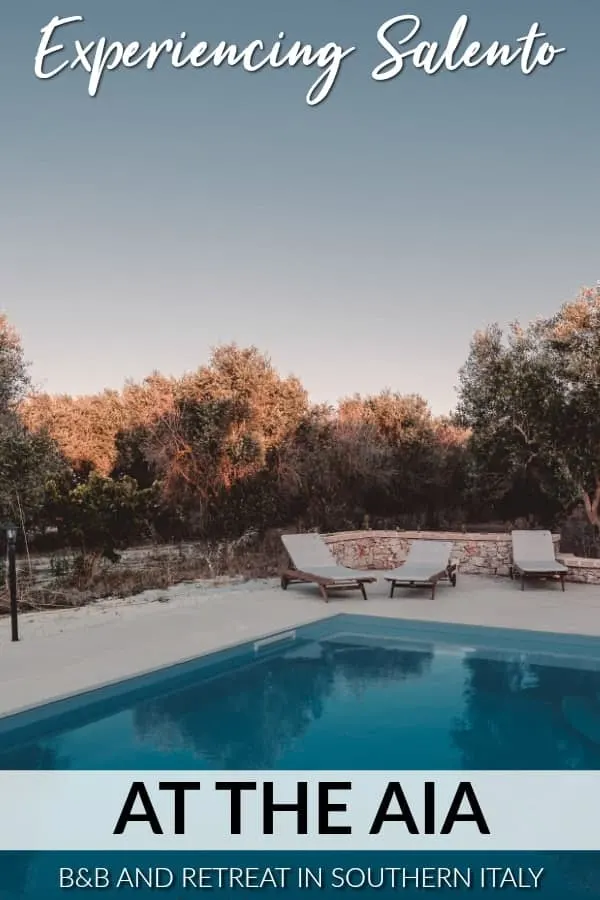 Disclaimer: I was a guest of The Aia during my 1-week stay in Salento. As always, all opinions expressed are my own.